Why a Troy Stecher reunion makes sense for the Canucks
Photo credit:© Anne-Marie Sorvin-USA TODAY Sports
It's been 6 years since Troy Stecher made his first appearance with the Vancouver Canucks. The local Richmond, BC defenceman quickly cemented himself as a fan favourite and contributor on the back line. His departure in the 2020 offseason for the Detroit Red Wings was met with mixed reception. On one hand, Stecher was finding himself outmatched physically in a top 4 role. On the other, he played with the logo tattooed over his heart.
Stecher currently finds himself a free agent after splitting time with the Red Wings and LA Kings. It wasn't an easy ride after signing his two-year deal, with Stecher suffering some of the worst numbers of his career while in Detroit. However, a deadline deal that saw him reunite with Alex Edler gave way to a resurgence in his play, filling in admirably for the myriad of injured Kings defencemen.
So, why does a reunion make sense for the Canucks? They've already walked away from him once, after all.
First of all, Stecher would be an immediate upgrade to many of the tweener fodder the Canucks have on the back end. Tucker Poolman did not fare very well on the bottom pairing, giving up plenty of turnovers while not chipping much on offence as well. Fill-ins like Brad Hunt and Kyle Burroughs performed admirably but did not excel in long stretches of time.
Fans might remember Stecher struggling at times defensively, but that appears to be something that he has worked on during his time away. With the Kings, Stecher showed excellent defensive positioning, suppressing shots and forcing opposing forwards to weak areas.
From other accounts, Stecher was difficult to knock off the puck, which is impressive given his 5'10 stature. With active stickwork along with defensive vision, it's not too much of a stretch to see him put it together with the Kings this year.
Another important factor in bringing Stecher back would be his transition work. He displayed this with Vancouver and it's an aspect of the game that has always been strong. This was no different with the Kings, where he controlled over 90% of his zone exits and won 92% of his puck battles.
It's an underrated skill that would fit really well with the Canucks. Having a defenceman that is able to escape the zone under pressure is something that has sorely been lacking.
Bringing Stecher back would also set him up to possibly have another resurgence. Stecher has always been a player that relied on self-confidence. There was a stretch in the 2019-20 season where he scored a number of own goals, through unlucky bounces and factors that weren't in his control. That impacted his play and is part of the reason why the memories of Stecher aren't the greatest.
However, when he's comfortable and firing on all cylinders, Stecher can be a borderline top 4 two-way defenceman. He'll always try new things, and always be looking to make the best play. Part of the reason why Stecher showed an improvement in LA could be chalked up to playing alongside Edler, a player that he "has spent his entire life watching." It also got him away from the human pylon known as Danny Dekeyser in Detroit.
Comfort and confidence go hand in hand.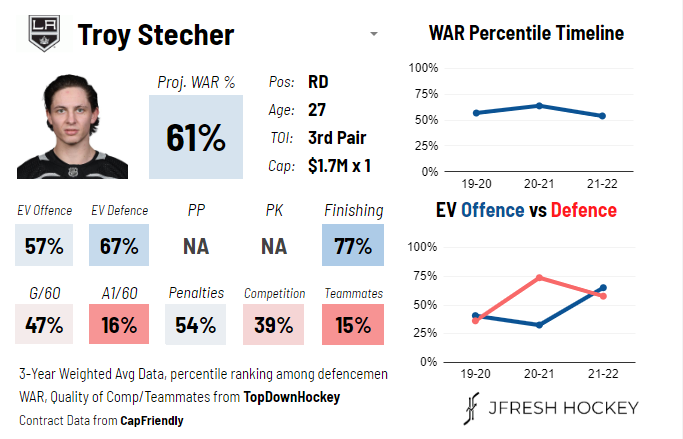 Bringing Stecher home, to the club he cheered for and spent the first part of his career with could be a platform that he uses to excel. He'll also bring back that hound-like attitude, the locker room heart and soul who will go out and battle each and every shift. There's never a need to worry about his compete level.
Sure, Stecher probably won't move the needle a tremendous amount. The Canucks need a long-term solution to their top 4. But bringing him back would be a smart piece of business. As a bottom pairing defender, there isn't pressure for him to be someone he isn't. It allows Stecher to play a style he is comfortable with, in a city that he calls home.
He'll most likely come cheap as well. Stecher's projected contract pegs him to get about $761,000 a season, a fraction of the cost that's being paid to someone like Poolman. Cheap depth is something that no team can get enough of, especially the Canucks whose injury plagues have been well documented.
With the impact that it could leave on and off the ice, a fan favourite like Stecher returning just makes too much sense for Vancouver. As long as he's not overplayed in minutes above his level, Stecher will bring solid defensive work, some offensive upside, and an attitude that bleeds blue and green. There's a lot to gain and not much to risk.
Oh, and it'll bring back Phoebe Stecher. Who doesn't want to see that?