The Stanchies: The worst Canucks game of the season leaves Rick Tocchet speechless
Photo credit:© Steven Bisig-USA TODAY Sports
There's an episode of It's Always Sunny in Philadelphia simply called "Charlie Work". In it, the episode showcases how the backbone of the gang is lowly Charlie Day, someone who is often the butt of all the jokes. But without him, as the episode highlights, everything would surely fall apart. He does the dirty work, he sees what needs to be done to save his friends from themselves. He'll never get the credit he deserves for keeping things on track, but he keeps plugging away, making sure all the scams the gang tries to pull doesn't bring everything down around their ears.
Watching the Seattle Kraken absolutely dismantle the Canucks in the worst defensive game of the season to the tune of 6-1, it's clear the Canucks no longer have their "Charlie". All the schemes, all the re-tools, all the plans, there's not enough people in place to keep things in check, to keep things running smoothly. Every season the team feels further and further away from the franchise that once led the league in innovation. Gone are the sleep doctors and in their place are mid-season pressers where old men get indignant over speculation. Gone is the high-end roster that threatened to break decade-old league scoring records, and in its place is a team seemingly put together based on an old copy of McKeen's Scouting from 2010.
Gone is the owner who once saw the team get to within a game of the Stanley Cup in 2011 and in his place is, oh wait, nope, nevermind, that's still the same.
It felt like Wednesday night was a new low for this Vancouver team, which is hard to fathom considering how many rakes we've already Sideshow Bob'd ourselves on so far. There is no need for speculation on this one, Wednesday night was the worst defensive game of the year from the Vancouver Canucks. Endless scenes of the team shrinking in its own zone, a five-man unit turning and watching one man with the puck, offering up token resistance as even they looked impatient about how long Seattle was taking to score.
The cherry on top? A mocking "Bruce, there it is!" chant erupted from the hometown Kraken fans, a well-played troll job in what might actually have planted the first seeds of a rivalry between the two franchises.
Of course, that would require the Canucks to eventually turn into a good team. There's a reason you never talk about the amazing rivalry between the 2008 Detroit Lions and, well, anybody.
We're at the point now where we shouldn't be asking "Will the Canucks find a way to sign Bo Horvat?" but rather "Would Bo Horvat ever want to stay here?"
Because without winning, nothing matters. All the big hits, all the big goals, none of it matters when a team is mired in mediocrity. Elias Pettersson could have a six point game to end the season, and it would be a mere blip on the radar of Canucks fandom. Compare that to Jeff Tambellini's back check in 2011, which will live on forever as the greatest back check in Vancouver Canucks history, aka the most confusing thing JT Miller has ever watched in his life.
The point is, it's been almost a decade of the hockey in Vancouver not mattering a single iota. Sure, there was a bubble run, and we all got to watch Micheal Ferland plant a brain worm in Jim Benning's mind with the 2015 beat down by the Flames, but aside from that, nothing really matters. When every season is a losing one, all the highlights, all the memories, they don't add up to much. They have no legacy. They just sort of disappear into the wind, flickering at the edges of your memory like Faber's turtleneck and chain at the edge of a media scrum.
Since I need gif money for rent, I'll write the article tonight, but I do have to warn you: It's an awful lot of "Wtf are we even doing here?" and then me throwing up my hands in disgust, hoping that you somehow hear that sound while reading.
It was not a good game. The Canucks did not play well. I almost quit CanucksArmy four times during the game.
Literally the only good thing is the fact it helped the Canucks out in the Connor Bedard Tourney.
So now that I've pumped you up and made you super excited about this recap, let's get down to business!
This made me laugh, which is notable, because it was the last time I laughed on the night.
Okay, I laughed several more times on the night, but it was a weary "how is this my life" kind of laugh where I start looking out my window and get eerily silent for five minutes.
Still, Rick Tocchet is just a hands-on guy: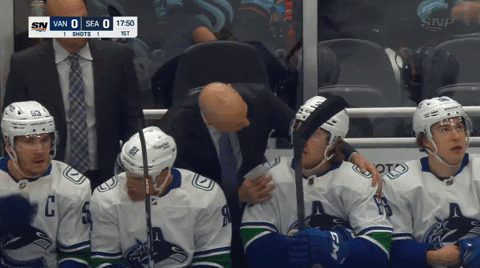 That's a comforting chat position. That's the kind of shoulder grab you give someone who has ridiculously good hair but has maybe seen his shot be under utilized for a couple of seasons now.
Bes The Gang Finds a Dumpster Baby
Give the Canucks credit, they didn't sucker you in with a house of lies, they were very, very up front about the kind of game you were in for: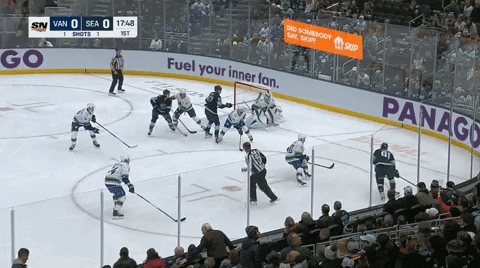 You'll notice the Canucks collapsing into a small five-man unit, like a poorly thought-out reboot of the A-Team where every character is Murdock.
The Canucks have this strange ability to play like they're constantly on the penalty kill, which might be more manageable if they weren't chasing history for having one of the worst penalty kills of all time. For whatever reason, they revert to doing what they do worst, which is minimize their movement, get into a tight ball, and watch as the world passes around them.
I don't know who came up with the Hammond approach for this team, but they need to be stopped.
The end results is Seattle getting a lot of good looks at the net, as seen in the clip above. The game ended with 14 high danger chances for Seattle, to Vancouver's 3, and 32 scoring chances for Seattle, to Vancouver's 9.
Those are what we in the business call "oh dear god, those can't be real, right?" numbers.
Best The Gang Gets Held Hostage
Seattle took this really strange approach where they entered the offensive zone with possession, and then continued to maintain possession and win puck battles: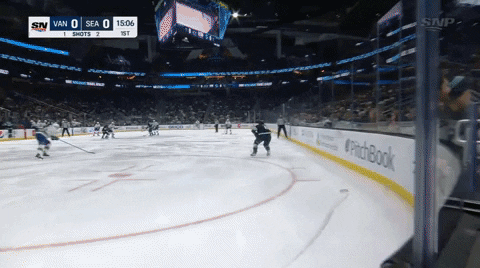 I was unaware this was allowed, but apparently good teams do this? Again, watch the clip, and revel in how Seattle skates the puck into Vancouver's zone and simply keeps the puck. They cycle the puck until Vancouver goes full penalty kill mode, and then they get two shots on net.
It's a solid debate of whether Vancouver lacks speed or skill, but it's clearly a mixture of the two. I don't know if Vancouver has ever looked as slow as they did Wednesday night, however. They looked like the Queensborough Bridge during rush hour, heyo! There you go New West, I got you covered with the sick local references. Next week I'll work the Burrard Bridge into a metaphor. Because this is all I have now. Metaphors that stave off the hockey talk.
It's kind of like taking a hike in Lynn Valley-
There was something nice about the eye test matching up perfectly with the stats. You didn't have JFresh dropping any cards that said "actually the Canucks are playing pretty good hockey right now," as someone online screamed that in fact, dumping the puck in was a brilliant play.
Remember the days when Drance would argue about Mason Raymond being a really good player? And you shake your head and go "but he just shot wide all the time!" and then you look up his stats and remember "holy crap, he scored 53 points one season" which would make him an elite player on this team?
Ah, those were the days.
Best Frank Sets Sweet Dee on Fire
The Kraken were unrelenting, and got the game's first breakaway 8 minutes into the first period: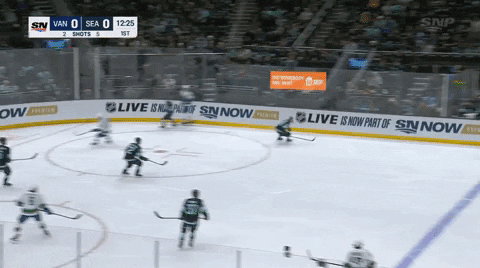 Spencer Martin denied that shot, but was not so fortunate on the next sequence: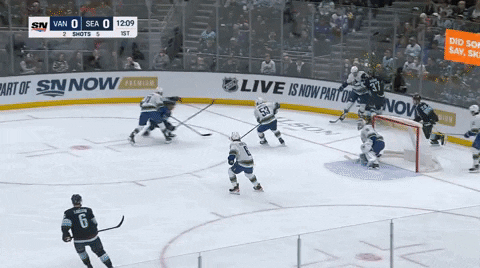 It's not that point shots are lethal in the NHL. Far from it. If you rely heavily on throwing pucks in from the point — aka the thoughts and prayers offence — you usually don't have a lot of success. That's actually what the Canucks do most of the time, and it's more depressing than someone arguing that milk is better in coffee than cream.
But if you give up that much time and space to the point all game long, teams are going to burn you. Either through shots, skating in and finding open space, or making you scramble to cover, etc. Time and space is the economy of the NHL, and the Canucks are giving it up freely and often.
Spencer Martin's rebound control has reached Dan Cloutier levels this season, so he does himself no favours on this play, but Quinn Hughes losing the stick of Oliver Bjorkstrand is what does the team in on this play. Luke Schenn does the best job on the goal by simply shoving his problems away to think about another day, but Hughes can't corral the rebound and can't contain the stick of Oliver, and it's game over, man.
The worst part about this? This was actually some of the better coverage on the night. The Canucks at least seemed to understand where the puck was going, and were generally covering people in an acceptable manner. It's like when your friend is kind of tipsy, but has everything under control and isn't slurring their speech yet. It's when they take three shots of Jager behind your back when they really lose the plot.
So yes, the Canucks weren't Jager Bombed quite yet. This was the "respectably tipsy" stage of the game.
Best Mac Is a Serial Killer
So you've just seen an example of Seattle attacking the zone, and Seattle scoring a goal.
How did the Canucks respond? By being unable to break out of their own zone and icing the puck instead: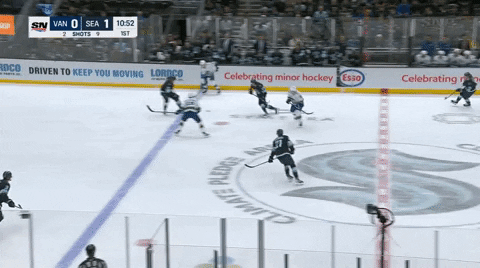 We're at the point where the team can't even string together two passes to move the puck forward. Like, there are times when I am actually puzzled by what is happening in front of me. I look around the room to see who is playing a joke on me, that surely someone slipped in clips of the Coquitlam Express instead of the Vancouver Canucks.
But nope, this is our reality. This is a roster that is capped out. This is a team that is fueled by a "get in and anything can happen…?" trailing question mark philosophy.
The good news is the team retired number 7 for the fans, and don't you ever forget it.
Best The Gang Gets Whacked
Tyler Myers and OEL continue to be the most baffling pair of defencemen in the league.
I truly do not understand the life decisions they make on the ice. I cannot count how many times I have seen both men cover the same guy, resulting in an open man tapping in an easy goal. They make so much money to do this.
Or in this case, Tyler Myers just nope-ing off of coverage to slide up high and stare at a point shot, which leads to OEL lunging for a poke check, which leaves his net front guy all alone in front of Martin:
The end result? Alex Wennberg scores like he's on an episode of Milf Manor.
And again, sure, maybe in other seasons you go "okay, that was a power play, what can you do?" but the Canucks' penalty kill is historically bad. It's getting to the point where we're having actual debates about whether or not it might hit 50%. That 50% of the time, the other team scores a goal with the extra man. I live in fear of people in the streets walking up to me to ask me about the penalty kill, because I just know I'll start weeping and screaming "I DON'T KNOW WHAT'S WRONG WITH IT!"
Anyways, please buy these $750 Lunar New Year Canucks jerseys.
Best Bums: Making a Mess All Over the City
When I say this was the worst game of the season, I meant it.
The Canucks' offence, which has oddly been a positive item at points during this season, has devolved into whatever this is: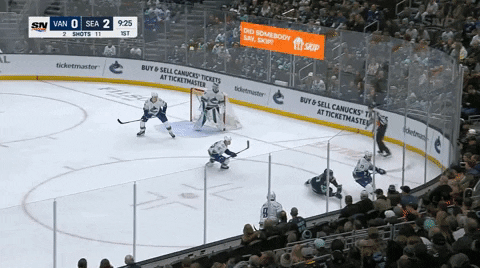 The Canucks either didn't, or couldn't, enter Seattle's zone with possession. So you saw a lot of plays where it looked like the Buffalo Bills were on 3rd and 2, where they would just smash the Da' Bomb playbook and huck it down the ice and try and recover the puck.
Even Elias Pettersson, normally good for a few highlight reel dangles a night, found himself dumping the puck in and praying he'd recover the puck somehow: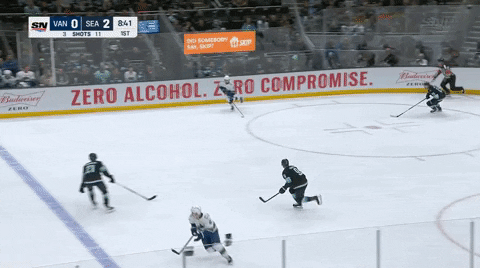 It's not often EP40 finishes in the bottom of the team in Corsi, but he was 3rd last with a 25% Corsi on the night. Which just goes to show that if Elias isn't going, the Canucks should legally not be allowed on TV.
Even when the Canucks managed to recover a puck from a dump-in, there was Curtis Lazar dreaming about free hamburgers instead of picking a corner: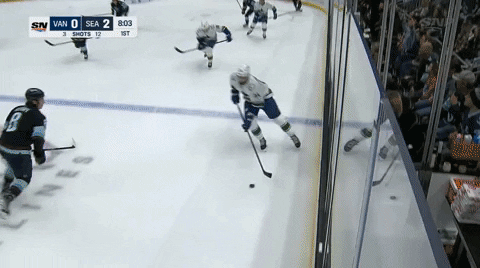 This was when the game was only 2-0, mind you. It only got worse from here.
J-Pats is right, it feels like it's been forever since Elias was a threat on the power play. What was once a feared staple of Elias' game, the one-timer is no longer the tool of destruction it once was.
So even when the Kraken took a penalty for slashing Flynn Rider: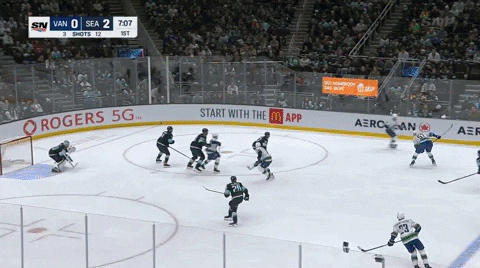 The best chance went to the Kraken after Quinn Hughes struggled with the puck along the boards, eventually leading to a breakaway: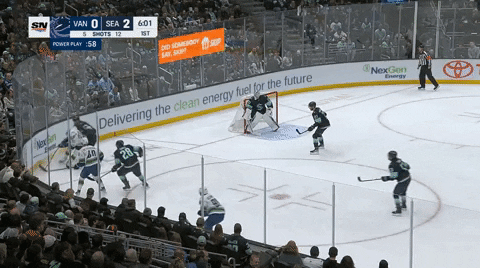 I do enjoy JT Miller just going full Reinhardt and charging at Soucy on the play. Make it a simple breakaway, take away all the "will he or won't he??" passing play.
And if we're going to call out EP40 for his rough game, we do have to also point out that Quinn Hughes also had one of his roughest outings of the season. He no longer looked like a student stressed about failing a midterm, he was upgraded to a student unable to pay his tuition whilst also failing his finals.
It turns out that teams with speed and reasonable roster depth are better constructed than the current Canucks. Who knew?
Best Dennis Reynolds: An Erotic Life
Seattle enters the zone, Vancouver backs off and gives time and space, Seattle generates a dangerous shot on net. Rinse and repeat:
How bad was it? The broadcast had a "turnover" montage they showed everyone during the second period: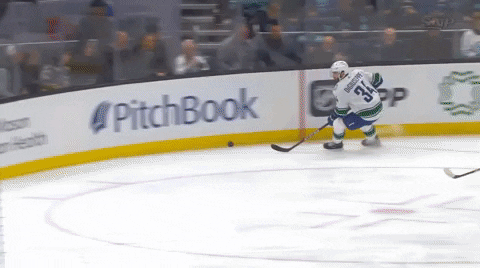 Again, the Canucks wheeling off of their check to chase the puck was something on display all night long: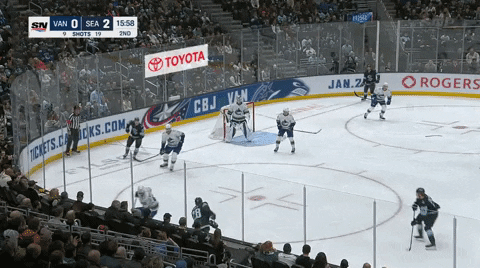 I just spent five minutes with my hand on my temple summoning the courage to continue writing.
Best The Gang Cracks the Liberty Bell
The Chaos Giraffe appears when you least expect him, which is the only way to explain why Tyler Myers absolutely trucks Matty Beniers like it's an episode of Power Slap: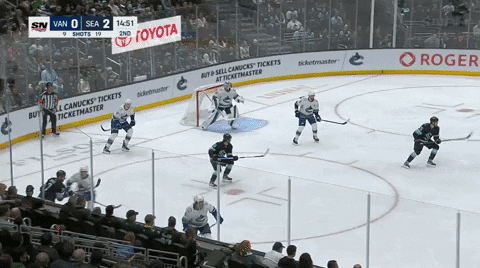 Beniers didn't return to the game and it's no wonder, because CG57 went IN on him, with an unprovoked hit that ended Beniers' night.
Tyler needs to realize that the NHL only allows that in the playoffs and/or when Greg Campbell is playing for a team. You have to pick your spots better than that.
A needless play, and one that injured someone to boot. Not a good look for Tyler, and one that should honestly be looked at by the Department of Player Safety. That's about a blindside hit as one can land on an unsuspecting player.
Seattle would make Vancouver pay on the penalty kill by simply passing the puck and waiting for Vancouver to implicate themselves in their own murder:
It's not even fun to break down these clips. I can't be like "oh look at the amazing skill on display by Seattle!" because it's mostly "I have no idea why Vancouver is like this, why are they all moving in the same direction? Why are they ignoring the point? why do they refuse to defend? Someone please make it stop."
You know when you see birds flying together in the sky, weaving back and forth as a group? That's how the Canucks defend in hockey.
It's beautiful in its own way, but birds can't penalty kill.
Best Paddy's Pub: Home of the Original Kitten Mittens
Luke Schenn tried to spark the team and/or Rick Tocchet by going old school with a fight. While initially, he was winning easily, Oleksiak came back strong, ending the fight in a tie: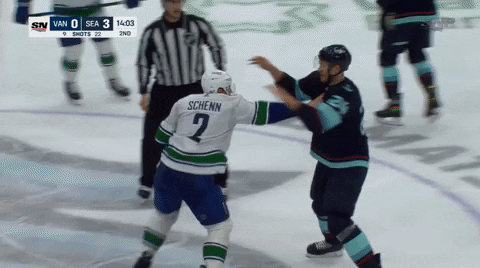 That's a solid scrap, even if I was disappointed Luke didn't try and lock on a Kimura when the fight went to the ground.
Best The D.E.N.N.I.S. System
Defend
Everything,
Not!
Never
Interrupt
Scoring!
Seattle scored again after they absolutely ripped a one-timer from just inside the blue line:
We're at the point now where I am going to explain how this goal wasn't the worst, because at least the Canucks are generally in the right spot on the ice, and they haven't left two players wide open.
I mean, yes, they allowed Eeli Tolvanen to back up and get the one-timer off while being watched by three Canucks, but I feel confident that Vancouver at least knew he was on the ice at the time. And given a few more minutes, they might have game planned a way to stop the shot.
I feel like the "One day Bubble Demko won't be there to save you" is the "Climate change is real, you need to pay attention to it" of our hockey world.
Best The Gang Reignites the Rivalry
I don't even know if that "thanks Martin" is said in jest or not. Is it thanking Pfizer levels right now? I wish I knew.
To their point, Spencer Martin was still having to make big saves to keep the game….well not close, but not as bad?
Seattle shows Vancouver that they can dump the puck in and still end up with possession, as the entire Canucks crew backs up and gives, what's that term again? Time and space! Yes, time and space is given to the Kraken, who walk in and almost convert a rebound into a goal.
Then, a Canucks' futile attempt to get a shot on net results in the Kraken pushing the play back in Vancouver's end, as they somehow generate a two-on-one out of it: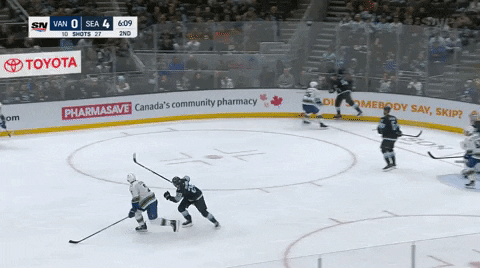 Do you have small children? Have you told them about the Canucks yet? Has this season made you put that talk on hold?
Best The Gang Buys a Boat
They say you aren't truly a Canucks coach until you've watched your team give up five goals in a game: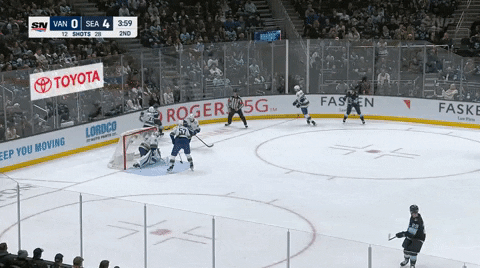 At this point, the Canucks were just broken. More dead inside than when you realized you peaked in high school and it's all downhill from here.
The team just listlessly watches the puck get cycled around the perimeter until the Canucks once again find themselves essentially running a penalty-killing unit, which somehow lets a pass go right through them for the cross-ice goal.
Nobody is covering anybody, everyone is watching the puck, there is no semblance of basic hockey defence on display here.
Seriously though, $750 for a Lunar New Year jersey is a steal.
Best The Gang Goes to the Jersey Shore
I will not hear slander of Jesse Joensuu.
Best Frank Reynolds' Little Beauties
Well, I have news for Phil, the goal eventually got creditted to Conor Garland: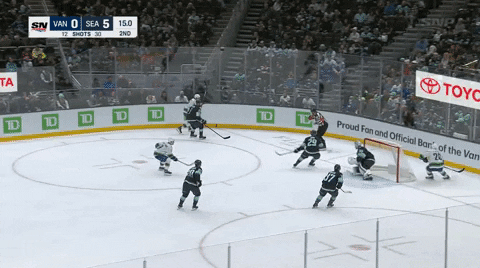 I mean yeah, that's a goal all right.
Cool. Good job. Nice work.
Anytime you can beat Martin Jones you just thank your lucky stars you were there to witness it, I suppose.
Best The Gang Gets Trapped
I feel like I am writing this article like the Canucks played the game, slowly wilting as time goes by, just waiting for it to end.
The third period started with a breakaway, as is tradition: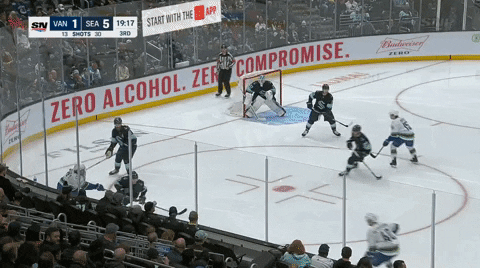 And was quickly followed up by the Kraken's sixth goal on the night: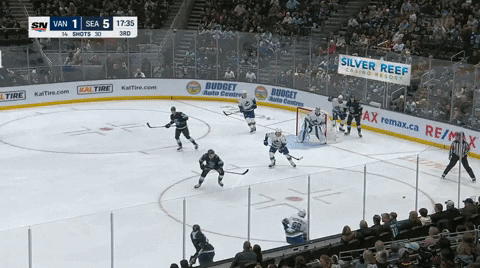 At one point five Canucks lined up near the boards, completely ignoring the other half of the ice, which led to Ryan Donato's goal.
Spencer Martin needs to have that one, but that assumes any of this matters.
Editor's note: Yes.
Ah, shift charts, the best sign of impending doom: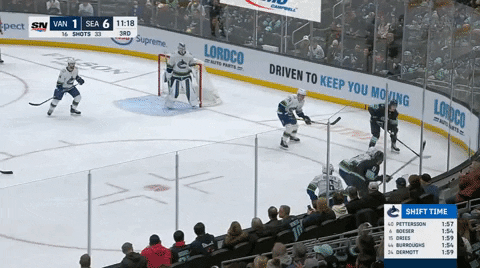 The only reason they got a line change was because the Kraken missed the net and cleared the puck themselves by accident. Which part of me wonders if they did that out of pity?
Thank you Seattle?
I cannot overstate how badly Seattle trounced Vancouver on Wednesday night. The Vancouver Grizzlies put up more of a fight than the Canucks did.
Best The Gang Tries Desperately to Win an Award
Fair play, Seattle, fair play.
Best The Gang Gets Quarantined
The Canucks didn't dump and chase on this shot, but what should have been a sure goal from Horvat was slid through the crease:
Which I just think was Bo trying to end the game sooner. He knows a goal celebration and faceoff would take up valuable time. Instead, miss the net and end the game early. That's why he's the captain.
Rick Tocchet had no words post game. He did however, call his team soft.
And yeah. That was the game. If you felt depressed reading this, I don't blame you. I don't think I've ever felt this way writing before. I just had nothing fun or amusing to dive into. Nothing mattered in the game. It was all very bad. And I don't know when it gets better.
The team is just not very good right now. Which hey, maybe you lean into Connor Bedard and all that, but part of you is worried that the team will fight and scream against the dying of the light and try to fix this team up enough to go on a late-season run to ruin even that.
There just never feels like there's a long-term plan in place, which has only been highlighted by the fact that coaching is clearly not the issue with this team; the roster is.
We're basically in a holding pattern until we know what direction this team goes in. Will they trade Bo? Schenn? Kuzmenko? Or do they double down and find a way to keep them?
Only time will tell. It's just a real hard sell to a fan base that knows the problem with this team ultimately lies at the top.
Champagne problems are long gone. Now it feels like ownership problems are all that is left.