The Stanchies: Vancouver Canucks smack down Toronto Maple Leafs 4-1
Photo credit:© Bob Frid-USA TODAY Sports
We've talked enough about the current tank situation that we all know where we stand.
Losing is in the team's best interest, but it feels like the Canucks are about to set off on a decent stretch of hockey. Healthy Demko and an easier schedule? That's just a recipe for disaster in terms of gaining points in the Bedard lottery odds.
That being said, when the Toronto Maple Leafs visit town, nobody cares about the Great Tank Battle. Nobody cares about the draft. All anyone cares about is watching Leafs fans' eyes glaze over as they realize all that money they paid to watch their team was in vain.
"Go Leafs Go!" were loud and proud early on, but they withered away faster than Michael Bunting in a fist fight.
The usual suspects were of course at fault for the win. Bubble Demko was simply fantastic. The Anti-Tank Missile Andrei Kuzmenko made his presence known, as is tradition. But it was one short-handed shift from Elias Pettersson and JT Miller that really sealed the deal late in the third period.
We'll get into all of that shortly.
What's important to remember is that the Leafs lost tonight. Their fans only saw one goal. And they had to leave the arena knowing they lost to the Vancouver Canucks.
And that's a beautiful thing.
Let's make some gif money, shall we?
Best unfortunate new reality
Luke Schenn, NHL's hockey dad for mobile scoring defenseman.
Ohhhhh.
Oh no.
This game started off tough and didn't let up for most of the night. Hard checks, solid back checking, blocking shots, this game, dare I say it, felt like two teams who don't like each other because their fan bases demand it of them. It was like the Hunger Games, except we aren't fighting for survival or food or due to political strife. Okay, it's nothing like Hunger Games, but it was a fun game.
The Leafs started the pain when old friend Luke Schenn dropped Di Giuseppe not once, but twice in the same shift:
Now the normal response when someone targets Phil Di Giueseppe is to throw a nice hit on one of their grinders, just to let them know that you know it's game on.
Unless you're the Chaos Giraffe.
He went from 1 to 11 in retaliation and absolutely obliterated Johnny Tavares into the shadow realm: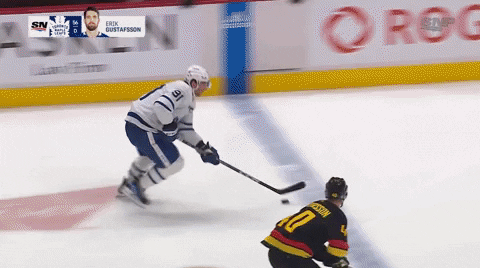 It's felt at times like Tyler Myers hasn't been as engaged in games this season, as we haven't seen a ton of chaos from him. But tonight? He brought his Giraffe game to the table.
(That's a clean hit, just to get ahead of the Leafs fans who freeze framed Myers jumping into the air like 9 minutes after he made body contact.)
It brought to mind the hit he once laid out on Duncan Keith, the hit that made you think maybe his long term contract wasn't so bad after all.
CG57 then had to engage in a battle of fisticuffs, as is tradition, to which he one handed Jake McCabe to the ground like he was Randy Orton tossing away Harv Sihra:
JT Miller then skated down to the train station to drop a casual "just passing through" hip check of sorts:
All of which is to say this was actually a rather entertaining game that felt like there were actual stakes on the line instead of endless months of depression just over the horizon.
Luke Schenn celebrated his video tribute by dropping JT Miller, which in no way caused jokes or comments to occur about it online:

Just a hit between two dudes. When they ask who's in the picture behind Luke, he just says someone he used to know.
The Leafs outplayed the Canucks on the night, let's get that out of the way right now.
The problem they ran into?
Thatcher Demko: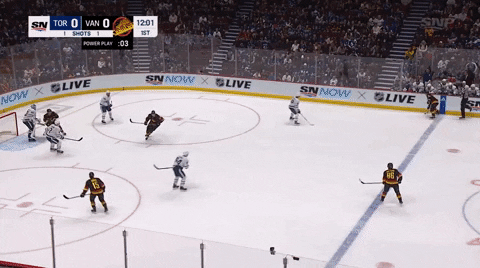 If you're Patrik Allvin and you watched this game tonight, this is the crux of your playoff dream next season. This is what you're basing all of your hopes and dreams on. That Thatcher Demko returns to this form, all of the time.
In a very weak Western Conference, it's very possible this team does indeed improve enough to battle for the post-season next year.
Thatcher Demko ended the night with 37 saves on 38 shots, and despite the fact you're going to hear everyone praising him like they should, this is about the only gif you're going to get out of it:
Why? Because as we discussed last game, he is so damn fundamentally sound that he makes everything look so easy and boring. Like it's no big deal for him to stop point blank saves, he just happened to be in the neighborhood so why not save the puck while he's there?
He doesn't even do dramatic hair tosses while taking his mask off to drink water. He probably straightens his hair and glues it to his head in the name of efficiency.
Matt Murray ran into more bad luck when he felt Nils Aman's stick slightly graze his skate, causing him to to almost spin completely around and do the splits, as one does:
This led to a power play for the Leafs, which in the past usually meant an automatic goal. But with Demko in net, it somehow led to more opportunities to murder John Tavares:
That's on Tavares for skating with his head down, as Dakota Joshua was actually quite restrained in the hit he laid out. I assume Michael Bunting saw this and whispered "I'll fake punch you later" and made a mental note of it.
Not to go on and on about the physicality of the game, but even on dump ins, there's Tyler Myers finishing his checks and making life hard on the opposition:
Watching this game brought a weird feeling in your stomach. F…fu…..fun? I think it's called the feeling of fun? Satisfaction? Something like that.
You know how you get scared when you see Elias Pettersson chasing down the league lead in blocked shots? Well there's good reason for that:
Auston Matthews briefly left the game after taking this puck off his knee, and Ryan O'Reilly later left the game after taking a puck off his hand.
Again, you're never going to tell Elias not to do something (he'll just triple down and do it all the time out of spite), but you can even look at Ryan Kesler in Vancouver and realize the possible injury baggage that comes with blocking all of the shots.
Best Vezina goaltending plan
Like, Thatcher is never fazed. Scramble in front of his crease at the end of the period? No worries, ho hum, he's got it:
It sickens me.
It was an odd night for penalties, where random hooking calls were made but blatant high sticks were tossed aside.
The first "eh" call was on Noah Juulsen, but I'll give it to the refs because Noah leaned into the "I'm about to chop down a giant tree" swing of his stick:
But another odd thing happened on the penalty kill. The penalty kill unit killed penalties.
They weren't scrambling around, they weren't overloading one half of the ice, they simple remained calm and cleared the puck: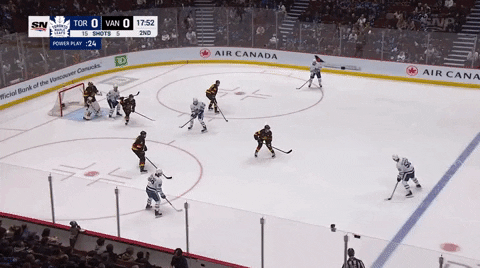 Where is a d-man double covering someone? Where is a Canuck failing to clear the zone? Where are all four players coming to form a straight line on the ice for reasons we shall never understand?
Who is this team?
It looked like the Canucks scored a goal in the second period but the refs waved it off due to thinking Murray had the puck covered:
I take appreciation in Tyler Myers absolutely bull-rushing his way to the net. He just swarms in like a wrecking ball, clawing and chaining his heart in vain. He jumped and never asked why. He shoved, we fell under his spell. A goal no one could deny.
Except the NHL.
The NHL could deny it.
Best potentially potent Podz
While Kravtsov didn't build off of his impressive game against the Wild, Podkolzin continues to play like someone you just know NHL coaches will love. He never cheats on a play and is always working a 200 foot game:
Sheldon Dries fitting in with him seamlessly has been a pleasant surprise, and it's their combo of body checks that leads to Podkolzin getting a high danger shot in on Garth Snow Matt Murray. It feels like just a matter of time before Podkolzin goes on a bit of a scoring run once the puck bounces his way a bit more.
Best Viagra commercial needed
Christian Wolanin has stepped in for Oliver Ekman-Larsson, and honestly, he's been on par with OEL. Even if he gives away the puck you just look at his salary, chuckle slightly to yourself, and go about your day.
Offensively he's showing a good ability to pick his spots as well, as he almost made it 1-0 on this 2 on 0 with Conor Garland:
Now, I give full credit to Matt Murray for not biting too much on the Garland fake, and pushing himself back over to get his pad in position to make that fantastic save.
But part of this is on Wolanin for not lifting that puck there. There hasn't been that much free real estate in Vancouver since the 20's.
Also please note John Tavares skating back and just kind of slightly pointing his stick in the general direction of the danger.
Best so nice he did it twice
I never thought I'd be writing about the offensive threat of Wolanin being a highlight of a period, but here we are:
That's a nice soft pass from Dakota who finds Wolanin all alone in the slot, who just fires it wide.
While you obviously want him to score there, there is something to be said about him making himself open for all of these chances in the first place.
No offense to Oscar Fantenberg but he was never too involved in high danger scoring chances.
Best welcome to the Kuzmenkshow
You know he's going to score, you just don't know when:
While Kuzmenko usually saves his heroics for the end of the game, he got it out of the way early, scoring with such a nice tip that his agent immediately ordered three new black turtlenecks for him.
The passing before the goal was also incredibly clean and efficient, as the loss of Bo Horvat has almost forced some innovation into their special teams. It felt like it all ran through Horvat this season, and with good reason. He was Bumpin' Bo, why wouldn't you rock with your boy.
But with Horvat gone, we're seeing a bit more dynamic gameplay from their top unit, and it doesn't feel like the endless death loop of JT Miller passing the puck repeatedly until he gave it away or found Bo in the slot.
Elias Pettersson just feels more involved now, you know?
Remember when Tyler Myers would stand behind Collin Delia and they'd both make a save and they'd both get beaten for a goal?
The Canucks have upgraded that to Quinn Hughes making saves on one side of the net and Demko making them on the other:
I assume the Skate jersey powers this team up, and if they go with them full time next season they'll win the Cup, but I haven't run the numbers on it yet.
To end off that save sequence, Philly Delight got a nice breakaway that Matt Murray luckily saved:
It feels weird even typing this. The Canucks were playing fun hockey. Despite getting outplayed, they were still in it and even leading the game.
Okay look, sometimes you just get beat:
I mean, sure, the Canucks could have gotten a stick on the pass, but their fundamentals were fine. Sometimes you just have to tip your hat to a killer pass. The ol' Henrik Sedin rule.
This was also the last time Leafs fans felt joy in this game, so we can allow them their moment to revel in that pass.
Alexander Kerfoot pushed the button for his bus stop too early on this one:
Then he had to look around and pretend to wonder who hit it when no one got off at the next stop.
So we have a tale of two sticks to start this off.
First up is Brock Boeser, who gets sticked and gets no call:
I assume the officials got caught up in his glorious flow and didn't even realize he had a face.
Brock got upset, he talked to the officials, and life went on.
Then moments later, the Canucks got dinged for a stick that tapped the helmet of Morgan Reilly: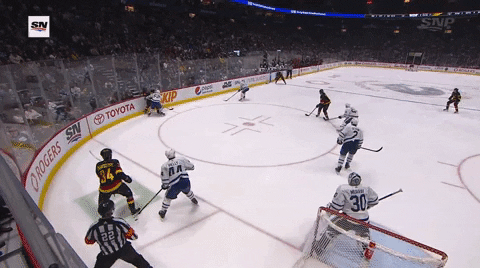 This is normally an event that leads to a goal for the opposition, which leads to the usual conversation about why the league hates Vancouver.
However, this was a hot dog moment for the Leafs.
You know those moments, right? Where you think you want a hot dog? Where you dream about having a nice juicy hot dog? And when you finally get a hot dog, you wolf it down, sometimes even staring right into the eyes of a girl you just met, creating an uncomfortable silence?
Then a few minutes later you realize the hot dog was a huge mistake because now you feel like trash.
This was game, blouses for the Canucks.
What should have been a glorious power play goal for the Leafs turned into a short handed goal for the Canucks.
Remember Bo Horvat and Elias Pettersson and how good they were short-handed?
Remember how everyone was like "I wonder if EP40 and JT Miller can co-exist!!" like they were a tag team forced together by Vince McMahon?
Well a couple of questions were answered.
One, I'm starting to think the secret formula to short-handed success lies with Elias Pettersson.
Two, it's crazy to even think there was a time that Travis Green was like "nah, EP40 doesn't need to kill penalties, Jay Beagle has got this."
Three, Tyler Myers actually started this goal off with an incredible defensive play cutting off a cross ice pass, actually utilizing his long reach.
Four, EP40 and JT Miller are two very skilled players and can make sweet sweet love on the ice:
From the perfect feed from JT Miller to the sublime deke from EP40, that's just an absolute banger of a goal.
Best they weren't done yet
Then on the same penalty, JT Miller and Elias Pettersson hooked up again, with Jimothy Timothy scoring the goal this time:
Once again I am going to suggest someone phone up Travis Green and demand answers.
That's just a perfect pass, and JT Miller, who takes Matt Murray to the train station.
Those two goals crushed the Leafs. The fans, their players, TSN. All of them were absolutely crushed.
There was no game after this. It was already over.
This is the first time Tom Fergus' name has been used in a game recap in 30 years.
The best part of the game, aside from the two shorthanded goals, was Michael Bunting thinking he was going to intimidate Dakota Joshua:
He swings around with the fake punch, which Dakota does not bite on for a second, and then gets backed up as Joshua goes in for seconds.
Just an incredible ASHL moment.
How do you really hammer home the end of a game? Cycle the puck until you get a tap in goal for Nils Aman: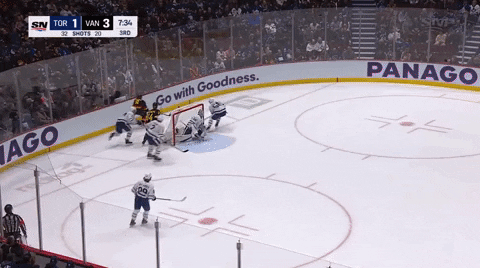 You've got Boeser and Philly Delight looking like the Sedin Twins cycling the puck to set up Alex Burrows out there.
Safe to say, it was a fun night in Vancouver.
Best Canucks defenceman of all time
I said this after his second first season with Vancouver he was their best defenseman of all time, and I stand by that.
This is what Vancouver is known for. Japadog and going on a heater to ruin your lottery odds.
Why.
Best scared of the "R" word
Hey, full credit to them for admitting they were scared to use the rebuild word.
Best in-house Etsy market
These Orca hats are honestly some of the best Canucks merch you can get. Absolutely fantastic work is being done here.
The NHL has never sold the game like this lady sold it. How do you not watch that and want to run out and buy tickets?
NHL needs to hire her on full time to produce content.