The Stanchies: The Vancouver Canucks' $13.26 million problem on defence
Photo credit:© James Carey Lauder-USA TODAY Sports
Weekend matinee games tend to be the weird cousin of the hockey ecosystem.
Sometimes they show up to family BBQs in a Lamborghini and fashionable sunglasses, other times they slink in halfway through your family outing in an oversized hoodie and are missing a shoe. Either way, you don't ask any questions, because you don't want to be associated in any pending legal issues.
So while the Jets' 7-4 win over the Canucks certainly fit the bill of the high noon weekend game curse, if this season has taught us anything, it's that this game sadly felt par for the course for this team. Instead of coming up with various alarm clock clichés to explain the Canucks "not being ready for the early game!", we instead sit here trying to sift through the latest game in which the Canucks have given up 5 or more goals.
That defensive structure we saw against the Colorado Avalanche, one in which the team came together and played a game so tight it almost felt like a playoff game? Gone. Disappeared. Drifted into the shadows never to be seen again, the Nebula Lawrence of our time.
I feel at this point we know each other well enough that I don't need to dive too deep into the intro here. We've seen this story play out before. The Canucks' defensive structure collapses and despite their best efforts to score their way to victory, they fall short.
I guess this time was a bit different in that the Canucks' goaltending might have been at its lowest point of the season? Is this fun? Is this getting you all amped up to read this article? Am I doing this wrong?
Look, the important thing is the Buffalo Bills punted the Patriots out of the playoffs. Sometimes we have to focus on the important things in life.
Ready to make some gif money?
Let's do this.
The John Cena/Randy Orton of our generation continued at the start of the game, as JT Miller callously and without regard ripped the stick straight out of Collin Delia's hands 15 seconds into the first period: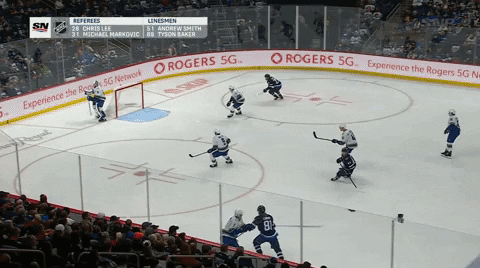 I don't know if JT Miller is in his Randy Orton head punting mode yet, or still rocking that Evolution vibe, but Collin Delia is still very clearly in his John Cena motivational speaker and all-around good guy persona. It's not surprising he took the high road here and didn't respond to this very serious affront from JT.
The next step is clear for Delia, which is to sew jean fabric onto his goalie pants, but something tells me Ian Clark will try and stop that from happening.
I suppose we should talk about the rest of the game now.
Minutes into the game and players were spinning and falling all over the ice, which led to the Jets getting their first high-danger chance of the game: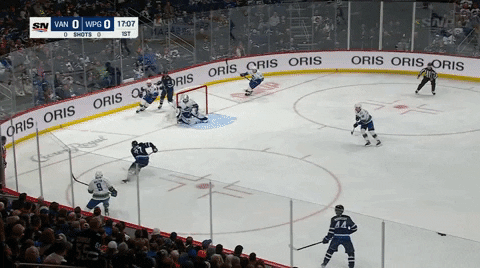 If you noticed Tyler Myers setting up shop in Delia's lap like he's Ben Simmons in the dunkers spot, and it caused you to make a loud "hrm" noise, you're not alone!
We all know the Chaos Giraffe marches to the beat of his own drum, but I have to admit, we're not seeing the happy-go-lucky Chaos Giraffe of years past. We aren't seeing those blistering end-to-end rushes that helped park him firmly in the chaotic neutral realm. Instead, we're just seeing the chaos in his own end, in which he points at people and then skates to random areas of the ice like his controller disconnected. He is slowly leaning towards chaotic evil under Bruce Boudreau and I can't figure out why.
Tyler Myers' play on this night is best described as that feeling you get when you talk to someone and they're looking at their phone, giving you token responses, as they are clearly tuning you out, but since you paid them $7 million to hang out with you, you just kind of ride it out.
I haven't even gotten into OEL breakdancing to plug up a passing lane that had nobody in it, and instead spiralling out of control like your inhibitions on your birthday.
Spoiler alert: This was not a banner night for OEL and CG57.
Best sometimes you gotta hand it to them
The Jets opened the scoring and you know what, I will hand it to the Jets: That was a nice snipe.
JT Miller whiffs on the pass that goes right through his wheelhouse, so yes, if you want to scream and get angry about something on this play, there's your spot. It's also JT Miller, so we're all super well-versed in coming up with fun things to say about his defensive game.
Kyle Connor takes a shot that makes Delia look like he's practicing to become a mime, and he's just putting his elbow up to lean on an invisible table.
Best imposter goal syndrome
The Canucks looked like they had tied it up when Ghostface Killah Mikheyev skated super fast into the Jets' offensive zone and scored on what looked to be a pretty stoppable shot:
As the clip shows, however, Bo Horvat put himself offside in his rush to go to the net to try and tip every single shot ever taken.
Which feels rather fitting for Mikheyev, because the guy scores and passes out of nowhere, and can sometimes end a game with multiple points and you don't even remember him getting them. Scoring a goal and having it erased from existence? That's next level stuff of living up to the gimmick. He's going full Keyser Soze on us. All we need now is his limp to disappear after he walks away from a Patrick Johnston interview and we're set.
Kyle Connor got his second of the game after Oliver Ekman-Larsson pinched to keep a puck in the zone, leaving Tyler Myers to make a choice of standing in the middle of the ice and eventually turning around, or skating backwards really fast: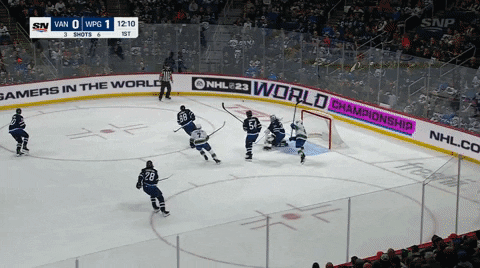 He chose the former.
I have watched every single Canucks game this season and I honestly walk away from them wondering why they activate their defence so much on pinching along the boards. Clearly this can be a good strategy as it can help maintain possession of the puck in the offensive zone.
The issue is, this Canucks defence isn't exactly what you'd call mobile. Aside from Quinn Hughes and occasionally Ethan Bear when he's hydrated properly, they aren't the swiftest group in the league. Tyler Myers due to leg length alone can generate some solid speed, but his decision-making doesn't often put him in the best starting position. He's the guy who assures you his car could easily hit 90mph, but he is content to drive around at 30. For someone who has such an advantageous stick length, the amount of times his stick work is ineffective is actually quite impressive.
OEL has two gears on plays like this, he either goes all in on the pinch, or he starts skating back into his own zone the second the puck crosses the opponent's blue line. He's either incredibly aggressive or incredibly passive, to the point that neither feels very effective.
All of which would be fine if we were discussing defencemen who get paid $1 million each, but we're not, we are talking about two of the highest paid defenseman on the team, which is cause for concern. If Justin McElroy held a poll right now of the most money wasted on Vancouver infrastructure, this pairing might lead the votes.
Clearly the forwards have also been an issue this season, as there have been multiple times when a d-man has jumped up and a forward doesn't move in to cover. But this is a play where OEL can see three forwards in deep, it's your fourth line out there against Connor, and you have to ask yourself, what's the reward here? Is the risk worth it?
The answer feels like a no.
Best hit of the game? Lazar on his own teammate: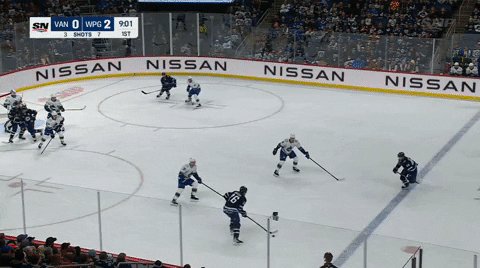 I could either play the Benny Hill theme song or just show this clip, but either is a good way of expressing how the Canucks seem to play in their own zone.
I don't know if it's a lack of trust in each other, a lack of skill, or a lack of structure, but there have just been far too many situations where the Canucks end up scrambling in their own zone, showcasing what panic looks like in real-time.
Best holding on for dear life
Collin Delia did his best to keep the Canucks in this game, and even busted out a Time Cop on my behalf: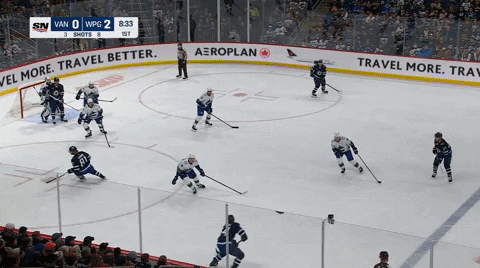 The Canucks are once again being passive in their own zone, giving up time and space to the Jets, to the point where I can almost hear Brenden Clinton narrate the entire clip in my head.
Not really an athlete. Up against a bigger, stronger, faster opponent. Before you know it, Davis is backing off of his commitments like Britney Spears and Jason Alexander.
Best checking in on the top pair
I mean, clearly they're still trying out there, it's not like they are just going to –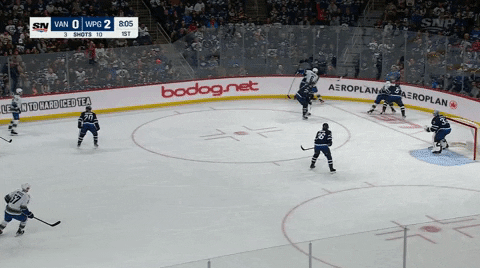 Okay, look, chemistry takes time to develop. One moment you're zipping over 50mph passes in the opposite direction of your partner, the next you're taking pictures on Splash Mountain with the Stanley Cup sitting between both of you.
Elias Pettersson just likes teams to know he's mere inches away from scoring at any moment in a game: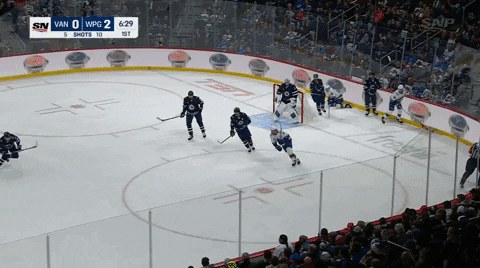 EP40 sliding into empty space and then spinning and dinging the crossbar from the steep angle in one quick motion is the good stuff. He is just very good at hockey. Slightly better at hockey than you or I. Just slightly.
JT Miller was given the Elias Pettersson bump in an attempt to get his game back on track, and it's on plays like this that you realize how comforting and safe you must feel playing with Elias:
That zone entry is so filthy it should be on X-Rated sites filed under "Pettersson joins mile high club" or something to that effect. Give full credit to JT Miller because he also plays a huge part in chasing down the initial rebound on the half boards, something that has been missing in his game this year. Elias then follows THAT up with a stick lift and shovels the puck on net, to which JT Miller follows THAT up by putting the puck past Rittich.
It was in effect a game of one-upmanship played out over the course of 30 seconds of real time. Michael Jordan and Larry Bird battling over an ice-cold Big Mac.
Watch the iso-cam of Elias, something that should be on the screen at all times during the entire game if we're honest: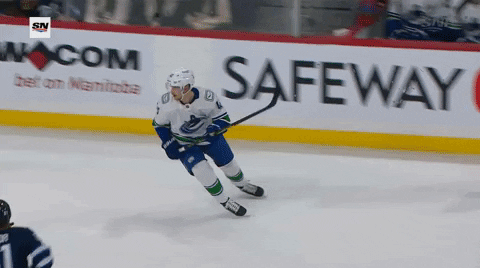 That's a man on a mission right there. That's a man who's been told he has to destroy a ring of unimaginable power otherwise the world is doomed (Jim Benning is Gandalf in his scenario I guess, as he drafted him).
That man was not going to be stopped on this play.
Jay's boring and ineffective tweet is correct. The Canucks, despite their poor season, have seen plenty of helping hands chip in with some solid work. While Höglander and Podkolzin attempt to escape Trent Cull lean into their offensive game in Abbotsford, the Dries and Studnicka's of the world have filled in admirably for them.
On the Canucks' second goal, Studnicka does his best Bo Horvat impersonation by delightfully tipping in a Luke Schenn shot after Joshua and Lazar did the grunt work along the boards: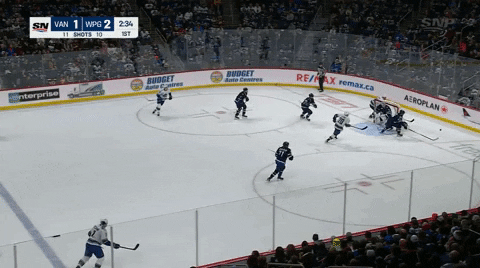 Now, I have to be honest with you: This line got caved in for the rest of the night. Their puck possession game was non-existent and the Jets owned the puck against them. No line had worse Corsi than this trio.
But they scored a goal, were physical, and played to the best of their abilities. Plus they get paid very little in comparison to their teammates.
This was about the best bad game a fourth line can have for an NHL team.
Best tightening things up
There was actually a point where I started saving clips to showcase that the Canucks were turning things around and were in no way, for sure, definitely not going to let Kyle Connor get a hat trick against them: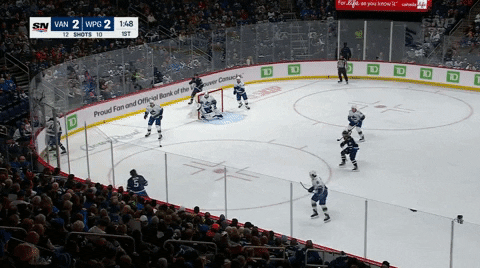 That's a delightful gif! The Canucks cover a man at all times. They rotate off of each other and continue covering men. And then even Tyler Myers throws a hit and then swoops in like Mr. Darcy at a tedious dance and promptly leaves the scene with the puck. This is definitive proof that Connor does not need to score on every shift against the Vancouver Canucks, in what might be a horrifying look into the future for when another Connor gets drafted by another team.
Best EA sports money goals
We've all played hockey online. We all know that if you race down the wing in an EA sports title, fire a low shot far side so the goalie punts it right down the middle, slam in the easy rebound goal, and then listen to other person call you a variety of mean spirited nicknames: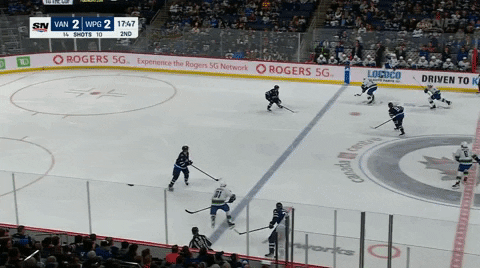 To EA's credit, this almost resulted in a goal.
If it's in the game, it's in the game.
Best Collin a spade a spade
Look, I have to be clear about one thing.
I enjoy Collin Delia in net. I enjoy the fact his style is somewhat unorthodox. And I know that because of this style, for every crazy barrel roll save he gives me, he is also prone to going deep in his net like he's 2003 Dan Cloutier in an actual proper goalie mask:
Delia hugs his post and goes low and deep in his net, and aside from sliding over like it's dome hockey and someone jammed the lever to the left, he remains in that position. Nikky Ehlers skates around Tyler Myers, as one does, then Myers sets up far post, as he does, and with Delia that deep in his net, there is just one clear option for the Jets forward: Score.
That was the goal where you tugged at your collar and knew the jig might be up for Delia. That Bruce might be looking off-stage for the guy with the giant hook to start warming up his hook hand.
And again, I don't think Delia is a world-beater. I don't think you start him every game and then the Canucks go on a magical run. Much in the same way I don't expect that from Spencer Martin. Both men have been asked to play above their station, and you can't get too up in arms when they fail to deliver Vezina goaltending.
But I think you can say that both goalies have struggled as of late and on a night when it felt like they just needed maybe one big save to keep them in the game, the Canucks couldn't find one.
Again, not an indictment on the two current Canucks goalies. It's just the honest truth about the situation, in that the Canucks are playing poor defensive hockey and are asking two goalies that have 65 NHL games played between them over the last 5+ seasons to step up to a level that they most likely can't reach.
I don't think any other post game article tracks slip and slides like we do here, so yes, rest assured, I saw Ethan Bear slip and slide to stop a three-on-two rush: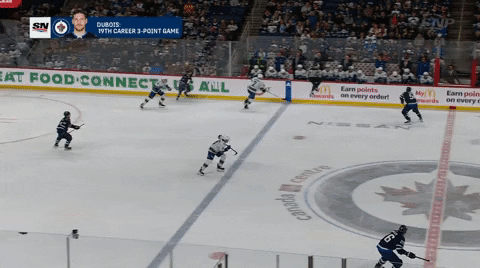 Some people slide gracefully off the screen, like Tyler Myers.
Some drop to the ice like a sack of potatoes fell off a loading truck, like Ethan Bear.
The important thing is it worked.
Best kneel before your king
The Chaos Giraffe played a part on the Jets' fourth goal, in which the good news is at least OEL wasn't on the ice?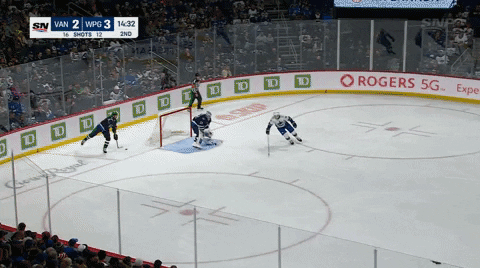 Teams have found success against Vancouver with the stretch pass this season, and Sunday was no different as a Dillon laser beam found Lowry for a tidy piece of business breakaway that was stopped by Delia, only to turn into a goal mere seconds later.
Why?
Because at this point any of Ian Clark's teaching had left Delia's brain so he resorted to beer league big save scramble mode, which I very much love. It's just, yes, it leaves you susceptible to rebounds when you've slid so far to the right that you're starting to have second thoughts about how January 6th went down.
Tyler Myers, man. I just don't know with him sometimes. He does a diving lunging poke check that fails, and then he slides a few feet and does a really cool-looking hockey stop, but he finishes it behind the net. And then despite having one of the longest reaches in the NHL, he still somehow fails to get a stick on the puck or Morgan Barron, who I assume was just fresh off of selling liquor in Springfield. It's like Tyler Myers is a poorly programmed AI robot, and he has a dead zone in his aim in close to his body, and also just outside his body. But should he find you in the sweet spot, he will shut you down every time.
At this point Delia got the hook, whether to wake up the team, or because Delia was spiralling, or the most likely the case, a combination of the two.
Best eerily accurate prediction
The Canucks answered that goal back with two of their own, because of course they did. Bo Horvat got one of those goals, because of course he did: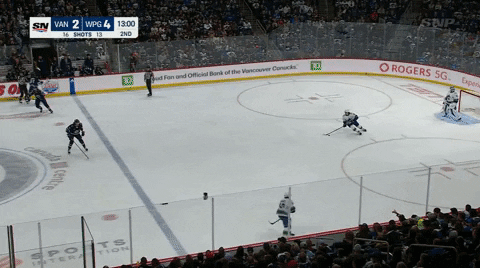 We're at the point now where Bo Horvat should just make super loud "KA-CHING" noises on the ice anytime he scores, and then mime opening a cash register or writing a cheque or whatever visual metaphor he thinks is best suited for this purpose.
Shout out to Ethan Bear for the great Juolevi outlet pass to Miller, and to JT for the soft baby pass over to Bo Horvat. The two most efficient plays you can make as a Canuck right now are getting the puck to 53 or 40.
Best would you like Dries with that?
JT Miller got his third point of the game as the eternal battle over his play this season continues: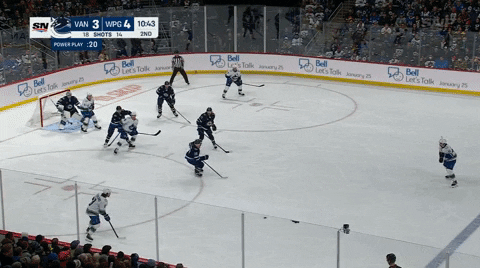 JT has always been great on the power play, once you take his blind passes to Quinn Hughes out of the equation. Which I think people need to understand, that's why JT Miller can be so frustrating. Because you know this guy is a super smart, super skilled hockey player, so when you see him drift into lazy passes, it feels weirdly personal. Like he is doing it just to spite you for not doing the dishes last night.
It's a solid play here, though, where he circles off the half wall and throws it over to Dries who makes the deftest of deflections to tie the game up.
This was the last goal the Canucks would score, so go ahead and watch that clip a couple more times.
This was the high point of the night, the last time you could think to yourself "Hey I wonder if Elias is going to win this game for Vancouver."
Spencer Martin entered the game and had to make a dangerous-looking save on Connor: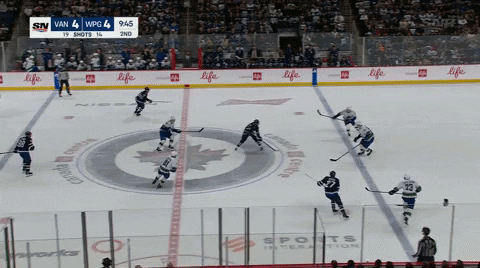 Once again this is just proof that Connor cannot in fact score at will against Vancouver, and that Spencer Martin can also utilize funny looking saves when he wants to.
Best and now for something completely different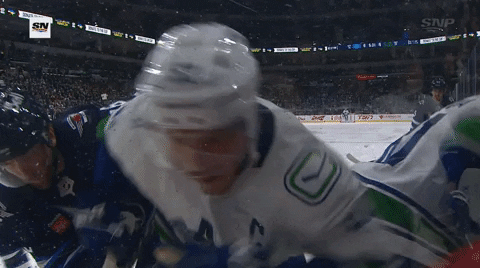 Not since Carlo Colaiacovo have we been blessed with a glass cam smash like this.
No. Garland should never stop spinning. Sure, does it get confusing trying to track who uses two n's in Connor/Conor and who doesn't? Of course it does.
But that doesn't mean we should lash out and try and stop Garland from doing what he was put on this earth to do: To spin.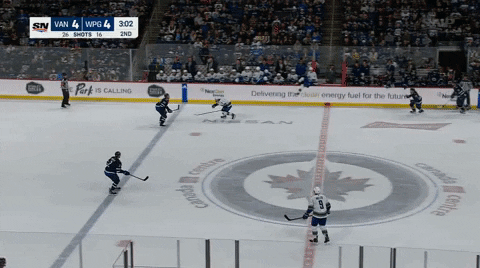 That should have been a penalty against the Jets, by the way.
Garland is another player right beside Tyler Myers that I think was more effective under Travis Green. Relax, I'm not saying the Canucks should have kept the ultimate hype man, but I am saying that certain players have seen their games maybe stall a bit under Bruce.
Garland, Myers and Höglander all seem to have stepped back a little in their games, although that could just be the natural path of an up-and-down career. Who's to say?
The latest refrain on Spencer Martin is to simply shoot glove side and you'll have high odds of scoring a goal: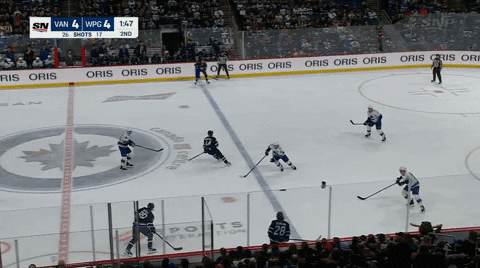 The shot was taken by AI chatbot name generated Axel Jonsson-Fjallby, whose shot goes through Martin like a bad night at Taco Bell.
Luke Schenn provides a bit of a screen, but overall you're assuming your goalie is going to stop that shot, as it feels like Martin lost his angle on his net a bit there.
Like I said, the goalies didn't do the Canucks any favours on Sunday night. You just can't get beaten like that if you're trying to win a game 7-6.
Quinn Hughes is the best puck retriever on the Canucks' blue line and it's not even close. So I did get a chuckle out of it when he did the equivalent of sitting straight up in your gamer chair when you see a try hard on the other team: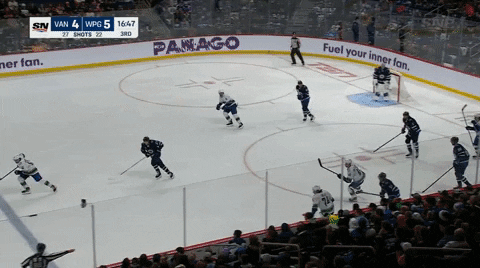 Hughes is coasting back for the puck but once he sees Ehlers forget that everyone has to work in the morning, Hughes digs deep and turns on the extra gear to win the race.
Best at least it was tied once
The Canucks, and this may shock you, ended up forechecking too hard, got caught too deep, and ended up giving up an odd-man rush: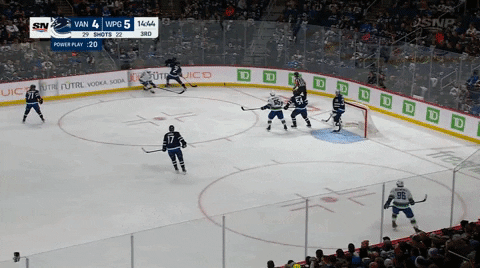 This team just does not have the wheels to make up for the seemingly endless lack of awareness of when there is only one guy left at the point. It's like nobody is wildly screaming "LAST MAN LAST MAN" like I do at every beer league game, because I'm the last man and I am deathly afraid of having to engage in a foot race.
The Canucks make a game of it in the race back to their net, but Kuzmenko, who had the unfortunate starting position of being furthest from the puck behind the Jets' goaltender, just narrowly misses out on getting back into the play.
And yes, that's a good shot from Dylan DeMelo. And yes you would hope Martin might pull out a huge save.
The end result, though, is Vancouver constantly gives up plays like these, and has for years. It's hard to win hockey games like this. I know, I know, it's hard to believe, but I ran the numbers, it's true.
The Canucks continued to wilt in the third period, and hey, it feels like forever since we've seen an odd-man rush against, right?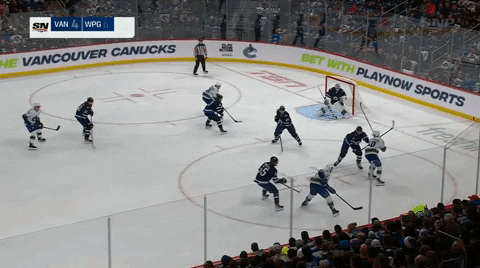 I've seen it said that a d-man taking a point shot is the equivalent of giving up on an offensive play, and sometimes it's hard to argue that. Luke Schenn gets a decent shot off, but Rittich sees that all the way, and for reasons I will never understand, Travis Dermott is rushing the net and jumping out of the way of the shot, effectively taking him out of the play and setting the Canucks up for the counter-attack.
Which, again, to Dermott's credit, he does get back in the play and ends up taking away a lot of the lethality from the Jets rush.
It's just, if most of your praise on game night is "well hey, that cut didn't bleed TOO badly", well, that's a problem. It's like telling Starbucks that the coffee cup didn't have too much mould in it.
And if it wasn't a counter rush, it was the Jets walking into the Canucks zone and carving them up with rotations and passes: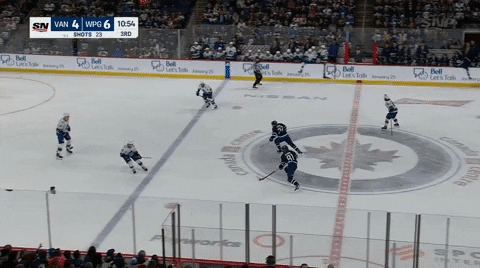 Three Canucks converge on the puck, allowing the Jets to shift the puck over to the other side of the ice, and voila, that's how a one timer is born.
The game against the Avalanche was like night and day compared to Sunday.
The Boeser vs Kuzmenko PP1 debate continued, and both men had good looks with the extra man.
Brock had a good chance down low, but fired the puck high and wide: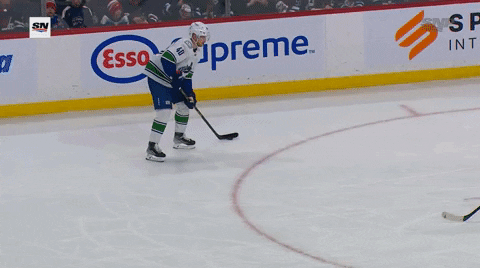 And on unit 2, Kuzmenko did some dangles and then went to the net and almost flicked in the rebound: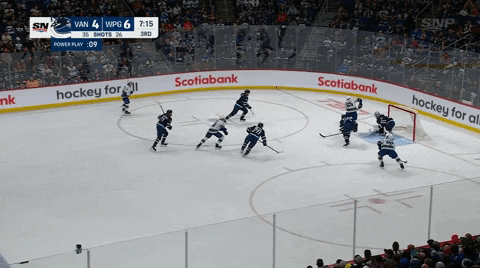 For my money, Kuzmenko is the more creative of the two, but with the added bonus of being more effective down low and in front of the net than Brock.
That being said, if you're trying to make your second unit a threat, having Kuzmenko be the guy on the second unit might not be such a bad plan.
Or do you create a second unit based around unleashing and setting up the Brock shot, putting him back in his natural position to shine?
You know what, let's argue about this the rest of the season and figure it out later.
This was probably the worst goal of the game for me, as a viewer, because it made me sad and want to dry heave: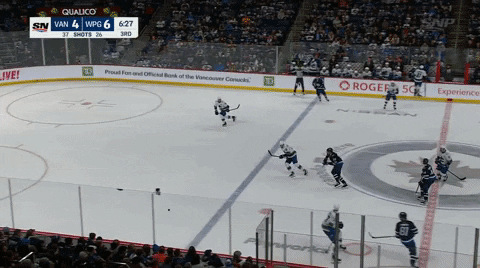 Tyler Myers pinched up to pressure Connor, then he just fades to the boards. I assume he wants to provide an option for an outlet along the boards for Pettersson, which hey, sounds good, that's something the Canucks need to do more of. They treat support along the boards like alimony at times.
But then once EP40 circles the net and gets engaged by another player, Tyler Myers' stranger danger alarm needs to start ringing, and he NEEDS to cover Kyle Connor in the slot. I don't know if it's an unbreakable belief in Elias that lulls Myers into doing nothing, but he just watches the play carry out, and then arrives way too late to try and stop Connor. It looks lazy and it feels lazy.
Now add in Oliver Ekman-Larsson following his man around the net, slowly, and in the process losing his check, slowly, and then coming back out front to survey the damage he wrought, slowly, and baby, you've got yourself one absolutely terrible-looking goal against: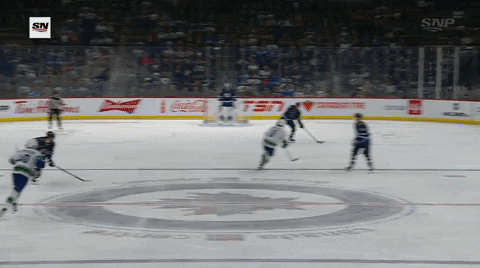 Those are two of the Canucks highest paid defencemen and your options for describing them on this play are:
Lazy
Disinterested
Dumb
too old
not skilled enough
It's like the world's worst game of Cards Against Humanity, where instead of edgy scenarios that make you laugh, it's sobering reality checks.
And that was the game. Another night in which Vancouver just looked out-matched and a night in which you once again found yourself pondering what Connor Bedard was up to right about now.
Oh he was scoring six points in his return to the WHL? Right. Right right right.
Good. good. Everything is fine.
Best never underestimate the importance of body language
That doesn't seem good.
Best issues in the back end
The Canucks simply do not have the horses on the back end to produce offence. Hughes can only do so much, and Schenn, Stillman, Burroughs, Dermott and Bear are only going to provide spot checks here and there.
Leaving you with the two expensive older guys that are paid like d-men who should be able to drive offence.
The Canucks have a defensive problem all right, and it's their foundational player base of OEL and Myers.
I'm hoping that the next time the Canucks win a game that someone passes along this video of a real belt ceremony. The Surrey Eagles win games and win belts, and they know how to show them off properly.
Over the shoulder every time. Throw in a belt pat, and you're golden.
Surrey Eagles for life.