The Stanchies: Let's talk about JT Miller's performance in the Canucks' loss to the Flames
Photo credit:© Matt Krohn-USA TODAY Sports
I'm going to be straight with you, dear reader. Not because you deserve it, as I know you mailed it in during that last office meeting or last class of the semester. Jeff, I'm looking right at you.
No, I am going to be straight with you because it's New Year's Day. Half of you are just waking up and trying to remember what it feels like to be human again. Some of you weirdos got up at 6 AM to "seize the day" or whatever it is you morning people do, and are ready for a nice midday nap.
Either way, you need to know what you're getting into: This article talks a lot about JT Miller. A lot. Sure, the Canucks lost 3-2 and a couple of other things happened in the game, but this article is all JT, all the time.
And with good reason, because he had himself a pretty awful game. And when the world just got done talking about you screaming at your third string goalie, having a game right after in which you looked dead inside? It's not good optics.
It wasn't just the eye test either, as analytically, he was a disaster. I have been a bit snarky about the "flashing the badge" style of posting one graphic on social media and going "See? See how terrible it is? This line graph shows it!", but look at this photograph:
Every time I do it makes me laugh. How did his stats get so bad? And why the hell is he always mad?
Anyways, this is where I grew up. I think the present owner fixed it up.
Where was I?
Okay, yes, JT Miller.
See, the thing about JT Miller is I understand the fatigue and the resistance from some in the fan base. I fully agree that if you put anybody under the spotlight long enough, you'll see turnovers, bad line changes, lazy plays, etc. Not everyone can be Jeff Tambellini and maintain that motor all game long.
So there is some level of understanding when people go "okay, yeah, you're just posting the bad stuff of JT, a lot of players make those mistakes, and hey, what about the GOOD things he does? He has 30 points in 36 games, you idiot. God, I can't stand you. Get out of my life, you're the worst thing to hit Vancouver since Uncle Willy's Buffet took over Bonanza."
First of all, that hurts.
But secondly, the problem is, JT Miller's 5-on-5 play continues to get worse. He is alarmingly ineffective at five on five this season. He no longer drives offence. He's becoming more and more of a power play merchant. Which hey, that can be fine! There's nothing wrong with a guy who can tune up 99 points, even if the power play does a lot of the damage. An effective power play is still a very good weapon to have!
But when you add in the fact his defensive game is disappearing quicker than your New Years' resolution to hit the gym is? And now he's openly yelling at teammates? And he's gone full Paul Rudd in Wet Hot American Summer anytime you ask him to backcheck? Well, you're going to have some questions.
All of this, before his new higher-paid deal even kicks in.
Because let's face it, even the most ardent JT Miller supporters would have to admit he started his Canucks career off with a more complete game. He forechecked with more intensity, he backchecked on occasion, and it didn't feel like he angrily screamed at teammates nearly as much. It was the start of a beautiful relationship.
But now? There's baggage. Every situation with him feels so heavy. You ask him to do the dishes and his shoulders slump, and he starts tossing the good plates angrily into the dishwasher, even though we both know they're supposed to be hand wash only.
It's become toxic in part because the team is losing, but also in part because players who sport that defiant, angry attitude, well, it's a fine line between perceived as competitive passion vs throwing a tantrum and being immature and the dreaded words…"bad in the room."
The Canucks saw both ends of the cycle with Ryan Kesler, in which he was clearly one of their best players, but questions about his temperament ranged from "elite high-end player who will do anything to win" to "internet troll with a good shot".
The key element to all of this, of course? Winning.
When you win, you can ignore so much of this.
But when you lose? The magnifying glasses come out, and everyone does their best Sherlock Holmes impression trying to find the source of the team's issues.
So when you yell at a teammate, and then the next day double down on it when talking to Sportsnet's Ryan Leslie and talk about not really giving a….fudge about other people's opinions? It's going to cause a stir.
When you follow that up with a game with your poor body language on full display? It's going to cause a stir.
When the team is allegedly struggling to find a contract that works for Bo Horvat and the team might lose him yet keep JT Miller? It's going to cause a stir.
So whether we like it or not, JT Miller is a story, and it's a big one.
The only thing that will make it go away?
Winning.
Or backchecking.
Backchecking works too.
For those wanting to hear John and John serenade you into the new year, you sadly not only had to listen to the man with the fakest name in hockey sing the anthem (George Canyon), but you also had Rick Ball and Greg Millen calling the game.
Which means, yes, we got to hear about TJ Miller on occasion. Ol' Timothy Jimothy somehow escapes the harsh glare of the Vancouver spotlight compared to his brother JT.
And since I want gif money, here's the Canucks' first shot of the game: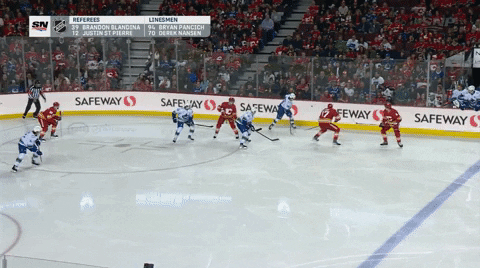 Fun fact, because it's 2023 when this was edited, Quads owes me $7.69 for that gif.
Best starting off on the wrong foot
JT Miller got a penalty early on, which he disagreed with by giving a quick shake of his head like he was waving off a sales associate coming over to ask him if he needed help with anything: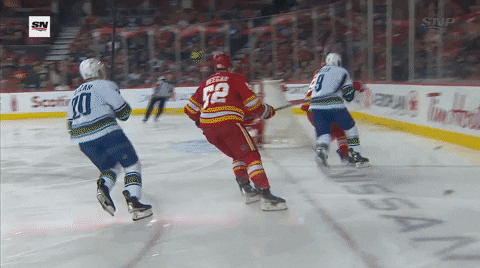 The Flames had four shots on the power play, with the best chance coming off of a pass down low to Spencer Martin's left, and a shot that hit his pads from the point: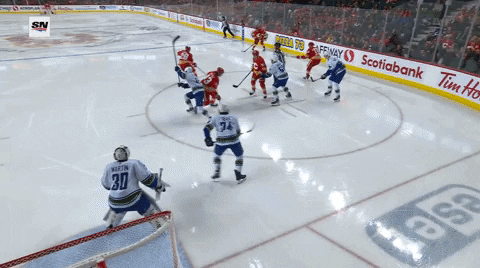 Look, Spencer Martin was tremendous on the night and was the only reason this game was close. But he's so technically sound at times. Where's the Delia scorpion kicks? Or the lunging blocker Delia shoves? Or the sliding Delia jump kicks? Where's the 38 pieces of flair, Spencer?
He's just so calm and in control in net, it sickens me.
Best honouring traditions
Curtis Lazar was used in the time-honoured tradition of "put a grinder on the line to fix it!" that has been employed forever in hockey.
Got a problem with scoring? Throw the plumber in there, his work ethic will fix things somehow. It's the Mario Brothers' solution, essentially. Lazar will clean out the pipes and do the dirty work, leaving JT and Bo to stomp on the heads of the Goombas or whatever.
It didn't really move the needle in this game, but since I still want to make money, here's a gif of a shot on net from a bad angle that cost Quads $11.34: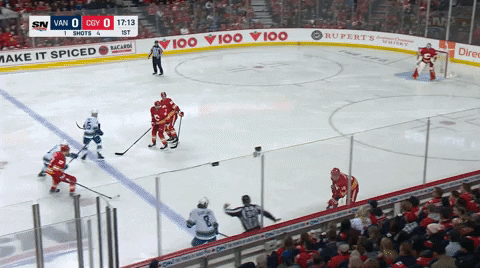 I certainly didn't want to eat a s*** burger, but those are the terms Nic laid out for me, so I will have to abide by them by getting a Burger King Horseradish King tomorrow.
The Flames controlled the majority of the game with strong zone entries, and solid forechecking. It lead to chances like this that grazed the post: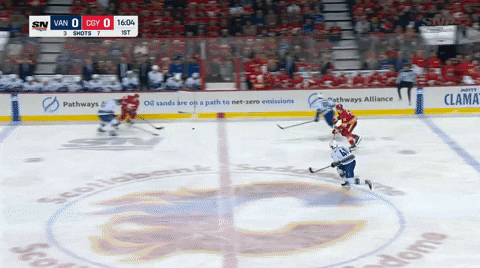 Spencer Martin gives the puck away on that play and then doesn't even have the courage to stack the pads in a desperation save attempt on the recovery. Sometimes I don't even know what the NHL considers good goaltending anymore.
But the Flames continued the pressure, generating rush chances off of a variety of scenarios. Want to land another hit Luke Schenn? Sounds good, but it's going to cost you a zone entry and a shot from the slot: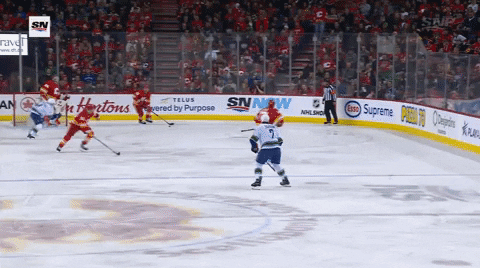 It wasn't the worst period of hockey we've seen from Vancouver this season, as they did a decent enough job of limiting high-danger chances, but it still felt like a game in which Vancouver was just simply surviving. They still gave up some good offensive chances, there wasn't much pushback, and you just got the feeling that they weren't very emotionally available for you.
Best Elias Pettersson is your totem
If you think you're stuck in a dream, watch a Canucks game. If Elias Pettersson is the best player, you know it's reality: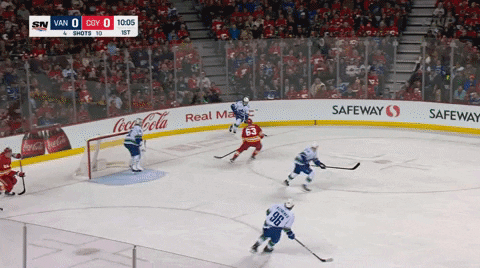 Garland/Dries/Boeser was probably the best line on the night, but Elias Pettersson is Elias Pettersson.
He's the football to the groin of hockey players. No matter how good your movie is, no matter how much you shouldn't cry for Garland because he's already dead, Elias Pettersson still had a football to the groin.
That's just how good he is.
So while he didn't score on this play, it does display the delightful rom-com chemistry Kuzmenko and Elias have shown all season long, in which they make beautiful passes together until a conflict arises, but is eventually settled once one of them makes a grand gesture.
Best sure here's more gif money
Dakota Joshua, aka the safest hockey player in the NHL, manages to merge perfectly into traffic whilst also stealing the puck on an attempted pass: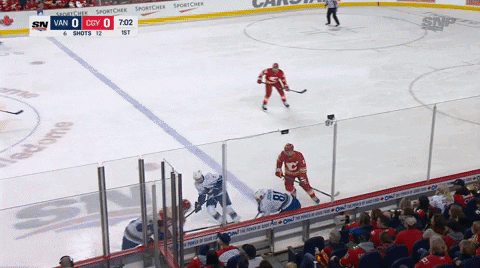 He doesn't score, but chalk one up for making being safe look a little bit cooler.
The end result of that Joshua shift was a Flames penalty, in which the usually effective Canucks power play was stymied. The best chance? A Quinn Hughes shot that deflected on its way to the net: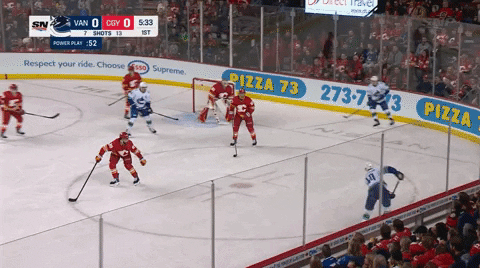 Watch Bo Horvat's eyes in that clip. He's been an elite tipper all season long, so when that puck deflects and slows down a bit near him, you can practically feel how thirsty he is as he reaches out to try and deflect it.
Alas, the power play went 0/4 on the night, which took out the one place where JT Miller is most effective. Thus my JT Agenda continues (ie pointing out he hasn't played well). It's a nefarious agenda, but someone's gotta do it.
I like the slow sensual panning of the stanchion before they showcase the nice passing attempt made by what I assume is one of my cousins with strong political views that they often voice on Facebook: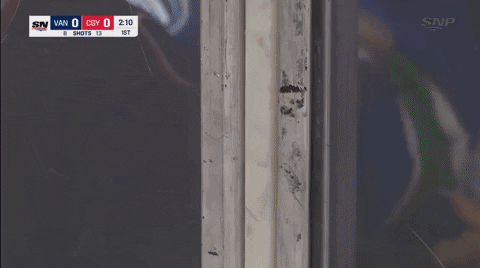 Okay JT, let's do this.
So, the Canucks' first goal? It involved Oliver Ekman-Larsson pinching in deep, then JT Miller turning the puck over, then JT Miller deciding "what the hell, you only live once" and pinching as well, leaving the Canucks open to the 2 on 1 counter attack, which the Flames used to make it 1-0: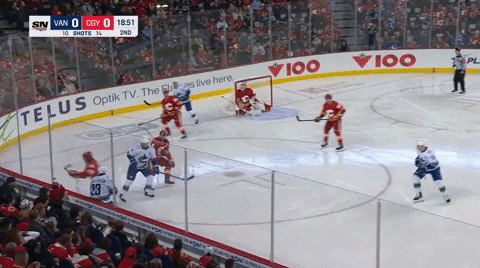 We're at the point now where it should probably be illegal for OEL to make a deep pinch in the offensive zone. Both because the forwards on this team seemingly don't know what last man back means, or because the coaches simply urge the team to go "all in all the time" like that Gus Hansen fellow.
It's hard to know exactly what physical shape OEL is in, because it feels like Swedish players more than any others play by the Black Knight rules of it's merely a flesh wound.
But what we do know is his gap control has been horrid this year, and his skating has been a liability. It's not often you see him make a pinch and the end result is some beautiful continuation of an offensive zone foray.
If anything, you would hope a forward would see this and would game plan to play Jordan Bowman-style defence of giving yourself ample enough time to get back into your own zone.
What JT Miller does here is he doubles down by making a soft play on the boards, then for reasons I cannot explain, he pinches to try and keep the puck in, even though he's covering for OEL: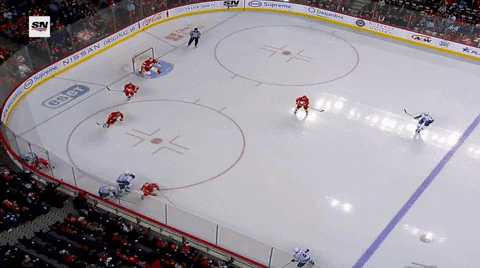 Sportsnet would later show another angle of the play, and you can straight up see Paul Rudd in action: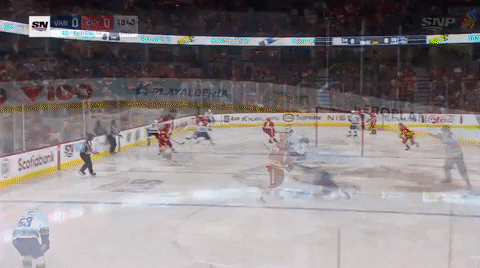 A couple of token strides, and then setting up shop to see how it all plays out. It's the Kingdom Hearts meme of "hollup…let him cook." in live-action.
And again, I bet you could find lots of videos of a player doing a few strides and then coasting in to see how it plays out. Even Elias Pettersson has a few of those on his resume.
The issue is, and as it always has been with JT Miller, is the number of times we see this from him.
This is not a new phenomenon. This has been JT Miller the last couple of seasons, and with him being one of your top guys, you need him to be better.
Could you imagine Nikolay Goldobin doing this? Travis Green would have jumped over the bench and onto the ice and strangled him.
But a lot of top offensive players get leeway when it comes to poor defensive play. Todd Bertuzzi probably didn't know his goalie's name half the time — he was just that plucky fellow with a Porsche.
But the West Coast Express era won a lot of games. This current Canucks team? They don't.
There is now a literal magnification of JT Miller's play because of it.
And for the people in the back, it's not just about skating back to break up the 2 on 1. It's skating back hard so you can get involved in the play should there be a rebound, or a breakdown in the play, or a situation in which having more Canucks players on the scene would be a benefit.
That is why you skate back hard, even if you're not going to catch them on the initial break.
The Hockey Night in Canada intermission panel gave their takes on this play from JT:
"I can't defend that," said Kevin Bieksa. "I defended the first one [the Collin Delia incident] in the pre-game because I think you can be hard on your teammates, I think if you're a 500 team and you're mediocre, I like the fire, I like the passion, but certainly you have to back it up with your work ethic. I can't defend that."
"Watch his, I was going to say effort, but it's more like lack of an effort," added Kelly Hrudey. "Nobody knows that Lindholm's going to score, he makes no effort to get back into the play… If you're asking your teammates to give everything they have for a chance to win, you can't do that."
"I think the concern in Vancouver is that's not the first time it's happened," said Elliotte Friedman. "I think everybody can understand you having a bad night or a bad day, we all have them, it's just too often. It has to stop."
It wasn't the most exciting game, and most of the Canucks' good chances came on their four power play attempts. They went 0 for 4 on the night, but Bo Horvat almost got himself a greasy one on the Canucks' second power play of the game: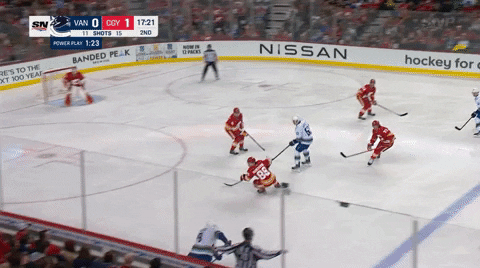 Much like Bo, I was confused that he didn't score a goal the second he touched the puck. I'm not sure if Markstrom knows the rule about Horvat scoring all of the goals, so we'll have to look into that.
Best good guy Luke Schenn
He may be Mr. 3000 Hitz, but Luke Schenn can't be Daddy Schenn without being a Dad first: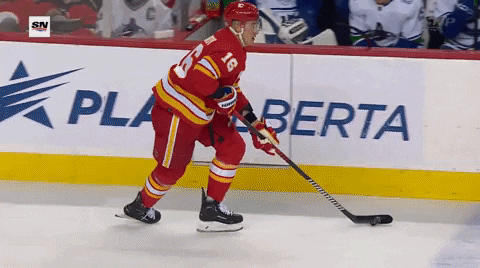 He makes sure Zadorov doesn't fall completely to the ground, landing in a pool of enough combined spittle to fill up a bucket. He also makes sure Zadorov's skates don't fly around and cut his young son Quinn Hughes.
That's just pure sportsmanship right there.
Best I did not float, it's not true, it's BS, I did not float, oh hi Mark
JT Miller was involved in the second goal, when after a turnover on the power play, he went for a slow line change that ended up resulting in another 2 on 1 goal against: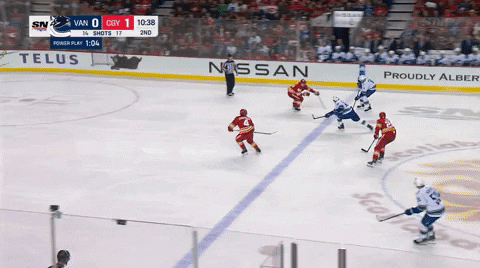 I know it's a bit eye-rolling for me to bang on about "look at his body language!!" but look at his body language. He turns the puck over, then just sort of sighs and goes back to his stapler in the basement room:
Part of me wishes Delia, who had a front-row seat to this line change, stood up and screamed and pointed at JT Miller to get off the ice, but alas, he's a scholar, so he was probably reading Dostoevsky.
Bo Horvat also partakes in the bad timing of the line change, and Elias Pettersson pushes in deep despite being the last man back, but I assume EP40 does this as the last thing he saw was JT standing behind him, so he assumed he'd still be there.
The end point is Elias backchecks and plays better defensive hockey than any forward on the team, so he gets the benefit of the doubt. That is how this works here.
Best Eastern time zone finish
The Flames would score their third and final goal off of a screened shot that Spencer Martin steadfastly refused to do an around-the-world pad stack save on: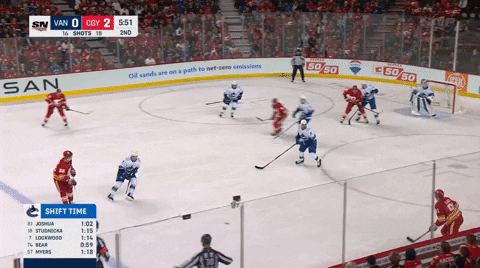 Anytime a shift clock comes up you know 2 things:
1 – The odds of a goal being scored have gone up dramatically
2 – Tyler Myers will be the one with the longest shift time
The Canucks just couldn't get out of their own zone and got exhausted chasing the puck. Thus they reverted to survival mode, which to them resembles their penalty kill, which is bad, because their penalty kill is awful.
Best Pascal Dupuis tribute band
Because this is Vancouver, the Canucks can always find a way to make games interesting. Whether that's blowing a huge lead, or ending up making a game they had no business being in close, they simply find a way to live that Tyler Myers chaotic lifestyle.
So it was not too surprising to see Sheldon Dries batting a puck out of the air and skating it off like he had planned to do it the entire time: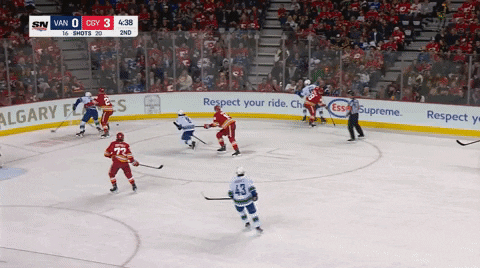 I don't know how long Sheldon Dries' NHL career with Vancouver will be. There will always be those guys that only stick around for a couple of seasons and end up being cult heroes in the Stanchies years later, aka Aaron Volpatti or Lee Sweatt. Which please, don't get me wrong, there is absolutely nothing wrong with that. If I played even one NHL game I'd open a bar up under the name of the date of the game I played, and would attempt to live off of it forever. These guys are living the dream and are very very good at hockey.
But what I do know is that Sheldon Dries backchecks better than JT Miller.
The agenda continues.
I find myself watching highlights from 2003 more often than I'd care to admit.
Re-watching highlights of the series against Minnesota only deepens my belief that the Canucks simply needed an average goalie and they would have defeated the Wild.
Cloutier has gone full Felix Potvin here. Never go full Felix.
The third period started off with The Springfield Film Festival line generating a nice backhander on net, courtesy of one Sheldon Dries, who if you remember, backchecks better than JT Miller: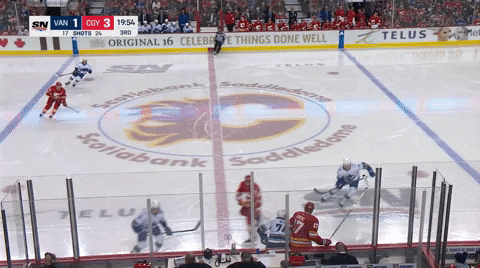 The Flames would then get their better chance when the puck bounced in front to Blake Coleman, who would have scored if not for those damn kids: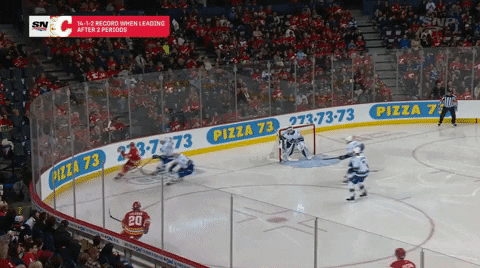 The kids being Will Lockwood, whose timely stick saved a goal by deflecting that Coleman shot up and over the net. This adds another player to the list of those who backcheck better than JT Miller, as we further push…The Agenda.
Then Conor Garland had a chance after a nice lob pass sent him in all alone on Markstrom, where he just put the puck wide: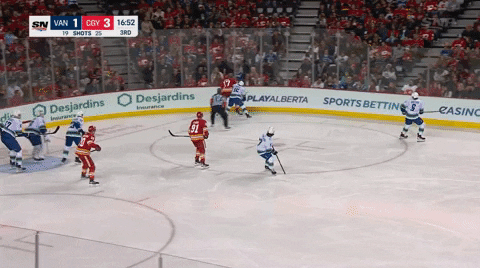 Not since A Burns for All Seasons have we expected so much only to see such little return.
Best man getting hit by football
This isn't the result of one of Elias Pettersson's big IQ plays that results in him getting the puck, instead, it's Noah Hanifin making a baby pass for babies in the corner that goes nowhere: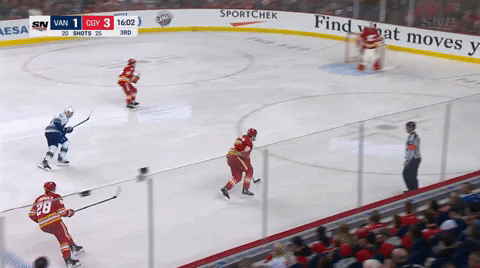 Elias swoops in and finds Ethan Bear who promptly shoots it on net, where King Tipper Horvat gets a piece of it, but still requires Elias to come in and clean it all up.
Give Markstrom credit for giving it the Delia flair on this goal, as he attempts a knee press nightmare on the initial shot, then follows that up with a 180 paddle save attempt.
That's the kind of flair we're looking for, Spencer.
Coleman could have had a hat trick in this game were it not for those darn kids:
The kid this time was Ethan Bear, who made a diving poke check while a wistful JT Miller watched on.
Quinn Hughes remains the Canucks' best defenceman, but even he is prone to a turnover that leads to a breakaway from the other team: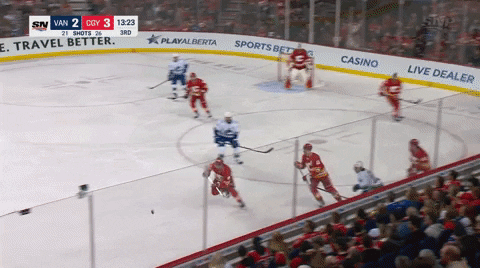 The thing to key in on is he tries his best to impede progress, before finally falling to the ice to signal that he gave it his all.
It's not often he loses a puck along the boards like that, but when you play the kid 25 minutes a night, the odds of seeing a mistake happen are going to go up.
First of all, Luke Schenn went full Superman to keep the puck in at the line seconds before his bad turnover: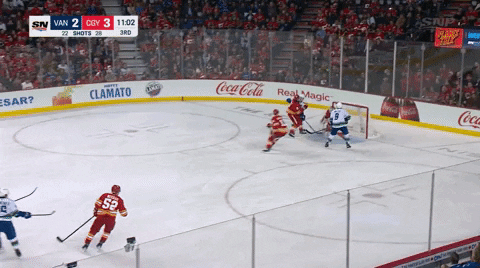 But yes, he then failed to keep the puck in at the boards, and like the butterfingers he is, gives up a breakaway that were it not for the post, would have made it a 4-2 game: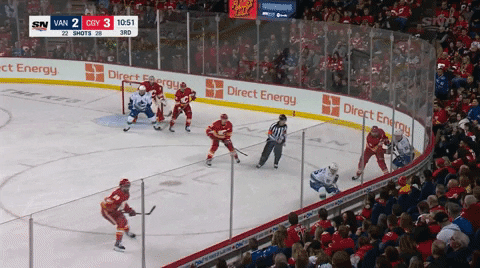 See? Lots of players make bad turnovers. It's just, the skating and the effort afterwards vary from player to player.
It's true, most of the defence is busy working on raising its outlet passes to Juolevi levels, so Quinn Hughes does stand out in that regard. We used to see Tyler Myers go full Chaos Giraffe, but his offensive swashbuckling has seemingly been neutered under the Boudreau era.
Still, it does stand out when you see Quinn Hughes retrieve the puck and move it down the ice and almost bang in the puck on a cross-crease tap in: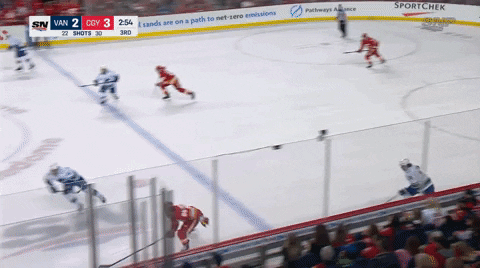 Looking like a young Lukas Krajicek out there!
Best final moments of 2022 Canucks hockey
The Canucks' best chances of tying up the game were under the watchful eyes of Elias Pettersson.
First, we must point out his defensive acumen. On this play he stays back and then breaks up an attempted zone exit with their goalie pulled: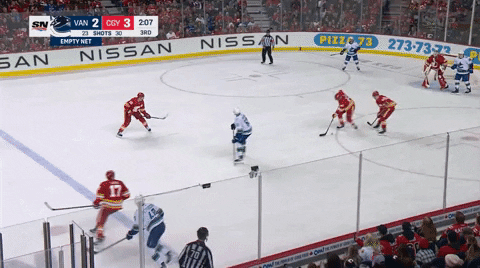 It was a bold move to go down on one knee, something that could have taken him out of the play had he missed the puck, but Elias has a long history of making smart bold moves on the puck. This is that benefit of the doubt we talked about. You also know if he turned the puck over, he'd be skating like a madman to get back.
All of which led to Elias throwing the puck on net and in the ensuing scramble, the Canucks had some threatening looks at the net: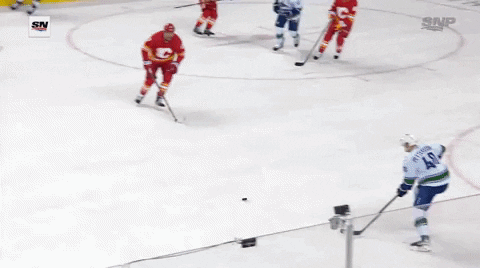 They ultimately wouldn't score, which I assume was because they were intoxicated by the flair Markstrom was showing in net by stacking those pads, but they at least came close to tying up the game.
Which isn't the heart-warming, confidence-inspiring speech you were looking for, but is pretty much the motto of these Canucks. "They could have won the game?"
So here we are again going "I'm not saying body language is a thing, but body language is so a thing."
JT Miller kind of flails his stick at the puck near the boards and then he's out. Quinn Hughes and Elias Pettersson then race back in tandem to prevent the empty net goal:
From an optics standpoint, it was one of the worst JT Miller games of the season.
The good news is Vancouver has 8 more years to try and figure this whole thing out, which should give us plenty of time to talk it out of our systems.
See? Good things ARE on the horizon.
Except the Canucks' schedule is really tough in January. So good things aren't on this horizon. But maybe the horizon behind the horizon.
You know what, we'll figure this out later, you need to hydrate.
Happy New Year everyone!