The Stanchies: Spencer Martin's big night, Bo knows goals, and the Kuzmenk-show 3.0
Photo credit:© Bob Frid-USA TODAY Sports
Make way for Prince Ali
Say hey, it's Prince Ali
Hey! Clear the way in the old Bazaar
Hey you, let us through it's a brand-new star Oh, come be the first on your block to meet his eye Make way, here he comes Ring bells, bang the drums You're gonna love this guy
Prince Ali, fabulous he, Ali Ababwa
Genuflect, , show some respect
Down on one knee
Now, try your best to stay calm Brush up your Sunday salaam Then come and meet his spectacular coterie
Prince Ali, mighty is he, Ali Ababwa
Strong as ten regular men, definitely He's faced the galloping hordes A hundred bad guys with swords Who sent those goons to their lords? Why, Prince Ali
I don't know why, but I just assume that song is playing through Spencer Martin's head at all times when he's playing in net.
Smiling happily to himself, humming the chorus to Prince Ali, pretending he's stabbing Sidney Crosby as he barrels towards him, not even afraid of Sid the Kid snapping his neck back at the slightest provocation.
Spencer Martin, quite simply, is the point maker.
No, not a guy online who always tries to make a point nobody asked for ("Did you know that bananas actually classify as a berry?"), but a guy who has yet to leave a Canucks game without getting at least a single point for Vancouver. The latest? Two points in an emphatic 5-1 Hershey Kiss beating of the Pittsburgh Penguins.
Now I know the urge to giggle and say "goalie controversy??" is there right under your fingertips, but clearly, this is Thatcher Demko's team.
But man alive, what a delight it is to watch a Canucks team have players being paid minimal amounts of money to perform at or above expectations.
No more spending millions in net when you have players like Spencer Martin who can step in, get infused with magical powers or chai tea, or whatever it is Ian Clark does, and be a reliable option in net (all I know is that goalie pads that have any colour on them counteract Ian's spells).
No more spending millions on Hollywood looks on defence when you have players like Luke Schenn who come in getting paid very little, babysit and hit people at an alarming rate, and have really confusing and fun nicknames that might awaken something inside of you.
Clearly this team has a long way to go in terms of putting together a true Stanley Cup competitive roster, but after years of seeing players being paid too much and doing too little, there's something very satisfying about watching players exceed their value.
Obviously the anchor in the room is still there, the team still has bloated contracts, but you take your wins where you can get them.
And after an almost historically bad start to the season, wins like tonight are one of those "big picture vs small picture" things, or if you're an arborist, a metaphor about forest and trees and whatnot. Or if you're Ann Arbor, a metaphor, about seeing the stadium for the seats.
I acknowledge I went too hard there, I apologize.
My point is, this season is always going to be a constant "but what about…" situation in which the long-term plan of this team is at play.
Yes, a 5-1 win is good for a Canucks team trying to make their way back to playoff contention. And with the trades being made recently by Vancouver, it's clear that's the direction they're going in.
But you're always going to hold up the results of this season and the moves made by the team and wonder if that is the best plan in the long term. This team has been re-tooling on the fly so long that it feels kind of like the Venetians assuring you the siege will end any day now, and that the Ottomans will surely tire out soon.
Clearly you should always celebrate embarrassing Sidney Crosby any chance you get, I would never take that right away from you. But if you're sitting there going "ok that win was fine, but I'm still worried about the direction of this franchise" then you're not alone.
That being said, it's time to clown on the Penguins with gifs, so let's head to the article.
Best so you're saying there's a chance of a goaltending controversy
You'd think Spencer Martin would embrace his role as the Point Maker, but he's such a perfectionist that even that overtime loss against Columbus eats him alive.
"Happy we could get the win. You know, I don't look at the overtime losses as positives as everybody seems to enjoy that streak. But you know, I love that we won tonight… I thought I made like one important save to start the game and then from there on, we are playing pretty well, but my confidence level is high. I feel like I'm getting better. Even though I'm an older guy starting in this league. I feel like I have made some strides. And hopefully I keep making them."
The big news before the game was of course the Vancouver Canucks' acquisition of Ethan Bear, a player the team has rumoured to be interested in for quite a while now.
With the lack of depth on the Canucks' back-end, almost any serviceable d-man will feel like a win for Vancouver. Yes, it cost the team a draft pick, and as
Cody pointed out on Twitter
, the Canucks give away draft picks like they're handing out flyers on the Vegas Strip.
But this feels like a time in which the draft pick cost (only a 5th rounder) is a small price to pay, certainly far less painful than the 2nd rounder they gave up to rejuvenate Jason Dickinson's career.
Lane Pederson is essentially a random $2 scratch-and-win where it doesn't matter how he pans out, and just like that, you've got yourself a tidy piece of business stew going right there.
Ethan Bear's journey is well known. He played very well at times in Edmonton, then went to Carolina and got some COVID, and then seemingly never found his game at the same level again.
The hope is he comes to Vancouver, easily jumps high onto the right-handed depth chart for the Canucks, and starts getting to play some NHL games again.
At his best, he can provide puck movement and offensive swagger, which if Jack Rathbone has shown us, the bar is so incredibly low in Vancouver after Quinn Hughes that if you can literally skate with the puck on your stick for three seconds you might get a standing ovation.
In his own end he can be chaotic, which hey, Tyler Myers has taught all of us how to prepare for that. I assume those two will get together and giggle about the times they paid for a bunch of gas but then didn't fill up their car, or whatever it is chaotic neutral people do in everyday life.
The end result? The Canucks added depth at the spot in their lineup they needed it the most, and this feels like, on paper at least, the best deal Jim Rutherford Patrik Allvin has made for the Canucks so far.
To be clear, that is a Back to the Future reference, and not some new product from Mr. 305.
As for the game itself, the Canucks got their first goal off of the second unit power play of all things.
Even weirder? They were moving the puck around like it was 2011: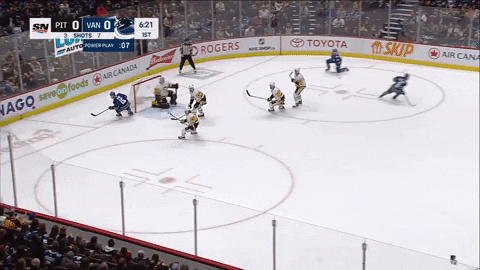 I haven't seen that much speed and unearned confidence since Cody's horrible take on Kuzmenko's performance this season.
Like, Tanner Pearson WANTS that puck and the crazy thing is, while you were watching this play out you found yourself going "Yeah man, feed Tanner, feed Tanner" which is just not something I ever pictured happening in my life.
The Canucks just ran circles around the Penguins on this play and eventually, well, fed Tanner, who popped in the first goal to the sultry tunes of Simple Minds.
The Canucks got their second goal of the game after an Evgeni Malkin penalty that he felt was unearned: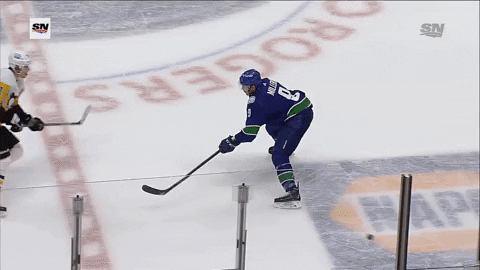 Malkin is clearly mad that Jimothy Timothy was trying to earn DAWG points, so he skates as hard as he can to hook JT Miller, which is about as blatant as it gets. The only thing missing was him screaming "I am going to hook JT Miller now" while staring directly at the referee and making hooking motions with his hands.
Either way, Malkin had himself a little man tantrum, yelled about fudge trucks or something, and slammed his room door shut: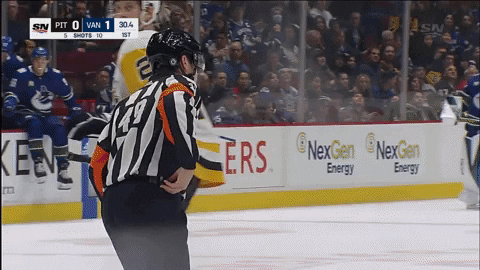 All of which led to the Canucks getting burned on the counterattack and almost giving up a breakaway, were it not Oliver Ekman-Larsson using up all of his turbo for the night in one play: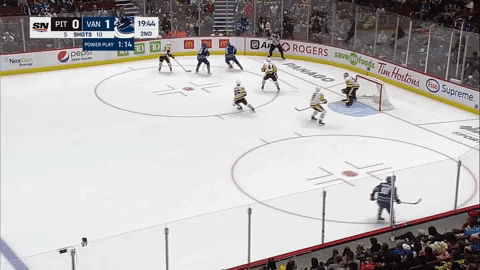 Which finally resulted in Bo Horvat taking the puck back on that same rush and deciding why bother passing when you can just take Tristan Jerry to the gun show instead: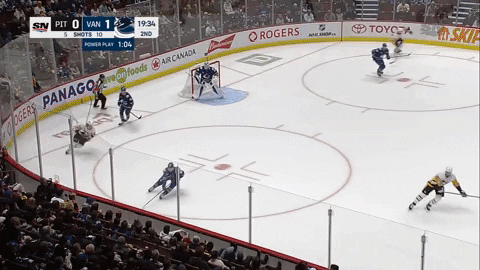 Jerry's head drops down like he got taken out in Call of Duty and he's accepted he got outplayed. No anger, no frustration, just an "I'm not quite sure my MMR should place me in your lobby, but whatever."
Count Bruce amongst those that thought Bo might try and feather it through to his friend JT Miller instead of going snipe show.
"Usually every time when you see two guys that are really good friends and everything because they always try to make the pass but the guy did a great job of taking away the pass. And that's the shot that I've seen Bo make an awful lot last year. And when he gets it away, and if it's accurate, it goes in."
Best Waste Allocation Load-Lifter
The Penguins got their lone goal of the night on their power play, given to them after Sidney Crosby did his patented bend and snap at the salon: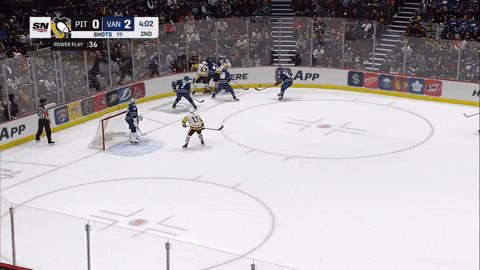 The Canucks had been killing off the penalty quite efficiently, complete with several smart reads by Tyler Myers and Elias Pettersson to clear the puck. But for some reason on this play they all sort of drifted to the corner like a pack of seagulls seeing breadcrumbs fall to the ground, leaving Rickard Rakell (tell me that's not a Game of Thrones character) all alone in the slot.
To Spencer Martin's credit, he managed to get a piece of the shot, but it still found it's way to the back of the net.
I praise Luke Schenn's game a lot, but I have to call him out when he makes a mistake. Three other guys in front of him, and he still leaves his post to float to the corner. Not a good look for one of the top DAWGs on the team.
Sid gets the calls, what can I tell you: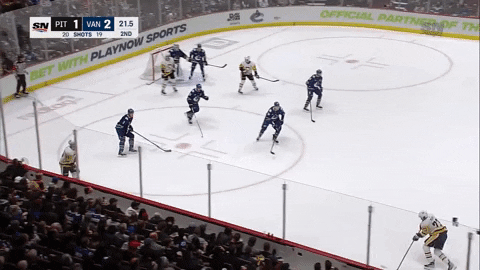 Pretty blatant piece of obstruction by Crosby on the Chaos Giraffe but the officials let that one go.
Conor Garland went full Geoff Courtnall mode to end the second period and almost beat the clock, but alas: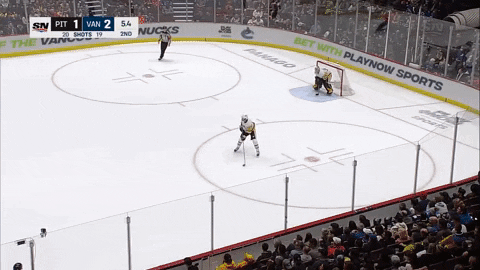 Either way, Garland let Jerry know how quickly and easily he could beat him. Maybe it doesn't count on the scoresheet, but it counted on the brainsheet.
Best are we doing this again?
The Penguins, who honestly had the most adorable forecheck through two periods, finally showed up to start the third period.
Like if I was walking down an alley downtown at 2 am, and the Penguins' forecheck jumped out at me from behind a dumpster I would have clapped my hands with glee and given it a big hug. They simply did not pose a threat to Vancouver.
But in the third period, they put on the pressure for almost five minutes straight, controlling the puck, moving it around the Canucks' zone, and getting scoring chances: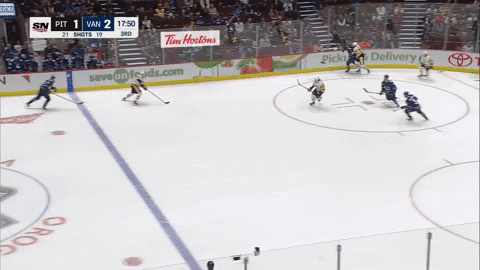 Remember, the game is still 2-1 at this point, and Vancouver has become famous for choking on leads. If the Penguins score here, this might be a different story: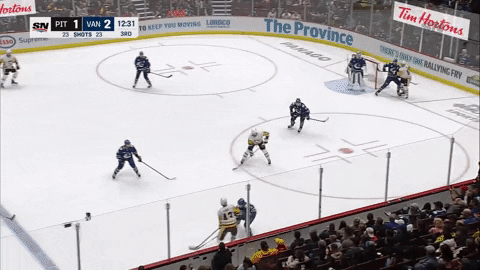 Spencer Martin, however, played fantastic. He made timely stops, and anytime the Canucks did give up a good chance, he made the save. And to the Canucks' credit, they limited the Penguins to only four high-danger chances all game long.
And even more to the Canucks credit, they didn't wilt and stop shooting the puck, they actually pushed back in final frame: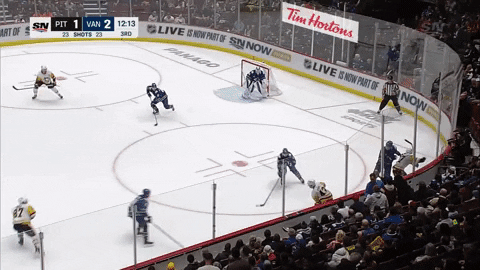 JT Miller has had some pretty low DAWG outings this season, but the last few games, he's been noticeably more present and engaged, so it wasn't surprising to see him barrel down the wing and drive to the net like a young Taylor Pyatt.
That was actually The Kuzmenkshow's third goal of the season, and it came about because of a terrific read from Elias Pettersson, and a manly shot on net that only a Daddy can make from Luke Schenn:
I know Judas Icarus is the Vancouver Vulture, but Elias Pettersson must be taking tips because he waits patiently in the middle of the ice and knows where the Penguins are going to pass the puck before they do.
His nice feed to Ilya Mikeyev almost results in the goal, but it takes a point shot from Luke Schenn that Kuzmenko tips into the net to get the goal.
You want another angle of the tip shot? I get paid by the gif, so I want another angle of the tip, complete with Danton Heinen collapsing into despair on the bench: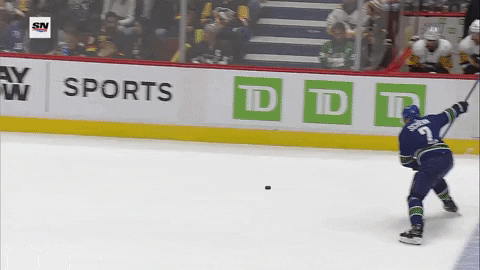 Through his official translator Vasily Podkolzin, Kuzmenko confirmed what we always suspected: Winning hockey is better than losing hockey.
"Always fun to watch when we can play when make some moments and play strong offence and defence as well."
To that note, there is something different about watching winning teams do things. When the Buffalo Bills put out silly social media content, it's met with applesauce applause and laughter from the crowd.
"Look at how much fun they're having!" people cry out. "They win, they make fun videos, they're best friends with each other, could the earth ever get a better example of what humanity is capable of than with this team??"
When a losing team like the Canucks puts out even a press release of like "hey the game time has changed to half an hour later" the response is fast and furious.
"Can you change the time of the game to never? Thanks. Maybe spend less time tweeting and more time practicing. Can you even consider what you do as a game? It feels more like a threat against me."
If the Canucks dare to try and put out a fun video during a losing streak? It goes over worse than James Corden and Patrick Stewart at an award show. It is bleak.
What am I getting at, you ask?
Kuzmenko is a player I think the market will fall in love with, exponentially so if the team starts winning. His attitude is infectious, and his goal celebrations? How can you not imagine this kid scoring a giant goal in overtime and pulling a Theo Fleury celebration all the way down the ice:
The Kuzmenkshow celebrates like Nic Cage diving deep into a character in the 90s. I can almost see him screaming "I'm Castor Troy!" before whipping out two golden guns to celebrate a goal.
And that's the thing about Kuzmenko. He is such an earnest young man that it makes it very easy to want to see him succeed. When you talk to him, he has none of that practiced polish that playing in North America trains into you. He isn't searching for different ways to talk about sticking to the system and getting good results.
He's, to quote a pretty good banger, "just being Miley." He makes you forget about how easy it is to become jaded in this sport. You watch him celebrate a goal and it's like a scene from Hook and you're finding your marbles again.
What I'm saying is he's got that Daniel Bryan underdog babyface energy, and he is primed to be a fan favourite in this market.
Bruce Boudreau didn't hold back when talking about Schenn after the game.
"I mean, today was his best game. I think he's now our highest-scoring defenseman. So that's pretty cool for Luke."
Best digging your own grave
The Penguins ended their night when Josh Archibald gave an unwanted shot to Kyle Burroughs: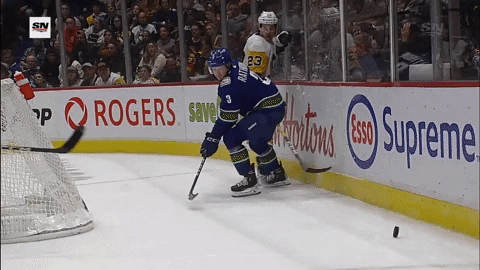 The best part of that clip is that because Burroughs is such a DAWG, he gets up after the hit and skates over to the scrum to handle his business. Kyle from Langley didn't wander around Willowbrook without learning how to watch his own back, I'll tell you that much.
Bo Horvat would then tip in the gentle whisper of a shot from OEL to make it 4-1: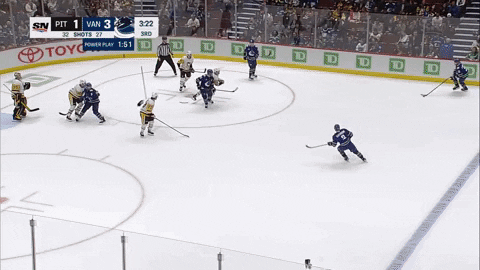 Gifs aren't supposed to have sound, but I swear I can hear the cash register noise for Bo Horvat's next contract every time he scores.
For those completionists out there who missed the game and want to see every single goal, here you go: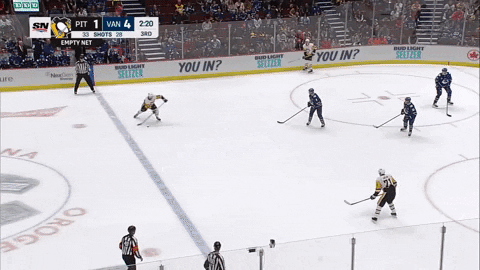 Fun fact, I get paid $20 for every gif of a goal I make.
I haven't even seen the ratings from Faber yet, but I KNOW Luke Schenn will be near the top.
Why?
Because he seemed to make it his personal mission to make Malkin's life as miserable as possible Friday night:
Malkin even tries to lean into him with the reverse hit, but he's not much of an athlete, the moment's too big, he's never faced off against a real man before, and suddenly Luke Schenn is tossing him around like a bag of poop on Paul McCallum's lawn.
You can find Luke Schenn in aisle 37 at Home Depot because that's where they keep the staple guns: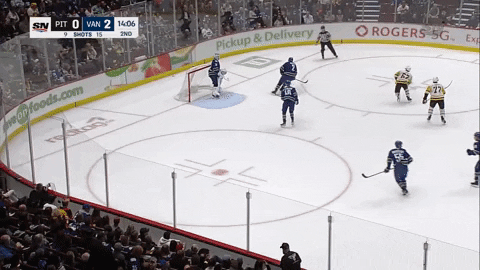 If you're near the boards, Schenn will find you and talk to you.
Malkin wants to dance through the zone? Sorry, you have to pay the Schenn Daddy toll: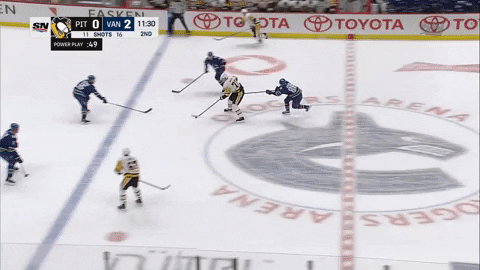 I often imagine playoff series scenarios, because damn it, what else are you going to do in transit, but watching Schenn imposing his will on another team's star player feels like a fun time.
Could Schenn have the brakes beaten off of him by the McDavids of the world? Of course he could. But I'd still want to see Schenn try. Why? Because he's got that DAWG in him.
Which brings us to the top 3 DAWGs of the night:
Luke Schenn – 104.14
Kyle Burroughs – 103.66
Dakota Joshua – 82.33
It's not often you have two players cracking 100, but it makes sense that it's Burroughs and Schenn. Kyle is usually neck and neck with Schenn for the team lead in hits, and there hasn't been a scrum he's been afraid to get involved in.
For Dakota Joshua, his game is all about being a DAWG so if he's near the top, it's been a good game for him.
Other notable DAWG ratings:
Andrei Kuzmenko – 74.79
Tanner Pearson – 73.30
JT Miller – 67.16
Nils Höglander – 61.22
Ilya Mikheyev – 60.49
Jack Rathbone – 50.33
Bo Horvat – 51.07
Connor Garland – 47.62
Elias Pettersson – 41.59
Nils Aman – 39.00
Elias Pettersson is always an example of how you don't need that DAWG in you to have a good night, but I will say his game against Pittsburgh was not a great one. Malkin handled him pretty easily and aside from a couple of incredibly smart plays from Pettersson, I honestly expected a bigger game from him.
If you want visual proof of this concept, look at Malkin have zero issue walking right around EP40 in front of his own net: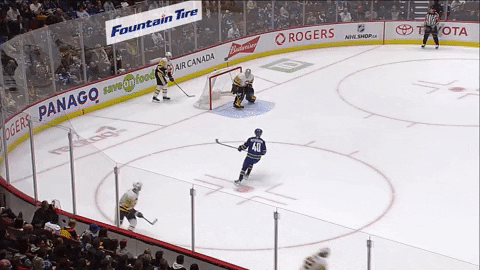 That's just ice cold.
Best wall to wall coverage
Woodley might not know the first thing about how to run a good fantasy football team, but he knows his goalies.
And as we talked about earlier, Martin made things look real easy on the night. Even when Tyler Myers and OEL split apart like the red sea, Martin was unfazed: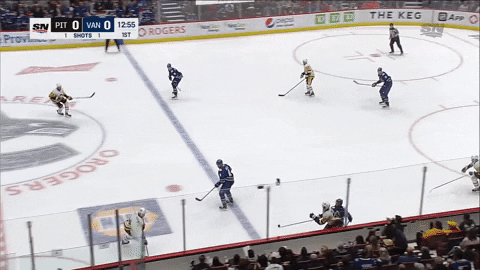 You want kick saves, and more kick saves, and more kick saves, where eventually it all becomes a blur of highlights of Martin looking bored in net?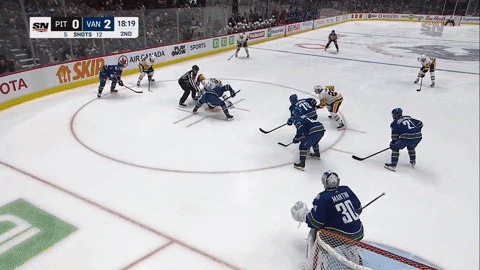 This is just what he does. He gets points. He just doesn't know any other way of life.
You? Filled with dread.
Him? He makes bread.
It's that easy.
Best who could have seen it coming
JT Miller's time with the Lotto Line in his first year in Vancouver was unquestionably the time he most looked like a complete player.
Don't get me wrong, angry, Rip Wheeler, 99-point Jimothy Timothy is entertaining as all heck.
But a JT Miller who is engaged and active in board battles and more present in his own zone? That seems to happen when he's on the wing.
This is true, Quads gave him the nickname first, so I have to use it…
But The Stanchies is like Scrabble, if you can add to it, it's fair game.
So I present to you, Hot Wheelz: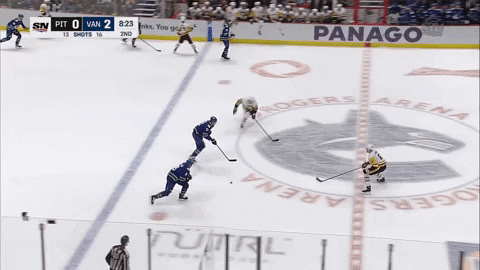 Hot Wheelz has the added bonus of sounding more handsome, and having the intrigue of a mid 90's roller hockey team name.
He also has speed for days, which we keep seeing more and more of as he finds ways to slash to the net.
Will Hot Wheelz upgrade from Jannik Hansen finishing ability? Time will tell.
Sometimes I clip gifs and then forget I have them, so let's have ourselves an antique roadshow moment where I present to you gifs of varying values and pray I make a fortune.
Up first, a JT Miller shot: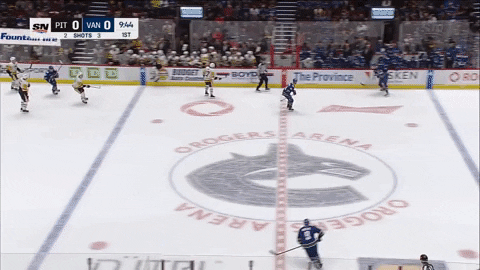 Sometimes I take a gif of a shot in case the Canucks end with like 9 shots on the night so I can prove that yes, the Canucks did in fact get some shots on net. I have a rather large collection of mediocre shots on my hard drive that will never see the light of day. If the FBI ever raided me they'd be so confused why I was collecting them.
"Does he get off on banality??"
In regards to my earlier critique of Elias Pettersson, it just felt like he wasn't making a lot of his reads. Yes, a fantastic one led to a Canucks goal, but there were several times he made a pinch and got burned on it.
Here he jumps up for a rebound that three Pittsburgh Penguins are within reach of, and they turn it around into a counter rush: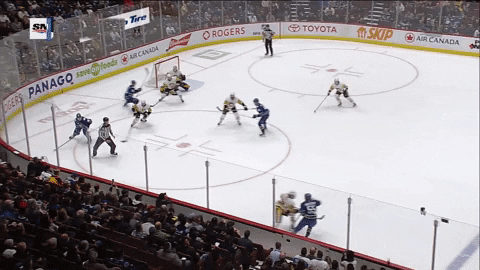 Please note Kuzmenko spinning around and charging hard to the net on that play.
For my money, I'd rather have Elias keep making those reads and trying to go for it because his hockey IQ is so high that he will win more than he loses. But against Pittsburgh, it did feel like he didn't walk away from the tables with a lot of money on the night.
Up next we have Jack Rathbone skating for more than three seconds with the puck and making a nice pass to the slot: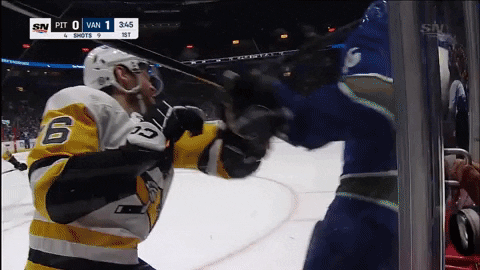 This automatically made him the best puck-moving d-man on the night.
Second best-puck-moving d-man on the night?
Guillaume Brisebois!
Brisebois jumps up wearing Ed Jovanovski's number 55 and honestly gets a chance on net like Ed used to: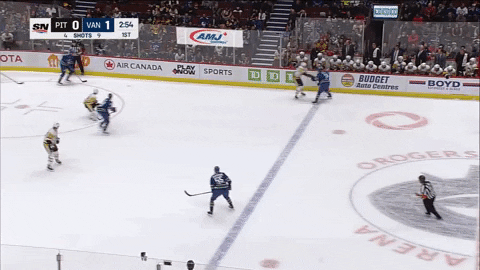 Please note Luke Schenn dropping Malkin at the upper right part of the clip for like the 18th time on the night. I have to assume it's because Malkin threw a hit on Pearson near the start of the game and Schenn made a blood oath for revenge: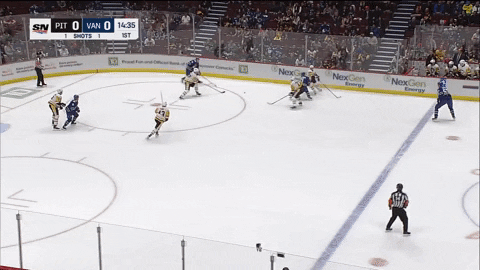 The rest of the night, it was Schenn pounding on Malkin like he was playing Donkey Kong Jungle Beat.
Best putting it into perspective
Best joys of social media
They're heels, what can I say.