The Stanchies: Silovs' debut, Miller's blocks, and the return of the Kuzmenkshow
Photo credit:© Bob Frid-USA TODAY Sports
Usually on Canucks game day you ask yourself two things:
Why is this my life?
How quickly will it take to give up five goals?
Wednesday night, the Canucks threw a wrench in those plans as they introduced a wild card in the form of Arturs Silovs, the young Latvian goaltender who has been playing quite well for the Abbotsford Canucks as of late.
In a vacuum, this makes sense. Spencer Martin's game has fallen off a cliff and he had lost 10 straight games prior to his demotion. Replacing a struggling goalie with a young guy in the organization? I get it. I thought Silovs was just up for a nice NHL pay cheque for a game or two until Demko was ready to play, but he got the nod ahead of Delia.
Outside of that vacuum and under the harsh glare of reality, you do wonder about the decision. Putting a young goalie who found his groove in the minors, and asking him to play behind this Canucks defence? That's a huge ask. You're entering that game knowing the odds are you are going to lose, and lose badly. Will that kind of loss derail the development of a goalie? Will it at best be a net neutral situation of nothing gained, nothing lost?
I'm of the belief that everything is terrible, so there's not a whole lot you can do that would raise my eyebrow (except messing with Kuzmenko's ice time). If you want to let Silovs have a taste of the show, have at it. I'm pretty sure you ask any young goalie in the AHL if they would like to start an NHL game, they'd excitedly say yes, even if the defenceman in front of them was a returning Dana Murzyn and a trash can that looked to be in decent shape.
At the very least Ian Clark can work with Silovs and use the video footage from the game to explain why any sort of fancy paint job on the goalie gear is the reason he let in goals, and it must be stopped at all costs. See the Michelin man? That should be your guideline for colouring your gear.
So as long as you're sure that Silovs will bounce back from a potential five goal loss, I don't see a huge issue with it.
Because honestly, this team needs to lose out the season. If Rick Tocchet wants to have practices every single day and bag skate this team right to the moon to try and instill whatever structure he's envisioned, go for it.
All you can ask for at this point are entertaining losses, and the Canucks' 6-4 loss to the Rangers fit the bill.
A couple of players had big moments, there was a decent amount of pushback, but ultimately the lottery odds got better when the night ended.
This is the ideal Canucks season. You may not like it, but this is what peak tank performance looks like.
It's a thin line between living your dream and experiencing your nightmare, and I feel like Silovs rode that edge throughout the first period.
As pointed out, he did start the game off with two solid saves, which is two more than Jacob Markstrom has done in the last month.
It's also important to note that the Canucks "went back to defence school" on Monday (I picture it as something like Hogwarts, but every teacher is Snape and they're always yelling about how 'hustle makes muscle but bustle makes agony' and everyone is just really confused as to why the rhyming stopped.)
Despite all of the lessons learned, they were quick to show Silovs a magic trick: How can four men disappear right before your very eyes?
On one hand, it introduced the young man to what he was getting into. Defence is more of a theory in Vancouver, and less of a carried-out function. It's a bit like Hook rules over here; if you imagined it, then who's to say you didn't do it?
Silovs was then introduced to another proud tradition in Vancouver, the cross-ice pass leading into a high-danger shot: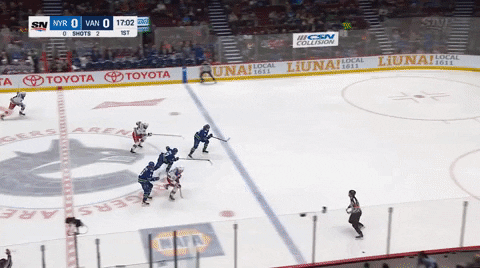 You may wonder why Ethan Bear shoulder-checked the guy going to the front of the net and then still decided to head behind the net, leaving him all alone.
Because he imagined he played defence, you see. He imagined he stayed net front and shut down the crease, which allowed him to then try and cut off a potential pass around the boards. It's the only way to explain why the Canucks constantly leave a guy open and are always double-teaming people or making high-risk plays to cut off potential low-risk situations.
It's actually easier if you just imagine the Canucks are the cast from Fast and Furious, where being a family is more important than plot or pacing or making sense.
Best revenge is a dish best served a minute later
Jacob Trouba has become the Nikky Kronwall of the NHL in that you see a huge hit from him at least once a week on the highlight packages, leading to spirited debates about the legality of such hits.
It hearkens back to when the Canucks had Raffi Torres and that used to be OUR thing. To the point where Raffi Torres began immediately fighting his suspension
the second he landed a hit
.
Alas, Trouba is "the man" right now, and he dropped Dakota Joshua pretty early with the Judas Effect, to which Dakota seemingly asked "do you wanna dance?" to which Trouba I assume said "in these old things?" pointing down at his skates:
So instead of fighting for his honour and sitting for five minutes to reflect on life, Joshua did the next best thing, which is score a goal and publicly humiliate Trouba set to the soundtrack of The Breakfast Club:
This is the kind of goal that Rick Tocchet dreams about. The greasy, hard-working, eggs and bacon, not a single piece of arugula in sight, type of goals. The kind of goal you'd let date your kid and take them to the movies.
There's not much to break down except to give kudos to the Canucks' fourth line for digging away at that puck until they scored. Working hard and going to the net is going to get you noticed in the Tocchet era.
Best it was fun while it lasted
Again, it was an impossible task for Silovs to try and backstop this defence against pretty much any NHL team, much less the New York Rangers: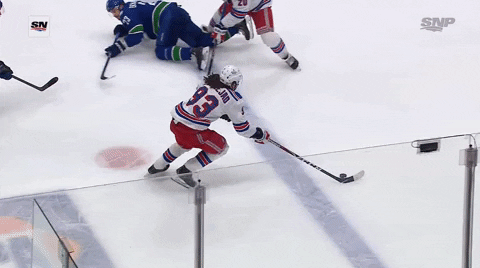 Mika Zibanejad freezes Silovs with the fancy leg kick, and then calmly goes five-hole like a young Petr Nedved asking Wayne Gretzky for a game-used stick.
I mean, that's a very nice goal from a very accomplished NHL goal scorer. A lot of NHL goalies get burned by Mika, so you can't fault Silovs too much for being just another victim of the Mika Experience (someone has a blog called that, right?)
But you can also be right saying that it's another game with another Canucks goalie not making a big save early, and you'd also be correct.
Sometimes it's okay for everything to be both correct and awful.
Lord Byng, because it's the worst of the high schools, and everybody knows this. If you think that isn't true, then you went to Byng, and you still haven't come to terms with the mistake your parents made in choosing which school district they chose to take up residence.
All of that aside, I honestly don't know if Panarin could have gotten more wide open if he tried. He seems pretty darn open there, using a variety of measurements. It actually looks like he skates back a few feet to give Silovs a fighting chance on the one-timer, but there's only so much you can give when you're being offered so much.
I will say this was not a banner game for Ethan Bear. It was a night filled with bad decisions that often led to odd-man rushes, or in this case, a goal against. Ethan hesitates in adding double coverage along the boards, then backs off and can't cut off the pass, and once again we find ourselves wondering what we did to deserve this kind of hockey.
Remember when Chris Tanev was behind Andrew Alberts on the depth chart back in 2011? What a time to be alive.
Best come on baby let's go party
After two depressing losses to Detroit, this game actually registered as a good one on the season because of the aforementioned pushback.
The Canucks got a power play and with EP manning the point like a young Sami Salo, managed to feed JT Miler for the one-timer goal:
I don't know if Elias whispered "that used to be me" when he saw JT score from his spot, but either way, I love watching Pettersson run the point as the lone guy on the blue line on the power play. His ability to move the puck around and play back and forth with both JT and Quinn Hughes is an absolute boon for that unit, but another huge aspect of it is people have to respect his NHL award-winning hardest shot. You can't just passively play high against EP40 like you would against, say, Quinn Hughes. Elias Pettersson is a real threat to score from the blueline, so now you have teams having to push high, which allows more room on the ice for EP40 to make things happen.
With Quinn Hughes taking a clapper, you giggle and go "oh you!'.
With Elias Pettersson taking a clapper, you think to yourself and wonder if your will is up to date.
Best well not best, but it's…ok it's complicated
OEL left the game after this collision along the boards:
With House as my main reference for all medical issues, it is either ornithine transcarbamylase deficiency, or rabies.
It honestly kind of looked like when Dan Hamhuis ended the 2011 season by hurting himself on Milan Lucic, but we will have to see what the Canucks update us with before we know more.
I do feel bad for OEL because his contract is mentally taxing for the fan base, so you saw a lot of comments that just generally made you sad for #23.
Nobody should wish injury upon anyone. You should only wish that a player makes up a fake skin allergy so they can retire rather than finding a hotel to stay at in Abbotsford.
Best of the hockey genius
Elias Pettersson remains a silver lining on this season and once again is the clear choice to be named captain for this club:
His ability to read that a slow pass was too far ahead of him, so he shelled up and stole the puck back? That's a chef's kiss right there.
Luke Schenn had a rough outing on the Rangers' third goal when he both lost his jock strap and then got the extra humiliation of having the puck deflect in off of him:
Schenn straight up got turned around into a full 360, and then when trying to control Panarin in front of the net (the right thing to do!), Panarin deflected the puck that also nipped Schenn, and baby, you've got a 3-2 stew going.
If you wonder how the opposition gets so many good looks at the net, it's because the Canucks flock together like birds when things get scrambly in their own end. The entire team kind of shifts over and just follows the puck, a step behind the entire time, leading to the shot from the point.
Not enough battles won, not enough anticipation, not enough plays being made.
Mr. Burns' beloved teddy bear almost helped tie the game up when he skated through two zones and completed an extended give-and-go with Quinn Hughes:
Given Rick Tocchet's love of the top and bottom of a compass (more on that later), it feels like Beau is going to be a guy that excels in his systems. He goes hard and fast to the net and gives a slow team a semblance of speed at times. It's hard to argue with the effectiveness of driving a team back on its heels with speed and finding an open man in the resulting space you just created.
Best even Irbe wouldn't have stopped it
The Chaos Giraffe showed up big on the Rangers fourth goal:
I have watched this clip multiple times and I still have no idea what Tyler Myers end goal was here. Bees? Chaos? Whatever it was, it worked in helping the Rangers increase their lead.
Myers goes side to side, and eventually finds himself both not blocking the pass or a shot on the ensuing two-on-one.
Silovs' only chance on this one would have been to do a diving pad stack save, but the NHL audience isn't ready for that knowledge yet.
Best keeping up with the Jones'
The Rangers continued to pressure the Canucks and almost got a carbon copy tap in of their previous goal:
Quinn Hughes falling down and losing the puck shouldn't break the mind of your entire team. I love Quinn Hughes, but man do they rely on him so much when he's on the ice. The second he falls, everyone kind of freezes and then starts scrambling. Three guys go to the puck, which opens up room down low, which the Canucks respond to by…sending three guys to the puck, which opens up room down even lower for the tap in attempt.
Once again Ethan Bear finds himself leaving his man open behind him, but at least this one is more understandable as he's trying to prevent the incoming breakaway.
I know Rick Tocchet took the team to grade school defence, but fire up Dora because they're going to need to learn about Swiper.
I am putting together a Paul Heyman-like list of Canucks players, the kind of guys who will come out with a Tocchet t-shirt and loudly proclaim their allegiance to him.
Philly D is one such player, because his North/South game is exactly what Tocchet wants:
Again, I don't say that derisively. Watching him hustle to beat out that icing and set up a solid chance in front? That's good stuff.
You know when you play Grand Theft Auto, and you try driving backwards for the entire mission, before realizing it's too hard and what's the point, so you just turn around and drive normally? Kuzmenko never turned around:
I'm sorry, but if Kuzmenko scores that goal in down low like that, it's easily a top three goal of the year for the Canucks. The fact he was able to pull that puck in close and get the shot off so quickly and so high? That's mythical stuff right there. Those are the hands only few possess, the kind of hands Kyle Wellwood once showcased in this city.
Watch it again and see how close he got to going top shelf where Mom leaves the vision board for her new rewarding life to finally start when you eventually move out:
He literally walks backwards and almost scores a goal, that level of skill is downright scary.
This is why when Rick Tocchet takes the tough love approach, I arch not one, but two eyebrows. Of all this team's failings, of all their defensive issues, you're going to point out Kuzmenko as one of the worst offenders?
Hey, can his defensive game get better? Clearly.
But give some leeway to the guy who is on a 70-point pace and is one of the few things that makes games palatable this season. His chemistry with Pettersson is undeniable.
It would be like someone benching Ron because he wasn't defensive enough, and then all of a sudden Harry is playing with Neville. Nobody wants that. Nobody.
Oh yeah, Garland scored a goal there. I should probably point that out. Nice backhand?
Best fight for your right to tank party
Dakota Joshua tried to block a shot and ended up tipping in the Rangers' fifth goal on the night:
You'll notice how much time and room the Rangers have at the point and that's once again because the Canucks' defensive coverage is like watching a live puppy cam at feeding time.
Best standing your ground
Despite the loss, Silovs had some good saves, and participated in the rare occurrence of a penalty being killed:
That's a good save from a young kid who got to live out a dream tonight. Sometimes you can just sit back and take some joy in that.
Best balsa wood structure
The period started out with another example of the Canucks double covering one player:
Double-teaming someone is a viable strategy, and it's honestly something you see Elias Pettersson do a lot of. The thing is he picks his spots well, and he has the speed and skill to make them.
No offence to Riley Stillman, but the team doesn't need you cheating over to try and pressure another player, thus freeing up your check to go to the net unimpeded.
It's a high-risk, low-reward play, and it's something this team does constantly.
At least try and work in a gimmick when you do it, so the crowd can participate.
Imagine Tyler Myers cocking his fist or making a large guttural scream every time he pinches for the puck. The crowd would start to join in after a while. Hell, they'd even start to look forward to it happening. Before long when a goal is scored against, it won't even matter, because we got to see the Chaos Giraffe hit the People's Elbow.
Tonight I'm gonna have myself a real good time
I feel alive And the world I'll turn it inside out, yeah I'm floating around in ecstasy So, (don't stop me now) (Don't stop me) 'Cause I'm having a good time, having a good time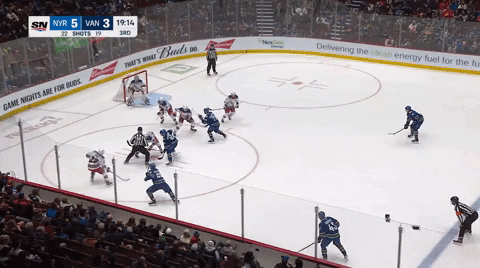 Kuzmenkshow is one of those players who has the high IQ and skill set to make pinches and pick off passes. He almost walked this puck into the net after harassing Fox down low and getting the puck off of him.
I get it, board battles look cool and intense, but let the smart players cook. They create turnovers in their own way.
Best it used to be mad love
Now it's just bad blood:
I don't know if Trouba had a bullseye on Joshua, or if this just happened because Dakota was one of the few players charging hard after the puck, but either way, a blood feud was started this night.
Best well, it's the Kuzmenkshow
This is a hard, heavy, thicc chonker of a shot from Kuzmenko:
Obviously anyone who plays with Pettersson is going to look 87% better than when they don't. But as we have hammered home all season (except on nights when Cody writes), there is something to be said about smart players being able to play with smart players. Kuzmenko can make EP40 even more lethal because he knows how to best make use of riding shotgun with him.
Also, you want North-South hockey from Kuzmenko? He can do that! He's been going to the net hard all season. The idea that he's this fancy player who only eats cucumber sandwiches and lightly sips room-temperature Perrier is absurd. We have seen players overplay their hand with the East-West hockey. Well, we've seen that kind of hockey played to its highest level with the Sedins! Kuzmenko has been a healthy mix of the two.
I just don't understand the desire to play Kuzmenko away from EP40 right now.
Tocchet loves North-South hockey. He's loved it for years. If you enter the zone and pull up, watch out, because you're going to make the list.
All we ask for is entertaining losses with some pushback, and give the Canucks credit, they had that in spades Wednesday night.
First up you had JT Miller going all in on the shot block:
As we noted last game, it's felt like ages since we've seen a slow back check or lazy pass from JT Miller as it feels his game is finally rounding back to Jimothy Timothy levels.
Quinn Hughes making a smart play to break up a three-on-one? You got it:
And finish it off with what felt like a five-minute scrum along the boards, ending with Kuzmenko being wide open for a great shot on net?
I'm worried Tocchet sees that and grumbles that Kuzmenko didn't jump in and help fight for the puck, even though Kuzmenko is an offensive-oriented player. He knows if they win the puck he can make a great rush to the net, but he's also in a good position to help out defensively.
He's a good player, Rick.
The good news? Vancouver didn't let Panarin get the hat trick:
'
The bad news? Alex Edler is appalled at the lack of an all-out save attempt on the goal.
Don't worry, the NHL always takes care of its Coyotes.
The Canucks could end up with a 99% chance to land the number one pick, and I would bet my house that they would drop two spots and the Coyotes would jump up two.
If that wasn't good enough, we got another Vrbata sighting from Lisa mere hours later:
This is like the double rainbow moment for me, except with Vrbata.