The Stanchies: The perfect tank game, Canucks show chemistry, and the draft pick thing
Photo credit:© Bob Frid-USA TODAY Sports
Let's dive right into it.
This was the perfect tank game from the Canucks.
A 2-1 loss to the Minnesota Wild? You couldn't have written a better script.
The coach can talk about how they're keeping games close now. That the structure he wants is starting to form before your very eyes. The conspiracy theorist in you will notice how the easier Canucks schedule lined up nicely with Tocchet's arrival. That a coaching bump is something that can sell tickets, even if it hurts the Great Tank Battle. Games against Anaheim (thrice), Arizona (twice), San Jose, St. Louis, and Chicago (twice) almost guarantee the usual late-season hot streak Vancouver management can't seem to get enough of. Who needs a top 5 pick when you can "take something away from that end-of-season winning and learn from it for next season" or whatever manager buzzword garbage they want to sell you.
The point is, Tocchet can sell these kinds of games that it's proof positive that his North/South system is working, and death to anyone who even looks in the east or west directions.
From the player side of things, Podkolzin, Dries, and Kravstov showed some real signs of chemistry in this game. Nothing gets fans excited more than the possibility of coming up with a nickname for a line that plays well together.
For the trade enthusiasts, Brock Boeser scored a vintage goal against a team many wonder if he'll end up on.
Also for the trade enthusiasts, not a single player got hurt, not even JT Miller, who hulked up and turned a week-to-week injury into a 24-hour sneeze or whatever.
Thatcher Demko? Solid as it gets.
Elias Petterson and Quinn Hughes? Doing their dekes.
All in all, that's about as good a game as you can get from the Canucks in terms of losing with style.
Next stop? Trade deadline Friday.
Let's make some gif money, shall we?
Best pre-game fireside chat
"Never tell me the odds!" was once uttered by Han Solo, who might as well have been running an NHL franchise, boasting about being faster than Phil Kessel, and largely using vibes to figure out his day-to-day life.
The acquisition of right handed defenseman Filip Hronek and the looming trade deadline set off the usual discourse amongst the fan base as everyone tried to figure out what the future of the Canucks would look like over the next few seasons.
And while there are around a hundred arguments going on at once, I do think you can boil it down into a tidy Coles Notes version: Do you have to win now for Elias Pettersson and Quinn Hughes, or do you roll the dice and try and build more long term?
That's essentially what this all boils down to. If you feel that you have to win now and surround those two with whatever you possibly can, even at the detriment of longer term success, then yes, you do what Jim Rutherford did. You bring in a good player like Hronek, someone who fills a huge positional need in the organization. You utilize any of your 21 and younger assets to get NHL-ready players and try and build a roster that can be competitive around what you view as your core players.
Can it work? Of course it can work. It's sports. Sports are dumb. Sports are lucky. Sports are stupid. You can stumble into a good team or a good player or a good playoff run at any moment.
Are the odds of that very high? Not even remotely.
And that's what a large part of the fan base is battling against. Even the best of teams can go on to win two President's trophies and then still fall in the Finals to the NHL equivalent of Homelander. Putting together the best roster in the world doesn't guarantee anything except raising your odds of winning the Stanley Cup. That's why your whole job as a General Manager should be to give yourself as many chances to try to win that Cup as possible.
But human nature being what it is, we live in a world in which the draw of "get in and see what happens" is too much to resist. It's not just a Vancouver Canucks problem, it's a problem in all of sports. The lure of "just a couple of pieces away!" is the equivalent of chasing that straight flush on the river. When you hit it, sure, pop on Maverick and revel in what a gunslinger you are for nailing it. But for the fifty other times you lost the hand? Well, you just wait until a buddy re-hires you on a new team I guess.
And it's not just general managers of course. Quinn Hughes dropped the sound byte that will be sewn onto a flag by those who feel the team has to win now when he uttered "obviously we don't want to be here for a rebuild and have to wait and do all that." And it's understandable, because nobody likes to lose, much less be told that the team won't be competitive for another three years. It's hard to sell the bigger picture when the bigger picture is "we hope to put together a championship-winning team someday" versus "nah man, we got this, we're good" just before you deal away all of your first rounders.
Players want to win at all costs and will always bet on themselves, which is probably why they bring that with them when they become general managers. Even if winning with draft picks isn't nearly as long term or time consuming as some would have you think,
as Cody broke down today
.
And again, quick turnarounds can happen. There is a path for this team to shake and bake its way towards the playoffs next year. It's just the odds of success (much less sustained success) based on that model don't tend to be very high. A lot of this rests on the pedigree of Jim Rutherford having inherent knowledge of how to do so.
The thing people also don't want to talk about is that there is a potential future where Elias Pettersson and Quinn Hughes aren't part of the competitive years of the Canucks if things continue on this win-at-all-costs path. There was once a time when Taylor Hall, Ryan Nugent-Hopkins, and Jordan Eberle were the core that was going to drive Edmonton to success. There are times when a very exciting core just does not get it done. For all the fun the West Coast Express was, their success was limited and very short-lived. But again, that's a hard sell to a part of the fan base that just wants to win right now and be happy watching the games.
I think some in the fan base had their hopes up because the Horvat trade brought in an extra first rounder, so people felt maybe they were going to finally build up their drafting. Alas, a mere few weeks later, it was gone.
And some people laughed at this. Some people gleefully pointed out that Rutherford said it all along that this was going to be a quick turnaround, and that you must have been a big stupid idiot to believe otherwise. To that, I say that things change in the NHL. Rutherford openly admitted the salary cap was harder than he thought. Maybe he saw the team and realized it wasn't going to be an easy turnaround. I don't fault anyone for thinking he may have changed course.
Don't forget, he once talked about the Canucks not being in the position to trade away high draft picks:
But things change. Or people lie. That's how sports works. All you can do is react to the actions taken.
All of that being said, we still have one day until the trade deadline. Hell, for all I know three trades will have happened before Quads even finishes editing this. Maybe there is a vision that this management has that they're working towards. Maybe they have a way to make this team consistently competitive for the prime of EP40's career. If so, getting a right-handed potential top-pairing d-man in Hronek is a massive part of that, so you can understand why some people are celebrating it as a major win. And if ever there was a player to maybe roll the dice on and jump early on, it would be for an actual legit top right handed d-man.
Either way, it's not going to be an easy sell to a fan base that has been divided for more than a decade. It's hard not to think that maybe management is indeed just hoping to hit that flush on the river.
Getting good players is great. Fun even. But getting that at the wrong time? That can just make for a messy future.
The truth of the matter is you need cheap affordable skilled depth to be an elite team. And the best way to acquire that? A deep prospect pool and as many draft picks as possible. You either draft that cheap talent or use it to trade for NHL-ready talent.  Otherwise, you're filling out your roster through free agency and we have seen how that works out here. Repeatedly.
For now, though, all we can do is wait and see.
Again.
Best Mr. Miyagi treatment
Everybody lies.
The Canucks gave up the first goal before the lines were even done flashing on the screen, which is something they excel at.
The first goal occurred when the entire team set up for the Flying V strategy that works so effectively in Disney movies but not so much in real life:
Noah Juulsen sees Kirill Kaprizov make a pass behind the net and then just kind of moves on with his life, trying to avoid a toxic relationship with the Wild superstar I guess? What are the odds a guy with 37 goals will get into a dangerous spot in front of the net when unsupervised?
Turns out, pretty great. Kirill gets to set up behind Demko and tap in the nice pass from Plural Zuccarello, with all five Canucks looking behind them at the new hotness like they're stuck in a meme. You can almost see their pursed lips from here.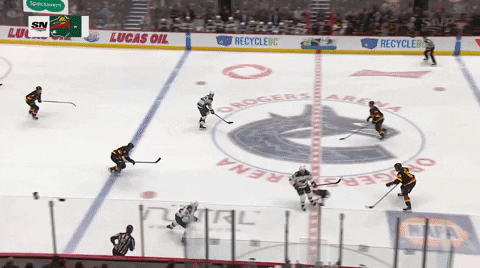 Demko has been run a couple of times since his return and it's good to see he's been able to bounce back up each time. I won't lie, part of me breathes in sharply and waits to see if he holds his groin after every collision right now.
Best Conor Garland mini-stick hockey tribute
It's always good to see the influence of teammates on on another, and when Sheldon Dries dropped to a knee to propose marriage to the puck I assume Conor Garland pointed at the screen holding a beer in recognition:
The odd part is on the follow through from his knees, Dries ended up high-sticking Middleton in the face, who did a 180 spin so you knew it was serious.
End result, a penalty.
End end result — the return of boring Thatcher Demko:
He just made that look so easy. This is kind of my fear of Demko. He makes saves look so easy and tedious that I can't make any gif money off of them. In position, stopping the puck in the chest with no rebound, that's not sexy, I can't sell that. Where's Delia stacking the pads at centre ice? Where's Spencer Martin's glove hand frozen in time??
We are now back in the world where Demko makes every hard save look routine. We're back in the Ruthless Aggression Ruthless Efficiency Era. That son of a bitch.
The most flair we got out of him in the first period was a quick 360 no scope after a shot hit the post:
How am I going to put my dog through college trying to make gif money off of this??
As mentioned in the opener, Podkzolin, Dries, and Kravtsov looked like they had their EA Sports chemistry maxed out on the night. They ended the night with 8 shots (almost 1/3 of the teams shots, the Canucks had 22 shots total) and by my count, generated some of the most dangerous chances of the night.
And it wasn't just that. It was their puck pursuit, and dare I say it, their North/South game that looked fantastic as well. The kind of game Rick Tocchet would let marry a fictional daughter as it were.
Kravtsov almost got his first goal as a Canuck after Podkolzin walked down low and found him in Bumpin' Bo's old spot:
They didn't score there, but that play was indicative of their night. They just seemed to have that Magic Mike in their game (performing well together but nobody scoring at the end of the night).
Best breaking hearts and ankles
Intangibles are great until they can't help you defend Quinn Hughes from breaking your soul in half: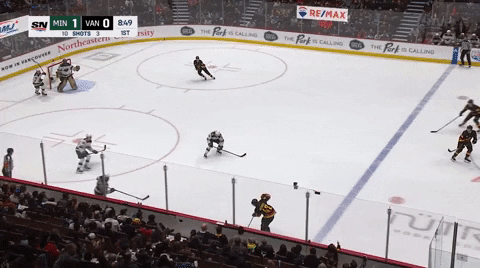 Ryan Reaves got absolutely clowned on this play so harshly that Hughes circled back to check in on him. He went full Uncle Willy's on him and went back for seconds. As someone on Twitter pointed out to me, this had
Allan Iverson stepping over Tyronn Lue
energy to it.
Best posting your goals for the season
Elias Pettersson's string of horseshoes and hand grenades continued Thursday night as the current World's Hardest Shot Champion rung one off the crossbar off a won draw in the offensive zone:
If even half of those posts had gone in, he'd be around 35 goals right now.
Although Kravtsov didn't score a goal on the night, he had plenty of chances, and also showcased some slick passing skills, as seen on the Canucks' lone goal of the game: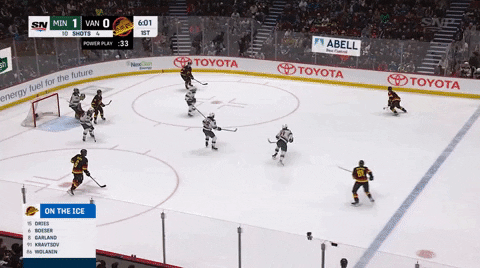 He makes that pass quick and doesn't give Fleury any time to get set up, which allows Brock Boeser to unleash the vintage Brock shot (complete with Michael Cole screaming "ooooooooh my!") to tie the game up.
Kravtsov is obviously a project and if there's one thing we can learn from Ben Simmons is that you should probably take into account what the previous fan base says about a player. I'm not saying they're correct 100% or whatever, but one game of Kravtsov making passes and working like an animal in the corners isn't enough to let you have that Markus Naslund "holy eff, he's figured it out!" moment.
That being said, this was such a promising game from Kravtsov so you should 100% allow yourself to take a sip of your favourite wine to celebrate it. In seasons like this, you take what you can get.
Yes, this is the Kuzmenko Rule for losing teams.
Best grinding out the gif money
Oh look, it's Demko being ruthlessly efficient:
Oh look, shutting down more high-danger chances and making it look so easy you forget all about the Canucks defensive zone coverage:
You want high flying saves here? Nope, you get extremely technically sound saves:
This bastard.
Where's the panic? Where's the anxiety??
It's like hiring an escort and they do the job in five minutes instead of taking their time and using up the full hour.
I mostly used that metaphor to see if Quads would text me.
"I'm not sure about this one Wyatt."
Editor's note: Regrettably, I did not text him.
Hey, Will Lockwood injected some energy into the games. We all enjoyed it.
But as we said at the time, that's a dime-a-dozen player you can throw in the lineup from the AHL.
Kravtsov in one game showcased more than Lockwood was ever going to show, which just speaks to that tantalizing potential that made him a first round draft pick:
I think what impressed me the most in this game was he wasn't standing still. He constantly went to spots where he could be an outlet for a pass or where the puck might end up. And then he would make plays to the net.
Just a really really solid game from him tonight.
Best Marian Gaborik syndrome
If the Wild didn't win 2-1 games with a skilled European being a one-man army for them, I wouldn't feel comfortable with the world:
The Canucks make a poor line change and Kaprizov does the rest, banking in his own rebound, which I just naturally assume was him passing to himself off of Demko's pads.
Notice how Demko did the splits there. Chalk that up as another moment in which I winced and waited to see how it was going to play out.
I'm sorry, but if you get the puck over the glass at the other end of the rink from your own zone, you can't penalize that:
Someone should win a car or a Frosty or something if a Canucks player does that.
Instead, the Canucks had to kill off essentially a complete 5 on 3 for two minutes, which somehow they ended up killing quite easily due to shot blocks and rubbing dirt in any wounds they got: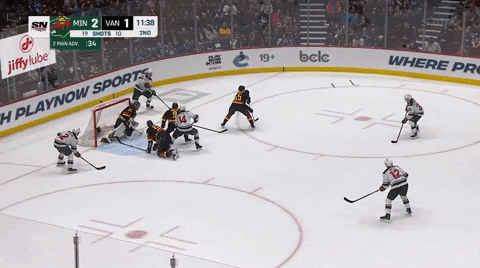 Blocking shots, grinding out a 2-1 loss, that's the kind of things coaches absolutely love to sell after a game, I'm telling you.
Elias Pettersson excels at making end-to-end rushes that make the entire crowd gasp and stand on their feet:
Freddy Gaudreau is still wondering how he ended up in the shadow realm.
Any chance I get to bring up the short-lived AMEX line, you know I'm going to take it (Kesler, Higgins, Booth, just so Quads doesn't have to google it as he was five at the time).
The Trade Dead Line had the Wild hooped so badly that they got the dreaded two minute shift clock to appear on screen:
You know it's bad when you get in a line change on the shift, and end it with a high-danger scoring chance for the guy who just got on the ice.
Like I said, for a game in which you want to sell the future (assuming nobody gets traded from that line), having three forward lines show big moments of chemistry, that's copium right there. You can sell that out of the back of a van real easy.
"Sure, they're losing, but man once they learn lessons in winning down the stretch, and add a d-man or two, next year it's Stanley Cup or bust!!"
If Tyler Myers is Chaos Giraffe, Vasily Podkolzin is Cocaine Bear right now. Tough on the puck, never backs down from a battle, and always rushing the puck on net. Podkolzin looked great Thursday night. Tocchet spoke of wanting Podz to become a power forward, and well, this is the kind of game that shows he can do it:
On top of that, he is also a really good passer. Clearly he is no Todd Bertuzzi, but a guy who uses his size, but has a surprisingly gentle passing touch? That's one of the unicorn templates of the NHL. You dream of a player like that.
Still a long way to go of course, but Cocaine Bear showed real promise.
One of the rare times I pass on gif money, but you need to watch that entire video.
That is one of the best shifts I have seen from a bottom six player this season. Let's break this down, shall we?
Tracks the puck down on the zone entry and gains possession in a puck battle.
Cycles behind the net and then cycles back before dropping the puck off for a teammate.
Gets hit but then sees the puck swing back to his corner, and then even though he's a step behind, throws a hit and makes a play to get the puck back. This would have been so easy for him to give up on this play and just let the Wild clear it, but he bears down and gets the job done.
He then draws in two Wild players, who have clearly become alarmed at his effort level on this play. They have now sent in two men to try and take him down. Kravtsov sends the puck back around behind the net.
Now here is my favourite part of the play. He's already used up a lot of energy here, so he would have been forgiven for kind of floating around near the boards after that pass. But nope, he skates behind the net in case an outlet is needed for the cycle, which it is.
He then banks the puck off the net and goes full Hank Sedin, and then spins and fires an accurate backhanded pass right to Dries for a grade-A chance.
Honestly, if you told me Rick Tocchet was seen openly weeping and hugging Kravtsov after the game, I would believe it. That shift is everything Tocchet wants out of a player and more.
Okay maybe he would have hated the spin, that's dangerously close to an East/West sort of thing.
But other than that.
(In my head it's an East vs West coast rap feud with Tocchet in terms of his hatred of left-to-right gameplay.)
Best making Schenn Daddy proud
We all knew Kyle Burroughs was going to be the guy to step up if the Canucks traded Schenn, so it's no surprise at all that he was tied for the team in hits (6) but also defended Podkolzin's honour in a fight, and won with a KO punch:
The first clip is Burroughs realizing someone needs to fight under the banner of the Cocaine Bear:
The second clip is of him landing the knockout punch:
Hockey is in a weird spot where fighting is still allowed, but we know concussions are awful, so you both cheer and wince at clips like this.
Still, both men were willing combatants, so have at it with your power slap battle.
The Canucks came closest to scoring off of a beside-the-net power play chance for Kuzmenko, and on a Brock Boeser vintage shot:
Fleury denied them both. Again, this is what makes a good kind of game.
OH LOOK, ANOTHER HIGHLY EFFECTIVE SAVE FROM DEMKO:
In my day, Delia would have frozen mid-save after the puck went by him or Spencer Martin would be holding down the opposite post leaving the net wide open.
My guy is straight-up trucking to the net with no effs to give:
It feels like Podkolzin is a very open and coachable player. Tocchet was impressed enough to almost get his animal correct post game:
"I thought Podkolzin was very good…Podzy was a bull out there."
Also notice ride or die Kravtsov backing up his boy right away. That's Kevin Nash and Scott Hall levels right there.
The Outsiders are here to play with the big boys.
Best sign you made a huge mistake
When Wolanin is at the very least matching the output of OEL, you know there's a problem: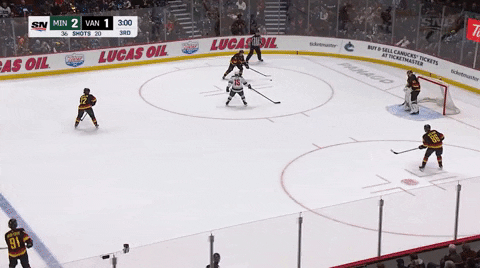 The Canucks got almost 17 minutes out of Wolanin, and he did not look out of place. His passes also cost cents on the dollar compared to OEL's passes. His skating looked better, and his coverage looked effective as well.
OEL better get back in time to juice his play off of those Ducks games, that's all I'm saying.
You know how you keep Kuzmenko from tying the game up late? Take a penalty:
Say what you want about Jimothy Timothy, but he knew what needed to be done.
I have an inside secret agent that always gets me some of the best jerseys on the season, and they came through huge tonight.
First, let's start off with the Jason Garrison era:
Oh you want someone who shoots the puck harder than that? We got you covered:
It's not often you see a Jeff Brown jersey out in the wild.
But how do you end this night properly?
With the legend himself:
Four absolute beauty jerseys.
I watched the Canucks hold the belt like it was a tea platter (including Luke Schenn) but the second he gets to Toronto he holds the strap correctly?
This causes me physical pain to see.
Aside from the pricing on this merchandise, the design couldn't be more of a home run. Honestly, you put that on a jersey, and I am here for it. Best Canucks logo I have ever seen.