The Stanchies: The most exciting Vancouver Canucks game of all time
Photo credit:© Bob Frid-USA TODAY Sports
On a night in which Wrestlemania wrapped up its thrilling second night of intense action, it only made sense that the gods punished me for choosing hockey by making me sit through a Canucks 4-1 loss to the Kings that had me pining for the exciting days of Jaques Lemaire Minnesota style hockey. I'd have given anything to watch Darby Hendrickson and Wes Walz create sweet sweet hockey love on the ice versus whatever the hell it was I just sat through.
I know the Kings scored four goals, but I only vaguely remember two of them. I'm half convinced the league just rounded up an even four goals, and honestly, I'm ok with that.
I don't know if the Canucks found out halfway through the game they were officially officially eliminated from the NHL playoffs, but their lack of energy combined with the LA Kings' desire to destroy any sliver of excitement you could possibly have at a hockey game made for a miserable night of hockey. There were rumours that Crazy P stopped banging his drum all day and just started staring into the distance, wondering if he could still work for the CRA.
This game felt like one of those three hour naps you take where once you wake up you kind of just consider going back to bed and riding out the entire night so you can get a brisk 4am start time for the upcoming week.
To be fair, the interesting storylines for the Canucks are pretty limited as we ride out this season. Elias Pettersson's chase for 100 points is the main storyline, with 40 goal seasons still on the table for Kuzmenko and EP40 as well. Elias' 14 game point streak was also an intriguing sub plot, but the Disgusting Brothers were shut down all night long by LA, nixing that out of the equation.
I guess the good news is we've all been here before, so if any city knows how to ride out a middling end to a season that ended with a hot streak that hurt draft lottery odds, it's us. We're the kids who learned to ride the waves of their parents marriage that stuck together just long enough for us to graduate from high school. We're fine. We're well adjusted.
I do remain cautiously optimistic that this will be the worst game of the season, but never count out the Coyotes I suppose.
The point is, this was a fantastic game and oh boy you need to read this entire article because gee whiz what a humdinger of a journey do you have ahead of you!
Best meme me in the middle
But give Elias Pettersson credit for stepping up and producing a meme worthy of such hits as "I paid WHAT for a beer at Rogers Arena?" and "how much does OEL get paid per point??"
This is captain material right here.
I do have to say if the Canucks want to name EP40 captain for his on ice play, his meme ability, and leading by example, I am 100% down for it.
But if the Canucks want a guy who can handle the press and stand up and have a strong voice on a variety of issues, Quinn Hughes has rocketed to the head of the pack. There has been a lot of talk about Hughes stepping up and embracing a more vocal role, especially with the absence of Bo Horvat, and honestly, this market could really use somebody who can handle the pressure of this town.
Bo excelled at not making any waves, but there is something intriguing about having someone be a bit louder and vocal, and having the strength to push back on any issues that may arise. Even if it means calling the press a bunch of jerks, which to be fair, I have earned.
She's so high, like Cleopatra, Joan of Arc, or Aphrodite:
I'll let you hum out the rest of that chorus.
Ok, so my favourite part about around the world glove saves is it elevates everything. That shot from Zack Attack? It's ok, but it's nothing to write home about. Certainly not a puck you'd introduce to your friends.
But when Demko adds that little twirl to it? That puck is wife material now. That flair on that save now elevates that from a "good save I guess" to "holy shit Demko is a mythical beast sent from Zeus himself to end the LA Kings."
Want proof?
Watch these three saves from Korpisalo?
Technically he had to make three saves in a row, which is more difficult than the muffin of love MacEwen shot at Demko.
But he never flairs his glove. Korpisalo just kind of bats the puck away like a luddite dealing with a smart phone for the first time, and the end result is he looks like a crab-walking past-his-prime Axl Rose.
You don't win friends with salad. And you don't win friends with basic pad saves.
I do have to warn you that those three saves were probably the most exciting offensive burst from the Canucks on the night.
Please keep reading.
Please.
Best why be a King when you can be a God
Brock Boeser vs the LA Kings was indeed the best part about this game, so it was nice to see Brock continue his regicide streak with his 17th goal of the season:
We're clearly going to dive deep on this goal because it's all we've got.
Things I liked about this goal:
Philly Delight continuing his very smart offensive zone presence. From making the smart pass to JT Miller, to just overall having a very smart active stick, Phil Di Giuseppe has gone from a "Remember that guy?" Victor Oreskovich special to a potential "I really liked him but we can't afford to overpay bottom six guys anymore" Tyler Motte guy. He's an Anvil special, he works hard and he plays hard, and honestly has been one of my favourite late season players to watch this year.
JT Miller continuing to produce points and back checks. He's settled nicely into his Jimothy Timothy rhythm to the point we now have smug "Horvat who?" takes on the internet. Nothing says victory quite like diminishing a player who gave it his all to your franchise during some of the dumbest general manager years of all time.
Brock Boeser gunning for a potential career high in points on the season. I know we all had the "is this the year he gets 30?" debates, but as Love is Blind has taught us, sometimes Irina lies and you have to take a different path to success. Boeser's newfound playmaking skill set has been an underrated storyline on the season.
Things I didn't like about this goal:
Brock Boeser didn't do a fun hair flip after he scored.
JT Miller didn't challenge anyone to a fight.
The game continued.
The Canucks went 0 for 4 on the power play on the night, with this being one of their best chances:
I like it because Kuzmenko and Boeser having their Highlander duel to be the only net front PP1 guy has been enjoyable to watch all season. I don't think the Canucks have ever had as many double tips in any of their seasons as this one. In my head they're basically the Night at the Roxbury guys, playing out that sketch every night on the power play.
Best here comes the pain again
The Kings scored their first goal at 4 on 4, and they had the decency to do it quickly:
The Canucks get caught watching the puck go back and forth, then Aman made the Tyler Myers-like decision to "just vibe", leaving Iafollo wide open for the one timer. The One T as they call it in the NHL. The ol' 1T.
They don't call it that. I'm sorry.
This was a very hard game to watch.
I still have no idea why Aman let his man go.
As a proud plug who rocks number 93, I have to say, there is something delightful about wearing a high number and having people wonder if it's an homage to a training camp number, or if I really have the skills.
Please note that this play is started because Philly Delight is incredibly smart with his stick:
Much like Dakota Joshua. If you find yourself wondering why the bottom six looks so improved this year it's because the flail their sticks too and fro, causing turnovers on the regular. This is a far cry from Loui Eriksson doing Blue Steel and humbly wishing that the puck would just come right to him.
Also note on this play Elias Pettersson doing a solid shoulder check not once, but twice, before realizing he would just have to dangle it all by himself. He tries to buy Di Giuseppe time to get into the play, but then realizes he just needs to handle his own business so he dangles towards the net and gets off one of the 11 recorded high danger chances from Natty Stat Trick. I have no idea how 11 high danger chances were recorded, but here we are.
You know what, watching the new kids come in and play is also a pretty fun sub plot on the season. Aidan McDonough's first NHL goal was a treat to see play out earlier this week, and the NHL debut of recently signed Akito Hirose playing his first NHL game was also very neat: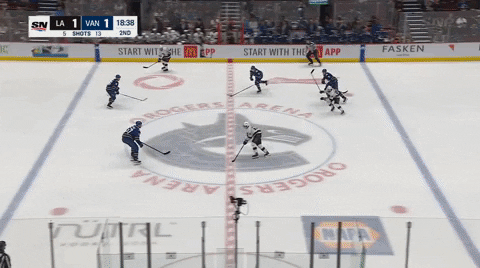 The Salmon Arm Silverbacks alum had a solid debut, especially when you consider he was given the Chaos Giraffe for a partner in his first game. The main takeaway from his game? He made calm plays and never seemed to panic. In that clip he gets the puck on a dump in, then has the confidence to spin out of a check twice, giving him the room to get the puck over to Tyler Myers for the clean easy zone exit.
He did all of this knowing that at any moment Tyler Myers might start skating wildly over to his side of the ice screaming about seagulls being people. That takes moxie.
Speaking of wildly skating and screaming about seagulls, Tyler Myers rushed the point on the power play leaving Arvidsson wide open down low:
Now in the Chaos Giraffe's defense, he did rush back to try and get a stick on Arvidsson's shot, and he did provide the kind of natural chaos we've come to expect from him. In fact if he had played solid positional hockey there it would have been unnerving.
Also in Tyler Myers' defense, Ethan Bear and Elias Pettersson have to be able to handle Iafallo's stick in that situation or at the very least get a handle on that puck. It's never a good look when the overhead cam showcases someone going John Cena on a team in the crease.
JT Miller almost got a second goal for the Canucks, but Drew Doughty decided to go full Alex Edler by making the back-up save:
Alex Edler would have dropped down and done a pad stack save, but whatever.
Best so you're telling me there's no chance
Well hey, at least they had a spirited run down the end, and things look pretty good-
Oh. Oh I see.
Elias Pettersson being repped on the grandest stage of them all? The only thing missing was the traditional "Scott Road" sign, but we'll take what we can get.
Best cold embrace of death
Once the Kings got their 2-1 lead, it was game over in terms of anything resembling fun hockey.
Don't believe me? This was one of the most exciting plays to end the second period for the Canucks: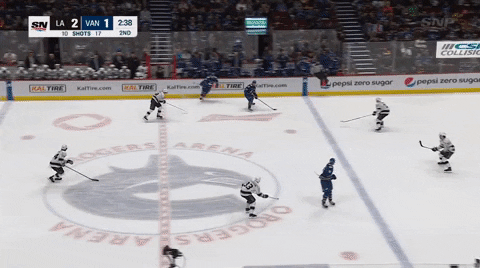 That was a shot that went wide and then rang along the boards and left the zone. Aka the Mason Raymond special.
I actually clipped this out of desperation because at least it resembled an offensive chance.
The LA Kings are murdering hockey.
Best murder of Sonic the Hedgehog
Imagine my surprise when Tyler Myers got a solid shot off in the high slot:
Notice the lack of an around the world glove save from Korpisalo, making a potential "holy shit, this goalie is insane, he's on another level, he's a seagull disguised as a human" save turn into just another Sunday.
Best and now for something completely different
Look, I know wrestling isn't for everyone, but if I can't talk about how Snoop Dogg came in to save a segment after Shane McMahon blew out his knee, then I don't even know what we're doing here.
To put this into hockey terms, this would be like Markus Naslund's music hitting, him blowing his knee out halfway through a penalty shot, then Michael Buble jumping on the ice to finish it off by scoring.
Hirose got a bit of a welcome to the NHL moment as Kaliyev walked right around him to get a great chance on Demko:
The important thing to note is how dull and un-exciting the LA Kings make even these good scoring chances look. There's an art form to their brutality.
As you might expect, with the Kings digging into the trenches like it was the start of the Great War, the Canucks chances were usually limited to shooting the puck just wide:
Please note the nice pass from Hirose, but also note how it ultimately ended with a shot going wide.
I was honestly expecting Gaborik to show up out of nowhere and score on the counter rush off of this.
The Canucks best chance to tie this game up and salvage any hope of Fin finding a reason to exist was once again after Boeser and Kuzmenko duelled it out in front of the net on the power play:
Kuzmenko's almost 30% shooting percentage, which is totally sustainable and will never drop, ran into the first bit of bad luck on the season when his shot deflected off of a Kings stick.
The good news is Kuzmenko is hovering at 27% right now, which means next game he'll take two shots and get two goals, and bump it back over 30 again.
While this was the main focus on the game, let's not lose sight of Hirose continuing to make smart plays and impressing in his NHL debut in front of his parents:
His confidence to not only skate with the puck but back track to find a better outlet is what elevates this from an Oscar Fantenberg, off the glass and out neutral zone turnover, into a leaving with possession zone exit.
Now don't get me wrong, sometimes off the glass and out is a good option. Sometimes the best option. But if you're a d-man who can find ways to turn plays into exits with possession? That elevates the gameplay of a team into a much more cohesive offensive unit.
All in all, it was a very solid debut for Hirose.
Best this goal actually happened
This is such a 2003 Minnesota Wild goal it hurts:
I can almost see Jovo kicking the puck into the slot and Richard Park screaming in to knock the puck past a bewildered and slightly frightened Dan Cloutier. "But he beat up Tommy Salo!!" people would declare, as if that somehow made up for the complete lack of ability to play hockey in the playoffs.
My therapist assures me I'm on the cusp of a breakthrough over 2003.
EP40's best chance to get a point was when Kuzmenko, whose pride in his game has wilted away to nothing, failed to score on the nice set up from Petey:
Petr Nedved, rest easy, your 15 game point scoring streak is safe.
Lachlan has been shelved for the rest of the season, just a little heads up for anyone wondering:
This game made me question my belief that humanity can be good.
Jeff is basically my Maury Povich, where I excitedly await the end of games to see if someone is not the father, via a statistical metaphor.
I assume Quinn Hughes wanted to beat out Doughty in ice time (which he did), and any chance you get to ride Quinn Hughes in a meaningless game, you have to take it.
And that was it. Six more games and another season is in the books. We've almost done it.
See you next game! Wee!