The Stanchies: Martin's early heroics, Miller's complete effort, and an unlikely MVP lead Canucks to victory over Vegas
Photo credit:© Stephen R. Sylvanie-USA TODAY Sports
The all-too-familiar sight of breakdowns in the defensive end was on full display once again.
Lazy coverage? You bet.
Loose structure? Using the word "structure" would be doing a favour for what we saw on display in Vegas.
Awful penalty kill? Was there ever any doubt?
Petulant tantrums being thrown as discipline was thrown out the window? Par for the course for this group.
Yes, the Vegas Golden Knights were once again terrible as they lost to the mighty Vancouver Canucks 5-1, with their lone goal being so pitiful you couldn't help but think even the Hockey Gods were ashamed they'd allowed it.
How many franchises will Jack Eichel ruin before his career is over? It's hard to say.
But on a night when they needed their stars the most, there was Jack Eichel with 0 points, 1 shot, 1 hit, 1 block, and 1 takeaway. The Loui Eriksson special right there in front of the home crowd.
Mark Stone, a man with defensive stick skills so slick that Dimitri Filipovic makes monthly videos boasting about them, might as well have been working the Strip handing out flyers with how many giveaways he had on the night.
And I would like to petition the NHL to re-assign a nickname, as it should be Phil "the ill" Kessel with how much he made me dry heave while watching him try and produce offence at an NHL level.
The last time I saw a beating this badly was Friday night when the Surrey Eagles absolutely crushed the Coquitlam Express, but at least Coquitlam had the decency to look like they were trying their best.
The only Bongo in this game was the one the Canucks used to dribble the head of Vegas Knights' goaltender Thompson off of, who at least was apt enough to have the initial "L" for his first name.
Yet somehow the NHL allowed this expansion team into the league, lowering the play and the willpower of anyone who is forced to watch them. I guess it's good that Vegas never sleeps because at least that way they won't have nightmares about their team.
But hey, it's Vegas, the odds of them knowing what good hockey looks like are slim at best. They probably think getting one goal is an ace high sort of situation so they went home happy.
At the end of the day, Vancouver doesn't have to worry about Vegas until March.
And by then one can only hope Vegas brings something more to that table other than a three-day stench of not showering and stale cigarette smoke.
Let's get to those gifs, shall we?
Best Jamie Benn would never
For this recap, we are going to break down the game as it happened! It won't just be the goals first, then over-arching themes throughout the game at the end of the article. No, for an ass-kicking this thorough, you need to be there for the entire ride, as it happened, because believe me, it's not often Vancouver plays this well.
How well? THEY PLAYED ACTUAL DEFENCE. THEY HAD PUCK SUPPORT. JT MILLER DID A BUNCH OF DANGLES AND AT ONE POINT THOMPSON'S JOCKSTRAP CAME OFF AND FLEW INTO THE STANDS.*
*don't fact-check this
The point is, this was the most complete game Vancouver has played this season, against one of their toughest opponents.
But before we get to the Canucks being here to kick ass and chew bubble gum except they're all out of gum, this game might not have happened if not for Spencer Martin going full Gandalf and telling the Canucks to fly you fools: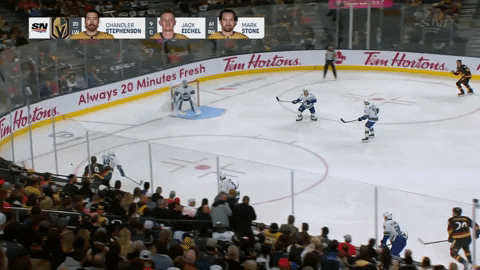 Luke Schenn can't cut off the pass out front and Vegas gets a prime shot on net, but Spencer Martin makes the save so easy it honestly looks like he's bored. Like part of you wonders if beneath that mask he's saying "are we playing a tier below us, did the league balance out the divisions again?"
I'm not even sure if he's going down to cover the puck or just try and take a nap because that shot was so pedestrian and tedious to stop.
Vegas wouldn't stop there, however, as they once again worked the puck down low (Vancouver's kryptonite this season), and got one of their 11 high-danger chances with five Canucks going full union and refusing to do someone else's job: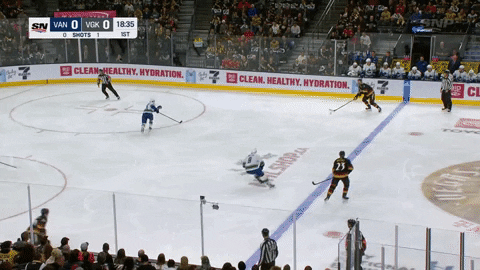 Spencer Martin isn't even fazed by this, however, as Ian Clark's robotic implants teachings somehow install this Kirk McLean level of calmness in his pupils. Well, the pupils that accept his teachings. The ones like Holtby and Halak get ex-communicated and are no longer invited to family gatherings. Which leads me to wonder if it's just goalies that have a last name that starts with H that Clark takes umbrage with.
Regardless, Vegas got yet another fantastic scoring opportunity, this time off of a Höglander turnover: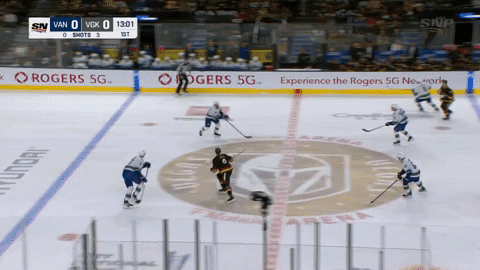 First off, don't worry, Höglander didn't get benched for his giveaway. He more than makes up for it later.
But the main point of all of this is that this game could have turned out very differently if not for the play of Spencer Martin.
Remember last season, when Halak was losing games and his contract just wasn't vibing with the city? And then gloriously cap-friendly Spencer Martin re-claimed an NHL job and seemed like he'd be the next great backup for this city?
He's been fantastic for Vancouver, which is incredible when you think about how much this team has relied on Demko to win them games over the years.
There have been times over the years when the Canucks didn't play their top guy that you just felt extremely lucky if the Canucks managed to sneak out the win. Even going into this season, I don't think many would have seen the Spencer 6-1-1 record coming.
And no, I am not going to dive into the "goalie controversy" debate. You don't give up on top goalies after a couple of rough months. Coming off of surgery, and with the amount of miles the Canucks have put on him, and the fact that Martin's run support is bonkers compared to Demko, there are a lot of reasons why you shouldn't be releasing white smoke to announce the arrival of Martin.
But that being said, you absolutely play the hot hand when you have it, so I think if Martin is giving you the goods, you ride that until proven otherwise.
At this point in the game, we were due for a Tyler Myers pinch, but as with most of the game, the Canucks recovered beautifully: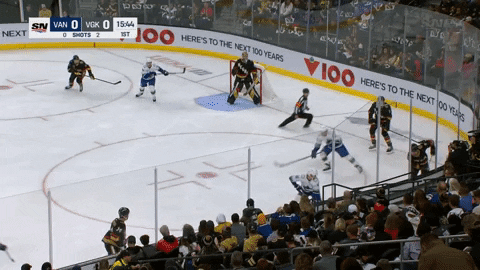 There have been pinches in the past where Tyler Myers runs into the corner like he's trying to catch the B-Line, but here he pulls up when he senses stranger danger, and then hustles back to get his 14-foot-long stick on Stone's shot.
Even better, Kyle Burroughs was patiently playing the two on one so he's able to snag the deflected pass and get the puck towards the boards and out of danger.
It may be alarming for some to see these clips where the Canucks are supporting the puck, but I assure you, they're real, and they're spectacular.
If there was a turning point aside from the "murdering the opposition with three hundred dekes within the span of 3 seconds" from JT Miller, it would have been the Treaty of Värälä line making their presence known.
And it's a lot like Pavel Bure's first game. It's not a goal that wowed people, it was the fact they were creating offensive chances that made you feel like the ice was tilted: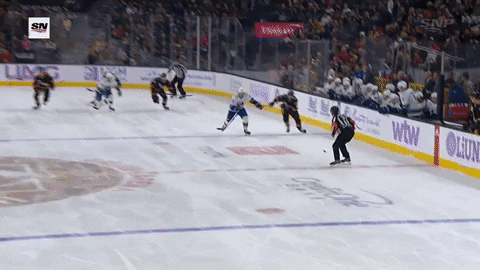 They get the zone entry, the puck goes wide, but Elias Pettersson, who knows where the puck is going at all times, gets the rebound and almost pushes it over to Mikheyev for a tap-in.
On the surface, it might not seem like a lot, but after Vegas controlled the first five minutes and Spencer Martin had to come up with big saves, this was the first pushback from Vancouver. It also eventually led to the Canucks drawing a penalty, which led to their first goal.
It's illegal to mention Brock Boeser's point streak without talking about how quiet it is. And it's not wrong to do that because it really feels like the third wheel on a dinner date. You don't know who invited the point streak but it's there now, so you're going to make the best of it.
But there's a world of difference between secondary assists and sublime tips like the one The Flow pulled out on Saturday night: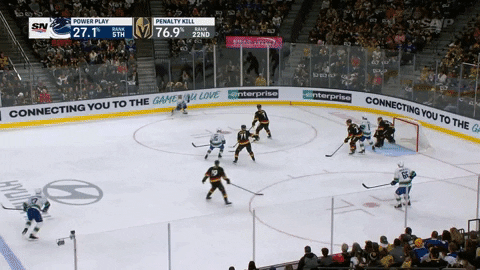 With hair second only to Joey Pitt, Brock Boeser is slowly starting to put together a solid resume of scoring as this season progresses.
Even better news for Vancouver is if they can get a solid second unit power play going, that is another weapon in their arsenal as they push forward this season.
And full kudos to Oliver Ekman-Larsson for doing the Alex Fraser stalling-in-the-middle-lane fake slapper to fool Vegas, allowing him to shift over and get the wrist shot off and on net.
We've all been there, bartering with our teammates and making sure we know what happened: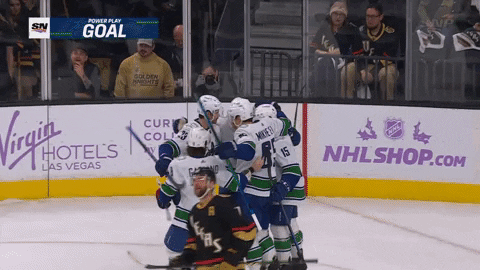 "Yeah man I tipped it, I felt my stick move. I got it. Good shot though."
Remember, Vegas had 11 high-danger chances to Vancouver's four according to Natty Statz, so they did get their looks on net. The problem was either Spencer Martin was there, the defence was actually there to help out with rebounds, or Vegas just couldn't convert on the empty nets: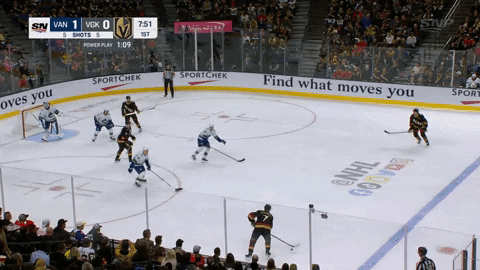 Clearly that moment is too big for Mark Stone, he's wearing a knockoff Canucks jersey he ordered off DHGate, he's never faced a real athlete like Spencer Martin before, so he shoots his shot like Carlton Banks and can't find the net.
Best smartest man in the room
There was a time when Travis Green did not deploy Elias Pettersson or Quinn Hughes on the penalty kill.
There was also a time when Green was hesitant to play Quinn Hughes on the first unit power play.
This isn't to call out Travis Green in a mean-spirited way, as it is an NHL tradition as a head coach to have people accusing you of being the Michael Jordan meme in regard to young players.
But it is calling out Travis Green for being old school in his approach in putting in the grizzled Jay Beagle's of the world to handle PK duties.
The strength of putting out players like EP40 and Quinn Hughes is their tremendous hockey IQ can kill plays without anyone having to dive and block shots with their face:
Smart hockey players have the ability to make people look like they just made the world's dumbest pass because they read what's going to happen even before their opponent even knows it themselves.
Elias Pettersson is so good at hockey that sometimes you kind of want to throw him out to kill a penalty all by himself because part of you thinks he can still kill it off. That somehow he will analyze all the angles and odds like he's Sherlock Holmes informing you of the affair you had last night due to the smudge on your shoes and the smell of oak in the air.
Not only does he kill off plays before they even begin, he is constantly turning them into offensive chances the other way, like in the clip above.
There is no one on the Canucks more interesting to watch right now than Elias Pettersson.
Best don't say the "C" word
Anytime the Knights did find a way to break through the Vancouver defence, there was solid reliable Spencer Martin making it look all too easy: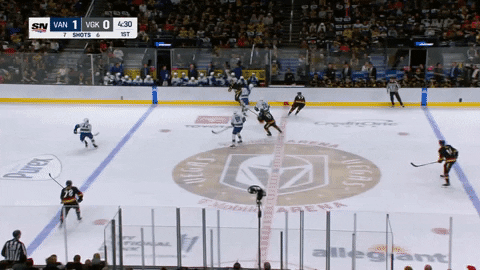 One of the reasons this was a complete game for Vancouver was their attention to detail and puck support. There were none of those shifts that went so long that the dreaded "Shift clock" graphic had to appear on the screen. If Vegas got a rebound, the Canucks quickly and efficiently exited the zone with it.
When Brayden McNabb isn't head-hunting, he's still trying to get into the heads of his opponents by shoving after the whistle like a third-grade bully: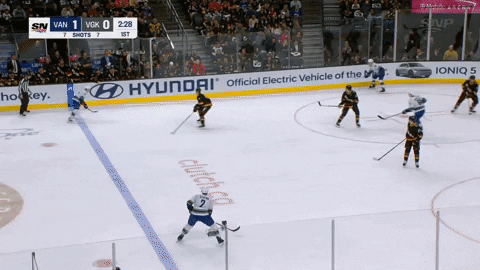 Elias Pettersson simply stares at him and makes a mental note to unleash a one-timer from hell at a later date and moves on with his life.
The rough stuff didn't stop there as Vegas once again got into some scrums after the whistle: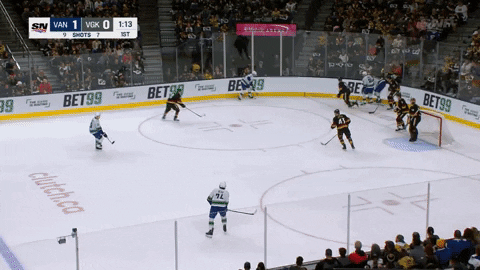 Apparently not being able to come back from a deficit against Vancouver tilts you? It's like when you take it easy on your kid in a video game then suddenly they start beating you for real and you can't stop it, and the panic sets in that you're closer to death than you realized.
Best shooting yourself in the foot
It was bad enough that Vegas tried to steal the Canucks' Skate colour scheme, but to play Avril Lavigne on the play before a penalty kill is about to start?
You can't take her from Canada, Vegas. Can I make it any more obvious?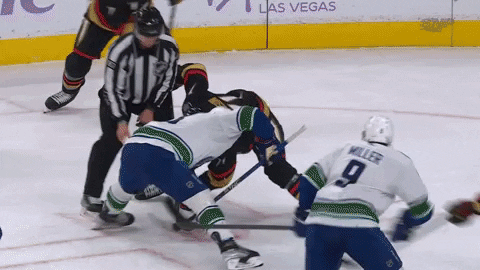 Miller was a skater boy, he said see you later, boy. Thompson wasn't good enough for him.
He was beat in a flash, his save percentage was trash, he needed to come back down to earth.
Five years from now? He sits at home, washing his gear, he's all alone.
He turns on the TV, guess who he sees?
Skater boy rockin' up CBC.
He calls up his friends, they already know, and now they've got tickets to see Miller's show.
He tags along, and stands in the crowd. Looks up at the man who went low.
Miller was a skater boy, he said see you later, boy. Thompson wasn't good enough for him.
I don't know when that became JT Miller's office, but it sure has become almost automatic to assume he'll get a goal every other game from that spot on the power play. There's nothing fancy about it, he simply sets up shop and takes well-placed shots around screened goaltenders, and 60% of the time it works every time.
This is the Jimothy Timothy Miller fans love in Vancouver, the one who dials up the offence and can destroy worlds with a mere thought.
It's the defensive JT Miller that scares the crap out of everyone.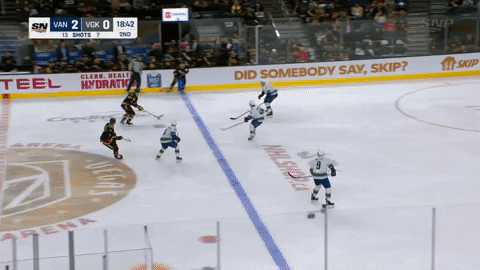 Luke Schenn had five hits on the night and none was harder than the one on Paul Cotter that literally sat his ass down on the ice.
He now sits 69 hits away from 3000 career hits, and I will pause to allow all of you to mumble "nice" before moving on.
No, seriously, here's JT Miller seeing a dangerous play unfold, and actually doing something about it: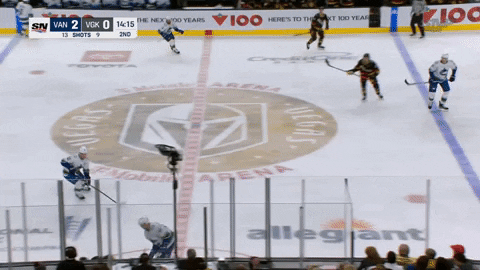 He sees the puck get turned over so he skates back and gets into the passing lane, and ladies and gentlemen, that's a legitimate solid defensive play right there from JT Miller. In fact, JT Miller led all Canucks in Corsi with 21 chances for vs 7 against, as he had himself a monster defensive game to go along with his three-point night.
Best break it to him gently
So for non-wrestling folks, this would be like if Chris Tanev saw Quinn Hughes, and was tempted to maybe re-join with his old buddy before kicking him in the groin and proving his loyalty to the Flames.
But we also have to assume that Quinn Hughes has a lengthy resume of betraying Chris Tanev, so it's hard to say Tanev made the wrong choice here because who can you trust, really? And you know what, this doesn't actually translate, so let's move on.
2-0 leads are the bane of any 2022 Canucks fan, but not on Saturday night. Much like they did all game, anytime Vegas tried to get a shot on net or attempted to ninja-kick Spencer Martin into space, either the Canucks goalie made the save, or the team efficiently moved the puck back out of the zone:
We've all seen the games this year, where the Canucks get caught chasing the puck and scrambling around in their own zone, but there was very little of that on display here. This is one of those, what are they called? Complete games? Is that the thing we keep hearing about? You can keep your gadgets and gizmos a-plenty if it means more games like this from the Canucks.
The Canucks made it 3-0 off of this absolute bomb from Elias Pettersson, who as we noted earlier, pledged a blood oath of revenge on McNabb:
I slowed the clip down and it does look like the puck goes completely through Thompson, who can do nothing to stop the shot.
This was the third straight power play goal for the Canucks who went 3 for 5 on the night, and went 3/3 on the penalty kill, as good a special teams night as any from Vancouver this season.
The worst part was that earlier in the play JT Miller tried to pull a Connor Garland and almost deked his way to a goal from his knees, only to be foiled by Thompson: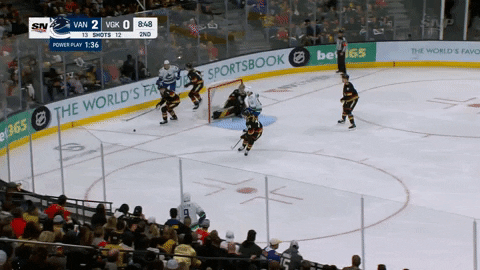 Which is kind of crazy because who can pull off that many dekes in the crease and expect a goal to occur?
Milford Man Andrei Kuzmenko struck late in the second period to extend the lead to four goals: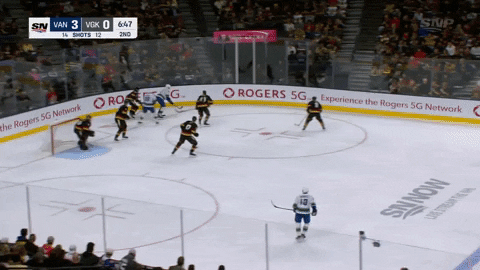 Things to note on this play.
1: Dakota Joshua is the league's safest no-look passer. Why? Because he shoulder checks and makes sure he looks at those blind spots. It's his initial safe no-look pass that gets the puck behind the net to Aman.
2: Nils Aman also makes a precocious backhand pass right into the slot and deserves a tip of the hat for it.
3: The Kuzmenkshow excels at showing up when you least expect him. Like that little guy in the white suit on the Simpsons, you just know he's going to do something cool.
It's honestly a skill set to find that open space and not have someone draped all over you. For the life of me, I cannot figure out how to do it myself. If I even think of going near the net, three guys show up and escort me off the property. Some people I play with? They twirl around too and fro in the offensive zone and nary a defender stops by to check on them.
Hockey IQ? Skill? Magic blanket? All of the above? Most likely.
A four-nothing lead is prime time for NHL game management, so colour me shocked that in this scrum, only Vegas got a penalty out of it: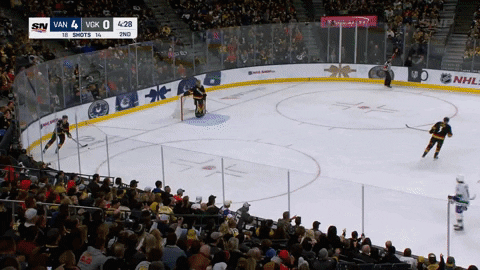 Yes, that is McNabb angrily going after Kyle Burroughs while conveniently not going near Luke Schenn.
And again, anytime Vegas tried to generate offence or zone time in Vancouver's end, they would find a way to quickly get the puck out.
Here the Alex Burrows wraparound almost works, but almost immediately the puck is kicked up towards the blueline and the Canucks generate a rush the other way:
Can the Canucks keep this style of hockey up going forward? That's the major question.
I know we joke about the eternal torture of the Canucks just missing the playoffs and thus ruining their draft position, but it's fair to wonder just what kind of team Vancouver has on their hands when you see them play games like this.
Are they doomed to be inconsistent?
Or will they actually be able to put together a run?
Buzzer beaters don't happen often in hockey, but JT Miller pulled off one of the best passes you'll see this season: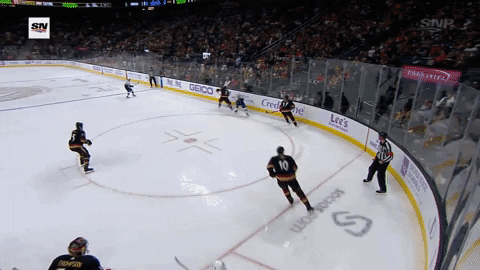 Things to notice about THIS goal:
1: Nils Höglander lost the puck on the boards but then absolutely hustles his honey buns off to get the puck back and spins to find Bo Horvat with Henrik Sedin-like accuracy. Even Dakota Joshua is wondering how he safely checked his side mirrors for that one.
2: JT Miller is a man's man who likes his beer cold and his pucks shot. Which is why it was incredible to watch him do a triple deke in the crease, forcing Thompson into the "WTF" Chechmanek pose, before dishing off to Bo Horvat for the tap-in.
3: Bo Horvat now has more goals on the season than Connor McDavid, with 17. You can almost hear Pat Morris cackling maniacally from here.
That is one of the prettiest goals you will see scored all season right there. Straight up West Coast Express vibes on that one.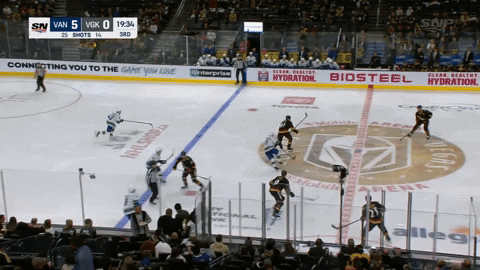 I don't know what's worse, that the puck in the advertisement stayed on its feet and won the race, or that Höglander almost went full Daniel Jones while trying to chase down the puck.
Anytime the Canucks tried to get the puck out of their zone and Vegas got in their way, Vancouver just put their heads down and went to work: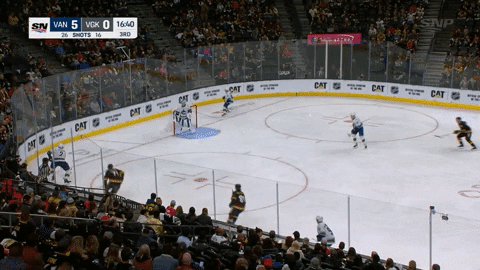 Notice the lack of forwards blowing the zone. Kuzmenko in particular could have tried to zoom down the ice but he turns back and becomes an outlet for the puck that leads to an eventual zone exit.
Canucks forwards were tight and close to the puck all night which allowed them to make plays they normally haven't this season. Namely getting the puck out of their zone with minimal outrage.
Wraparounds didn't work, but Vegas still tried them: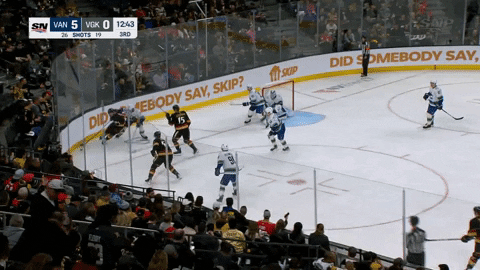 Spencer Martin mostly looked mildly annoyed that Vegas thought they could score goals on him.
Best Luke Schenn Fight Club
The scene was set when Garland slammed his stick down on a Knights player, and Marchessault returned the favour by slashing him in the leg during a drive-by fruiting: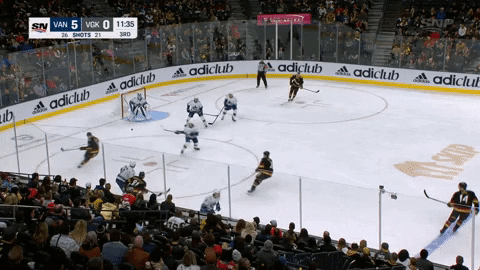 All of which led to the angriest fight between two guys who aren't about that fangin' and bangin' lifestyle: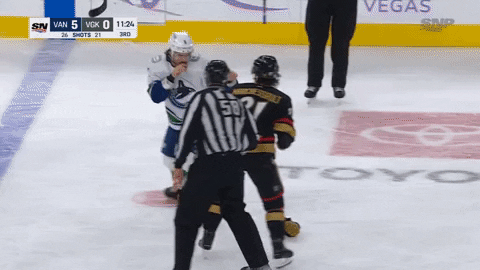 Credit to Garland for having his jersey ripped off a la Gino, as we don't get to see that too often anymore due to it leading to you getting kicked out of the game.
It ended up being mostly a jersey-tugging contest, but give me passion and anger over pre-meditated "wanna go?" fights any day of the week.
Pettersson is just the ultimate opportunist out there: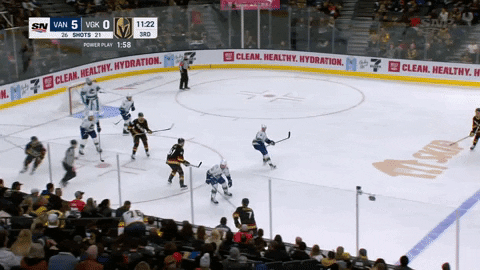 He goes full Keith Pembroke, and before you know it, he's taken over your case and has gotten all the credit for it.
I cannot get enough of watching Elias Pettersson making people look like they just made the world's dumbest pass. I love it.
Best let's get ready to rumble
Dakota Joshua got into it with Keegan Kolesar, mostly I assume because they wanted fans to see actual punches thrown: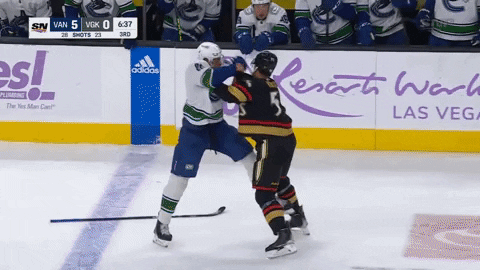 Like I said earlier, I'm not a huge fan of the Undertaker walking up to a defeated Brock Lesnar asking him if he wants to go, but I will say that I appreciate that with Joshua, safety is always first: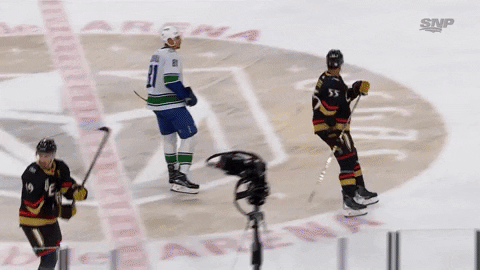 See how he clears the area of all his gear before setting up shop for the tilt? And yes, he skates dangerously close to his own stick at the end there, but you know he's shoulder checked by that time and seen everything.
When is the last time you saw the Canucks do a three-man rotation in the corner that not only gets the puck out, but leaves them with enough time and space to hail mary a pass down the ice that eventually leads to a breakaway chance for Elias Pettersson: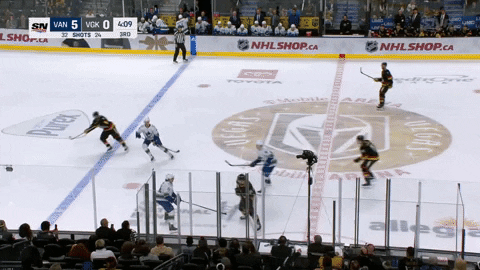 I could watch this clip for hours and I would still not believe this is the same team we've watched this season.
The Vegas Knights finally got a goal after a lucky bounce off the glass: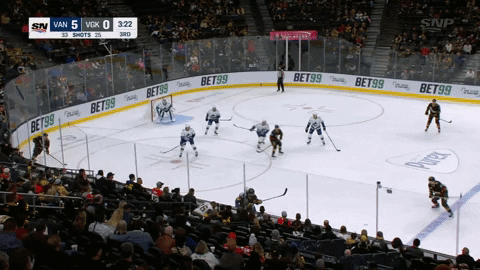 To which Vegas then leaned on their goal horn like they were warning a boat of an impending iceberg. Which felt excessive?
Regardless, losing a shutout in the last few minutes of the game is a proud tradition Roberto Luongo really leaned into during his time in Vancouver, so it's never a bad thing to mimic a hall-of-fame goalie.
After a game like that, you're getting a ton of DAWG ratings.
Dakota Joshua – 114.47
Kyle Burroughs – 100.66
Curtis Lazar – 92.38
Luke Schenn – 82.40
Nils Höglander – 76.31
Elias Pettersson  – 73.25
OEL – 72.39
Tyler Myers – 71.51
Nils Aman – 71.22
Ethan Bear – 69.78
Sheldon Dries – 65.86
Ilya Mikeyhev – 60.82
JT Miller – 57.73
Quinn Hughes – 48.76
Brock Boeser – 45.57
Bo Horvat – 44.44
The Kuzmenkshow – 43.94
The CAT:
Conor Garland – 36.47
Sheldon Dries, the true MVP.
Next game is tonight against the San Jose Sharks in which Quinn Hughes tries to Highlander Erik Karlsson.
Will the same team show up?
Or will they fall and crawl and break and take what they get and then turn it into honesty?
Just promise me we'll never find them faking.
No, no, no.