The Stanchies: Kuzmenko's anti-tank agenda dominates headlines again in Canucks win over Blues
Photo credit:© Jeff Curry-USA TODAY Sports
Andrei Kuzmenko? We need to talk.
You see, this city has a plan. A plan to land Connor Bedard. And sure, nothing ever really goes our way here in this city, and the odds of it happening are slim. But it's all we have right now.
There is no race for the playoffs, there is only Connor.
There is no fun hockey, there is only Connor.
THERE IS NOTHING ELSE, THERE IS ONLY CONNOR.
Your latest last-second heroics, and the accompanying angelic cherubic goal celebration when you tied the game up late against St. Louis? It was objectively adorable. Nobody is denying that. The hair, the eternal happiness, the all-black fit, we love it. We do.
But the pain and suffering you are causing this franchise long term is, well, it's starting to feel personal. It's starting to feel like Stu Jackson being appointed by the NBA personnel. Like there's a dark plan behind this all. Killing us with a smile on your face, one game-tying goal at a time.
Sure, now you're scoring goals and appear unstoppable, but once Bedard is on another team, you'll be arguing about bike lanes and complaining that your coffee wasn't hot enough, just like the rest of us.
Add in Elias Pettersson going coast to coast like butter on toast to win the game for the Canucks 3-2 in overtime? Well, it feels like none of you want to lose a game of hockey ever again.
What are we even doing here?
Whatever, I have gif money to make.
Aatu Räty was called up to the big club for the game, which is always an exciting time for players and fans alike. Young players have this shine about them where the world is their oyster (or a sea metaphor of your own choosing). If they score a point or two? An obvious sign they're going to be a star player. Clearly a steal in the draft. Who needs Bedard when you've discovered this hidden gem?
If they don't accomplish much except for one nice outlet pass? They become known for having the best outlet pass in the game. Head to the pint and for the rest of the season people will exclaim "Oh man, remember that pass you made?" before buying them a beer.
If they score an own goal and go minus three and end up climbing into the stands to fight Crazy P using their skate as a weapon? Somehow JT Miller will be at fault.
It's the easiest time of their careers, they're basically Teflon at this point.
Mind you, the line from "young exciting prospect" to "overrated bust of a 24-year-old journeyman" can happen in the blink of a Kassian. But for now? This is the good stuff.
And Canucks fans have a lot of reason to be excited about Räty. Not only does he have an exceptional amount of skill, he also represents one of the first steps this organization has taken in quite a while to trying to build towards a better future. And in a season in which Sheldon Dries goals are becoming a top three exciting moment of the night, you need whatever you can take this season in terms of intrigue.
Best bigger pre-game news
Drafted in the same year as Brock Boeser and Connor McDavid, Guillaume Brisebois was the Canucks' 3rd round draft pick back in 2015. It feels like Brisebois has been here since 1915, a vital cog of the Millionaires Cup run during his day job, and game planning how to take down Germany during his night job. He just always seems to pop up every other season around here.
That being said, he's only 25 years old, and while not exactly a spring chicken, as Jeff Paterson pointed out to me, he was the second youngest blue liner dressed by the Canucks on the night.
What does this ultimately mean, you ask?
It means he has a really nice outlet pass.
If Rick Tocchet is fueled by dreams of North/South hockey, then my hockey kink is an active stick. Which I guess metaphorically sounds dirty and keeps this sex train going, but in reality, I just love a player who waves their stick to cut off passing and shooting lanes.
Does it always work? Of course not. In fact, sometimes you'd be lucky to knock down one pass in a game flailing to and fro.
But when the other choice is "do nothing but sullenly stare into the distance", give me the active stick every single day of the week.
A great connoisseur of the active stick is one Andrei Kuzmenko.
In this clip, he shadows Colton Parayko behind the net and moves his stick back and forth between the two outlet options:
At the last second, he claps down hard on the side Parayko finally makes the pass to and while he doesn't get it, even if 1 out of 100 times he knocks that down, that's an advantage to his team.
Not only is he giving himself a chance to knock down a pass right in front of the goalie, but if he can make Parayko nervous about trying to feather a pass by him, that's also a good thing. On this play, it ended up in an icing, and while it could have been down-ice coverage that caused the misfire, the fact Kuzmenko is adding any kind of pressure is a good thing. It all adds to the turnover stew, baby.
Remember, what's the one thing we hammer home in The Stanchies? Time and space make anyone Wayne Gretzky in the NHL.
An active stick is a small but deadly art that Elias Pettersson also uses to his advantage, and it's something more Canucks need to utilize.
It's the same thing in writing. If I gave time and space to Andrew Walker he might actually bust out a cognizant hockey thought.
Best throw it in the Binnington
There's a list of hockey players we keep in Vancouver, a list of people who will be reviled their entire career. It's buried under a tree on the back side of Bayview Elementary school, right beside Justin McElroy's disgusting local park rankings.
Jordan Binnington? He's on the list. Forever.
So yes, there will also be some enjoyment in this city out of him losing a game of hockey, especially in ones he actually performs well in.
He was on his game early, stopping Beau Beau twice in the slot:
Please note The Kuzmenkshow twirling and finding Beauvillier wide open in the slot, despite skating east to west.
And then he denied Elias Pettersson on a breakaway and covered up the rebound effectively:
Please note that Binnington didn't notice Elias whisper "This isn't over…" before picking up his stick.
Please double note that EP40 didn't say that. I was merely using a dramatic license to lead up to the upcoming overtime goal. I say this for that one guy in the comment section who watched Boston Legal and now thinks they need to weigh in on misattributed quotes.
I don't need a video clip when Cody describes it so perfectly.
It has nothing to do with the fact I deleted the video clip of that shift and didn't want to have to go back and get it.
Overall though, Aatu had a very low event 7:37 minutes of hockey on the night. Which as we stated earlier, is a good thing! He didn't make any major mistakes, he did his reversing his stick on the faceoff trick Faber always crows about, and it was a perfectly cromulent performance.
From some angles, he even kind of looks like Elias Pettersson, so stunt double work could be in his future too.
This is the perfect time to get a good look at what kind of prospect the Canucks have on their hands as the season winds down.
The thing I like about Artus Silovs is he has no problem trying to play the puck:
Now, it's a thin line between confidence and reckless arrogance. It's the Kirk Mclean-Mike Smith scale.
But with this season already lost, now is the time to sharpen up those empty net shooting skills.
I'm still coming to terms with somebody wearing number fifty-five that isn't nicknamed after Robocop, but I will get there.
Remember active sticks? Well if you add in wild amounts of eye-hand coordination, you end up with Elias Pettersson knocking down pucks and killing rushes before they even start: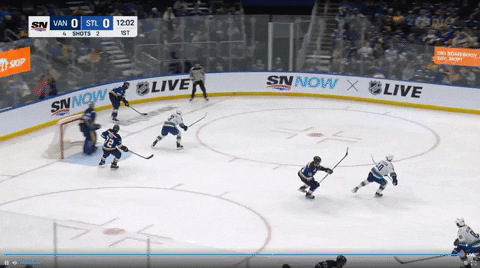 The Blues can't even get out of their zone and before you know it Kuzmenko is slamming his stick on the ice like a young Ryan Kesler, and he's chasing down the puck and feeding EP40, who turns and quickly finds a wide-open Brisebois.
In a season that hasn't been very fun, EP40 and Kuzmenko have been must-watch hockey for this team the majority of the year.
Sheldon Dries out here making John Tortorella proud:
Lost three plates of body armour on the initial shot, then got taken down with the no scope follow-up. Been there, my friend. You just have to hope your squad mate buys you back instead of getting their loadout.
Dries has 13 points on the season, and honestly, it feels like he might extend his NHL playing time into next season.
Best jeopardy music interlude
The Canucks looked like they got the first goal of the game when they passed the puck around on a string like they were the prime 2011 team:
I half expected Christian Ehrhoff and Daniel Sedin to be embracing after the goal, as that was honestly some of the nicest puck movement on the season from this team.
That being said, the Canucks aren't allowed to have nice things, so the goal was overturned because Jordon Binnington's rights were infringed or something:
To my eye, Garland is outside the crease, just doing his own thing and vibing. Binnington lunges towards the top of the crease and extends his leg into Garland, making first contact, thus leading to the creation of the warp drive engine. As a result, the goal is waived off in the name of science.
I would try and argue this more, but it's not like the NHL has ever had a blueprint of what is and isn't goaltender interference. For all I know they play paper, rock, scissors in the video room to decide what goals count or not, and the only reason this one took so long to deliberate was because they got stuck in a rock vs rock standoff. Nobody was going to blink. It was rock all day, 24/7.
Now it's not often Elias Pettersson nopes himself out of a play, and when is the last time you saw a Tyler Myers comparison to him?
Yet here we are: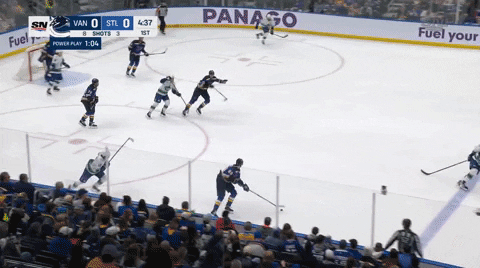 I saw some people do the old "If that was Miller, you'd be all over him for that!" routine, but that's like if Hasek lets in one weak goal you can't be like "If that was Cloutier, you'd be all over him!" because 1) no shit, and 2) there's a difference between someone who is consistently great at something vs someone trying to ruin your life with horrifying hockey.
It works both ways, too. When Chris scores on my beer league team, it's expected. He's the best player. It's gotten to the point where he could get 9 goals in a game and he wouldn't win the player of the game belt. We'd be kind of mad at him for not getting 10 goals.
But if I score a goal? We almost hold a parade to honour it. I don't get one belt, I get two belts. They shove Chris out of the way to come hug me, even though he made a miracle baby Jesus pass that I just had to tap into an empty net.
That is the magic of expectations and reputation. You get more leeway when you're Quinn Hughes and Elias Pettersson because 98% of the time they make good plays and high-risk gambles that pay off.
The end result is still the same, however, and it was a 1-0 Blues lead. The tank was on.
Looking good but losing is the best tank plan you can have, which is why it was nice to see the Canucks come out strong, but not too strong.
Up first we had Kuzmenko doing a little shimmy shake as he attempted a Burraparound:
Then we had Elias Pettersson collect a loose puck and almost catch Binnington off guard by shooting against the grain:
The more astute of you out there will notice a pattern of Elias Pettersson and Andrei Kuzmenko being involved in the majority of the Canucks' offence. This should be a time that Beauvillier treasures, as he has officially entered "third Sedin" territory in the sense that he's just there for the ride, man.
Best the other 2% of the time
Quinn Hughes was unable to get the puck out, and then the Canucks' top line uncharacteristically got stuck in their own end. Yes, this can happen.
The end result? The Blues' second goal of the game, and the first of Tyler Tucker's career:
It was a pretty harmless shot, the kind that usually goes in on Jacob Markstrom on the first shot of the game, but it was enough to double the Blues' lead.
The Canucks challenged for a high stick on the play, forgetting that only emotionally heavy games in which a popular coach is leaving town can win challenges for Vancouver:
The NHL played out a game of duck, duck, goose, and it was deemed to be below the shoulders when the puck made contact (or maybe they ruled the puck didn't even touch the stick, who knows when it comes to the wild west ways of duck, duck, goose).
The point is, it was 2-0 Blues, and the Canucks were leading in shots and had a territorial edge, which felt like a solid game to lose and gain an edge in the Bedard race.
Conor Garland has been playing some real sneaky good hockey as of late, and even if he's not scoring, nobody can question his hustle or effort.
Last game we saw him, dead tired, make the offensive push in overtime, only to see the puck go back the other way. The majority of people would go for a change at this point, or skate slowly back, pointing their stick in the general direction of the danger, so at least your team knows you know that things just got real bad.
But no, he hustled back, caught up to his check, and then blocked a shot on top of that.
A player that hustles in both zones, that's a nice commodity to have.
And hey, it's fun to watch him burst out of the prison box and try to dangle around Lord Binnington:
I feel like the Boeser/Miller/Garland line is the Trade Dead Line, put together to showcase for a trade, but also knowing you're most likely not going to get a trade.
Best activating the stick
Remember my kink? Watching active sticks? Well Kuzmenko did it again:
There's just a certain look Kuz and EP40 get in their eyes, where they know the pass you're going to make before you do. Then they move into position to intercept the puck, and you see it happening, but you still make the pass because you're like "no, there's no way they read this pass." Then you make the pass and they easily take it, and before you know it Kuzmenko is trying to dangle around half your team so he can set up Räty all alone in front.
The best part about Kuzmenko is the hard, quick, intense stick handling he tries to pull off. It's like he watched Pavel Barber videos and took them as a challenge.
Kyle Wellwood was the last guy I saw on this team who could stick handle that well and that often in traffic. That's not to say other elite players couldn't do it, of course, but Wellwood made that a go-to move of his, much like Kuzmenko has. The part that separates them from other players is they can pull it off and still maintain possession of the puck the majority of the time.
If you're some random scrub, or Goldobin, you try and dangle through a guy and lose the puck, and you're toast. The coach benches you and you have to make Instagram videos on a boat to feel better about life.
Kuzmenko though, he can pull these moves off effectively. He isn't doing them to be flashy, he does them to create room for himself. Like, that play should have been dead when his pass was blocked. But he stayed hard on the puck (phrasing) and then stickhandled the puck down low and got another chance to connect on a pass in front.
He can ride his bike with no handlebars, essentially.
Brock Boeser's value is pretty low right now, which is why it feels like a smart team should come calling to try and cash in on his "magical resurgence".
Boeser is getting good looks on the Trade Dead Line, and Thursday night was no different. He tried a solid toe drag shot attempt that was shut down nicely:
And then he made some room for himself to get a great look at the net:
Please note it was Kuzmenko who fed him the perfect pass.
The point is, Boeser's shot will start going in more, much like Kuzmenko's shot percentage will certainly stop being astronomical at some point.
Kuzmenko is shooting an absurd 25.7% this season, whereas Brock is at 9% on the season. It will eventually balance out a little bit.
Best invest in Garland stonks
Charlie Hustle out here recovering pucks and feeding JT Miller for zone entries: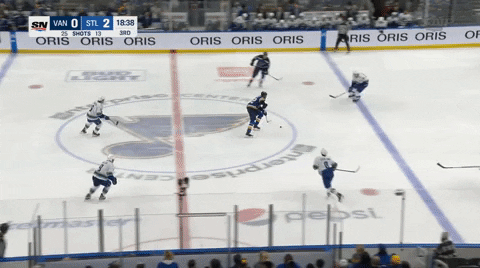 The Trade Dead Line might be tough to move, but they have a lot of talent there. Taking them out of this environment should be an intriguing prospect for teams desperate for an injection of skill for their playoff push.
The Canucks almost scored again, but Tyler Tucker, now firmly addicted to putting things into nets, got mad because Podkolzin beat him in a feat of strength:
As Thomas tumbled into the net like a forgotten wet sock, Nathan Walker and Sheldon Dries fought for honour until order was restored: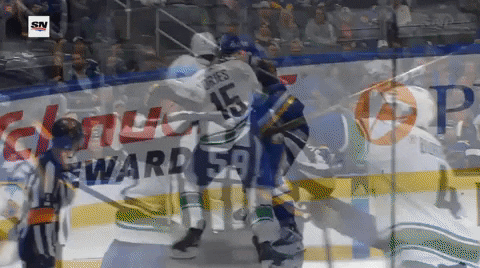 This is just how hockey works.
We've seen Tyler Myers have three minute shifts hemmed in his zone so many times that the shift clock should be named in his honour. It's usually accompanied by panic attacks and anxiety as you wonder when he's going to start mimicking saves behind the Canucks' goalie mere seconds before a goal is scored.
But with Quinn Hughes, you could have him on the ice for five minutes and it still feels like the best move Rick Tocchet could make.
Best third time's a charm
Your spider sense went off when JT Miller scored to make it 2-1:
First off, that's a fantastic goal from the Canucks. Elias Pettersson and Bo Horvat had great chemistry on the penalty kill in terms of generating offensive chances, so it's nice to see that coming to fruition with JT and EP.
That pass from Elias after he suckers in his check, and that clinical dropping to one knee to propose marriage to the net release from JT? That's about as big of a chef's kiss as you can get.
And not to be that guy, but notice that the active stick of Elias Pettersson started the whole play. He didn't merely skate at his check along the boards, he skated at him and then leaned his stick out to try and cut off a potential pass, which he did. This is why he's the top defensive forward on this team. The guy simply does it all.
That being said, with how bad St. Louis was playing, you just had the sense that this game wasn't ending 2-1.
The vision of Elias putting JT through a barbershop window was enough for me to giggle, but now I will never not picture Kuzmenko running onto the ice with the energy of the Ultimate Warrior.
I very much enjoyed each Canuck player trying to make a deft slick pass that ultimately failed every single time. One handed drop passes for everyone!
It's like in football when six guys in a row try and pick up a fumble but they're panicking so much that they keep booting it further down the field.
Best we all knew it was coming
Elias Pettersson was in the zone. Kuzmenko was in the zone. Somehow during all of this, Silovs got into the zone. It was anarchy.
EP40 almost tied the game up on a deft tip near the end of the game:
There haven't been many game recaps this year where Elias Pettersson doesn't dominate the video clips, to be honest.
I don't know what we're waiting for, but Elias Pettersson should be named the captain of the Canucks:
This guy literally does everything for this team.
He scores, he defends, he plays in net. If ever you wanted a player to lead by example, especially one with a hyper-competitive drive that borders on uncomfortable, this is your guy.
This pad save allowed them to win the game, which yes, I know, tank tank, etc, etc, but man alive, he's so incredibly good at hockey.
There's a reason I laughed at the idea that maybe Kuzmenko didn't have enough East/West in his game to play with Elias Pettersson:
Nobody finds the net better (and sneakier) than Andrei Kuzmenko.
No, he doesn't bulldoze his way to the net like a prime 2003 Todd Bertuzzi.
Instead, he puts on a suit and charms his way to the front of the line and before you know it, he's scored a goal and you're married to him with two kids. He's just a slick guy.
Elias Pettersson dominates most categories on this team, but the fact Kuzmenko can keep up with him for periods of time is impressive.
Also, his attitude is infectious. I know the word "intangibles" causes fights to break out because it's so hard to measure them, but there is something to be said about a guy who's happy to be there versus someone bitterly riding out a paycheque in the corner. Never underestimate the importance of body language. I mean attitude.
Seriously, look at how happy he is:
It's hard not to get caught up in his enthusiasm at times.
Especially in a league like the NHL that does its best to squeeze every ounce of emotion out of you so they can use robot versions of you in Tim Horton's commercials and it won't feel out of place.
Speaking of upping their game, Silovs went full Luongo to end the game, and denied the Blues on several key chances:
Throws the poke check out but then recovers to slide the pad over for the save? I can hear the Luuuuus from here.
Trying to blast an NHL 95 one-timer by him with under a minute left in overtime, thus denying us of EP40 brilliance?
Silovs said no.
We've come a long way from "Will his first NHL start ruin his career??" to it making perfect sense that he gets starts over Collin Delia.
Best captain gonna captain
Tank aside, holy shit, what a goal:
I mean, Elias pretty much just said "game over" and skated the puck around the rink and beat Lord Binnington like high tea wasn't served properly.
Watch another angle:
Even with a stick right in his feet, he managed to adjust his shot to get a perfect angle on the net.
The end result was another 3 point night for Elias Pettersson, who continues to have the best season of his career.
Remember last year when people were doubting him?
I remember all of your names.