The Stanchies: Kuzmenko's got hands, Ethan Bear's emergence, and the Rathbone manifesto
Photo credit:© Anne-Marie Sorvin-USA TODAY Sports
Hello darkness, my old friend
I've come to talk with you again Because a vision softly creeping Left its seeds while I was sleeping And the vision that was planted in my brain Still remains Within the sound of silence
In restless dreams I walked alone
Narrow streets of cobblestone 'Neath the halo of a street lamp I turned my collar to the cold and damp When my eyes were stabbed by the flash of a neon light That split the night And touched the sound of silence
Yes, we saved the Simon and Garfunkel lyrics for when the Canucks gave some fans hope that they could turn their season around after winning three of their last four games, only to revert to their old ways and blow a third period lead in remarkable fashion.
It's Saturday night. It's The Stanchies, and it starts now.
Best getting in on the fun
Just as John Shorthouse was talking about how despite his linemates' strong performances on Thursday night vs. Anaheim, Ilya Mikheyev finished that game with just one assist. Elias Pettersson picked up five points, Andrei Kuzmenko tallied his first career hat trick, and seemingly got all the accolades.
Motivated to not miss out on the dance this time, Mikheyev moved in on the left and was rewarded for just getting the puck on net:
For the record, this shift started with the alien doing alien things, this time faking out the Nashville player and creating all kinds of space in the offensive zone: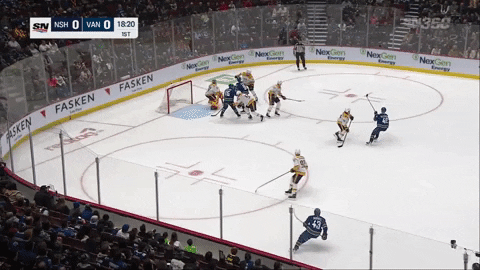 Sure, the puck came out of the Preds' zone prior to the goal, but there's no way to know for sure that the Predators weren't still recovering from Pettersson's fake out when Mikheyev found twine.
Ethan Bear has done a lot in a short amount of time to become a fan favourite and earn his spot on the Canucks' blueline.
After morning skate today, Bear spoke about his team needing to play with more desperation, and put his money where his mouth is with this block on the Canucks' first penalty kill of the game while protecting a two-goal lead.
This team is dead last in PK percentage. We're not here to rip on any one player or tattle on them by going back and pulling video examples, but let's speak generally.
If that's other members of this team, or takes place a couple of weeks ago, you can imagine how different it might look.
Instead of simply throwing a stick at this puck and falling to the ice to give the impression that he did his best to block it, Bear sees the pass go across, gives a hard push off his right skate that was certain to make Ian Clark smile, and slides at this puck feet first and opens his body up at it in the process, legitimately putting everything he can in front of it.
In the process, Bear successfully blocks this shot and keeps the game scoreless.
If that's not playing with desperation, I don't know what is.
Best Stickin' Up (Tyler's version)
Ethan Bear was a busy man tonight, as was Tanner Jeannot.
Here we have Jeannot throwing a big hit on Bear; so big that it knocks Bear's helmet off and sends him flying to the ice.
Without hesitation, Tyler Myers drops his gloves and goes right after — as you may have heard — one of the most capable pugilists in the league to stick up for his teammate.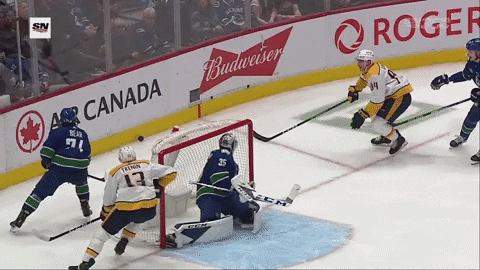 Here's the full fight for those that want it:
Best just get your stick on the ice
Andrei Kuzmenko scored again tonight.
And once again, Kuzmenko scored the Alex Chiasson special by sticking — pun fully intended — to the basics and keeping his stick on the ice: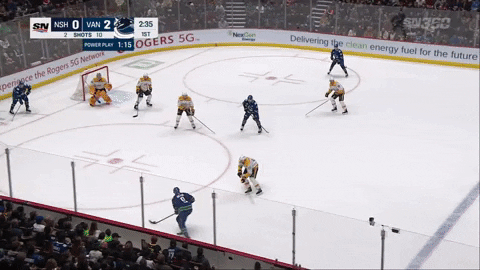 Let's make a few things clear here though.
There are no easy goals in the NHL; they count all the same, and when Kuzmenko and the Canucks engage in contract talks this year, we're fairly certain they won't be pulling up highlights to try to suggest that any of the goals Kuzmenko scored this season were "easy".
If it were easy, everyone would do it.
It's an art form to work the net-front spot the way Kuzmenko does, really. It was a spot he had success in while playing in the KHL, and that success is translating just fine to the NHL game.
"He's making good reads," said JT Miller of Kuzmenko's power play work post game. "He's learning that when I go to a certain spot he needs to be in a certain spot and vice versa. Makes himself available, he's got a strong stick, and he's played down there before in a different league, so he's very comfortable."
That damn Mike Versace was back at it again jinxing Thatcher Demko.
The Predators' first goal of the night literally went in moments after the send button was pushed on this tweet.
That is just (Jordan) Gross.
Best putting it into perspective
Sure, a Bruce there it is chant bounced off the Rogers Arena walls before the first period of this game was even over — and deservedly so, it was the Canucks' best first period of the year by a fairly wide margin — but despite the Predators playing very poorly in the second period, the Canucks didn't do anything to put this one out of reach.
In fact, they matched the Predators' poor play with poor play of their own, and kept it quite within Nashville's reach. If this Mikael Granlund shot doesn't find iron, the Canucks very well may have entered the third period with a one-goal lead.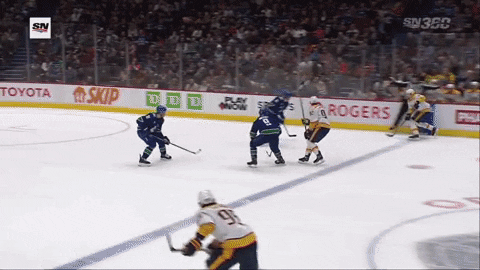 It's important we tell both sides of the story here though, so let's also consider the following:
But now back to the regularly scheduled happy programming (while we still can), also courtesy of PJ!
I mean, you just have to respect this heart:
Best and then what happened?
Best I hope you were ready to get hurt again
Folks, we regret to inform you that the Canucks entered the third period of this one with a two-goal lead.
Further, it gives us no pleasure to share that the Predators took just over a minute to score and turn that into a one-goal lead.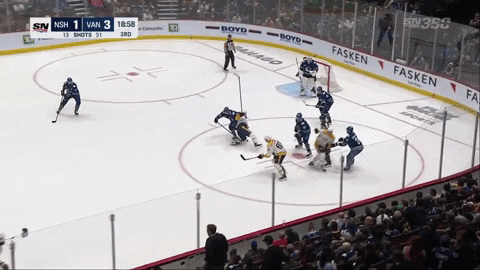 Finally, we regret to inform you that the historians have informed us that with this goal, Jordan Gross became the first defenceman in Predators' history to score the first two goals of his career in the same game.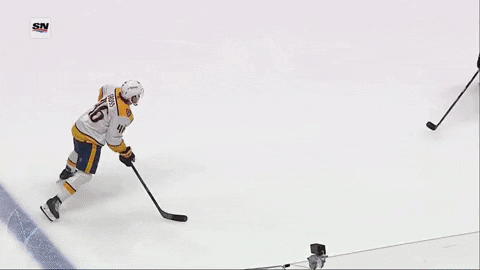 Oh, and two minutes after that goal, the Predators scored again and just like that, this game was tied.
This coverage — it's generous to even call it that, really — from Riley Stillman was questionable at best.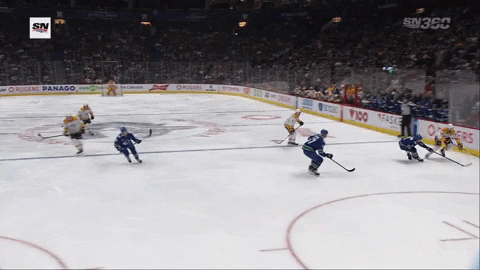 I suppose you could say he was a still man on this play.
That's the final pun of this Stanchies, I promise. You've been through more than enough tonight.
Best yes, this game required overtime
Despite outshooting the Predators by a count of 44-27 at the end of regulation, the Canucks were forced to go to 3-on-3 overtime.
We had some of the classics.
The Sportsnet shift clock made an appearance to tell extremely worried Canucks fans everywhere that Andrei Kuzmenko and JT Miller were both approaching the two minute mark on each of their shifts.
Elias Pettersson made some nice defensive plays that led to scoring chances, but the greatest part of overtime tonight had to be Bo Horvat's hustle on the back check after his shot went wide.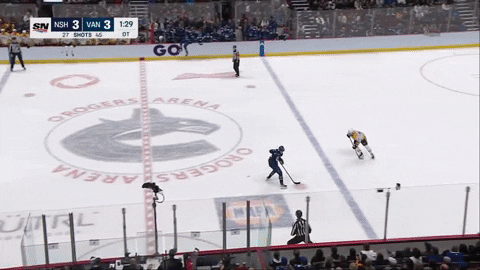 Folks, that's playing with desperation, and a captain leading by example.
But this team shouldn't be looking for moral victories anymore.
This one needed a shootout to solve, and that didn't do much good for Horvat, or for the Canucks.
We'll keep this simple, because you've probably already watched the game or the highlights.
Elias Pettersson just missed pulling off the Forsberg after losing the puck at the last second: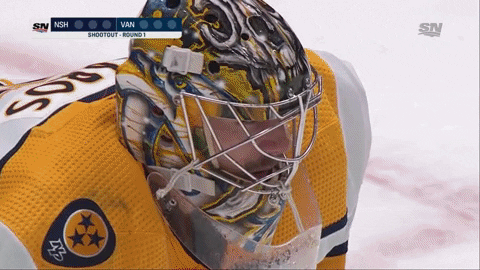 And after Ryan Johansen scored for the Predators, Bo Horvat needed to capitalize to keep his team's chances alive.
Instead, Horvat overskated the puck after looking up for just a split second.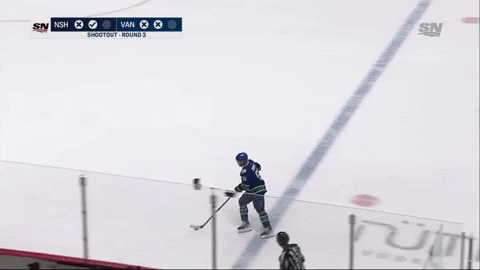 That's just an unfortunate way to lose, but the fact of the matter is that this game shouldn't have even made it to overtime.
Best you don't change a winning defence lineup… unless you gave up five goals maybe
Bruce Boudreau recognized that the Canucks' performance against Anaheim was less-than-ideal despite putting up eight goals and coming away with the win.
You see, dear reader, the Canucks gave up five goals to one of the only teams in the league that are still considered worse than them.
And tonight, they gave up three — four if you count the shootout marker — to another team that has also stumbled out of the gate this season.
Are any of the goals that the Predators scored tonight the fault of Thatcher Demko? The reaction on Twitter would certainly suggest that's the case. We'll examine that more in depth tomorrow, though.
Tonight, we want to talk about the defence group in front of him.
On Thursday, Stillman registered the first negative DAWG rating in the short history of the stat.
And tonight he really wasn't much better.
We're not going to go through and pick apart one player's game, but this decision to hammer the puck around the boards for an icing call was downright baffling.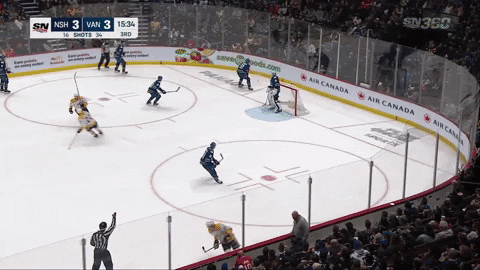 You know who doesn't do that? Jack Rathbone.
And with that, let's get to our final thoughts from tonight.
Jack Rathbone is a borderline third-pairing defenceman. His greatest haters will quickly point out that his in-zone defending needs work and that he's prone to the odd giveaway, and you're not going to get any pushback here on that. Both are fair criticisms of Rathbone's game.
But to examine this a step further let's look at what the Canucks are currently deploying ahead of Rathbone.
We already talked about Stillman's rough past couple of games, but we're not going to pick on one player. This is about the Canucks' defence corps as a whole.
What the Canucks have outside of Quinn Hughes, Tyler Myers — and OEL if we're being generous — are a bunch of 6/7 defencemen.
They've seemingly cornered the market on bottom-pairing defencemen. To many, having this argument is silly because the margin between Jack Rathbone, Kyle Burroughs, Riley Stillman, Travis Dermott, Tucker Poolman — and hell even Oliver Ekman-Larsson on some nights — is razor-thin.
And that's absolutely true.
But the big difference is that only one of these defencemen was a point-per-game player in the AHL last season and represents the organization's only real shot at developing a puck-moving defence prospect.
The Canucks absolutely need legit top-four defencemen, and out of all the names mentioned, we can pretty well guarantee none of them have as good of a shot as Rathbone at turning into that by being in the lineup.
Ethan Bear serves as a good lesson that it feels too many are missing.
Bear showed top four upside, was deployed as a top four in Edmonton, did pretty well, was given up on in Carolina, and is being given more of an opportunity in Vancouver. The early returns on Bear are certainly good, and suggest that this management team was right in their declaration that Bear is indeed a top four defenceman.
But what if Bear was instead told to continue to sit in the press box each and every night as he did in Carolina? And further, what if this happened to Bear while he was in Edmonton and he was never even given the chance to prove himself in the first place?
Because the latter scenario is essentially where Rathbone finds himself now. Sitting with all his top four upside that we've heard so much about and seen flashes of in the press box, watching his team amass a record of 1-8 while he's not in the lineup. With him, the Canucks have won two of the three games they've won this season.
Was he the reason for the wins? Almost certainly not, but he also isn't costing the Canucks anything on nights he's playing, despite the occasional gaffe when trying to do something few — especially on the Canucks' blueline — can do with the puck.
What's the worst that could happen from the Canucks playing Rathbone? Lose? Because they've already lost all but one of the games they've tried to play without him.
As for the best? The best is that the Canucks can point to Rathbone as one of their greatest development accomplishments. A fourth-round pick who elected not to test free agency after his NCAA career because he was loyal to the team who believed in him when others didn't, turning into an NHL regular top-four defenceman? It would hands down be the Canucks' best non-goaltending development story from the past ten or so years.
Instead, Rathbone continues to sit and wait for his name to be called. Sure, right now, the difference between he and those ahead of him in the lineup isn't significant.
But the only real way to see who's going to make their way out of the Ocean of Sbisas is to give them a chance to swim instead of diving in to take them out of the water at the first sign of distress while throwing inflatables to everyone else.