The Stanchies: JT Miller's Edler tribute, Rick Tocchet's honesty, and the thing about the Canucks
Photo credit:© Bob Frid-USA TODAY Sports
You know what, we know each other well enough now that we don't have to put forth an entire introduction of pleasantries and context surrounding Monday night's game.
You know how it usually goes. I wax poetic about the latest loss, we try and have some laughs, I mention John Wick, Nicolas Cage, or Life With Derek at one point, maybe I take a shot at my buddy Jay for his terrible Tracer gameplay, and then we start making some gif money.
But after that 6-1 beating from Detroit, I don't think we need to have a huge back and forth over it.
Was it an embarrassing loss? Of course.
Is it helpful for chasing down Connor Bedard? You betcha.
Did Derek have chemistry with Casey? Clearly.
The point is, this is how the season will most likely continue. Sure, it would be nice if the Canucks had one of those spirited losses, the kinds of games where they battle back to within a goal or two before ultimately losing. But you know what? There is something refreshing about these kinds of losses. They feel so…honest.
We spent years watching as Jim Benning tried to convince the world that the Canucks were just about to turn the corner any day now. He was the friend who promised they'd pay you back the second they got paid, but then you'd see them on Instagram in Cabo learning to snorkel.
So there is something kind of nice about watching the Canucks losing and letting you know just what they are: A mediocre hockey club. They don't even have the skill cap to keep games close. They've given up 5 goals in almost half of their games this season. This is not a team that is a John Wick away from contending, no, they are firmly in Sean Archer mode, confused and scared about who and what they are becoming.
Come trade deadline, we might actually see this team move out assets. No running out of time, just making the simple moves all rebuilding clubs should make. This belief was furthered today when Allvin said something so bold and so forward thinking for this franchise that I had to triple check to make sure it was real:
We all talked about the bubble run being the worst thing that ever happened to this team, that it made the club think their timeline could be moved forward several years. Yet here we have, finally, someone admitting the bubble run meant nothing.
Look, the rest of the season isn't going to get much better. You get to points in a season like this and you pick your silver linings. There was a time when the city got real excited about a potential Mika Noronen start, I kid you not. You just sort of hope some kids show you they've got something more to their game, and hopefully next season is better. It's all you can do as you watch a team drop in the standings, improving it's draft position with every loss.
This is a painful but necessary process.
But as Castor Troy once said "I'm ready, Ready for the big ride, BABY!"
With Jakob Chychrun being kept out of the Coyotes' lineup for the next two years until a trade can be facilitated, it reminds us that with the trade deadline approaching, every lineup decision will be put under the spotlight.
Enter Luke Schenn, Thatcher Demko, and Andrei Kuzmenko, although all three are being scrutinized for very different reasons.
With Luke Schenn, it's almost a given that he will get traded. He's on an expiring contract, he's 33 years old, and as a physical right handed d-man, you at the very least land a 3rd rounder for him.
He loves the city, he loves being a Canuck, he's a stand up guy, and in a perfect world you keep Luke Schenn 10 out of 10 times…if you weren't rebuilding.
As such, his situation feels the least complicated of the bunch. Trade him, get an asset, invite him back as an alumni five years down the road, but only after you've tried to bring him back in free agency this offseason.
With Thatcher Demko, as horrifying as it is to imagine him walking back in and testing his body out with this current Canucks defensive structure, it's next to impossible to tell an athlete to sit out games. Thatcher Demko is basically Sami Zayn here. He has to believe he can win every game 1-0 because if he doesn't believe, no one else will.
There is a bit of a "hey relax, we've got this tank under control" vibe to the idea of him coming back and playing well and maybe stealing a game or two, but again, as we always say, tanking comes from management, not the players themselves. If Demko is healthy and ready to go, he will play games.
With Kuzmenko, it's been a rough ride under Tocchet. Despite being the fourth leading scorer on the team, and being one of the most exciting storylines of the season, Kuzmenko has run head first into an old school coach who wants rippling abs and physical stamina at the forefront, and throwing meaty body parts around in any board battle. It truly is the "shave those sideburns, Mattingly" approach being utilized.
Now as much as I might disagree on the tough love approach taken, and I have horrifying memories of Jordan Schroeder being told to work on his game centering Tom Sestito and Dale Weise, I can't get too worked up over it yet because a) it's early, so you have to give Tocchet some time and b) this team is so incredibly bad you could get the actual bear from Cocaine Bear and ask Kuzmenko to centre it and I would sit back and give it a shot.
This team is horrible. It's awful. Anything they do right now is like dabbing at the poop on Eddie Murphy's couch; the damage has been done, there's only so much you can do at this point.
I really just wanted to give everyone some time to prepare themselves for the 6-1 loss they're about to read up on.
That's also an incredible call out from Teddy.
Fun fact: There was a huge fan movement that wanted to make Kay Whitmore the number one goalie over Kirk McLean when the Canucks went down 3-1 to the Calgary Flames in 1994. See? It's not just the social media era where goalies get attacked! You used to have to go to a bar to scream about how goalies were trying to ruin your life.
JT Miller set the tone early with a big hit on Surrey native Michael Rasmussen, one that was felt all the way at Gateway station, and maybe the Subway a block away from it as well: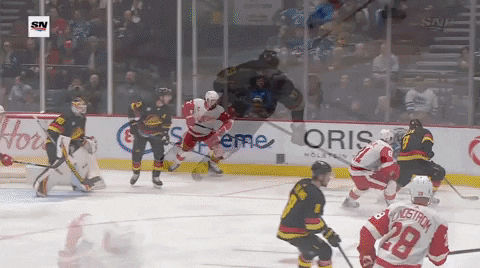 JT Miller's play has steadily improved as the season has gone on, and has been helped in part by his deployment lately which has seen him avoid most defensive zone starts. He is most effective in the offensive zone, so why not give him the Hodgson Hustle?
It feels like every team the Canucks face looks very fast in comparison, but Dylan Larkin is the kind of kid who would have a rocket icon by his name in an early 2000s EA Sports hockey title:
Looking like a young Brandon Reid, Dylan Larkin skates his way right to the Canucks' net and were it not for a good stick check from Riley Stillman, that could have been a dangerous shot on net.
Yes, in that clip, Larkin skates right around Elias Pettersson and it's Riley Stillman who has to bail him out.
This is something that happened.
Quinn Hughes provided the next "wtf" moment as his stumble on the blueline turned into a breakaway for Fil Zadina:
The good news is Andrei Kuzmenko hustled back on the play, and as long as he kept his resting heart rate at 60 BPM on the bench, I have to think this bought him some love from Rick Tocchet.
Best delaying the inevitable
At the all-star game Dylan Larkin was working to win the entire time. Not in a "ha ha, I threw one hit, I'm such a jokester" Jeremy Roenick way, but in an actual "Eff you guys, I came here to win.", back-checking on every play kind of way. It was kind of awesome, to be honest.
So it was no surprise that he was an endless thorn in the side of the Canucks, who entered the game with the beer league energy of an over 40 team getting an 11pm start time in Langley: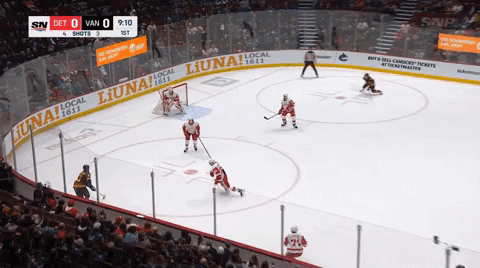 There are times when Oliver Ekman-Larsson cannot buy himself a break, so of course it's his deflected pass that lands perfectly in the middle for Dylan Larkin to skate right onto. Larkin then easily deposits the goal in his TD savings account, and it's 1-0 Wings.
And sure, beating Luke Schenn in a foot race is a given, but beating Pettersson so easily makes you wonder just how tired this team is from it's road trip plus yesterday's practice combo.
With the amount of times Tocchet mentions the word fitness, it feels like a Chris Higgins-like gym era is upon us. Soon post gamers will be given while Hughes is pumping iron, rocking a bandana, and smoking a cigarette.
Best keep smiling, let the hooks do their work
Not that you want to give the Canucks much credit on the night, but they did run into their share of bad post luck:
Riley Stillman is someone I am starting to think is an offensive defenseman based on his approach to the game, just one that never produces points. I honestly thought he was going to be a rough and tumble rearguard but upon watching him, this guy wants to score and wants to score often. He has no fear about jumping up into a rush, whereas defensively, he could take it or leave it.
This was probably the best chance in the first period though. A post and then Di Giuseppe waving his stick at the puck like he's stirring a bowl of pasta at CinCin'so on the terrace.
Collin Delia ended the night with a Dan Cloutier playoff stat of a .739 save percentage, but he still had some big saves during the game:
You could walk into a bar in Vancouver and simply say "OEL" and people would shake their heads and sigh.
Look, it's not fun to bag on the guy each game. It's not like I get up going "Oh man, my day will be complete once I question the defensive ability of OEL today!" before excitedly texting Quadrelli about how many gifs I'm going to make about it.
But geezus, I don't understand how the Canucks traded for this version of OEL.
I don't doubt when he was younger that he could skate. That before the knee injuries he had jump to his game.
But watching OEL night in and night out, it's just incredible how poorly he plays compared to his contract.
You could make a non-Canucks fan watch a game and ask them to rank the d-men, and OEL is finishing bottom of that list most nights.
His timing, his skating, his decision making, all of it lags behind 36 year old Alex Edler, which is the guy they got rid of for being too slow.
Quinn Hughes got a penalty for a gentle loving cross check, which was followed up by a quick head banging session:
The resulting power play? Easy 2-0 goal for Detroit:
Dylan Larkin moves in with a giant S, carving his way around OEL rather easily, as is tradition, then JT Miller loses the puck behind the net, but not before OEL jumps in to offer up moral support, leaving Fabbri wide open to make the easy pass over to Larkin, with Schenn coming in too late to control his stick.
So to summarize, at one point three Canucks were watching how the situation behind the net was going to play out, on a penalty kill, ignoring Dylan Larkin of all people.
I believe this is what the kids call bad structure.
Also look at that, Larkin on both knees, twirling in celebration on your home ice. I know it's a tank season, but have some pride, boys.
Looking like a contract year Alex Mogilny, Sheldon Dries scored the lone goal of the night for Vancouver: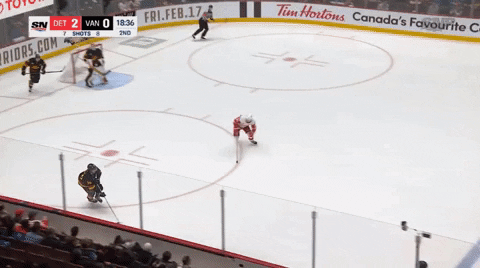 Just skates by and casually looks over his shoulder almost as it if to say "why not?" before tapping the puck in with one hand.
That's a solid play from Garland, who hasn't been able to capture the magic of his first several months with the team. There is a solid player in him, and he can be quite effective at 5 on 5 hockey, but it's hard to know what's real and what's not with this current Canucks squad. Everything is just too messy.
Also give credit to Ethan Bear (and possibly Kuzmenko, as the broadcast pointed out he might have done one of his patented Careless Whisper touches on the puck, gently guiding it a slight inch to the left on the outlet pass) for the nice set up on the offensive rush.
JT Miller gives it his all, whether that means breaking his stick on the bench, going all in on an offensive rush, trying to block shots, or doing his best to not backcheck. You cannot accuse him of not going all in on everything he does.
This might have been my favorite clip of the night because it showcases Miller doing anything to stop the puck, including swinging his right hand out for a potential blocker save, shooting out a leg for a potential kick save, then putting his hands up like he's being robbed at gun point:
I honestly cannot stop laughing at the tandem blocker saves going on here:
And I don't mean that in a snarky way at all. Show me a player who is doing anything and everything in their power to stop a puck in the crease and you'll see me beaming with pride every single time.
You could tell Elias Pettersson that he can't actually fly, and he will jump off a cliff to prove you wrong.
So if you don't think EP40 didn't hear all that chatter about him being too small to play in the NHL or too small to be effective in the playoffs, I feel confident in saying he heard you, and he called bullshit:
Now, do you want EP40 handing out big hits and getting caught up in exchanging physical blows with the other teams? Not all the time.
But every once in a while in prison you have to take a swing at somebody, just to let them know. It's called the Churla Rule.
And if Collin tries to save it, his whole world could cave in, it just ain't right, it just ain't right:
Delia has this thing where when he gets scored on, he freezes in place until he thaws out. So it makes it hard to understand if he's frozen in place here because he thinks he had the initial shot covered, or if he just thinks he got scored on already.
Either way, there are an awful lot of inactive sticks on this goal from Vancouver's side. Watch the clip and just notice how many Canucks just skate forward with no movement on their sticks, making life pretty easy on Detroit to feather the puck by them. The end result is a rebound goal that Robby Febreze pops in with a solid diving effort where he both hits the puck forward then hits it back in around Delia.
Delia then does what any good goalie does in this situation, which is throw the puck out of the net in disgust and/or hopes that nobody saw it go in in the first place, and maybe the cameras weren't turned on, and hey maybe this game is still 2-1, who's to say, who's to say.
The Canucks' best chance to claw back in the game was near the end of the second period when on a couple of power plays, they almost generated a goal. It was also the only point in the game the crowd generally felt happy to be there, as short lived as it was.
The biggest chance? Brock Boeser missing this apparent tap in:
I don't want to get into a lifetime of arguing Boeser or Kuzmenko on PP1, but I will say that Kuzmenko seems to have a far superior down low game than Brock Boeser. Tap ins are his jam, the closer the better. The further away from the net you get? That's Brock's world. But half an inch from the goal line? That's Kuzmenko's office, baby.
JT Miller had his turn in the crease, banging his stick for the puck, only to see Brock bounce the pass off of his skate, and out of harm's way: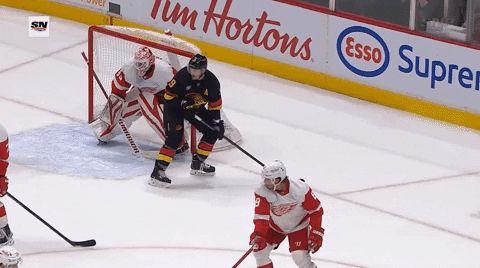 Again, not to say Kuzmenko would have scored in JT's position, but he absolutely would have scored in JT's position. He would have juggled the puck like it was a hacky sack and he was outside Video Update waiting to rent the only VHS copy of It Could Happen to You, before tapping it in and tossing his helmet off to celebrate the goal in style.
To top off their communist night, Beau Beauvillier rang one of off the iron, just to show everyone that he can fit in with them too:
One thing to note, JT Miller slumps over his knees in fatigue/sadness/frustration instead of breaking his stick, so the new coach's system is working.
Part of me assumes this is also because the team wants to cut down on the cost of new sticks, but whatever works.
Keys to the game are always terrible. It's the poor man's rushed book report.
"Jane Eyre is all about the red room you see, and not just because it was in the first chapter of the book. It's a metaphor for life, man."
Number 3 is fine, if not uninspired, but I don't know how many more steps EP40 and Quinn Hughes are going to have to take (they're already pretty damn good, it feels like other players need to chip in here). It would be like telling Edmonton fans that McDavid needs to find another gear if their team is going to move forward.
Also, change 'add a defenceman' to 'add five more defencemen' and you're getting closer.
Multiple Canucks watch one player, forget everyone else in the world exists, someone else scores. It almost sounds romantic:
"I thought the fourth line bought in. I thought they were good tonight," was Rick Tocchet's assessment on the night, and we're already getting indications that he is about as old school as it gets. If you're working hard, everything else will just sort of work itself out.
I will save my giant "working hard vs working smarter" debate for another day, but I will say the fourth line didn't stand out as particularly great on the night. I mean, they had less ice time than other players, so by default I guess they were involved less in the bad hockey.
But overall, they played pretty much like everyone else. Sure, maybe they won a board battle, or looked like they were working hard, but the end result was the same: Bad defence with people not moving and just staring at the puck.
Best tank tandem
At this point Canucks fans should get something for the team giving up 5 goals:
Can't Wendy's step up? Imagine if the other team gets its fifth goal and the crowd erupts because they know they just got a free spicy chicken sandwich? The headlines of "Canucks handle another spicy loss" sounds so much more fun than "Detroit beats listless Canucks at home".
This goal was the result of a horrendous line change by Tyler Myers. Kuzmenko skates for the change first, and Tyler Myers, who is the last guy back, should be noticing Detroit has the puck and that stranger danger is at an all time high here. It's like going to the McDonald's at International Village, you just know to keep your wits about you.
Instead he just calmly skates to the bench and whatever happens, happens.
The end result, Brock Boeser has to try and win a foot race, and Detroit makes it 5-1.
This is how I know the Canucks might be checked out. The Chaos Giraffe just peaces out on most plays. In the old days, he would have stayed on the ice and tried for an end to end breakaway before giving up a breakaway himself, and ending it with putting someone through the glass.
I don't even recognize CG57 anymore.
It's not often two basketball metaphors land so heavily, and it's not often that the Globetrotter's one is the nicer of the two:
At this point, clearly dead inside, the Canucks watch as Detroit moves the puck with ease and make it 6-1 on a goal that Delia had no chance on.
Again, this is with Elias Pettersson on the ice. He is the team's best player and on multiple plays on the night, he looked behind the play. I don't know if the team was bagged or not, but this was one of the worst efforts of the season from them. You know something is up when EP40 is struggling.
As for the whole Delia vs Martin debate, I think it's clear that Delia outplayed Martin, but I also think it's clear that it doesn't really matter. There is only so much you can ask out of two AHL goalies to carry the load for a team this bad. Even Demko was struggling to carry this team to victory earlier in the season.
At the end of the day you just have to be happy the team isn't spending millions on the back up goalie position because this team is nowhere near a spot where they need to overspend to cover any Demko injuries. Chris Levesque could come play for league minimum and it would be as solid of a choice to start Delia or Martin.
The Canucks got a penalty shot due to a delay of game penalty taken in the last minute of play. It's an obscure rule, but a fun one. One that Detroit might have even challenged (it was debatable whether it was after the one minute mark) but when you're up 6-1, you just want to get out of there to catch your flight:
Philly Di got the penalty shot, and because everyone else had done it, why not hit the post as well:
And that was ballgame.
Hey, the Canucks are going to lose a lot of games. The losses are ultimately good for this club because it means a better draft pick.
But if you want to rank entertaining losses, this was one of the worst of the season.
My honest opinion was the team looked tired more than anything, but add in a losing season and the knowledge that you're now riding out the rest of the year and nothing matters? That's going to be a hard sell job for Tocchet to to turn into good results.
If anything, we'll get to see some bag skates this season as Tocchet tries to beat defensive structure into this team?
Best look into the future
Joey Pitt is the play by play broadcaster for the BCHL Surrey Eagles and is as nice a guy and as hardworking a fella as you're going to meet. You always see those stories of star players showing a picture of them as a kid with their favorite player growing up, and I feel like this is one of those moments here.
Don't be surprised if Joey is a household name down the line, that's all I'm saying. Throw that in the Stanchies, Joey!