The Stanchies: Hronek's impact, the BoneZone, and the revenge of Tyler Myers
Photo credit:© Jerome Miron-USA TODAY Sports
Like Minoru Suzuki chopping the life out of Judas Icarus, Saturday's matchup felt like a mismatch from the very beginning. The Canucks left Dallas with a 3-1 victory, a win so easy and bland that I am hard-pressed to find much to write about. At one point Thatcher Demko had to make a kind of difficult looking save, reminding you that the Canucks did in fact dress a goaltender on the night.
It was the kind of game where the Canucks played so efficiently that they made sure any Dallas fan in attendance regretted ever enjoying the sport of hockey. It was like watching your friend's parents get amicably divorced, with both sides just accepting life as is. Where were the fights? Where was the tension? Where was Jamie Benn accusing someone of infidelity? It was a game devoid of any emotion or excitement.
The end result, another victory for a Canucks team that has firmly pushed the Bedard sweepstakes in the rearview mirror. For a team that has rarely, if ever, used a late-season push in a failed season to carry momentum over to next year, all an optimistic fan can do is hope that this year is different. That this late-season push is a signal that Rick Tocchet's system is working, and that the emergence of Elias Pettersson and Quinn Hughes's elite play, the arrival of top line Kuzmenko, JT Miller and Thatcher Demko's recovery in their play, and the addition of Hronek to the back end will all lead up to next season being different. That next season might contain a playoff push, where we can all embrace the "get in and anything can happen!" mentality.
Or it's the time-honoured tradition of a late-season push that raises the Canucks in the standings, and leads to more middle-of-the-pack drafting.
All we can do is wait and see at this point.
Or as my good friend Ron Ron once said, "Me fail English? That's unpossible!"
Let's make some gif money, shall we?
With Brisebois and Wolanin out due to injury, it was finally Jack Rathbone's time to shine. If it feels like Rathbone has been tossed to the side in the Canucks future vision, it's because he most likely has. If it takes injuries to Brisebois and Wolanin to get into the lineup, it's a clear symbol that the team doesn't think you're that fetch.
The good news for Rathbone is he got a goal against Dallas.
The bad news is it probably won't be enough to convince the Canucks that Rathbone has much of an NHL future with the team, despite my best attempt to give him credit by referencing Mean Girls.
Best underrated Garland of joy
With Dallas rocking their El Phantasmo-inspired jerseys, the Canucks were the ones who shone brightest on the night.
In particular, Conor Garland continues to have a low-key solid finish to the season, generating scoring chances off of smart puck retrievals:
Despite being a player who lacks the size of most NHL players, he makes up for that with intelligent reads. So while I might run into a corner after a loose puck and hit the glass and fall over only to watch the other team score, Garland has already guessed correctly where the puck is being passed to and intercepted it.
Aside from the passing, he also goes hard to the net and finds a way to get shots off in close:
There's a reason he is probably leads the team in getting punched in the face, because he's small and efficient, and nothing angers bigger players more than watching someone undersized get ahead in life.
While it was nice to see Rathbone get power play time, and head-scratching to see the Canucks lean heavily on two d-men on the power play, the end result was still the same for the Canucks: Going scoreless with the extra man.
In fact, the best chance on the Canucks first powerplay was when Dallas intercepted a pass and almost completed an odd-man rush:
The end result doesn't change the fact Ferris Bueller doesn't have a car.
Best power outage at both ends
The good news for Canucks fans is that the Dallas Stars looked sadder than Waves pretending it's in competition with Starbucks and Blenz.
Their power play went 0/4 on the night, and much like the Canucks, it was not the sort of thing that would inspire one to hold off an alien invasion on independence day.
The main highlight of the Stars' first power play? An icing:
The second main highlight? Nils Aman getting a breakaway:
This was not a fun game of hockey to watch. It had the brutal efficiency of a Russian gymnastic coach.
Please keep reading because I have bills to pay, but dear lord I watched this game and almost had an existential crisis about why I didn't take up covering the CFL.
Corey Philpot and Sean Milligan were once must-watch TV I'll have you know. Also Quick Six and The Diesel already put them in the top 1% of nicknames in all of sports.
Ah yes, the fight. Yes, yes, the fight, it was quite a barnburner. Who knew Elias had a background in wrestling much less was allowed to use it to submit Tyler Seguin with a rear naked choke? It also felt highly dangerous for EP40 to set up the choke with some Sweet Chin Music, but who am I to judge?
And the promo he cut afterwards, oh boy. I'm not sure why he called out Taylor "The baddish" Raddysh, but I guess we'll see Sunday!
Best beginning of the end
The Dallas Stars' lone goal came off of a point shot that somehow beat Thatcher Demko when a 2006 time travelling Ryan Suter appeared on the ice and slapped a puck home: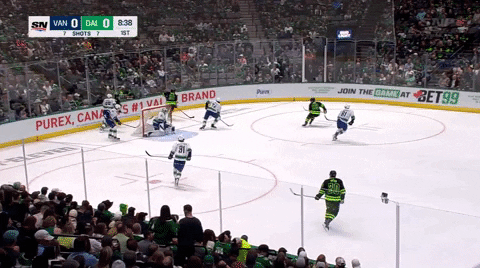 The goal was set up by a pretty slick cut back from Tyler Seguin and also marked the last time Dallas was relevant at all whatsoever in this game.
Or as Hannah Montana once said, "sweet niblets."
Thatcher Demko, who has dealt with a solid combination of being overplayed and picking up injuries, was run over by Glendening who went full Homer Simpsons trying to eat a pie:
There's very little effort made to jump out of the way as he accidentally on purpose trucks right into Demko.
The Canucks response? A couple of stern looks and maybe the threat of a strongly worded e-mail to be sent later.
I know the Canucks are riding high on a six game winning streak, and there is merit to cooler heads prevail in hockey, but this is a dead season. If someone runs Demko, summon your inner Shawn Antoski and start throwing punches if someone even looks at Demko funny.
With the Unsung Hero award still up in the air, Dakota Joshua once again put a spotlight on his game when he picked up another shorthanded goal for the Canucks:
The bad news for Dakota is that Nils Aman made the forecheck and pass that led directly to the goal, giving us a real "who will be the prom Queen??" moment if we were making a movie.
For my money Dakota Joshua is the unsung hero, but I wouldn't be mad if Nils won it. I mean, I wouldn't be mad if a broom won the award, because who cares, but I wouldn't file a legal objection if Nils won it. I mean, I would never file a legal objection either, but the thing is this game was so clinically effective that I have nothing else to do with my time but come up with scenarios in which I wouldn't be mad at something.
The weirdest part was the seagulls were all painted orange and purple, and I don't know if that was by design or if it was because they ran into some paint. Maybe it was the paint that caused them to create havoc in the arena? Or maybe someone trained the pigeons and painted them orange and purple hues because it matched their own costume? These are just some of the questions Jeff has yet to answer.
Still, how heart-warming was it to see JT Miller of all people tend to the most amount of birds?
Best taking them to the train station
JT Miller only hands out one-way tickets in the NHL:
JT Miller's resurgence under Rick Tocchet has been much talked about, and this is just further proof that the JT Miller we saw earlier this season was in fact a clone, which we all should have seen coming due to him missing a belly button.
My client Brock Boeser put the Canucks up for good when he started, and finished, a rush down the ice: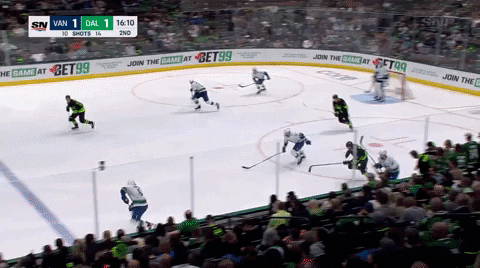 Brock should also be in the running for unsung hero award, as his play has not gotten nearly enough credit this season. Sure, he's turned into a playmaker with fantastic hair, which feels like a step back if you find yourself missing his sniping ways with glorious hair, but he's also shooting at his lowest season shooting percentage ever with a 9.5% rate.
I'm not saying the Brock of old will return anytime soon, or that we should be discussing his potential 30 goal season next year, but it feels like Brock is due for a statistical bounce back season next year.
Which brings us to the question of whether the Canucks will move on from Brock by then, and honestly, with Rick in charge, it feels like anything is still on the table.
Best dropping an emphatic exclamation point
Tossed to the side like a Ryan Kesler and Pamela Anderson rumour, Jack Rathbone had to feel good about getting a goal in his call up against the Stars:
Not only does the list of "Wait is this guy better than OEL?" continue to grow, it also showcases an aggressive Canucks team that had four guys down low before Rathbone rushed into the slot to unleash his clap bomb.
If you love Tocchet talking about North-South hockey, this goal is a prime example of what he loves. The fact the Canucks are doing these kinds of plays but also not getting repeatedly caught in an odd-man rush the other way does speak to the Tocchet system cleaning up their game a bit.
It also helps that Elias Pettersson and Andrei Kuzmenko are goddamn wizards with the puck, as they make this goal look ridiculously good looking.
From EP40's patience with throwing the puck over to Kuzmenko, to Kuzmenko reaching back and realizing he no longer had a quick shot to get off so he waited for Rathbone to arrive, it's just a perfect example of why AK96 and EP40 should play together forever for the rest of their lives.
It's best if you assume every season will end like this. It's just the Vancouver way.
The only time the Canucks will ever get the first overall pick in a draft is if it's the worst class of prospects since World War 2, and the top pick is a 25-year-old who played in the ASHL on a lower-tier team to try and juice his way to victory.
The Dallas Stars got into trouble when Jamie Benn attacked Philly Delight with his stick:
And Tyler Seguin tripped up Elias Pettersson and then looked down at his stick as if it was a sentient being and that he had played no part in the crime:
The end result? A lengthy 5 on 3 which led to…
Hronek and Quinn Hughes were on the ice and Brock Boeser missed around 38 tipped shots, leading to no goals on a lengthy 5 on 3: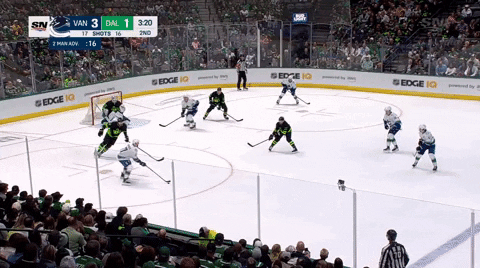 That was the best highlight of the bunch.
Now, I don't blame the Canucks for rocking Brock on the first unit. He's actually turned into one of the team's best screeners, and it makes sense, it's hard to see through that thick luxurious hair.
The problem I have is not having Kuzemnko on the ice.
Sure, I get it, see what sweet magic Hronek and Hughes can come up with, but the NHL really is trending away from using two defencemen with the extra man.
Unless you're rocking Paul Coffey and Ray Bourque, it's hard to defend going with two d-men, especially on a team that can easily ice four very good forwards like the Canucks can.
I have nightmares that Jeff will show up at my work and just drop three devastating tweets about my lack of production.
Final total on the night was Quinn Hughes leading the charge with 27:30 of ice time, and Hronek getting 26:37.
The problem with trying to keep them away from the dreaded 30 was the fact Rathbone is not to be trusted and is probably the bad guy plot twist in a season of 24. Rathbone's total ice time on the night? 9:14.
One day Rathbone is working in CTU, the next he's trying to murder Jack Bauer's family, it's just how she goes. Jack on Jack crime.
Nobody gets quite as angry as the Chaos Giraffe when he feels he's been wronged. There's no subtlety to his revenge plots, he's not out there taking small slashes or trying to do dick taps with his stick. With Tyler Myers he just straight up makes a beeline for you and runs you over:
The end result was a Stars power play!
The bad news for Dallas fans is everyone was next level awful with the extra man, so it took them almost two minutes just to get this easily stoppable shot off:
And while yes this probably would have gone in on Spencer Martin, it does showcase how Demko has stabilized the goaltender position for Vancouver and put them firmly back into the position of being a team that barely misses the playoffs, vs a team that completely misses the playoffs.
It's hard to see what caused Podkolzin to hurt his wrist, but I am just going to go ahead and assume it was a wild squirrel that jumped out of a Dallas Stars glove:
Did I mention this game was low on entertainment value? Am I losing my mind?
Not to harp on Delia or Martin, but Demko makes this save look so easy:
Martin does a stack-the-pad save attempt where his skate flies off and a hotdog falls out of his pad, and Delia gets beaten there and stands frozen in place for a solid 15 seconds.
Thatcher Demko is playing at an elite level right now, which really leans into the "get in and anything can happen!!!" philosophy around these parts.
Always have a backup plan.
Especially when seagulls are in the arena and possibly dive-bombing large electronic devices.
Elias Pettersson and Andrei Kuzmenko remain the two smartest forwards on the team. It's why they're able to kill off precious seconds off the clock by taking the puck deep in their own end, all the way down to the other net:
It's a skill that needs to be appreciated, as not once do they panic under pressure and make a bad play with the puck. Instead they draw in defenders and find ways to make room to advance the puck to each other.
It's not like when you game with your friends and are blown away when they make a good play. It's the opposite with Kuzmenko and Pettersson where if they ever do make a mistake you question your entire existence because it's simply something they normally never do.
They are the opposite of Jay is what I am saying.
Best wtf are we doing here
The most exciting play of the game for the Dallas Stars aside from their lone goal? Being awarded the icing call on this obvious Boeser victory:
Look, Brock isn't the fastest skater in the world. But he clearly won this race. Let the man have his victory lap.
And that was it. Not even a last second chance for Dallas to make gif money off of. This was a game of hockey and that's about the most exciting thing I can say about it.
The Canucks made this victory look so boring but so easy. If you wanted video of how every NHL coach would draw it up for a road game, this would be it. High danger chances for both sides? Six aside.
It was a master class in effective dull hockey.
The best part of this game was honestly watching Fil Hronek and wondering what he means for this team moving forward. It's been only two games so far, but he has showcased a skill set this team has been chasing on that right side for years.
I am not suggesting this team will be a Stanley Cup contender anytime soon, but for anyone hoping this team can build around the core pieces, Hronek represents a very important part of that.
Also, he has a really nice beard.
The Canucks take on the Chicago Blackhawks Sunday afternoon, which again, represents a very easy opponent for them. If it feels like a seven game winning streak is on the horizon it's because it clearly is. Follow that up with a Blues game, and it feels like the Flames will be the first team to actually threaten the Canucks with a loss.
Add this all up, and yes, prepare yourself for a lower draft pick and and endless debate of whether late season success can carry over to the next year.
I wish I had more to add to this, but even I have run out of movie metaphors.
Wait, it's like in Hook, when you hear Run Home Jack and-