The Stanchies: The Elias Pettersson performance Canucks fans will never forget
Photo credit:© Bob Frid-USA TODAY Sports
This is an article essentially about Elias Pettersson.
Yes, the Vancouver Canucks played a game against the Seattle Kraken, beating their Squid Games competitors 6-5 in a shootout. Yes, Seattle proved once again it is the inferior hockey club in the Pacific Northwest. Yes, it's very fun that you can toss fish back and forth, we're all very impressed Seattle.
But this is an article about Elias Pettersson.
Because quite simply, he is the Vancouver Canucks at this point.
It wasn't just the fact EP40 had himself a five point night.
It wasn't just the fact he now leads the team ALL TIME in five point nights, passing Alex Mogilny with his fourth such occurrence.
It wasn't even the fact that this was his Michael Jordan flu game, coming back into the lineup after missing a week due to illness and terrorizing his opponent.
No, it was the fact that on the night in which his team put on one of the most horrid displays of defensive hockey you will ever see, he still managed to find a way to drag them to a win.
Forget the ramifications of Elias being so damn good that he can keep a poorly constructed team stuck in a perpetual hell of not being good enough to make deep playoff runs, but also not bad enough to get a top five draft pick. This is not the night for that talk. Drance will cover it tomorrow.
No, tonight is one of those nights you can kick your feet up and just take in what you just witnessed.
For me, the best way to capture the entire vibe of Elias Pettersson's night is to try and imagine what his wrestling entrance song would be.
Would it be the cool swagger of the NWO? I think he might be able to pull it off, but he isn't quite there yet.
Would it be the cocky nature of D-Generation X? I think the only player who could lean into that on the Canucks would be Thatcher Demko.
Would it be the cerebral assassin himself, HHH? While I think his persona matches up with that the most, it still doesn't quite match the aura of Elias Pettersson.
No, when I think about Elias Pettersson's game on Thursday night, I think of one man:
Stone Cold Steve Austin
. Just the idea that no matter how bad things got, no matter how dire things seemed, if you hear that glass shatter, you just KNEW people were about to get their asses kicked.
You could know the entire night that Steve Austin was in the building. You could know without a doubt that you would be seeing him in that ring that night. But even still, when the good guys were getting beat up, and you knew it was the perfect time for Austin to appear, you still got nervous.
"What if tonight is the one night he doesn't show up? What if he got arrested in a backstage skit? What if Rikishi had to do it for The Rock?"
So even though you knew he was there, when that glass broke, you now KNEW he was there, and the emotion from the audience absolutely exploded. You could visibly see the tension in the audience release itself like
dropping the bass in a Digital Short sketch
.
You bought a ticket to see someone kick ass, and by gawd, when it happened, it felt so good.
Which is what Elias Pettersson is right now. He is a one-man army that will not be stopped. He is Stone Cold.
There is something special about watching the Mogilnys, or the Sedins or the 2003 Bertuzzis of the world, in which you know when they're on, nobody can stop them. You almost get a natural high living vicariously through them, watching them perform heroics you could never dream of doing in beer league. You can joke about them putting up 5 points to win a game and you kind of actually mean it.
Let me state once more, this Vancouver team did not deserve to win this game. In any way, shape or form.
The eye test was putrid.
The underlying stats were vile.
At one point I was pretty sure I saw the Canucks waving the Kraken over and pointing out the weak spots in Spencer Martin's game.
There was only one line above 50% in Corsi and it was Elias Pettersson riding with Kuzmenko and recently called up AHL sniper Lane Pederson.
This team did not deserve to win this game.
Elias Pettersson deserved to win this game.
Luckily for the Canucks, Elias Pettersson is on their team.
And I know he would be the first one to say it's a team game, and to talk about how the guys rallied together, and that it's not just about him.
Talk about your cliches, talk about never giving up…
Pettersson 3:16 says he just whipped your ass.
Best this will be a journey
I'm not going to lie, this is going to be a night of a lot of clips where the Canucks look like a tire fire that "got a bit out of hand" in Springfield, and then clips of Elias Pettersson going ham and me trying to sneak several curse words past Quadrelli.
But as the Stanchies have leaned into the "journey" aspect of watching the game, it's important for you to go through what everyone else went through during this game.
Which is why when the team was getting heavily outplayed to start the first period, there was actual relief that it wasn't 5-1 yet.
The first clip is Dakota Joshua, normally the safest man in the league, trying to handle a one handed shovel thrust from Oliver Ekman-Larsson, which quickly gets sent back down low and converted into everyone's favorite buzzword, a high danger chance: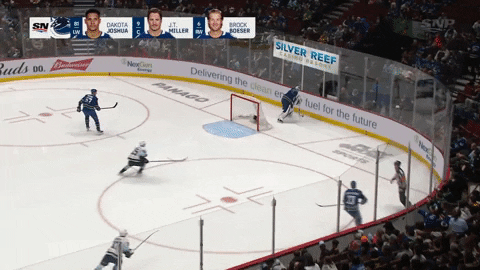 The Canucks followed this up by clamping down and playing strict defensive hockey and nope, wait, I see here they quickly gave up a 2 on 0:
That's Luke Schenn trying to drift a pass through the slot with the intensity of someone getting a degree from Langara. Morgan Geekie has so much eye contact with the puck before it's even passed that I actually started getting uncomfortable. But since he is a selfish player who only thinks of himself, he takes the shot instead of making the pass.
For shame Morgan. For shame.
This, however, was the trend of the game. This was the exact team that lost the last two games 5-1. The Canucks did not get a quick start out of the gates or whatever other horse racing metaphor you want to use. They still resembled that team in which you can't tell if they aren't skilled enough, aren't coached well enough, or are just demoralized beyond reproach. Or if it's just a combination of the three and you can't quite figure it out and now your brother, the King of a nation, is dead, and now you have to figure out a way to lead without him.
Best shop smart, shop S Martin
Spencer Martin, who has come to realize that being the backup in Vancouver is a wonderful glorious role, while being the starter is what nightmares are made of.
He has struggled as of late, which tends to happen when you ask every single goalie who plays for your team to play at a Vezina level and deal with bleeding high-danger chances against. We've gotten to the point where people ask "What's wrong with the goaltending?" when they aren't playing above their level.
But he did start off the game playing much better than the previous two games, and he looked locked in early on. Even stranger? He had some help from his defence*
*For a play
Off an OEL shot that was blocked (rare occurrence I'm told), Daniel Sprong sprung himself on a semi-breakaway. Except he didn't count on one thing: Chaos.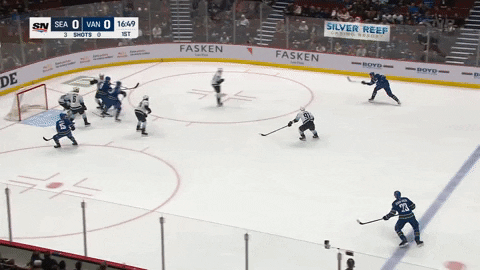 Yes, Tyler Myers raced back and used his giant stick to swat away the scoring chance, once again leaving Seattle's claim to fame being the fact their two big stadiums are incredibly close to each other.
Best never touch the puck
Spencer Martin, in what I assume is an attempt to know what it feels like to turn the puck over like his defence constantly does, flipped the puck to the boards and as a result, yes, another high danger scoring chance: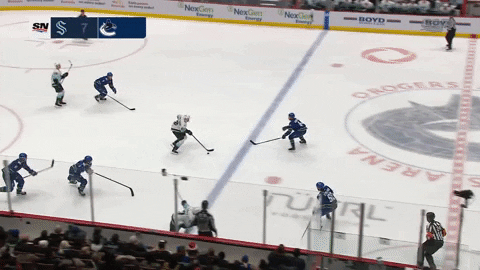 To his credit, even when Martin didn't play the puck the Kraken were winning the board battles and still getting dangerous shots off, so the end game was probably the same?
After starting the game so strongly, Martin got beat on a glorified dump-in turned shot on net by none other than Jared McCann: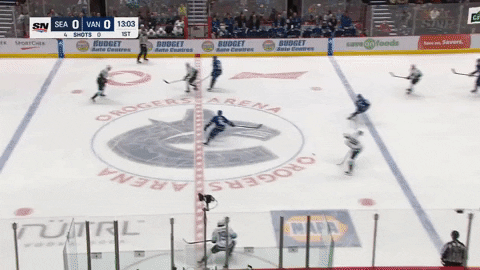 I believe McCann was once involved in a trade with the Canucks but when I googled "things the Canucks do to hurt me" I had too many results so I couldn't confirm this.
Unfortunate break for Martin who was clearly getting ready to play the puck, thus ignoring my rule of never touching said puck, before realizing that McCann was playing a fast one on him.
It's like watching Jackass except instead of a giant hand slapping someone, it's a giant red light going off and an audience of people looking disappointed in someone.
Best this is who we are now
The Canucks' official first shot on net came with around 12 minutes left in the period off of an OEL shot/pass/floater/whisper in the wind that technically was recorded as a save: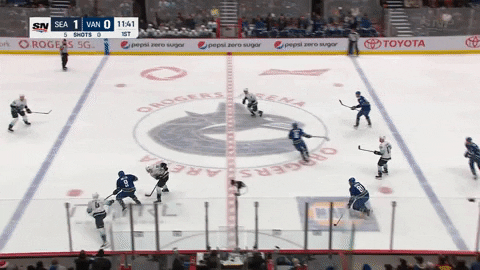 I write all of this just so everyone knows and fully understands, this was the exact same team that lost two games in a row 5-1. You watched this game and your only actual thought was "Well I sure hope Elias Pettersson has something up his sleeve."
Best why the green dress, Marge?
Why anything?
The scratching of Ethan Bear brought about it an intense debate over meritocracy and nepo babies, and while I understand the desire to take part in such conversations, I find it hard to summon the energy to do so.
Not that I don't disagree with the idea that Ethan Bear is not someone who should be scratched ahead of Riley Stillman. I am also here for the "What would you say it is OEL does here, exactly?" discussion.
But I am also stuck in that re-arrange the deck chairs on the Titanic energy in which I don't know if any of this matters. Which I know is bleak, but here we are. I'm still coming down from the highs of the Tryamkin season, I guess.
Like, I could scream and rant about how Bear should be in the lineup over Stillman or Burroughs, but Ethan Bear isn't turning this team around. So then it becomes that line of "when does anything matter?" and I just don't know.
That being said, I honestly have no idea how Riley Stillman is in the lineup, much less the NHL.
This play in particular stood out to me, as it showcased Stillman at his worst: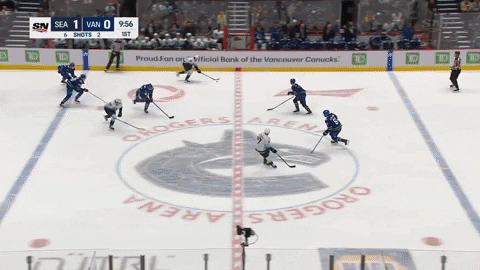 To summarize, Stillman loses a board battle (fine, it happens, he didn't have good position anyhow). Then he does a quick spin down Robson and ends up back near a puck battle. The puck leaves the area, so he picks up his check.
Okay, good, this is good. He has his man.
But then instead of skating behind the net with his check, keeping a close eye on him, he cuts in front of his own goalie and tries to skate through his defensive partner, who is currently engaged in a battle for position. Upon discovering he cannot simply faze through his own teammates, he is now behind the play.
The end result is a shot from the point that rebounds out to a wide-open Jordan Eberle, who just misses making it 2-0.
It just feels like Stillman cannot make decisions at the speed required at the NHL level, so you end up with a lot of weird-looking plays where it feels like EA Sports coded his AI.
Best there is still time to delete this
From the guy who brought you:
Comes this:
And he's not the only person I have seen express concerns over Pettersson's ability to stay on his feet. The play in question that caused this insight into the game of hockey was this one: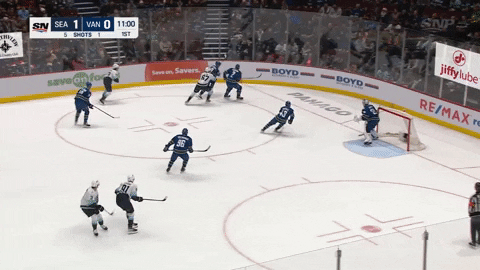 I remember the Sedins getting a real rough ride in this city for falling down too much. Not that there are a ton of funny turtle jokes out there in the world, but people tried their hand at them every chance they got. Then they got real quiet when the Sedins turned into Hall of Famers and still fell to the ice on occasion.
Also, let's break this down, shall we?
For one, Elias Pettersson has the puck on his stick. A lot. Like, anytime a teammate is in trouble their first thought is usually "oh s***, where is Petey? How do I get the puck to Petey?"
Anyone who plays hockey has "that guy" they know. A guy that when all goes wrong on the ice, when they're in trouble, they can always find their Ice Daddy. The person who will take care of everything and make the pain go away.
So EP40? He engages in a lot of battles. He's also trying to dangle and deke by a lot of people, which means he can be off-balance a lot of the time.
He also loves himself the reverse hit, which means he's engaging in straight up one on one duels with other humans, in a battle of supremacy. Sometimes he wins, sometimes he doesn't.
Is he a giant out on the ice? Of course not. But to try and claim that staying on his feet is a noticeable weakness is just some of the most asinine stuff I read on Twitter. And I read Mr. Ferguson saying he can beat Grindhouse. So the bar is pretty high.
Best degenerate into something, fool
I don't do this to shame Brock Boeser, I do this to simply point out that people forget about Drei all the time and leave him wildly open for tap-ins. This is his gift to the world. So being lesser than Kuzmenko is not an insult, it's just the high bar that has been set for you.
Brock Boeser will also find it hard to slide into the shadows with that glorious coif of hair. Still, he almost tied the game up on a brilliant pass from JT Miller: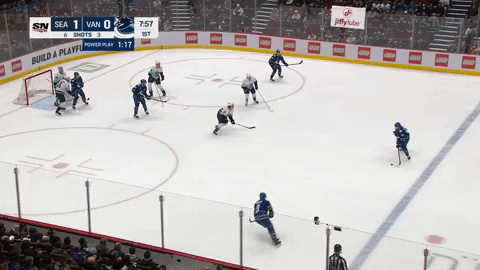 End result, Canucks were still down 1-0. Elias Pettersson had not scored five points yet.
The Canucks tendency to overload parts of the ice and thus give up a lot of room was on display all night long: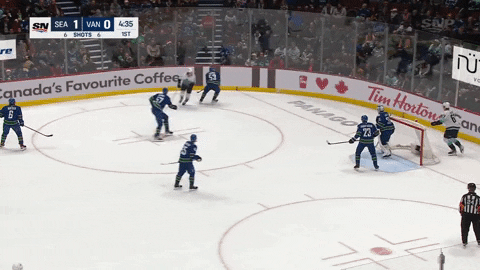 That's a shot that could have been tipped twice by the Kraken and again it's another case of a shot from the point getting way too much time to think about life and what the meaning of our existence is.
I'd like to think that the Canucks drafted another Elias Pettersson, then added Lane Pederson, all in the hopes that osmosis of talent is easier with similar-sounding names.
Which clearly worked because Elias Pettersson got Lane Pederson his first goal as a Canuck:
The best part about that goal is that it clearly shows that every single Kraken player views EP40 as the main threat on the ice. Even when he's floating towards the boards, all eyes are on him as they try and figure out how he's going to beat them from there.
Lane Pederson simply has to skate to the net and tap the puck in, aka going full Kuzmenko, and it's a tie game.
Watch the clip again. Watch as every Kraken player just watches Elias with the puck, wondering what's going to happen next like he's Kevin Feige, and before they know it there's a second post-credit scene of Lane Pederson arriving in the Canucks universe.
And watch as EP40 keeps the puck closer to the middle of the ice before dragging it wide and drawing in two defenders, opening up all the room in the world for the passing lane. Just brilliant stuff from the Messi of the Canucks.
And I know I talk about the king of the backdoor Kuzmenko, but his subtle game is one of my favourite things to watch for. On the goal, you can see him grab the outlet pass and just ease the puck into Pettersson's skating lane. He doesn't force the pass, he almost curls it toward EP40:
Just a sublime touch from Kuzmenko, the kind of touch that would have English announcers screaming about how Heaven has just been burnt down and been rebuilt with a statue of that pass right at the front entrance.
This is the "one day there will be a giant earthquake in Vancouver" of hockey.
The best part about EP40 is you cannot accuse him of sacrificing defence for offence. You see him all the time on plays like this, where it starts with him in his own end: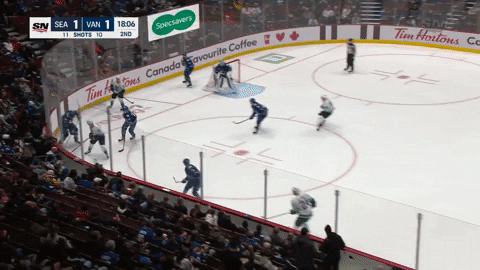 He's vulturing around the puck in his own end, jumping in and helping his defence exit the zone whenever he can. His ability to turn these types of plays into end-to-end rushes is just magical.
Though please note The Kuzmenkshow making a nice outlet pass on the play. Because he follows the prime rule in hockey: Always get the puck to Pettersson.
Luke Schenn, normally a man who understands the Jordan Bowman value of a five-second head start for skating back into his own zone, made an ill-advised pinch. It did not end well: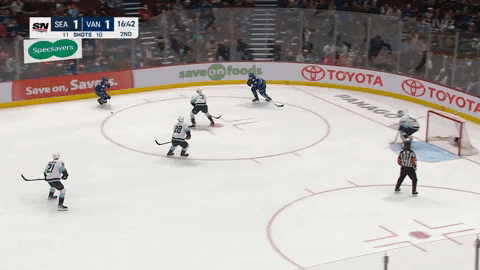 Quinn Hughes stops neither the pass nor the shot, and Seattle scores pretty easily. Luke Schenn hoofs it back but then runs out of gas and JT Miller's it up for the last few strides and, yes, like I said, nobody played good outside of a few players on this night.
10 seconds later, a mere ten seconds later, the Kraken won a draw in the Canucks' zone, flipped it on net, got a tip, and Bob's your uncle: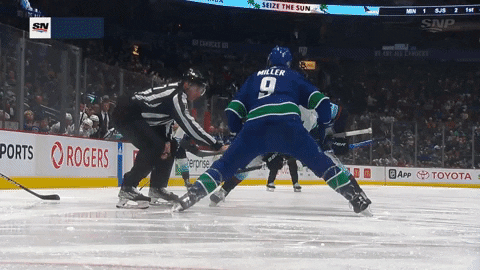 Not much intensity from the Canucks who look slow on the play, but you also have to hand it to Daniel Sprong because that is a filthy accurate tip. The opposite of a Ludacris lyric in a Ciara song, if we're being honest.
Best throw down in a show down
Kyle Burroughs is just a tough son of a b: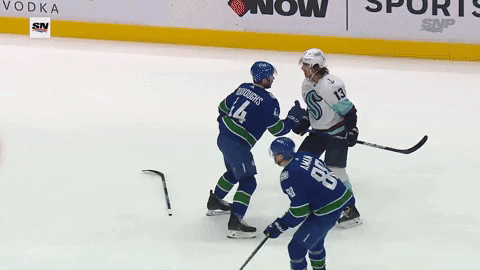 Why be scared of ghosts when you can just picture an angry lad from Langley walking you down on the ice? I could see Kyle Burroughs appear in an episode of Peaky Blinders and I wouldn't bat an eye at it. I would just nod and say "makes sense."
I understand that pushing for offence when you're down can lead to chances against, but I just don't think Riley Stillman is the guy who should be stepping up: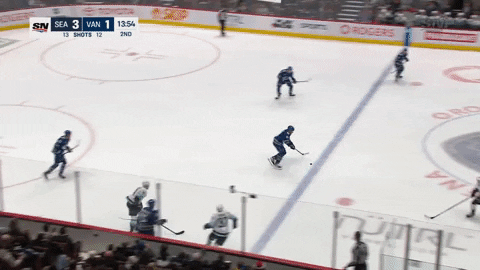 Obviously, some of this is on the team for constantly underplaying coverage when a d-man pinches in deep. Everything in that clip just screams "dead inside" from the lethargic attempt to keep the puck in at the line, to Stillman skating back and watching Garland have a go at things.
The good news is you know Pettersson had 5 points on the night, so you just have to get through this bad stuff for the good stuff.
Best finally getting it right
Luke Schenn made up for his earlier blunder by allowing Elias Pettersson to tip in his shot to make it a one-goal game again: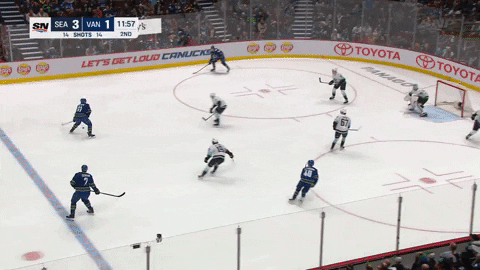 It was the slightest of tips and it was more about EP40 screening the path of the puck than anything. It was the kind of tip you make in Rocket League when you jack a goal off of your friend at the last second and then you smirk and go "whoops" followed up by spamming "nice shot" in the chat.
The biggest takeaway is the fact fans were finally chanting for the right person, because as much as the Bruce story was delightful last season, EP40 is the guy who should have his name chanted every night.
The main themes of the Canucks this season is overloading parts of the ice, which they did once again on this play: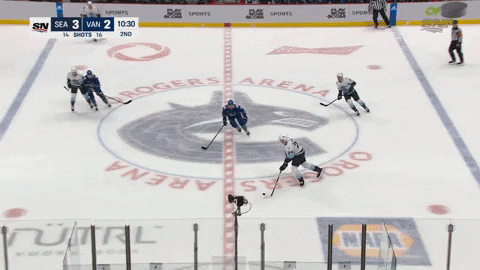 Four guys converge on one spot, and in the confusion, Quinn Hughes lets his check bounce like he's paying for Douglas College. This leads to yet another tap-in that almost scores.
I feel like one player shouldn't swipe through four players at once, but the science isn't clear at this point.
Best catching slippery fish
The Kraken made it 4-2 after the entire team just straight up SpongeBob meme'd its way off the rink: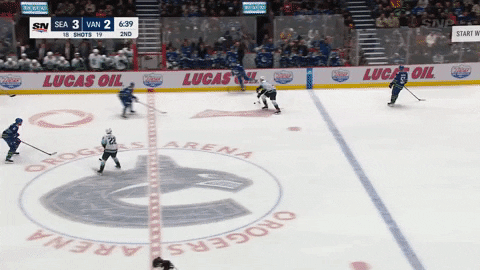 The Canucks continue to back off of incoming players like they're skipping classes at SFU and again, giving up all the time and space in the world to the opposition. Which is a horrible idea because as we talked about last article, NHL players tend to turn into Alex Ovechkin when you give them three hours to plan out their shots and passes.
If you rewind the clip further you will also see that on top of the team backing off and giving up all that room, they were down a man because of a slow Bo Horvat change: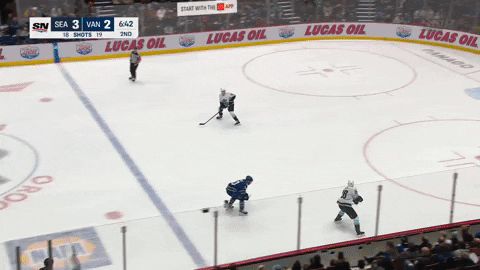 Bo kind of flings his hand in the universal sign for "Well I just lost at Madden because of a fumble I have no control over" before turning off his PS5 slowly skating to the bench for a change. JT Miller jumps on and glides back into frame but by then Garland already attempted a magical kick save shot block that took him off of Alex Wennberg, who promptly toe-drags his way to glory.
Much like the St. Louis game, I do have to give props to the other team for making really nice shots. It's just, the Canucks keep giving up so many of these chances that it feels more like a "well this was inevitable" more than a "wow what a raw display of talent and power by the other team!"
And for those of you who don't get that Madden reference:
Best but what if you were wrong
Best Eddie Lack throwback
Banners are expensive. Snapchat is much cheaper.
Elias Pettersson to Lane Pederson to Andrei Kuzmenko:
That's honestly a top-notch goal, and as much as Lane Pederson is a giant AHL question mark, it says something about his skill level that he's able to jump on that line and not stick out as a liability.
The best part of this goal for me? Kuzmenko not panicking after he doesn't get the goal on the first shot. He knows to stay calm because he has around 5 minutes before anybody notices him down low: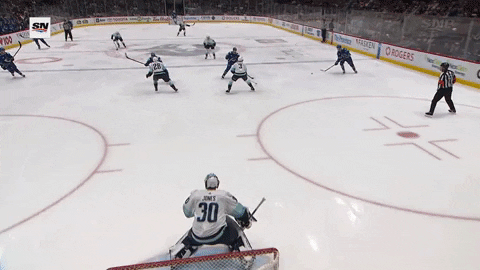 They always forget about Drei.
This is the millennium of Aftermath.
It ain't gon' be nothin' after that.
Best chaotic energy is chaotic
Tyler Myers, last seen making a glorious poke check, is now seen here making a blind pass with his team down a goal in the third period: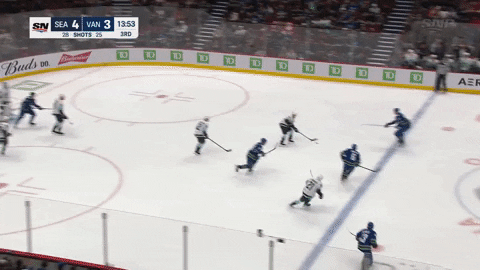 I don't know why he made that pass. I don't know what possibly could have entered into his brain that made him think "Yes, this is what I should do right now."
All I do know is that him falling to the ice and coming to a very slow stop while the Kraken scored their fifth goal felt incredibly on brand.
Best dragging his team to victory
If Elias Pettersson was not dressed, this team loses the game.
JT Miller has not been a game-changer.
Bo Horvat has not been a game-changer.
Brock Boeser has not been a game-changer.
Andrei Kuzmenko has not been a game-changer.
Elias Pettersson? He was the game-changer:
This is the player you pay all of the money to. This is a guy that has no issues playing all over the 200 feet of the ice. This is the guy you build the team around.
This is the guy that when you're not sure if it was a shot or a pass, and it doesn't even matter. It was probably both at the same time. The old shass.
Either way, the Canucks found themselves within a goal once again after Brock Boeser tipped in the Elias Pettersson offering.
So Elias Pettersson has gotten you back within shooting distance of a tie game? Don't worry, feel free to give up a two on one that hits the post: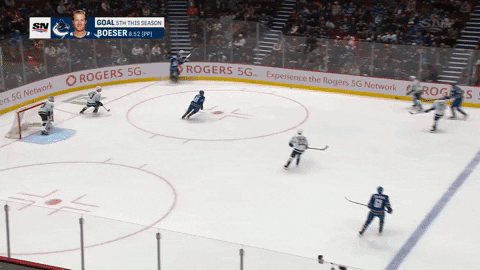 This is purely for context. The context being the defence on the night never got better. At no single point did you ever say to yourself "Ah nice, they've finally clamped it down."
It was purely a "Sure hope Elias can figure a way out of this" night.
Luke Schenn ended the night with 8 hits:
He is now 12 hits away from hitting 3000 in his career.
Will he do it before Christmas? He has multiple games of 12 hits.
Will he drop Santa with a shoulder? Or wait until after the holidays?
Best better late than never
The Canucks almost did something without Elias Pettersson, but were denied by Martin Jones: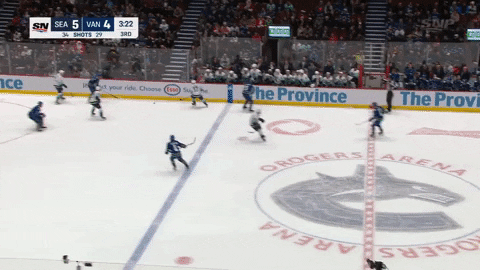 Garland makes the nice pass over to JT Miller, but JT hasn't mastered mini-sticks hockey, so dropping to one knee does nothing but confuse everyone.
Garland knows to really torque it with mini sticks. It's all in the wrist flick. JT simply doesn't know the strategies involved in going full mini-stick.
At this point, I can just say "Elias Pettersson" and we all kind of get it: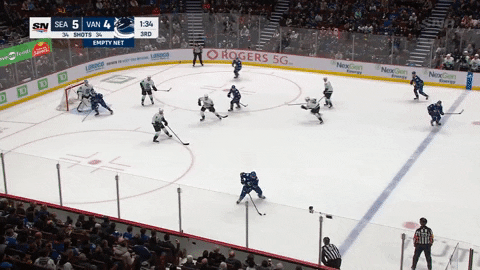 It's good movement from the Canucks, and they do a good job of staying on top of the puck and not letting Seattle clear it. The most important part of it all, of course, is the fact they funnelled the puck to Petey. When he's having a game like that you simply feed the beast and then stay out of its way.
So to summarize:
The Canucks were completely out-classed for the majority of the game, except they had no answer for Elias Pettersson, who has attained the rank of a level six laser lotus.
I think EP40 was jacked: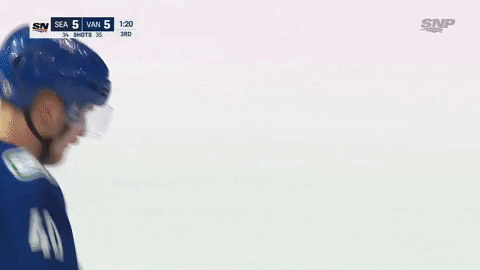 As tedious as these games can be to watch and write about, you absolutely know that the players themselves are so incredibly sick of the losing and the poor seasons.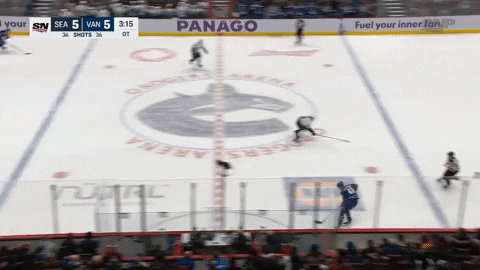 Uh yes, yes you did. And while you know I love getting gif money more than anyone (that gif alone cost Quads $25), John Shorthouse captured the moment better than I ever could:
When Shorthouse is caught up in a moment, there is no one better. He goes full JR mode with the best of them, on par with Bob Cole. There is nothing staged or forced about it, you can just hear in his voice how swept away he is by a moment, and it's just the best.
But since I want more gif money from Quads to pay for gifts, here is another angle of all the posts: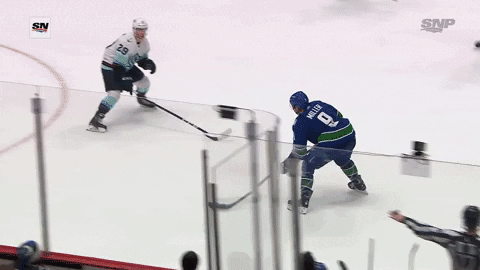 JT Miller being a sneaky snake doing the Pavol Demitra will always be my absolute favourite thing in the world: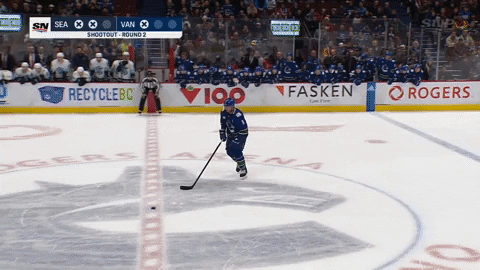 But Elias Pettersson depositing the puck like he's making a payment to a University with actual class and high-world standing like UBC? That's just the bee knees: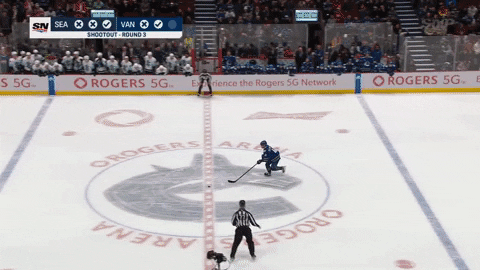 Game: Blouses.
Quite simply one of, if not the absolute best games of Elias Pettersson's career.
If you witnessed this live, if you trekked through the elements to get there, you got to see a special one.
"Oh my god. I couldn't believe it. I was running on no energy there, I just wanted the puck to go in. Luckily the puck found its way in in the shootout," Pettersson said post game about the posts.
There was only one DAWG on the night. And his name was Elias.
Elias Pettersson DAWG rating:
128.90
The big bad DAWG.
I have an on-the-floor reader who sends me some of the best jersey Botches around, and Thursday night was no different.
Ronald Kenins? The Golden Shovel winner himself??
That's almost as good as a signed Ryan Stanton jersey. Almost.
How I imagine EP40 got the belt: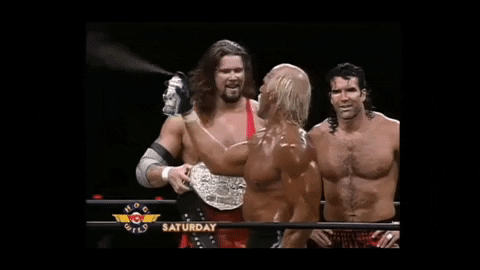 How he actually got the belt:
One day a Canuck will put the strap over their shoulder like a normal person instead of holding it like a mortar shell from World War 2 that they're not quite sure is still active or not.