The Stanchies: The Disgusting Brothers, the Quinn Hughes Experience, and the Chaos Giraffe
Photo credit:© Jeff Curry-USA TODAY Sports
The Disgusting Brothers era is upon us.
On a night where the Canucks made a spirited comeback only to fall to the St. Louis Blues 6-5 in overtime, normally we'd be talking about the draft implications. About the impact on Conor Bedard. About the fact that the Canucks have turned into a powerhouse to end the season, as is tradition.
But none of that matters. Not even on a night where Quinn Hughes repeatedly smashed his own records to levels of self-promotion not seen since Hulk Hogan does any of this matter.
No, what matters is that Elias Pettersson and Andrei Kuzmenko are a bonafide, A+ paper at FVU level, dynamic duo. And it's about time the rest of the league takes notice.
In a city in which the Sedins set the bar for brotherly domination, it says something that EP40 and AK96 have created the kind of buzz in this city the way they have. What started off as the usual banter of Elias Pettersson dragging someone along behind him has turned into something decidedly different.
Don't get me wrong, Elias still powers this duo, but Kuzmenko? This kid has a swagger and skill set to his game that can set the dinner table. I don't even know what that means, but it feels right. Look at your fork and tell me I'm wrong.
Elias Pettersson's two assist night puts him at 95 points on the season, a mere 5 points from 100, something JT Miller famously stalled just short of, lacking the conviction to see it through.
Andrei Kuzmenko's 68 points might pale in comparison, but his 37 goals on the season put him just three shy of 40 goals, quite an accomplishment for someone many proudly claimed wouldn't be able to figure out the NHL game.
And we can talk all day about Kuzmenko's shooting percentage (which is fair enough), but after watching him play with Elias Pettersson for almost a full season, it feels pretty clear the Canucks have something special on their hands.
They think the game the same way, they both have an incredible skill set, and they quite simply produce some of the filthiest hockey in the NHL.
Yes, folks, the Disgusting Brothers era is here, and it is glorious.
It's not often I can get an indie wrestling crossover into The Stanchies, but here we are. Aubrey was a ref at some old ECCW shows I worked at many moons ago, and sure, she's a proud Seattle fan, but that doesn't mean you have to cheer on the Blues.
For shame Aubrey, for shame. We shared a locker room together. What would the Bollywood Boyz say about this??
One, I like how Kuzmenko has done this like three times in a row, to the point where he now just speed reads through them. We've gone from "eeeeeeeeeeeeeeeeeeeeeeeeeeeeeh goalie" to a word blitz that even I couldn't match.
Two, we need to get Kumzenko to weigh in on the Great Banana Debate of 2023. Thomas Drance enjoys bananas that are blacker than the night, the kind of banana that goes down just like it goes out. I, a classy gentleman raised in Derbyshire in a house with a nice lake, enjoy a slightly green banana with the kind of firm nature normally reserved for strict English teachers.
Where does Kuzmenko land on this scale? The banana in his stall points to somewhere in the middle, but more research is needed. Patrick Johnston got to the bottom of the Collin Delia Mystery Box Scandal, this surely will be his next mountain to climb.
This guy. It was Mike.
Best Joshua of all trades
I fully admit, I gave a bit of an eye roll when I saw Dakota Joshua get promoted to the first line. Not because I don't believe in him, but because it felt very much like an old school NHL coaching tradition to promote the hard-working guy as a sort of benevolent gift. Like taking your friend to a Wendy's drive through so they can experience the nice car you own, just before you scream at them not to eat in said nice car.
That being said, I should never count out Dakota Joshua, because honestly he looked just as good on the top line as he has on the fourth line. He puts on his hard hat, starts smacking fools around, and digs up loose pucks: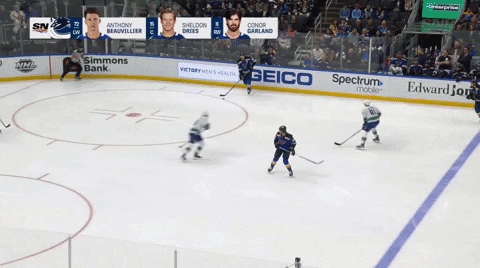 I don't know if any of the Canucks minus the top skilled players use their stick as efficiently as Joshua does. Earlier in the season I lamented the lack of stick work from the team, as they would limp along and refuse to wave their stick in the defensive zone. They'd stare blankly at the puck then look up in shock and amazement when it zipped right on by them.
But Dakota, he's active with his stick, and he comes in with speed, a combo that helps produce takeaways like the one seen above. Not only did Dakota use his stick efficiently, he is also one of the best players on the team at using his body to block out his opponent.
So to summarize, he used an active stick to stop a puck from moving along the boards, separated his check from the puck with his body, then got possession of the puck and fed the best player on the team the puck.
So yes, I can see why Rick Tocchet enjoys this fella.
I know Beauvillier looked good playing with the Disgusting Brothers earlier in the season, but that is going to be a rotating spot for the foreseeable future, and Dakota didn't look out of place on it.
Quinn Hughes' 24/7 69-ing era is finally over:
At this point Brock Boeser has turned into such a playmaker that I assume he wasn't trying to score, he was simply making a bank pass right over to Quinn Hughes.
Also, yes, kudos to Philly Delight for jumping over that puck like it was hopscotch.
Miss Lucy had a baby.
She named him Tiny Tim.
She put him in the bathtub
To see if he could swim.
Sorry, where was I?
Ah yes, Hughes, who ended the game with 3 points, smashed his season high record repeatedly, on route to an absolutely fantastic game. We talk about the Disgusting Brothers not getting their due, well add Quinn Hughes to that list as well.
It feels like so long ago that Hughes was losing battles in his own zone and not producing a ton of offense to the point people were lamenting his career choice in life. Now we have the final form of Quinn Hughes where he's notching his 72 point of the season, playing almost 30 minutes a night, being compared to some of the greatest NHL defenders, and the second he leaves the ice the other team scores.
It certainly feels like the rest of the league and national media needs to smarten up to the Quinn Hughes Experience.
Ed Jovanovski was MY GUY. He was so much fun to watch and produce offense at such a high level that he was my ride or die Canuck defender. Hell, he even went to the net harder than Tyler Myers on a chaos bender.
But Quinn Hughes has absolutely smashed him out of the water in four quick seasons.
Don't get me wrong, I'll always love Jovo for his hits alone, but offensively, nobody comes close in Canucks history to Quinn Hughes.
Hell, Quinn Hughes even keeps the puck in at the line better than Brent Sopel. Is there nothing he can't do??
Best so you're saying there's a chance
Statistically they have a tiny shot, but realistically they don't. We're purely in the "ruin your draft standings and then brag about how you're going to carry these wins over to next season even though that never happens" territory.
But with that being said, it is kind of fun to watch the Canucks high end players putting on a show: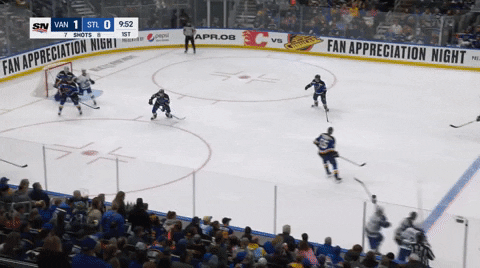 Elias Pettersson dangles behind the net and drags two players in with his bravado, then sends in the perfect no look backhanded pass to his Disgusting Brother right in the slot, and he almost completes a corporate takeover of Jordan Binnington.
Best you can't do that!
The Blues first goal was a result of Brisebois sending over a soft pass along the blue line that was easily intercepted and turned into a goal by Alexey Toropchenko, which I clearly had to check NHL.com several times for the correct spelling:
There's not much to break down on this goal except to say you can't be doing that. Your defensive partner is low and wide, and you're sending a puck towards a stationary, well covered JT Miller? Even Oliver Ekman-Larsson thinks that's a risky gambit and wants you to show some restraint there.
To Brisebois's credit, he skated back hard and got in a solid slip and slide, a nice 8 on the "weeeee" scale of fun, but if you're trying to impress Rick Tocchet this is the last way to do it.
You'd be better off slamming your head through the glass and screaming something about "teamwork makes the dream work" versus doing this kind of a pass.
Best beating the cold heavy hand of the editor
The Blues made it 2-1 after the Canucks broke down in their old zone and deployed the Bruce Boudreau structure of "wtf is going why are there so many loud noises" instead of the Rick Tocchet Full Metal Jacket system:
I will get ahead of this one and say yes, Demko probably wants a re-do on this one, but it's also a bit of a surprise to see the Canucks struggling in their own zone and getting caught with four players down low and out of position like this.
Which I guess give credit to the Blues, because their hard, fast forecheck was causing issues for the Canucks all night long.
But it also feels unnecessary to praise St. Louis for anything, so let's just head back to blaming the Canucks.
The Kuzmenkshow continued in the first period when the Canucks headed to a powerplay thanks to a, well, disgusting pass from a Disgusting Brother in EP40 to Joshua:
Elias feathered that pass through like it was a scene straight out of 50 Shades of Grey, and Joshua once again impressed with his Todd Bertuzzi one handed "get your shitty stick off of me" disdain.
The end result, a two minute powerplay that needed mere seconds to score on:
Now, I'm not quite sure the Blues penalty kill strategy of "let two Canucks set up on either side of our goalie untouched" was the wise move, but I do love the fact it continued the pseudo fake feud between Boeser and Kuzmenko on the powerplay, in which it feels like half the city wants Brock on PP1 and the other half wants Kuzmenko.
The end result? Disgusting Bro No. 2 taps in the goal after JT Miller continues his high level play and buys enough time to send in the perfect pass.
Speaking of Jimothy Timothy, he now has 75 points on the season, is back checking like a demon, and has showcased the kind of playmaking skills normally reserved for people with really nice hair. To summarize, JT Miller WAS playing like horse poop earlier in the season and people were right to call him on it, because this is the JT Miller people fell in love with.
Well maybe love is too strong of a word.
This is the JT Miller people matched with on Bumble and enjoyed their first couple of dates enough to check out his social media posts to try and see if they would keep vibing.
He is not allowed to go back to his home planet.
Best final destination
The captaincy, to be clear. That is the final destination. Not a scenario in which fate has decided EP40's death which he narrowly escapes and then spends the next two hours with Devon Sawa trying to avoid death cashing in.
That would be like Jim Benning want to draft a player based off of a small sample size of the World Juniors, which as we know, would never happen. Just doesn't happen in the NHL like that, no sir Bob.
But I will say that Dakota Joshua did impress me a lot in this game. Loose pucks are his kink, as that is the only way to explain why he is always going so hard after them:
Not only does he once again use his stick perfectly, but he once again then uses body position to block his opponent out. He then drops a nice pass to Disgusting Brother 96, then finishes off the play by going hard to the crease and almost dragging a puck around Binnington.
I don't care who you are, or what elite linemates you're playing with, that's a shift you can be proud of.
Leddy just got caught up in thinking about those old Chicago days:
That's the same effort I give in beer league when I want to preserve all of my energy for an offensive shift in which I won't score but my teammates will take pity on me and tell me "good effort!" when I get back to the bench. This is always followed by a tap on my knee.
Somehow tapping my knee is the "send" button of positive reinforcement in hockey.
Best things you'd never hear at the start of the season
"JT Miller back checking hard", "Tyler Myers playing with purpose" and "OEL almost looks too fast out there" are some of the things you just didn't hear a whole lot of earlier in the season.
Well, take JT Miller of that list because Rip Wheeler isn't making soft changes anymore, he's getting back into plays and providing better zone coverage than UBC WiFi:
Honestly, early season JT Miller sees Joshua coming in on the third man and he's already peeling off to the bench or skating back to the offensive zone envisioning the breakaway pass coming his way.
Mrs. Doubtfire JT Miller, the one who's learned life lessons and doesn't want to lose his family top line status, he skates back hard just in case Dakota makes the worst check attempt of his life, which he does. For all the praise I gave Dakota watch that check attempt and try and balance the two in your mind. It's hard to do.
Old JT would have watched a high danger shot in the slot. New JT Miller is there to lift the stick, and ergo his team, and absolutely ethers a high danger shot.
Throw in a shot block and John Tortorella would have lost his god damn mind over this chain of events.
The Blues got their third goal of the night off of a turnover: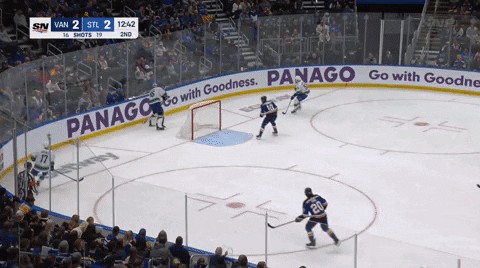 Demko rushes the puck along the boards, and Brock Boeser is so worried thinking about if he could, that he didn't bother thinking if he should, and all of a sudden Brock's sad little pass is taken by Brandon Saad, who finds a wide open Jakub Varana.
Was this Demko's best game of the season? Of course not. His play has been at such a high level lately though that it's pretty easy to give him the benefit of the doubt on this night, however.
Best picture worth a thousand words
How did Kyle Burroughs get covered in red wine?
Because when you take liberties with someone in Langley, you best know they've got a family member waiting to kick your ass.
Luke Schenn was incredible here, but Kyle Burroughs has clearly stepped up in his absence and provided exactly what people expected from him.
Plus he also can never shave off that moustache because there's something extra special about someone throwing hands with that duster on their face.
Best Demko destruction continues
The Blues made it four goals on the powerplay when Robert Thomas, who is not crazy and is just a little unwell, placed a shot low short side on Demko:
The Canucks penalty killing has been far better as of late, so we don't really need to beat up on it right now, but if you want to, sure, have a go at it. Let's blame Nils Aman. Does that work? OK that works.
Nils Aman let the Canucks down with his atrocious positioning. Look at him dragging his knee like he's proposing to failure and making that commitment for life, what are we even doing here??
The Blues then made it 5-2 after they moved the puck down the ice with such ease I could have sworn they were playing against the Coquitlam Express:
The worst part is that Elias Pettersson is the one who loses the assignment, as he not only can't stop the east/west pass, but he then loses Pavel Buchnevich in a race to the net for the tap in.
Normally we would yell at the player who failed twice on one play, a good old fashioned JT Miller tongue lashing as it were, but it's Elias. Disgusting Brothers get the benefit of the doubt, and how couldn't they, they make high power moves all the time, you have to expect a few eggs to get cracked along the way.
The Blues really did have the Canucks on their heels and it is impressive Vancouver came back in this one:
This easily could have been a 6-2 game were it not for this timely save from Demko, aka the Grant Fuhr save that you point to after your team wins 19-18.
To the Canucks credit, they didn't quit, and they kept generating chances:
Jordan Binnington deserves no credit, but you know that, that was a pretty fun looking save.
Best mounting the come back
The Quinn Hughes Experience continued in the third period when the Canucks got their second power play of the game:
Quinn walked the line like a young Nolan Baumgartner, almost telling Robert Thomas that words are only words, so can he show him something else?
But before Thomas responds by literally skating away in terror, only to watch Hughes unleash a dapper slapper clapper that Boeser gets a tip on as the eternal struggle between him and Kuzmenko continues.
The Canucks have turned into a fun team to watch, they really have. You just have to ignore the whole "is there actual a feasible long term plan here?" aspect of it all. Just treat it like one of your failed relationships, give it your all even though all the signs point to it failing, then get therapy when it's over.
JT Miller's slick passing was on display all game, but my favorite pass was this one where he found Boeser with the perfect pass in motion:
Making up for his earlier transgression on the worst checking attempt of the season, Dakota Joshua once again got back to using his stick to separate fools from their money and their pucks, ending with him putting the puck up on Craigslist, $20 OBO:
JT Miller also found himself dragging the puck to the net and trying the old fashioned "eff you" scoring attempt on Binnington:
All of which is to say the Canucks didn't fold in this game. Which in a vacuum is fantastic stuff. Just don't open that vacuum.
Best can't always be right
Hronek for the most part has been fantastic. But even he was prone to making mistakes on the night:
He fed a pass along the boards that got intercepted, and give him credit for getting back and absolutely shutting that rush down, but then followed that up with another turnover that led to a zone entry and scoring chance.
Pobody's nerfect.
The Quinn Hughes Experience often mesmerizes people and leads to teams taking penalties:
Hughes feeds Garland perfectly there, and Connor even gets into perfect mini-stick hockey form to get the shot off, but Binnington denies them.
The Canucks then, as is tradition, watched as Boeser and Kuzmenkshow traded chances on the powerplay in their weird Highlander battle of there can be only one on the first unit PP:
Best Disgusting Brothers at it again
I'm sorry, but this is just filthy and r-rated:
Things to note:
Tyler Myers needs to be a net front guy on a powerplay unit. His size alone naturally draws attention, but the fact he's a chaotic giraffe that might snap at any second? It puts people on edge. Watch as him driving the net draws the attention of two Blues players.
Kuzmenko and EP40 are doing Sedin level stuff here. The shared brain on this goal is incredible. There is no hesitation from Kuzmenko once he dishes it off to Elias, and Elias without a doubt knows where that puck is going the second he gets it. These two guys finish each others sandwiches. It is one of the most fun duos in the entire league, and with Kuzmenko's personality being so different from Elias Petterssons, it's clear a Perfect Strangers reboot needs to be put in the works.
I'll give 85% of you time to google "Perfect Strangers" before we move on, which surprisingly is not an 80's horror movie.
Best keep these statements coming
Best we all saw it coming
End of season Canucks are a beast, we know this. We knew this game was going to be tied up:
Quinn Hughes shot deflects in off of a Blues skate and baby, you've got a tie game stew going.
Again, a very fun hockey team if you forget about the emotional damage they're doing by winning meaningless games.
Yes.
Best of times, worst of times
The Canucks skated Quinn Hughes to the point of his skates falling apart, and in the five seconds Tyler Myers had to cover for him, this happened: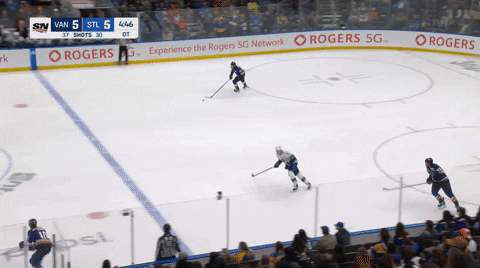 Tyler Myers reads sometimes are just outrageous. I have no idea why "let a skater get behind you and ignore him" was his go to plan on this play, but here we are. I am guessing maybe he thought JT Miller was going to switch off? Or bees? I don't know.
The end result is that Tyler Myers probably shouldn't be on a 3 on 3 overtime at any point anyways, as that doesn't seem to fit his chaotic giraffe wheelhouse.
And that was the ball game. A fun night of hockey but ultimately a draft hurting, meaningless game as we await the death of another season.
I will say that it's nice to watch the Canucks elite players go down swinging, at least. There is something nice to be had in watching the Canucks core players all step up and play such high level hockey.
But as for how much that carries over to next season, well, we've been down this road before.