The Stanchies: Delia's big night, Bogilny's pair of goals, and the Connor McDavid tantrum
Photo credit:© Perry Nelson-USA TODAY Sports
Hey there, Delia
What's it like in Edmonton city? I'm a thousand miles away But, boy, tonight you play so pretty Yes, you do West Edmonton Mall can't shine as bright as you I swear, it's true
Hey there, Delia
Don't you worry about the distance Pettersson's right there if you get lonely Give this song another listen Close your eyes Listen to his voice, it's his disguise He's by your side
Oh, it's a goalie controversy
Oh, it's a goalie controversy Oh, it's a goalie controversy Oh, it's a goalie controversy Goalie controversy
The Vancouver Canucks continued their up-and-down season, this time in the form of a 5-2 road win in Edmonton. Which I guess shouldn't come as much of a surprise because we know Vancouver gains 45% more strength on the road, and NHL rules dictate you add an extra 15% when you play a relatively unknown goaltender. These are simply the rules of hockey. I don't attempt to understand them, I just follow them.
The game actually started off like the last three outings, with the Canucks looking out-matched against a more organized opponent, to the point that you resigned yourself to the fact it was going to take another baby hockey Jesus miracle from Elias Pettersson to eke out a win.
But hockey is a hell of a drug, and throw in a lucky bounce here or there, and sometimes these dang teams get a bit of that momentum going their way. One innocuous shot from JT Miller, and suddenly the Canucks found another gear to their game. What started out as another rough outing turned into one of the Canucks' finest defensive third period performances of the year.
Granted, this was almost marred by the heinous actions of Curtis Lazar, an incident we will dive into at length, but more on that later.
In fact, I need a moment to collect myself because I'm still outraged over the absolute clown-show garbage Curtis attempted in this game. You should make yourself some Bengal Spice tea and find your Zen spot, because you're going to need it.
Aside from the actions of #20, however, there was a lot to like about this game. Collin Delia has once again prompted the time-honoured tradition of causing a goalie controversy in Vancouver. Elias Pettersson, although he didn't get five points, still played at an elite level and absolutely dominated the game whenever he was on the ice. Bo Horvat stat chased himself to another couple of goals, and JT Miller also snagged a pair of goals himself. And just so Toronto could have another round of "Did we make a mistake on Ilya?", Mikheyev popped in a goal as well. Quinn Hughes was also a central factor in the third period shutdown and had probably one of his best sneaky good games in a while.
All of this despite the fact Hughes and Pettersson both fell on the ice at points in the game. Wonders never cease.
The end result? Vancouver remains an enigma wrapped in a riddle in the middle, a team that can be both terrible and great in the same season, and in the same game. Who knows where this ride ends this season, but what I do know is I need to make some gif money for some last-minute holiday shopping.
Let's go!
Now that Spencer Martin has enjoyed a sample of the full Eddie Lack routine of being played into the ground, Collin Delia got his chance to shine on the end of a back-to-back game. And if Friday night was any indication, he might have loosened Spencer's death grip on starting every game just a smidge: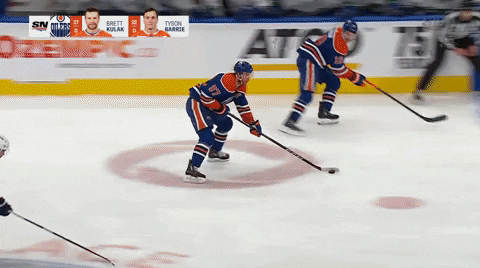 What I like about Delia is his style isn't 100% robot-sent-from-the-future-to-save-John-Connor. I understand goaltending has swung wildly from "put your younger brother in net and tape some cardboard to his legs" to "elite machines that Ian Clark implants with the optimal save routines on every shot", but I grew up watching Dominik Hasek rule the world in a style we will never see again. No one is ever going to sit a goalie down and say "Okay, look, it's great that you rocked that reverse VH, but did you think about maybe cartwheeling to your left and then throwing your right foot up behind your head to stop the puck?"
The era of "go with your gut" goaltending and relying on quick reflexes is somewhat behind us, which is both good and bad. Good in that you can plug and play more goalies in today's NHL as collectively they all play a smarter, more efficient style. Good in that for every Dom Hasek-style goalie there were 30 Dan Cloutier goaltenders who were wildly inconsistent.
Bad, though, in that I miss watching goalies make weird saves, and fling their bodies in the John Garrett desperado style. And not just on attempting to make a huge save, sometimes Bill Ranford would straight up drop kick the puck on a shoot in. If you want to know true fear, watch old video of Kirk McLean trying to stop a wraparound attempt.
I say all of this because Delia, although still very much a modern NHL goalie, has a bit of swagger to his game. If Thatcher Demko has the bare minimum 15 pieces of flair on his uniform, Delia has 37 pieces of flair. He truly wants to express himself.
Which is why I want more of Collin making glove saves where he juggles the puck while making a Time Cop split save animation. His glove hand wasn't sitting up high, waiting efficiently for the puck, it was down low like Doc Holliday, ready to draw in dramatic fashion should he be needed.
I truly miss the days of chaotic goaltending sometimes.
Luke Schenn's chase for 3000 hits continues, and although it stalled at four hits on the night (bringing him to within 8 hits of getting 3000), perhaps he slowed down after getting penalized for, well, body-checking somebody: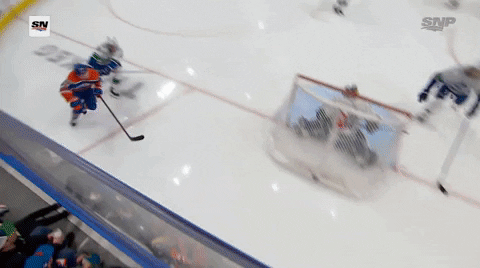 It was called elbowing, which I guess technically it was, as his elbow and arm led into the chest of Kailer Yamamoto. You can see Schenn watch the replay and shrug it off because he knows the burden of being too much man in today's NHL is much like carrying the one ring that rules them all. A tiring task, but somebody has to do it.
Best using up precious oil to gas towards a quick start
The Canucks relied heavily on Delia early on, as a couple of power plays and generally being the better team led to the Oilers with a distinct shot advantage: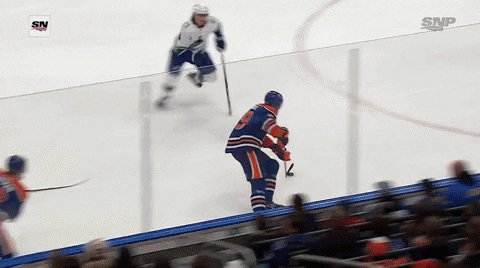 See, Delia is still a very well-trained NHL goalie, but you can see glimpses of flair in his game. A little leg shimmy here and there, a little casual twist of the body when nobodies looking. Either way, he kept the puck out, and that's all that matters.
Just never go full Roman Čechmánek. That's all you have to remember. Or full Patrick Lalime vs the Leafs. Those are two boundaries you must keep.
Best hit them with your best shot
There is a sick joy I take in watching the Canucks get their first shot of the game after being dominated in the early goings: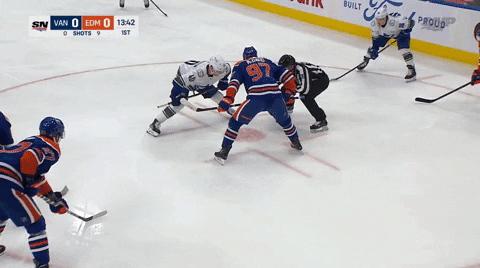 See, if that's Andy Moog, he flies backwards like a truck hit him, and then he snow angels in the crease to cover up the puck.
It was just a different time, man.
One of the major issues this season for the Canucks has been their inability to handle counterattacks. You will find a barrage of clips of them entering the offensive zone only to lose the puck and watch the play turn into an odd-man rush against.
In this clip, Lane Pederson gets caught napping and allows his check to skate right in on Delia all alone:
Which if you pause that clip, you can see they're in good shape most of the way, until Lane gets caught flat-footed. He turns around to slowly skate backwards until he realizes Darnell Nurse is actually trying hard to score, even though they both have to work in the morning. Luckily Darnell Nurse doesn't fall to the ice with an injury on the play when Quinn Hughes blatantly hits his stick, but small miracles do happen in sports.
This is the sort of thing that has happened all season long, though, and is one of the prime reasons people keep screaming words like "structure" and "defensive integrity" and "why are you hurting me like this" when watching this team.
Best high danger chances now up to __ in the first period
The bad news is the Canucks got out-chanced 11-5 in high danger chances, but the good news is the Oilers got most of them out of the way in the first period.
The ugly news is that the Oilers scored on one of them, and this might surprise you, but it occurred on a counterattack: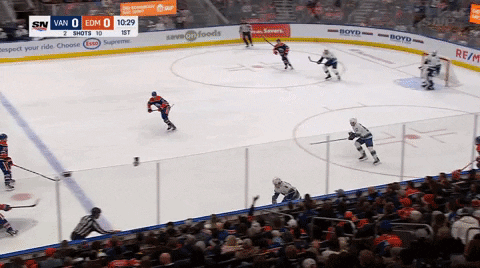 The Canucks rush in, Ilya Mikheyev throws a blind pass towards the front of the net, and the Oilers quickly turn it around into a Derek Ryan breakaway. What you can't see on that replay is Luke Schenn jumping up into the offensive zone, and getting caught as a result of the quick turnaround.
Which is a bit surprising for Schenn, as he has played a relatively solid and stable game this season, however the last week or two have seen a dip in his game. November Luke Schenn never makes that mistake. He starts skating towards his goalie the second there is a hint of a turnover in the offensive zone.
December Luke Schenn though? He's a real son of a gun. He likes and then unlikes you your tweet, then leaves you on read for two weeks at a time. Then responds to you misspelling your name and then simply saying "Lol" when you point it out.
December Luke Schenn is not to be trusted.
I do want to give props to Derek Ryan however, as that is a slick little goal right there:
Delia even goes full Roberto Luongo on the goal and falls forward on the save attempt, showing he respects hockey history.
Nobody plays a safer, self-aware game like Bowman. If Luke Schenn isn't thinking 'What would Bowman do?" on any given play, he's already in trouble.
Best the beatings will continue until morale improves
You know when you play Street Fighter against someone who is just simply better than you at everything, and every attempt you make to beat them ends with them destroying you?
That's kind of what the Canucks look like when they get countered to death.
On this latest counter-attack, the Canucks finally win a puck battle and recover possession, only for Bo Horvat to go full Zach Wilson and throw up an interception on the slant pass to Ilya Mikheyev: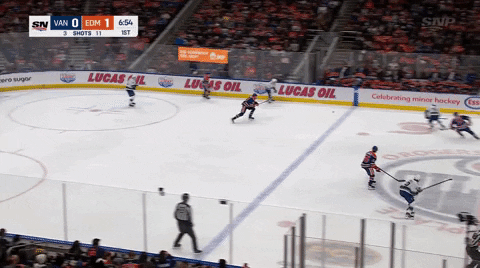 That's the kind of play Quads makes in Madden with under two minutes left, but then he blames losing the game on a fumble.
The Canucks, however, were saved by the linesman calling the play dead, but it's yet another example of the Canucks just getting blitzed with odd-man rushes on mistakes they're mostly causing themselves.
The self-described most dangerous shot from John Garrett of the period was this absolute humdinger of a shot: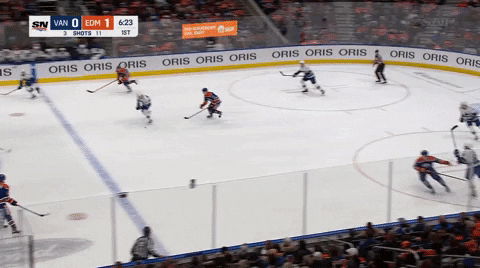 And he wasn't wrong. That was the most lethal-looking shot from the Canucks in the first period.
Which maybe you're laughing right now. Maybe you're thinking "oh man, that was a pretty bad shot, that's kind of pathetic."
But what if I told you it was all a long con designed to trick Stuart Skinner aka Armin Tamzarian, into a false sense of security? And that when he least expected it, JT Miller would unleash….the shot.
Ah forget it, that's just crazy talk.
Look, I understand when you watch your team being unable to produce offence, your first instinct is to demand they up their shot count, and plays like this infuriate you:
But The Kuzmenkshow knows what he's doing. He knows he's playing with the hockey equivalent of Ryback (I am so incredibly sorry I made that reference, buyer's remorse kicked in right away), so he needs to feed him more.
He knows even if he flings the puck at Elias and Pettersson ends up in the corner, #40 still has better odds of scoring bar down and in than of Kuzmenko tapping in an empty netter.
So if there is one time you do not scream shoot, it's when someone tries to pass to EP40. This is, and always will be, the correct move.
The Canucks went down 2-0 when they gave up a last second goal after a series of mistakes and misadventures led to a Connor McDavid goal, which sounds a lot more fun than it was: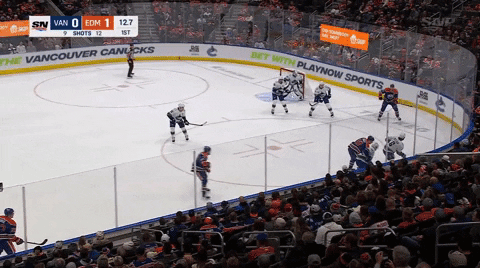 The goal reads like an episode of Criminal Minds where you think it's going to be a lighter subject matter, but upon closer inspection is about the darkest parts of humanity.
The first mistake is on Oliver Ekman-Larsson, who has two plays he does in his own zone:
Shoot the puck around the boards
Pass the puck around the boards
In this case, his shot around the boards is cut off, which is where mistake number two happens.
Board support from Bo Horvat. Instead of giving a strong outlet for OEL, Horvat takes his time going to the boards, and as a result, the puck gets knocked down without any pressure from the Canucks forward. This sends the puck back towards OEL, who at this point is confused because he's already done his one move in his own zone, and watches as the puck gets thrown over to Hyman beside the net.
At this point, Brock Boeser, who had his passport and was already flying out of the zone, has to circle back and cover Hyman. To his credit, he does a decent job of it, and angles Hyman to the left of Delia.
At this point, Tyler Myers has a choice to make, which is cover the front of the net and in turn, Connor McDavid, or try and double team Hyman for reasons. Bees?
Chaos Giraffe isn't about tactics, though, he just rolls a dice and goes for it, so when he commits to blocking the passing lane, he commits to it: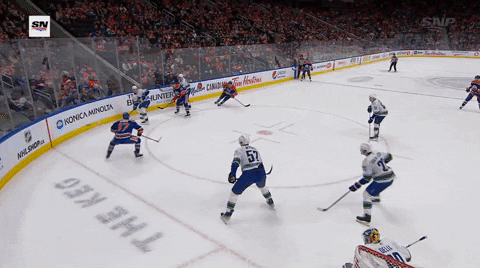 CG57 slides over and drops to his hands to block as much of the passing lane as he can, but Hyman still squeezes it through.
Which leads us back to Bo Horvat, who doesn't skate in hard enough to cover a now-open McDavid, who pops in the empty netter.
It's like How to get away with Murder, except with way more suspects, and oddly Connor Walsh is still involved.
The beauty of goals like this is you get into lengthy debates about who is most at fault, and who didn't cover whom, etc. Sometimes friends you went to high school with DM you on Twitter to tell you you're wrong. It gets pretty intense.
In reality, hockey is a fast game, and it's a balance between sticking with and trusting your systems, and also being able to react and take charge when things fall apart.
Currently the Canucks are failing in both regards, so you just spend most of your night angrily mumbling and wondering why everything looks so bad.
It's also why Elias Pettersson is so incredibly good at hockey because when the fires start happening on the ice, and you have to rely on quick instincts and anticipation, no one is better at putting out flames than Elias. The ability to think hockey quickly at the highest levels is the biggest difference maker between good players and great players.
Oh how we laughed at that terrible shot in the first period from the Canucks.
Well, who's laughing now, Chuckles?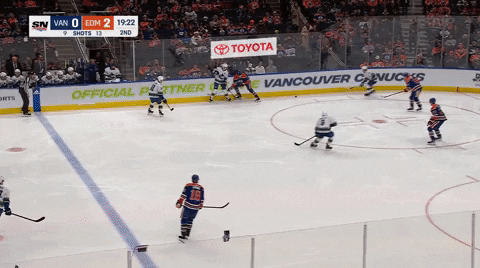 JT Miller took a rather innocent-looking shot from the slot, and in true EA Sports fashion, weird puck physics kicked in and before you knew it, the Canucks had scored their first goal of the game.
I enjoy moments like this because there is nothing to break down, you simply say "JT Miller took a shot. Okay. That was it," and move on with your life.
The last time I had this much fun with a random bounce was when Tommy Salo had himself an oopsie against Belarus:
Also full credit to the cameraman for zooming in on Skinner in an attempt to see his emotional state after letting in that clunker. Was he mad? Sad? Confused? Did The Smiths ring in his ears? Oh Mother…I can feel the puck falling over my head.
Momentum is the ghost of the NHL, something everyone claims to see, but nobody is quite sure what it actually is or what it looks like. But we all know it exists, damn it, which is why when that JT Miller goal got the Canucks going, we all knowingly nodded our heads.
Brock Boeser, he of the endless trade rumours, chose to bet on himself over Bo Horvat, who clearly has enough goals on the season already: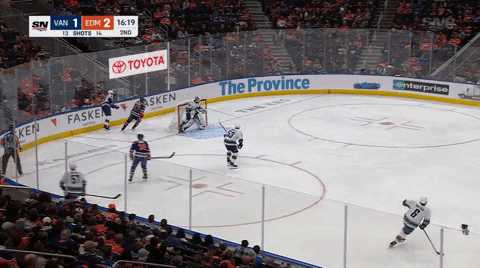 I'm a fan of Brock taking that shot because 1) it wasn't a two-on-one with Elias, and 2) he needs to be firing the puck more. For a kid that broke into the league shooting the lights out and threatening to be a 30-goal scorer, he needs to summon his inner Tyler Toffoli and unleash the beast more often.
He got off a wicked shot earlier in the period that also just missed the net:

This is the Brock we want to see, the Brock that takes you to suplex city and beats up John Cena for 30 minutes.
Best there's a hole in your bucket
Despite that momentum, the Canucks were still giving up good looks in the second period.
On this play Riley Stillman straight up loses a foot race despite Luke Schenn pointing at him and urging him to skate faster: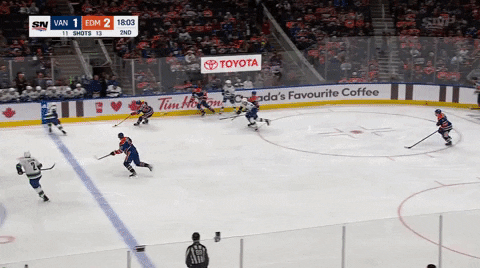 Ryan Nugent-Hopkins gets off a great shot, but you know what he doesn't anticipate? Collin Delia going full Frank Caprice, bringing the business in the front, but the party in the back, with the diving blocker save.
Sure, you could slide to your right and stand straight up, back stiff as an arrow. Or you could do a diving punching blocker save to let the Oilers know that you're crazy and that they have no idea what you're going to do at any given moment.
Best standing on his head
He didn't literally stand on his head, but if anyone is going to do that on this team, it would be Collin: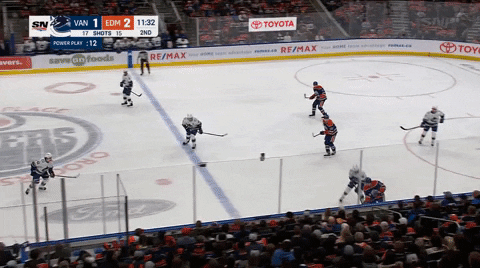 Quinn Hughes gets walked around the boards and Ryan Nugent-Hopkins, who is clearly at this point confused and frightened of a diving blocker save, tries to go glove on Delia.
Unfortunately for him, Delia busts out his "Two squats and a glove" technique, and RNH is left goalless. RNH now has to ponder his life choices and at this point he assumes a diving pad stack save is in his future, so why bother ever shooting again? Does he really want to be on YouTube forever, with Delia mocking him with a two-stacker? Clearly not.
These are the head games Delia is playing with. This is the level he goes to.
Best these boots are made for walking
OEL took a turn getting walked when Ryan McLeod, the man with the most serious eyebrows in hockey, skates right behind only to suffer the same fate as Nugent-Hopkins did: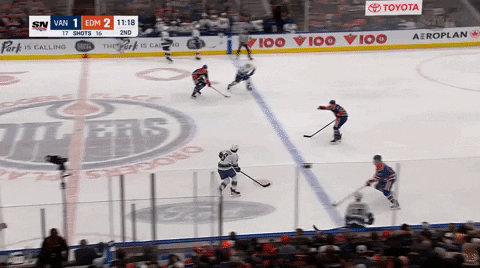 OEL has looked rough this season, I think we can all admit that. If he isn't giving up two miles worth of space to make sure he doesn't get skated by, he is standing still, getting skated by. It's hard to imagine that he can turn things around to a large degree at this point in his career, but it is what it is at this point.
Then Zack Hyman went full NASCAR for a shift, only to discover that the Canucks actually tracked him really well, so he ends up taking a soft shot that is, quite frankly, an insult to Delia at this point: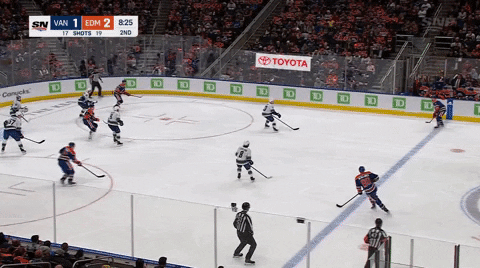 The Canucks got penalized after Darnell Nurse flew through the air like Bobby Orr while trying to win a puck battle with Lane Pederson: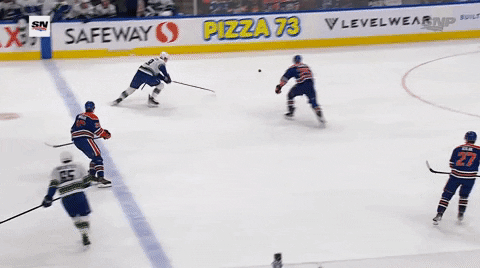 Why was this a penalty? Bees.
Best I know times are gettin' hard
The Oilers' best chance to re-establish their two-goal lead came on that Pederson penalty, except guess what:
Collin Effin' Delia was there to make the save. Who needs to stick to your posts and stand upright when you can get low and flash the leather like a young Gary Bromley?
That's another joyful thing about goalies who are a bit loose. When a technical genius like Thatcher Demko gets beaten, you feel like the computer coding let you down. It's like you're playing Warzone and you get a dev crash, and you just get mad that they couldn't do a better job of programming it better.
When a desperado goalie gets beaten on goals, you can chalk it up to bad luck, hockey gods, or a lack of natural talent. Worst case scenario, you use Grant Fuhr logic and simply applaud the goalie for the last save they made in a win.
It's a more exciting way of life, really. Goalies who lose in big games "didn't want it enough" and goalies who win in big games are "clutch".
Best crushing the competition
OEL has that Alex Edler in him where once a month he unleashes a giant hit, just to remind you he could obliterate people if he wanted to: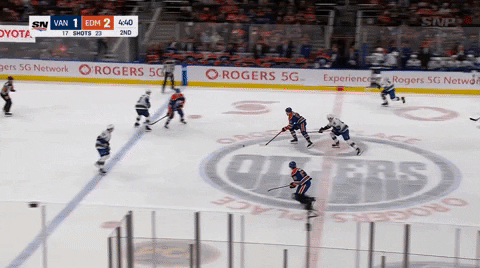 Best grown man expressing himself in a child-like manner
Okay so let's walk you through this sequence of events.
First up we have Connor McDavid on the penalty kill. He tends to be a good player, or so I hear, so it's not shocking he gets a breakaway out of it.
He attempts to score but when he leans in on Quinn Hughes to body pass him, he doesn't actually shoulder check like Dakota Joshua would have, and ends up leaning into thin air: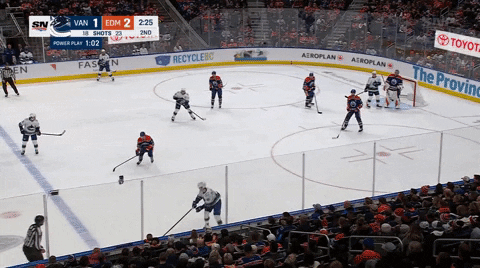 Quinn leans down on his shoulder to help McDavid spin out a little bit, but Connor was falling well before that. It's actually a solid non-call.
Except Connor takes umbrage with this and turns to express his displeasure with the official, leading to him kicking out a leg and tumbling to the ice: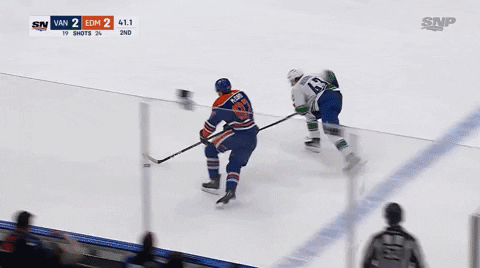 This is objectively funny and I assure you if any Canuck had complained to a referee and fallen to the ice in a similar fashion, I would have chortled just as loud. There is something amusing about seeing tantrums turning into full-on Ric Flair face flops: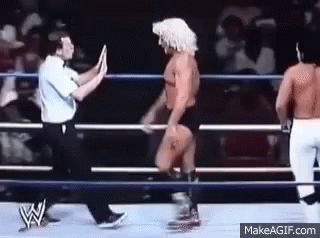 All of which resulted in the Canucks continuing their power play and JT Miller going full Rip Wheeler by taking Skinner to the train station: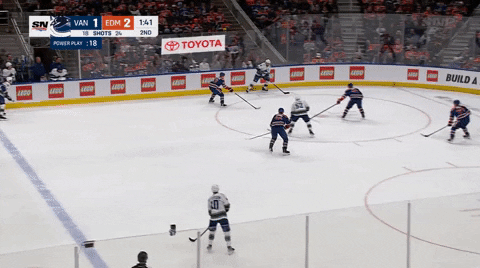 The thing that stood out on this power play was the compete level from the Canucks, which I know sounds like the beginning of a terrible team motto, but hear me out. The Canucks won a lot of battles for the puck, to the point where they prevent around five chances from the Oilers clearing the puck. They lifted sticks, they got into proper positions, they battled on the boards, and they kept moving the puck around the entire time. Basically they exhausted an Oilers team that was already tired from having to change Connor McDavid.
Even a broken stick from Alex Edler Oliver Ekman-Larsson was turned into more puck possession, with every single Canuck player on the ice contributing at one point or another.
So yes, the play ended with JT Miller banking in the Kuzmenko special off of a perfect Petey pass, but the entire power play should get credit for the goal.
Worst case of sportsmanship in NHL history
The NHL is littered with acts of physical violence that still resonate with shame to this very day. Even then, I am not sure they come anywhere close to what Curtis Lazar unleashed at the end of the second period on an unsuspecting Connor McDavid: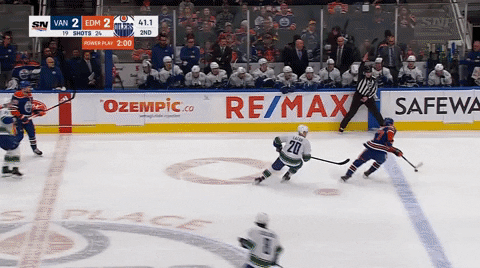 In what was clearly not an attempt at a make-up call, the NHL officials rightfully called Lazar out for slashing the star of the league, because if they don't protect Connor, who will?
Luckily McDavid was able to continue in the game, but you'd have to think the league will follow this up with an in-person hearing. Just absolutely classless move from Curtis Lazar for grazing the stick and/or gloved hand of McDavid.
How do you explain this to your kids in the morning? How do you look them in the eyes and tell them this is what their hero Curtis Lazar did last night?
Horrible.
Sometimes when you're so good, you can actually dangle people out of their hockey gear: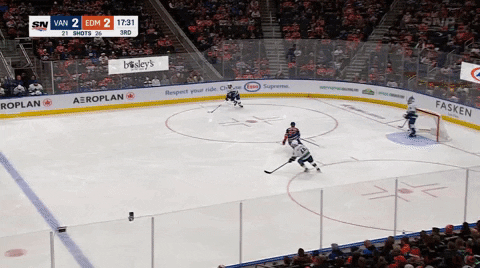 I'm not positive, but I think a jock strap also flew off during that Elias Pettersson deke.
The Canucks got a pretty good chance at scoring when Jack Studnicka got a 360 no scope pass from the safest passer in the league, Dakota Joshua: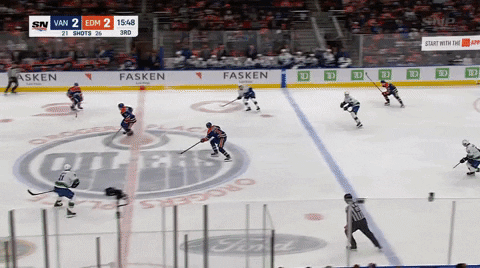 This is notable because it shows the Oilers starting to overload covering one person, the truest sign your team is starting to get the panics.
There is a reason you will see Elias Pettersson clips in his own zone doing nice things, and awkwardly absent from said clips are Horvat and JT Miller. It's because Elias Pettersson is always putting himself in position to make a play on the puck, even if it means grabbing it out of the air and completing a pass like Jay Cutler in his prime: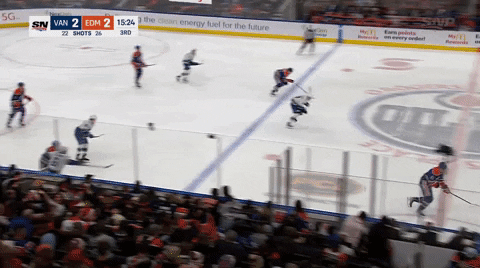 We have to acknowledge how badly Luke Schenn got walked on that play, because I can praise him for hits every day of the week, but we have to be truthful about December Schenn: He's a bit of a jerk. He's the kind of guy who borrows your car and returns it with no gas.
That being said, don't forget to marvel at Delia making another save in the slot, who at this point has already become so locked in during this game that we now find his high-danger saves kind of boring.
Give the Canucks all the credit in the world, because, their third period? It might have been the best of the season.
They tightened up in their own zone, they shut down every rush attempt the Oilers took at them, and they got rid of the turnovers.
Quite frankly, it was a very impressive 20 minutes of hockey. Want some examples? Does a bear gif in the woods?
In the first clip, you will see Edmonton enter the zone. Already they are confused as to why they weren't able to counterattack with an odd-man rush, and were upset they had to "work for it".
They get the puck in the zone, look around and wait for the Canucks to scramble, but there are no open lanes. The Canucks are tight and covering their men and offering up no free space. The end result? Quinn Hughes intercepts the puck and finds EP40 for the counter rush: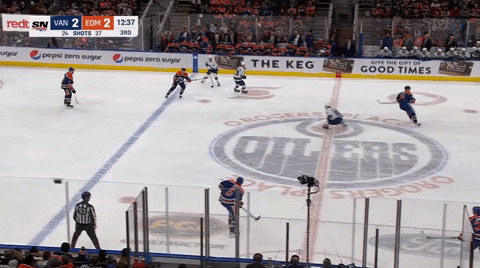 Yes, the Oilers had their Nelson Muntz moment of laughing in the mirror and finally knowing what it felt like to drink their own medicine.
The Oilers would gamely try again mere seconds later, except something odd happened: The Canucks didn't start weeping and breaking down the second the Oilers did a crisscross in Vancouver's zone. Instead, the Canucks each took a man, then swapped off during the crisscross: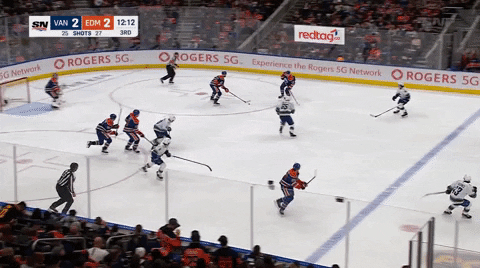 The end result: The Oilers had no open man to pass to. Suddenly hockey becomes a lot harder when you don't have a trailing man wildly open. So they force a pass and guess who, Quinn Hughes snakes the puck and ends the rush.
Even Tyler Myers stepped up his game in the most chaotic way possible, by slipping and sliding perfectly to shut down another Oilers rush: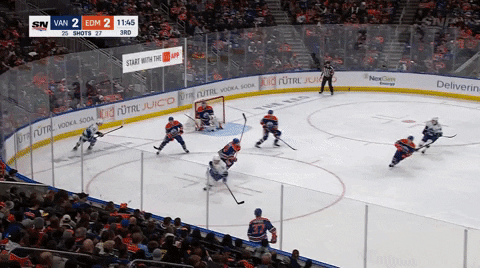 Is there a bit of luck involved with Tyler Myers' successful slip and slide? Of course. Sports is made up of more luck than people would like to believe, and the rest we just assign to momentum.
But the point is this chaotic energy from Tyler Myers works much better when he's sliding towards his own check and not leaving somebody open. Even the risks the Canucks took in the third period were safer.
As a result, Edmonton suddenly realized they might actually have to work for their goals.
Watch Elias Pettersson go full Moses on the ice and part the orange and blue sea: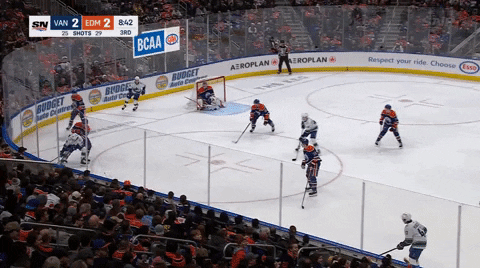 I feel that at this point they assume Petey can find anyone open with a perfect pass, so they panic the second he has the puck by backing off and trying to find an open man to cover. EP40 sees them backing off, so he just steps up and unleashes the Gretzky clapper, which just misses wide.
That overloading of one player, that covering one guy with multiple defenders? That's Canucks 101 right there, and now Vancouver was making Edmonton play that way.
That is the sign you have a team on their heels.
The Canucks finally took the lead in the third period when Bo Horvat did a mutated version of the Michigan, the kind of goal I would score in beer league and without the benefit of replay, would promise Dane that I indeed pulled the Michigan off.
"Bro I put it on my stick and pulled it up and in, it was sick."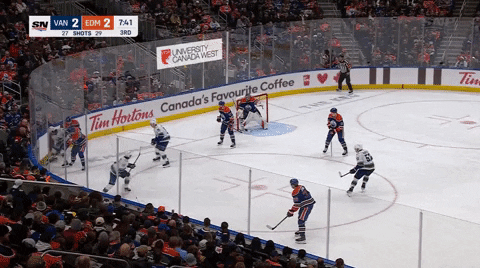 That's the kind of save Roberto Luongo makes in the playoffs that Tim Thomas can't.
That's the kind of save Collin Delia makes in his sleep that Stuart Skinner can't. Collin drops a two-paddy stack there so quickly it would make your head spin.
He's built different.
Once again the Oilers pushed forward, and once again they were repelled:
The main takeaway from that clip should be the lack of space the Oilers have, and even when they get the puck to a dangerous spot, the Canucks collapse quickly and make the safe play to get the puck out.
The Oilers tried to get in behind the Canucks to no avail, as Vancouver did the strange thing of picking up loose checks and switching off defenders properly and you know what, it was all very weird to witness: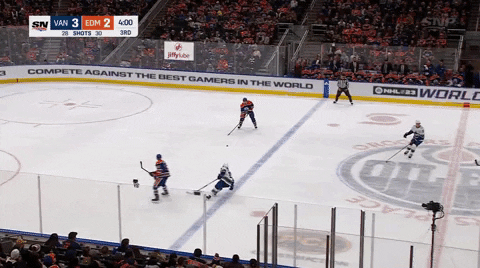 This was such a joy of a period to watch compared to many of the games we have seen this season.
Best but how does this affect the Toronto Maple Leafs?
Ilya Mikheyev effectively ended the game by pulling off a Bumpin' Bo goal on a pass from Bumpin' Bo: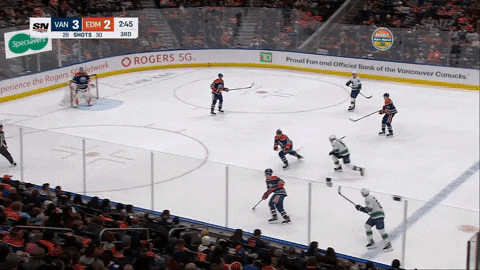 Who else but Bo would know the efficient power of getting a shot off in the bumper spot?
Look at this goal, look at how glorious this is: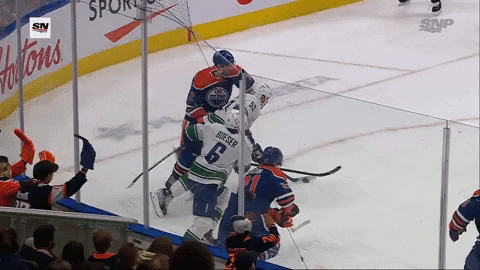 Skinner hasn't even started his glove save animation before the puck is even in.
The Canucks stepped up huge in the third period.
Yes, the Canucks played great, but can we talk about Conor Garland being selfish at Christmas?
Not just once icing the puck while going for glory: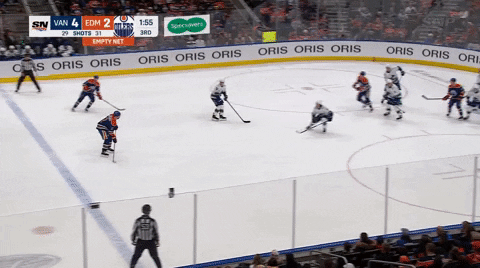 But two icings going for glory: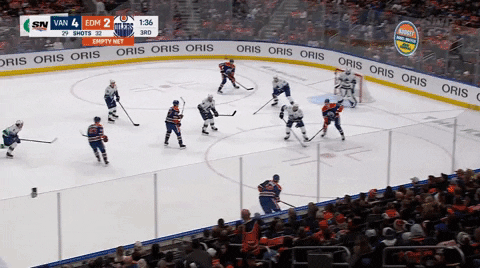 The casual nature of that backhand shot attempt is almost as upsetting as a Curtis Lazar slash.
Someone is getting coal in their stocking this year.
Edmonton playing Holiday was the final nail in the coffin, but give credit to Bo Horvat for knowing how to score on an empty net: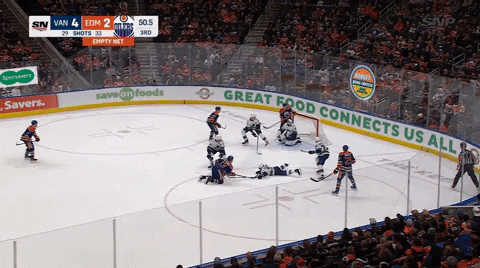 I just know that Tanner Pearson was watching somewhere in the back, looking like Fortune clapping for Rudy three times. No more, no less.
That would mark a four point night for Bo Horvat, which I guess is good, but it's not as good as a five point night.
Still, good try though?
Big night regardless for Horvat and Miller who have come under fire as of late for their production and their motives in life (those darn stat chasers).
Which to be fair, Bo Horvat has had the body language of someone being forced to babysit their siblings on a Friday as of late, but the end result is still the same: Bo came up huge for the Canucks on a night in which they needed their best players to be their best players.
You're officially a Vancouver Canuck now Collin. Welcome.
It's a very internet thing to just post a card and be like "Well this card says this player was awesome and this one sucked" and for people to nod gravely and accept it as science. I'm not saying they aren't making salient points or are incorrect, but they do tend to set up a wall in discussion where if you try debating anything, people point to the sign like the bus driver on The Simpsons.
But that being said, this card lines up pretty well with the eye test, even if it feels like it undersold Elias. December Schenn is a monster, he's basically the Winter Soldier at this point, turning against everything he once believed in.
Bo Horvat was basically Captain America in this game, and although he was hurt by December Schenn's actions, he still believes in him and considers him a friend.
You cannot argue with a card, damn it. It's law on the internet.
That being said, who needs stupid cards when you have real science in the DAWG ratings:
Top DAWGS:
Horvat – 97.60
Pederson – 96.69
Joshua – 84.21
Mid DAWGS
Boeser – 75.22
Pettersson – 74.92
Mikheyev – 70.77
Miller – 66.17
Kuzmenko – 59.37
Lazar – 56.83
Bear – 55.95
Studnicka – 55.93
Hughes – 53.57
Garland – 53.49
December Schenn – 50.32
Bottom DAWGS
Myers – 47.54
Stillman – 44.24
Aman – 40.22
The CAT
OEL – 25.08