The Stanchies: Conor Garland's hat trick, Cheech's send off, and the Stanchie awards
Photo credit:© Matt Kartozian-USA TODAY Sports
Blown leads, awkwardly long periods of time without a shot, and Conor Garland hat tricks, we're all used to this by now so it doesn't even faze us.
Yes, the Canucks ended the season in style, assuming your idea of style is hurting your odds of drafting the best player or getting a higher pick. It's kind of like walking into a club but instead of a suit, you're wearing a garbage bag. And instead of a club, it's the Vancouver landfill. And instead of dancing all night, you're trying to fight your way out of a landscape of garbage as far as the eye can see.
As promised last game, however, we wont get too deep into all of that. We all know where we stand, so the Canucks 4-3 overtime win over the Coyotes will simply be viewed as the last game in a long season. A game in which John Garrett rode off into the Canucks sunset, and a game in which apparently next season starts right now, as seen by the many many e-mails the Canucks have sent you over the last month, begging you to buy tickets.
Luckily for us we get some time off for a bit as we watch 15 other teams lose in the playoffs, allowing us to make fun of them for ending up in the same destination as the Canucks. It's the pettiest of things, but it's a time honored sports tradition, so who are we to challenge it. Remember, either Toronto or Boston is going to lose in the playoffs, and there's a healthy amount of fun to be had in either of those scenarios.
For now, though, we must sit back and swap stories of yet another Canucks game. Although it was a trying season, it was one of my favorite seasons ever, as I truly felt like I could write the article in the way I always envisioned. Without a heavy editing hand hovering over my head, a fantastic back-up cast in Lachlan and Cody, the Quinn Hughes of leaders in David Quadrelli, the cousin to the Stanchies "The Statsies" from Mike Liu, the Scrum Lord Chris Faber working Rogers Arena with a turtleneck and chain, and a talented group of writers, I can call my first year at Canucks Army a proud one.
Let's make some gif money one more time this season, shall we?
Best sending off the legend
John Garrett got his final send-off of the season before, during, and after the game, and the true testament to the man was just how many people wished him a fond farewell as he leaves the day to day Canucks beat.
I don't know how much more I can say about Cheech that I haven't already, so I will simply say he is an absolute legend for a reason, and Canucks game will not feel the same without him.
The Canucks might not have been in playoff mode, but the digital ads certainly were. Nobody took players out of the game with more intensity and consistency like the digital ads:
It felt a lot of like Back to the Future, where Marty's family started disappearing because he ruined the moment his parents fell in love. So I now assume a Canuck player went back in time and stopped, like, Thatcher Demko's parents from meeting at the local skating rink, and the end result was half the team was never born.
Who travelled back in time to cause this? Clearly the Chaos Giraffe. I honestly don't know why you even had to ask that. Luca Sbisa became a scientist and built a time machine out of a niche vehicle.
"You're telling you built a time machine….out of a floating Orca blimp??"
"If my calculations are correct, when this baby hits 5mph, we're going to see some serious shit."
Anyways, it's been a long season as you can tell.
In a game where both sides could have skated to a 0-0 tie, en route to a 1-0 win in the shootout, I will admit it was a bit of a delight to watch both sides compete and try and grind out the win.
The Canucks struck first when Elias Pettersson put up his 102nd point of the season, this time on a goal off of a slick Quinn Hughes pass:
That assist from Hughes was his 67th of the season, as he continues to smash his own records. He's the guy who nails a speed run in Mario Brothers, then does it again just to beat his own time.
Watching the two most skilled players on the team combine to skate, dangle, and deke their way into a goal does give you a bit of hope for a world in which they are surrounded by a multitude of talented depth.
I mean, don't get me wrong, closing out a losing season with this kind of a goal is nice and all, I just wish it all had a greater purpose, you know? Like it would be nice if there was some kind of, I don't know, trophy, they could be competing for. Something that says "This team is the best in the NHL", something they could never take away from you.
Not like a banner, no, but more like a chalice.
Anyhow.
Stefan and Peter Sedin really let the squad down. They could have dominated Twitter with multi-point nights.
The Coyotes tied the game up rather quickly after a point shot bounced off of Delia in front and went right on the stick of an extra in Vikings, Liam O'Brien:
Collin Delia isn't what you could call exactly stable with rebound control, but at least he didn't do that thing where he freezes in place for a second like the internet just gave out and is buffering trying to catch up to the live feed.
It's just one of those goals, you know? Like a Limp Bizkit song, minus the anger, intensity and starring role in a disastrous Woodstock.
How can it be his last goal, when he has two more planned:
The Conor Garland Revenge Tour (I just pictured WCW/nWo Revenge in my head, give me a moment to sit back and enjoy those memories…and we're back in the room) started with a dapper clapper slapper from almost directly in the faceoff circle.
I think it was last game in which we all had a chuckle over Garland trying to overpower a goalie with his slapshot, and well, here we are with egg on our face. Anthony Beauvillier, still trying to win Step dad's approval, shows nice hustle by not only skating and getting the initial shot off, but by following up and feeding a wide open Garland.
Why was Garland so open? Bees. Or the fact it's two very bad teams playing hockey. It's a real either/or situation to be honest.
While the back of my mind has an alarm bell going off quietly over Phil Di Giuseppe's usage, the ol' "play the grinder who pleases the coach and put them in a top line situation to shame the skill guys who have disappointed you" playbook, I do have to admit he's been a fantastic addition to the team this season.
Mainly because the guy forechecks like a little brother trying to prove he's good enough to play on his older brother's beer league team: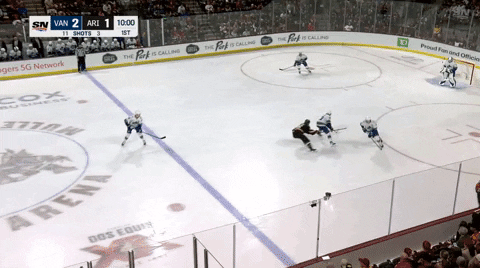 And it's not just pure effort that gets him these chances, he actually displays some solid hockey IQ and anticipation. It's not all just stick lifts and out-working the other guy, sometimes he skates where he thinks the puck will be going, and baby, you've got yourself a turnover stew going.
I will say I am disappointed he didn't wind up and unleash a slapshot there. It's the end of the season, and honestly one of these times, a team is just going to try and win a game using only slapshots, or by using a wrong handed stick. Give the fans what they want.
Best so you're telling me there's a chance
Not going to talk about it. Just going to leave these here.
Quinn Hughes got his 75th point of the season, as JT Miller picked up his 81st point of the season, putting both players around a point per game on the season:
It was an equally impressive feat for both men.
Impressive for JT Miller because of the stretch of hockey he had this year where it felt like he hated hockey and wanted every fan to suffer like he was suffering having to play a game he hated.
Impressive for Quinn Hughes because he's a defenceman and he outscored Jacob Markstrom by 73 points.
Also is Brock Boeser the King of Screens now? You can't tell me goalies aren't getting swept up looking at his glorious hair. Brock isn't that big, it's got to be the flow.
Conor Garland got his second of the game off of a tipped shot on a Kyle Burroughs shot:
You'll notice Kuzmenko got the second assist on the goal going east/west, and I can't help but think Tocchet was made that Kuzmenko didn't make an immediate bee-line for the net.
That's a pretty deft tip too, if we're being honest with each other. For a month now it's felt like Conor Garland's play has been getting better and better, even if he wasn't putting up a lot of points as a result of it.
We have no idea who might be moved or sent to the train station in the off-season, and Garland's hefty contract certainly makes him a target, but I honestly would be pretty intrigued to see him stick around. I think he's a better player than this market gives him credit for, especially at 5 on 5.
He's the kind of guy that if he ends up on a really deep team, he puts up a 60-70 point season, has people going "how could the Canucks give up on this guy??", wins a couple of Cups, then ends his career playing on a bad team with Tyler Johnson as they swap stories around the campfire as they take turns being injured.
I'm not saying that you have to keep that guy, by all means, boot him into the sun. I'm just saying I think he's the kind of player that can be a top level passenger player, something good teams will want to have around.
Best never give up, never surrender
OK so that thing Collin does where he freezes like your internet died? He did it here: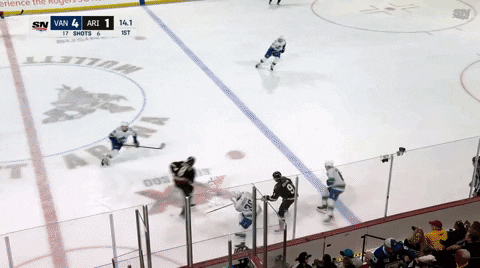 It happened several times on the night where Collin looked like he thought he had the puck, only for him to either drop the puck, or discover he never had it in the first place. Kind of like my relationship with girls back when I was in high school, am I right? Hahah, ah we have fun here, don't we?
The end result was three Canuck players watching and assuming Collin had the puck, only for it to squirt out and Clayton Keller, the most Sons of Anarchy name I have ever heard, finding Travis Boyd all alone in front.
Yes, that Travis Boyd. The 19 career games with Vancouver Travis Boyd. The two career goals with Vancouver Travis Boyd.
Do we have time to watch his goals with Vancouver? Of course we do.
First up is a goal he scored in the bubble, filmed with a potato that delivers the highest 360p a Russet can deliver:
The second goal? Scored 16 seconds after Matty "Two Shoes" Highmore had scored:
My biggest takeaway from this? Holy hell are clips from the Bubble Run depressing.
I'd rather watch Mark Mess-
OK I take that back, but I still don't need to see any highlights from that era.
Best first period intermission guest
Three things about this interview.
Eddie Lack rocking a hoodie is a massive win for hoodie enthusiasts like myself. Don't let people tell you they aren't fancy enough. Oh, you want to rock a suit you need to dry clean after dinner and have to constantly worry about getting stains on it? How about you wear a hoodie you can wear for a solid two weeks before you even think of dropping it in the laundry machine at home.
Props to Eddie for advertising his company. You get called in to talk during the intermission of game 82 between two playoff dead teams? You bet your ass you deserve to advertise anything you're working on.
Calling out Torts was delightful.
Best second period highlights I guess?
The game kind of fell into early season Canucks where they sat back and said "you want to beat us? You're going to have to take it from our cold dead hands" and the other team simply said "ok sounds good" and went about tying the game up.
The passive play from the Canucks meant 2-4 minutes of time passing with the Coyotes skating circles around them in their zone, which mercifully ate up large chunks of game clock, but was also kind of depressing because it just highlighted how little offensive finish the Coyotes have.
That being said, we did get a few Canucks highlights, such as Kyle Burroughs going Josh Allen on Christian Fischer:
And Sheldon Dries suddenly appearing from off-screen to literally spin 360 degrees in order to cut off a pass into the slot:
I don't know why Sheldon decide to spin, but I welcome it all the same.
Again, if you try nothing but slap shots all game, or randomly spin anytime you try and play defense, I am going to watch the entire game with a heightened interest.
After what felt like an hour of zone time with little to no actual shot generation, the Coyotes finally did the thing by scoring their third goal of the game:
This goal is amusing because once again it shows Tyler Myers simply checking out of the game and simply watching what unfolds around him with the detached interest of a teacher knowing they made the wrong career decision.
Should he have closed the gap on Liam O'Brien to try and control his stick? Of course. Does it even matter at this point? Of course not.
The second thing to note on this play is Collin Delia just sort of sliding backwards like a young Felix Potvin until he practically slams his balls on the far post.
I'll get into it later, but Delia's technique, or lack thereof, is very charming to me. I like watching goalies who haven't turned into complete robots and can provide me with plenty of "how and why is this happening" moments. And I honestly say that with honesty. I enjoy the chaotic nature of his style.
Do I enjoy it enough to want to see a team pushing for a playoff spot next year to rely on it? Oh no, goodness no. But in this season of abject failure, Delia was a bright spot for me.
The Canucks had one, count it, one shot in the second period.
That shot? Nils Aman being hilariously ignored behind enemy lines:
He gets off a decent shot, but yes, there it is. That is your lone shot of the second period for the Vancouver Canucks.
As for the Coyotes, they put up 9 in the period, highlighted by a couple of close chances.
The first was a post followed up a shot mere seconds later:
You'll notice Beauvillier turning in circles doing absolutely nothing, eventually shying away during a shot block attempt. This is what makes Step-dad disappointed. This is what makes Rick think twice about adoption.
The second good chance was a cross-ice one timer attempt followed up by a shot on the rebound in the crease:
The end result was the Canucks were still up by a goal despite their attempts to leave the game after one period.
Until you accept the fact that Philly Delight is the new member of the Lotto Line, this will never happen.
Friendship ended with Brock Boeser.
Now Phi Di Giuseppe is your best friend.
Best spitting distance of 40
Detective McWard followed a lead that ended with making an arrest and keeping the puck in the offensive zone, leading to Kuzmenko getting as close as he would come to 40 goals this year: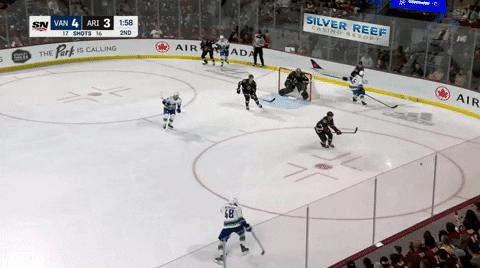 Now, Kuzmenko is the NHL's most gifted shooting artist in the game. His season ending 27.3 shooting percentage is not primed for regression, it is simply the way he plays the game. Even this attempt wasn't a missed shot. It hit the crossbar, so it didn't hurt his shooting percentage in any way.
They don't ask you how, they ask you how many perfectly crafted shots did you take to score 39 goals while taking as few extra shots as possible.
Book him for 50 goals next year on a straight even 30% shooting, unless Rick Tocchet gets in his head.
I'm sorry for the howl pun. I want this season to end just as much as you do. We're all tired here.
Even Jeff's tweets lacked the sparkle in their eye they normally have.
I have to say, the best thing to come out of the night honoring John Garrett was the glimpse we got of his wedding cake. A tiered cake with stairs, and champagne glasses acting as support beams? I need to know more about this cake.
Who made it? Who designed it? Was it for show only or did it taste good? Where was the first cut made? Did it eventually collapse during cake slice handouts? What kind of cake was it?
The people demand answers.
The Canucks bounced back from their low shot output in the second period with six shots in the third, which is sadly quite the improvement: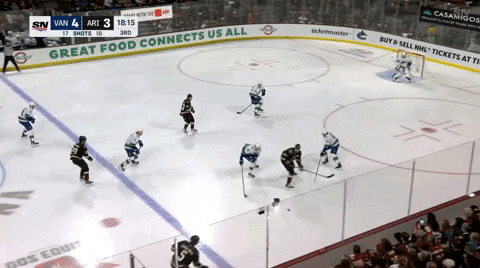 Brock Boeser taking the shot on a two on one is always the right choice, unless it's passing to Andrei Kuzmenko and he has pre-approved the pass because he's sure he can score a goal and thus keep up his 30% shooting.
Delia fought the puck most of the night, and once again he had one of those "I think I have it, oh no I don't have it" moments:
Hey, I'll take it over Martin Brochu any day of the week.
I only say that because I enjoy the idea of Brochu reading this (why would he, but just pretend with me) and wondering why he caught a stray like that.
You want to see Kuzmenko skate east/west and then throw a pass to nobody? How about if that was followed up by Beauvillier getting beaten to the puck and giving up a high danger shot? What if I topped it off with Collin Delia making a glove save on his mask?
These are the highlights that keep Rick Tocchet awake at night.
I don't even need to show the fight, it was an average tussle, but I do have to show you the Burroughs swagger:
This was after a knee was hung out on Nils Aman, and Kyle Burroughs just right away knows what his job was. There's no complaining, there's no nervousness, he just flips the mittens off and gets down to business. The quick casual way he tosses them makes me laugh every time.
I would have a spot for Kyle Burroughs on my team any day of the week. Even in Warzone. Something tells me he would be the first guy to try and rez me, even with the other team shooting at him.
Best competition brings out the best?
I will say it felt odd the Kuzmenko wasn't given PP1 time, because with both EP40 and Andrei one goal away from 40, you'd think in a meaningless game you'd just let them have at it. After all, this is a coach riding his best players as hard as possible to end the season.
That being said, Rick seems to enjoy teaching lessons to Kuzmenko, and as we talked about last game, Kuzmenko seems to respond to it, so maybe the ultimate goal here is to imprint the bigger picture, rather than chasing those individual goals. Which hey! Fair enough. I don't think Kuzmenko will lose any sleep over not hitting 40. 50 goals, then we need to have a talk. But 40? Pfft, even someone like Adrian Kempe can hit 40, there's nothing special about it.
With that being said, the Canucks best chance came with Brock Boeser in the crease, doing what he does best, edging himself almost to the point of completion:
He takes, what, three whacks at that puck? Mr. 10.1 shooting percentage out here flailing away like a peasant fighting for free bread from the Lords on Sunday.
Kuzmenko walks up to that scene, sees he can't get it done in one shot, and just skates away like Verbal Kint with no one the wiser.
I'm just saying.
Look, I get it, I have nightmares of Megna on the powerplay just like you do. When a coach uses a guy to shame others, it can sometimes get out of hand. Before you know it your two Hall of Fame Swedish twins are trying to feed Megna in the bumper slot and it's not working, and you actually find yourself pining for Byron Bitz.
Before you ask, of course I'm going to show you Bitz's lone goal with the Canucks:
Now, in defense of Philly Delight, he is really good at the forechecking, as we discussed: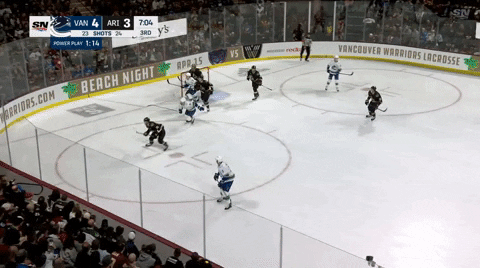 He throws a hit, helps win the puck back, and ends up cycling the puck back down low. That's solid work and it's not a bad thing to have on the powerplay.
That being said, you want all the skill all the time with the extra man, so I don't think Philly Delight needs to have a long look on that unit.
Use him here and there? Sounds good. Give him some decent time on PP2? Even better.
Leaning on him often on the PP1? That's when I start getting worried.
But the caveat for this game, of course, is who cares? It's the last game of the season.
Let's wait until next season before we get too riled up over stuff like this.
Unless next season actually does start now. And we're supposed to get mad over this.
I don't understand the rules that the Canucks promotion team is pushing on us.
The Eagles premier power couple is correct, you can either look at it as a Canucks tradition to blow a lead, or maybe they wanted to give Garrett some extra air-time. Hey, maybe it can be both?
The end result is Nick Schmaltz is given around 39 hours to walk in and pick his spot on Collin Delia, who at this point is just happy the goal didn't involve a rebound:
My favorite part of the goal is JT Miller in mid-season form, looking around and watching Schmaltz skate in before deciding that fine, he'll be the guy who tries to get a stick on the puck.
I also love how even though the game means nothing, Elias Pettersson looks up to the sky like everything was riding on that lead. Or maybe he was just counting on the Coyotes pulling their goalie so he could bag his 40th goal easily.
It's probably his competitive desire to win every single game ever played on display, but still.
Best power forward of the year
I've seen Garland score so many mini-hockey stick goals, one knee on the ice, looking like he's 3″2, that I was not expecting Garland to drive around the ice and fend off J.J. Moser on his way to scoring the overtime winner:
Please note that Kuzmenko and Pettersson both started overtime together, giving us a real Joker throwing a pool cue on the ground moment between the two. But some things are more important than 40 goals, and that's Garland getting a hat trick to close out the season.
That's honestly one of the prettiest goals to end a Canucks season in a while. Not only does he fend off the check, he then gives himself time to do his dekes.
Revenge Game complete.
Best end of season Stanchies awards
Let's end the season by handing out some awards, shall we? Nothing like best player, or best d-man or anything like that, but just awards that carry the heart and soul of The Stanchies with them.
Most exciting to write about – Elias Pettersson
In a season in which not a lot went right, with many a tedious game strewn throughout it, Elias Pettersson was a beacon of shining light on the year.
Watching him raise his defensive game to the point where whispers of "is he playing a bit like Datsyuk?" no longer felt offside but actually felt quite accurate. On top of that, he took his offensive game to another level, often times being the best player on the ice from both teams.
Elias Pettersson made the Canucks watchable on many nights. He became a "must-see" player in the NHL this season, and it still feels like he has more to give.
Truly an incredible season from Elias Pettersson.
Most exciting to gif about – Andrei Kuzmenko
Watching Kuzmenko smile and laugh his way to a 39 goal, 74 point season is nothing short of incredible considering how before the season started people were openly wondering if he could ever adapt to the NHL game.
Clearly he will always be a 27% shooter, but even if that regresses a tad next season, it's just so easy to get swept away by his enthusiasm for the game of hockey. His goal celebrations alone were fun to make gifs out of, but just his stick handling alone might have won him this award.
One of the most entertaining first seasons with the Canucks of all time.
Luke Schenn would have won this easily had he remained with the team, but with his travels taking him to Toronto, Collin wins this one.
Look, Collin was put in a tough spot, and subpar goaltending was a big storyline this season. Whether it was Thatcher missing his Bubbles, or Spencer Martin crashing back to earth, or Delia fighting the puck, the Canucks lost a lot of games when their goaltending couldn't keep up.
That being said, he's an AHL goalie who was thrust into a starring role on a bad Vancouver Canucks team. He did the best he could and although the results weren't always there, he always had a smile on his face and I have no doubt he tried to the absolute best of his abilities.
And like I said earlier, I love his weird chaotic style. If you're going to lose, lose trying to make a spinning pad stack save. I don't need to see someone square up to the puck and get beaten glove side, we saw that with Spencer Martin, it wasn't that fun.
He has now firmly entered the "awww, remember Collin Delia?" hall of fame in my brain, where I fondly remember a player who played 1-3 seasons with Vancouver in a non-starring role.
Move over, Andrew Ebbett! You've got company!
Biggest disappointment – Tyler Myers
This isn't meant to be a dig at Tyler Myers in the traditional sense. I am listing him as the biggest disappointment because we seemed to have lost the fun chaotic side of the Chaos Giraffe. The endless defensive misadventures are still there, but those offensive forays where he would swashbuckle down the ice and beat three players before just shooting wide? Those seemed to have disappeared from his game. We no longer have the good to balance out the evil. The chaotic neutral levels have swung firmly to one side as he approaches Darth Vader levels.
I don't know if he was told to temper his offensive game, or what, but under Boudreau and continuing under Tocchet, it feels like our Chaos Giraffe no longer takes the green light on offense.
 Stanchies MVP – Luke Schenn
This doesn't have to go to the best player, or the most interesting. It just has to go to the player I enjoyed writing about the most on the season, someone I looked forward to covering, and that is 100% Luke Schenn. His march to 3,000 career hits, and the way he played the game, it was just an absolute treat to get to write about him. Aside from just being a stand up guy, he also hammered the shit out of people, and honestly, that old school approach holds a nostalgic appeal in my heart.
Favorite Stanchies nickname – The Detective
I love Philly Delight, but McWard coming in last second to take my favorite nickname of the season is a no-brainer.
Best media member – Thomas Drance
Look, nobody talks shit quite like Drance, and nobody takes shit quite like Drance. Say what you will, but he believes in what he says, and he makes an awful lot of sense. In a market in which the team has been bottom of the league for a decade, more people should be angry about the state of the affairs of the Vancouver Canucks.
He's the hero Vancouver deserves, but not the one it needs right now. So we'll hunt him. Because he can take it. Because he's not our hero. He's a talkative guardian, a watch protector. A dark knight.
Worst commercial – BCLC with Sat and Shirley
Not since A&W's Jorge told all of his friends to eff off have I struggled to watch a commercial repeatedly like this. At least with Jorge I could morally object to him being awful. But with this, I don't want to be mad at Shirley. Shirley seems like a great woman! I want her to succeed at life! I just don't want to have to watch a documentary length commercial telling me all about it, three to four times a night, during every single Canucks game.
Best commercial – Katy Perry Skip the Dishes
I cannot tell you how many games I watched where I didn't know if I had the will to keep going, when all of a sudden Katy asked me did somebody say eat and I would perk up like my best friend just walked in the room:
That's an absolute banger of a song, and I won't hear otherwise.
Speaking of which, shout out to D'Arcy Spiller for having a criminally underrated food delivery tune in Australia:
Look, in a long season, you take happiness where you can get it.
One last jersey Botch to end the season properly.
Take it away, Troy from Richmond via Arizona.