The Stanchies: Collin Delia steals the spotlight and almost the game for the Canucks
Photo credit:© Terrence Lee-USA TODAY Sports
Welcome to the Collin Delia show starring Collin Delia, and Collin Delia.
Yes, on a night in which the Vancouver Canucks fell to the Winnipeg Jets 4-2, it might seem odd that Collin Delia is leading the post-game article charge, but when you glance at the high danger chances and see the Jets had 21 to the Canucks' paltry 8, you realize the kind of night you're in for.
Which is too bad, if we're being honest. The Canucks have a tough stretch of hockey ahead of them in January, playing many a good team, so if ever there was a make-or-break month for their playoff hopes, it would be January. And the Canucks were good to start this game! They really were. Defensively they looked solid, and offensively they…well they have Elias Pettersson, so that's always good. They even held a one-goal lead after 20 minutes!
But if some teams can "flip the switch" to turn things on, the Canucks have whatever the opposite of that is. Blow a fuse? Pop a tire? Sell their team to Elon Musk? Whatever it is, the Canucks did the thing, and suddenly it looked like a completely different team on the ice.
Yes, special teams played a large part in this loss, with the Jets going 2 for 4 on the power play, and the Canucks going 0 for 2 on theirs.
But even at five on five play, the Jets simply took the game over.
If it wasn't for Collin Delia summoning the power of every early 90s goaltender he could think of, this game quite simply would have been a blowout. I'd show you the team's Corsi, but surviving the holidays can be rough enough as it is, so why add more to that pile? Suffice it to say, only two players broke the 50% barrier in the Corsi wars, and it will not shock that you that Quinn Hughes was one of them.
What is shocking is that Collin Delia is a visually stunning goaltender who is delightful to watch. While some goalies have the technical proficiency of T-1000, able to mimic the perfect save at any point in time, Collin Delia isn't even the T-100 model. He's Kyle Reese, a human trying to survive in a robotic war-torn landscape, doing his best to improvise his way to completing the mission. Butterfly stance, sure, that's fine, but have you thought about sprawling out and doing some scorpion kicks?
Although it will be recorded as a loss, Delia walked out of that game with his NHL stock higher than it was entering the game. Now, I'm not suggesting Delia is going to take Spencer Martin's job, but with Thatcher Demko out until at least February, I would be lying if I wasn't excited to see Delia get a few more games under his belt in Vancouver.
Now, let's go make some gif money, as the holidays don't pay for themselves.
Sam Gagner played his 1000th career game, which is impressive considering the Canucks deemed him not worthy of the NHL back in 2018. Oddly enough, signing a player for their strengths and then not leaning into said strengths doesn't seem to lead to a positive outcome, but alas.
The point is we should never forget that time when Gagner, Boeser and Vanek became the hottest line in the NHL for one glorious day and
put up 12 points on Chicago
. Even Goldobin and Gaunce made appearances!
I could probably spend a solid hour talking about the supremely underrated Thomas Vanek and his penchant for unloading clap bombs like he was shooting on his younger brother playing road hockey, but I want to keep your data limit in mind.
Mr. Brightside wouldn't be my choice for an intro song. I would sandwich it firmly between Pumped Up Kicks and Semi-Charmed Life, in which a song sounds fun but it's actually telling you a sad tale.
I knew Collin Delia was going to give me the good chaos when I saw him get the start, but Travis Dermott was another intriguing addition to the lineup, playing his first game of the season for Vancouver.
Clearly you know it didn't go well for, well, anyone, in terms of solid defensive hockey, but…
Hold on, let me find the silver lining here.
I'm sure I can find one.
The Canucks scored the first goal of the game in less than a minute and wouldn't you know it, Elias Pettersson was the engine behind it all: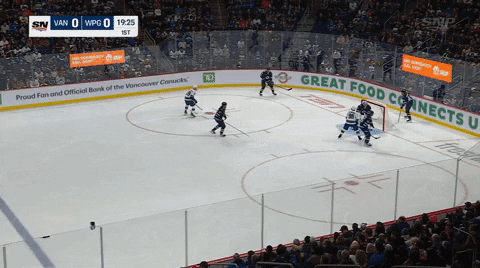 We're at the point now where Elias Pettersson is reading plays and covering his check like Deion Sanders in his prime. The only thing missing is the high-stepping by the bench after the goal is scored, but those are long-term plans. Hockey probably isn't ready for that quite yet if the reaction to
Jake Walman busting out the Griddy
is anything to go by.
Regardless, Elias Pettersson snakes the puck and finds a wide-open Andrei Kuzmenko, who wires it past Hellebuyck faster than I google Connor's name to make sure I got the spelling correct.
Clearly, The Kuzmenkshow is enjoying playing with Elias Pettersson. We saw it with the aforementioned Goldobin. We've seen it with Boeser and Miller. Hell, we've seen it with Tim Schaller for a shift or two. Life with Elias is sweet. It's the opposite of life with Zack and Cody.
Yet there is something to be said about Kuzmenkshow's ability to find those soft spots on the ice. He does damage in part because he knows where to go. He sneaks in after the store is closed and then quickly takes a candy bar for himself just before all hell breaks loose in Nakatomi Plaza.
There is a clear value in having someone who knows what to do when playing with an elite passer like Elias Pettersson. Kyle Wellwood wishes he had a Kuzmenko to pass the puck over to instead of Steve Bernier.
There was a time in Vancouver in which JT Miller screaming at his third string goalie (spoiler alert) wasn't the main takeaway from this game, I swear. Look! Look at this pass that eventually bounces its way to Conor Garland for a good shot on net:
It was the best of times, it was the blurst of times.
Best staying on top of things
Sometimes you watch a game and you make predictions. Like Thursday night, when I thought the Treaty of Värälä line was about to put on a master class of puck control. And to their credit, they did show signs of what they can do when they get going:
The winning of puck battles, the movement of the puck, the funnelling towards the net to try and get shots on the goalie, it's what a good line does. In particular, Lane Pederson continues to stand out as "random NHL guy" which is quite a feat for someone who you assumed was just AHL fodder. For every Lane Pederson trying to make waves in the NHL, you usually have 30 Mark Mancari's, so use caution when assigning his full NHL value. However, colour me impressed so far with his stint in Vancouver. If I assign value to Kuzmenko for knowing how to play with skilled guys, I am also willing to give credit to Lane for doing some of the same.
His coverage on the attempted Jets breakout on that clip (after a Kuzmenko turnover) is what leads to Lane stealing the puck back and getting the puck down low with possession.
After waiting all season for it, Luke Schenn has finally recorded 3000 career hits.
Now, would it have felt nicer to have seen this feat accomplished last game during a 6-2 win?
A win in which he could have revelled in getting to 3000 career hits instead of having to be sombre after a crushing 4-2 loss? Of course.
But you can't deny the fact that he's the undisputed king of smash-and-grab defencemen now. The man drops more hits than Jeremy Baker: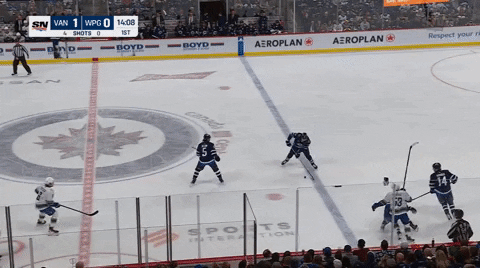 I was hoping it would be a solid hit for 3000, the kind of hit you would brag to your grandchildren about.
"Back in my day, we had actual glass along the boards, not the nanotechnology forcefields you see nowadays. And I put my guy straight through the glass, into the front row, directly onto the onion on a fan's belt, which was the style at the time."
So while it wasn't through the glass, it was better than a half-hearted shove that sometimes gets counted as a hit.
Mission accomplished either way. Mr. 3000 has arrived.
Best homage to the hitz king
Perhaps energized by seeing Luke Schenn record such a career milestone, we saw the return of the rampaging Chaos Giraffe against the Jets: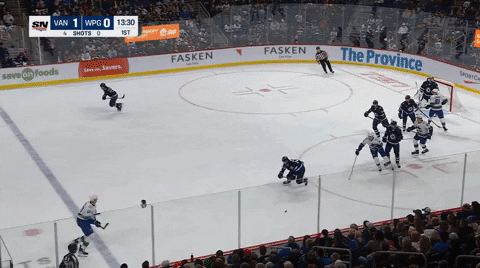 Tyler Myers hits Jansen Harkins and goes through him like he was charging up for a Pyscho Crusher. I also genuinely enjoy the fact he tries a non-physical approach with the poke check at first, but when that doesn't work, he just leans into the violence. You can almost see him whisper "I didn't want it to come to this" as a single tear rolls down his cheek.
Since half of CG57's penalties tend to be "two minutes for being super tall", I don't blame him if he holds back on the physical side of his game at times. But it is nice when he takes his hitting game out of the closest and dusts it off, especially against Winnipeg teams that have a history of bullying the Canucks.
This is just a mere taste of the Delia-mania that awaits you: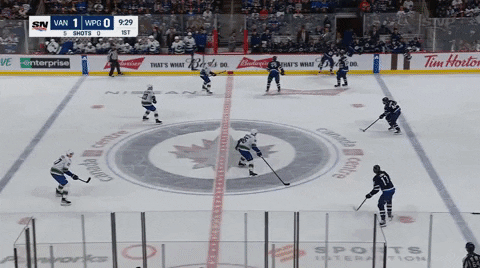 Please note that pucks in corners are not his friend and can often lead to a terrifying sequence of events, a veritable Butterfly Effect of consequences. Think Kirk McLean on wraparounds or Dana Murzyn trying to chase down a breakaway, and that should be your panic level anytime Delia wanders to the corner like Tom Barrasso with a hangover.
Though that being said, his confidence level in recovering from any situation is off the charts. Look at him juggle that puck like he's flipping pancakes at a Waffle House, ignoring the chairs being flung at his head. This guy knows how to achieve a complete Zen-like state.
Best praise be to JT Miller
I have gotten the reputation of having an agenda against JT Miller to some people on social media, as if I didn't spend three seasons screaming about how he is Rip Wheeler incarnate, and how if you haven't named your child Jimothy or Timothy then you should be banned from the Province, kindergarten roll call be damned.
But if players have to deal with the "what have you done for me lately syndrome" it's only fair the writers have to as well, so if wondering why JT Miller hates defence the last couple of seasons makes me a man with an agenda, so be it.
The thing is I know he can be a lethal offensive player. Those dangerous passes that get picked off constantly this season? He knows how to make them:
Sure, it led to an icing, but JT made a great pass. Even better, Tyler Myers is in his natural position as a forward on that rush.
But I feel like people don't remember season one JT Miller. They don't remember how much better the writing was and how much more fleshed out his character was. He had defence, he had offence, and he had efficient board work for days.
These later seasons of JT Miller? He's a one-dimensional character. He jumps on, yells Jiminy Jillikers, and then calls it a day. Again and again. And again and again and again.
Maybe it goes back to the Elias Pettersson theory I have been working on (the theory is players perform better when on a line with Elias, it's very groundbreaking.)
Maybe the Lotto Line days held up his defensive game more than it warranted. Maybe playing centre is too much of a burden. Never forget he got a Selke vote in the 2019-20 season playing on the wing.
But he also got two Selke votes last season, and who am I to argue with Fear the Fin's Sheng Peng?
The point is, I know how good JT Miller can play. I also know he is going to be paid a lot of money, which raises the spotlight on him, and in turn, raises the burden on him.
Give Luke Schenn $5 million a year and he suddenly stops being a cult hero and quickly turns into the sole reason the Vancouver Canucks never want you to experience joy ever again. That delightful hit he just missed landing is no longer a "well he tried his best" moment but suddenly becomes "emblematic of his addiction to taking himself out of position to make hits."
That is the power of the salary cap. It's the salt of the NHL. It seasons everything, whether you want to accept it or not.
Best Colin Hanks wishes he was Delia
Collin Delia, number 60 in your program and number one in your hearts.
First off, let's all admit that he looks like a smart fellow:
I don't know if he is actually smart, for all I know he's hidden the latest copy of Oh LàLà in that book, but he looks smart, and that counts for something. Even hearing him talk in scrums, he doesn't come across as your typical hockey man. I don't know whether that means he's about to turn into a Batman villain or he's simply a cultured fella, but either way, it's a fun persona to throw into the hockey pool.
Also, number 60? Clearly he isn't your conventional goalie. His desires are unconventional, if anything. His interests are very singular, if you will.
The point is, the guy makes saves like your beer league ace goalie Thomas Douglas is in net, and I love it.
You want to screen Delia and get an easy tap in goal?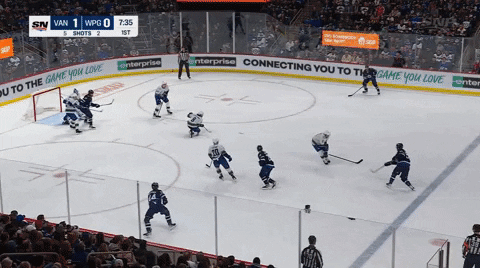 No no no, Delia is just going to spread eagle like Michael Edwards and take away the bottom of the net from you.
Eddie Lack? He just calmly slides over to the right, back stiff and rigid as an arrow, then has to retire due to hip injuries.
Collin is playing the long game here.
Sometimes I just want proof that Bo Horvat can't score at will, whenever he wants: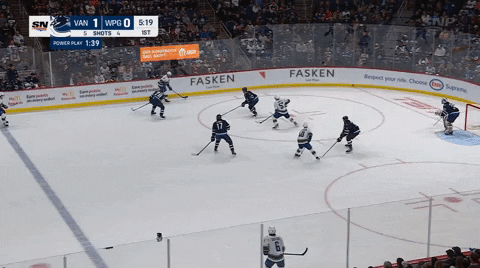 The puck bounces over to Bo, he spins in the slot and fires the puck…and doesn't score?
See, it happens, I am telling you, it can happen.
Elias Pettersson is so good that when he was the puck, you know he's already outthinking you. So you try and outthink him by outthinking yourself. You basically set yourself up nicely into a Sicilian loop where you go back and forth over your options and before you know it, you're already poisoned.
Which is what happens here when four Winnipeg Jets close in on Elias Pettersson and each of them in turn tries to defend against phantom passes, backing off to the point that they give him a clear lane to the net: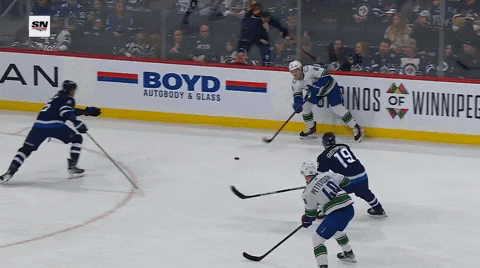 This is the ultimate sign of respect you can give a player. The fact you try and stop any and all theoretical passes before you realize you forgot he can simply shoot the puck himself. And you might not even be wrong to do so? Like, maybe letting it be a Hellebuyck problem isn't the worst thing to do here. You can claim you shut down the passing lanes and then talk about how goalies start going downhill when they hit their 30s, and that maybe it's just a sign the Jets should look to get younger in net.
Unless Connor stops it, then you just claim you knew he can stop any player in the league one on one, and your team chemistry shoots through the roof.
Either way, you're covered.
It's true. Why is nobody asking the hard questions about Rancho Relaxo Cucamonga? After all, it was ranked the 42nd best place to live in 2006 by Money magazine.
Fun fact: Rancho Cucamonga was once claimed to be the birthplace of the Flamin' Hot flavour of Cheeto, but that was later revealed to be a hoax.
Anyways, here's Collin Delia struggling with a puck in the corner again, but as always, recovering to make the save on the ensuing shot: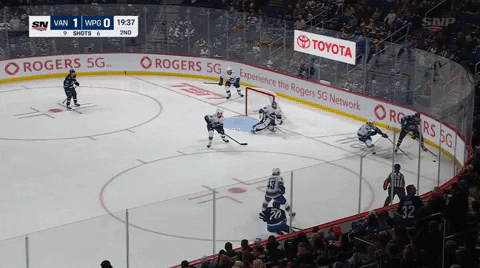 In another world, one in which Elias Pettersson was still in love with Deanna Troi, the Canucks score on this power play and make it 2-0.
Instead they produced a lot of good puck movement, and won a lot of battles for the puck, but never end up getting an actual goal: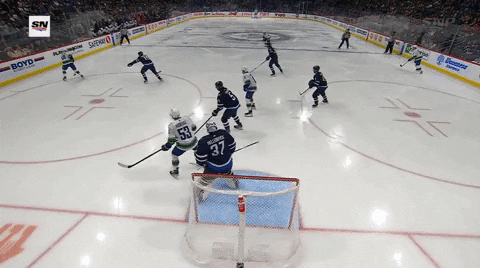 The debate of Boeser or Kuzmenko on PP1 continues to rage on social media, and while I will never turn down a chance to see Kuzmenkshow tap in easy passes from Elias, I am interested in seeing a look that doesn't involve funnelling the puck through JT Miller on the half wall.
I know, I know, my JT Miller agenda is showing again. And I know it's a champagne problem to voice concern over an 8th-ranked power play, but I am just saying, on some nights it might be interesting to see what other looks you can come up with for your first unit.
Collin Delia had himself an eventful night in net, which tends to happen when you face 21 high-danger chances against.
Some of the more entertaining moments came when there was a scramble in the crease and you simply sat back and watched to see which save animation Collin was going to choose: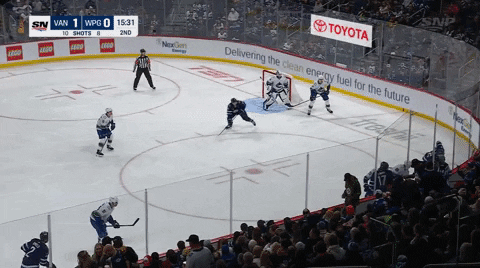 Sometimes Collin's AI would lose track of the puck and it would also cause some chaos in the crease, but he still found a way to cover the puck, complete with a Dakota Joshua diving headbutt trip: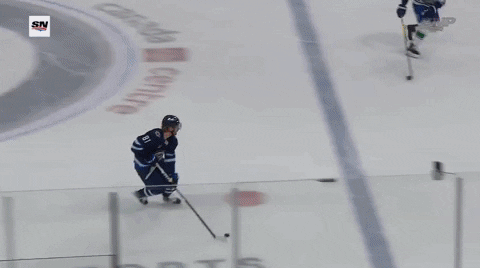 Screened shots, no problem. You aren't going to get the Detroit bounce on Collin: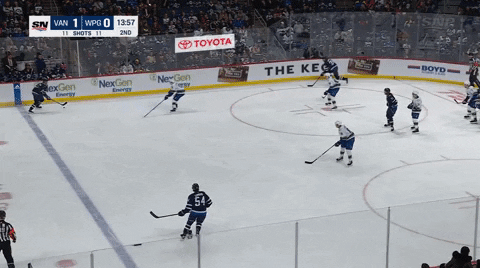 It's going to take a hell of a lot more than a tipped shot to beat Collin, let me tell you: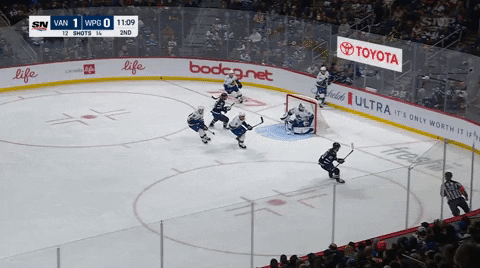 Someone on Twitter described Delia to me as Alex Auld mixed with Dominik Hasek and I cannot think of anything else now.
Best Loui Eriksson moment
Just to showcase a bit of Lane Pederson, I like that he can insert himself into a good cycle and keep up with the passing and hockey IQ of Kuzmenko and EP40: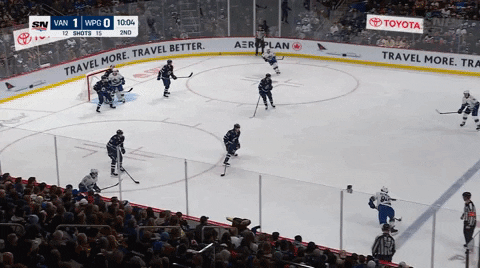 He starts at the net, tips the shot, rotates out, makes a nice pass back to Kuzmenko in the cycle, then heads back to the net to set up a screen and look for another tip.
I know it's not exactly TSN play of the night stuff, but it's some of the small things he does that might keep him in the lineup longer than we expected.
Best under a minute or your money back
Lane Pederson, fresh off of high praise from yours truly, then turned and spat in my face and took a penalty: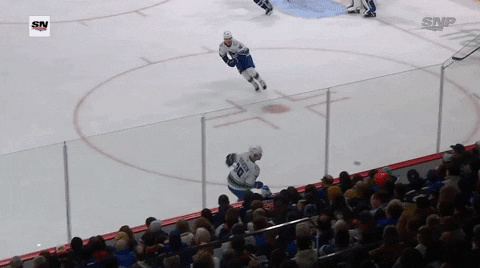 That's a bit of a tough one with a guy flying in on you like that, but visually his leg is hanging out there, so it's not a surprise that the officials called it.
All of which led to a goal that took longer than 10 seconds, but shorter than a minute: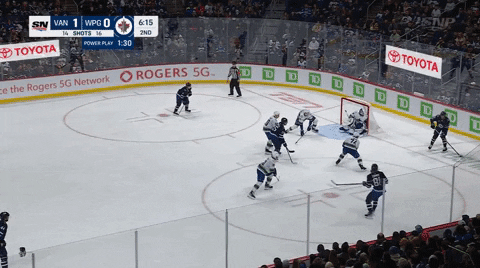 The Canucks' penalty kill has been hot garbage all season long, once again proving to be a major weakness in a Canucks loss.
You know when you accidentally leave rice in a pot for a week, and then when you take the lid off to clean it, the smell that comes out of it? That's the Canucks penalty kill this season. It still hasn't recovered from the loss of Jay Beagle, and I am no longer saying that as a joke but instead as a sobering reality check.
They somehow manage to be passive yet unable to prevent many plays down low. They give up a ton of room to the point, yet when they collapse they somehow cover nobody.
It's not a winning formula.
You can't smash the back of your net in anger if you don't have your stick: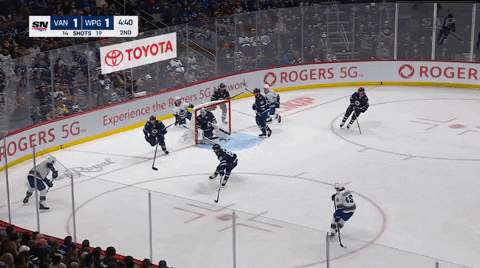 Best making it up as we go along
I'm not sure how Pierre Luc-Dubois was awarded a penalty shot, as he got a shot attempt off, but the NHL gets high these days off of stick infractions, so here we go: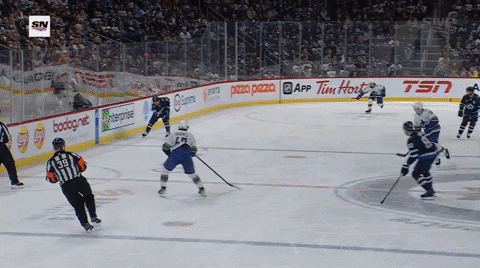 Ethan Bear got nailed with the stick lift attempt, which if you do it anywhere near a player's hands in the NHL, the officials will flip a coin and make the call if it's heads. Full credit to Delia for summoning his inner-Hasek side and tripping up PLD, because if you don't stand up for your crease, who will?
Normally I'd take Collin Delia one on one versus any player in the league, but I hear goalies start going downhill once they near their 30s: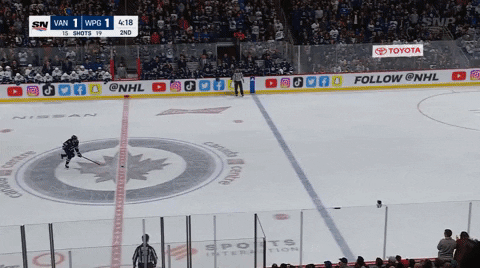 I mean, that's a lethal shot with a quick release, so give all the credit to Pierre on that one. Also, the Canucks penalty kill hasn't fared much better, so I don't think it was the worst of events to try your hand at stopping a penalty shot versus two minutes of wondering who is going to screen their own goalie.
Best tired of my ways 'cause I keep falling
The game was essentially over at this point, as the Canucks simply could not offer much in the way of any pushback. No big moments from Elias. No big goal from Bo. No powerplay point from JT Miller. No resigned sombre goal from Quinn Hughes. None of the big guns were able to step up, and no role player was able to summon any magic either.
The end result? Collin Delia being called upon to keep his team in the game: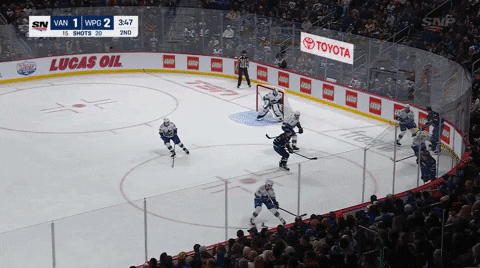 Lane Pederson gets shrugged off like your partner's Comfy thirty minutes into Emily in Paris, and then the Jets just ram the puck directly onto the net. Then they follow it up with a puck retrieval that leads to another couple of chances in close out front.
It was, to use a Pierre LeBrun utterance, Big Boy hockey on full display.
Look, if you're going to take an interference penalty like Travis Dermott does here, at least get your money's worth like he does here: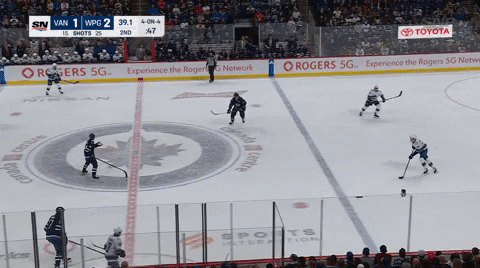 He knows he's beat, he knows this is trouble, so he just straight up jams himself all up in Mark Scheifele's business like he's handing out flyers on the Vegas strip.
All of which leads to a Jets 4 on 3 power play that doesn't score in less than ten seconds, but also doesn't take longer than a minute:
That's a nice shot from Scheifele, and a nice screen from Lowry. I thought the Canucks played the 4 on 3 reasonably well and even when they collapsed and lost their form, they recovered decently. But at the end of the day, they left a guy all alone in front of their net, and he set the screen for the eventual goal. Lazar probably could have pressured the shooter more, allowing Schenn to drop back and try and take care of crease duty, but it's a 4 on 3. That's a tough situation to defend regardless.
This is probably my biggest pet peeve in hockey, where a player rushes in and has his linemates in deep, and then he either shoots from the bad angle and rims it out (a la The Mason Raymond) or he shoves a pass toward the crease and it goes by everyone and turns into a counter rush: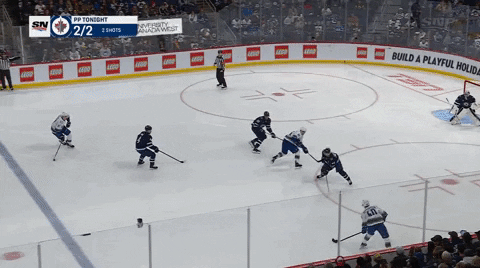 At five on five, this is probably an okay play. It's not the worst version I've seen of trying to force a play back against the grain.
But on a penalty kill where you're the d-man jumping up into the play, and you've got your two forwards deep in the zone with you? I'm not a fan of the play.
That being said, give full credit to CG57 for busting his ass to get back into the play, as he actually makes it back in time to take away the passing option. Jeff Tambellini would be proud of this effort, even if the skating was fueled by shame.
Best flashing the leather
Collin Delia going full Jim Hughson on the night and committing robbery with the glove: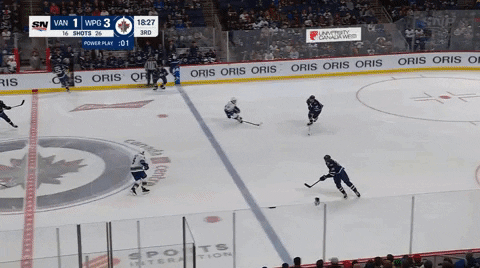 You probably noticed how easily Pierre Luc-Dubois skated through the Canucks team, and I am right there with you. Passive play was on full display from the first period onwards, as they offered up token resistance at the best of times.
Again, Collin caused some of his own issues, as I assume EA has his puckhandling stat set to 0. That's the only way I can explain why every time the puck went near the corners, his brain shut off and he turned the puck over: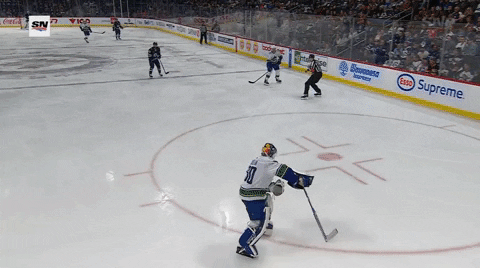 The important thing is he recovered each time, even if Luke Schenn had to step in and make a kick save of his own on the centring pass.
Ethan Bear, who had some pretty big miscues on the night, was the next Canuck to get straight up walked around: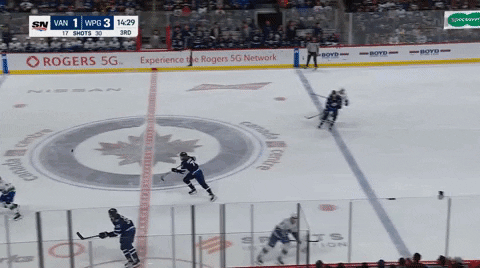 This is how you give up 21 high-danger chances. The important thing is you realize the value of what your third-string goalie has provided so you don't feel the need to yell at him. For any reason. Whatsoever.
We've talked about this all year, so I don't want to give credit to the NHL for these kinds of calls, but they have been calling them a lot this season: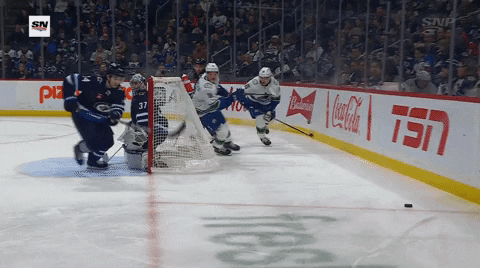 I don't think they're called consistently, I think it will disappear come playoffs, and I think these calls are so loose in their jurisdiction that they feel prone to game management abuse, but it is what it is at this point. If you flick your stick near another player's stick in the NHL, the officials might call you for hooking.
That being said, that felt like one of the more egregious calls made. Luckily for Vancouver, they killed off the penalty and the most dangerous chance was when Ilya Mikheyev got a breakaway and tried to use his one move to score:
Please note that Tyler Myers absolutely trucked Josh Morrisey on the play, yet was credited with only one hit on the night. Chaos Giraffe dropped two fools on Thursday. Give him the credit he deserves.
Please.
Please credit him. He needs it.
His underlying numbers were not good this game.
At least give him the hits.
Don't worry, when you're in trouble Collin, Schenn Daddy has your back: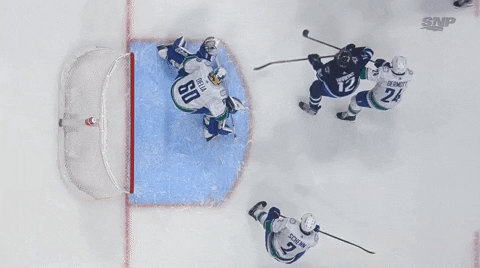 Conor Garland, in my long-lasting battle of "Which way does this Conor/Connor spell their name?" which is right up there with my "Which way does this Collin/Colin" spell their name battle, got the Canucks to within one with a fortuitous bounce: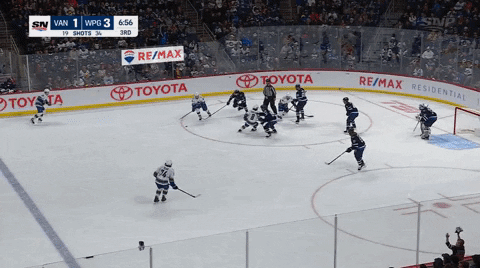 If this was Connor Bedard, we'd say he planned the bank shot, and made the perfect use of geometry to NHL action.
But since it's Garland, we know it was plain luck and he didn't mean to do it.
Just kidding, I don't have a Garland agenda, just a JT Miller agenda, so clearly, Conor meant to do this.
He also skates off like it was no big deal which is another clue that he meant to do it.
The more outrageous of a goal you get, the harder you play it off. This way it seems like you do this every single day of your life, so why be surprised by it? This is just a way of life for you.
Also please note that Collin Delia would never have allowed this goal to go in. He would have simply pad stacked his way across the crease.
Best the stats don't lie unless they do
It might not count as a shot, but we know Collin outplayed Kyle Connor, who I'm pretty sure was a bad guy in the original Karate Kid: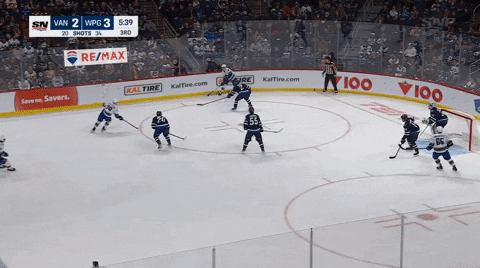 Hard to dangle around Delia and go low when he takes away every inch of space along the ice and then throws up the scorpion kick for good measure. Just to let you know that even if you had lifted the puck and hit the net, his foot was going to deny you anyways.
Quinn Hughes got ethered a couple of minutes later, and yes, the common thread here sure is "token resistance":
Delia poke-checked his way out of harm and at this point was trying to come up with creative new ways to make saves off of odd man rushes.
Talking point, screaming point, either way, the main takeaway from the game for many was the showdown between JT Miller and Collin Delia:
With the Canucks having less than a minute on the clock, JT Miller looked to take the puck out of the zone. Delia hesitated, and then eventually went back in net, until JT passed off the puck and the Canucks tried the break out once again.
This is going to be one of those moments that I, as a writer, absolutely love.
It's silly, it's stupid, it's full of emotion, it matters, but it doesn't REALLY matter, but maybe it does, it's the epitome of sports right here. We are going to argue it to death and try and decide who the bad guy is (Agenda: JT Miller) and decide who the good guy is (Loveable scamp Delia) and then try and figure out how this plays into a broken season.
And I do admit, from an optics scale, it looks pretty bad: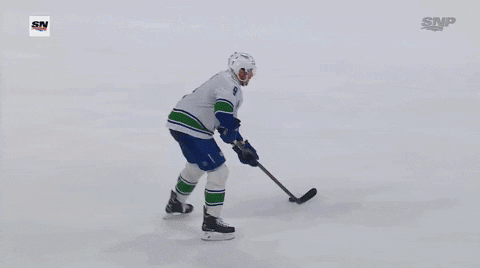 It's not just the eff bombs from JT Miller, or the hand-pointing. That's sort of his thing at this point.
It's the stick smash at the end where you're kind of like "ok, relax here, guy."
That being said, JT Miller has crumbled under my agenda as of late, and you know that's wearing on him. I know he reads The Stanchies every single game, I do.
He is also going to get paid a metric ton of money next season, and will be in the spotlight each and every game, even more so than he is now, ESPECIALLY if the team loses Horvat due to a money crunch. He doesn't just want to win these games, he NEEDS to win these games. Winning is the only thing that shuts us media members up.
Instead of asking stern questions about back-checking in a loss, we giggle and ask softball questions like "Did you think about going for your fourth goal there on the empty net?" in the big wins.
So if he thinks Delia is holding him back from that, yeah, he's probably going to get a little bit pissed off about it.
Do Canucks goalies get to scream and hit their sticks on Miller's seat on the bench when he doesn't backcheck or makes a blind pass into a breakaway? No, of course not. The system isn't built for goalies to be angry. If you get angry as a goalie, you get labelled as "unfocused" and "easy to get off their game."
If you're a skater who does it, you're full of passion and a will to win. If you're good enough at yelling and played with Wayne Gretzky, you even get a leadership award named after you.
On the broadcast, John Garrett agreed with JT Miller. If you're the goalie, you just get off the ice, consequences be damned.
I joked about Delia (and by joke, I mean furthered my Miller Agenda) that Delia saw it was JT with the puck, so he knew to stay in net because of his love of turnovers.
I do think Delia saw a forechecker shadowing JT Miller, and Miller skated right through the path Delia might take to the bench. Maybe Delia was waiting for the signal from the bench, maybe he made a judgment call, maybe he panicked and froze.
I'm just saying I'll give some leeway to the goalie who kept you in the game and where every other shot he faced was a high danger chance. Maybe him playing the odds and going the safe route wasn't the worst thing in the world to do.
At the end of the day, I think it will be made into a much bigger deal than it should be. Is it possible Delia is miffed over it? Sure. Is it possible what happens on the ice stays on the ice, and Delia moves on with his life not giving a single shit about it? Also very possible. He might just want to get back to his book on the plane.
Is there going to be a rift in the locker room because of this? No.
Is it great to have one of your teammates openly screaming at you and banging their stick on the net at you? No.
If you yell at your buddies in beer league, does that make you relate to JT Miller and thus side with him? Of course.
If I played in net growing up and had horrible mechanics does that make me love the desperado side of Delia and side with him? Of course.
I just think at the end of the day an awful lot of takes about what this "does to the room" are going to come out, and they are going to be some spicy hot takes without actual insight into said room.
I'm not saying stuff like this can't make a locker room frustrated or have players be annoyed or whatever, I just don't think it's end-of-the-world stuff.
It's just another speed bump on a potentially losing season.
The only solution, if we're being honest, is winning. Winning solves all the locker room issues in the world.
Except for the guy who never washes his gear. Winning doesn't solve that issue, does it Matt?
Quinn Hughes was the best Canucks d-man on the night, but that being said, even he had several "what are we doing here, boys" moments: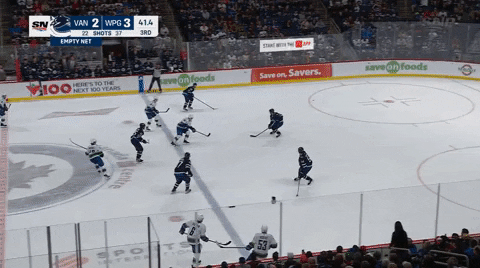 If there was a net to smash, I'd be grabbing my stick and slamming it on the crossbar for that weird lunging poke check attempt from Quinn Hughes at the blue line. He gets sent to the shadow realm and Scheifele gets the easy hat trick goal.
What started out as a pretty promising night ended with not just a whimper, but a couple of eff bombs and a stick smash.
This was not a good night for Vancouver.
Luke Schenn having to live life without Quinn Hughes is going to be rough.
I do think Schenn should get credit for knowing how to play with Quinn Hughes more effectively than others might, but yes, playing with Dermott takes away a lot of your "Get out of jail free" cards you get playing with Quinn Hughes. ie just pass the puck to Hughes' general direction when you're in trouble.
But we do have to keep in mind that Dermott will need some time to get back to speed, as Jeff says.
Best what about the expensive guys
Uhhhh…..
Okay, I don't know how the Canucks fix this.
I know it's a different city and sport, but I have to give credit to one of the most amazing jersey Botches of all time.
I don't know how or why this happened, but I am here for it.