The Stanchies: Canucks cap off chaotic 7-6 win over Montreal as Bumpin' Bo hits 20 goals
Photo credit:© Bob Frid-USA TODAY Sports
You know those moments in life when something so crazy happens to you and a group of friends that nobody will truly understand unless they went through it? Like, you and your buddies run someone over and then promise to keep it a secret but then it turns out the person you hit never actually died on he goes on to murder most of your friends?
Use that vibe and apply it to this game, except instead of killing all your friends, the person you ran over just keeps scoring goals on you. You're walking in a parade and then there's Cole Caulfield scoring a goal on you. You're watching a beauty pagent from the balcony and oh whoops, there's Nick Suzuki going bar down on you. You're closing your family store for the night, and you got it, there's Sean Monahan scoring a goal on you in a walking boot before disappearing forever.
It was the kind of game that you needed a quick moment to yourself after it was all over.
"Mommy, why is Daddy standing outside, crying quietly to himself?"
It was a journey, let me tell you. And if you didn't watch that game from start to finish, you can never understand what all of us who did, went through.
If you napped at any point? You're not one of us.
If you walked out of the game at the arena? You're not one of us.
If you turned off your TV and only turned it back on when Twitter lost its collective mind? You're not one of us, you coward.
And I don't mean that in a disparaging way, this isn't some elite club you're missing out on. You can still come to the Christmas party and partake in all the revelry and Connor Garland Elf on the Shelf dolls (not a joke about his size, he has fantastic Elf hair, damn it, and you know it).
It's just, when you're at that party, and someone mentions "the game", some of us will get a haunted far away look in our eyes that you'll never be able to fully appreciate. You saw the Canucks got a 7-6 victory over the Montreal Canadiens, but we LIVED IT. You merely adopted the darkness.
How crazy was this game? Even Bo Horvat let loose in the post game scrum when asked about how the game went.
"We got the two points, that's all I can say. I mean at the end of the day, I don't care how we did it, we got it done. Obviously it was not pretty, we made it pretty hard on ourselves, but you know we showed a lot of resilience tonight and Delia stepping in and playing as well as he did, it was a fun one, this Monday night football game."
Ladies and gentleman, that is Bo Horvat cracking a joke about a high scoring game. No talk about "we did some good things, but we know we have to tighten things up defensively", no, he actually went out and made a football score joke and just enjoyed the moment. The only thing that would have been crazier than Bo making a joke after this game would have been JT Miller saying "my bad for all the bad no look passes, but I just got caught up thinking about the latest White Lotus episode. Do you think Harper and Cameron slept together? I don't think they did."
Now, don't get me wrong, there is plenty of debate to be had over the direction of the Canucks. In fact, I had a scathing ending to this article written up that was purely about the team's lack of direction and change in the year since Jim Benning was fired. I included angry swear words that always result in Quadrelli sending me a text laughingly saying "you know we can't do that" even though we both know he's concerned about my many attempts to sneak them into articles.
But on a night when you just saw a game so crazy that the '80s called and said it didn't have enough defence for their liking?
Well, we're just going to lean into the fun, baby.
Let's go see some gifs and make some paper.
These are the nights I enjoy the moment. Just big dumb hockey games at their most erratic. No rhyme or reason for what you're watching, it's just a giant ball of chaos and energy.
Do you know how many 1-0 and 2-1 losses I've slogged through? All the Breaking Bad references in the world can't save you on those nights, even if you're adamant that Nikolay Goldobin exudes Badger energy like no other.
Best we thought they'd never end
Believe it or not, there was a time when the game started off and you honestly thought you might be in for a tidy piece of business in the form of a 3-2 Canucks victory.
And you had to reason to think so! The team looked locked in, and even got some of those, what are they called? High-danger scoring chances?
Up first you had Nils Aman almost tapping in a goal right in the crease only to be denied by Sam Montembeault of House Bécancour: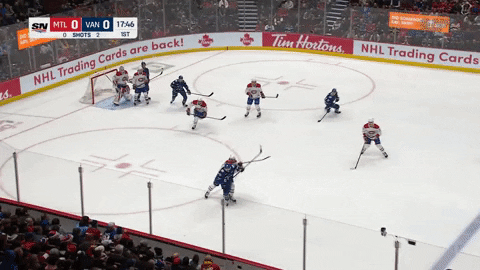 I know what you're wondering, is the House Bécancour's family crest a lilac or a ruby-throated hummingbird, and the correct answer is it's a picture of an old Nokia flip phone at 48% battery life.
The Canucks kept the pressure coming when Elias Pettersson, now almost officially a full Sedin, tried the ol' dump and ice retrieval method that Ilya Mikheyhev's foot speed turned into another high-danger chance: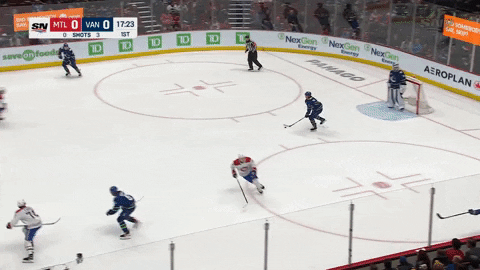 And the Canucks completed their hat trick of being foiled by Sam Montembeault of House Bécancour when Brock Boeser, who recently got his groove back, made a delightful dangle that directly led to a dangerous deflection on net: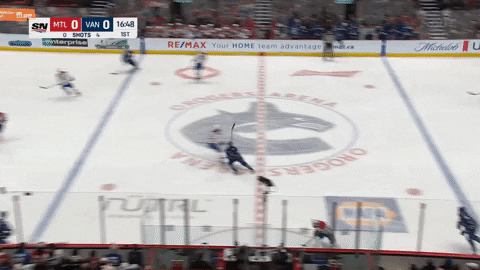 And yes, Sam didn't learn to drink coffee at the Tim Horton's at 4850 Av. Fardel just to go out and get scored on in the first period, oh no.
(Okay look, there's not a lot happening in Bécancour.)
The point is, the Canucks came out of the gates flying! They looked emotionally invested in the game! They were doing the dishes without being asked! It was kind of nice!
Best continuing to build the pressure
Sam continued to meet any challenge the Canucks threw his way, and instead of googling where, like, a Home Depot is in Bécancour let's just pretend there's some super interesting fact about this town that I mentioned here, and watch this save: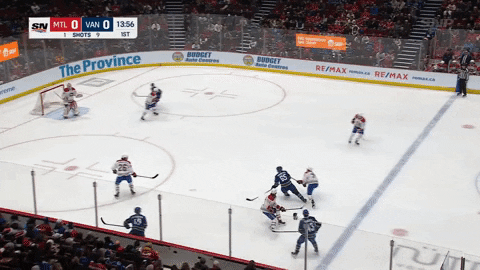 Your eyes do not deceive you, that is the Vancouver Canucks with puck possession, utilizing puck control, passing, and speed, to generate a very good offensive chance.
These things can actually happen.
It probably helps it's against Montreal.
But still, the point remains, it was a pretty solid start for the home team.
Best hockey gods taking their pound of flesh
Horseshoes and hand grenades and all that, of course, meant that there was no way Vancouver was scoring first in this game.
No, that goal belonged to Cole Caulfield, who I am convinced is related to Joffrey Lannister Baratheon, but at most a cousin who enjoys a good feast and occasionally delivers bad news to Tyrion: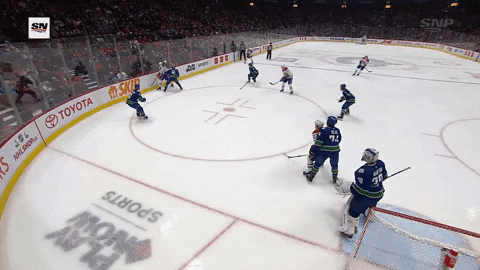 Spencer Martin has the unfortunate job of no longer being the beloved backup, a spot where people can laugh off any perceived soft goals because hey, he's the backup. You're just lucky someone showed up that wasn't an EBUG. This is the glory of the Essensa Effect wherein the expectations are so low that anything resembling average goaltending is lionized like no other.
As the starter, he now has to account for letting in shots that Roman Chechmanek would have had, and then being pulled from the game before his absurdly high goal support kicked in.
Much has been made about Ethan Bear's fantastic ability to retrieve the puck in his own zone like no other, but then having absolutely no idea what to do with said puck once he has it.
The good news is Bear didn't give up the puck here, so that's good!
The bad news is OEL has commitment issues, so Bear jumps up to cover Guhle while OEL plays zone defence to prevent the deep pass, which allows Nick Suzuki to wander away until he's open for a shot, so that's bad. At one point OEL looks like he's going to cover Broadway (can we call the middle of the ice that now? Let's do it) but instead OEL drops back and takes 4th Avenue instead just in case someone tries to park at Safeway and run across the street to Terra Breads.
I think I've lost track of the metaphor here, but this is one of those "hockey happens at high speeds" where split-second decisions are made, and each of them ends up being wrong, and then when you break it down on video you can be all "What an idiot! Who could ever be that dumb!" and then you pray to all of the gods that nobody ever sees video of you in beer league.
Best revenge is a dish best served on ice
Luke Schenn, the career leader in murders by a defenceman, added another name to his list when he absolutely trucked Juraj Slafkovsky for daring to keep his head down behind the Canucks net: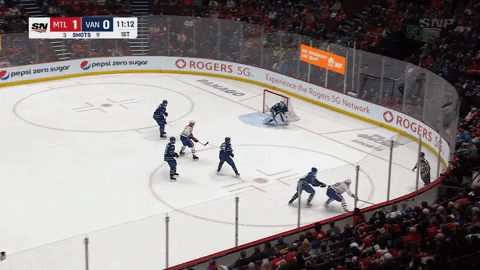 At first glance, it looked like it might have been the ol' Scott Stevens special, but on replay, it's as clean as a hit you're going to see in today's NHL. The problem is it looked really bad because at the end Juraj is slow to get to his feet and has the look on his face of someone who just saw Black Adam and is wondering how superhero movies can be so incredibly boring.
And as is always the case, when Luke Schenn decides to make you into a gif, someone gets mad, which is what happened when Xerxes decided to declare war on him:
Schenn gets hit a couple of times before shoving/kicking Xerxes into a pit, declaring "This is Vancouver!", and drinking a Venti Chai Tea Latte made with coconut drink, not coconut milk, because for legal reasons they cannot use the "M" word.
In a rare occurrence, that was the lone hit of the night for Luke Schenn, who I guess deserved a night off from dropping the hammer every game. It was a memorable hit, if nothing else.
Best runner up 360 no scope
What kind of game was it, you ask?
This wasn't even the best spinning save attempt in the game.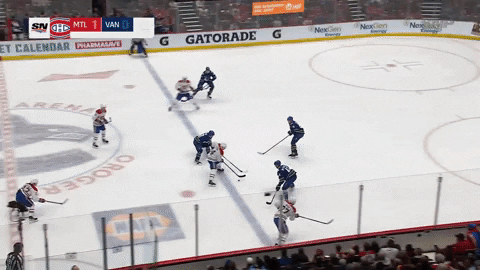 Buckle up.
Don't get me wrong, JT Miller can bring a plethora of offence to the table. But I think we can all agree that the playbook is out on his no-look-back pass:
That was the first failed attempt. He did that pass a couple of times earlier where the puck got to the point and it didn't buy them time or space, because NHL teams scout the opponents, and everyone and their mother knows the play he's gonna run. It's the equivalent of running Da Bomb every single time and hoping the opponent can't stop it even if they know it's coming.
When teams didn't know the Canucks were going to run this play religiously, sometimes it would draw in the Broadway defender, and they'd slide over to double up the pressure on JT, which would create room for Hughes to get a shot off if the pass made it through.
Now add in JT Miller's variable speed and accuracy on these passes as of late, and you end up with the other team waiting to pounce: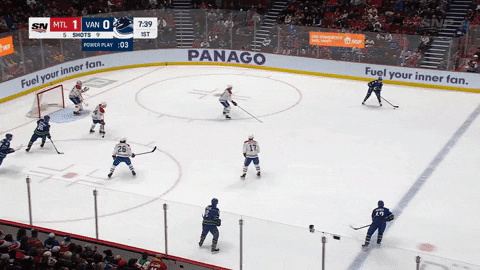 So you now have a pass that has high risk, low reward status (ie that guy on Craigslist who assures you that his mattress is in good shape, but it probably has a few stories it'd like to share) that leads to a goal.
A goal that admittedly Starter Spencer should have had, a shot that Tommy Salo thinks was very stoppable. Backup Martin makes that save, clearly. Starter Spencer? Not cut out for this league.
The end result is it continues a trend of JT Miller being predictable on the power play and gives the appearance of laziness when the passes he makes would need Kevin Martin's sure hand to get the most out of them.
And again, this is a guy who has 26 points in 26 games. He is producing points. He was instrumental on the game-tying goal (one of them, at least).
I just think it irks people and makes them take umbrage with his play when it looks like seemingly easy things to correct in his game. Such as don't make the same bad pass three times in a row.
Luke Schenn has clips of him lining a guy up and taking them out in a surgical-like strike.
OEL's big hits are accidentally tripping a guy as he's skating towards the end boards: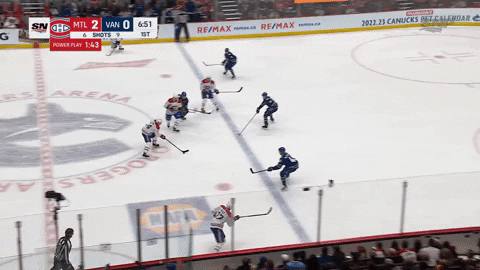 Rowan Atkinson will play him in the movie. It will involve bees.
Montreal made it 3-0 with under five minutes left in the first period, scoring just after a Canucks penalty had expired: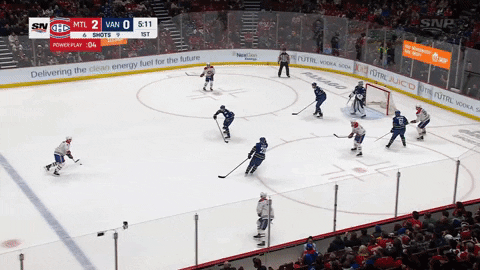 That's Brock Boeser skating onto the ice with Bonnie Tyler blaring through his head, only to watch as Montreal figured out that Tyler Myers and Riley Stillman sometimes defend theoretical passes rather than real ones.
I know they're still in penalty kill mode and trying to keep their PK box form going, but at some point when watching Sean Monahan set up shop right in front of your goalie with not a single person guarding him, something in your brainbox has to go off and tell you there's danger afoot.
Chaos Giraffe isn't even angrily pointing on the ice at the open man he isn't willing to defend, and that worries me. Where's the spirit gone?
Starter Spencer saw his last action of the night when Montreal scored just over a minute later off of a rush in which the Chaos Giraffe got a little too enthusiastic about lunging poke checks: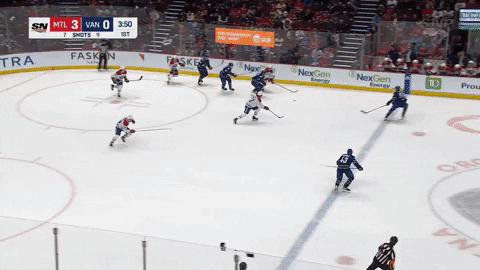 CG57 stops skating backwards, the moment's too big, he's never faced an athlete with such a strong Fubar vibe before, so he reaches for a poke and has to scramble to get back into the play. To his credit, and his incredibly long reach, he does get a stick on the second pass, but unluckily for him, it doesn't prevent said pass, it merely slowed it down enough to throw Martin off and let Michael Pezzetta backhand it in.
That solid combination of bad luck and failed hockey maneuvers resulted in Collin Delia entering the game, his first as a Vancouver Canuck.
Fun fact, Delia played for the ECHL Indianapolis hockey club, the Indy Fuel. A team named after gasoline.
Their mascot is named Nitro, a dragon who creates fire via magic, rather than fuel, which I find to be a pretty large storyline issue. The Indy Fuel should hate something that doesn't require gas.
Anyways, it was at this point that everyone assumed the game was over, because the Canucks have had the uncanny ability to pack it in during games in which they're leading, so the idea they could mount a comeback in a game they were getting thrashed in seemed impossible.
Unless you asked the players post-game, then they all totally believed they'd come back in this one. Especially Delia.
"I honestly believed like the whole time, you know, I was pretty convicted. Like, I don't know, it was just the first 10 minutes of the game, they're really putting the pedal down. We probably should have had one or two. So we had the believe the whole time."
To summarize: The Canucks used a plot line from Hook to win the game.
Don't get me wrong, it was a fantastic comeback to watch play out, but after the first period, things were bleak as they've been all season. The kind of night where people are demanding trades, but not specific ones. Just trades in general just so they would know that this kind of performance wasn't acceptable. Just so long as SOMEONE got traded by night's end.
Riley Stillman couldn't even land a hit and got reverse body-checked to the ice by Guhle's booty: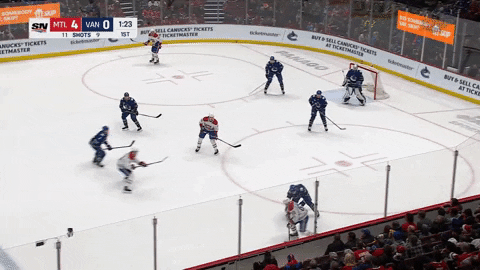 Bleak.
The Hit King delivers seven days a week.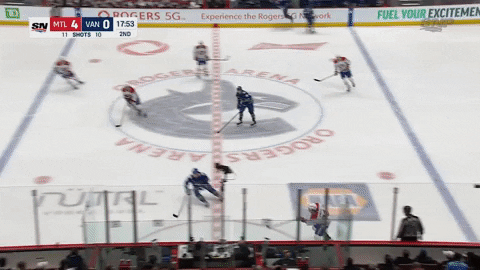 Don't you worry about the distance
I'm right there if you get lonely Give this song another listen Close your eyes Listen to my voice, it's my disguise I'm by your side.
Delia tagged his man and showed the world his Dance 360 moves, resulting in a pretty nice save off of an admittedly bad pass.
"Not a great pass on my part. So just had to get back as fast as I could. You know, it's not always pretty, but I was talking to Wes McCauley and he said 'did the puck go over the line?' I said, "No," and he said "doesn't matter how you get it done."
Goaltending can be a bit ho-hum at times when people go full butterfly and play their angles perfectly and stop all of the pucks with minimal effort, so I always appreciate a good desperado save when they appear here and there.
Hey, sometimes it isn't where you end up, but the journey that takes you there: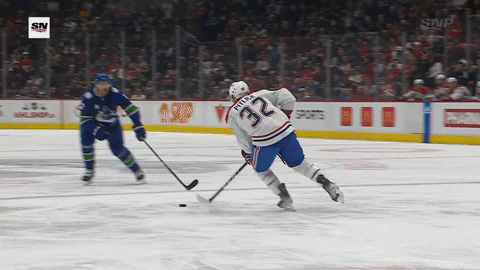 This game could have been 5-0 at one point, but I guess the Canucks belief in themselves by then had hit heights never seen before to the point that Montreal couldn't penetrate their shield of positivity: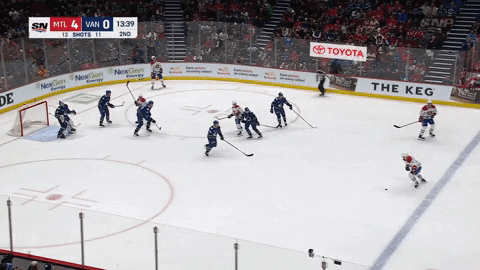 That is once again Crosby, Stills and Nash Stillman and Myers defending theoretical passes instead of the real ones, almost resulting in a bang-bang goal.
Who knows how this game turns out if Montreal scores there, but as always, if fishes were wishes we'd all swim in riches.
Best behind the scenes action
Unlike the Vancouver Canucks, I did not believe they would come back in this game. Part of me thought that if anyone knows how to reverse engineer blowing leads, it might be this club, but four goals? That felt like too tall of a task.
Which is why I clipped this shot from Connor Garland because I straight up wanted proof that they hit the net in the second period, as I didn't think anyone would believe me: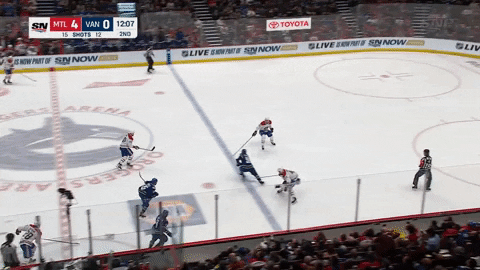 If you're ever reading this articles after a game, I truly want to paint the picture of the mentality of the night in question. A shot on net felt like a revolutionary radical new approach at this point in the game.
It's hard to remember that OEL got 55 points in a season once. I know his body is beat up, and he's older, but man, it is dispiriting to watch him drop back and almost go offside before unleashing a weak wrist shot that turns into a counter rush so easily: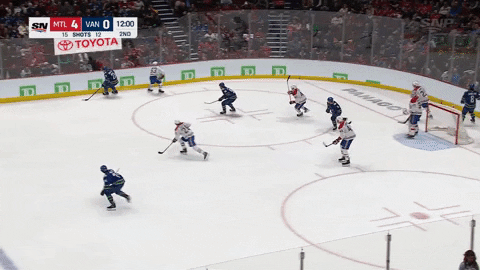 Best who did Nils piss off?
The Canucks then hit a post after Nils had a great chance down low, which if you ever needed the low point of the game, this was it: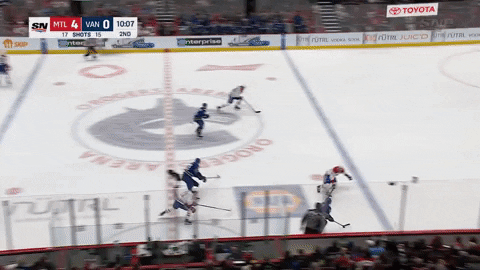 Bo Horvat spoke about the post after the game, and said he'd be more worried if there were no scoring chances for Höglander.
"Oh, man, I know I feel bad for him. I mean, he's doing a lot of great things. And he's doing so many great things to get himself open and get his chances. I think I'd be a lot more worried if he wasn't getting his chances. I think it's just a matter of time before he's going to Portland again."
He said "pot one" again, but I prefer pretending the Otter translation of "going to Portland" is how the Canucks internally talk about scoring a goal after a long drought. Just ending a scrum and declaring happily that they finally made it up to Portland again.
Okay, so I have hammered home how bleak things were, right? Team was playing like trash, social media was brimming with anger, Thomas Drance was smirking over being right once again, and then OEL just kind of forgets how to hockey stop, and takes a penalty: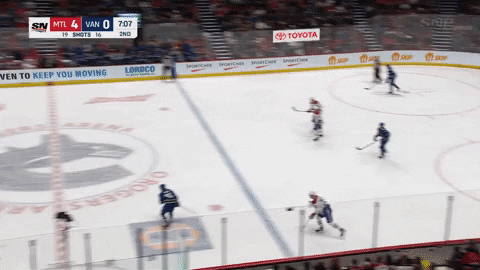 This is when I assume the majority of people checked out because honestly, up until this point, the game was straight-up insulting you as a hockey fan. It was poking you in the chest demanding if you knew who it was as it stood shoulder to shoulder with Milan Lucic.
Except this is Vancouver, and just when you think you're out, they pull you back in.
Best shelving the offence
Conor Garland got the party started off of a brilliant pass from The Kuzmenkshow, combined with Xhekaj simply falling over because skating can be hard and the ice is very slippery: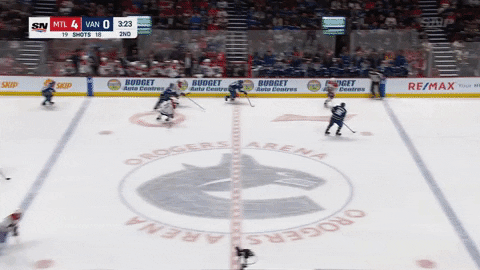 That's one of those fortunate things that finally went the Canucks' way, but also give credit to Garland for the sublime patience to wait out Sam and go mid-shelf where Mom keeps the Triscuits nobody likes to eat because they're too dry.
I should also point out that Brock Boeser took Kuzmenko's spot on the top line and to Kuz's credit (we hand out credit a lot around here) he played the same game he does with EP40. Just puts his head down, looks for nice passes he can make, and generally just looks happy to be there. If he can play effectively throughout the lineup, that is a good tool for the Canucks to have in their arsenal.
The third line of Garland, Dries and Kuzmenko actually led the team in Corsi on the night, too.
Best this is how you remind me
Again, I have never seen a player make laser beam passes on one play, and then melting Blizzard passes on the next play at the frequency that JT Miller makes them: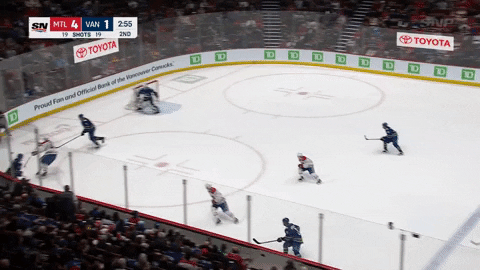 If that's the 1920s that's a sure goal, mostly because nobody knew what a slapshot was, and Cole Caulfield would then be accused of witchcraft.
Fun fact, the first person credited with a slapshot in an NHL game was Alex Shibicky, who played on the Bread Line,
as it was seen as the bread and butter of the New York Rangers
. He tried it out in a game it after watching his teammate Bun Cook use it in practice, which makes me sad they never teamed up to give us the Bread 'N Buns line, a worthy Nathan Fielder combo if I ever saw one.
Best witnessing the birthing of a joke
The Canucks put their second goal up on the board when Ilya Mikheyev converted yet another perfect pass from Pettersson: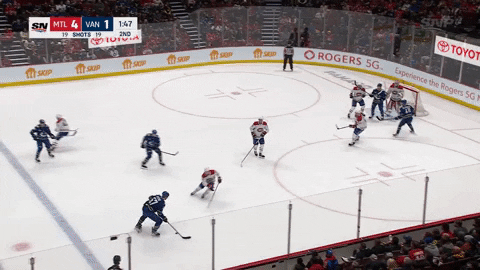 Things to note on this goal:
Tyler Myers makes a pinch and then uses his stick length to get the puck back. It results in Caulfield ending up like two miles away from him and starts the sequence of the Canucks using time and space to get the Canadiens firmly into chase mode.
Brock Boeser's board work is an integral part of this play. He collects the puck from Myers and then shimmies away from his defender and reverses course to cycle the puck down low to EP40, which is always a good move.
Elias then does what he does best which is finding the perfect line to try and sneak a pass through. He waits it out until he sees what he wants and finds Ilya with a great pass.
Ilya Mikheyev goals just sort of appear into existence. You don't remember how or when, you just know that they've happened. He's fifth on the team in goals with eight and EP40 has used his speed to his advantage.
You have to think Brock loves playing with EP40 again. Elias has this way of making anyone around him better, but with Brock's skating speed being subpar, but his shot and hockey IQ being very good, someone like EP40 can help unlock the best out of him. Plus they're BFFs, so they can totally post their goal celebrations to Instagram.
Another angle of the Elias Pettersson skill on display: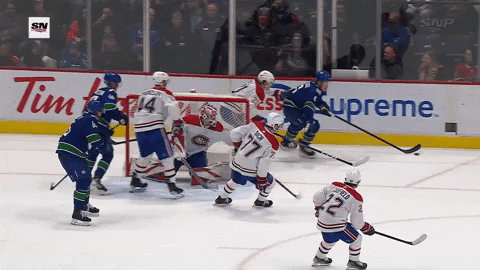 Nobody can drag their team and their line on the Canucks like Pettersson can, and it's not even close.
Bo Horvat can score goals by himself, JT Miller can be a monster on the powerplay, and Quinn Hughes can stabilize the back end.
But in terms of lifting the team up all by himself, Elias Pettersson is in a league all his own on Vancouver.
It honestly feels like the outlook of this team's management changes on a day-to-day basis at times.
See the joys of being the backup? Just simply catch the puck and now it's possible you're better than the starter: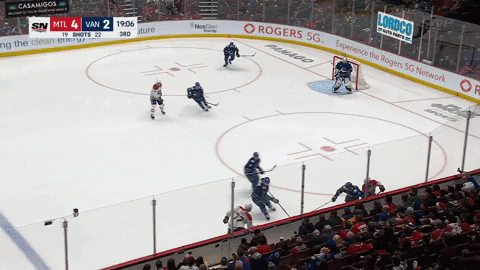 It wouldn't be Vancouver if we weren't talking about goaltending controversies every season. It's the pumpkin spice latter of our year.
Speaking of willing a goal into existence, Bo Horvat got the Canucks' third goal of the night when he did what he does best: Head to the net with bad intentions: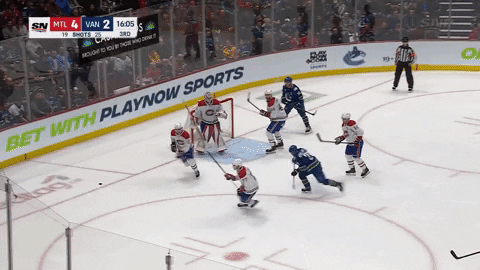 That's Bo Horvat's 20th goal of the season, in which you joke about him beating out McDavid for the Rocket Richard, but you're not actually joking, you might be serious, but ok you're totally joking, but are you, then you remember Jason Robertson exists and now your mind is totally reeling.
The endpoint is Riley Stillman got his first of two assists on the night and now Kyle Burroughs is never going to play a game of hockey ever again.
Riley Stillman picked up his second assist of the game after doing his best Brent Sopel impression by keeping the puck onside and then dumping it back into the corner: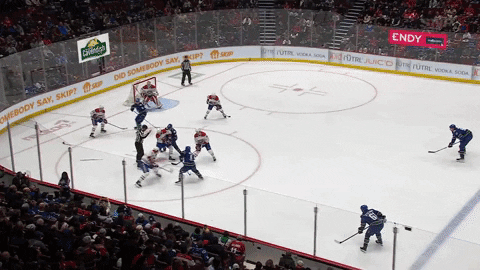 Elias Pettersson, shock of shocks, once again makes a perfect pass to Ilya Mikheyev who I assume is quickly learning that EP40 will find you anywhere at any time, so just have your stick ready on the ice. Hell, have your stick ready off the ice, for all we know Elias pops up and sends a perfect pass to Ilya while he's perusing his organic options at Whole Foods.
Best the insanity continues
It was at this point that EA Sports jumped and screamed "See? Momentum is real, it's not just AI cheating to come back in games" as the Canucks went up 5-4 after Studnicka continued his trend of doing one incredibly nice play a game, also known as going full Jack Skille: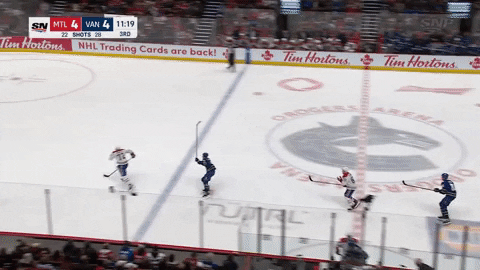 Jack Skille was the master at doing nothing all game then all of a sudden he'd almost score an end-to-end goal, and it was downright delightful.
Last game Big Jack Studd almost dangled his way into making the perfect tap-in pass before the NHL ruled it was legal to accidentally on purpose knock your own net off.
This game, Big Jack Studd intercepted a pass from Montembeault, and since Sam is unfamiliar with the style of breakdancing goaltending required to make saves after bad goalie turnovers, can do nothing but watch as Studnicka walks the puck out and scores top shelf where Dad keeps the last shred of his dignity.
Nothing in this game made any sense. To quote Brock Boeser, well, it involves a lot of confirmations of things being effed.
Best swing low sweet chariot
Bruce Boudreau, good for at least one one screen curse filled rant per season, fulfilled that quota when the officials decided a faceoff should take place in the Canucks zone instead of outside it:
This of course resulted in a goal because life is a simulation and our alien overlords really wanted to see a Kevin Owens-like tirade from the Canucks coach: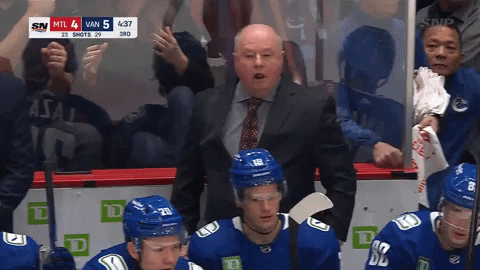 I did my best to lip read and I assure you it has something to do with 'budgie bucks', which I assume is a form of currency avians use, because NHL officiating is for the birds.
Best Quinn Hughes hates you and doesn't want you to be happy
Long-time Canucks viewers are well in tune with the vicious mockery of the hockey gods, so when Montreal's sixth goal went in off of Hughes' skate, nobody even blinked: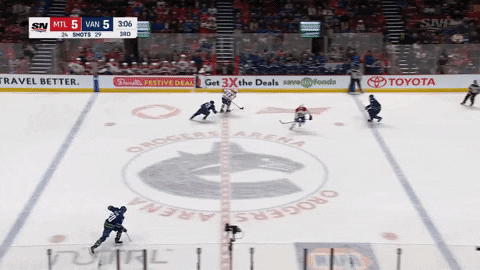 Just par for the course. The more surprising part is that Fin didn't fall onto the ice and injure a Canuck, because that's just how luck works around these parts.
I know what you're thinking, would Nitro ever hurt a player? And of course not, he's a professional. Fin is a real wild card, though.
My favourite part of the goal, apart from the soul-crushing nature of it? Jake Evans doing a full spin to point out that it was Josh Anderson's goal, and not his. That's just a good guy beer league move right there.
With the Canucks down a goal, and going to a late power play, everyone was kind of setting themselves up for JT Miller to do his patented no-look back pass right into the empty net.
But it was all a long con, I tell you! All those horrible passes? Tricking Montreal into believing he'd go back to his wheelhouse with the game on the line. That way he could send in a surprise pass to Kuzmenkshow, who eats passes like this for breakfast: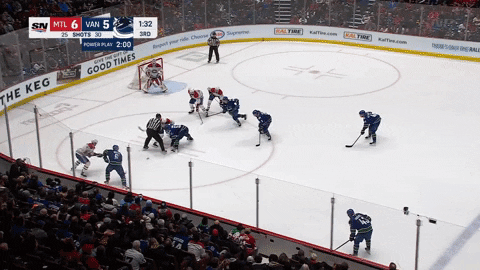 Honestly, Kuzmenko has some innate ability only a few players get where they Jedi mind trick people into thinking they don't exist. Even if your friend doesn't like him, or heaven forbid, you don't like him either, he just finds a way to be blatantly open for tips ALL THE TIME. He's like a call-in line where you can report all the suspicious-looking goaltenders skulking around in your backyard and he just shows up and taps in a goal behind them.
Also note Brock Boeser putting up the perfect screen, a skill he has adapted after becoming the fourth option on the power play.
Option 1: JT Miller does a weird pass or shoots
Option 2: Elias Pettersson one-timer from the right
Option 3: Bumpin' Bo takes his shot from Broadway
Option 4: Brock Boeser gets to look at the puck
On a night in which every time you thought the game couldn't get any more bizarre, it only made sense for this one to be decided in overtime.
Elias Pettersson vs Mike Matheson, round two:
You may think that EP40 clipped Mike's skates, or at the very least it, that looked like a smoking gun. Replays showed he didn't, but NHL officials tend to call things that look bad even if they aren't, especially when they see a scoring chance result because of it. Elias also thought he might get penalized on the play, though he proclaimed his innocence. Sadly not in musical form like Jean Valjean would have done, but I'll still take it.
"Yeah, I was thinking maybe they will call it. I didn't touch his skates. I was just playing, hoping they wouldn't call it. It wasn't anything but yeah."
Perhaps because the puck careened to the boards and the officials made the mistake of thinking Elias isn't dangerous from anywhere on the ice, they let play continue. Or they just called it correctly, something I am told they can do on occasion.
Matheson then scrambles to his feet and sees Horvat rushing in so he points to Suzuki to cover EP40, which he does with all the energy of an intern being given a coffee order for the entire office. A lot of "why me" energy on display if we're being honest.
And then Pettersson made them pay because that's just what he does. He's an elite stone-cold killer who can will his team into wins. Even after the game, his tone sounded more beleaguered than relieved, more Hans Solo tired of making the Kessel run, than Luke Skywalker excited to be flying in space.
The end result? Three points from Elias Pettersson in under 20 minutes of ice time, racking up his 32nd point of the season.
Best player on the team.
Faber has no fear.
And the best part? "No comment" in hockey talk translates to "you're goddamn right it did."
One crazy night of hockey shouldn't gloss over the fact this team seems destined to be stuck in neutral for the foreseeable future, but every once in a while it's nice to sit back and forget about the boogeyman in the closet.
We'll talk about him next game.
Until then…