The Stanchies: Bogilny scores again, and Elias Pettersson continues to do it all for the Canucks
Photo credit:© Mark Konezny-USA TODAY Sports
Clock strikes upon the hour
And the sun begins to fade Still enough time to figure out How to chase my blues away I've done alright up to now It's the light of day that shows me how And when the night falls, loneliness calls
Oh, I wanna dance with somebody
I wanna feel the heat with somebody Yeah, I wanna dance with somebody With somebody who loves me Oh, I wanna dance with somebody I wanna feel the heat with somebody Yeah, I wanna dance with somebody With somebody who loves me
Unlike Sabre printers, Buffalo did not catch fire in this game, falling to the Canucks to the tune of a 5-4 loss.
Yes, you read that correctly, Canucks fans. Vancouver won themselves a hockey game. Not just won, but they actually held a 2-0 lead and somehow managed to not blow it.
The key to the Canucks apparently to holding a lead for Vancouver is to just start scoring more goals when the other team creeps back into the game. It's very much a Happy Gilmore moment of how they should just get the ball in the cup in one shot every time going forward.
Don't worry, though, the Canucks still played some of their classics. They were a mess in their own zone for a majority of the game. Getting the puck cleanly out of their zone is apparently harder than finding a non-basement suite with windows to live in Kits. Don't worry, the dishwasher also acts as a laundry machine and a toilet, it's all very fetch.
And yes, the Canucks power play continues to be the meagre fuel in their playoff push tank, as it went 2 for 3 on the night. It was once again the Uncle Willy's Buffet of JT Miller's life, as he feasts exclusively there now. Where else can you get hash browns, ice cream, sushi, and goals all in one spot?
But you can't help but wonder if the Canucks are simply in a holding pattern until Rutherford and friends make wholesale changes. Whether that's in the form of a new coach, or simply by trying to make roster moves to set themselves up for the next couple of years, it just feels like Rutherford is giving us the Lucille Bluth wink every time he gives an interview.
So yes, the Canucks beat Buffalo, but barring a magical Bruce there it is fuelled run, it's hard to get too caught up in results when it feels like the management of the team is looking towards a different future. Which hey, don't get me wrong! Looking towards the future is good! But also confusing because they just signed JT Miller to a contract that now has Bo Horvat's future in Vancouver in jeopardy, and if they move on from Bo, it's hard to envision JT being a part of a rebuild. So if the plan is to move on from large, hard-to-move contracts, the entire JT Miller saga feels out of place.
But what if the plan is to re-tool in the next few seasons? Is the plan to move players out for players that can help you win now, something far easier said than done in hockey? Any time you hear a rumour of "The Canucks would like to trade a player and get a player of equal value in return plus draft capital" it feels like that guy in your fantasy football league that sends you that wide receiver who had one good week for your top running back. We all have dreams, man, but some of them feel slightly more possible than others.
As Cody wrote about in the Boston game, it's just been an endless amount of time watching this team circle the drain without ever going down it. With no clear plan still in place, it just feels like we will continue to play the role of Sisyphus, dutifully rolling our boulder up the hill all day. I assume Dave Babych would help us with the boulder because a man with that kind of moustache has tremendous strength, but I digress.
So while we wait for whatever Kevin Fiege has planned for the Canucks, I guess enjoy the small victories where you can? Bob your head along to the Sabres' goal songs, hope the skate jersey makes a cameo this season, and watch as Elias Pettersson puts on an absolute clinic on 200-foot hockey.
Let's make some gif money, shall we?
Before we get to the goal, I have to point out that Dakota Joshua is quickly becoming the master of sneaky little backhand passes: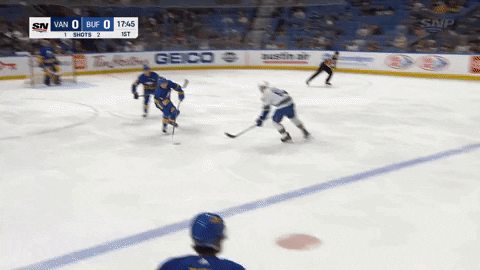 He picks up the puck, skates towards two Sabres to draw them in, then drops the pass off to Nils Aman, who gets a very good scoring chance early in the game. It's very important to note that JT Miller also loves doing these passes, but his can be wildly dangerous.
The reason? JT doesn't care for shoulder checks.
JT is out there on number 3 road, switching lanes and taking quick turns, and he's not looking over his shoulder. Half the time he's not using his signal because hey, there's enough room to slide in there nicely. That Baby on Board sticker? Just for show, there's no baby in here. The only baby is the guy in front of him not doing 100mph, because come on, we've all got places to be, what's the hold up here?
Dakota Joshua, however, always takes a small peak to make sure his pass is going where it's supposed to, and if it doesn't, he's ready to chase it down. He signals well in advance and will flicker his beams at you to gently remind you that your lights aren't on at night. If he's a bit sleepy, he'll pull over to the side of the road to have a power nap, but not before calling home to see if he should pick up cream for the coffee in the morning.
So it was a delightful surprise to see Joshua, Lockwood and Aman hook up with one of the nicest passing plays of the year for the Canucks on the first goal of the game: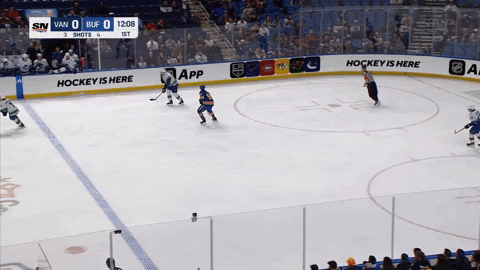 Remember, Craig Anderson is old, so a lot of passes tend to confuse him, which is what allows Joshua to rip home the nice pass from Aman from the side of the net.
Also don't let Will Lockwood's forechecking effort get lost on this play, because it's his drive that eventually gets the puck down low to Nils to make the primary assist on the goal.
Also you're going to have to accept the fact that at one point I will make a mistake and call Will Lockwood "Will Turner" and we're all just going to have to move on with our lives.
We'll find a way to make it work because if you're a young underdog with a plucky no quit attitude, then damn it, you're Will Turner.
You know who uses sabres? Pirates.
You know who beats pirates? Will Lockwood.
This is more scientific than Andrew Wadden math.
The Joyce-Lockwood station. The stop where if you don't keep your head up and you try and board the train before letting people off, Will Lockwood might cruise through and drop a shoulder into you.
At which point I assume people would then carry Lockwood on their shoulders and whisper to each other about having to keep his true identity a secret because in Sam Raimi's world this is something that is feasible.
Is it Sam?
Is it?
Best bear down for midterms
Ethan Bear has been a delightful addition to the Canucks in that oftentimes you can see him try and aim his passes, which feels like a refreshing take on the game of hockey.
And against the Sabres, he added to his resume by scoring his first goal as a Vancouver Canuck: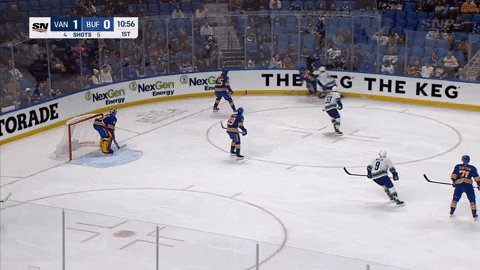 Craig Anderson, who just minutes ago had finished his Metamucil in his water bottle, is confused and frightened by all of the movement around him and can't track Ethan Bear's shot.
Fun fact: JT Miller almost picked up his first 5-on-5 assist of the season, but Anderson denied the initial shot.
I actually really liked Ethan Bear on this play for more than just the goal because he makes a play along the boards to keep the puck in down low, then he floats to the nice soft spot of the ice where he has a ton of room to unload his shot. He's not being passive, he is actively trying to find open spots on the ice, which is one of the main reasons many fans were excited the Canucks picked him up.
The Sabres' major mistake on this goal was to hit Conor Garland to the ice because that just activates mini-stick hockey mode for him, which makes his shot and passes 100% more effective. The closer to the ice Garland is, the more powerful he becomes. So Garland makes the pass to Bo, who then does a shoulder check back pass that Joshua would be proud of, and boom, Ethan is busting out the Fat Dog victory dance.
So close Andrew. So close.
It's true, the Canucks either needed to wait to score their two goals at the end of the game, or simply score goals during the entire game to win.
Best can't fight that feeling
The Buffalo Sabres' own version of the JT Miller contract — Jeff Skinner — recorded two goals for the home team, the first of which showcased the Canucks' disgust at the concept of defence: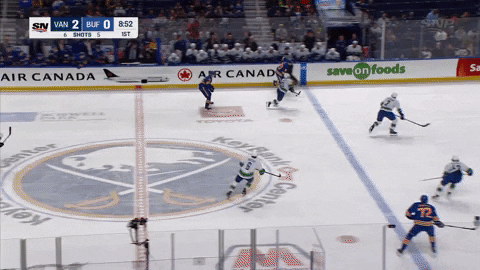 Nils Höglander getting beat by Rasmus Dahlin isn't something to bury the kid over, as Dahlin tends to do that to people. It's Nils' reaction to realizing he fell off the map like he took a bad turn on Rainbow Road that I take umbrage with. He gets shaken off the puck, fine, but it feels like at that point he gave up and went with the "if he dies, he dies" approach to hockey: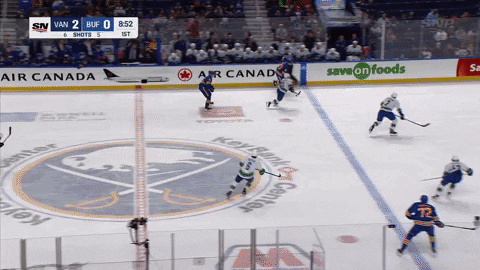 On top of this, Brock Boeser does the Joshua shoulder check (good!), and sees Skinner flying in, and his reaction was to stop skating (bad!) and kind of point his stick in his general direction as if to deter him. The defensive equivalent of telling someone "well I wouldn't go in the haunted house if I were you" when it's clear that will just make the person want to enter the house even more.
Best Jake Wyler performance
Elias Pettersson got the third goal for the Canucks to restore the two goal lead. And this won't shock you, I know, but this came as a result of Elias Pettersson doing everything on the ice at all times: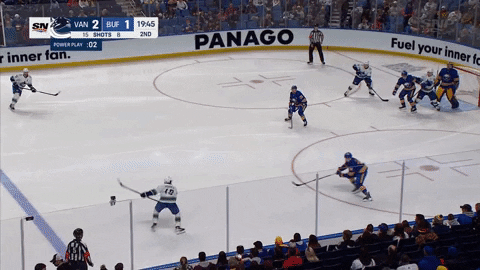 The thing about watching Elias Pettersson is that he is always trying to make moves near the puck. Whether that's in the form of poking at the puck, stealing the puck, boxing a guy out from the puck, or as seen here, putting pressure on the puck, he's always making himself a threat on the ice. This is why he gets coffee, because coffee's for closers.
Like on this goal, EP40 skating to the boards to help put pressure on Girgensons doesn't seem like a lot, but that's the beauty about pressure; it's not about throwing the big hit or making the big play, sometimes it's just about making the other guy panic and think that he's in trouble, so he makes a bad pass, much like what happens here.
It's like your buddy in Warzone who the second a gun fight breaks out just fires his RPG and then panics and switches his gun four times in a row and watches as the team gets wiped and then your other friend screams about his complete lack of awareness and before you know it the rest of your gaming night is played under a banner of awkward silence.
The complete opposite of this is the Brock Boeser stick point. Nobody is panicking over that. Nobody is thinking "Oh s***, here comes Brock pointing that stick in my direction, I better change things up here."
But Elias Pettersson, the smartest and most skilled guy on the other team is heading your way? That's panic city, baby.
Elias Pettersson is that annoying guy that's way too good in beer league and that you're convinced is a ringer so you check how many games he's played to make sure he's even eligible for the playoffs.
All of this and we haven't even talked about him heading to the net and making the deft deflection for the goal.
Overall just an absolute clinic on why Elias Pettersson is the best current Vancouver Canucks hockey player.
Best in the closet making babies and I saw one of the babies and the baby looked at me
The Sabres continued to apply the pressure because let's face it, Vancouver blowing leads is their brand, and eventually, Jeff Skinner got his second goal of the game after Oliver Ekman-Larsson attempted interpretive dance instead of defence: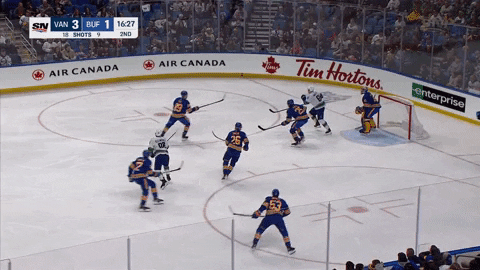 Look I get it. OEL has had knee injuries and his skating isn't what it used to be. All you have to do is look at last game to see EP40 imploring OEL to skate towards a loose puck to know that playing it safe has become his motto. If that puck is within a mile radius of the opposition, Oliver is skating backwards to make sure he doesn't get burned wide. He's in single track maintenance mode and there might be a delay on your trip, I get it.
Also, that line change from the Canucks is doing no favours for anyone. Mikheyev ghosts on this play like he's leaving a party early.
But OEL, it's not even his skating that is the issue here, it's the weird lunging poke checks I'm not a fan of: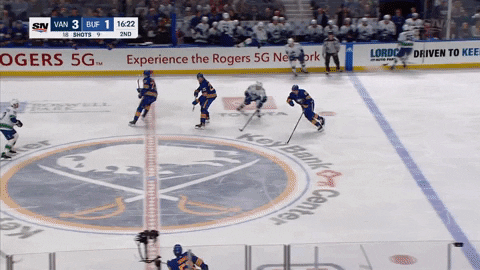 First off, he slides over to the right side of the ice to do an Aura Whirl combo with Ethan Bear, and then when that fails, he slides back to the left and comes to a stop with another soft lunging poke check that allows Tage Thompson to waltz right around him.
These are the major defensive issues that keep cropping up this season, and this is why "structure" is such a buzzword around Vancouver, because of plays that break down like this.
Again, good on Tage Thompson, he's a fantastic player, and is going to make nice moves like this. Jeff Skinner is also going to make shots like this because damn it, he just wants to dance with somebody that loves him.
But you don't have to make it easy for them.
The Canucks scored off a set play when Bo Horvat won the draw to Rip Wheeler and he unleashed an absolute laser beam of a shot to beat Craig Anderson who had just settled down for a nice afternoon nap:
For all of JT's defensive issues, the man knows how to produce points, as he is now up to 16 points in 17 games.
You'll also note that this was indeed another power play goal because Vancouver is super into that right now.
I told you Vancouver is into power role play: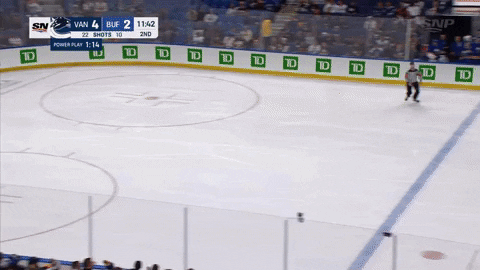 First off, please tell me you saw this goal and then told your closest friend to "watch the pass Spencer Martin made, he makes this goal happen," because I need to know that we as humans are all the same. If someone in your group didn't stand up to be this person, then I am very disappointed in you.
Secondly, watch as Elias Pettersson, again the smartest guy in the room, isn't there to impede the process of that puck. If that's JT Miller, for all we know, he stops the puck dead in its tracks, fires a blind pass into the benches, and then somehow ends up in a fight with Sabretooth in which he taps him out with a rear-naked choke or something.
But because it's Elias, he does that Hank Sedin thing where he becomes one with the puck and he knows his part to play in this puck's life is short but impactful, and he merely gives it a little encouragement to continue on its journey as he goes about the rest of his day.
Brock Boeser, who now only gets to see Elias Pettersson on weekends, happily dishes the puck over to Bo Horvat, and Bogilny makes no mistake about it as he is the second most lethal sniper in the NHL right now.
Will Bogilny score 50 goals this year? We laugh but it honestly feels like a very real possibility if only because it makes his contract situation very much a typical Vancouver sports scenario.
Best what to do with Brock
The Sabres' third goal came after some sustained pressure in the offensive zone, and with Sheldon Dries without his stick:
Alex Tuch tips the Owen Power shot and soon the arena was filled with a story about losing one's mind up in here, up in here.
That line had poor Corsi, poor plus/minus, and poor shot production, ending the night with only two shots generated.
It puts Brock in an odd spot, because we went from pre-season talk of maybe going for 40 goals, which seems like something he could do, but also something he can't do on his own.
We're at that point where it feels like Brock is a passenger player, not a driver, which makes putting him on the third line not very effective. Don't get me wrong, you can have very good effective passenger players, but if you want them to excel, you do need to help them.
So the question becomes, is Brock worth the money if he needs that top line center passing to be that 30-goal guy?
Or maybe he ends up scoring 40 goals on the fourth line and he calls me out for the dummy I am and we all win?
Who can say?
Best never making it easy
Brock Boeser, seen here gently touching cross-checking Lyubushkin, put the Canucks down a man: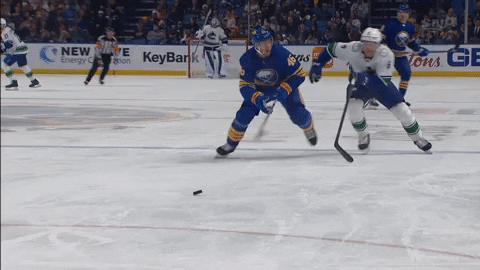 And although the power play had just expired, this goal pretty much happens due to the penalty: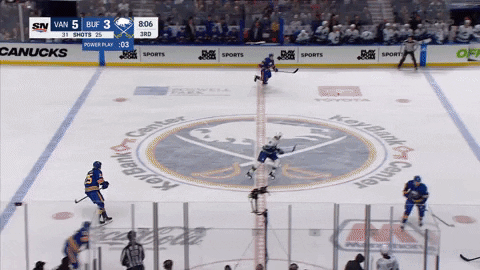 Once again, Sheldon Dries is caught playing air guitar in the slot, so Joshua slides over to do the OEL poke check of doom, which frees up enough space for Casey Mittelstadt, who's got stars in his eyes, and makes it a one goal game.
Bob Ross would call these happy little accidents as opposed to the soul-tearing incidents you view them as.
The Canucks tried individual goal songs back in 2016, and honestly, I wasn't a huge fan for a couple of reasons.
One, it meant not using Holiday as a goal song, which was awful, because that's a top-tier goal song.
Two, half the players didn't care enough to pick their own song, so the team ended up just choosing some for them.
Three, sometimes it's hard to know who scored the goal so that becomes an issue for the in-house team to figure out on the fly.
Four, sometimes the players that did care would choose a wildly horrible goal song, which is how we ended up watching Brandon Sutter call Baton Rouge after each goal.
It was a dark time in Vancouver.
But when it's done right, individual goal songs are a delight. The Sabres are doing it right, because they picked some bangers. And don't forget,
Chris Tanev's goal song was Hot in Herre by Nelly
which is objectively the best goal song choice he could have made.
Fun fact: Nikita Tryamkin's goal song was Rasputin, but we never got to hear it because he didn't score on home ice.
All of which is to say I hope the Canucks bring this back one day because it does add some needed personality to the NHL.
It felt like I was watching the Buffalo Bills close out the game as the Canucks took turns trying to go for the goal, but instead missing the net and icing the puck.
Up first we have Cam Lewis Tyler Myers going for broke and missing the net: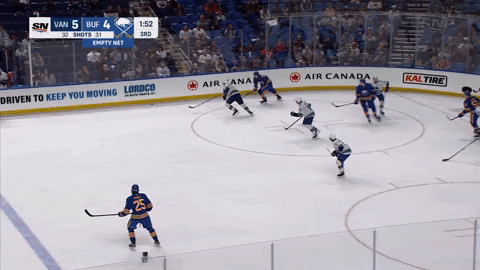 Then we had Josh Allen Conor Garland taking a shot at it and missing as well: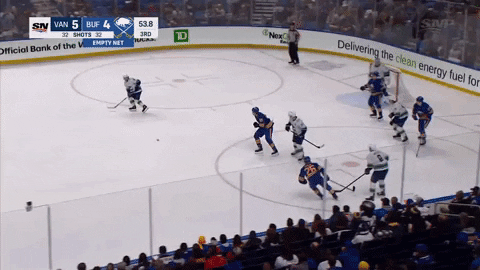 Luckily for Vancouver, that was as close as Buffalo could come.
Because Elias Pettersson goes where danger is. He goes where he is needed. He is the Batman of the team, the smartest guy in the room, the guy who doesn't have the ability to shoot laser beams out of his eyes or fly through the skies.
He gets by on pure intelligence mixed in with a bad night at the opera.
This is why EP40 is back here making sure Tage Thompson doesn't have an easy shot on net: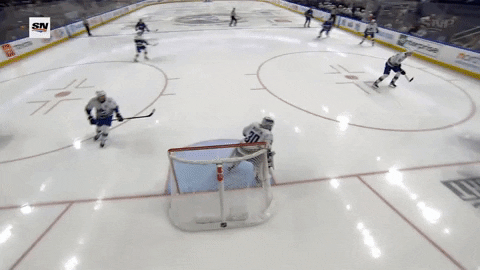 He's applying pressure and not making it easy for him. Then watches as Tage trips over the back of the net.
Again, it's not even about being the bigger player, it's just about being smart. Here he cuts off Owen Power and gets the puck out of the zone even when he gets double-teamed:
Go have your coffee, Elias.
Best horseshoes and hand grenades
A Tyler Myers pinch that didn't result in a horrifying breakaway gets the puck down to Garland who then finds Boeser for the almost tap-in:
Again, you can't help but wonder if Brock just needs that center that's always looking to find him in the dangerous spots. It's why Elias always felt so good with Brock, because EP40 will find you, and Brock Boeser, when healthy, has a lethal shot.
It also feels like Mikheyev can be more effective in the bottom six because he has the wheels to make offence out of seemingly nothing: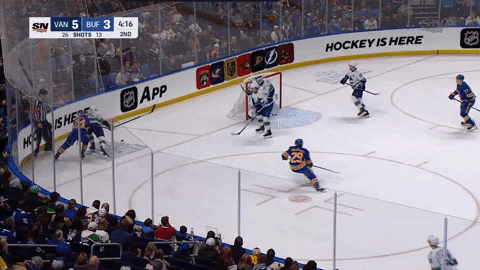 Once again, here is Mikheyev generating a breakaway purely out of a will to skate super fast just because he can: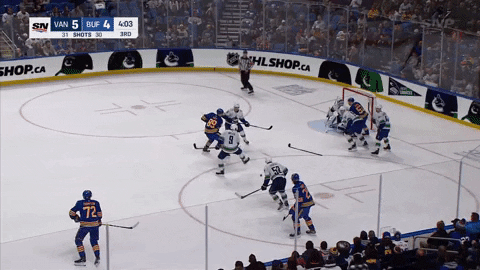 Maybe you pop Boeser back with Elias to see if you can get him going again because honestly, that third line had an awful night out against the Sabres and I question how much value Brock brings to you in that grinding kind of role. Maybe Mikheyev can bring that Tyler Motte energy to the bottom six?
Best did JT Miller get a 5 on 5 assist today?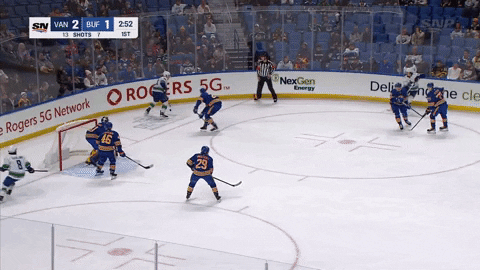 Nope.
I am contractually obliged to show a Schenn hit in each Stanchies, so here you go: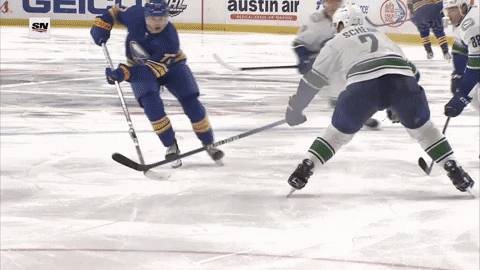 With four hits on the net, Luke Schenn continues his march towards 3000, as he is less than 100 away from the milestone.
As for the belt? Well, Luke Schenn finally got his Wrestlemania moment:
I'm still waiting for a player to wear the belt properly instead of holding it up in the air like a bag of lettuce they just found in the trunk of their car, but baby steps. Baby steps.
Also maybe a promo that isn't centred around "Let's keep this going, **** yeah boys". Mix it up a little bit.
You ask, we deliver, we're the Skip the Dishes of hockey content: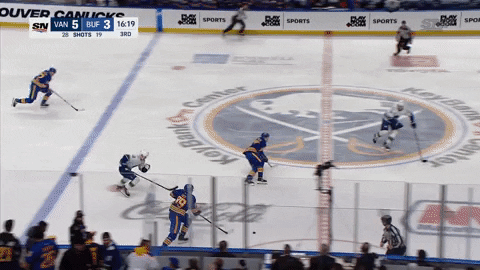 I will say I have seen far worse Chaos Giraffe slip and slides in my time, and he actually gets a piece of the pass with his right glove, which causes the puck to change direction just enough to disrupt the rush.
Best welcome to the DAWG pound
Okay, let's dive into this. Will Lockwood was your top DAWG with a 96.77 rating, which makes sense because it was an impressive game from the kid from Bloomfield Hills.
One of the questions about him was if his body could hold up playing his style at the NHL level, and while you don't need him dropping 10 hits in a game, if he's finishing a check or two like this in a game, that's golden:
Of course, being a DAWG isn't just about hitting, it's also about heading hard to the net and drawing penalties, which he did perfectly here: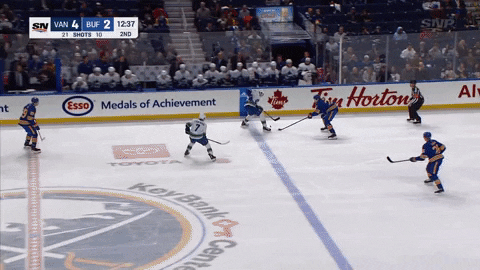 A tip of the hat to flying through the air like Bobby Orr and then landing and recovering the puck to still get a shot off. That's what DAWGs do. They don't quit on plays.
And you want some blocked shots? Oh, Will Lockwood will block shots for you: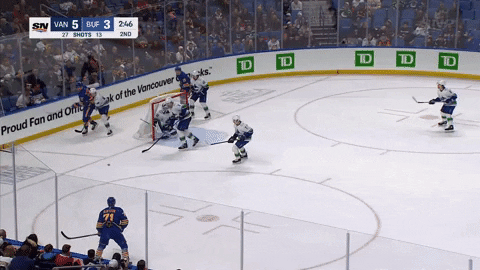 The thing I liked about this block was that he lays out for it, but not so much that he slides back to his home planet like Poochie. He makes his block attempt, and then he's right back up and ready for another shot block. Ryan Johnson would make these massive attempts to block shots where he'd basically do a spinaroonie on the ice and then slide out of the zone, but he'd take himself completely out of the play. It looks awesome, but you question the effectiveness.
It's like the basketball thing of yeah, it's cool when you go full Dikembe Mutombo on blocked shots and wag your finger to shame the opposition, but it's actually more effective to do the Shane Battier approach and just get control of the ball back.
We talked about Elias Pettersson applying pressure and being in the right spots, which is what Will Turner does here by making sure Luke Schenn's diving block isn't the only option on this play. If that puck gets through, guess who is there to make a play to stop the shot: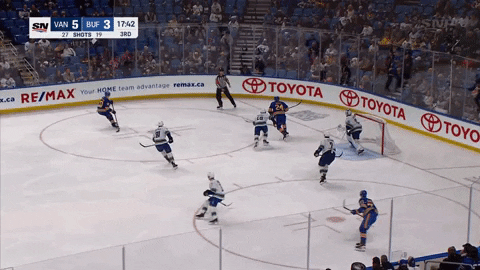 Will Lockwood.
And finally, being a DAWG is about anticipation, which is what Lockwood did all night. His reads on the ice were smart and he would take calculated risks to break up plays and push the puck into the offensive zone, like in this clip: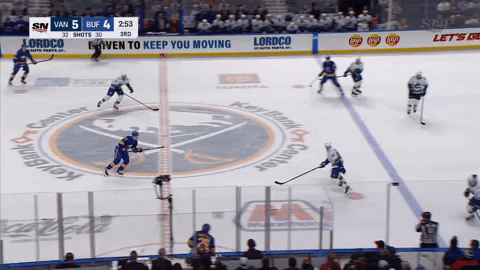 Looks like a cornerback reading the QB before the pass is even made.
Just a fantastic night from Will Lockwood and should assure him a spot in the lineup next game.
As for other top DAWGs:
Luke Schenn – 87.60
Ethan Bear – 61.64
Nils Aman – 59.21
Some mid-range DAWGs:
Bo Horvat – 58.80
Elias Pettersson – 55.86
Conor Garland – 52.78
Some lower-range DAWGs:
JT Miller – 43.49
Brock Boeser – 39.95
Tyler Myers – 32.72
And the CAT of the team:
Oliver Ekman-Larsson – 13.74
Best Atlas asked us to include the score in the Stanchies
This game ended by a final score of 5-4, in case you hadn't heard already.