The Stanchies: Bo still knows goals, the OEL-Myers disaster, and the Canucks collapse in Toronto
Photo credit:© John E. Sokolowski-USA TODAY Sports
"Looks like another Canucks lead, eh boys?" Steve stated out loud to the room.
"A 2-0 lead, the worst lead in hockey!" cracked Jeff, as everyone tittered in agreement.
"No no, for real though, I think they have this one." Steve drawled, the alcohol clearly playing a part in his outlook. "They're on the road, they have no distractions, and they're going to want to win on National TV. Who doesn't love embarrassing the Leafs!"
"Yeah but they always blow leads, that's their thing, Steve!" Jeff responded, clearly enjoying playing devil's advocate. "They could have a 6-0 lead and I would bet the house that they'd lose the game!"
An odd shift in the emotion of the room rippled through the air the second Jeff ended his sentence. It was the kind of shift in direction that any divorced couple would recognize from a mile away. It was the verbal equivalent of stepping on a land mine, where you have no idea what just happened or how it got here, but you know the next few seconds will decide the direction of your life.
"Jeff, get out of my house," Steve whispered, devoid of any emotion. It was a flat, cruel whisper, one full of promises you never wanted to see fulfilled.
"Woah Steve, look man, I was just joking around, they can win this game buddy," Jeff responded, the heavy wrinkles he got from his father's side of the family filling in his forehead like soldiers preparing for battle.
"Jeff I am going to give you five seconds to leave my house. I won't ask again."
"Steve, look man-"
"Three seconds."
Jeff jumped up from the couch and practically ran from the room, stumbling over the end table, not even bothering to apologize for hitting the self-help book that was sitting on it to the ground.
"Anyone else have anything to say?" Steve asked, looking around the room as if daring someone to challenge him. Dead silence greeted him, with Ron MacLean oddly talking about Cody Hodgson quietly filling in the background.
"Good. Good. Now if you'll excuse me, I need to make a phone call."
Steve walked out of the room and went to his office. He knew he'd gone too far with Jeff, but he would be damned if he was going to let Jeff ruin his night. Not on Saturday of all days. Not in November of all times. Steve picked up the phone and dialled eighteen numbers in total and was greeted by a robotic voice.
"This is alpha omega baseline."
"Enact Gudbranson protocol."
"Please confirm, you wish to enact Gudbranson protocol?"
"Yes."
Steve put down the phone and sighed. The weight of the world lay heavy on his shoulders, but nobody understood what he was going through. Nobody understood what he still had to complete. Least of all Jeff.
"You think it's funny to joke about blown leads, Jeff? Well just you wait 'buds'. Just. You. Wait. This is bigger than both of us. Than all of us."
A buzz from his phone startled Steve back to reality. It was a text from Jeff.
"3-2 Leafs, lol, told you. Canucks blow everything. See you at work on Monday!"
Steve stared at his phone for several moments before getting up and putting on his jacket.
It looked like his night was just beginning.
Number 53 in your program but Mr. 9 to 10 million on your books next year struck again for the Canucks, giving the Canucks the early lead: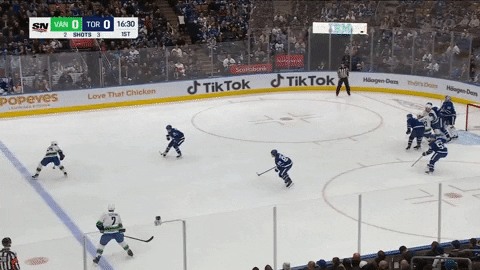 Bo Horvat potted his 13th goal in 15 games in what is quickly becoming the worst game of "Chicken" in Canucks contract history. Allvin and Rutherford rolled the dice, but it looks like Bogilny is going hard to the hoop during this contract year.
You know who has more goals than Horvat right now?
Connor McDavid.
That's it, that's the list. I have no other names to sandwich in there. We're at the point where next season people might be saying players are demanding "Bo Horvat money".
So yes, to say Bo Horvat is putting in work is an understatement. Can he maintain this production through the rest of the season? Well if he did, he would truly be Bogilny as that would be a 71-goal pace, as Daniel points out. His career high in goals is 31, but you have to factor in the fact that this is Vancouver, and just the weirdest stuff happens with sports here.
Oh, you want to see who gets the first overall pick in 1970? Here's a poorly constructed spinning wheel that will decide your fate for you.
Oh you want to win a Cup in your first Finals appearance ever? Ohhh, sorry, here's a generational dynasty waiting to waffle stomp you down the shower drain.
Oh you want to beat the Rangers in 1994? Ohhh, sorry, the older Rangers team is going to get an extra day of rest for reasons, and did I hear you like posts?
Oh you want to beat those mean Bruins in 2011? Okay, let us just make sure that's ok with Greg Campbell's dad first.
So yes, colour me the least surprised person in the room if Bo Horvat did end up putting up stupid crazy amounts of goals this season, it would be very on-brand for this market.
The other thing to note on this goal is Luke Schenn, who picked up the primary assist by simply shooting the puck on net, which you might think is simple in theory, but Tyler Myers failed to hit the net once, so you know, maybe it's all relative.
Look, I am writing about a game in which Jordie Benn scored the game-winner, this is just going to be a weird night, ok?
Despite wearing a shirt and not playing air guitar, I couldn't help but wonder what was going through Ron MacLean's mind as he pontificated about Bo Horvat's contract situation during the first-period intermission.
He said, and I quote: "When you see Bo playing well, you think gosh we're going to lose him, you had Cody Hodgson, you just got him going, they showcased Hodgson, gave him PP time, young prospect, and then bang."
I assume Ron's knowledge of the Vancouver Canucks died when the team stopped being good, so he's firmly stuck in 2013. I don't know if we're going to get a Cam Barker comparison to Oliver Ekman-Larsson anytime soon, but here's hoping?
I just find it weird to talk about Bo Horvat, who is the Canucks captain, and has been a top player for the Canucks for eight seasons now, and then talk about Cody Hodgson who really only had one full season in Vancouver, as some sort of comparable? There is so much to unpack about the differences between the two situations that I don't even know where to start.
But AFTER that, I'm not sure where to start.
Wait, CoHo clothing?
BoHo clothing?
Okay wait maybe Ron was right about this.
Twitter Blue:
Twitter verified:
Luke Schenn had a monster night for the Canucks in that he got a point but also the fact he landed 12 hits in the game. This marks the third time he has done this for Vancouver, and yes, 12 is the franchise record for hits in a game.
I can also tell you that Luke Schenn was the top DAWG on the night with an incredible record-setting 135.94 rating, which again, the formula is a giant secret so I don't want to see any of you screaming about it in the comments.
Now that being said, no other DAWG ratings will be released tonight because quite frankly, this team doesn't deserve them on a night like tonight.
But I will say that Luke Schenn and Quinn Hughes were the best of the worst, especially in the first period.
Here, Luke Schenn not only gets the puck off of Mitch Marner, but instead of blindly flinging the puck down the ice using a combination of thoughts and prayers, he actually composes himself and resets his position to allow himself enough time to play the puck out of the zone: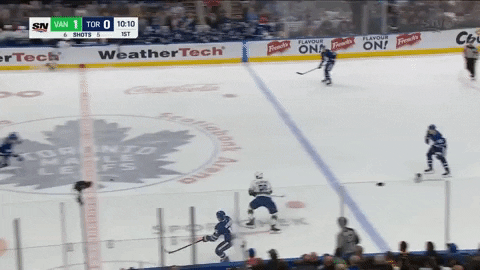 John Tavares tried breaking through the Hughes-Schenn wall of friendship and was quickly denied as Schenn Daddy shoved him out of the way so as to allow his son to retrieve the puck: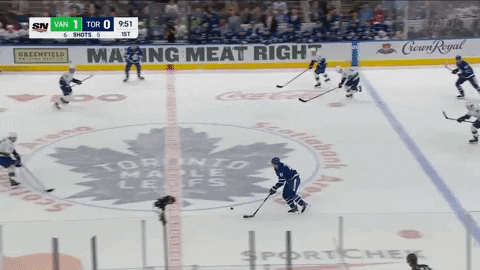 There were also times where Schenn got burned by his footspeed, and I know a team looking to win the Cup doesn't gameplan on having Luke Schenn on their top pairing. But whatever this current hellscape we're living in is, what Schenn brings to the table at the bargain basement price he does it at, well, that's kind of invaluable.
Say what you will, but there is something to be said about knowing how to play with skilled players. Alex Burrows understood it. Luke Schenn does as well. Taylor Pyatt never got it.
I know at the trade deadline Schenn could be moved for some real estate, and I've been hammering at picking up draft picks for years, but a large part of me wants Luke Schenn to be part of the new group or whatever future they try and build here.
Besides, who else is dropping 12 hits in a game?
The Point Maker Spencer Martin finally saw his production streak snapped, but he had himself another hell of a solid game.
Early on, the Leafs got behind the Canucks defence after OEL collided with the Chaos Giraffe, and Alex Kerfoot found himself on a semi-breakaway as a result: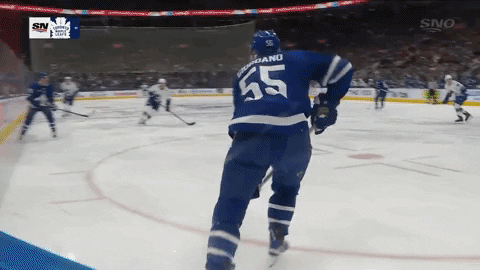 He tried to run it through the crease but Martin didn't play for the Orlando Solar Bears just to let people try and drag him like that.
If you're curious what the Orlando Solar Bears logo looks like,
it's exactly what you think it would be
: A polar bear holding a stick casually over its shoulders, wearing some sunglasses, while the sun shines down on it. I have no idea why we would have thought it would have looked like anything else, to be honest.
Best we all saw it coming
The first period was really good from Vancouver, in that they scored goals and hadn't let you down like your Step-dad for the thirteenth time by blowing the lead yet: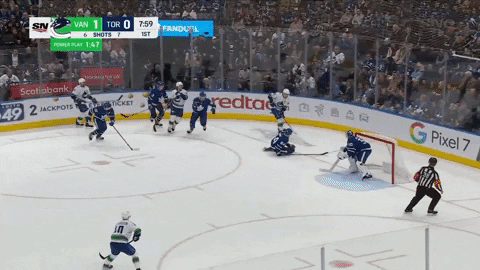 The Canucks power play, which consists of "JT Miller, shoot the puck" or "Bumpin' Bo, shoot the puck", decided to go with JT Miller shooting the puck on this play. It's also nice because JT Miller didn't blindly pass the puck to the opposition in what I assume he calls "frozen regrets."
Cam Charron noted on Twitter that it feels like Elias Pettersson isn't taking too many one-timers and is instead stopping the puck when he gets the passes on the power play, and you know what, I think he's right.
We haven't seen a ton from Elias Pettersson on the power play in terms of shooting, nor have we seen a lot of it in-game either. That's not to say he isn't playing well, he's still the best defensive forward on the team, but we're not seeing the high-level laser beams we're used to from him.
It could of course all be coincidence, but it is something to keep an eye on.
Garland almost snuck this shot in, but Leafs legend and sure Hall of Famer Erik Kallgren managed to close the wickets just in time: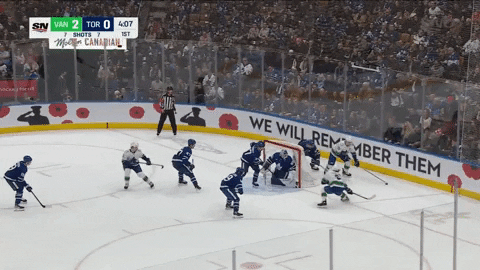 I always enjoy these types of saves because I know the panic that goes through your mind of "oh god where did that puck go" and before you know it, you're checking to see if you left it in the freezer "just in case."
Best why you gotta be so defensive
Before we show the play by Elias, I do have to show the penalty that got the Canucks shorthanded: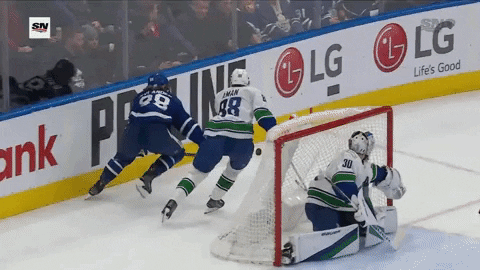 Anytime you pull a complete 360 no scope to sell a penalty, I am going to applaud you and make a clip of it.
That being said, with Nils Aman in the box, the Canucks almost got a goal of the year when EP40 picked the expensive pockets of Mitch Marner and Bo Horvat almost did that: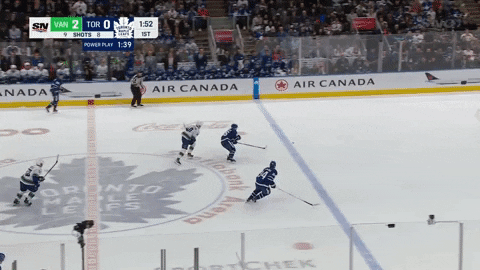 Watching Elias Pettersson use his stick to make plays is the stuff of magic. There is not one player smarter or better on the Canucks with leveraging their stick to take the puck away from the opposition. Not only that, but after he gets the puck, he uses perfect body positioning to box out Mitch Marner, much to the chagrin of Paul Marner.
And this isn't anything new for Elias. Watch any game and he will flail his stick and you think he's just trying to blindly swing at the puck, but all of a sudden he's hit the puck perfectly to a spot he can skate into, and it's then you realize just how smart and talented he is at puck recovery missions.
Now add in Bo Horvat deking through two guys, and that's prettier than that fourteenth picture of a cherry blossom you took on your phone this year. If Morgan Reilly doesn't lift the stick of Bogilny there, that's most likely a goal.
The Canucks then did their job to defend Martin as the period wound down, with JT Miller lining up behind Luke Schenn to make a huge block:
Well I hope you had fun reading up until this point because oh boy does this game kick you in the genitalia of your choice as we go along from here.
Best sleep with one eye open
Whether it was the Canucks playing worse or the Leafs playing better, or most likely a combination of the two, Toronto got on the board early in the second period on the power play: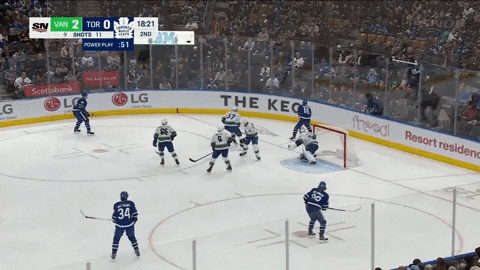 The Canucks' penalty kill is the Arby's of the NHL, so bad yet it still exists for reasons nobody knows, so it's not shocking they get scored on.
For me, it's more about the fact that yeah, maybe Auston Matthews is the guy you should be keeping an eye on out there. But this is typical Canucks penalty killing. They drift into danger like they're on the Alex Fraser during rush hour, and before you know it the team is wildly out of position with the entire squad stacked up on one side of the ice.
Matthews literally just glides in from the blueline like he used a mobile app to order a goal and he's just here to pick it up.
Though credit to JT Miller for trying to stack the pads to stop the shot I guess?
Oliver Ekman-Larrson and Tyler Myers seemed locked into a duel of who could pass to nobody the most, and OEL took the lead early in the second after he dials this puck up to the Leafs for, reasons? Bees?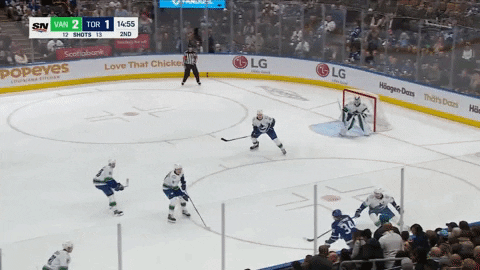 He wins the puck battle, that's good! But then he shoulder checks twice and still sends the puck to two Leafs players, and we can't even blame his lack of foot speed on that one.
Alex Edler at least kept his mental game sharp when his legs lost their motor. Sure, he shot the puck into a thousand shin pads, but he could still move the puck well in his own zone.
Because foreshadowing is our friend, here's the 15 seconds before the Leafs' goal: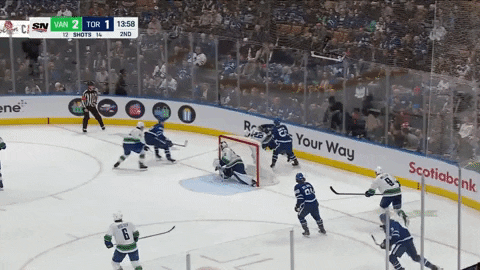 Notice how the Leafs control the puck and literally do a lap of the rink? Notice how the Canucks cannot get the puck back for the life of them, and it ends up with a shot on net with a scramble in the crease?
This sort of became the theme of the game from this point forward. The Leafs would circle like teal sharks in the water, and would just hammer away at Vancouver until it became a game of who was more exhausted, the Leafs for bombing the Canucks in their own zone for three minutes, or the Canucks for getting their lunch fed to them for 3 minutes.
All of which is to say the Leafs would end a lot of these shifts by just getting the puck on net and getting their grease on:
Instead of flying away in a magical car, we get a cup of beer flying into frame, which is almost as good.
The Canucks take turns double-teaming the wrong guy like three times, which is almost impressive if we're being honest.
I've also noticed that JT Miller often gets blown up in his own zone, and when he takes a two-minute shift he just sort of skates to the crease and stops moving. It's like he thinks the opposition is made up of T-Rexes and if he doesn't move a muscle, they can't hurt him. I assume Luke Schenn would be Dr. Malcom and grab the flare and run away, eventually posing with his shirt half undone and becoming a sexual icon to the point public art exhibits are made in his honour.
The end result? Tie game.
Best we should have seen it coming
Jordie Benn playing in his first game as a Toronto Maple Leaf against his former club? Clearly, he was getting the game-winner, and I am disappointed in myself for not realizing it sooner.
How did it happen, you ask? Well, it started with Boeser pulling the aforementioned Edler shin shot, which led to the Leafs almost scoring on a breakaway: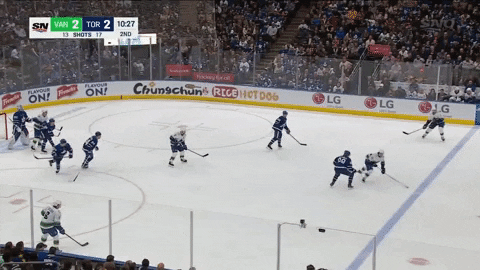 Yes, that is Luke Schenn unable to keep up on the play. I admitted it earlier, don't worry.
The play would then continue with the Leafs simply dominating puck possession until they found a shot on net that went in: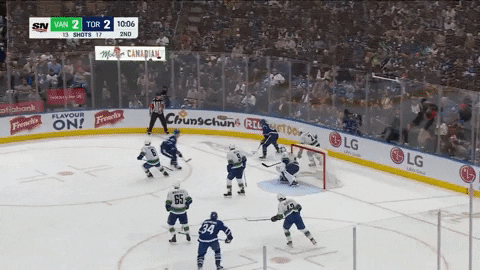 A bit of a lucky bounce off the boards, and not the type of goal Roberto Luongo lets in, but give the Leafs credit, they kept applying pressure on Vancouver.
The worst part of this goal for me is Brock Boeser's depressing active stick which the Leafs have zero respect for, as they pass right through Brock mere seconds before scoring the goal: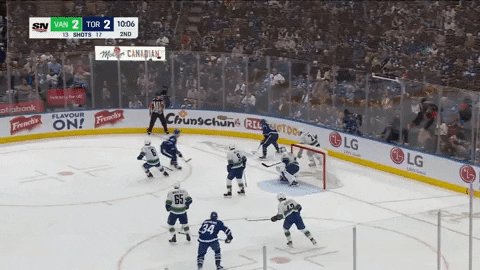 When a team is bad, a lot of the little things tend to stand out pretty boldly, but for some reason, this one felt like one of the worst of the bunch. And this is coming from a guy who has a lot of time to talk to you about how underrated Boeser's defensive game is. I just think the team overall right now just has nothing to give.
This is like the Panenka, in which if it works, you look like a thrilling mastermind, capable of besting even Sherlock Holmes.
But if it doesn't work, people wonder if perhaps maybe you should be put in jail for being a giant fraud.
The goal here is to get in Nick Robertson's head so he lines up for a hit and forgets about the puck: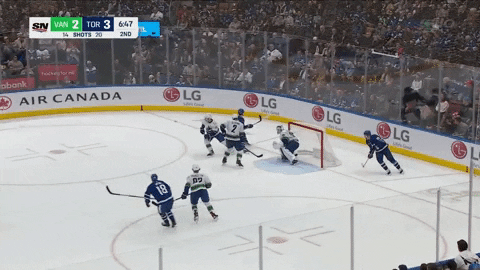 Then when Robertson leans in for contact, you laugh at him and skate around him to snake the puck. Except here, Nick beats Garland to the punch and simply takes the puck and uses a golden mushroom to zoom off into the distance.
In other words, The Rock was Vince McMahon's guy the whole time, not Mick Foley.
Best if wishes were fishes
At this point in the period the Canucks offence became minimally threatening shots on net: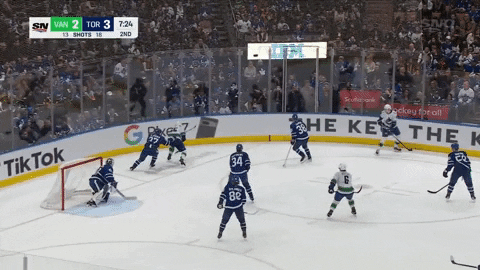 Or worse, a lot of scrambling and effort that ended up with no shots on net: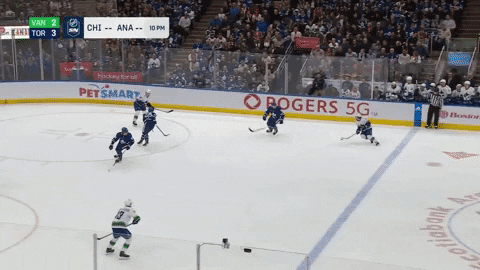 Again, I am not quite sure where Natty Statz saw these six high-danger scoring chances for Vancouver, but I remain committed to figuring it out.
The Canucks started the third period on the power play and that was probably the closest they got to beating the Iron Wall Kallgren.
JT Miller took a shot from his office and couldn't beat Erik:
And then snake-bitten (not to be confused with Sami Salo who was actually snake-bitten) Brock Boeser hit the post after a very nice pass from JT Miller:
So yes, I guess you could say they were a post away from a tie game, but watching the rest of the period, it's clear Vancouver was in the hopes and dreams phases of their offensive output.
Morgan Reilly to Nick Robertson to Pierre Engvall: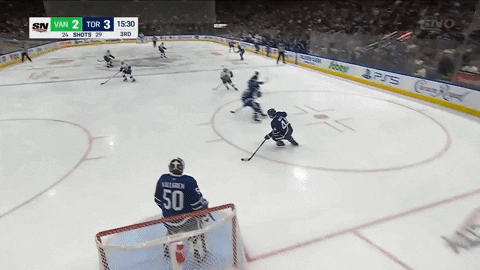 Once again Luke Schenn gets beaten and his slow foot speed is on a loud display for everyone to see. Which again, Schenn and Hughes were the best Canucks defenders on the night. But again, this team is awful and horrible so I don't know how much clout that gets you right now.
Best showing up for head count
The Kuzmenkshow had himself a silent fart of a game, but he did have one nice play that resulted in what I would call a normal shot on net, but I have to assume Natty Statz might have thought was highly dangerous?
Either way that's notable because it was the first time we saw Kuzmenko do anything in the game, partly due to his under 10 minutes of ice time, and removal from the PP1 unit.
I honestly don't even want to use these clips, but if your kink is tired sadness, then here's a clip of the Leafs just hemming the Canucks in their own zone in the third, bringing up the dreaded "shift time" clock: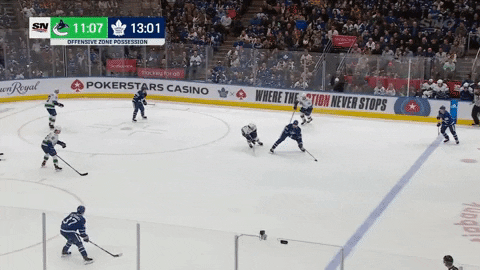 I will give credit to Garland for trying to dive to block a shot, then getting his stick back, and then diving again to try and block a shot.
Best accidentally on purpose
Not since Homer Simpson made chewing motions and accidentally walked into a pie have I seen such an egregious action: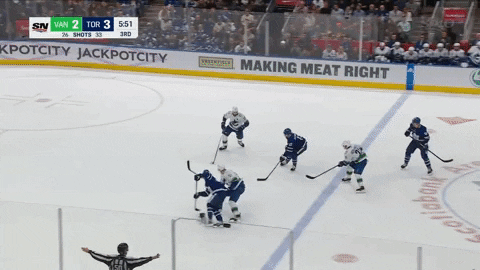 This got the Canucks one final power play on the night, but they were unable to make anything out of it.
Hang in there, we're almost done. Muffins for those who make it to the end, just DM Quadrelli and ask him for the details. You'll know it's the real Quadrelli because he's blue verified.
This feels a bit like Glass Joe going toe to toe with King Hippo, but the game did give a bit of fun when both teams had prime chances near the end of the game.
First up was Tyler Myers literally passing the puck to nobody, eventually resulting in little-known Auston Matthews getting a tap-in attempt: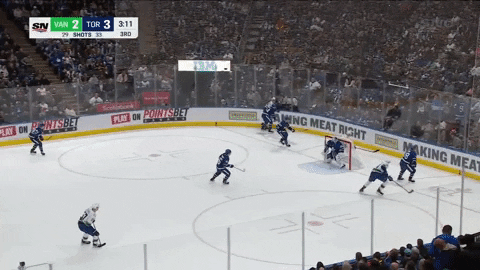 I don't know what the Chaos Giraffe is thinking here, but not only does he deal the puck to a spot where no teammate exists (OEL at this point has backed up two miles so the Leafs can't skate right by him), but he doubles down on the chaos, and enters the buddy system with OEL by helping him cover Mitch Marner.
I honestly don't know why Myers decides to dip and dive over to OEL's side of the ice. It's like he initially sees OEL might be skating to the middle of the ice so he thinks maybe a Criss Cross is in order, but he has plenty of time to see that OEL stops up and follows Mitch back to his side of the ice.
Even worse, OEL sees Myers coming over, and then lets up on skating hard, so maybe they had a tag team plan all along? You can almost see him pass a baton to Myers after Marner hits the blue line. "Take us home Tyler!"
The end result is an elite scoring chance all because the Canucks have no idea what to do with their hands.
All of which would be easier to take if we weren't watching $14.25 million in action.
The Canucks then got their breakaway chance, in which Conor Garland gave a warning shot: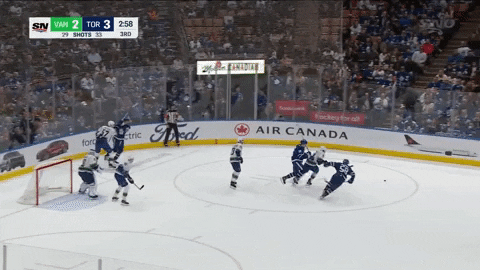 He didn't hit the net, but he could have if he wanted to.
The end result? The Canucks lost and somehow look like the more tired team against the Leafs, who played the night before.
We now take a brief break before heading back to the action tomorrow in Boston at 3 PM, in which the Canucks will surely have more drive and energy in their game.
Seriously, DM Quadrelli about those muffins.
The devil goes by many names, but this one is clearly his most evil one.