The Stanchies: This article has that DAWG in it on a day the Canucks didn't
Photo credit:© Kyle Ross-USA TODAY Sports
Eee-ya-ya-ya-ya-yah The DAWG Pound's in the house (the bomb)
Eee-ya-ya-ya-ya-yah The DAWG Pound's in the house Snoop DAWGGY, DAWG (the bomb) Snoop DAWGGY, DAWG (Dogg)
From the depths of the sea, back to the block
Snoop DAWGGY DAWG, funky as the, the, The D.O.C Went solo on that ass, but it's still the same Long Beach is the spot where I served my 'caine Follow me, follow me, follow me, follow me, but don't lose your grip
In a week
Chris Faber unlocked the DAWG formula
to properly assess who has it in them and who does not, perhaps there is something poetic about the Canucks' best players in a 3-2 loss to the Flyers being 100% DAWG pound certified.
We'll dive into the DAWGs later, but it's safe to say that Vancouver blowing a 3-0 lead and then a 2-0 lead to start the season hasn't gone over well with the locals. It feels a bit like the Canucks are wearing a hot dog suit claiming we're all trying to find the guy that did this.
Sure, it's just two games into the season, and you can find any stretch in a season from a hockey club that will showcase a team losing poorly, but optics — our mean-spirited, but well-meaning friend optics — do not paint a pretty picture here.
From "Unfinished business" slogans, to talk of being a playoff team, to Bo Horvat contract negotiations stalling, to JT Miller pre-season quotes about tightening up his defensive game, these first two losses are kerosene to the simmering tire fire that has been the Vancouver Canucks over the last ten years.
If you as an organization set the bar higher heading into a season, then yes, you will hear about it if you lose the way in which Vancouver has managed to do so in these first two games.
Perhaps the most surprising thing about the season so far has been the fact it hasn't even been the Canucks' lack of defensive depth that has done them in. It's mostly been their special teams play that has let them down, which puts the spotlight firmly on their top paid players. As much as you can set your watch to Elias Pettersson's new Henrik-Sedin inspired haircut, if the big guns don't start producing, the white noise surrounding this team is only going to get louder.
The loss to the Oilers you can maybe write off as Connor McDavid and Leon Draisaitl using their skills and teamwork in a way not seen since that fateful night at Nakatomi Plaza.
The loss to the Flyers, well, it's harder to explain to Grandma that Scott Laughton is just hitting his prime at age 28 and it's hard to believe how many people slept on this guy in the 2012 draft, and fun fact, did you know he has more career points than first overall pick Nail Yakupov? Makes you think, right? So maybe relax Grandma, and give the Flyers the credit they deserve.
And again, the Canucks could very well turn things around and find their groove. That Dakota Joshua scoring streak could be just around the corner, the Brabarian of our time. They could go 10-2 and then JT Miller being on the ice for every single goal against this season will be a funny aside instead of the sobering Simple Plan lyric it is quickly becoming.
But for a team that is looking to make strides and become a team that doesn't throw away winnable points, these first two games have been a bit of a beautiful disaster.
Kyle Burroughs, perhaps inspired by a statistic being created that can finally track his best attributes, was the best Canucks player on the night.
Yes, you read that right.
This is both a good and bad thing.
The good is that it's nice to see Kyle from White Rock make a solid push to keep his spot in the lineup with this absolute snipe show of a goal: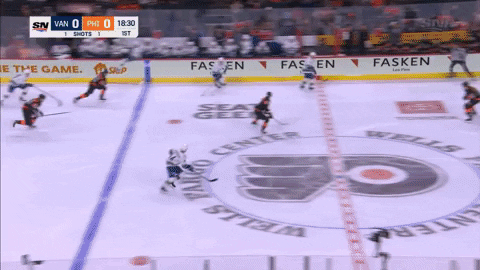 Normally Burroughs game is about being the DAWG, something I assume he learned from his two rescue dogs Aullie and Sadie, who both look like they're very good dogs.
The goal is set up by Brock Boeser who skated like a man not really feeling it about driving hard to the net, and was most likely relieved the shot simply went straight in.
To quote Happy Gilmore, Burroughs should try and get the ball in one shot every time.
The bad thing is of course that Kyle Burroughs shouldn't be your best player on any night, unless it's in the ASHL and he's absolutely slaughtering the Burnaby Crown Royals. Nico Bruno over passes the puck, everyone knows this.
Best at least you tried moment
Sometimes being too much man gets you a penalty, but sometimes being too much man can get you a goal, as seen here by Luke Schenn and Vasily Podkolzin: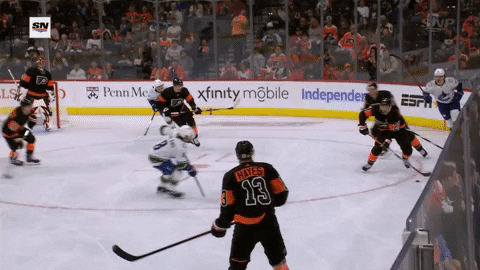 As you can see in the clip, there's Kevin Hayes, not much of an athlete, the moment's too big, and Luke Schenn stops him in his tracks like he's Gordon Campbell in Hawaii.
Podkolzin then drives hard into the zone, draws in his defender with a spin move and opens up some space for Spin Cycle Commander Garland to walk right into.
At this point Hayes is contemplating a career change, he's wondering if he can be viable on TikTok, as he just sort of floats off into empty space like he's Dr. Ryan Stone, and Garland has nothing but time to walk in and wire a shot low blocker side.
Let's take a look at this goal from another angle because this is straight up the last positive moment you're going to have from this game as we do our best to delay the inevitable: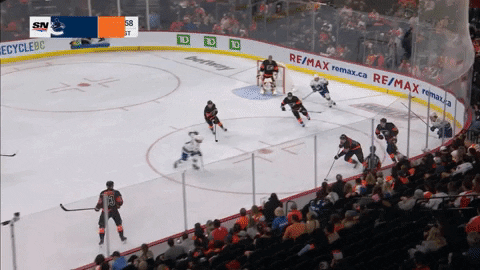 Conor Garland was one of the more noticeable Canucks on the night, not just for the goal, but also for the his hard work on the puck. Garland was constantly battling for the puck and causing turnovers throughout the game: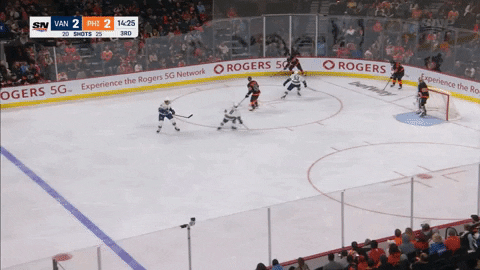 That's Garland with the nice pick pocket that eventually leads to a couple of scoring chances for Vancouver.
And yes, Garland completes one entire lap of the offensive zone, making that an official spin. It's in his DNA, he can't help it.
You can almost hear Brock Lesnar's music hit as this article holds its microphone out to the stage, waiting to see if The Rock is going to show up.
Alas, the fall of the Canucks started with the Canucks getting yet another penalty, this time for being too much man: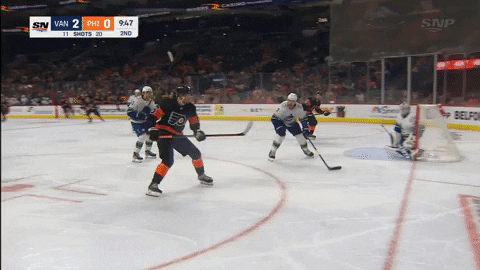 Questionable penalty at best on Luke Schenn, and if this is the playoffs Don Cherry dedicates an entire segment to the solid work of the Human Eraser, but the first month of any NHL season always feels like the refs go hard to the hoop calling things.
I'd say they call things by the book in the first month of the season, but I'm not sure there is a book, as it feels more like there's a Pinterest board with various pictures of cats in human clothing that they use to assess penalties.
Nonetheless, it's a seeing-eye shot from Tony DeAngelo that just sort of floats in past Thatcher Demko to give the Flyers their first goal: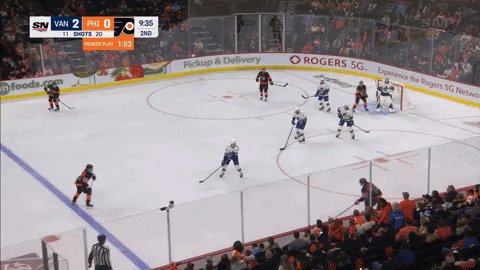 Up until this moment the Canucks' penalty kill had been quite good, to the point you wondered if they were trying to game the system against a poor Flyers team by taking endless penalties and going 20/20 on the PK. But with this Canucks team, no lead appears to be safe, so that one goal was the beginning of the end on Saturday afternoon.
There was a healthy stretch of hockey last season where the joke was the quickest way to stop any Canuck momentum was to give them a power play, and it appears we're right back at that spot.
Should you be giving up a shorthanded goal in back to back games? Probably not?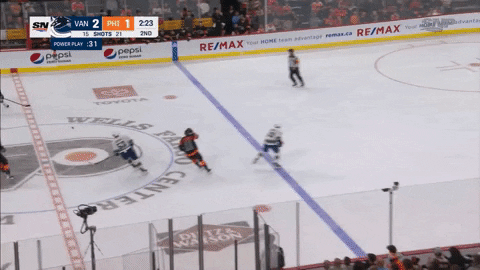 JT Miller can be an incredible player, but he can also be a very frustrating one. If Tyler Myers wasn't already the Chaos Giraffe in Vancouver I'd be rushing to the throne to hand over the crown to JT because for every amazing, laser accurate pass he makes, there's an equally soft and dangerous pass he makes to go with it.
Especially on the power play.
Like, we just saw a game in which JT Miller and Andrey Kuzmenko made sweet sweet passing love on the ice with two long bomb passes. It was such a piece of art you half expected a can of tomato soup to be thrown on it afterwards.
Yet against the Flyers, JT Miller is trying to force through a soft backhand pass through three players, with his team trying to push into the offensive zone.
To make matters worse, with Quinn Hughes standing up and trying to cut off the pass, JT Miller decides to lay out for the puck like he just joined the grade 12 Ultimate team, leaving the hidden gem of the 2012 NHL draft Scott Laughton with all the time in the world for his breakaway.
So to summarize, JT Miller doubled down on two high risk plays, and the Canucks got burned because of it.
Does it look better from another angle you ask?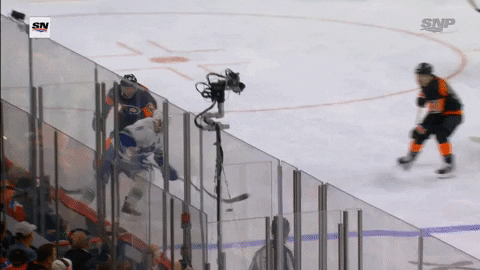 No. Not it does not.
Just to give insight into the type of game it was, the Canucks ended the second period on an odd-man rush against that was saved by the fact it wasn't 2012's Sexiest Draft Pick of the Year Scott Laughton taking the shot: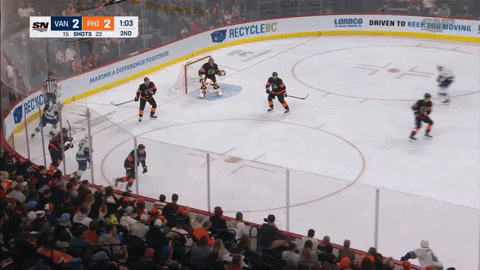 Best Paterson Stats of Sadness
Final tally of shots for these four at the end of the game? Three between them.
Burroughs the Bounty Hunter honestly had himself a hell of a game.
He was putting himself in positions to get off good shots by going into empty ice and making himself open for passes: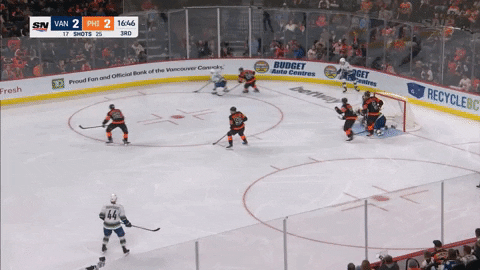 And he was constantly lining up to take giant shots on net, which as any fellow beer league enthusiast can tell you, happens after you get your first goal in a while: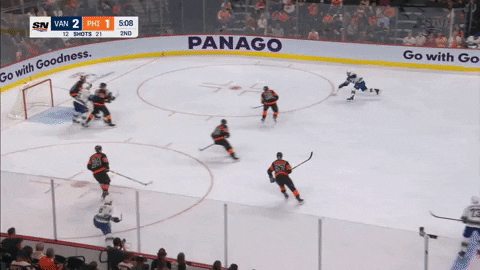 You can almost hear him on the bench telling everyone "I'm feeling it tonight boys, just keep feeding the beast," and nobody knows he if he's being serious, not even Burroughs himself.
And to top off the night for Burroughs, he also made sure to jump in and juice his DAWG rating by standing up for his teammate and throwing a few punches for good luck: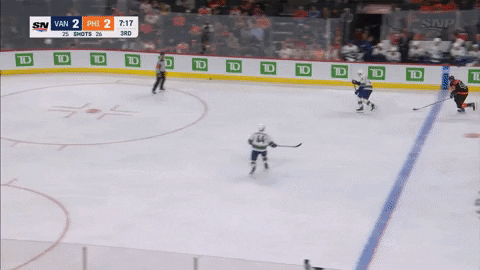 Or as they call it in White Rock, just another night at Sawbuck's Neighbourhood pub.
Tucker Poolman also left the game with an injury and did not return, which really puts more pressure on an already thin Canucks defence.
Best what are we even doing here
Oh 'cause I don't know
I don't know what he's after But he's so beautiful Such a beautiful disaster And if I could hold on Through the tears and the laughter Would it be beautiful Or just a beautiful disaster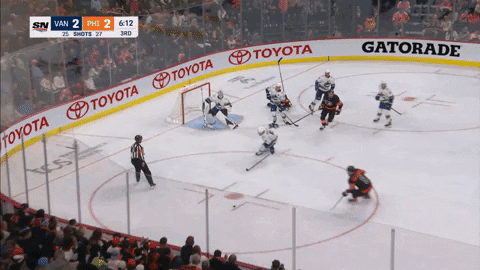 When things are going bad, it sometimes feels like nothing goes your way, and I imagine JT Miller dropped quite a few f-bombs after this goal.
He comes in to cut off the shot and ends up butter fingering it right over to Travis Konecny, a poor man's Scott Laughton, who gets one of the easiest goals of his career.
For a man who was quoted in training camp as wanting to showcase a more 200 foot game to go along with his new contract, I don't think JT Miller could have drawn up a worse two game start to the season.
Best closing out the show
The Canucks two best chances to tie this game up came with a Podkzolin forecheck that led to a shot and crease scramble: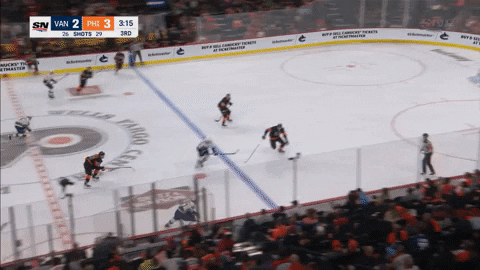 And with a power play to end the game, a vaunted Bumpin' Bo shot that didn't have enough traffic and was a little too far out to be too much of a threat: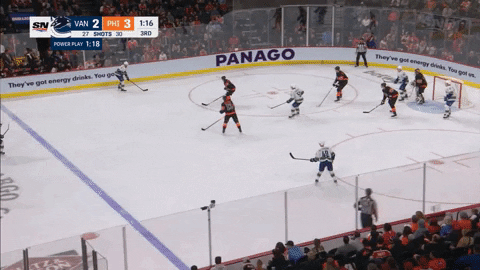 The Canucks ended the night 0/5 on the power play, while the Flyers went 1/5 on theirs, to go with a shorthanded goal.
Special teams once again ruled the day.
Best outsider perspective
Uh, uh, yeah, yeah, yeah, yeah, uh
Vancouver, uh, uh Kits Beach, bringin the heat, uh Haha, can y'all feel that Can y'all feel that Jig it out, uh
Party in the city where the heat is on
All night, on the beach till the break of dawn "Welcome to Vancouver" "Bienvenidos a Vancouver" Bouncin' in the club where the heat is on All night, on the beach till the break of dawn I'm goin to Vancouver "Welcome to Vancouver
Is that a good stat?
That's not a good stat.
JT Miller slowly turning into the "Not great, Bob!" gif right before our very eyes.
Chris Faber's breakthrough moment at 3 AM a couple of nights ago, wherein he unlocked the secret formula to properly calculate a DAWG rating, is going to be put to the test this season.
A DAWG is of course someone who showcases a mixture of grit, determination, and the same vibe Arnold Schwarzenegger had when he demanded the bikers give him their clothes.
Never have I been more excited to follow along a mathematical formula, to the point where Mrs. Wong-Moon would be blown away by how much interest I am now showing in equations.
The question of course is how accurate Faber's Formula is (that sounds like a product for babies, but hear me out).
According to Faber:
100+ is amazing
80-100 is a good rating
60-80 is above-average
40-60 is meh
20-40 is bad
10-20 is very bad
0-10 is something we have not seen in our three days of tracking the DAWG rating.
So who were the top DAWGs on Saturday?
Kyle Burroughs: 85.12
Andrey Kuzmenko: 79.88
Luke Schenn: 75.69
You have to admit, that tracks pretty good. Clearly Kyle Burroughs had a great DAWG game, and Luke Schenn always has that DAWG in him. You might wonder about Kuzmenko getting top billing, but he generated five shots in the game and drove to the crease hard for several goal mouth scrambles, something the DAWG rating does not take lightly: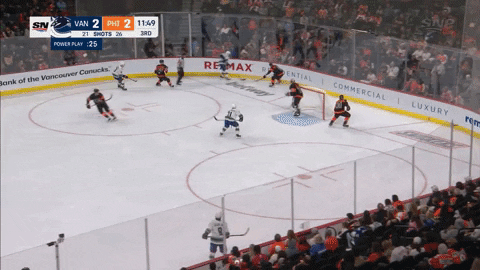 Here is Höglander creating a nice turnover and feeding Kuzmenko for another in close shot attempt that could very easily have been a goal had Carter Hart not remembered how to play in net:
Notice how Kuzmenko keeps attacking that puck instead of staring up to the sky and rolling his eyes in frustration? That's DAWG material right there.
Who were the middle of the pack players you ask?
Curtis Lazar: 67.10
Conor Garland: 49.55
Oliver Ekman-Larsson: 44.26
Nils Höglander: 37.08
Again, this seems to track. I will admit that OEL has been a surprise DAWG for me this season, but the stats don't lie.
Who were the worst of the worst you ask? The people that go to dog parks and wish they had a DAWG?
Elias Pettersson: 16.27
Tanner Pearson: 14.61
Bo Horvat: 12.00
JT Miller: 8.99
That also tracks extremely well.
Look, you don't always need people to be DAWGs. Sometimes you can go out and out skill your way past a team and it's all good. If EP40 gets a hat trick and doesn't summon up his inner DAWG, no one is going to be complaining.
But when you blow two leads in two games, people are going to ask questions about your DAWG status. It's just how things work.
If you want to see what a DAWG looks like, here are some good examples from Luke Schenn.
First up is his willingness to block shots and dive on the puck like they're grenades, not afraid to take several beatings in the process: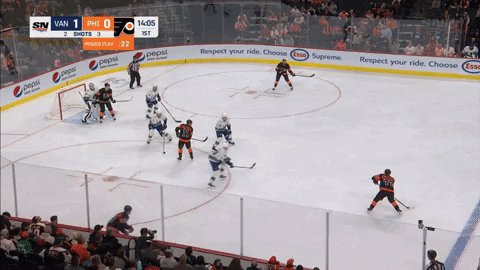 You also want someone that gives a few shots after the whistle just to let the other team know not to get too comfortable poking around your goalie. Even if you tell him "relax, we all have to work tomorrow" part of you worries that he won't relax and that he doesn't have to work tomorrow: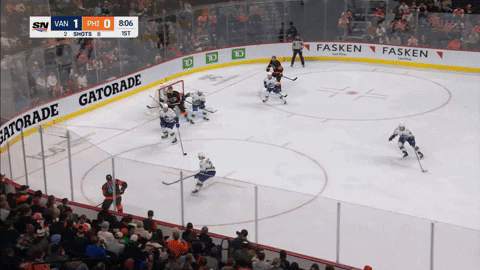 An important part of any DAWG is to know who runs the pack. You don't need to score goals, but you do need to know who does, which is why Luke Schenn's number one priority is getting Quinn Hughes the puck. A good DAWG is an unselfish one:
Then there's the laying down of the hammer. A race for the puck? Incorrect, this is now a race to land a hit: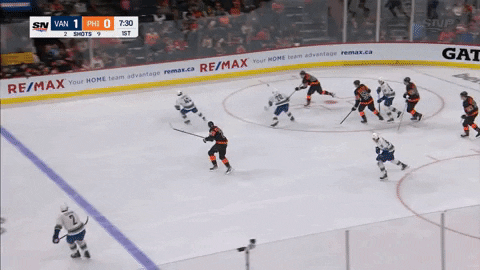 That's just the DAWG lifestyle in a nutshell, and we look forward to tracking this all season long.
Joey Pitt, play by play guy for the Surrey Eagles, is asking all the right questions.
Also any clip that has The Stanchies favourite BCHL player in Jake Bongo is always going to make it in.
Add in the fact they smashed the Langley Rivermen? That's a hat trick of goodness.
What are Rivermen, anyways? Oh you've got boats and oars? You're going to cross small bodies of water? How is that going to hold up when you've got Eagles raining down on you from the skies?
Sorry, I can't hear your response over that 8-1 beating the Surrey Eagles just gave you.
Editor's note: A train beats both an Eagle and a Riverman. Go Express Go.
Despite the loss, Thatcher Demko still had himself a solid game. I don't want his play to get lost in the two blown leads.
The game started off with a high danger chance that he turned aside: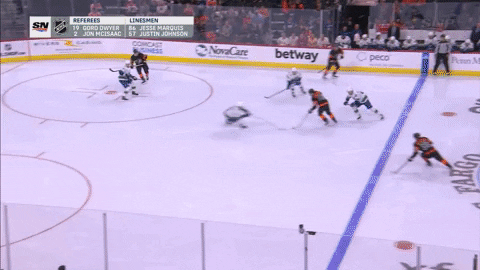 Demko has this thing where he plays so well he makes clips look boring, so here he is making this save look real easy: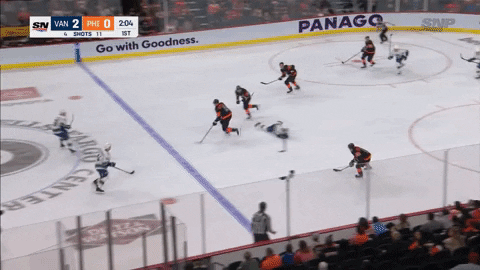 And even with traffic in front, he was finding a way to track the puck, and more importantly, handing out a slash after the save: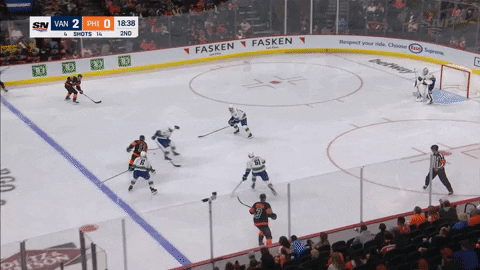 Thatcher Demko has not been a problem this season.
Best thoughts and prayers passing strategy
Two things about this clip.
One, how is an NHL broadcast not doing a white balance test before the game? Push the cameras back 100 feet and I'd swear this was Cody's AHL stream.
Two, JT Miller pushing into the zone and then throwing the puck back towards his net while his entire team is racing into the zone has to be the most maddening thing he does: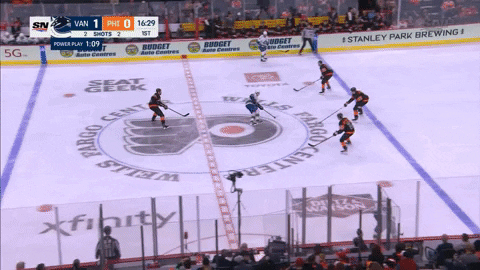 Again, sometimes he makes that play. Sometimes he does these delightful little passes with Quinn Hughes and we all giggle and fan ourselves and go "Oh JT, I do declare!" whilst eating our cucumber sandwiches.
But other times he just can't help himself trying to make slick passes in high risk spots.
I feel like Henrik Sedin needs to have a chat with him and talk about when to pass.
"Pass on a breakaway, yes. That's safe, because everyone is behind you."
I'm a fan of what Tanner Pearson brings to a team, and I think he can be a glue guy on a line with his defensive awareness and strong board play. But his start to the season has seemed noticeably slow, both in on ice production, and with his skating.
He straight up stops skating on this play and turns into a bubble dome hockey player, twirling around with his stick stretched out, and gets hit with the penalty: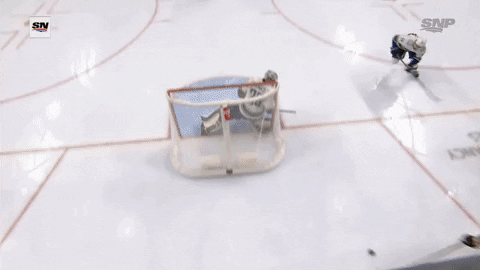 Fun Fact: Tanner Pearson was taken 30th overall in what is now being called the Scott Laughton Draft of 2012.
Best beer league officiating
Nothing will ever top Tyler Motte getting a penalty last season for having his stick hit out of his hands, flipping through the air, and hitting another person in the face.
But that doesn't mean we can't appreciate more bizarre high stick calls and non-calls, such as this one on Nils Höglander who gets butt-ended in the face, and in the ensuing flail of pain, clips a Flyer with his stick: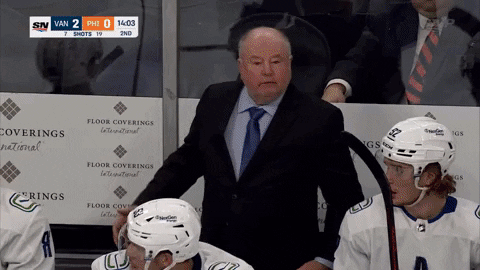 Nils would be the only player to get a penalty on the play.
Coming from Harman, this is like B-Rabbit going ham in a rap battle.
Best you do not, under any circumstances, "gotta hand it to them"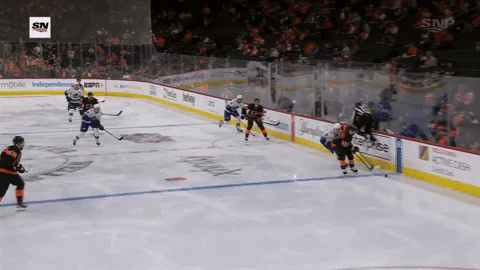 This is online NHL strategies where your opponent doesn't want to wait for a faceoff animation.
Former Canucks AGM Chris Gear knows the awful purple seats at Rogers Arena need to go.
Everyone but the Canucks themselves for some reason knows they need to go.
Everyone.
That's what they call a sell out in Phoenix, so I don't know what Pat is going on about.