The Stanchies: The Anti-Tank Missile strikes again as The Kuzmenkshow takes down Dallas 5-4 in overtime
Photo credit:© Jerome Miron-USA TODAY Sports
You know what, I wrote an open letter to Kuzmenko pleading with him to stop tying games up late, but he just won't listen.
He is firmly anti-tank. He is leading the charge against all of the tanking. He refuses to let the Canucks end games without getting at least a point.
The Canucks managed to blow a couple of two goal leads, and they STILL won the game. I mean, that's their bread and butter this season. Build up a lead, blow the game, then talk about the one that got away. We know the script, we understand the script. We embrace the script.
But Monday night, Kuzmenko was having none of it. We'll get into the heroics of Demko, Pettersson, and Beauvillier shortly, but leave it to the Kuzmenkshow to once again strike the final dagger into the hearts of tank enthusiasts everywhere.
The worst part? He's just so damn happy when he scores that you just can't get mad at it. You really can't. It would be like telling a small child that Santa needs to stop delivering presents this year because you really need a better draft pick. Sure, you could do it, but you'd feel absolutely terrible about it.
Like, just look at him. Look how excited Kuzmenko is about getting the game winner:
He is like watching hockey in its most innocent state of being. It's like you brought in Walter White to boil hockey down to its most purest form and now we're all out here getting high off of it. We know we shouldn't, but we can't help it because it feels so good.
Tight tight tight.
The Canucks win 5-4 in Dallas. This is something that happened.
Also, JT Miller was out of the lineup with an undisclosed injury, which I am sure will be accepted and not questioned at all two days before the trade deadline.
Let's go make some gif money.
With the trade deadline mere days away, news moves fast and furious around these here parts (I'm sorry, I've been watching a lot of Yellowstone).
Which means it's important to remember what's important in life: Fast cars, and family. And trade updates. But mostly family.
That being said, let's catch up on the latest Canucks news so we're all on the same page.
Vitali Kravtsov was acquired by Dan Milstein Patrik Allvin as Vancouver slowly switches its long-standing Swedish hockey allegiance over to Mother Russia.
Arturs Silovs, and more importantly his current pound-for-pound best Canucks mask of the last decade, was sent back to Abbotsford where winning games is encouraged and actively cheered for. Why? Because Thatcher Demko is finally ready to return to the lineup.
Riley Stillman was traded for Josh Bloom, a 2021 3rd rounder drafted by Buffalo. Shedding Stillman's contract is a win no matter what the return, but the fact you get a roll of the dice lottery ticket from one of the best drafting teams in the league right now? That's about as home run as it can get for Riley Stillman.
Overall, aside from Demko coming back and stealing away points from the Great Tank Battle, it's all savvy moves from the Canucks right now.
We've seen enough "former first rounders" to last us a lifetime in Vancouver (no offence Derrick Pouliot), so it's not so much excitement about landing some ca n't-miss prospect in Kravtsov, it's more about supporting the process.
And it's not like you're going to run through the streets celebrating another winger joining the organization, it's again more about supporting the process.
With Kravtsov, you're happy the Canucks were able to take the $2 scratch-and-win ticket of a 7th rounder and leverage it into rolling the dice on a top talent maybe finding his groove with a new team. Will Lockwood is a dime-a-dozen player in the NHL, joining the Oreskovich's of the world in which you patiently await to hear what real estate company they end up working at in Phoenix a couple of years from now. Every hit he threw you winced in sympathy for his shoulders. He was such a gamer and was honestly a lot of fun to watch, but the odds of him carving out a lengthy impactful NHL career for the Canucks were minimal.
So worst case scenario, Kravtsov flames out. If that happens, you only lost the lowest of returns, but more importantly, you're happy with the process. Low risk, high reward, that's always the end game for rebuilding teams.
With Stillman, that felt like it wasn't going to work out pretty early on. Whether it was his family lineage, or an old Jim Benning scouting report that was lying around somewhere, somehow the Canucks bought into the idea of rolling the dice on him. It didn't work out, and Stillman, who was kind of billed as a rough and tumble d-man, felt more like an offensively oriented guy who never saw a rush or a pinch he couldn't turn down. He had an "it's complicated" relationship status with defence. The Myers/Stillman pairing is still used to frighten kids into going to bed to this day.
The fact that the Canucks tried it out, saw it didn't work, and were able to punt his 1.35 million dollar contract that rolls into next season into the sun? That's a big win. Riley Stillman oozes so many Benning intangibles that you just know he would have had a 7-year deal with a full NMC waiting for him because he's good in scrums or whatever. Moving on from a player that you acquired this season? That's downright unheard of around here.
Which yes, shows how low the bar has gotten in Vancouver. Here we have a team approaching the trade deadline and they are actually attempting to move out players and bring in draft capital or younger players. There's no "running out of time" here. This is a team doing regular deadline shit and it's going to get a standing ovation in this city.
I say it for the people in the back, if this doesn't show you that the media wasn't critical enough of the Jim Benning era, I don't know if anything else will ever convince you of their follies.
If the Canucks manage to get out of another huge contract, and maybe move a veteran or two for draft picks? We might see statues of Allvin erected by Friday. This is how easy it is to be celebrated in this city. By doing your regular job at an acceptable level.
Because at the end of the day, you just want to trust the process. You know not every move is going to be a win, not every battle can be won. But if you believe in the process and the end-game? That goes a hell of a long way in any sports market.
Two more days to see what other magic the Canucks can wrangle up. This might be even more exciting than making gif money.
Best Woj vs Shams of our time
Sorry Faber, Cam wins this round.
Two new challengers have arrived to take on Kuzmenko.
Who are we kidding, Kuzmenko still easily wins this.
Thatcher Demko returned to the lineup, and if you wanted to know if he was up to the task, let's play spoiler alert and hit you with two end-game stats:
Shots: 38
High Danger chances: 18 at evens, 25 overall
Did he have a couple of goals that Bubble Demko would have stopped? Of course. But considering the defence he saw in front of him, and the number of fires he put out, it's pretty safe to say that he more than did his part for the Canucks.
As much as I love the chaotic energy of Delia, there is something incredibly calming about the economic safety of movement in Demko's game:
If you were on the Titanic, Demko would be the one guy calmly packing his luggage and looking for a warm jacket while giving tips to the trumpet player. He has that Kirk McLean zen-like aura to him, minus the part where wraparounds were the devil and all you could do was pray that Kirk accidentally stepped on the puck.
We've seen Kuzmenko score, but we also know he can pass. He's a shifty guy with shifty eyes and shifty passes.
Here he drops a teaser trailer for the upcoming Beauvillier goal by almost feeding him for an easy tap-in:
Beauvillier was in too deep (please nod your head thinking about Sum 41 right now) and couldn't score, but a shift later:
Pettersson throws it on net, Oettinger deflects the puck to safety, but Beau Beau was having none of that, so he just slams the puck straight out of the air and into the net.
You say small sample size and hyperbole, I say it's clear the Canucks won the trade and that Horvat is washed up and that Beauvillier is about to chase down McDavid for the point lead this season.
As stated before, we are two days away from the NHL trade deadline, so any peak performance from a Canuck player is going to generate trade talk. Do you try and flip Beau Beau for more assets at the deadline?
Or do you, like me, assume this is the first step of him beating Ovechkin to breaking Gretzky's all-time goal scoring record?
Lots of things to think about over the next few days.
Beauvillier is me in the office anytime project planning gets discussed:
Beau Beau is in that sweet Brendan Morrison spot where he's just out here having fun with two studs. The other two can do the high-end skill thing, and he'll just come in and clean up whatever's left.
Now all we have to do is figure out what bus route to name them after.
Initially, it did feel like Dallas assumed they were going to coast to an easy win, to the point where fans were actually asking why the Canucks looked so fast:
I don't mean any offence, but if you're thinking "wow the Canucks are flying tonight, they are the fastest team ever!" something has gone terribly wrong on the other end of things.
But you still have to give credit to the Canucks for generating their chances early on, complete with Nils Aman dangling his way until he could find an open Garland, then falling and getting right back up again, just to fall again, just to get right back up again. Full Chumbawamba mode right there.
Best shaking the rust off
"Rusty" for a Canucks goalie is "let in 2 of the 18 breakaways he faced," but this is the reality we live in, and Demko knows it:
It's not often Quinn Hughes and Elias Pettersson team up to turn the puck over into a shorthanded breakaway, but Jamie Benn took full advantage and just managed to sneak in a nice backhand by Thatcher Demko.
I am of the opinion that when in doubt, charge out of the net and take them out at the knees, just like Hasek would have done it. But Demko's body has been through enough the last two years, so he gets a pass here for merely trying to stop the puck in the conventional sense.
Best how Garly got his groove back
Conor Garland burst onto the scene under Travis Green and it really did feel like he was a hidden gem the Canucks had uncovered in the harsh unrelenting sand storms of Arizona (I assume it's basically Tatooine).
But then he seemed to falter as time wore on, and while he didn't exactly lose his way under Bruce Boudreau, he didn't seem to have that same impact on games that he used to have. You didn't notice his speed as much, and at times, you barely saw him spin in a game.
Under Tocchet, it feels like he's remerging a bit, as we are seeing him be more of a presence in games.
On the Canucks' second goal, Garland teed it up like Al Iafrate, and with Sheldon Dries in his office (aka the goalie's lap), Sheldon managed to tip the puck past Oettinger:
Wolanin got the second assist on the goal, putting him just 48 back of Quinn Hughes.
Best sticking to the plan
I'm never sure what's sarcasm or not due to the Great Tank Battle, like are you happy Juulsen turned the puck over? Upset? I don't even know when I'm happy or upset half the time.
Either way, this turnover resulted in another breakaway for the Dallas Stars, who just missed the net:
If you thought the Canucks were going to park the bus and grind out a low-shot game for Demko, think again!
Aatu Räty ended the night with just over four minutes of ice time (more on that later) but he did manage to pick up his first assist with this nice clean pass over to Vasily Podkolzin:
Once again you'll notice Sheldon Dries going full rocket league by heading into the net on the goal spamming "nice shot" over and over again, but the real star on the play is Podkolzin breaking Dellandrea's ankles on the play.
Well either that, or the random guy wearing a Patrick Kane jersey standing up after Podkolzin scores.
As Cam Charron has pointed out, Podkolzin has played very well for the Canucks, he just hasn't seen the results on the scoreboard. So it has to feel nice for him to not only posterize a guy on his goal, but to also score on the resulting move.
It may seem like the Canucks have around 48 wingers on their roster, but Podkolzin is still one of their top potential guys who is going to be looking to have a breakout end to the season.
Wolanin is now 49 points back of Quinn Hughes.
Also I know Paul Reinhart is a Flames guy, but if it weren't for back injuries, he would have been one of the best Canucks d-men ever, and it doesn't get talked about enough.
He only played 64 and 67 games respectively in Vancouver, but he put up 57 points in both of those seasons, even leading the team in scoring in '89, before retiring at the age of 29.
I only bring that up because by game three we already knew Quinn Hughes was going to own every single scoring record in Canucks defenseman history and I wanted to give Paul his due.
Best putting the pedal to the medal
See, people thought the Canucks looked fast! It was a really weird first period.
Other things to note were the Canucks being incredibly defensive of Demko being touched, back when they had the energy to get into scrums:
And the Brisebois Era is upon us, as look how easily he shuts this play down:
Sure, the team bled chances after this and held on for dear life most of the way, but for one period they looked fast and Brisebois was out here making top end defensive plays! What a time to be alive.
Best we all saw it coming
While I've enjoyed the Dellia/Martin/Silovs era in Vancouver, they are clearly several steps below Demko in talent and skill. And as much as it's been fun to see how much the Canucks could bolster their odds of landing Bedard, watching other teams unload their top players, and seeing Demko come back, it's just not reasonable to expect this team to continue losing the way they have.
Well, at least not losing at the rate other teams are going to soon be doing.
Demko is just too darn positionally solid:
Look at that, he traced the puck, didn't bite on the deke by cartwheeling out of frame, and easily stopped the end of period shot.
This is not a goalie you tank with.
Best Kerry Fraser eye sight
To be fair, the horrified look from the referee as he watched the high stick could have been about anything.
Honestly it was pretty fun watching Demko in net, even if that Patrick Kane jersey guy kept popping up in seeming support of both teams. You would think he'd want Vancouver to win for the tank reasons, but it looks like he's sad Dallas didn't score here?
Pavelski's wrap-around is denied, and Heiskenen is told no on the rebound. It's weird watching goaltending again where you don't assume every other shot is going to go in. Dan Cloutier trained me for a lifetime of assuming every shot will go in, so it's a bit unsettling to see goalies like Luongo, Miller, Markstrom, and Demko trot through here and play at such a high level.
Also Eddie Lack made a couple of saves once I think.
Despite Tyler Myers pointing out the middle of the ice, Räty chose to contemplate life and cover nothing, allowing Roope Hintz to waltz right in and undress Demko in front of thousands of people:
Part of the goal is due to a bad line change (The Brisebois Era is quick, but not that quick), and then part of it is Räty and Myers combining to double-cover someone already in coverage.
The important thing to note is that The Brisebois Era was not at fault here. It was Myers doing his "point to the ice" transfer of responsibilities and ownership abandonment of his post, followed up by Räty straight up ghosting him and ignoring his orders.
The end result was a Dallas goal, and Raty seeing the aforementioned 4 minutes of ice time on the night.
Elias Pettersson's work rate is the highest on the team. His hockey IQ is also the highest. When you always know where the puck is going to be AND you work harder than anyone on the ice? That's going to put you in a lot of advantageous situations.
EP is always around the areas where the puck might end up. On this shot, he puts himself in position to make a play on the rebound, and because he's a hockey mutant, he slaps the puck out of the air and away from danger: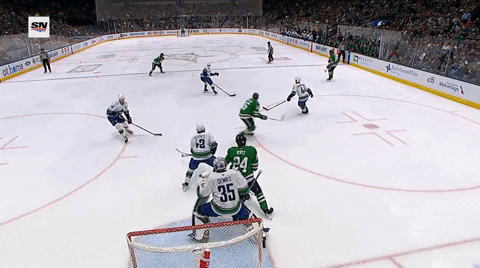 The reason he's so good on the penalty kill? He knows where you're going to pass the puck before you do. Watch as he realizes he can get to the puck around the boards and make a flip play to give himself a breakaway:
The guy is a straight up shark in the water all over the ice.
And if you want effort levels, he is going to be out there blocking shots, as much as that scares you to see:
And these aren't Chaos Giraffe shot blocks, he's not slipping and sliding into the bench to make a dramatic block. No, he makes a quick short drop to the ice to block the shot, and then hobbles off to the bench to discuss bananas and Pepsi with Kuzmenko like a goddamn hero.
The guy is the next captain. There is no question in my mind.
Best the breakaways will continue until the defence improves
One Brock Boeser slip in the corner and all of a sudden Dallas once again finds themselves unready to handle all that jelly:
Tip of that hat to the saucer pass over Wolanin's stick, though, that's the good stuff right there.
Best winning the trade with every goal
Beau Beau made his presence felt once more by going absolutely top shelf where Mom keeps the phone number of her sister who refuses to ever speak to her again due to "the incident":
There's a bit of luck involved with the puck finally settling in on Beau Beau's stick, but he readjusts so quickly that it doesn't even matter. That's David Ortiz hitting cleanup right there. He knows that one is out of the park the second he makes contact with the puck.
The real hero of the story is Quinn Hughes dancing in down low and then bouncing back up towards the slot and then finding Beau Beau with that backhand sauce. That assist put Quinn Hughes a full 50 assists ahead of Wolanin, which is no easy feat. There is something awe-inspiring but also horrifying in the amount of talent in Quinn Hughes, then a massive drop off, then the rest of the Canucks defence.
Beau Beau then almost completed the hat trick after some turtleneck and chains trickery from Kuzmenko, who spun and drew in three Dallas players before finding an open Beauvillier for the nice shot on net:
That would be one of the rare high-danger chances on the night for the Canucks. Treasure this moment.
Demko doing Demko things:
The guy isn't even fazed by the puck movement, he still makes it over and gets a shoulder on a shot that has beaten Spencer Martin's glove hand about 67 times already this season.
Goaltending is a hell of a drug.
Best Amanda based paragraph
Runny eggs are disgusting. They look gross. They smell gross. I often wonder why they exist. Why couldn't they just harden up?
It's much the same way with the Canucks penalty kill. I don't know why it exists the way it is sometimes. Why couldn't they just harden up?
The latest goal against is a result of Tyler Myers leaving his check and going after the puck, leaving The Brisebois Era to try and clean up the mess:
I will not stand for Tyler Myers trying to ruin the 18th version of the Brisebois Era. The man has worked too hard and too long to be blamed for Tyler Myers' wandering eyes.
With Elias Pettersson in the box for delay of game, the Stars hit the post and what happens next will blow your mind:
That's just the absolute quaintest reaction you could possibly have to that. That's the reaction of someone at a Victorian dinner where someone forgets to wear their fourth shirt and are scandalously wandering around with only three layers between their skin and the air.
The Stars finished the period with 19 shots to 3. The "How are the Canucks looking so fast??" reactions had largely quieted by this point.
This Colin Miller elbow should be reviewed by the league:
There was no penalty on the play, because of course, but that is not a natural reaction of the body when going to the glass. He whips that elbow back high and hard with purpose. I've never been on the Skytrain and then whipped around and smashed my elbow into the door to steady myself as the train heads into Stadium.
Dallas tied the game up, because that's just how we roll, but it's the Great Tank Battles so this was warmly received:
The Canucks reached into their bag of tricks and this time went to their old favourite "overload one side of the ice for no reason" which allowed the Stars to finesse a puck to the point that Brock Boeser was inches too late to block.
End result? Tie game.
Was the guy in the Kane jersey excited? Angry? I'm still not sure.
Best beating him into submission
Thatcher Demko is unaware that this is the part of the game where the Canucks usually let in another goal to cement the loss:
He not only stopped Robertson, he made it look alarmingly easy.
Best and now for something completely different
As we talked about before, Elias isn't out here blocking shots to make a name for himself. He isn't going all out, head first, making a Michael Bay movie out of his blocks.
Watch in this clip as he not only follows the play, but only commits to the shot block when Dadonov has run out of options:
Even with blocking shots, he's out here playing 4D chess with his opponents.
I know the tank is on, but I will never tire of watching Kuzmenko and Pettersson play together:
Kuzmenko almost hits a wraparound goal, then he recovers to get the puck behind the net out front to EP for a nice shot on net.
No runny eggs here.
Best Paterson stats of doom
A large part of that is the amount of penalty killing Aman had to do, but you have to think Räty was also being taught a Tocchet lesson.
Best heating up down the stretch
It could be worse. They could be heating up within spitting distance of the playoffs and then we'd be worried they'd be adding at the trade deadline.
The anti-tank missile does it again. The Kuzmenkshow will not be stopped:
They reviewed the play for about 18 hours to determine if Beau Beau was in control of the puck as he crossed the blue line, but it was deemed fine in the end.
The best part of the goal is of course Kuzmenko celebrating it. He fires an arrow, and then maybe a nuke goes off, then he snaps the nuke in half, then he ninja kicks a door down. That's my take on it anyways.
We won't go into a huge summary because how the Canucks look today could look drastically different by Thursday.
All we do know is they still have plenty of valuable pieces they could move out if they find the right return.
But until then, we will watch James Duthie break down the three trades that actually happen on deadline day.
See you Thursday.