The Stanchies: All-new Tyler Myers, same old Canucks fall 4-3 to Panthers
Photo credit:© Jasen Vinlove-USA TODAY Sports
We know the drill by now, right?
Canucks either blow a lead or go down multiple goals early, then fight to not give up five goals (around a 50% success rate at this), then make "heroic" (please lean into those quotation marks as hard as you can) last stand to get a few goals, but ultimately lose the game.
You can just copy and paste the team name and make an easy Mad Libs out of it, so let's do that for the intro.
"Tonight, the Vancouver Recycle Bins lost to the Florida Bathtub Water. Despite a strong early fart from Spencer Martin, the Bathtub Water still managed to score when Abe Lincoln found the back of the revolution. The Recycle Bins tried their best, but were unable to overcome Florida's massive bullet-ridden Rav4. At one point Tyler Myers contemplated the puck, but was unable to appreciate Sergei Bobrovsky. In the end, the Recycle Bins valiantly lost the game, but found solace in the wise words of Hans Zimmer: 'Measure your own self-worth with a prison guard.'
In other words, the Canucks lost 4-3 to the Florida Panthers.
Best fireside chats with Stanch
Okay, as we discussed last Stanchies (Remember? The loss to the Lightning? Remember the fun we had? Of course you do, you rapscallion you!), the off-ice action has clearly surpassed the on-ice action for the Canucks this season. If things started off as the American Office TV show for this club, with light hijinks and a variety of comedic situations, we've now firmly entered the UK Office era;  A documentary style that feels almost too real and has so many awkward situations that you don't know whether to laugh or feel depressed. Which is why we need to touch base on the events that took place over the last few days before we get to the game itself.
Now, it's during these low times that you honestly have to ask yourself anytime news comes out about the club, "Am I piling on, here?" Are you taking news and overblowing it out of general frustration, or is it indeed another example of the team's poor performance both on and off the ice this season?
I'm talking about things that aren't necessarily vital to the club's dysfunction, but can get grabbed in the black hole of depression currently surrounding the Canucks brand. Like if the team announced a new vegetarian food option at Rogers Arena, there would be some people talking about how the Canucks are focusing on food when they should be focusing on fixing the club. Talking about how they clearly have no plan because this used to be a meat and potatoes town and now it's going veggie. Every piece of info that comes out gets put through the "Festivus" checklist in which people list off the ways the team has let them down.
Which is why when the club tweets out about a promotion, it gets absolutely run over in the comments:
I feel like running the Canucks' social media is perhaps the worst job in the province right now, as anything they put out is going to be met with a disgruntled (and validly so) fanbase. It's hard to tell everyone in the office to enjoy the cookies Susan brought in when the building is on fire and burning down around you.
But with that said, this season has just been an absolute clown show that even with showing restraint, you find yourself making your own Blink 182 wtf meme almost every other day.
For instance, Bruce Boudreau talking to Pat Johnston Saturday morning (hail gold and blue, rah rah rah), offered up this:
I mean, ultimately this doesn't matter. What a coach says about the lineup is a 50/50 coin toss on if it's true or not. It's the weird gamesmanship where you don't want the other team to know if they're "preparing" to face Spencer Martin or Collin Delia. But take that out and you're still left with the idea that within 24 hours and a flight, they're going to go back to their backup goalie to face off against a very good Hurricanes team? Even elite goalies shouldn't be playing back-to-back games, much less your backup guy. It simply doesn't make sense.
But again, does this mean much in a vacuum? Of course not. But within the context of the season, it's just another small moment where you find yourself going "wait, what?"
Which brings us to Bruce Boudreau, a coach whom the management team has been seemingly hesitant to commit to, putting him in a proverbial "wanna meet up later?" left-on-read situation. Maybe he just feels like he's on borrowed time, so hey, who cares what happens, maybe he WILL start Spencer Martin every game for the rest of time. You have to think this is a tough situation to coach in, seeing reports leaking out that your replacement is on the way almost daily.
And with all the smoke surrounding Rick Tocchet's name, Boudreau now has a name for the masked man chasing him down in his rearview mirror:
You always got the sense that the "Bruce there it is!" momentum maybe bought Boudreau more real estate in Vancouver than Rutherford planned with how the team didn't talk extension past this season. Maybe you bring Rick Tocchet on board to bring an old-school rugged style to the team and get JT Miller back on track by
dropping him with body checks in practice
. It's not like bringing in someone from Arizona has ever gone poorly for this team, this could work.
Which again, hey, take it on its own, and maybe you just view it as a team being proactive. In fact, let's go a step further, it shows how astute the team was not to trust the dead cat bounce from the team's performance last year under Bruce, and wow, what foresight they had to allow them the wiggle room to bring in the right guy as the next coach.
But added to the context, and yes, you once again start asking yourself "what exactly is the long-term vision here?"
Then you have a well-respected reporter in Michael Russo thinking Elias Pettersson possibly could be done with Vancouver:
Does that mean he's out the door? Again, of course not. Money talks the most in sports, and if the Canucks view EP40 as one of their untouchables, they WILL find all the money in the world to offer to him. It's not often players walk away from the bag like that, but again, add it to the current state of this team and you can't help but wonder "What if?"
It wasn't that long ago that Bo Horvat's next contract seemed like a foregone conclusion, yet here we are.
And then you come across a tweet about Rutherford and the team's handling of the Tanner Pearson injury, something that caused enough of a stir that Quinn Hughes spoke up about it:
At best it shows a gross incompetence of communication between the team's President and the rest of the team. You would hope your President would have every piece of knowledge at his disposal in order to handle situations like these properly in the first place.
At worst it shows a team that was hoping the injury news wouldn't come out, and Rutherford is lying about having no knowledge. A real guy-in-a-hotdog-suit trying to find the guy who did this moment in the NHL.
Either way, again, you now have another "wait, what?" moment on your hand. I honestly thought the start of the Canucks last season had bad optics that couldn't be beat, but here we are.
So in the space of a few days, we have Tanner Pearson's hand injury management going off the rails to the point Quinn Hughes spoke publicly about it, we have rumours of the Canucks looking into coaching changes, and one of the potential coaches is someone who appeared to not mesh well style-wise with OEL, who just happened to be healthy scratch for the first time as a Canuck last game, and Elias Pettersson's future in doubt. Again, all within a few days.
All of which led to the worst guy you know making a great point:
We're at the point where I truly have no idea what awaits us in the next few days. Even the #FreeTheSkate momentum that looks like it's coming to fruition in the near future, a moment I have waited for since it left us in the 90s, will be hard-pressed to shine in this fog.
Sure, you freed the Skate, but why is Elias Pettersson weeping at centre ice on the faceoff?
Anyways, let's make some gif money, shall we?
Just draft the next Tage Thompson. Problem solved. I don't know why people act like this is so hard.
Fun in the way extra homework is fun or fun in the way that "it could be worse" is not quite the motivating speech you think it is kind of fun?
Okay so the bad news is the Canucks blew another lead. The good news is it was only a one goal lead. Which yes, that's the world we live in now where a blown one goal lead is held up as proof that the hockey gods are now showing you favour.
The sad news is that I think in Micah's model, blowing a three goal lead is more fun, so this might have been a dull loss for the Canucks.
Regardless, it was Jack Studnicka taking the novel approach of throwing the puck on net that beat the Panthers' Bobrovsky: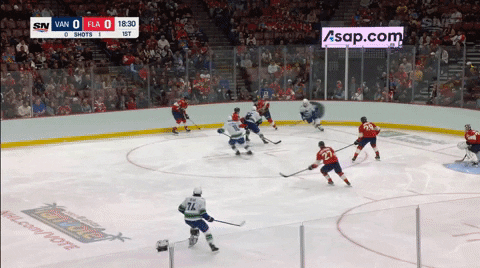 Bob does a bit of a stare-down at his team as if to blame them for the goal, as is tradition, and the Canucks were off to the races.
We could spend more time breaking this goal down but it would be along the lines of "Okay, so he takes the puck, and then just flings it on net, and somehow it goes in. Now let's watch him fling this shot on net, and I have to remind you again of how non-threatening this shot is, and watch as it goes in. Look at Bob furrow his brows as he tries to compute as quickly as possible who he can blame this goal on."
At one point the team took turns trying to hurt each other with feats of strength, and I think the Canucks won?
Lazar eating a puck to the face seems like a more impressive feat than Barkov taking a puck to the knee: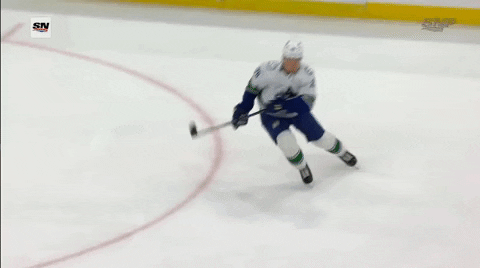 OEL, back in the lineup after his healthy scratch, was the sniper who took out Barkov: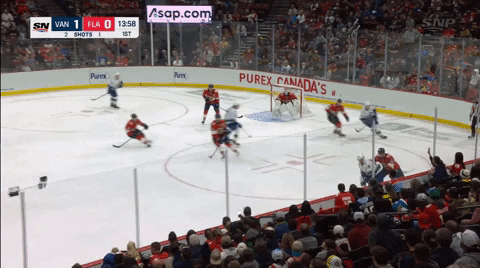 Barkov had to do a cowardly walk of shame down the tunnel to regroup himself, while Lazar walked it off and didn't miss a beat. Vancouver are the clear winners here.
The Panthers tied the game up easily and doctors don't want you to know how: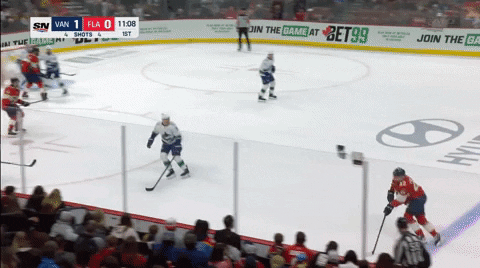 Sometimes it feels like simply rotating the puck is enough to break the Canucks down in their own zone. On the Panthers' first goal, Lockwood stops heading to the point to cover the up high guy and skates back into the middle. Myers follows the puck carrier, and then randomly bounces off of him when it looks like a point shot is incoming. Lockwood then takes Joshua's check, and then Joshua realizes Bill Lumbergh Ryan Lomberg is about to file his TPS report, but he's too late to switch off and stop him from getting to the rebound.
Now, why does Tyler Myers bounce off of his check to watch a point shot from JT Miller's office? I couldn't tell you. The odds of him blocking a left-handed shot in that situation is low, and he doesn't even wave his stick in the shooting lane. Chaos Giraffe simply wanted to watch everything play out.
And this is kind of the theme of the entire season. Canucks making odd choices on the defensive side of things that accumulate and end up leaving a man wide open. If it physically pains you to watch these clips, know that you are not alone in that.
We always love a good slip and slide in the Stanchies, and OEL, fresh off of being told he needed to go to his room and think about what he did, ran into a 3-on-1 against: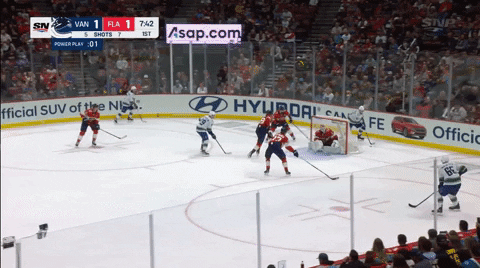 Kuzmenko fed the pass right up the middle from behind the net, only for it to turn into the counter rush. Slipping and sliding is always a dangerous game (some say THE most dangerous game aside from playing Cribbage for money), but the fact he didn't over-commit on the slide (aka slide backwards at 50mph, taking him completely out of the play if the diving poke didn't work) and kept his stick in the shooting lane, slowed down Tkachuk long enough for Kuzmenko to backcheck, and flick the puck away.
Again, I do want to note that one of Kuzmenko's strengths this season has been back-checking like a demon when he makes a mistake. Even when it looks like the play is out of reach and there's no way he can make it back in time, there he is, skating away to get back into the play. And as we see here, sometimes it works. Just skate back hard and you never know what might happen.
Not that I wrote that for JT Miller's benefit. I simply just thought it should be said.
It wasn't "fun" hockey, but we did have Tyler Myers going dome on Bob: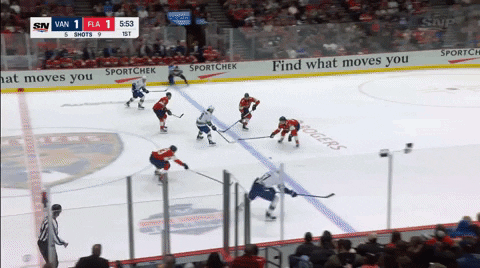 I respect that Bobrovsky stayed in position and squared up to stop the follow-up shot, even without a mask. If that was Barkov he'd have called a timeout and asked for an hour-long delay while he gathered his thoughts.
In honour of Brock Purdy's performance against the Seahawks, Bo Horvat took to the air to find Studnicka in all alone on Bobrovsky: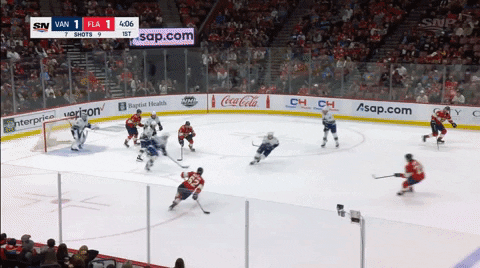 The mistake Studnicka made was trying to use a skilled shot against Bob, when simply pulling up at the point and flicking the puck on net would have led to better results.
Still, it made for a fantastic moment for the Canucks fan in the crowd who could not believe the save Bob made: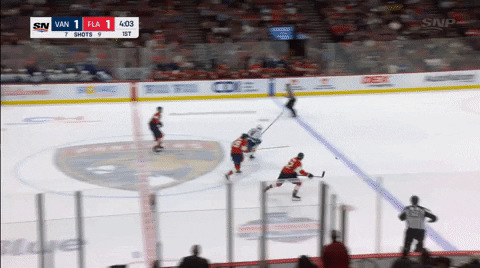 Hands on head in disbelief, spinning back and forth, that's me when I found out Buzz Lightyear's original name was Lunar Larry.
With OEL back in the lineup, the Canucks became withholding again and put the A back in their purse, leaving Elias without a letter.
The one thing you know about EP40 though is his effort level never changes, so it's not surprising to see him dive and almost swing his stick back around his body and score a goal: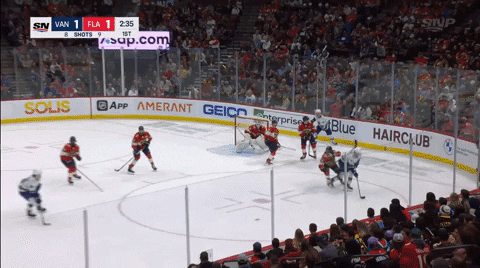 He is straight up the only reason to watch the team this season, aside from Bo Horvat's 50 goal chase.
Best flinging of the puck
The Canucks made it 2-1 when they…flung the puck on net: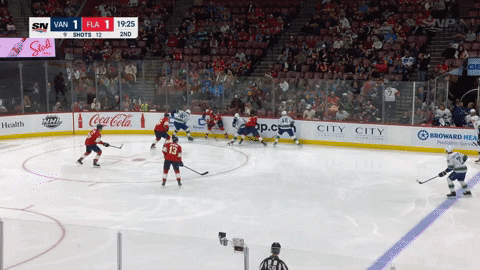 Aaron Ekblad vaguely skated through Bobrovsky's field of vision, who I now assume works on T-Rex visuals and has no idea what's happening unless it's moving.
Again, not much to break down here, this wasn't a skillful display of hockey wizardry that will be used to teach generations of kids of top level offence. It was simply Tyler Myers flinging the puck on net.
Which I guess to be fair to Bobrovsky, if it's the Chaos Giraffe bearing down on you, you might need to prepare for the unthinkable. Maybe Bob thinks Myers is about to throw his skate at him, so he's mentally prepared to dodge a skate, not stop a puck.
Fun fact: That was Tyler Myers' first goal of the season.
Fun fact #2: Myers had 7 shots last game and 7 shots this game. We've talked about if before, but the offensive chaos in his game seemingly disappeared this season, but ever since the OEL scratch, he's been firing away like he's made of titanium.
Best blow it like you mean it
The Canucks shot themselves in the foot on their second goal when Lane Pederson was unable to get the puck out of the zone:
The end result, Ethan Bear and Riley Stillman taking about twenty years to pick up on the fact that Eric Staal, who I thought retired 10 years ago, was in behind them.
All alone.
In front of their goalie.
The puck taking two deflections before bouncing in off of Spencer Martin's pads makes you wonder one thing: Why not cheat and cover your five-hole up like Tim Thomas. Well, I can't answer that.
But what I can answer is that while there are usually breakdowns on every goal scored against your team (unless it's flinging the puck on Bobrovsky), the Canucks' breakdowns continuously involve losing coverage in their own zone.
Is it a structure issue? A roster issue?
Who knows, all I know is it doesn't change the fact I don't have a car.
After Radko Gudas started twerking, resulting in his booty shoving Joshua into Bob, the Canucks were given a penalty: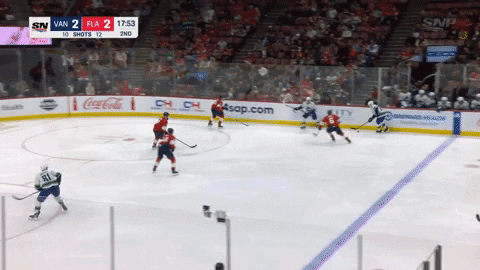 So for those keeping track at home, punching another player directly in the jaw a foot away from an official? Aces. All good.
Getting hit by another player's rear end so that it jostles you into their goalie? You're a bad person who deserves bad things. And a penalty.
The result? A Florida Panthers power play against a penalty kill unit that is the Glitter of the NHL: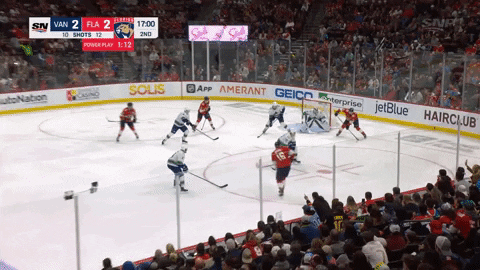 I feel like I've run out of ways to describe the Canucks moving as one unit to one side of the ice, and then moving over to the other side of the ice, then watching as a one-timer goal is scored.
It's like watching the waves at Kits Beach, except there's no random volleyball game going on in the middle of a heavy rain shower. It's beautiful in its own way, but after a few minutes, you realize there are so many better things you could be doing.
The Canucks have been getting good goaltending this year, which certainly helps tank their PK effectiveness, but we've actually gotten to the point where people are pining for Sutter and Beagle, and you know what, they might not be wrong.
Marc Mero will always be Johnny B. Badd to me.
I'm at the point where I am kind of disappointed when the Canucks don't give up five goals, because it's their identity now. Like, they finally know who they are as a team, so giving up five goals is just a nice reminder that everything is fine. This is just what's supposed to happen. It's all going according to plan.
But apparently, the Canucks still have something called "pride", which is why Spencer Martin did his best to prevent the fifth goal on this Sam Reinhart breakaway: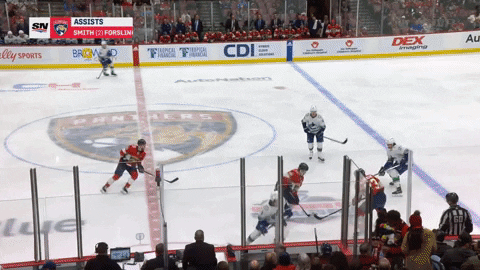 Honestly, you've got four Canucks on one side of the ice, all very close to the puck, and even then the Panthers still find a way to generate a breakaway. Which hey, is fantastic for that EP40 fan in the front row who got to be excited about the big save, so that's something.
Best benefit of the doubt
First off, it's a great read and play by JT Miller by any metric: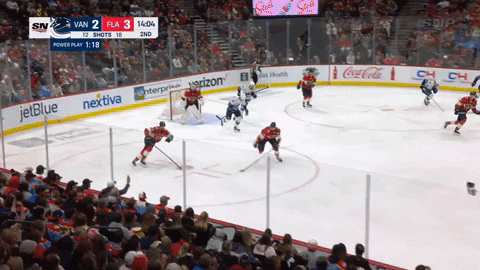 The Panthers try and get a shorthanded high-danger chance (something the Canucks tend to bleed every game) but JT reads the play and knocks the puck away before it can get behind him.
Is it a bold play, one that comes with some danger because if he misses it, that's a breakaway? Of course. But if it was Elias Pettersson we would simply chalk it up to a high hockey IQ and not a single word would be uttered about the new Marvel "What if…" show based off of that play.
But Elias Pettersson has also earned the benefit of the doubt because most of the time? He makes the high-risk plays and succeeds at them. He gets the benefit of the doubt.
It's why when Elias Pettersson dashes through the zone and dekes his way around two players, we simply applaud and knowingly nod our heads: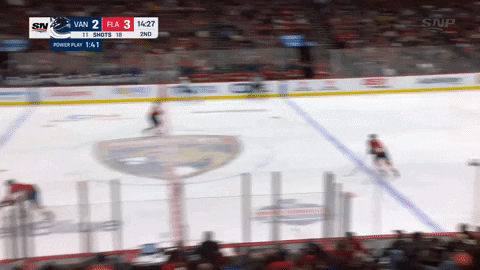 It's because this is what he does. He's that darn good. If Elias loses the puck there and gets counter-rushed, we just shake our head and tell EP he'll get them next time.
With JT, he has ruined his stock with no-look giveaways and a lack of effort. He's lost the benefit of the doubt. He's that friend who always says they'll show up Friday night but then claims he got carjacked for the 10th time that month, so he can't make it, even though he doesn't even own a car.
The good news is he can get that stock back, he just has to make plays like this more often. This market is surprisingly forgiving if you make even the most token of efforts. We almost had a statue made of Jeff Cowan for goodness' sake.
Best hitting some dingers
JT Miller almost went full Nela Lopusanova to tie the game up, but again, he forgot the cardinal rule:
Just fling the puck on net from distance. Imagine that Bob is a basketball net, and you're out here taking threes all day.
Hitting the puck out of the air and forcing him to make a skilled save from a foot away from the net? You're playing right into his wheelhouse.
The Canucks' penalty kill is like watching Reese Hardy come to terms with her hair colour: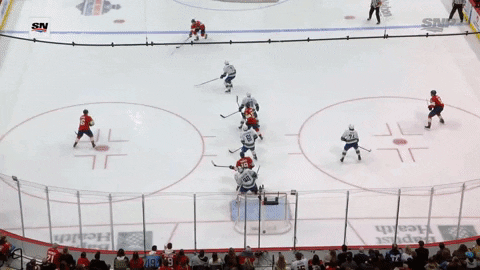 Move to the left, move to the right, watch a goal go in, wipe away a single tear.
There was some variety in this power play goal as it didn't go in on the initial one timer, but instead was scored by Barkov, who was left wildly unchecked like your Visa bill from December.
Next you'll tell me the team won't bother playing Kuzmenko in end-of-game scoring situations in back-to-back games.
Playing against Vancouver is easy mode, let's be straight about that.
The Canucks, once again, find a way to try and cover one player with multiple guys, resulting in all of the open ice you could ever want: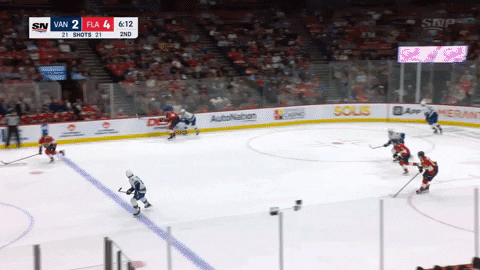 You know what's lethal in hockey? Time and space. You know what Vancouver peddles in? Time and space. You know what their store would be called if they had one on Granville Island? Space Time.
It's just endless. Here is a clip of the Canucks all caught puck-watching, and not a single one of them has their spider-sense go off alerting them to the fact that Brandon Montour has snuck in for the back door play: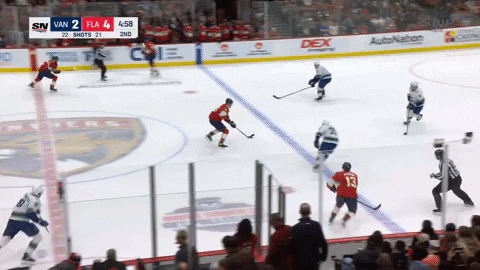 This is about as ugly as hockey gets.
Best preventing the dream
Martin once again ruined the drive for five, with the ice apparently stained red from last night's laundry: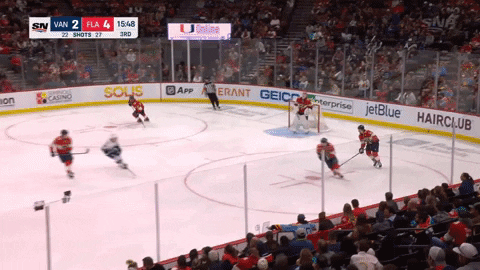 Reinhart straight-up skates right by three Canucks who offered up token resistance. I think Garland waves his stick in his general direction at one point, which is nice? It shows he realized there was danger even if he wasn't going to do anything about it?
Best following the new rules
We know the rules now: Push someone into the net, and it's their fault: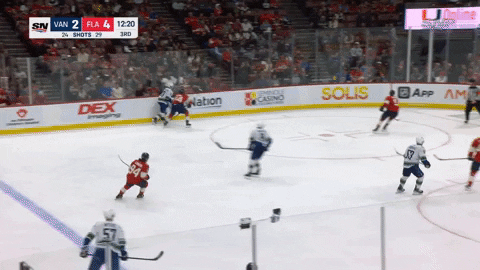 Bo Horvat gets pushed into the net, the net comes off, and voila, Vancouver are the baddies.
Robbing us of a Chaos Giraffe two goal game is the worst part about this. Watch his swagger in the offensive zone as he gets the first shot off? Where has that been all year?? Then he follows it up with the goal and he is JACKED.
But the NHL cares not for giraffes. They call the play dead and claim no goal.
Which I guess in a way is chaotic, so sadly, it's still on brand.
And once again, the EP40 fan in the third row is robbed of a glorious moment.
Best blasting off in the Petterzone
The weirdest part about this goal is that it was Elias Pettersson's first power play goal of the year:
We know that EP40 hasn't been wiring off shots from that spot like he has in years past, but it's still surprising that it's taken him this long to get a power play goal from anywhere on the ice.
Wait:
OK so EP40 still doesn't have a power play goal on the season. Bo Horvat is greedy and he has to have all of the goals.
You see enough third period scrambles that fall just short and they sort of lose meaning, you know?
Still, the Canucks kept generating shots, even if they forgot the cardinal rule:
Don't tip those shots. That just makes it easier for Bob to stop them. Fling them and walk away like it's an explosion. Set it and forget it.
Tyler Myers out here dropping to one knee proposing to the net: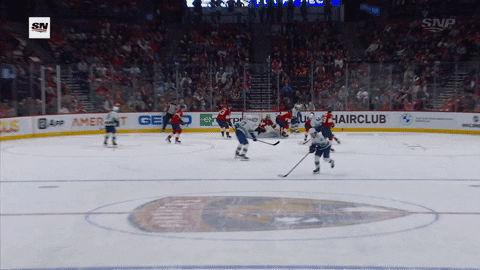 The last two games have been a wild ride for CG57. We missed you, buddy. Rick Tocchet loves tall d-men, you might be getting 30 minutes a night soon enough.
Best conspiracy theory time
Curtis Lazar last game, Lane Pederson this game, I cannot fathom any reason in the world to not have Kuzmenko on the ice in a last minute goal scoring situation unless it's injury related, or you simply want to drive down his contract demands by stopping his point production: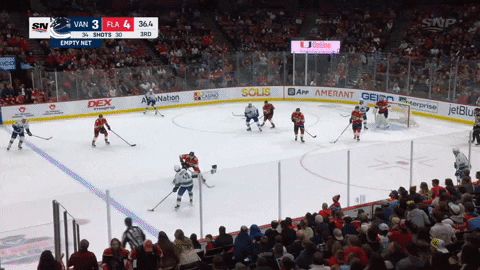 You know, good on Lazar and Pederson for getting decent looks at the net to end the games. But Kuzmenko is a playmaker who can also score deep and in around the net. His skill set is perfectly suited for these situations. How is he not on the ice if not for the idea that you can slow down his offensive production and tell his agent that Kuzmenko's game really dried up halfway through the season?
I just don't get it.
Best it doesn't get any easier
January was always going to be the group of death of the season, and so far, that has rung very true.
Which means perfect timing to bring in a new coach after January is over with so you can get some wins on the record.
EVERYTHING IS A CONSPIRACY NOW.
With the news of Rick Tocchet maybe being the guy in Vancouver I started doing my research on his background with OEL, and came across a
Craig Morgan article
that had a bunch scouts' opinions on OEL back in 2020, trying to answer the question of if the Coyotes should even trade him in the first place.
The article is filled with glowing praise for OEL to the point that it seems like it's describing a completely different player from what we've seen in Vancouver. It's worth a read because at one point the scouts talk about d-men really hitting their strides in their 30s, and how Lidstrom won a bunch of Norris trophies after he got into his 30s.
Now it's hard to gauge a player sometimes, because off-ice issues can come into play, as well as injuries. Games can drop off for a variety of reasons. But the way they talk about OEL it's like he's the second coming of Bobby Orr, or as one scout described him, someone who would be a great skater into their 50s. None of this lines up with what we've seen.
All of which is to say I can only imagine Jim Benning getting endless feedback like this, seeing all this hype and praise and part of you wonders if he just followed the scouting reports and assumed he was getting a bonafide, generational top d-man. Like you can almost see Jim Benning giggling as he thinks he's getting away with the heist of the century.
Imagine he sees this report on OEL on his desk in the morning:
"He's got the classic traits that scouts look for: the size, the skating, the range, the long stick. He is an excellent one-on-one defender and that's such an important part of the game. I think his play away from the puck is underrated, which people don't always pay a lot of attention to because it seems to be all about points and what you do with the puck even though a defenseman doesn't have the puck 90 percent of the time."
Let's ignore the weird part about not having the puck 90 percent of the time, as if top d-men aren't the "get out of jail free" card for most teams, and the guys who generate the most zone exits, let's just focus on the five star prospect you just read about. That sounds like the guy Jim Benning was drooling over for years in Vancouver. It's no wonder he wanted to acquire him so badly.
Which just really hammers home the point of this: If you're going to spend a sizeable chunk of your cap space, make sure your scouts are right. Make sure you've got the guy you think you're getting. Because in today's NHL, a mistake like the OEL trade has become, can cripple your franchise for years.
I had questions. Pat got answers.
Next up? Which does Collin prefer? Honeydew or cantaloupe?