The Stanchies: Tocchet heavily criticizes Canucks in shutout loss to Flyers
Photo credit:© John Geliebter-USA TODAY Sports
Is Edmonton's defence that bad, or did the real Canucks show themselves on Tuesday night? That's the question Canucks fans find themselves asking after watching the team limp towards a 2-0 loss to the Philadelphia Flyers, a team that looked to be battling for a top 5 pick this season more than anything else.
But hey, maybe compete is in the Flyers' nature, because they relentlessly beat the Canucks in every aspect of hockey except for goaltending.
Just how bad was it?
The Flyers outshot the Canucks 23-2 in the second period.
The Flyers had 15 high danger scoring chances to the Canucks' 8 (which is being generous).
Elias Pettersson finished the game with the second lowest Corsi on the team, in one of those rare nights where he actually might have been a terrible hockey player.
All in all, it was the kind of game you want to throw in the trash so you can get started on your rogue in season two of Diablo 4.
Now, there is some good news buried somewhere in that pile of triceratops fecal matter.
One, Thatcher Demko played an absolutely fantastic game of hockey. When Demko plays like that, the odds of the Canucks winning a game are quite high. If he can maintain that level of play, that bodes well for a potential playoff spot this season.
Two, it's not many nights where Elias Pettersson has an off game like that. Whether it was knocking down pucks, or making reads in the neutral zone, nothing seemed to go quite right for a player that has been night in and night out, the best Canucks forward.
Three, JT Miller was the Canucks' most complete player on the night, as he continues his strong start to the season. Sure, he didn't score, but he was one of the few players who looked actively annoyed by the terrible game of hockey unfolding in front of him, and actually tried to do something about it with strong two way play.
Now, with all that being said, the game itself was pretty horrendous. It had the same vibes you get when you're stuck on a long transit trip sitting beside a heavy smoker who just came in from out of the rain. You could feel the stink of that game being absorbed into your pours within seconds of being near it. To which you have to give the Flyers credit, because they poured the pressure on the Canucks; Which Vancouver responded to by folding worse than Gary Paterson.
And during games like this, almost everyone is going to have a bad moment. It's hard to escape a game like this with a clean record when there is no team cohesion and every other shift feels like you're merely trying to survive it. Gone were the clean breakouts and constant puck retrievals, and in their place was a combination of shame, sadness, and regret. It's something that caused head coach Rick Tocchet to let out an audible "phew" in the post game assessment.
"We just got some guys who, phew, they better pick it up…I don't like to use the word soft, but I didn't see guys competing at all. And that's alarming."
Now we don't know who stood out to Tocchet on the bad side of the ledger, but two players seemed to rise above the rest in terms of "What are we even doing here?" and "why is this my life?" moments for me.
Yes, Tyler Myers and Noah Juulsen had maybe one of the worst combined games in recent memory of Canucks defenceman history.
Look, we always knew the right-handed depth for the Canucks was going to be a problem this season. There is a reason Luke Schenn became a legend in this city by merely playing solid, consistent, boring hockey on the right side, because stability is not something we have seen there too often. Chaos Giraffe has slowly gone from chaotic neutral to chaotic evil the last few seasons, and Noah Juulsen's start to the 2023 campaign has been anything but promising.
Whether it was bad reads, mistimed high risk pinches, or the inability to win a battle for the puck, it felt like Juulsen and Myers were literal turnstiles on defence for the Vancouver Canucks. Again, nobody played that well for the team, but these two defencemen seemed to struggle more than most, and if your back end struggles, the entire team struggles, as we've seen the past 8 seasons.
So where does that leave Vancouver? We shall see. It's only been three games. Just like you wouldn't want to plan the parade after the first two games, you don't want to declare a season dead after game three.
But if you're asking yourself what one of the biggest worry spots for the Canucks continues to be, it's that right side of the defence. Because if that doesn't get stabilized soon, it's going to be one heck of a long season.
Fun facts, gifs make me just as much money in a loss as they do in a win, so let's go make some cash.
Best all the small things
Speaking of that right side of the defence, the Canucks
swung a trade with the Pittsburgh Penguins
before the game today, acquiring defenceman Mark Friedman and forward Ty Glover from the Pittsburgh Penguins in exchange for d-man Jack Rathbone and forward Karel Plasek.
Rathbone will be the name most Canucks fans are familiar with, and this trade truly feels like one of those "you need to move out and find yourself a job" moments from the Canucks.
Rathbone was most likely never going to make the Canucks' roster due to the depth on the left side defence, and the fact that defending in his own zone was what the kids call, a bit of an adventure. If you're the Penguins, you're happily making your AHL team stronger (because Rathbone has shown he can produce at that level) and hoping that injuries and COVID disruptions interrupted Jack's developmental path.
Ever since last season, it felt like the inevitable conclusion to this tale was Rathbone starting off fresh with a new organization so he could attempt his Pretty Woman moment of one day becoming a top-flight defenceman who owns a really nice hat who can tell the Canucks they made a big mistake. Big. Huge!
As for Plasek, it's hard to get a read on him as a player, as he only spent a handful of games with Abbotsford, but it doesn't feel like we'll be writing articles five years from now exclaiming "how could the Canucks have traded 50 goal scorer Karel Plasek?"
In return, the Canucks get a more seasoned AHL/NHL journeyman defenceman in Mark Friedman, who has the added bonus of being a right handed shot, with which after watching Noah Juulsen struggle on that third pairing, feels like a solid move to give them more options on the right side.
As for Ty Glover, he's 6″3 and 200 pounds, so we can just assume he'll turn into the next Todd Bertuzzi and call it a day. Either that, or his career never hits the NHL and we never hear from him again. It's hard to say, really.
All in all it's a small minor league deal, and one we will likely forget ever happened five years from now, except when someone on Twitter goes "hey remember [player x]?" and we all have a little giggle.
Best continued disrespect
ESPN wants you to know they think Seth Jones is better than Quinn Hughes.
This is an actual thing they wrote. Then nodded their heads and said, "yes, this looks good." Then submitted it to their editor. Who also nodded and said, "can't see anything wrong here." And then they hit publish and had a round of Yops together, or whatever it is they do there.
This is an actual chain of events that occurred in life.
I feel like a better solution to anyone from the East making a ranking of players is to just admit they don't stay up late to watch Canuck games.
Best 2023 Hair Toss Championship
At the time, I didn't realize this gif was going to be the high point of the game for the Canucks in terms of highlights.
Take it in. Really savour this gif before we move on because this is as good as it gets.
With the Canucks' intense practice on Monday, the early start time on Tuesday, and a home opener pre-game ceremony to sit through before puck drop, it felt like the perfect recipe for the Canucks to come out flat.
And boy, did they ever! They were led by man of the hour Tyler Myers, who has somehow made losing a battle for the puck a work of art:
I've said it once, and I'll say it again. For a man with that much wing span and size, his ability to lose battles for the pucks boggles the mind. I don't know if his stick is so long that he struggles to win pucks in close to his body, but that wouldn't explain his constant inability to swipe at and knock pucks away at distance.
I honestly can't get a handle on Tyler Myers as a hockey player. I've seen him play good hockey in Vancouver but it's felt like a couple of seasons now where any of the good he brings (offensive production) has disappeared and all we're left with is chaos in his own end. That hit on Duncan Keith bought him a lot of goodwill with the city, but he's used that all up by now. Like, I could see him opening up a used car lot in Vancouver called "Dunkin' on Duncan" where there's nothing but posters of him running right through Keith, and people would gladly buy Rubicon Jeeps and high five him.
But on the ice, he needs to bring more. Because as it stands, the fanbase is literally counting down the days his six million cap hit leaves the books, so Tyler can sign a cheap deal with another team so that team's fanbase can be super excited about how well he plays for a $1 million dollar defenceman, as is tradition.
All of which is to say yes, the Flyers opened up the scoring very early into the game:
Noah Juulsen is seen covering nobody, setting up a decent screen on his own goaltender and not blocking the shot, if you're curious about how his game started.
Fair warning, at one point, you might find yourself saying "leave Noah alone!" as you read along, and I get that! I am not giggling to myself going "man, I can't wait to throw this guy under the bus!" but the facts are facts, he has struggled mightily through three games this season.
There was then another turnover by Tyler Myers just after this and this is where I'm going to pull the curtain back on The Stanchies. I had several clips I was trying to cut and sort through that I thought to myself, "Do people need to see another Chaos Giraffe turnover? I think people get it by now. They get it." and I just sort of moved on with my life.
The end result is the Canucks were playing loose and sloppy hockey, which is only good if you're making a pulled pork sandwich.
As stated in the opener, JT Miller was one of the lone bright spots for this Canucks team, as shown here where he wins a puck battle, almost taps in the puck out of the air for a goal, and then follows up with a hard hit into the boards:
Considering there was a considerable spotlight on JT to start the season of which Miller were the Canucks going to see this season, it's been very firmly on the right sight of the ledger with Jimothy Timothy Miller showing up and playing great hockey.
Best attempt at a Pettersson highlight
Even in Elias Pettersson's worst game of the season, he is still going to draw at least one penalty:
Again, to the Flyers' credit, they played the Canucks hard and didn't give them a lot of time and space out on the ice. But even when they did get called for a penalty, the Canucks' power play wasn't able to generate much in the way of offence. The closest chance was Lafferty kind of grazing the outside of the post, which is akin to your child washing their cheese-crusted plate with no soap and you just smiling and nodding and telling them what a good job they did.
Best what are we doing with our lives?
Here is a perfect clip of the frustrating game of Tyler Myers.
The Flyers dump and chase the puck, to which Tyler Myers not only has the lead in the race, but has the stick reach to get to the puck before anyone else.
Instead, he holds up and initiates body contact, and in the ensuing body battle, loses the puck. He then regains the puck, and promptly skates the puck towards the boards and into double coverage and then loses another battle for the puck, leading to the Flyers regaining possession:
This is something that can happen to any player, of course, but it's the fact it seems to happen far too often with Tyler Myers that brings us back to the frustrating aspect of his game. For someone who takes up as much salary cap room as Tyler Myers, he cannot afford to do this as consistently as he does.
And I get it,  nobody dropped back behind the net for an outlet pass, so Myers might think his only option is to buy time by driving towards the boards. There is a level of team effort involved for terrible games like we saw on Tuesday night. But that's where we go back to the overall resume of Myers, and honestly, he needs to be able to be a driver on the ice during tough times, and not just be a passenger.
Which probably speaks to the Canucks overall depth (it's going to be a hard night for them to win when two out of the three of 43, 40 and 9 are struggling) but that just brings us back to the point of how important it is the Canucks spend their salary cap allocation properly.
It's great to go all in on Boardwalk and Park Place, but never forget to invest in the railroads. They're the banana stands of hockey.
Best summary of the first period
As I said, the Flyers played the Canucks hard. They were 100% a team like that on this night.
You know it's a good hit when two guys on the bench lean back and protect their face.
Now look, for all we know, the coaching staff is hammering away at the Canucks' defence to get engaged and make plays in the offensive zone. To be aggressive on the puck and try to keep plays going in the offensive zone.
The problem is that on this play, Noah makes the aggressive pinch on a nothing burger of an offensive zone situation in which three Flyers are supporting the puck on its way out of the zone. The probability of this turning into a good situation is very minimal, and as we see, quickly turns into an offensive rush the other way, akin to leaving the gate open for the Ottomans.
This was kind of the theme on the night where Canuck players, highlighted most often by Myers and Juulsen, would make aggressive plays on the puck and would flat-out fail to win the battle.
The end result was the Canucks constantly playing without the puck and chasing the play all night long, taking more penalties, and looking like a tired, sad team.
When you start resembling my beer league hockey team, that's when I know something isn't working right.
Though we have to give a shout out to Carson Soucy, playing his first game of the season, for "accidentally on purpose" raking his stick across the head of Marc Staal:
That was the last and only highlight of Carson Soucy on the night.
Best Travis Green coaching
Speaking of pinching along the boards, here's Noah Juulsen once again trying to keep the play going in the offensive zone only for it to get slammed right back down his throat:
To be a penalty shot, or not to be a penalty shot, that is the question.
Whether 'tis nobler in the mind to suffer the slings and arrows of outrageous hooking, or to take penalty shots against a sea of Granlunds.
To be fair to Juulsen, this was a better spot to jump in and make a play on the puck, as his opponent's back was to him, so he had the element of surprise on his side. But the end result is that he didn't win the puck battle (again), and the Flyers turned the play back the other way.
Elias Pettersson covered him on the play, so that was good, but a fortuitous bounce pass sends Sean Couturier (last seen playing hockey when Spider-man: No Way Home was number one at the box office in 2021) in all alone on Demko.
With all that being said, it feels like a penalty shot being awarded was very, very generous of the officials because Sean still got a delightful-looking scoring chance off on the initial play. There is some leeway in the rule in that if it's deemed a player didn't get off the best shot they possibly could have, you can award a penalty shot, but EP40's slash happened early during the breakaway, still allowing Couturier to attempt the vaunted triple deke.
The end result was a feel-good moment for Flyers fans as Sean Couturier basically moonwalked himself into scoring his first goal in many moons:
You know it was a heck of a night for Demko when the only goals scored on him were a screened shot and a player basically morphing into Michael Jackson to have to beat him.
Best this can't be good part two
For all the press Myers and Juulsen will get for their poor games, Hughes and Hronek struggled as well on the night. The second period, aka the period where the coach has screamed at you during intermission and you need to start showing some pushback, began with Hronek and Hughes unable to leave the zone, resulting in another Flyers scoring chance:
If not for the deft reflexes of one Thatcher Demko (presumably acquired by dancing to Shake it Off), this game could have just as easily been a blow out loss, rather than the "close" 2-0 loss it ended up being.
Basically, with his team playing like hot garbage, Demko still gave them a chance to pick up some points, which is about all you can ask of your goaltender.
Best question on everyone's mind
Once again, here is Tyler Myers playing a puck at the blue line, losing said battle for the puck, and it turning into an odd-man rush against:
I'll give him this, Tyler Myers has the brazen confidence of a man trying out pick up lines at a club. He constantly stops in his tracks and makes big lunges for the pucks, completely stopping his skating and putting himself in situations in which he now has to race for the puck from a complete standstill.
You know who the only person who should be doing that is? Jeff Tambelini. That's it. That's the list.
This is how teams end up being out-shot 42 to 25.
This is how Tyler Myers' DAWG rating ended up being a negative -.011 on the night.
At least Demko's agent can keep compiling a highlight reel for his next contract a few years down the road:
That's what we in the business call a "wtf did you just see that save??" text into the Black Aces writers' group chat.
The puck ends up going back the way he came, but that's not a big deal for Demko, who, ahem, shakes it off and simply lunges back in the other direction to make the huge pad save.
Also featured in that clip is Carson Soucy doing a scissor leg takedown, something I wasn't expecting to see on the night.
Up next in the depressing-gifs-that-get-me-paid is Noah Juulsen, and stop me if you've heard this one before, stopping up and making a lunge for the puck, only to miss it, and it end up being a scoring chance against:
Again, these things will happen to players, not every game is perfect, we all understand that. But on Tuesday night it was happening constantly to the Canucks defence.
And if you're worried a bad loss won't bring a team that maybe let two wins against the Oilers get in their head a little bit, Tocchet is right there beside you to bring them back to reality.
"Who are we to think we're anybody."
I promise you, this is not a repeat, I am not trying to cash in on gif money by using the same gif twice:
Yet again we have Tyler Myers making a play on the puck along the boards, losing the battle, and having to race back and watch as another high scoring chance is denied yet again by Thatcher Demko, who is on his fourth chorus of shaking it off.
Not a banner night for the Chaos Giraffe.
I just pictured apple crumble when I read that tweet, so it makes it in because apple crumble is not only delicious, it's far better than watching what happened in the second period:
The Flyers take back the puck, gain the zone with ease, and cut a pass through the Canucks defence like it's homemade butter that you infused with thyme and garlic and are oddly overly proud of making. It's a simple process to make, but somehow it makes you feel so fancy and classy to offer infused butter to your guests.
Oh, you have buns covered with plain butter? Butter that tastes like…butter? That's nice. That's quaint.
In my house, butter is an explosion of taste in your mouth, taking you on a savory journey to flavor town.
All of which is to say the Canucks weren't very good on break outs on the night.
Best work harder not smarter
When you're constantly chasing the puck, you're going to take more penalties, and that was the case on the night. Even trying to steal the puck back can lead to failed stick lifts that end up as high sticks:
The Flyers continued to pressure the Canucks, passing the puck around with ease on the powerplay:
The only reason this wasn't a 7-0 loss was because of Thatcher Demko.
"We were just off all over. We were off every single system part of it. The compete wasn't there, they competed, we didn't. Bottom line. You guys saw it. That's the bottom line."
Despite all you've read, despite all you watched, that remains the honest truth: The Canucks still had a chance to win this game. That's the power of a top flight goalie.
Though that's hard to do when your best chances are thwarted by a Flyers team powered and fueled by the fear of Tortorella yelling at them if they lost the game:
You have to admit, this is what the Flyers live for.
This was the official moral victory of the night. They kept the shots to 42.
Connor Garland was also one of the few Canucks who had some offensive looks at the net, but again, the Flyers play for this, and they blocked the scoring chance:
Kuzmenko wondering how long his spot with Pettersson is safe.
The Lotto Line, for those who missed the game, did reunite during the third period.
Rick Tocchet's "Smash in case of emergency" move is the Lotto Line, which you know what, I am here for.
How do you get a negative DAWG rating? By taking a penalty where you completely stop skating and simply hack at a players leg and kind of hope you hit the puck while doing so:
This was the most egregious penalty of the night for me. It's still just a 2-0 game, Demko is standing on his head for you, and you just pull up and slam your stick into the legs of your check?
It's an awful play. It's an awful decision.
Remember Garland running his hand through his hair? I told you that was the highlight of this game.
Now, the Canucks plan of playing trash hockey but still maybe winning almost began in earnest when Connor Garland seemingly scored in the third period:
Look at how he fits into that net all neat and perfect. If ever there was a Garland goal it would be this one.
Alas the Flyers challenged the play for goaltender interference, and despite the fact it looks like Boeser didn't touch him and that Garland puts the puck into the net before contact is fully made, the league waved the goal off.
Which hey, fair enough if you want to protect the goalies. If you want players to know that driving into the goalie and even slightly contacting them can nullify a goal, that makes the league a safer place.
The problem is all Canucks fans remember how things were called against Luongo:
That's game three in 2010, with Dustin Byfuglien literally pushing Luongo into the net to score a goal. The league said that was as good a goal as it gets, just hard-nosed hockey.
Consistency is all we ask for.
PDG got hit in the numbers and Juulsen stood up and let it be known that he spits in the face of people who aren't cool:
The referee handed out two minutes to both teams, and I will leave the merits of standing up for your teammate versus taking the powerplay in a 2 goal game up to you, as I take the coward's way out on this one.
Quinn Hughes and Elias Pettersson had their worst game of the season by far, but we did see a little twinkle in Quinn Hughes' eye as he danced around the ice on four on four: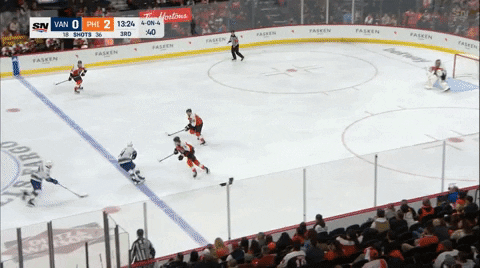 Quinn Hughes looking like a young Jeff Wust out on the ice! Making the Johnny Eagles proud.
The Lotto Line got the best chance of the night when Brock Boeser unleashed a wicked wrister from the slot:
If you want to add "Boeser's shot looks like it's back to rookie season form" as a positive to this season, I highly encourage you to do so. You actively get excited seeing him have the puck in the slot again, instead of kind of wincing and wanting to give him a hug after taking a shot on net, which is a nice turnaround.
As for Tyler Myers, he capped off his night by leaning into a slapshot that nailed Pettersson in the foot, as his attempts at being the number one villain in Vancouver continued:
I assume Demko had some advice for Myers after the game. Something about shaking it off.
This was the Canucks best chance as time wore off the clock. A shot from the point with the screen maestro Brock Boeser blocking the goalies view:
This was the Flyers best chance as time ran off the clock, a shorthanded breakaway that should have been a goal had it not been for Thatcher Hasek Demko:
This save was so nice we are 100% going to watch it twice:
Fun fact, Scott Laughton is known for going backhand on his breakaways to the point there is a hefty compilation of "The Paralyzer" move he often scores on:
Normally Laughton opens up the goalies legs and slides the puck right in, but Demko changed the game. By dropping to the ice and taking his legs out of the equation, there was nothing to paralyze. Instead the paralyzer becomes the paralyzee.
And you thought Lachlan was the only one who could do advanced detailed goalie analysis.
"I can't even pick one guy that played well, other than Demko." – Rick Tocchet