The Stanchies: Hughes' four points and Demko's 40 saves star in 6-2 comeback win against fragile Oilers
Photo credit:Bob Frid-USA TODAY Sports
Hahahahahahahahahahahaha!
Let me explain.
Hahahahahahahahahahahaha!
But seriously, what is going on in Vancouver right now?
Is it the schedule? Is it Rick Tocchet? Is it the roster that is finally playing up to its potential? Is it a combination of everything and more? Probably!
Whatever the cause for the Canucks performances to start the 2023-24 season. I hope it lasts because the club's 6-2 defeat of the Edmonton Oilers might have been the funniest thing I've ever seen unfold live.
It's not just that they overcame getting crushed in shot volume through the opening 10 minutes. It's that the Canucks overcame a bad start, some suspect reffing and the usual Edmonton penalty-drawing shenanigans to wind up dominating a team so badly over the final 50 minutes that their head coach got kicked out of the game for jawing at the refs.
It was amazing!
It was a game that had everything you've come to expect from Tocchet-brand hockey: Multi-point performances, depth scoring, power play supremacy, aggressive penalty killing, shot-blocking, hits, scrums, and wall-to-wall battles! It was fantastic to watch.
I'll try not to gush too much as we review this game, but let me be clear. In spite of their poor start, this was one of the best performances from the Canucks in the last five years. Just a systematic annihilation of a desperate division rival.
Let's get into this one!
Worst pre-game jersey botch
I drew Stanchies duty this cold, rainy Monday when Wyatt earned himself a well-deserved night off getting pampered by the NationNetwork brass out at Rogers Arena.
Never one to take his mind off the job, we learned from Wyatt that monsters do exist in this world and that they often travel in pairs.
I mean, really, TWO Messier jerseys?!
This may be one of the worst botches I've seen in my brief time as the DeSmith to Wyatt's Demko.
Even worse pre-game vibes 
Narrator: they weren't.
It was another uncharacteristically poor start for Elias Pettersson, who struggled to break the puck out of the d-zone. After 30 seconds of failing to execute a clean exit pass, Petey had to opt for the neutral zone flip to allow the Canucks to change.
It's been clear for a while now that Pettersson is playing through some kind of nagging injury. That he's still managed to rack up points by the handful every single game is a testament to the level he's playing at.
The Oilers capitalized on the reset, with Darnell Nurse springing Connor McDavid into the zone for a rush chance, defended admirably by Filip Hronek.
Off the ensuing faceoff, the Oilers cycled in the Canucks' zone as if they were on a power play.
On his first shift of the game, Edmonton's Derek Ryan skated into the elbow of Conor Garland, drawing blood. After a brief review, the refs did not assess Garland with a minor penalty. Somewhere near False Creek, Vanni Sartini was returning his steak knife to the knife block.
It was rough luck for Ryan, who had his nose busted open on the sequence. It was a relief for Canucks fans, though. Especially those still reeling from the Sunday night refereeing clown show that was LAFC's 1-0 defeat of the Vancouver Whitecaps.
The brief lull didn't reset the Oilers' momentum. On the next d-zone faceoff, Evan Bouchard hit Warren Foegele with a tape-to-tape pass beyond the outstretched stick of a much-too-pushed-up Mark Friedman.
Edmonton was all over Vancouver through the opening five minutes. Recently recalled forward James Hamblin tested Thatcher Demko with a dangerous chance from the crease off a Darnell Nurse rebound.
Before four minutes were up, the Oilers had outshot Vancouver 10-1.
Speaking post-game with the media pool, Tocchet addressed the team's slow start, crediting the players with acknowledging the work they needed to do to get their game back on track.
"It took us a while, we didn't have our legs, we weren't skating. [The players] were saying on the bench we have to wake up here. I didn't even have to say anything! It gives you confidence that you can get your game back. That, just because you have a bad 15 [minutes], there's plenty of time left to get back in the game, and that's what I like about this team."
Worst way to stay in a coach's good graces
If I had to guess, I would say that horse-collaring Leon Draisaitl in the neutral zone isn't what Rick Tocchet had in mind when he said he wanted his players to be attacking, moving forward, through the neutral zone and not backing up.
The organization loves Joshua for his size and PK ability. That he chose to use his size to deny the use of his PK ability is what the children call "not it, chief."
Until the Oilers opened the scoring, J.T. Miller had himself a helluva "make something happen" shift on the PK. He attempted to draw an interference minor against Evan Bouchard and ate several hits on 50/50 puck battles before forcing the puck out into the neutral zone.
Then, with 16 seconds left to go in the Oilers' power play, old friend Sam Gagner backhanded the puck off of Ian Cole's stick and out to a waiting Mattias Ekholm for the step-in slapshot.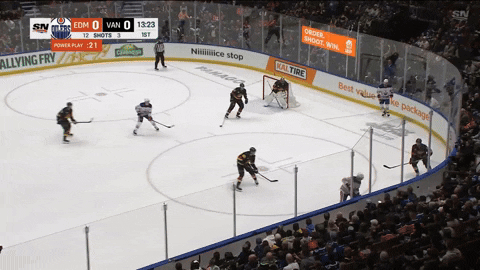 My first Stanchies of the season was a victory oozing with positivity. So, naturally, the Canucks would start my sophomore Stanchies with one of the largest egg-layings imaginable.
Despite the Oilers coming out, guns a-blazin', to avoid a Thursday night trap game against the San Jose Sharks, Quinn Hughes existed to do his thang.
On their third shot of the period—yes, third—Quinn Hughes charged into the offensive zone, receiving a gorgeous drop pass from Kuzmenko before driving down the left wing for a centring pass. Hughes' centring pass deflected off the skate of Vincent Desharnais and beyond a way-out-of-position Stuart Skinner, giving way to the most "Canuck-ian" looking scoreboard screenshot you'll ever see.
I mean, this is hysterical.
Credit to Tocchet. Many a coach would have had Dakota Joshua riding pine after that horse collar penalty. But not Rick "Tik" Tocchet, whose modern approach to coaching has this Canucks team rallying to play from behind, making up for their mistakes, playing hard for each other, and never saying die.
Off a rinkwide pass from Ian Cole, Joshua and Pius Suter connected on an excellent give-and-go feed through the neutral zone to catch the Oilers on their heels. After gaining the zone, Joshua dished a brilliant backhand feed to the slot, which Suter buried for his third of the year.
Suter's tally was his third in three-straight games.
The two goals in less than two minutes had the fragile Oilers reeling and entirely off their game to close the period.
We're going to credit this guy for Suter's goalscoring hot streak. Not every day you see someone repping an Ashton Sautner jersey taped up as a Pius Suter jersey, haha.
Someone get him some white tape to turn that 29 into a 24.
Best "Hahahahahahahahaha"
Credit to Bruce for this elite daylight savings-based joke.
One minute after Suter's goal, Sam Lafferty drew a crosschecking penalty against Darnell Nurse to give Vancouver a late power play opportunity.
Even Nurse couldn't question this infraction!
Then, in truly hilarious fashion, Brock Boeser put himself closer to the 30-goal marker with his 9th of the season just eight seconds onto the power play.
✅ A Quinn Hughes multi-point period.
✅ A Brock Boeser goal.
✅ A J.T. Miller power play point.
✅ A Jay Woodcroft time-out call for his club after giving up three goals in four minutes.
The back half of the period was genuine comedy gold for Canucks' fans considering how it started.
After getting tuned 19-2 in shots, outscored 1-zip through the first 12.5 minutes, the Canucks rallied for three goals on eight shots.
Best [subsection header removed due to violation of CanucksArmy's code of conduct]
Lost in all the madness of the first-period comeback was Nils Höglander quietly flexing his pest game. Seeing the 5'9″ Höglander muscling the 6'4″ Ekholm off his feet while jockeying for puck position inspired short kings everywhere, like myself.
The second period saw some of the louder highs and lows of Höglander's play.
Early in the second, Höglander's line ran "track meet hockey" against a line featuring Leon Draisaitl. At the end of a lengthy shift against Draisaitl, Sam Lafferty broke up an attempted scoring chance to give him and Höglander a two-on-one rush opportunity.
Unfortunately, after Lafferty's centring pass was stolen, Höglander took an interference penalty against Ekholm to give Edmonton their second power play opportunity.
Tocchet maintained his "letting players make up for their mistakes" ethos. Immediately after the Canucks killed Höglander's penalty, Tocchet had Höglander out for an entire shift, where he resumed wreaking havoc on the forecheck.
In 20 minutes, Höglander took a penalty, drew a penalty, and scored his third of the year—an absolute snipe over the shoulder of Stuart Skinner—to regain the two-goal lead for Vancouver.
I mean, goodness gracious.
Before Höglander's snipe, the Oilers put themselves back within a goal thanks to a bogus uncalled goalie interference from James Hamblin that gave way to a Leon Draisaitl goal.
The Canucks did not challenge, despite Hamblin making beyond-obvious contact with Demko before the goal.
To no one's surprise, the refs then assessed Vincent Desharnais for tripping in what was totally not a make-up call seconds later.
Maybe they got word that an irate Vanni Sartini was running around False Creek wearing a black cloak while holding a set of hedge shears?
After getting outshot 22-8 in the opening frame, the Canucks came out in the second to outshoot Edmonton 17-9.
Now that's accountability, habits, and structure!
One minute into the third period, the Oilers had a goal called back after it was ruled that Warren Foegele had (blatantly) kicked the puck over the goal line during a mad scramble in Thatcher Demko's crease.
Maintaining their juicy two-goal lead, Brock Boeser and J.T. Miller tag-teamed on a dangerous rush chance off the ensuing faceoff.
It wasn't just the offensive flourishes, either. Following a long shift pressuring inside the offensive zone, Mark Friedman continued working on his "unsung hero award" with an excellent gap and defensive stop on a rush chance from Dylan Holloway.
Five minutes into the period, a monumentally frustrated Oilers team started baring down on the Canucks. J.T. Miller threw a shoulder bump into Connor McDavid, prompting a shove to the face. Miller retaliated with crosscheck in kind. During the fracas, Zach Hyman delivered a cheap shot to Miller from behind that prompted two minutes of 4-on-4 hockey.
Pius Suter then drew a roughing minor against a clearly frustrated McDavid, after the latter through an undisciplined hit on Suter well after the whistle.
During that scrum, both McDavid and Draisaitl took penalties to give Vancouver a lengthy 4-on-3 power play opportunity.
On the 4-on-3, Derek Ryan generated a shorthanded two-on-one defended by Quinn Hughes that was surely noted by the two people in the Eastern Media pool still watching the game.
Then, J.T. Miller came out of the penalty box, scoring his seventh of the year, with a rocket off the inside post, off the back bar and out to make it 5-3 for Vancouver.
We don't have Chris Faber anymore, but Miller's pre-penalty sequence, scrap with Hyman, and power play goal were the stuff of DAWG-rating legend.
Best "hahahahahahahahahahahahahahahahahahahahaha"
As if it wasn't assured that the Oilers had lost complete control of the game—and possibly their season—head coach Jay Woodcroft made things worse for his club when he voided a late power play opportunity after taking a bench minor for berating the refs and getting ejected.
The Oilers' collapse was so spectacular that it made their Thursday night meeting with the San Jose Sharks must-watch television.
Best "you knew it was coming."
Okay, Nurse didn't cheap-shot anyone, but he did try to rip Nils Höglander's head (helmet) off.
The Oilers were completely checked out at that point, giving way to an absolutely gorgeous power play goal from Brock Boeser, his 10th of the season.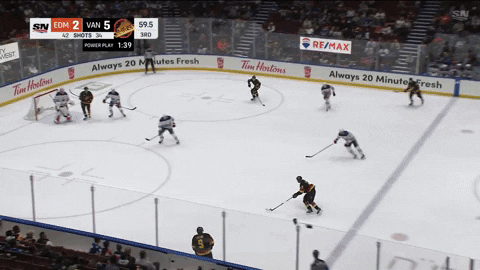 The best part of the goal sequence was Cody Ceci angrily shooting Boeser's stick flying into the air, only for Boeser to catch it in time for the team celly.
Best non-player related performance
And here I was, thinking that multitasking for the Stanchies was hard!
Shyla Soucy carrying sound-asleep twin newborns—one in each arm—to the front row for a family photo with hubby Carson is a level of multitasking skill that I couldn't achieve even if I gave 800% effort.
Best "Wake up mister [East]!"
What a treat for the fans in Rogers Arena, the fans watching at home, the CanucksArmy employees enjoying a night out at the game on the Nation Network's dime, and the one member of the Eastern Media pool who stayed up to watch the entire game.
I was worried in my last Stanchies that I'd jinxed the team with my effusive positivity.
But this performance against the Oilers convinced me that this team is entering "wagon territory."
When was the last time you can remember a Vancouver Canucks roster dismantling an opponent so thoroughly as a team over 60 minutes—10-1 shellacking of the San Jose Sharks notwithstanding.
It's been a long time. It's always felt good watching good hockey again in Vancouver.
Somehow, after years of darkness, it feels even sweeter watching greatness.
Hopefully, Monday's performance wakes the Eastern Media up to what Quinn Hughes and the Vancouver Canucks are up to this season.
This is a Hart and Norris-caliber start from Quinn Hughes.
About time some respect gets thrown on his name. It's Quinn's world, and I'm glad to be along for the ride.