The Stanchies: Demko's shutout, the Canucks' power play, and the Filip Hronek thing
Photo credit:© Bob Frid-USA TODAY Sports
Before the game started, the Dallas Stars' broadcast team was talking about their opponents on the night. They discussed the Vancouver Canucks, discussed the Canucks' play of late, and concluded that they were the toughest test yet for the Stars.
It was at this point I couldn't figure out which was more surreal: The fact this was said about the Vancouver Canucks, or the fact it was absolutely correct.
Potent offence? Check.
Reliable defence? Check.
Top notch goaltending? Check.
In fact, we're one overtime poop break away from me truly wondering if we've encountered a glitch in the matrix. If an affable young Swedish man becomes the backup goaltender soon, I feel like I might have my answer.
Now, of course, we must go over the usual caveats:
"It's early in the season…"
"The Canucks' PDO is so high…"
"Dallas was tired…"
Which is fine! It's all very true!
But eff it, just enjoy this.
Fun story, I have covered this team since 2012, and this stretch of hockey has been the most I've enjoyed covering the team.
Is part of that because, after a decade of suffering, a hot eleven game start to the season lands harder? Probably.
Did the 2012 season not get the respect it deserved because anything short of a 2011 run was going to be a disappointment? Yeah.
But take the emotional baggage out of it, and this team is just incredibly fun to watch.
They pursue the puck as hard as any team in the NHL, they play their opponents tough physically, they have a Vezina-looking candidate in Demko stopping pucks, and they have an offence that can pile up points on the board seemingly at will.
So yes, the caveats are all there, I get that, but man alive if I am not going to enjoy this run while it lasts.
The team deserves it.
The city deserves it.
You deserve it.
Except Jeff. Jeff doesn't deserve shit.
So enjoy the games, and man, what a game it was on Saturday. The game felt, and I hesitate to say this, tight. Almost like a playoff game.
Two top teams, fighting for every inch of ice they could, with one team pushing harder in the end to take the victory.
This was a game in which Quinn Hughes didn't register a point, and it didn't even matter.
Filip Hronek provided the "omg did you see that pass" moment usually reserved for Quinn, as he looks to be getting more comfortable with his new team as each game passes.
Pius Suter got on the board as bounces finally started to go his way.
Thatcher Demko made a save of the year candidate.
"Gimme Gimme Gimme!" rang through the arena during a break in play, giving us a great potential option for a new goal song.
And Ian Cole hit Matt Duchene so hard he separated his soul from his body, leading to a frank discussion with Tilda Swinton.
All in all, it was a tremendous game from a Canucks team trying to prove to the league that they are in fact the real deal.
And you know what fantastic games are full of?
Gifs.
You know what my wallet needs to be full of?
Money.
Let's do this.
I've called Quinn Hughes "Pirlo" and it's with good reason; you watch the game and it feels like he has the puck on his stick for over half of it. He truly dictates the pace of play.
The Canucks have never had a defenceman who can dominate puck possession like Quinn has.
It's funny, when the Eastern Media googled Quinn Hughes and did their scouting report on him based on his size, they would talk about him not being good defensively, ostensibly because he didn't throw a lot of hits. There is still this idea that you have to be physical to be a top-notch defender, which isn't true.
The true key to being a good defender, is finding ways to get the puck from your opponent. It doesn't matter how you do it, just as long as you can do it reliably.
So if you hit people off the puck and get it back? That works!
If you angle yourself in and cut someone off and steal the puck? That also works.
If you take the puck and skate circles around anyone coming after you and never let them have it? That's elite defence.
I said in Quinn Hughes' second season that he was the best Canucks defenceman of all time, and I have never been happier in my life to have called my shot early.
This kid is special in a way we haven't seen since Frankie Corrado.
Just a quick FYI before we jump into the game: Edmonton lost to the Predators, but the Flames beat the Kraken.
Still, it's pretty amusing that the Oilers have played so badly that we can now make jokes about the Sharks' first victory possibly coming against them and it doesn't feel THAT much like a joke?
Like, we say it as a joke, but we also kind of believe it could happen?
Sadly this game didn't end with the Dallas Stars and Vancouver Canucks jogging down Jericho Beach before jumping and hugging in the surf, but it did give us a closely contested game of hockey.
How tight was this game? The high-danger chances on the night were three for the Canucks, and five for the Stars.
One of those high-danger chances came from a Brock Boeser breakaway courtesy of a nice JT Miller back check:
Remember when JT Miller refused to backcheck the last couple of seasons? Like his controller disconnected and he would just float into the corner or randomly start yelling at Colin Delia?
And then we would all be like "hey he should probably back check, this guy used to back check his first few seasons here" and that crew of people, we all know who they are, were all like "JT IS PERFECT, HE'S PUTTING UP POINTS, LEAVE HIM ALONE" and we were like "Ok, relax" and they were like "NO YOU RELAX, HE IS SOOOOO GOOD AT HOCKEY, HE CAN OUTSCORE YOU NO PROBLEM," and we were like "please stop using all caps, we're just saying he can play better defence," and they were like "Sometimes at night, when I'm all alone, I can't stop thinking about all the mistakes I made in life, and I just want my brain to stop talking to me for one single moment."?
Well it turns out it was right to call JT Miller out for those piss-poor defensive efforts in years past because WE ALL KNEW HE COULD PLAY BETTER DEFENSIVELY.
Sorry, my caps lock was on.
The point is, JT Miller has been fantastic this season at getting back in his own zone, playing solid defensive hockey, tracking down the puck with speed, and turning those defensive efforts into offensive chances as pictured above.
JT Miller deserves a ton of credit for the Canucks' start this season because he has played fantastic hockey.
And the best part about the Rick Tocchet experience? It's not just JT Miller chasing down pucks. It's everyone.
Here's Ilya Mikheyev seeing a loose puck and making a beeline to get possession of it:
The end result is he gets the puck to Elias Pettersson, who makes a zone exit and a zone entrance.
Zone entry.
Zone entrance sounds like it's a WWE wrestler.
"Do you smell what the puck is cooking?"
But I digress.
The point is, plays like this don't even have to result in a scoring chance, or a fantastic-looking play I can make gif money off of. It just has to result in the Canucks getting possession of the puck and not being hemmed in their own zone.
This is the kind of puck battle the Canucks lost constantly the last 2-10 years. They would see a loose puck, they wouldn't move their legs, and they'd be caught watching as the opposition ran circles around them in their own zone.
The end result was a lot of chaos and a lot of goals against.
So yes, while the Canucks are firing on all cylinders offensively, it's the little things like this that Tocchet and the coaching staff have the players buying into that's making these games so great to watch.
You know what else is good for the Canucks? The team playing at this high of a level in a year in which Elias Pettersson is being cagey about his future and might be looking on Tinder for other teams.
Show him what he has at home already.
It's not often I use three tweets to lead an award in The Stanchies, but immediately after this save, the reaction on Twitter was around a million expletives uttered in honour of Thatcher:
I mean, if there is a save that is going to make you drop an f-bomb, it would be this one. This is the kind of save where you turn to your buddy and hit them on the arm and demand to know if they just saw that when clearly you both just saw it.
How good was this save? So good I am going to make double the amount of gif money on it:
Thatcher Demko plays so solid and consistently in net that half the time, I'm pretty sure Kevin Woodley built a robot in his basement and programmed it to make saves.
Demko's control in his crease is incredible to the point where he can have a 30 save game look boring because he makes everything look so easy.
But on occasion, teams can get him moving to and fro, and to Demko's credit, even when he moves, he is still in control.
Fact: If this was Dan Cloutier, he would have lunged into the corner on the first pass, ended up trying to fight Jake Oettinger after Dallas scored, and pulled his groin.
But because it's Demko, he moves left and right trying to track the puck but doesn't lose the middle of the net, he doesn't stack the pads or leave his feet committing to a save. He simply follows the puck back the other way and makes a tremendous glove save.
That's the kind of save where I really wish Jim Hughson was calling the game to scream about me about robbery, but I suppose "Thatcher the Snatcher" will have to do.
Best what is this world even
It's bizarre reading these tweets, but Sam is right: This was great hockey from two teams.
Do yourself a favour. If you missed the game, first keep reading my article, of course. But secondly, track down this game and watch the full 60 minutes. You'll be happy that you did.
This game provided more entertainment and "**** yes!" moments than any game from the Canucks' 2015 playoff run did.
"But it was just a 2-0 victory. How could it have been that much fun? That sounds like the type of game Jacques Lemaire would try to cut up and snort!" you might be saying to yourself.
Because it was a battle. The Canucks matched the Stars fight for fight.
Ian Cole, who has been thriving under the unheralded "He played how many minutes? I don't think I saw him once!" rule, was making small plays like this:
Yeah, it's just boxing a dude out. But imagine him doing that constantly, all game. That's how teams shut down offensive chances. That's how teams prevent people from banging in rebounds on your goalie. That's how you make gifs randomly flip black for a second, because he played so hard defensively, not because I clipped it incorrectly.
Ian Cole, for those wondering, played 19:35 of hockey on the night. Were it not for that hit on Duchesne later in the game, you'd have been hard-pressed to remember him standing out. It's because he's the solid boyfriend who does the chores and doesn't complain. You just get home and the dishes are put away without having to ask.
Speaking of the Milford Man lifestyle, Carson Soucy also thrives under those rules. His job is a bit harder than Cole's in that he has to try and keep Tyler Myers from changing into the Chaos Giraffe, but he's been doing a solid job of that. I can't remember the last time I had a five-game stretch where I hadn't posted a single CG57 gif of chaos, but here we are.
Also, Soucy is very good at accidentally on purpose running into people:
"Sorry bro, tee hee."
Either the officials had something personal going on with JT Miller, or JT Miller said something really bad, because yeah, complaining to the officials doesn't often get penalized:
That was a solid 30-minute conversation from Smith followed up with what I assume was a plea for the official to like and subscribe to his YouTube channel about the missed call.
While Thatcher Demko got all the accolades after the game, Jake Oettinger certainly matched his play for most of the game.
His best save came off of a Quinn Hughes shot that would have gone in on almost every goalie in the league: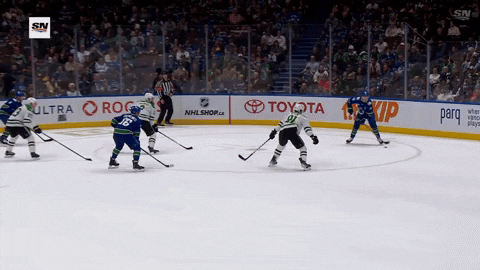 Quinn Hughes skates in hard, picks his corner, and Oettinger tracks the puck around a perfect screen and snags his glove out to stop it.
That puck could not have been labelled more top corner, but instead, Oettinger returns it to sender because the address on it was incorrect.
Deadly stuff from Jake.
Best working hard or hardly working
One of the key components to any goalie shutout is the team pitching in to help clear out rebounds once in a while:
What is nice to see this season is players like Dakota Joshua and Ian Cole having these moments, because it feels so much more important when the team is winning and trying to build up a path to the playoffs.
Losing 8-2, and Cole makes a tough play to clear the puck from the crease? Hey, good for him.
Winning 4-2 in the last week of the season while the team is already eliminated from the playoffs and Dakota Joshua wins a net front battle and clears the puck from the zone? That's cool, I guess.
But in games where things actually matter, these moments feel so much bigger. They actually matter.
It's downright pleasing to watch.
Best putting away those whistles
Hey, gotta get ready for playoff officiating, am I right?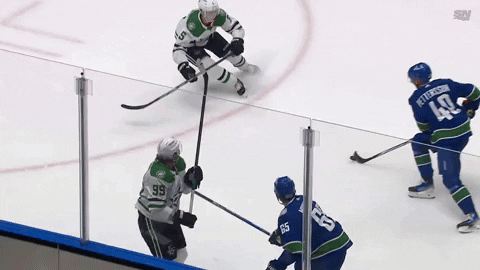 People talk about EP40 diving or embellishing calls, but puck-possession monsters like Hughes and Pettersson are bound to draw a lot more contact than other players. As a result, they aren't going to get all the calls in the world because game management is a hell of a drug.
That being said, this felt like a pretty clear case of interference where Duchene threw a cross-check at Elias Pettersson, didn't get called for it, and as a result, Ian Cole took a blood oath to hunt him down and take him out.
Best first period summary
Arizona and Vancouver have done this in the past but in a really sad kind of way.
It feels much better when it's like this.
Best keeping up the pressure
The Canucks continued to win puck battles, and even better, turning them into high danger chances:
If Elias Pettersson isn't a top 3 Selke candidate at the end of this season then I don't know what we're doing here. He's on the boards, cuts the puck off, and sets up Mikheyev in about the time it takes Dhaliwal and Drance to get into a blood feud for life, which is to say, extremely quick.
Best Jakey don't make mistakey
Quinn Hughes didn't register a point on the night, but it wasn't for lack of trying:
The way Hughes has changed his offensive game so dynamically has been nothing short of awe-inspiring.
And that is us talking about a defenceman who put up 76 points last season.
Somehow, he looks even more lethal and more dangerous. Look at his edge work! Look at how he changes angles on a dime!
The C must stand for cool customer because he — ok look, I'm sorry, I shouldn't have started this sentence.
I just really want Suter to use finger guns after a goal so this nickname can take off:
A funny thing happens when you control the play and the ice is tilted in your favour for most of the night: You score some goals.
Was it a lucky bounce? Of course.
But that lucky bounce happens when you constantly try and ram the puck down the throat of your opponent. That's how you make your own luck. This is how it works.
Last season the Canucks would get like one chance like this in a game and then they'd pack it in, lose the game, and Horvat would talk about how they can build off of this.
This year the Canucks don't relent. They just keep pounding on the door mercilessly until you answer it to tell them to get out of here. It's 3 am in the morning, but they tell you they're Rob Thomas, so just deal with it.
Best everyone having a moment
As we talked about earlier, people having moments in games that actually matter just feel so much better. It's the equivalent of having McDonald's for dinner versus a nice home cooked meal. Sure, McDonald's did the trick, but the home-cooked meal doesn't lead to a night of crying on the toilet.
And it wasn't just Joshua. Watch on this play as the Canucks jump all over Dallas for making one mistake with the puck on the powerplay:
That went from "whoops, we mishandled the puck" to Mikheyev speed skating to harass the puck carriers, to Joshua throwing a big hit, to Soucy making a zone entrance ("Oh you didn't know? You're zone entry better caaaaaaaaaall somebody"), to Quinn Hughes eating up the clock in his own zone before clearing the puck, eating up around 25 seconds of powerplay time.
The Canucks seem so exhausting to play against.
Best I like to move it move it
I have grown a healthy appetite of hatred for the bumper play on the powerplay because nothing summarizes Horvat's time here better than that play: Decently efficient, but kind of boring.
It felt like the Canucks leaned on it so heavily that they stopped utilizing the speed of Hughes or the hands of Pettersson. It was just a repeated serving of JT Miller doing that no-look backhand pass to Quinn Hughes before trying to work the puck down low so they could set up the Horvat bumper shot.
Question: When was the last time you saw JT Miller do that telegraphed no-look backhand pass on the powerplay that everyone and their mother knew was coming?
I have honestly seen it maybe a handful of times this season. Compared to a handful of times a game?
The end result is that even though the Canucks powerplay went 0 for 5 on the night, it looked DANGEROUS:
They were moving the puck around at will, whipping it across the ice, making those Stars penalty killers tired. Were it not for Jake Oettinger, the Canucks would have had a couple of goals for sure.
This powerplay looks downright lethal, and the best part is it feels like everyone on the first unit is involved and generating good chances.
Best pointing out the obvious
So hey, Hronek needs a new contract:
Hronek hesitating as he lines up the shot as if he's concentrating on picking his spot super hard, only to, with the softest of touches, send a pass right over to EP40 for the tap in?
Yeah, that deserves one really long point of appreciation: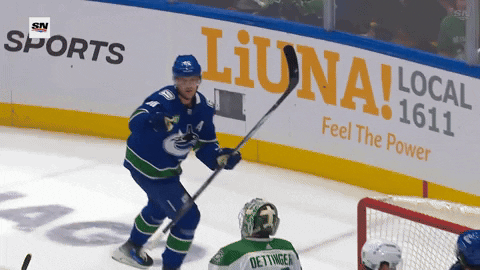 If this was a Saturn dealership, they all would have stood up and started clapping.
I can't think of a better position to be in right now if I'm Allan Walsh.
His client Filip Hronek is a right handed defenceman with a couple of 38+ point seasons under his belt playing out the last year of his contract with Quinn Hughes as his partner, and getting to play with Elias Pettersson, JT Miller, Brock Boeser, and Andrei Kuzmenko.
If the Canucks were a candy bar right now, they'd be a PayDay.
Speaking of a dish best-served cold:
Ian Cole absolutely hammered Matt Duchene. He hit him so hard that they kept hearing that after these messages, Duchene would be right back, but he never did.
He never did.
This was the best hit of the season so far. No contest.
Not only was it a huge hit, because of the hockey code, the Stars had to fight Cole, and they got an instigator penalty as a result of it.
A massive hit that takes out a top player and earns you a powerplay? That's the perfect gameplan.
And to circle back to my point of things actually mattering, this is another great example of that. Doing this in a battle of the bottom feeders? Ok sure, have at it, why not I guess.
Doing this in a game between two clubs trying to prove they're top 10 teams in the league?
Baby, you've got a stew going.
Unbreakable?
Unstoppable?
Impenetrable?
Even with Dallas digging away like this, watch EP40 body block as much of the crease as he can, moving around the ice looking like Frogger on the Commodore 64.
The guy is earning a Selke nod, he just is.
The third period, normally a time reserved for the Canucks to withdraw and blow leads, was instead more of the same; Outworking the Stars any chance they could get: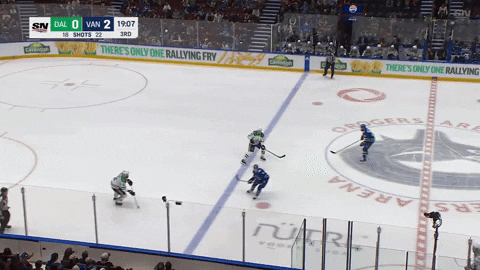 That's JT Miller blitzing into the zone and winning the puck and keeping it in the offensive zone. Chewing up time on the clock. Being a great 200-foot player.
Like we all said he could be.
Best breaking your fantasies
Dallas did what any team desperate to get on the board in a close game does, and that's hammer away at the crease:
But again, the Canucks never broke. You might notice once more Milford Man Ian Cole arriving on the scene and pancaking Sam Steel to the ice, as one does.
This team just doesn't make life easy on the opponent. When was the last time you saw OEL play like that with the Canucks? It was a rare sight indeed.
Whether it was the calibre of players or the type of coaching, or some mixture of the two, I think we can all admit that the team plays with a different edge right now.
Ryan Whitney loves the Canucks goal song and he loves the team apparently, as even he has to admit what a machine the Canucks have been this season.
You want another example of the Canucks outworking Dallas to generate a good chance on net?
Here's Ilya Mikheyev going full Barry Allen as he wins the race for the puck miles ahead of the Dallas Stars players:
He then has time to pull up and wait for EP40 to skate in for the shot on net.
When was the last time you saw such a complete game like this from the Canucks?
Best checking out of town scores
Kind of makes the Canucks 10 goals feel not so special, but hey, what can you do.
Best oops, I just did it again
Look, sometimes you have to sweep the leg:
You know what I don't have a gif of? The Dallas Stars getting a dangerous chance to end the game.
The Canucks locked them down. They beat them up. They kicked them out of the arena.
It was a total team win for the Canucks.
The Canucks play the Oilers on Monday.
If we used old Canucks logic, we assume the Oilers will pound the Canucks to make them pay for the first two games of the season, and because teams on a losing streak always beat the Canucks. Just like NHL players always get their first career goal against them.
But Rick Tocchet's Canucks have been different. They've won the games they should. Even a few they shouldn't have.
Will that trend continue? How many games will Rick Tocchet need to win before you give him the full benefit of the doubt?
I'm not sure, but I am excited as hell to see it play out.
The best kind of Leafs news is when it a) involves the Sabres beating them and b) allows us to sigh wistfully while looking out the window, remembering Jeff Cowan.