The Stanchies: The Vancouver Canucks tire fire continues in loss to Tampa Bay Lightning
Photo credit:© Nathan Ray Seebeck-USA TODAY Sports
The more things change, the more they stay the same.
Yes, the Canucks lost 5-4 to Tampa Bay on Thursday night, and to be honest, it was more of the same from what we've seen from the team this season.
The Canucks gave up 5 goals again, despite playing solid hockey for 30 minutes
The Canucks' offence was able to keep things close
The defensive coverage was abysmal
The Canucks goalie played well enough, but wasn't able to summon their inner bubble self to turn into a Vezina monster, which isn't a criticism, just a factual statement
Someone got mad on the bench and smashed a stick
The differences were that Oliver Ekman-Larsson was a healthy scratch, which ended up not being much of a difference at all, which is a problem in and of itself. If you can't tell the difference in your lineup from when one of your highest-paid guys isn't around, well, that's not exactly high praise. It would be like if you were the top security guard in a Gotham bank, and yet when you stayed home, the assorted villains pillaged the banks at the same rate whether you were there or not. Commissioner Gordon isn't going to be handing out medals anytime soon if you start bragging about that around the lunch table at work.
For the people hoping the Canucks, despite their best efforts, stumble into the Bedard lottery, this is almost the perfect result for a hockey game right now. The Canucks star players get their points, it's an entertaining game, but the team falls short at the last second.
For people wondering if this team can turn it around, and if this game showcased anything you could grab onto that would indicate this team might be "figuring things out", well, it's hard to see anything in a game that resembled almost every other game this year.
Sadly, it's just another brick in the wall of the 2022/23 Vancouver Canucks season.
Yes, I'll wait for you to hum some Pink Floyd before we continue.
Because the action off the ice is sometimes more intense than the action on the ice, it feels like we need to update you on what happened before the puck even dropped. You know, that blissful time where no leads have been blown and you're not screaming at your TV about bad gap control.
So, let's do a quick hit of the news of the morning.
The Canucks revealed OEL as a healthy scratch against Tampa, which is both a good thing for fans of meritocracy and of people who cannot fathom ducking out of the way of blocking shot.
The Canucks also put an "A" on Elias Pettersson's jersey, in which I assume they flew Mark Messier into Tampa so he could march over and rip the "A" off of Ekman-Larsson's jersey to give it to EP40, because why not hire the best to ever do it.
Rick Dhaliwal dropped some bombs, which I will summarize via Taj's tweets, mostly to see if Lee Powell will conspiracy tweet at me about it after the game:
So Tanner Pearson is done for the season due to a second procedure needed for his hand injury, the Canucks look like they want to find a way to keep Bo and aren't allowing other teams to have access to his camp, and the Canucks refuse to sink to the bottom, but will instead fight tooth and nail to float around just above last place, as one does. Yet another day in which a short term plan for this team is being dressed up as a long term plan.
Now, I don't want people to get lost in the word "tank" because then you get a bunch of affronted people screaming "WHAT, YOU WANT THE TEAM TO LOSE ON PURPOSE??" and it's just a very tiring conversation to have. What should be noted from this is the team doesn't look to be buying draft picks or selling off considerable talent, because that vaunted "we can turn this team around quickly here" apparently doesn't involve getting draft picks and young players, it involves magical trades and home run free agent signings, while also dropping the salary cap somehow.
So while we wait for that plan to play out yet again in this city, we need to dive deeper into the biggest news of the day, which is the OEL healthy scratch…
Best we have to dig deeper
It's tough to know if Bruce Boudreau is simply trying to protect OEL by not publicly calling him out beyond saying "I have to find a way to motivate him" and then turning right around claiming Ekman-Larsson is arguably their best defenceman.
While NHL coaches are rarely going to dress a player down publicly (unless they're rookies or Nikolay Goldobin), it's even less likely to happen to a veteran player of OEL's status. That being said, if Boudreau truly believes OEL is arguably their best d-man, it's a bit of a head-scratcher. As the Bringer of Stats You Didn't Know Existed But Deep Down Kind of Knew They Did Jeff Paterson points out (he has convoluted nicknames), OEL has simply not played good defence this season. He has been both incredibly passive to the point of giving up the blue line more than any other Canuck (as Daniel Wagner points out very well in his article), but he's also oddly aggressive at pinching in at the blue line, which has led to some of the more nightmarish scenarios on the ice with Tyler Myers.
It's at the point where a game like the one on Thursday night plays out, and not once did you think "OEL would have made a difference there," because the Canucks' defence feels like it's comprised of a bunch of replacement-level players and Quinn Hughes. Which makes it hard to win in the NHL because Keanu Reeves isn't around to rally your replacement defence into playing above its station.
I will say that just in terms of liking a process, it makes sense for Bruce to let pretty much everyone on the team know, aside from a handful of players, that their spot in the lineup is not safe. With the way this team plays defence, handing out wake-up calls, or whatever fun way you want to word a healthy scratch (Happy internal reflection time?), there shouldn't be anyone thinking they are a lock to play each and every game.
That being said, healthy scratching Oliver Ekman-Larsson, who is about as trade-proof and buyout-proof as one can be (picture Thanos and the Infinity Gauntlet, but instead of a gauntlet it's a hockey glove, and instead of infinity stones, it's just clutching dollar bills), presents a very difficult path to navigate for this Vancouver hockey club. Unless he gets a wild case of the Hossas and becomes allergic to overpriced housing, or the Canucks bring in OEL's old buddy Rick Tocchet to coach the team, they are going to have to see if there is anything possible they can do to help OEL get a bit of his game back.
Which after watching the movie M3GAN, should involve a lot of learning AI, but with better ethical parameters programmed in.
Best sensual slow motion leadership replay
Shout out to the happy go lucky fly by from Kyle Burroughs.
Best informational replay
This is where Tanner Pearson injured his hand, just for posterity's sake.
I've seen quite a few episodes of House, so I can confirm this isn't Lupus, but could still possibly be an injury that was a result of vacationing in the mountains where a rare fungus escaped into the air after some ice melted.
Best starting off strong…again
The Canucks went up 1-0 after JT Miller engaged physically along the boards and won the puck back like it was 2019, and the Canucks funnelled the puck on net with a Luke Schenn shot that was eventually banged in by Conor Garland:
I will say, the Canucks did come out of the gates looking like a determined bunch. They were playing physical and they were generating shots on net, but I have also written that already around 40 times this season, so I don't even know what we're doing here anymore.
Best emotional outpouring
The Canucks for their part seemed pretty pumped after that goal, with JT Miller and Bo Horvat both taking turns engaging Garland in the primal ceremony of aggressive chest bumping to show friendship and pride in achieving success in life: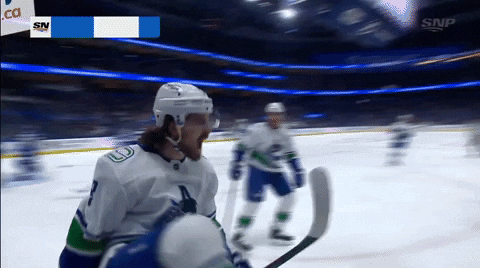 Bo Horvat's chest bump almost puts Garland through the glass, while Quinn Hughes offers a cautious hand tap from afar, making sure not to upset the Silverback of the group.
Best setting goals and smashing them
Tyler Myers had 7 shots on the night, a season-high for himself, as he looked much more like the Chaos Giraffe of seasons past where he would wander around the offensive zone like someone who forgot where they parked in Metrotown. It was nice to see him generating shots and offence because this season has mostly been a disaster for him, with defensive breakdowns being his lone highlight on most nights.
The joy of watching Chaos Girafffe play hockey is knowing he can burn you AND the other team, you just don't know which it's going to be on any given shift. Too many times this season the offensive flair to his game has been missing, which is another reason why the Canucks' scoring from the backend has been so dreadfully low this season.
Was this a result of OEL being scratched? Did the Goldberg fear of "Who's next?" resonate down the bench, leading to players upping their game? Or was it just a random occurrence? We have no way of knowing, but it is an interesting story to keep an eye on moving forward.
Tampa Bay employs the WWE model of find big body builders and then teach them how to wrestle for their team, and Ross Colton showcased the benefits of that strategy:
To Curtis Lazar's credit, he jumped right back up and vowed to almost score at the end of the game.
You know what, this season is pretty much toast, so if Riley Stillman, or anyone for that matter, wants to pull out a 360 no scope shot on the net, I am here for it:
It didn't work this time, but maybe seeing Stillman attempt the 360 will spark something in Tyler Myer's brain where he remembers a time when he would do that three times in one shift alone.
Best fight for what you believe in
Anytime there is a hit that could have been called boarding, the internet quickly lines up and starts screaming at each other:
On one side you have the "that's clearly boarding" people and on the other side you have the "he turned into it"  people. Then you have a random burner account from Gary Bettman asking if anyone bet on this game yet.
For whatever it matters, to me, that should have been a boarding call. I don't see Namestnikov turning into it, so much as skating in an arc through the corner.
Either way, Bellemare threw down with Pederson, honour was restored, and everyone moved on with the game.
As I said, we have not seen this Tyler Myers this season: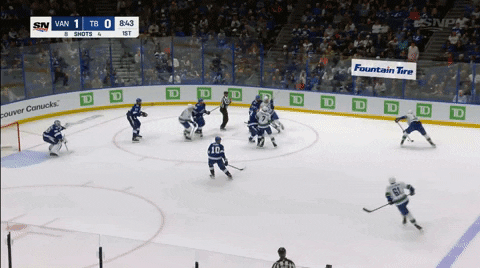 Winding up for the clapper, then collecting the rebound and dangling his way to the net for another shot? That's the CG57 we need to see more of. I don't know what activated him on Thursday, but the Canucks need to tap into it more often.
And yes, I am sadly aware that the solution might be as easy as "don't play him with OEL", which once again just brings us back to Jim Benning's biggest parting gift he ever gave this franchise.
Best making it look pretty
Elias Pettersson might not score a ton of these, but one of the silver linings this year has been watching Horvat and Petey create chances like these while shorthanded: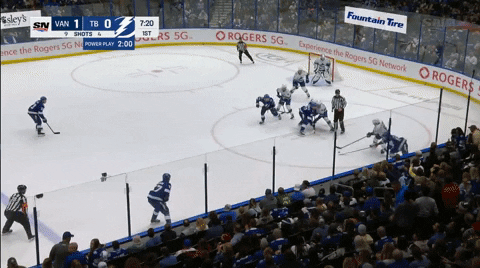 I don't know if it helps soften the blow of the inevitable power play goal scored moments later, as is tradition, but it's nice to see skill plays on display.
And anyways, Petey is all about that 5v5 lifestyle. He probably finds the idea of getting points on any sort of special teams as an insult to hockey.
While I praised Tyler Myers for his offensive game on display, defensively, he still had issues. Which to be fair, the entire team has this issue: Picking up the man in front of the net:
Tyler Myers is off to the side and with the shot coming in, can optimistically be described as someone trying to shoo away a cat who is demanding second breakfast.
"Shush Mittens, you've already had your breakfast and oh dear what just happened."
Corey Perry, a man with 400+ career goals, a man who has made a career out of causing chaos in the goaltender's crease, a man who has never met a good solid flop to the ice he couldn't resist, was left all alone in front of Collin Delia.
Not only was he left alone to set up a screen, he was also left alone to tip in a puck while setting said screen.
And again, this is a common occurrence for Vancouver. For whatever reason, aside from the times Luke Schenn bears down on things, they are incredibly good hosts to anyone who enters their crease. You can almost see Myers offering Perry orange pekoe tea and a crumpet before the puck gets tipped in.
You either have to box Perry out or tie up his stick. Doing neither is absolutely the worst choice.
Best we only Delia in facts here
Is Collin Delia the next coming of Dom Hasek? Of course not.
Is Collin Delia a lot of fun to watch in net? Sure is!
Despite the loss, Delia did his best to keep the Canucks in the game, including this delightful pad save where he looked back over his shoulder with a cheeky look as if to say "oh hi there, tee hee":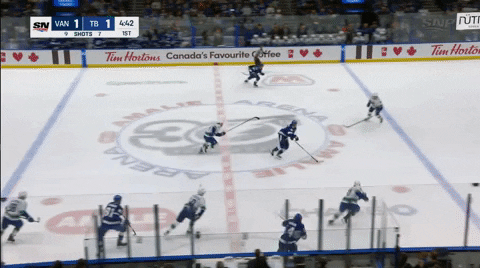 You want one timers from Kucherov? Delia has you covered, as he read this play and was already across the crease before the shot even left Kuch's stick: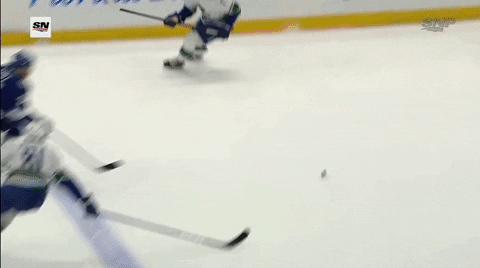 And to end the period he made a great save on a tipped shot that two Lightning players had free reign on because again, Vancouver hates tying up sticks for some reason: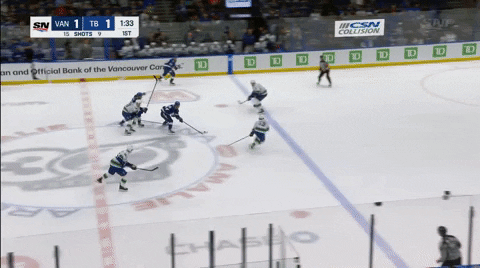 He ended the night with an .857% save percentage and 30 saves on 35 shots, but let's be honest, if the Canucks are playing 80s hockey, it's only fair their goalies' stats match that era. Grant Fuhr rocked an .883% in 1984, so he's not too far off of that pace.
Speaking of 80s hockey, not nearly enough goalies go all the way around the world to make a save, which is another reason why I find Delia so much fun to watch: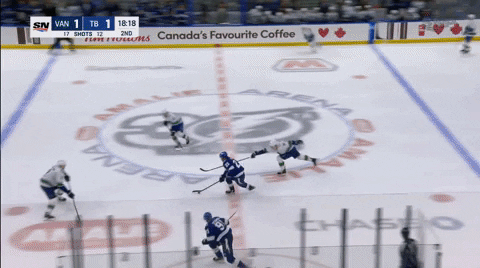 Did he need to add that much sauce to the glove save? No.
Did that spur Tampa Bay onwards to score a goal due to said sauce? Maybe.
Do I want him to continue to do this every game, including simple glove saves that he sees all the way? Of course.
Maybe even add in a sound effect when he whirls his glove around. Like, a helicopter sound, or laser beams. I don't know. I'll workshop this with Lachlan.
Will Lockwood is no stranger to handing out big hits, but he knows if you live by the sword, you die by the sword: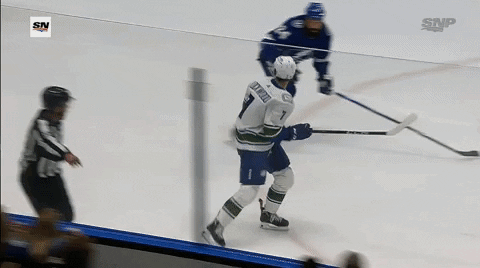 That's about as solid a hit as you'll see in the NHL from one Zack Bogosian.
Notice how nobody got mad or tried to fight to the death for honour. It's possible to eat a huge hit and just promise revenge in your head, to be handed out at a later date. The art of taking receipts should not be lost in sports. The proper thing to do is get to the bench, turn to your linemate and go "can you believe that guy?? He's effing dead next shift. He better keep his head up." Your teammate will give you a sympathetic pat on the leg, and you're good to go.
Best fighting the invetiable
After Tyler Myers couldn't control an outlet pass, the play eventually returned to the Canucks' zone where once again the Canucks just sort of melted in front of their goalie: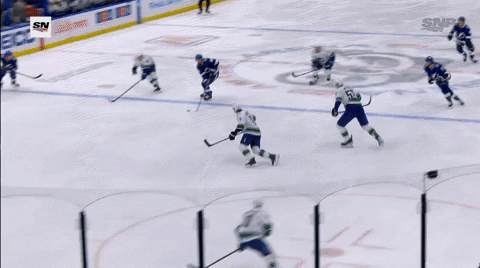 We have to point out that it's Tampa Bay, and they're good at this hockey thing. Sometimes in hockey, the other team will just out-skill you and there's not a whole lot to get bothered by on a goal.
Unfortunately for Vancouver, so many of the goals this season have involved the Canucks scrambling in front of their net, covering nobody, and watching as the puck gets fired past their goaltender.
Kudos to Tyler Myers for trying to block the shot, and for EP40 blocking what he thought was going to be a backhand shooting lane, but the end result is nobody closes in on Alex Killorn, so he has all the time and space in the world to twirl and serve up a very lethal shot to Delia.
Best Jimothy Timothy Miller
We all know JT Miller can score bushels of points and has dekes for days, so it's not surprising when he can undress Vasilevskiy and make him look worse than the Golden Pylon's Chuck Gray: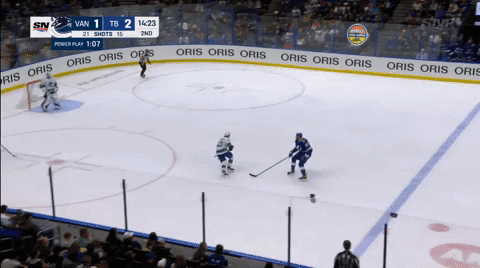 Quinn Hughes picked up his 32nd assist of the season, which sure, that's a nice pass, but we've seen Olli Juolevi make that pass in his sleep.
And yeah, that's some nice dangle from JT Miller, I cannot deny that the man knows how to score a nice goal.
But the true story here is Collin Delia getting his first assist of the season by passing the puck over to Quinn Hughes.
If the Canucks can finally unlock the playmaker goaltender they've been looking for their whole life, that is an absolute game-changer.
EP40 takes that A seriously, and he must think the "A" stands for "Ah my god, that hurts so much."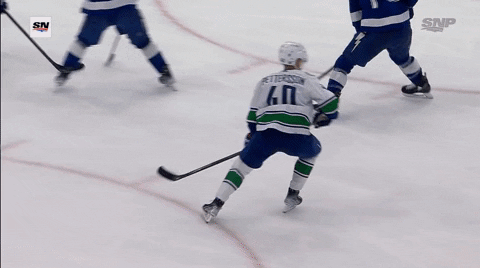 He led the team in blocked shots, and if we're being honest, didn't play differently than how he normally does. He is a 5-on-5 beast who is the team's best 200-foot player, so if ever you wanted to lean into someone leading by example, EP40 is your boy.
Do you want him blocking shots and breaking his body like a young Kesler? Maybe not, but when the chips are down, and everyone has to pitch in, it's nice to look over your shoulder and seeing your top player right there in the trenches with you.
Somewhere John Tortorella is so damn proud right now.
Best speaking of leading by example
This is a weird one where if you point out every bad backcheck from JT Miller that leads to a high danger chance, some people are going to naturally accuse you of hating said player because you keep pointing it out.
But I don't hate JT Miller, I find him to be a very fun and effective player. When he wants to be. He clearly has defensive issues that have only gotten worse since he first arrived in Vancouver, which leads you to wonder if it's a lack of effort or some other reason. His poor five-on-five offensive production this season is also taking away one of his greatest responses to the bad defence, which is "at least I put up points.", just before he sends you a google link to his stats page via a fax.
Which leaves us analyzing plays like this constantly: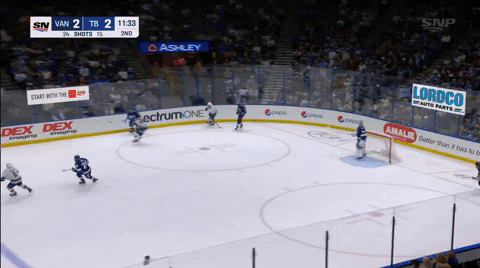 Now, to be fair to JT, he didn't full out quit on this play. I think he stopped skating at centre and then didn't realize he was in a foot race with Nick Paul (or Nicholas Paul if you're going to a formal dinner) until it was too late. Paul had all the momentum and only Jeff Tambellini can generate the speed and power to win this kind of race.
The Canucks had 16 blocked shots on the night, which for a team struggling with the narrative that they don't want to block shots, was a victory: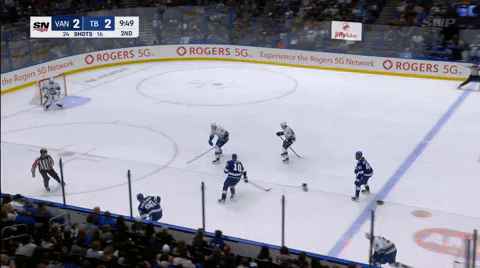 Lane Pederson throwing out the mule kick blocked shot was one of many on the night where the Canucks went all in on trying to help their goalie out.
Best add all of the sauce
See how much better hockey is when you add the sauce?
You don't go to Subway and ask for a sandwich with no sauce. Lettuce, tomatoes, a random meat, and dry toasted bread? What kind of monster does that?
Always add the sauce. Always.
Brayden Point, who seems to be good at hockey, set up Kucherov and Stamkos (I think they're ok at hockey as well?) with a couple of golden opportunities to score, which they promptly did: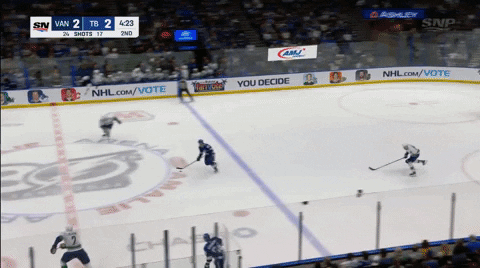 Again, you can look at this and go "Hey man, Point does this to a lot of teams. He's so good and hard to contain, sometimes defences inevitably break down and start having panic attacks when he's on the ice!"
And you're right! He is very good at hockey. The problem is all season long Vancouver has done this with all sorts of players of varying skills, where they dogpile and send over multiple players to defend one guy, leaving several other players wide open.
Quinn Hughes is a good boy, his heart is in the right place, so when he slides over to help out with the Point situation, you can understand it.
The problem is Luke Schenn and Bo Horvat collapse so low to the net, that by the time Dakota Joshua gets to the slot, Kucherov has unleashed his shot, Bo can't box out or handle the stick of Stamkos who whacks at the rebound, and then in the worst decision made on the play, Joshua stops following Kucherov to the net.
Dakota Joshua is usually one of the safest players in the NHL. This is a guy who surely adjusts his side view mirrors every single time he gets into the car, even when he's just run into Safeway for a Jarrito.
Yet here he is, becoming another example of the Canucks not playing tight to their man, and not finding a way to tie up a stick.
Brandon Hagel, the latest Tampa project where they grab a random guy from another team and turn him into a 60+ point player just to show they can, got his 16th goal of the season on this play: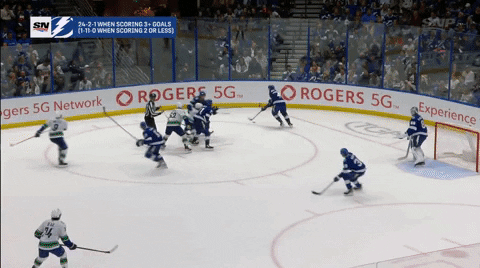 You'll notice all the usual Canucks tendencies on display.
Both Canucks defenders close in on the one player, as Hughes and Bear both try and take on Killorn.
With both defencemen occupied, that leaves the trailing player quite open. And who should be closest to the scene? One JT Miller. Who kind of coasts in like Moriarty, tired of everyone being so ordinary, and not knowing what to do with his life.
I've seen this play debated about who is at fault (which let's face it, is the only pastime we have left in Vancouver sports right now) and yes, some of the fault is clearly on the d-men. And sure, you can say JT was trying to stay high to guard against the other trailer.
But if you watch that clip, you see JT turn and casually skate across the ice, away from the other trailer, and just watch as everything breaks down in front of him. He almost adjusts his path to avoid hitting Hagel, like he's letting him into traffic. The guy he theoretically could be guarding isn't in the play at all (nor does JT shoulder check to see what's going on there, as he could have easily been Nick Paul'd there) and just sort of vibes out like he's got on the Skytrain at Waterfront station and he knows he's gonna be here a while until he hits King George.
Add in the lack of benefit of the doubt for JT Miller on plays like these, and it feels like just another case of Miller not putting in the effort.
Compare and contrast Elias Pettersson who has an active stick, is constantly trying to shut down shooting and passing lanes, and is often within two feet of the puck to offer up support.
They are just playing completely different games from each other.
With two Canucks in the penalty box, and the Canucks penalty kill being what it is, it's hard to get too riled up by the legendary Steven Stamkos chasing down 500 goals with his one timer goal in the third: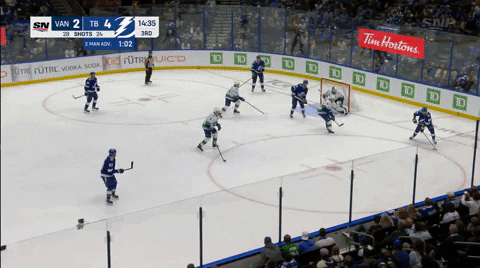 This is just what he does.
What's important to note is Delia continuing his tradition of holding his arm up like a mime leaning on an imaginary counter, almost as if the computer freezes every time a goal is scored on him and he just needs a second to render the animation properly.
Best Jeff Paterson homage
Normally Jeff cripples us with depressing stats, but never count out Wagner to have one on hand.
The good news? This was as close as Stamkos got to getting his 500th career goal: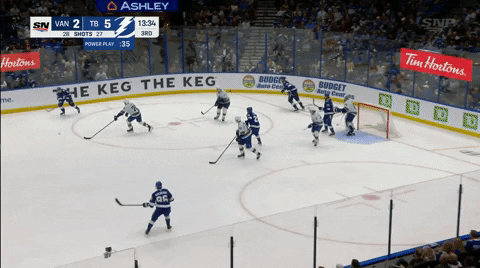 I honestly assumed it was a lock that he'd get the goal, because that's just sort of how it works in Vancouver.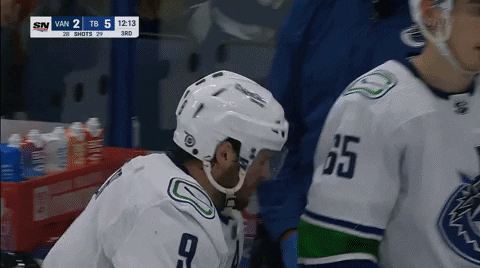 Poor Ilya just wants to sit down and catch his breath and pretend everything is fine. Everything is fine.
This is just a good example of what I mean when I say sometimes JT Miller just isn't that engaged and doesn't impact the play on the ice like you'd hope he would. He's almost like a magnet turned the wrong way around, and is physically unable to get to within 3 feet of the opposing players.
Quinn Hughes has struggled to score goals this year, but he got an absolutely filthy snipe by Vasilevsky in the third period: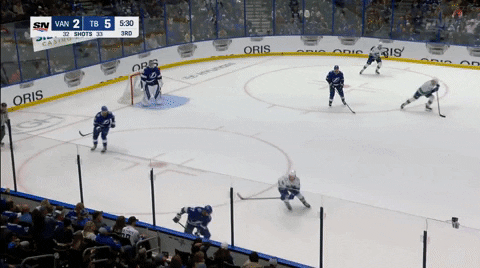 Hughes would end the night with 3 points, putting him 6th overall in d-man scoring on the season. It really makes you wonder what this team could look like if they could find a way to surround Quinn with comparable talent, and that should be the number one priority for this team moving forward.
Elias Pettersson then unleashed one of his vintage hits we haven't seen nearly as much of as we used to, when he dropped a one-timer from the Petter-zone: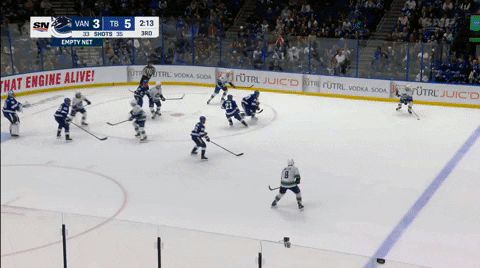 That's Quinn Hughes walking the line and then sliding the puck nicely over to Petey for the perfect pitch. The only thing missing? Das Sound Machine singing the goal song, the clear winners of the World Championship Finale, because they didn't magically bring back former members of their group, unlike those cheaters The Bellas.
But I digress.
Best where's the call, ref?
The Canucks got a power play to end the game, and they almost scored twice to tie it up.
The first was on an Elias one-timer: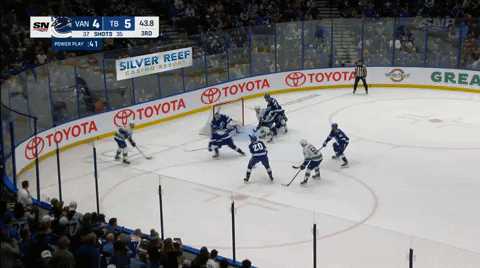 The main talking point from this scrum will be the officials deciding to not call the sucker punch Sergachev delivered to Conor Garland: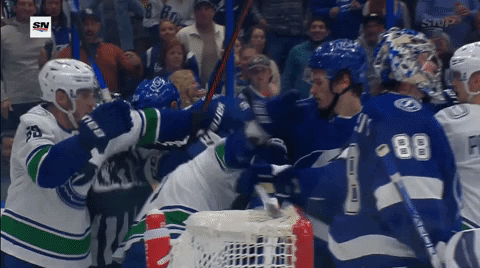 You can talk about Garland selling it and how floppy hair makes things look worse than it is, but at the end of the day that's a gloved punch right to the face of Garland. Sergachev straight up charges his punch like Doomfist and unleashes a cross to the jaw of another hockey player. In direct view of the official. And no call was made.
In a league in which if you lift a guy's stick kind of close to his hands, they'll give you a penalty, but punch a dude right in the chopper? That's just hockey, baby!
It's simply game management 101.
If the Canucks weren't on the power play? That gets called. But because the Canucks already had one, the NHL tends to look the other way on things like this. Which is just straight up terrible officiating. Embarrassing officiating if we're being honest. You're shoving people to bet on games every day, yet people have to try and account for game management? It's bonkers.
I've seen some people have issue with Bo Horvat not throwing down in that situation and just going ham on Sergachev but honestly, that's never been his game. Much like the Sedins, he usually tries to make teams pay on the power play. And knowing the NHL, if he retaliates, that's when the official calls both guys to the box so they can pretend they did their job on the night.
I understand standing up for your teammates and wanting to see some on ice judgment day reckoning handed out, but I also have time for a guy hoping the right call would be made and that he can then make the other team pay on the power play. A tight game, down by one, it's not awful to try and focus on not putting yourself in a position to be called for a penalty.
The Canucks play the Tampa Bay Lightning on January 18th anyhow, so something tells me receipts were taken.
With mere seconds left in the game, the puck went on the stick of just who you thought it would: Curtis Lazar.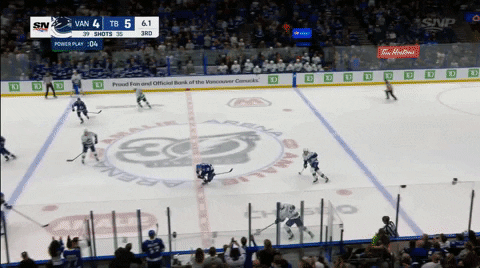 Yes, he of two points on the season, was chosen to be on the ice to tie the game up. I am not sure how he got higher billing over Andrei Kuzmenko, but here we are. It wasn't even as if Curtis was a demon on the ice, winning puck battle after puck battle, or piling up points. It was just another night in his career.
But it was the call Bruce made.
And hey, it was played perfectly by Vasilevsky, if we're being honest. If Lazar scores there, Bruce gets to look like a genius, so an inch or two the other way and we've got the next Mighty Ducks movie on our hands.
Best need for third party reporting
The Province's Patrick Johnston, Hail Kitsilano, Hail Gold and Blue, is on the road covering the Canucks right now. Why is this important? Because he's not employed by a rightsholder. He can ask interesting questions and doesn't get nervous anytime a Canuck player says something interesting. He also gets to foster relationships on the road with players (in terms of getting to know them and being able to learn what kind of questions might open them up to give good answers), and for them to trust him enough to give him some of the more meatier answers.
So when he asked Quinn Hughes
about what the team thought of the Tanner Pearson injury news, it was fantastic to hear Quinn say it wasn't handled properly. Not because I want to make this a dramatic piece about the Canucks mishandling of everything, but just because it's good to hear real answers from the players instead of the usual "Oh we know Tanner will heal up and we can't wait to play with him again" sort of deal. Instead, Quinn, showing leadership, stood up for a teammate, and talked about how the injury wasn't handled the way it should have been. As The Athletic's Harman Dayal wrote, Quinn has
stepped up his leadership game this season
, so it makes sense to see him take a stand on something like this. It shows a player willing to break the boring hockey cliche code and actually go "well actually, this wasn't ok."
If you leave everything up to the team itself to report on things? You get videos like the one above, where that question and response about the Tanner Pearson situation is cut out of the video. A place where nothing is really looked at with a critical lens and you simply get to listen to cliches about giving it 110% and trusting the process.
This is why third party sports media is needed. Because sometimes hard questions and hard answers have to enter the equation.