The Stanchies: The Vancouver Canucks hockey team lose 5-1 to the Washington Capitals
Photo credit:© Bob Frid-USA TODAY Sports
The Vancouver Canucks (a hockey club based out of British Columbia) fell in defeat 5-1 to the visiting Washington Capitals, another team in the National hockey league. Although Washington is based in the east, and Vancouver in the west, the rules of the National Hockey League (hereafter referred to as the NHL), allow them to "cross over" so to speak and compete for two points in the standings.
I apologize for the use of the metaphor about "crossing over", I normally abhor such crass usage of similes and metaphors in hockey writing, but sometimes you let your hair down and just go for it.
The usage of such frivolity is something one should not lean into too much, however, as sporting is serious business. When combatants line up to try and compete in order to showcase the higher levels of physical and mental abilities, one should give it the respect it deserves.
Markus Naslund did not score wrist shot goals top shelf where Mother keeps the upper crossbar that the netting drapes over just so we could sit here and make jokes about Congo and how Amy is a good gorilla who is walking the line of legality by using what looks to be an NES Power Glove.
No, sports is here to tell us about the limits of human physicality and about those who dare to push past them to achieve the highest level of glory one is allowed on skates: Winning the Stanley Cup.
After every NHL game is completed, one must ask themselves two things.
Did my team just win the Stanley Cup?
What will it take my team to win the Stanley Cup?
Everything else is just white noise, if we're being honest.
So to that end, the Vancouver Canucks did not win the Stanley Cup on November 29th, 2022. Which begs the question, what will it take them to win the Stanley Cup?
The answer is in the gifs below.
Best example of an NHL goalie making timely saves
The Vancouver Canucks had a rough start to this game, as they allowed the Washington Capitals to have exclusive access to their goaltender Spencer Martin multiple times: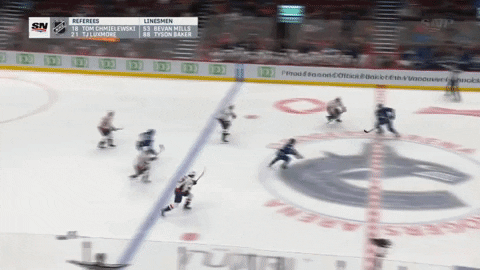 The Vancouver Canucks were lucky to escape without a goal being scored as the opposing team slid the puck over for the goal conversion, but due to missing the puck, it slid harmlessly into the corner.
I do want to reiterate that using the word "conversion" wasn't meant as any sort of silly wordplay, it merely meant the Capitals were unable to put the puck beyond the goal line.
The goal opportunities for the Capitals continued as once again the Vancouver defence found themselves running around in their own zone, giving ample time and space for the Capitals to once again get a shot on net that led to a rebound that was just shot high over the net: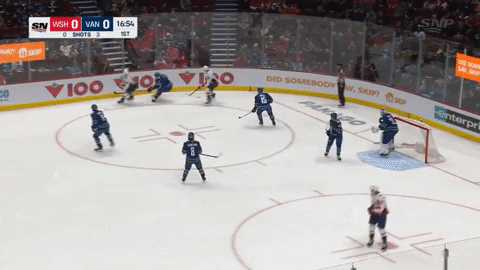 I have been asked by my editor to clarify that when I say "running around" I don't mean the Vancouver Canucks had tennis shoes on and were running and slipping over the ice, although that would explain the final score of the game. No, I merely mean that whilst on their skates, they seemed to be chasing the puck and unable to make good defensive reads, which lead to Washington creating many high-danger scoring chances, especially early on.
In this next clip, the Capitals had another odd-man rush, which I know, you're probably thinking, "does that mean the Capitals employ weird-looking players who do crazy things on the ice?" No, it merely means they had more men skating towards the Canucks goalie than the Canucks had defending: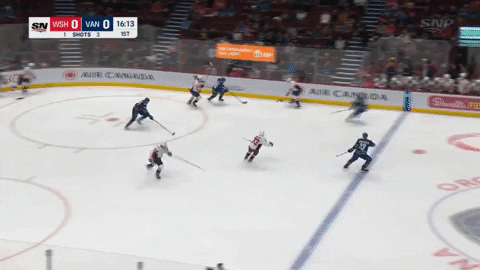 Luckily for Vancouver, the job of a goaltender is to prevent the puck from entering the net, which is exactly what Mr. Martin did in the aforementioned video clip.
This theme continued almost endlessly during the first five minutes of the game, as even Kyle Burroughs, someone who grew up in BC, was unable to navigate the ice in Rogers Arena, and gave up a costly turnover: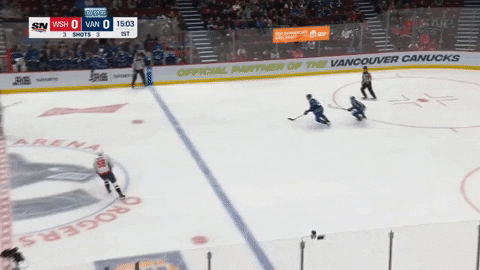 The good news is Tyler Myers, a man as tall as he is confident, was able to make it back into the Canucks' zone, drop his knee to the ice, and prevent what could have been a highly dangerous pass right in front of Mr. Martin.
Clearly if one is looking for trends, the fact that the Washington Capitals were generating scoring chances seemingly at will did not bode well for the home team.
Fun fact: Washington is spelled "Wasssington" but people mispronounce it so often that the slang term for it has now been widely accepted.
Best example of a player tying an NHL record
Alexander Ovechkin is one of the best goal-scorers in NHL history, and his pursuit of Wayne Gretzky's all-time goal-scoring record is certainly one of the more intriguing storylines in the NHL.
And perhaps it isn't surprising in a city that Wayne Gretzky seemingly set every record ever made against it that Ovechkin would find a way to tie Mr. Gretzky's all-time road goals scored record early into the game: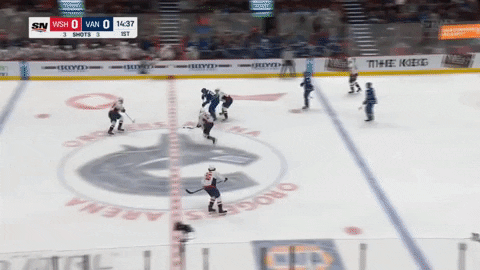 Quinn Hughes, one of the up-and-coming defenders on the Vancouver Canucks, doesn't see Ovechkin swoop in from his right to steal the puck and convert the turnover into a goal: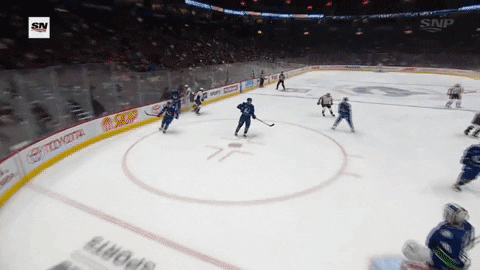 Checking your blind spots is normally reserved for driving but one can't help but wonder what might have happened if Quinn Hughes had done what Dakota Joshua does so often, which is to safely check both ways before trying to make a pass.
I hesitate to make light of this situation, but one can only hope that the idea of a cat clinging to a rope exclaiming "hang in there!" might be of some use to young Mr. Hughes in motivating him to dig deep and learn from this experience.
Certainly there is no shame in having Alexander Ovechkin win a battle of superiority, however, so maybe being a part of history will be a tiny shard of solace for Quinn during this tough time.
When asked about what happened on the goal after the game by Jeff Paterson, Quinn Hughes admitted he turned the puck over.
"I mean I turned it over, like everyone in the world could see that," Hughes said.
As for Spencer Martin, he spoke after the game about how he wished he had used his personal history against the Vegas Knights recently to have been better prepared for the Ovechkin goal.
"I think that's a very similar play to the one that happened in the beginning of the Vegas game and yeah, I'd like to make that save."
The good news is he wished he had made the save as one shudders to think about a goalie who wants to let in goals.
Fun fact: Washington is named after Denzel Washington, due to the fact The Pelican Brief was filmed there.
Best example of a goaltender trying their best
With his team down 1-0, Spencer Martin didn't want to let the Capitals score another goal, otherwise his team would be down 2-0: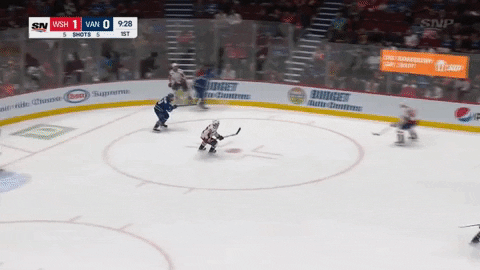 JT Miller's turnover leads to a counter attack from the Capitals that eventually ends up with both a tap-in attempt and a rebound attempt.
JT Miller, often accused of being a defensive liability in his own end, actually manages to skate back and be the first guy on the puck, but is unable to take control of it.
As a result, JT Miller was at fault for two mistakes on this play, which, and I don't have to tell you this, won't help his defensive reputation one iota.
Asked after the game if he felt the Canucks let the Capitals dictate the play, and if the team wasn't very physically engaged, he had this to say:
"We let them dictate the play. You know, we weren't really physically engaged."
The good news is that Spencer Martin was more than up to the task, and due to the fact he saved the puck, the game remained at 1-0.
Fun fact: Washington has so many eagles in it due to The Eagles releasing the birds during the climax of their 1977 concert at the Capital Center.
Best example of goaltender controversies
Despite Thatcher Demko performing quite well over the years in Vancouver, some fans believed had he been in net, the game would have been 3-0 in the first period instead of 3-1 after 20 minutes of play.
Best example of the Canucks' minimal offence on the night
The Canucks were unable to muster much of a response most of the night, and perhaps their best chance was mid-way through the second period when Quinn Hughes raised his stick in the air and came down with velocity to deliver what is known casually around the league as a "slap shot":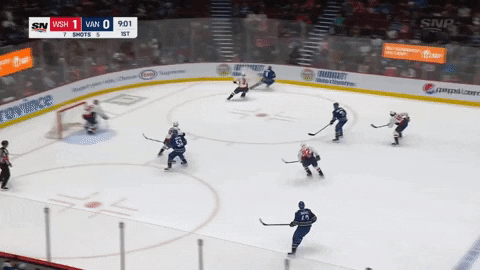 With nobody standing in front of Capitals goaltender Darcy Kuemper, JT Miller's deflection of the puck did not lead to a goal.
Fun fact: Bill Nye was born in Washington and was named "Bill Nye" after his father, a famous bread-maker, incorrectly wrote down the name "Will Rye" like he had originally intended.
Best example of a player breaking records against the Vancouver Canucks
Perhaps the only surprising thing about this Ovechkin goal was the fact it was not scored against Kirk McLean, a former Canucks goaltender that often saw Wayne Gretzky set records against him: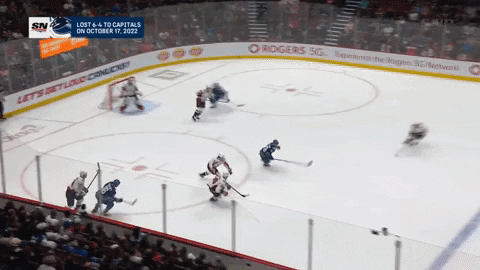 Once again, the Washington Capitals are able to enter the goal with so much ease that it felt like they were playing an NHL club with defensive deficiencies.
Ovechkin, who has scored a plethora of goals from that spot on the ice seen above, was able to beat Spencer Martin, despite the Canucks goaltender trying his best to prevent such a situation from playing out.
When asked after the game about the goal, Martin felt it was a stoppable shot.
"I think that one was pretty stoppable," he said.
Fun fact: Washington has a spy museum but nobody knows where it is.
Best performance by a Vancouver Canucks forward
Although very few players shone for Vancouver, Nils Höglander was perhaps the best of the bunch, punctuated by him scoring the lone goal for the Canucks: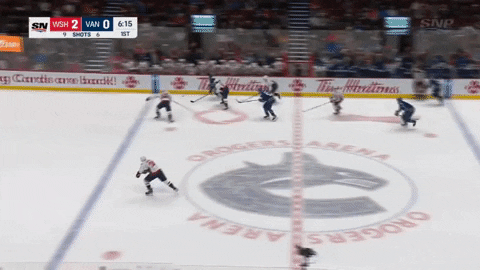 JT Miller's production of 5 on 5 assists this season has been on par with someone not able to produce many assists at even strength, so perhaps it is a good sign that he was able to make the pass on this play that led to the eventual goal.
Not only does Jonathan Tanner Miller's dogged pursuit and retrieval of the puck lead to the eventual goal, I would also humbly suggest you watch as JT Miller draws in Erik Gustafsson as he drives to the net, thus allowing time and space for Nils to rush in towards the net unmolested.
And of course, we should all take a moment to regard the skill with which Nils dragged the puck across the crease before tucking the puck in on the far side, into the net, thus completing all qualifications needed for it to be recorded as an official NHL goal.
Best example of a team scoring a goal quickly to re-establish a previous two goal lead
The Washington Capitals got their third goal of the game when Anthony Mantha, not to be confused with Anthony Mackie, found himself alone despite three Vancouver Canucks being in his general vicinity: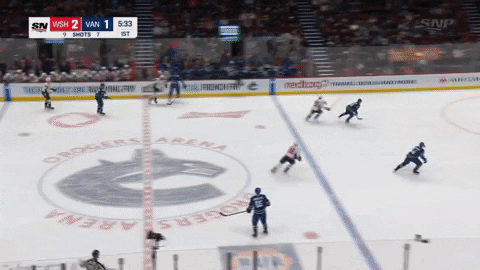 The main issue on the play was the failed reverse body check by Elias Pettersson. He has in fact employed this tactic many times in the past, but during this attempt, was absolutely blasted to the ice by Lars Eller, leading to the puck being sent over to Marcus Johansson who then found Anthony Mantha all alone in front.
If you ever hear of people talking about the "bang bang" nature of a goal, this is what they mean. I know that term sounds undesirable and lowly, but I assure you, I did my research, and it's legit.
If the goal of an NHL club is to vociferously defend their net, then the Canucks failed in this regard. One wonders how three players can surround one man and not offer up even token resistance, but I shall leave that for Mike Liu to explain to me in the morning.
Fun fact: The D.C. in Washington stands for Detective Comics.
Best example of fans turning on their goaltenders
Despite Spencer Martin playing quite well this season, it didn't take much for some fans to express their displeasure over his performance.
If you were a video game fan, you might say that you can understand the Canucks going with Martin because he's like the Phoenix Wright of the NHL. He always manages to create a point out of nothing.
But since this is a serious article, we won't dive into that, and we shall merely say that goal support has been a major difference between Demko and Martin this season. And maybe Tuesday night was just an example of Spencer seeing how Thatcher has lived for the majority of this year.
Best example of Washington not letting up the pressure
I am saddened to say there aren't many Vancouver highlights because Washington controlled the majority of the play.
As the first period came to a close, Washington was still creating good chances and oftentimes, much to the chagrin of the Canucks, getting to the rebound first: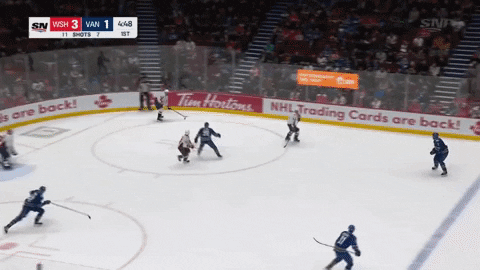 Even with Vancouver clearly wanting the puck back, Washington refused to relent, and sometimes would even resort to such back alley tactics like making passes without looking where they were going: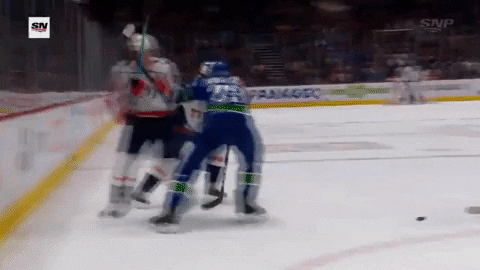 If I were to summarize the first period of play for Vancouver, I would summarize it thusly: It was not a good period for Vancouver.
Best example of a goaltender not falling for an offensive maneuver by the opposition
The goal of this play (aside from trying to score, of course) was to pretend to go around the net, and then at the last second, reverse course and tuck the puck in on the near post: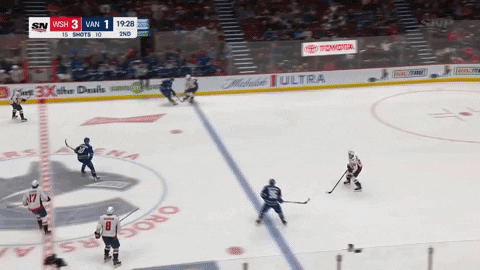 Of course, lies and deceit rarely lead to success, which is most likely why this play by Elias Pettersson failed. Had he announced his true intentions and gone around the net like a young Alex Burrows, perhaps that puck goes into the net.
Alas, we shall never know.
Best example of Luke Schenn exuding Daddy energy
Webster's dictionary defines hitting as "to come in quick forceful contact with" and I can certainly say this meets that criteria: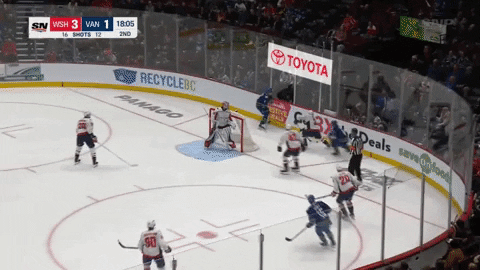 Best example of Elias Pettersson's line not scoring on one of their few chances in the game
Elias Pettersson's line has often been the best line on the season for the Vancouver Canucks, but against Washington, they were very bad.
In fact, this highlight I am about to show you is one of the few times they had an actual good look at the net: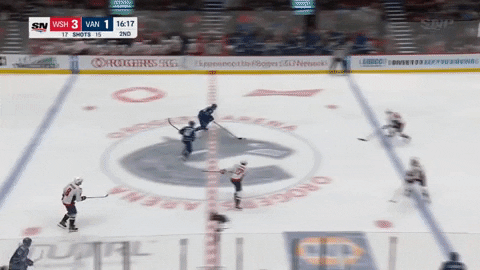 I know my casual nature of "look at the net" might throw you there, but what I meant to say was that was one of the few good scoring chances and puck movement the Canucks displayed on the night, and it ended with Kuzmenko missing the net.
If you are a team trying to score goals, this is not how you achieve that.
Best example of Tyler Myers being perfectly pedestrian
In the past, I may have referred to Tyler Myers as a chaotic giraffe, but I must say that on this play he shows a tremendous amount of restraint: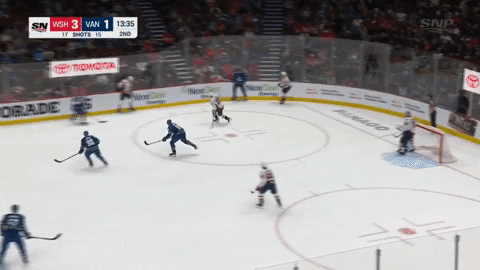 He sees a chance to jump up into the rush, but perhaps sensing danger, he stops and skates back to get into position and break up the rush. That is a solid and responsible defensive play.
I am tempted to say that in other times he would have jumped up into the play and tried to hurdle two players before flying into the glass face first and then throwing his stick like a javelin down the ice to try and break up a two on one, but that would be ridiculous, I cannot even imagine what that would look like. What a silly thing to say.
Best example of taking a penalty you don't need to
The Washington Capitals took a penalty in the second period when Conor Sheary, who used to be a cast member on the Pittsburgh Penguins, hooked Oliver Ekman-Larsson: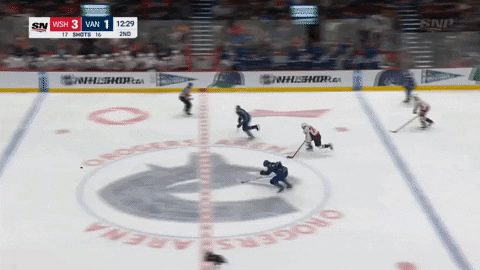 I am unsure why anyone would need to hook Oliver Ekman-Larsson to beat him to the puck, so this penalty felt needless.
Despite the power play, the Canucks' best chance was a tip shot from JT Miller that ended up harmlessly hitting the pads of Darcy Kuemper:
Had that shot gone in, it would have been a 3-2 game. As it didn't go in, the game remained at 3-1.
Best example of Tyler Myers being a perfectly reasonable and normal player
Again, Tyler Myers is not a chaotic giraffe, as seen by this clear example of him controlling the puck and evading Alex Ovechkin, before making a pass that leads to a zone exit: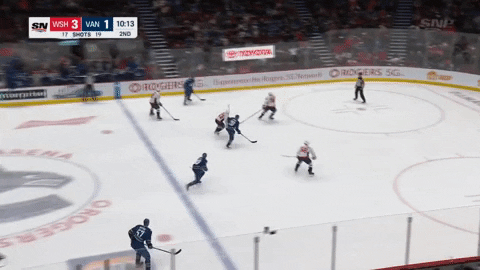 Yes, he is tall and confident. No, he is not a giraffe, as that would require an ungodly amount of paperwork from the NHL to legally allow it.
Best example of a trend continuing
I know you might be getting tired, but stick with me, as I have a barn burner of a joke lined up.
I know, I know, I said humour doesn't belong in sports, but this one works.
First though, let's watch yet another example of the Vancouver Canucks losing a puck battle, and it leading to a great chance for the Capitals: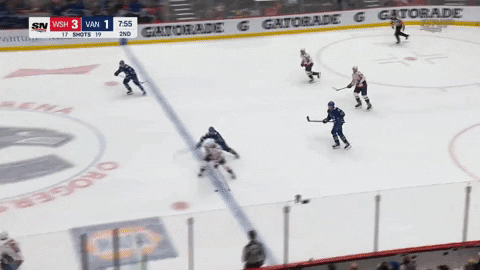 There were countless amounts of times when multiple Canucks would try and check the same player, which seems like a very poor strategy. When asked in the post game scrum if he found the night frustrating, Canucks head coach Bruce Boudreau had this to say:
"Well, obviously it's pretty frustrating."
Best example of a player delivering a kick like noted professional wrestler Orange Cassidy
The Capitals almost scored again, but a combination of a barrel roll and a poke check (known as a Poke Bowl in the NHL) from Spencer Martin prevented the Capitals from adding to their lead:
What follows is a juvenile exchange in which Sonny Milano kicks the stick of Spencer Martin, so he retaliates and kicks his stick to show his displeasure and to extract a certain measure of revenge: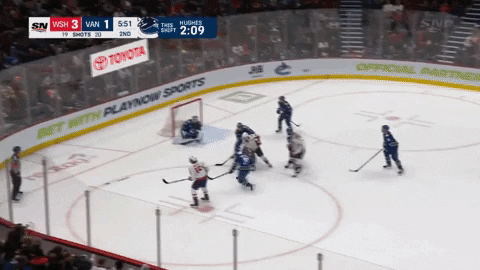 This clearly doesn't belong in the game and I apologize for having included it, but my boss David Quadrelli demanded I showcase "lighter" moments from the game, otherwise he would replace me with Cody Severtson so fast I wouldn't even realize I was in Abbotsford until the smell of corn and Arby's hit me in the face.
Best example of the Washington Capitals continuing to do what they had done all game
As I stated earlier, I had my reservations about the Canucks sending two guys to cover one man, so imagine my horror when I saw them attempting to send THREE guys to cover one player:
I apologize for the use of all capital letters there, but I was truly gobsmacked to watch the Canucks once again flail and stumble around their own zone, giving up so much room and time to the Capitals.
The worst part? Former Canuck Nic Dowd still ended up passing the puck to John Carlson, who was covered by Ethan Bear, and he still managed to go top shelf where the left post and crossbar meet up to form the upper left section of the net:
There is a healthy debate to be had over if it was more an issue of compete level, or more an issue of structure, but if you asked JT Miller after the game, he was Team Compete:
"It's disappointing when we come out and don't execute and don't really compete and get out competed pretty much period by period there. It's frustrating because when you lose games, it shouldn't ever be about your compete level and battle level. They didn't out-skill us today, they didn't out-system us, like they literally just out-battled us and created their chances and scored on them."
Fun fact: The White House was originally called Denny's before a legal dispute awarded the name to J.P. Denny, inventor of the pancake.
Best request by a fan to include a tweet in this article
Best video clip of Jack Rathbone getting hit in a hockey game
Dove-McFalls is perhaps one of the greatest hockey names around and would be something I would make many Logan Couture jokes about if I were that kind of writer, which I am not.
This is a good tweet to point out that Jack Rathbone and Vasily Podkolzin got sent down to the Abby Canucks in what one assumes is a good chance at getting significant playing time.
Best example of Alex Ovechkin almost getting a hat trick with ease
Right off of a faceoff, Alex Ovechkin pumps his stick up twice like it's a Reebok shoe and hits the crossbar: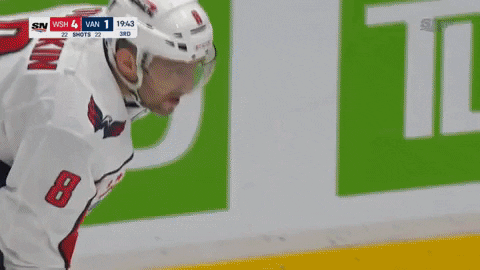 I'm not quite sure what Kuzmenko is doing here, as it appears his defensive game plan was something he watched in a Wile E. Coyote cartoon, ending up with him standing over a cliff with a "Help me" sign.
I have watched this clip repeatedly and it honestly makes me laugh just watching Kuzkmenko get ghosted by Ovechkin like an unresponded read text, as he zooms out of frame.
Ahem.
What I meant to say is that Ovechkin manages to evade pursuit from Kuzmenko and just narrowly missed out on his third goal of the game, due to a combination of bad luck and wrought iron steel.
Best example of it being an off-night for Elias Pettersson
Even with the few chances Elias Pettersson created, it felt like things were not going to go his way: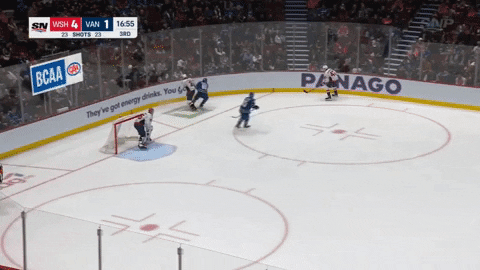 It was a rare off-night for the young Canucks centre, and even though there is a lot of dispute around the importance of the plus/minus statistic, going minus 5 on the night certainly painted the picture of the kind of game he had.
For coach Boudreau, he isn't worried about Elias Pettersson, as he thinks every great player has an off-night.
"I think it's it's a one-off, not every great player has a great game every night. And you know, this was his."
Best example that no one is safe
You would think Quinn Hughes would be immune to a lot of criticism but his shooting ability was questioned early and often on social media during this game.
An example of this would be the instances when he would take a shot that missed the net and then people online would say things such "why can't he get a shot on net?"
Best example that Tyler Myers could be a forward
I know Tyler Myers is a defenceman, but with his size and offensive moxie, I can't help but wonder what he would be like as a forward.
In fact, the last good chance the Canucks got in this game was when Tyler Myers skated down toward the goalie and tried to put the puck behind him: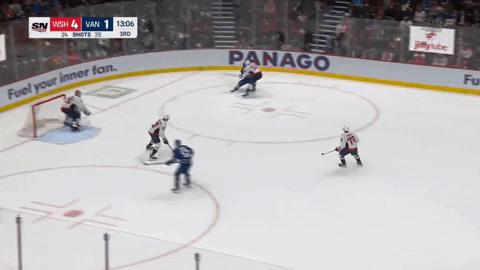 If wishes were fishes.
Best example of Boudreau flirting with an Ovechkin hat trick
Not actually flirting, mind you, as that would be ridiculous. How could you even flirt with a hat trick? It's not a physical object!
Ovechkin did almost score the hat trick when he flung the puck down the ice after the Canucks pulled their goaltender with six minutes left in the game: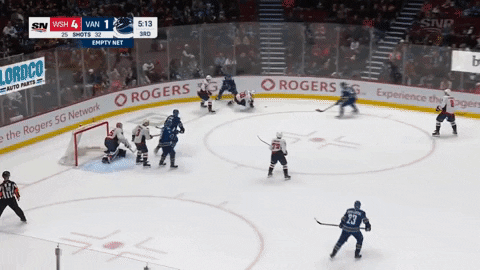 As the puck travelled the distance of the ice when shot from before the red line, this is considered "icing" and the offending team is punished with a faceoff in their own zone.
As luck would have it, the Capitals would score moments later when another flinging of the puck ended up with it entering the Vancouver Canucks' net, thus triggering an NHL official to record it as a goal.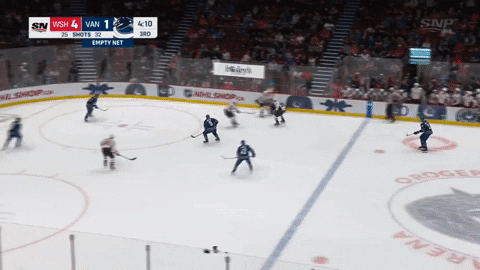 The player in question? Martin Fehervary, who I in no way had to look up his name to spell correctly.
If I could summarize this game I would simply say it was an example of one team getting their asses absolutely handed to them on a platter and playing worse than a bus trying to make it up the hill to UBC.
But that would be crass, so all I will say is that despite which side of the "compete" vs "structure" argument you landed on, it was clear that the Canucks had neither in this one.
Best advice from a Dad who has watched the Canucks fail to win the Stanley Cup multiple times
This is an odd jersey because Michael DiPietro is no longer with the Canucks and only played three games total for Vancouver.
This is the jersey of a Canucks legend in Mats Sundin.
I'm a serious guy, we all know this, but an ANDREY PEDAN JERSEY?
I didn't think I would see the day a "Bonino is up next in the shootout" jersey would get overshadowed by a jersey, but here we are.
ANDREY PEDAN WAS SUPPOSED TO BE THE FUTURE.
This was back in the day when miscast defencemen could be used at forward.
I could write an entire article on the Pedan era.
Alas, we are out of time.
Until serious next time, this has been Wyatt William Arndt for CanucksArmy dot com.