The Stanchies: The Elias Pettersson and Arturs Silovs show delivers a Milestone Monday special
Photo credit:Bob Frid-USA TODAY Sports
Ah, yes, my favourite part of the season. We've reached the time of year when the Canucks go on their usual post-trade-deadline heater, unintentionally sewering their draft position as they consistently beat the teams above them in the standings with gutsy workmanlike performances.
At least this year, these mean-nothing games are somewhat fun. If you're a Team Tank purist, it sucked. But if you just wanted some quintessential Canucks hockey, you got it!
Building from where they left off against the Leafs, the Canucks got outshot, generated a multi-goal lead, lost it, controlled possession when they needed to, did their dekes, revived the fight club, and won thanks to the stellar performance of their goaltender, best center, and best defenceman.
It was great! 7:30 p.m. start notwithstanding!
Yes, the Canucks picked up two points and leapfrogged the Montreal Canadiens for the seventh-best lottery odds, and that was a gut punch. But Elias Pettersson scoring his 30th goal of the year? Andrei Kuzmenko trading a hockey stick for a banana in the pre-game? Arturs Silovs looking NHL-ready at 21 years old? And the Canucks' penalty kill continuing to not look like a total tire fire? That's good stuff!
Let's look at some of that good stuff from their 4-3 shootout win against the Nashville Predators!
It wouldn't be a Severtsanchies without an existential crisis-inducing dosage of feel-bad information. So, here goes: since Ryan Kesler's sicko mode performance the last time Vancouver and Nashville met in the playoffs, these TV shows have premiered and finished:
Stranger Things
The Crown
Narcos
The Good Place
The Americans
Hannibal
Boardwalk Empire
Game of Thrones
Anyways, now that you feel old and realize just how tragic the last decade has gone for Vancouver let's get into the game!
But first!
Worst "speaking of Ryan Kesler!"
Best lineup for the anti-tank
Best "Glass versus Pettersson" debate
To say this game had a weird vibe to start is an understatement.
For the opening five minutes, both teams traded accidental dump-ins, giveaways, and stretch passes to open ice. Neither team could string together a tape-to-tape pass.
It was really tough to watch.
The first scoring chance came off a giveaway from Cody Glass, who connected with the game's first tape-to-tape pass when he threw the puck away, into the slot, and onto the tape of J.T. Miller's stick for the first high-danger chance of the period.
Elias Pettersson, as he's done so often this season, remembered pieces of the now-famous "Glass vs. Pettersson" debates of 2017/2018 and uncorked a wrist shot fueled with such massive "I took that personally" energy that the puck rimmed around the top of the net and back to Petersson out of sheer terror.
What a goal for his 30th of the season.
If you ever wanted to know what EP40 would look like in the AHL, it would look something like that. Pettersson + time and space in the circle = goals like that.
Don't worry, tank purists; the Predators evened things up 27 seconds later with a very "Vancouver" goal.
First, Tyler Myers thinks he has his man beat for the icing, but the Preds' Yakov Trenin bursts past Guillaume Brisebois to negate the whistle. Brisebois then whiffs on a pass along the boards to Pettersson as Cole Smith bowls over Andrei Kuzmenko.
As that chaos is happening, Anthony Beauvillier teleports into frame and loses an edge in the slot. Pettersson manages to go cross-ice to attack the shooter, but the shot goes off Silovs' post and is tapped in past a cartwheeling Silovs by Colton Sissons.
Less than 30 seconds later, Cody Glass was getting his vengeance on Miller, drawing a holding penalty to give the Preds an early power play opportunity.
As they did against the Toronto Maple Leafs, the Canucks penalty kill looked like an actual NHL-caliber penalty kill!
No one was chasing, the players weren't cheating to one side of the ice, the crease was protected, and Pettersson was sprawling out to spring his forward partner for shorthanded breakaways.
Phil Di Giuseppe didn't have the speed to catch Pettersson's bank pass off the boards, but the surprise clearance forced the Predators to stall their power play in avoiding a too-many-men penalty.
Best replacement for a $7.26-million defenceman
As if to spite Chris Faber and his effusive praise of Christian Wolanin, the Vancouver Canucks took their sweet time before giving him a look. In eight games with Vancouver, Wolanin has looked the part of an NHL-caliber defenceman.
I don't want to bag on the guy because he's injured and can't send a shot into a defenceman's shins to prove me wrong, but Wolanin's play with the puck in the offensive zone is simply more creative and threatening than OEL's has ever been during his Canuck tenure.
Look at the shins that Wolanin passes up shooting at in favour of an instantaneous setup into the slot for Conor Garland.
Sure, the pass is off by inches, but the Canucks have been desperate for a d-man not named Quinn Hughes to show up and offer more than low-percentage slap shots from the blue line.
Wolanin picked up his second point as a Canuck with a crisp cross-ice slap pass to Kyle Burroughs for (ironically) a low-percentage shot from the point, tipped by Vasily Podkolzin in the slot over Juuse Saros' shoulder.
Shades of the 2011 Canucks blueline puck movement from Wolanin here.
Wolanin has earned some considerable rope with Tocchet and the Canucks coaching staff. On Cal Foote's delayed penalty that closed the 1st period, Wolanin was out with Quinn Hughes for the 6-on-5. After a lengthy shift on the delayed penalty, Wolanin was back out for Tocchet & co as the quarterback for the second power play unit in OEL's absence.
Dan Milstein can make his client a fortune if he lands a sponsorship with Chiquita.
Not 30 minutes after walking down the tunnel with a banana, Kuzmenko was pouncing on loose pucks and attempting to go through the legs for a shot on Saros, only for Ryan McDonagh to get his stick on the puck at the last second.
The GIF doesn't do the play justice, but the audible groan from Rogers Arena was hilarious. In game #900, the chaos giraffe, Tyler Myers, joined in on the soft-skill fun, faking a slapshot to deke out Rasmus Asplund, only to immediately put the Canucks offside after misplaying the puck over the blue line.
Besides the blue line blunder and the non-icing goal-against in the first period, Myers played like a man with a fire in his belly.
Against the Leafs, Myers filled his annual quota of "one obliterating hit per season" with his annihilation of John Tavares inside the d-zone. Against Nashville, Myers was clearly looking to fulfill his annual quota of "one needlessly flashy goal per season."
Naturally, the push for some flashy offence opened up Myers for some patented failed breakouts and high-flippys. But, whatever, the season's over, so who cares.
Worst paid goalie guild™ content
Okay, even if the Goalie Guild™ didn't pay for this sponsored Silovs content, we'd have likely included this incredible sprawling save from Silovs on Luke Evangelista.
It wasn't just the guys you had to Google to prove they were real who were testing Silovs' cross-ice movement. Silovs' second major save of the game came on a cross-ice glove save on Matt Duchene midway through the second.
Through 40 minutes, Silovs had stood tall, stopping 21 of 22.
We'd be remiss not to mention that Juuse Saros was also pretty good.
Silovs' cool-as-a-cucumber demeanour made the Preds' many chances in the second period feel much less dangerous than Vancouvers' looks against Saros.
In a fight that lastest longer than Cyril Gane vs. Jon Jones, J.T. Miller and Cole Smith threw some haymakers after some post-whistle festivities outside of Silovs' net.
Honestly, respect to any player on the Canucks who elects to bare-knuckle brawl in a hopelessly lost season with 20 games left to go.
Under Rick Tocchet, the Canucks have been throwing hits, fighting for their teammates, blocking shots, looking infinitely more engaged, backchecking on every play, and playing with that nebulous "structure" that Canucks fans have been pining for since they first heard the term last season.
The Canucks finished the game against the Preds with a whopping 42 hits! Miller and Joshua led the way with seven each, while Sheldon Dries and Phil Di Giuseppe, of all people, tied with Kyle Burroughs in second with five apiece.
Best of Vasily "Pod the Bod" Podkolzin
You see that, folks? You scratch my back, and I scratch yours! That's how the Severtstanchies operate, baby!
Through the first two periods of the game, Vasily Podkolzin was the second low-man in ice time for Vancouver. But he was a forechecking monster whenever he was on the ice at 5v5. Through 7:49 of TOI, the Canucks held the best control of shot attempts as they out-attempted the Predators 8-5 with Podkolzin on the ice at 5v5.
Even if he wasn't generating shot attempts, Podkolzin spent his shifts doing the little things. It may seem like a low bar, but it's a breath of fresh air to see a forward using his skating to move around the offensive zone and make himself available to his linemates for simple outlet passes to maintain the cycle.
There are still kinks in Podz' game. Like every Canuck, he's prone to the odd giveaway. But what separates him from others is his commitment to making up for his mistakes.
Early in the third, off an offensive zone faceoff against the Matt Duchene line, Podkolzin has a give-and-go pass picked off at the blue line by Duchene. Instead of throwing his head back in frustration, Podkolzin gets on his horse and races to get a stick lift on Duchene during the backcheck.
Podkolzin is still a work in progress, and in due time the brain farts with the puck will dissipate.
Best "Äman, what a goal!"
I won't bother clipping the initial save from Arturs Silovs that sparked Nils Äman's impressive end-to-end breakout because there's too much goalie content in this Stanchies as is. But, Silovs did kind of spark the go-ahead goal sequence.
First, Silovs gets the shoulder up on a sharp-angle shot from Tyson Barrie, with Noah Juulsen tying up Duchene while chasing the rebound.
Quinn Hughes finishes the battle along the half wall, springing Äman ahead for the end-to-end rush. Picking up his second point in as many games, Äman draws in Michael McCarron and the veteran McDonagh to the right side, opening up the slot for a pass to Dakota Joshua for the tap-in goal.
The finish from Joshua is the icing on the cake—a little drag to ensure the screen; the perfect amount of patience to secure the bag.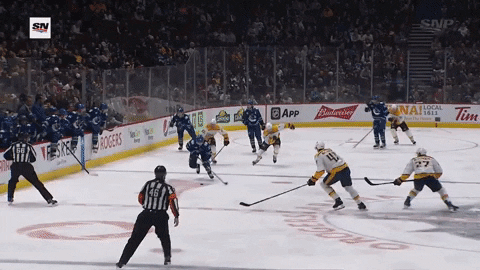 Worst time for a milestone
Midway through the third, Luke Evangelista put the Preds within a goal with a slick rebound goal off a shot from Kiefer Sherwood.
The Predators would then take a very Vancouver-like too-many-men penalty, and Mr. Milestone himself, Evangelista, drew penalty box duty. Sadly, the Canucks power play went 0/3 on the night and didn't generate much in the way of GIF-worthy content.
Worst start time

https://twitter.com/ArashMemarzadeh/status/1632983502244421632?s=20
Please, NHL schedulers, some of us have to wake up at 5:30 AM for our real jobs. A 7:30 p.m. start time is just brutal. Especially for a Monday night, against a non-Division rival, in March.
At 9:55 p.m. Pacific, Luke Evangelista continued his crusade against West Coaster's sleep schedule by scoring with four minutes left in the period to send this game to overtime.
The goal was great news for Team Tank but terrible news for Team "Please, I Just Want to Watch A Fun Game and Get a Good Sleep."
I promise I'm working on a more streamlined name for the latter.
Guillaume Brisebois' passes were soft all night, and when you're nursing a one-goal lead with the enemy in the d-zone, you cant be lobbing soft passes up the middle and hoping your forward carries it out. Board-and-out or high flip, baby! Keep it simple.
We like Podkolzin charging Roman Josi at the blue line to force a bad decision with the puck. Unfortunately, it's Roman effing Josi, and you don't get to 23 goals and 96 points in a single season off bad decisions. Yes, Josi put the moves on Podkolzin. But even Rick Tocchet has a heart and gave Podkolzin and Kravstov a look in overtime despite the sequence on this game-tying goal.
Worst "please, I just want to sleep."
Overtime happened. Pettersson tried his best to ensure everyone caught the last Skytrain out of downtown, but that pesky post had other plans.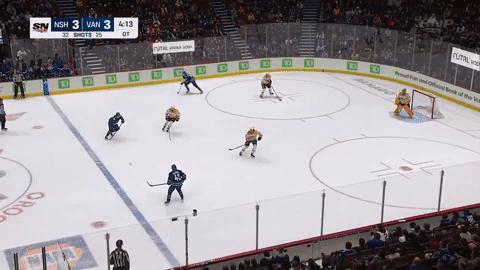 Vitali Kravtsov had a great chance from off the bench. But again, Saros things.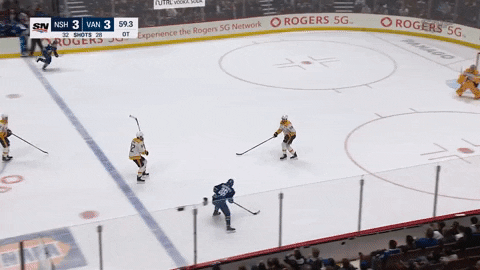 Canucks outshot Nashville 4-0 in the 3-on-3 but finished the game outshot 32-29.
Mercifully, Elias Pettersson put this one away in the shootout.
Too easy.
Arturs Silovs stopped all three shots in the shootout, quietly moving to a 0.907 save percentage through five starts.
The Nashville Predators came into Vancouver on the strength of a two-game win streak, with six wins out of their last 10 games, after having sold off a chunk of well-paid veterans for futures.
In just seven days, Poile unloaded the equivalent contract value of one July 1st Free Agency Day under Jim Benning and returned more combined draft picks than Benning made in total in his last draft as GM. Barring any additional trades, the Predators will make as many draft picks at this year's draft (13) as the Canucks will have made in 2022 (7) and 2023 (6) combined.
Maybe that's bad. Perhaps that's a non-story. The point is the franchise that has enjoyed zero playoff success since 2016-17 finally realized they needed a reset point and chose Poile's retirement as the perfect time to usher in a new era. Incumbent GM Barry Trotz stands to inherit a team with $16-million in cap space, a Vezina-caliber goaltender signed until 2024-25, a perpetual Norris candidate in Roman Josi, two onerous contracts in Matt Duchene and Ryan Johansen, and 13 players from a loaded 2023 draft class.
Not a bad foundation for your first GM job!
Worst… just the absolute worst
I respect everyone committed to the tank. But, this fan's mullet combined with the tape-job hand-cut sleeveless Bedard shirsey is putting some very bad anti-lottery-win juju into the universe.
As Stanchies backup guy, I must admit I've been lacking in my jersey content, so here's a photo dump courtesy of an anonymous source.
Fitting there was a heavy presence of goalie jerseys in Rogers Arena on Monday night. Almost like the fans knew that Arturs Silovs would put on a show.
I bet Tocchet wanted to bench Kuzmenko longer, but he's just too dang lovable. Probably saw Kuzmenko's hang-dog expression and tried to buy him a present during the 2nd intermission.
Worst "fool me twice, strike three"
In the 17 games since Tocchet took over as head coach, Elias Pettersson has 11 goals and 14 assists. EP40 is currently on pace to score 40 goals and more than 100 points. Pettersson's shooting percentage across all situations is down this season by 2.58% relative to his career average of 17.9%.
However, Pettersson was converting on 12.5% of his shots under Boudreau. Under Tocchet, Pettersson is converting on 21.15%.
Canucks fans won't know if this is truly a sustainable run of play until next season when the team shows up for preseason. Is this a team finally committed to playing the right way? Safe, simple, effective, hard-working, ugly hockey? Or is this a team riding the shooting percentage bender of its star forward?
No question about it. I am ready to be hurt again.