The Stanchies: Spencer Martin keeps the Canucks in it en route to comeback against Senators
Photo credit:© Marc DesRosiers-USA TODAY Sports
No song lyrics tonight.
Tonight, we mean business.
Fresh off an embarrassing blown third-period lead at home on Saturday night that prompted the Jim Rutherford radio hit heard around the world, the Canucks got the job done in the nation's capital.
The Canucks gave up the first goal of this game, and the club's shutdown pairing of Oliver Ekman-Larsson and Tyler Myers didn't do much shutting down on it.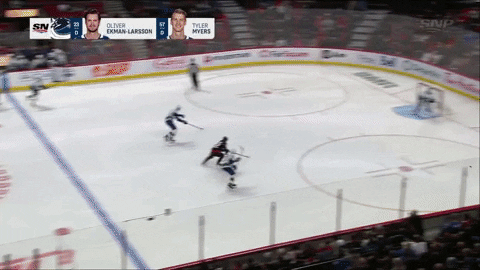 It's no secret that the OEL-Myers pairing have just not looked nearly as good as they did together last season, and OEL chasing the play behind the net certainly isn't going to help them turn things around.
It wasn't a banner night for the pairing by any means and they had to be bailed out by Spencer Martin on numerous occasions, but hey, that's part of the good news tonight!
Best flash the leather baby x2
Spencer Martin was good tonight, and was forced to get to work early in his efforts to keep his team in this game: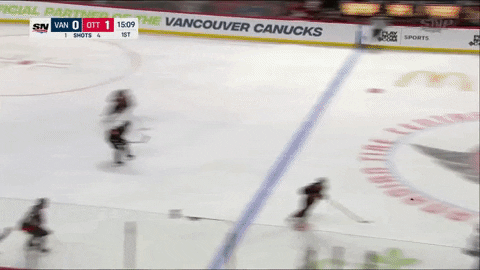 Elias Pettersson's give-a-bleep meter has been high all season long, and tonight was no different.
When Pettersson's at his best, he's forcing his opponents to take penalties in order to stop him, and that was true of this play below, where Pettersson, with help from Andrei Kuzmenko, put the pressure on Brady Tkachuk and managed to force the Ottawa captain to haul him down in order to stop him from going the other way.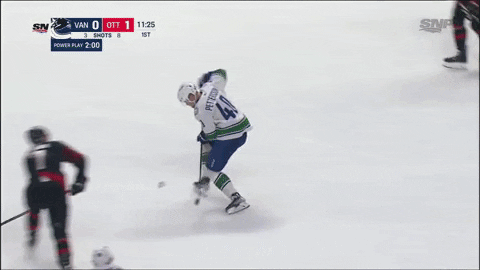 Plays like this are what make him so special, and are why he's got one of the highest DAWG ratings on this team each and every night.
Later in the second, Pettersson created this shot seemingly out of nowhere, which actually gave Cam Talbot some trouble: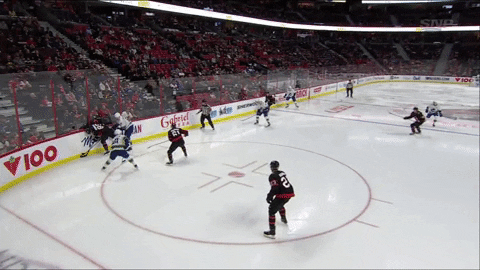 That's alien-like, and if it goes in, it's on every highlight reel in the country tomorrow morning.
Kuzmenko has clearly learned a thing or two from playing with Pettersson, because this dogged backcheck prevented the Canucks from giving up a dangerous-looking chance: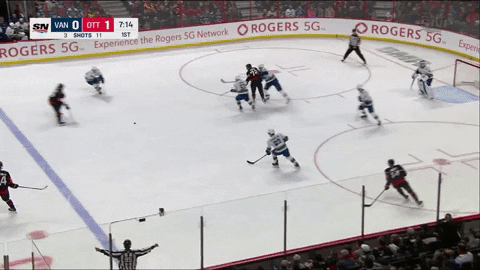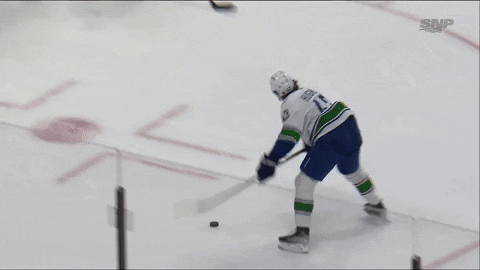 This would have been Quinn Hughes' first goal of the season and would have tied this game up, despite the Canucks getting outshot by the Senators by a count of 16-8 after 20 minutes of play.
Then, as he has so many times already this season, Bo Horvat stepped up and scored a goal to tie this one up.
Best he just can't stop scoring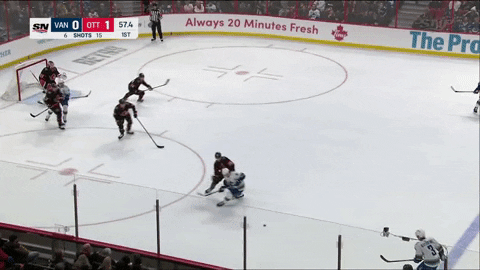 They don't all have to be Picassos. That was Horvat's 11th on the year, giving him sole possession of second place in the NHL goal-scoring race.
Travis Hamonic — yes that Travis Hamonic — took less than a minute to regain the Senators' lead.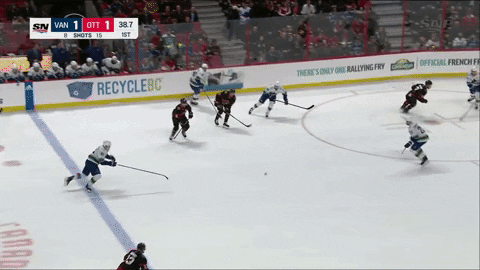 That's a goal scorer's goal.
If you've been a Canucks fan for a while now, you just knew that Hamonic was going to score for the Senators tonight:
Best being honest with yourself
This was not a great sequence for Jack Rathbone — although he had plenty of good ones tonight — and Spencer Martin had to be sharp to bail him out with this miraculous toe save.
It's the type of momentum-shifting save that the Canucks have become used to getting from Thatcher Demko, and haven't gotten many of this season.
"I think Spencer Martin kept us in the game," Boudreau said post game. "I'm not apologizing for that, he played good until we found our rhythm a little bit."
"He was great, he kept us in the game and that's what goalies do, they keep you in the game until you find your legs or whatever you find, and we did that, and consequently, we won."
Boudreau added that Martin has given him confidence in being able to give Demko an appropriate amount of time off in between starts by turning to Martin more often. After all, the results speak for themselves, and Martin still has yet to lose a game in regulation while playing for the Vancouver Canucks.
"He comes in and he's played well in every game," Boudreau said. "He's gotten us points in ten in a row. When somebody gets you points in ten in a row, you've got to believe that he's doing something good."
Boudreau is right that Spencer Martin is indeed doing something good. Arguably, Martin was the difference-maker tonight.
The Canucks were absolutely on their heels all period long. As mentioned, Martin made some clutch saves at the other end, and on what was just his team's third shot of the period, Ilya Mikheyev turned on the jets and scored one of the most Ilya Mikheyev-looking goals of all time.
Our friends in Toronto tell us that this is Mikheyev's go-to move.
When Mikheyev scored on the Canucks' 11th shot of the game, the Senators had already broken 30; again highlighting the importance of that big save Martin made just moments earlier — and every other save he'd made to this point, too.
The Canucks played a sloppy brand of hockey through the first 40 minutes of play, and were lucky to enter the third period tied at two. Bo Horvat was sure to join Boudreau in giving Martin props post game for his strong performance as well.
Martin himself was very honest about his performance, and didn't want to take any sort of credit for the Canucks' victory.
"Yeah, but I made mistakes as well," Martin said when given the chance to talk about how great he was through the first 40 minutes. "That second goal was terrible. They [his teammates] were there when I made mistakes and vice versa as well."
Martin is talking about the Hamonic goal.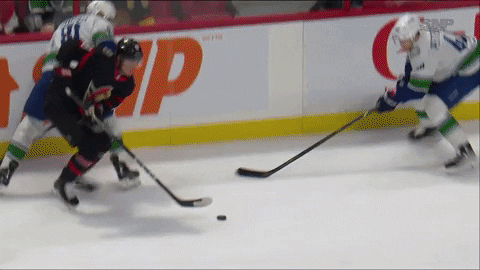 Would you describe that as a "terrible goal"? Because Martin sure would.
There's leading by example, then there's doing what Bo Horvat is doing for the Canucks right now.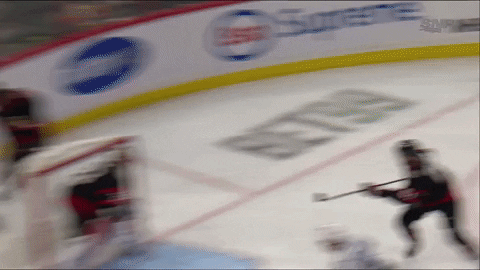 This was Horvat's second goal of the game, and it came early in the third period. Horvat's 12th of the season came on the same night Connor McDavid — the only player with more goals than Hovrat on the year — scored his 14th.
The ten minutes that followed this goal were easily the Canucks' best of the game as they controlled play and suppressed high-danger chances.
This strong play was given an exclamation point when Brock Boeser seemingly deflected an Oliver Ekman-Larsson point shot just moments after a Canucks power play opportunity expired: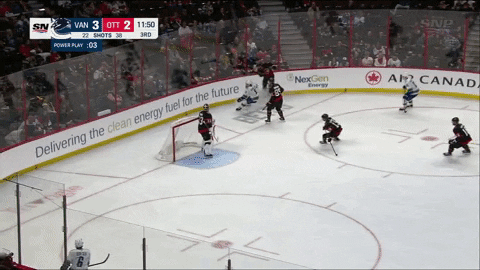 The look on Boeser's face here is a healthy mix of elation and relief as he thinks he scored his first of the year in a season where he was open about his 30-goal aspirations.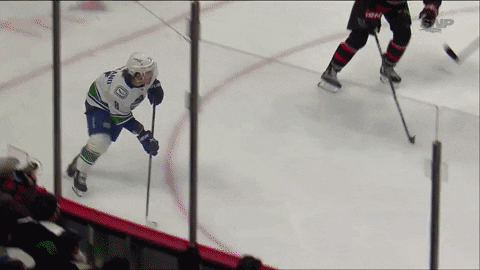 Unfortunately for Boeser, the goal was credited to Oliver Ekman-Larsson, and Boeser remains goalless on the campaign. That being said, there's no doubt that being around the net for that goal can help grow Boeser's confidence in his first game coming back from injury.
Best you never forget your first
Jack Studnicka scored his first in Canucks colours since the club acquired him from the Boston Bruins last month.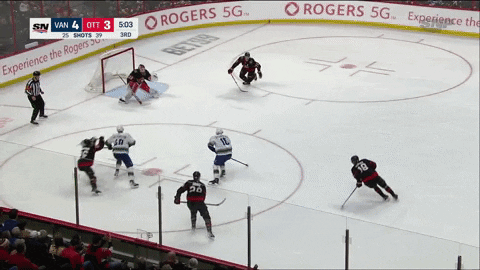 This gave the Canucks a two-goal lead.
In the third period.
Here. We. Go.
Ottawa pulled their goalie with over two minutes remaining, and Canucks fans everywhere were ready to be hurt again.
And for a moment, they were.
The Senators managed to get one past Martin late and still had nearly three minutes to work with to even this one up.
But after the goal from Claude Giroux, Elias Pettersson took a feed from JT Miller and made no mistake in putting the finishing touches as the Canucks prevented the Senators from coming back once again.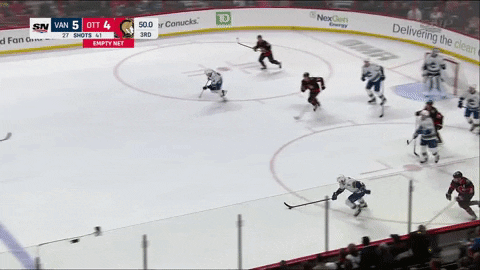 And with the goal from EP40, everything is right in the world once again.
Wins are nice, but some fans won't let you forget what they believe really matters this season.
Sucking hard for Connor Bedard.
To close this one out, we're going to throw to Chris Faber for our DAWG ratings on the night.
Alright yall, it's Faber here.
And it's DAWG time.
It was a weird game in general and somewhat of a weird one in the DAWG rating department. Let's get to what the DAWG formula spat out in tonight's 6-4 win.
Top three DAWGs of the night
Nils Aman — 86.95
Jack Studnicka — 73.91
Oliver Ekman Larsson — 73.24
Well, OEL clearly had a horrible start to the game but he battled back in the third period. He low-key had some DAWG in him tonight though. OEL has a sneaky way of cheating the system and having a night where he slips into the top three and because of a few shot blocks and doing a pretty good job getting shots towards the net, he finished with a 73.24 on the night.
That's pretty impressive for OEL after what he did in the first period.
As for our leading DAWG, Nils Aman — his line was caved in but it felt like there was some effort in the game from the fourth line.
Joshua and Studnicka had good forechecks and did fine for a fourth line.
Upper-Middle DAWGs:
Luke Schenn — 70.67
Elias Pettersson — 69.52
Dakota Joshua — 65.70
Ilya Mikheyev — 62.44
J.T. Miller — 59.28
Nobody really stuck out of this group for truly being a DAWG but when it came to playing centre, Miller didn't look as horrible as he did earlier in the season. It's hard because the Canucks were so caved in through the first 40 minutes but theres five players showed decent when ran through the formula.
Pettersson continues to have a strong DAWG rating and most of that came in the third period as he was barely noticeable in the opening two periods.
Schenn had four hits in the game and dropped the gloves and fed some hefty lefts in a spirited scrap. He just barely snuck into the 70s with his DAWG rating tonight.
Lower-Middle DAWGs:
Tyler Myers — 48.18
Tanner Pearson — 46.34
Jack Rathbone — 45.43
Vasily Podkolzin — 39.02
Brock Boeser — 38.61
Quinn Hughes — 37.76
Bo Horvat — 36.00
Horvat came in with a pretty low score for a player who had two goals on the night but he was not very effective at five-on-five and wasn't physical in the game. The captain may be on a tremendous goal streak but his high DAWG rating streak died tonight.
Boeser made his return to the lineup and continued to not have that much DAWG in him but did post a relatively respectable number compared to what he showed early in the season. We want to see Boeser shoot the puck more and try to funnel more pucks towards the net at even-strength but tongiht was fine. He got a goal from being around the crease, that'll get you some points.
Bottom DAWGs
Conor Garland — 35.70
Ethan Bear — 25.73
Andrei Kuzmenko — 22.00
Though Garland has an active night shooting the puck, he missed the net a ton, his effort level was high but he continues to not be able to crack the DAWG-rating code.
Ethan Bear had a couple of really bad giveaways thorugh the opening 40 minutes. He didn't play as much in the third period but also wasn't very physical in this game like we have seen him in the past few. When playing with Rathbone, we expect to see Bear be a bit more involved physically and he wasn't in tonight's game.
Our bottom-DAWG on the night has been one of the top-DAWGs of the season. Kuzmenko was not very noticeable in tonight's game. It's fine to have a quiet game once in a while, especially when you just put up nine points in your last five games.
The big reason why Kuzmenko was the bottom-DAWG tonight was because he was a no show in the stats department. It was a true Loui Eriksson night with Kuzmenko having no shots attempts, no hits, no blocked shots, no takeaways, no faceoffs — nothing! He had 13:30 of ice time in the game and didn't register a counting stat aside from having one turnover be registered by NaturalStatTrick.
Kuzmenko will bounce-back, the dude had a 59.47 rating through the first 12 games of the season and we've really liked him on Pettersson's wing. One down night in the DAWG ratings isn't concerning.
And at least he wasn't in the negatives like Riley Stillman…