The Stanchies: Rogers Arena ice defiled by Canucks being mild in loss to Wild, not a single fan smiled
Photo credit:© Bob Frid-USA TODAY Sports
The Vancouver Canucks' chaotic season continues, this time in the form of a listless 3-0 loss to the visiting Minnesota Wild.
Not that soul-crushing, entertaining defying losses to Minnesota are something new in Vancouver. There is a long proud history of watching the Wild play and almost hearing Mr. Lorensax narrate in your ear about how Reagan's economic policy is a perfect example of how Minnesota runs their power play.
But there is something to be said about the latest loss, as it comes off of the heels of an 8-3 run by the Canucks, the kind of run that many fan bases would use to harden themselves against such a loss.
"Sure, watching that game made me question why we exist on this earth, and I quickly wondered if maybe the Luddites were right all along, but at least the Canucks had a solid stretch of hockey before that."
The thing is, and I know I don't need to go too deep into it, is that the Canucks 8-3 run wasn't sustainable. It wasn't the blueprint for success that you'd apply to Sauder with. It would be like continuing to use hydrogen in blimps for years despite all evidence suggesting it was poorly thought out, a disaster waiting to happen, and saying "surely it can't blow up every time" and honestly, you can't just rebuild a company from the ground up, that just-
Oh.
How bad was this game? I almost opened up the article with a "Webster's dictionary defines…" speech.
The short summary of it all is the Minnesota Wild, a team that should have been the more fatigued club on the night, walked into Rogers Arena, and proceeded to beat the Canucks so effortlessly that you felt like you were watching the Coquitlam Express trying their hand at an NHL game.
Could the Canucks have won this game? Of course. Their chaotic nature dictates that no lead is too big or small for them to blow or come back in. Up 5-0 with minutes left or down 5-0 with minutes left, you stick around because you never know when this team might go off.
The problem is "chaotic unhinged energy" is not an identity you want to have unless you're a villain in a Marvel movie. You can't game plan with that, you can't build a team around that. You can't just walk into the office and throw a coffee in your boss's face and then coquettishly giggle while you remind them how you got your work done three out of the five days the week before.
And sure, you get those offensive explosions in the 10+ goal wins, but you also get losses like the one on Saturday night. You end up with a team that flirts with a .500 record from across the bar, not realizing it hasn't even opened yet and in fact, you're at the Vancouver Public Library.
Which is par for the course for this team for the past decade. Just who are they? How do you build a team when you don't even know what it's supposed to be? All you know is every once in a while someone waves at you from the sewer and promises you that everyone floats down here.
It can be exhausting for the fans, and I am sure it's exhausting for the team and the players. If body language is anything to go by, JT Miller is the most tired man on this planet, and there doesn't seem to be any indicator that this team is going to be anything but pure chaos for the rest of the year.
The amount of unknowns on this team is almost staggering, with their captain's future being the centrepiece of it all, garnished with a nice side of "wtf is JT Miller doing" spilled all over the plate.
For all we know, the Canucks will win their next game 8-5 and we'll be right back at square one, the kind of atmosphere where you've walked into a room full of people laughing and you have no idea what's going on, so you just jump in and start chuckling. Or guffawing. Or chortling. I don't want to dictate your laugh track.
The point is, this season is going to be a roller coaster of a ride.
So the only thing we can do is make some gifs, and get paid for it, am I right?
Let's ride.
Best unintended consequences
The first thing we need to acknowledge is that John and John had the night off, which is a bit like coming home and finding out your parents were murdered and the people who did it have moved in and they need you to clean the kitchen before dinner.
It's not just that John and John understand this market, it's the fact they have the chemistry of Lady Gaga and Bradley Cooper, just this smouldering intensity that you can almost feel pulsating off the screen.
It's also the fact that Louie DeBrusk sure loves him some fourth line pugilism so you got an entire night diving into the joys of big hits and fights being the real driving force behind turning games around.
That being said, I clipped this video of the Canucks getting a shot on net as a nudge-nudge wink-wink to the fact the Canucks could not generate a shot for much of the third period in their game against the Sharks: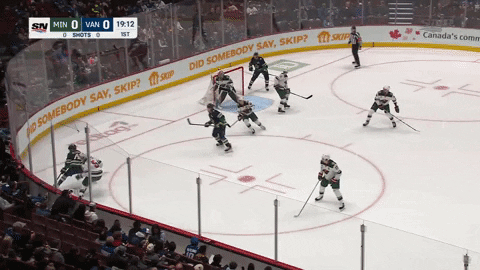 As it turns out, the Canucks struggled for most of the first period to generate offence, getting outshot 14-4 by the Minnesota Wild.
Still, never let it be said that they didn't get an unscreened shot from the point that Gustavsson had to catch softly with his glove.
Look, in a game like this, you have to take what you can get. You aren't going to get fun offensive highlights, but you can still find some small nuggets of gold, like when Dakota Joshua
went full Samoa Joe
on Connor Dewar: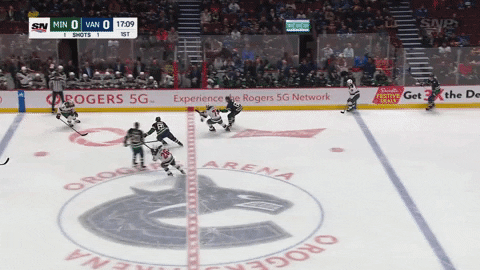 Dakota walks away from the guy with the sort of swag that I could never ever hope to attain. And he knows it too. Look at Dakota. Yeets out of the hit and then straight-up skate saunters away. I didn't even know what it would mean to saunter away on skates before Saturday night, but the second I saw it, I knew what it was. He's a white suit away from getting a legendary soundtrack.
Also, I have no idea how Dewar thought he could catch the NHL's safest player unaware like that. You don't think he's already sneaked a peek at his blind spots before trying to merge at the blue line? Rookie mistake.
Starter Spencer, he struggles. But Backup Martin? He delivers: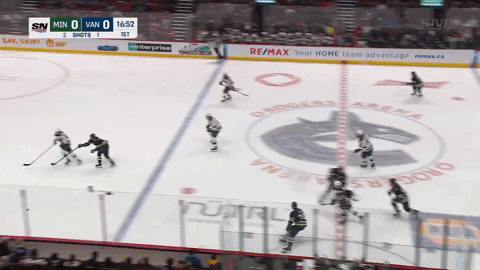 You'll notice Natty Statz will display a heatmap of this game that looks kind of even, and had the high danger chances pretty close at 14 for the Wild, and 12 for the Canucks, so maybe part of you wants to believe Gustavsson put on a show and was the second coming of Manny Fernandez.
I just want to assure you that this game was never very close and that numbers lie. They lie to you, they break your heart, and they steal your fiancé. Never trust the number. Unless it's Mike Liu, then trust them because he's good with numbers.
As you'll notice throughout this clip, the Wild's chances on net were far cleaner, more dangerous, and more threatening. An odd descriptor for sports, but here we are.
The issue as always with the Canucks was their turnovers, puck management, and defensive system failing all over the ice, leading to the Wild getting their goals and their dangerous chances. This was one of those games where the Canucks offence wasn't able to cover everything up and protect Dr. Gerrow's memory.
Best gritty games give us goosebumps
The Minnesota Wild are no longer a boring team with an exciting European skilled player leading the way. They are now a large boring team with two European skilled players leading the way.
The end result of being a large team that seemingly takes umbrage with the idea anyone would dare throw a hit leads to some chippy scrums after the whistles.
Curtis Lazar, a man who has never passed up a scrum in his life, made sure to exchange face washes early and often: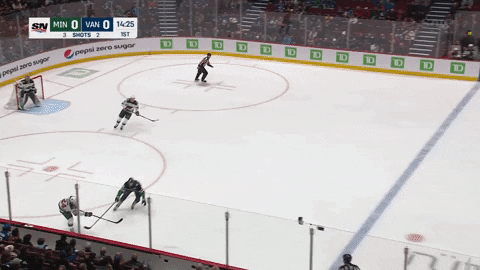 Marian Gaborik would never have the kind of jam Kirill Kaprizov has in his game, mostly because Gaborik was the NHL's version of Mr. Glass and he'd break a femur trying to be physical. But give credit to Kaprizov for not backing down from Luke Schenn an inch, not only cross-checking him in the crease, but then following that up by dropping him with a hit near the boards: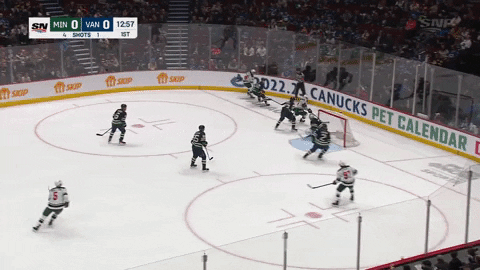 Considering Luke Schenn is the head of the table for the Vancouver Canucks, it's pretty impressive to take him on head-to-head and not have any effs to give. Erik Gudbranson would throw one hit and then parade it about town for a couple of months, so it's nice to see one of the top players in the game just walk in, get his hands dirty, then go about his day.
And while Luke Schenn might not have exacted revenge on Kirill, when the intensity of the game goes up, he matches it. He ended the night with seven more hits, including this large one into the glass: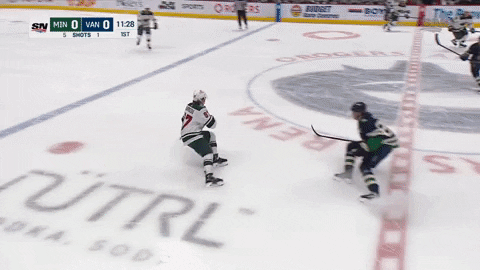 All of which is a long-winded way of saying that this was a game in which every inch was battled for, and that is the main takeaway you had from it: Minnesota seemingly wanted those inches far more than Vancouver.
Best the road to turnover hell is paved with good intentions
I'm sure JT Miller WANTED to make a good pass here. I just don't know how he expected to: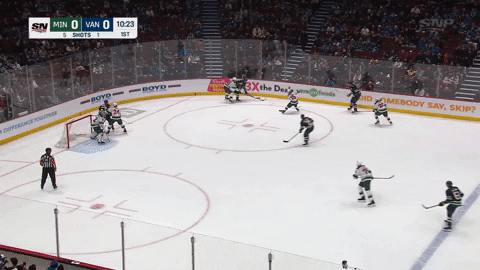 This is the JT Miller that has so confounded the fan base this year. Like, just assume he'll always have more energy for an offensive shift versus a defensive shift. That's a given. I've seen him set up shop in his office (looking exhausted in the middle of his zone, spinning in circles and occasionally pointing at things) only to jump in on the counter rush full of life and energy. Everyone knows a player like that.
But now mix in his weird combination of working hard to get the puck, and then seconds later making just the weirdest high-risk low reward passes, and you have the 2022 JT Miller experience.
You WANT to give him credit for entering that board battle and winning that puck back. Then when he falls to one knee, you're practically begging for a heroic pass in which he pledges allegiance to King Arthur and the quest for the Holy Grail can begin in earnest.
But then he feathers a puck directly over the Wild, and it ends up being one of those actual high-danger chances, not the fake ones Natty Statz tries to deceive you with.
I assume he thinks Stillman is going to pinch in for that puck, and maybe he got thrown off by the couple of strides Riley took, making it look like he's about to fly in there like a young Evan McEneny. But even if Stillman was Nic Petan reborn, the accuracy on that pass just ain't there. That's Neil O'Donnell Super Bowl 30 levels of accuracy and intent.
Risky business passes have become his calling card, sliding onto the screen with just socks on, before quickly getting intercepted.
Best keeping it backup real
With the Canucks killing a penalty for too many ice players of hockey, born of noble birth and with honourable intentions, Ethan Bear did what he's best at, which is retrieve a puck that you think he should have no chance on: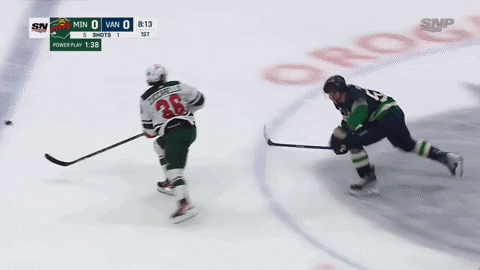 I excitedly sent this to Cam Charron, who has alerted the world to the fact that Ethan Bear is the world's greatest puck retriever with controlled exits but is Jon Cryer levels at everything else in hockey, but he told me icing the puck on the penalty kill doesn't count.
Saddened with this news, I resolutely returned to the game ready to clip the next great save from Martin, to which I promptly did:
That's a nice domino effect of guys reaching above their station, and living or dying by the lunging poke, aka the easiest way to stop skating and give up a ton of room behind you.
Ilya Mikheyev is the first to do the lunging poke, then Tyler Myers comes over when Ilya stops moving, and he lunges and misses his poke, so Quinn Hughes rushes over because the Chaos Giraffe is now grazing in an empty field, but he gets toe dragged to the Burrard bridge on his lunge, which leaves Tylers Myers to give us the two for one lunging poke special as he misses the final attempt.
All of which Spencer Martin had to read and track so he could do a lunging kick save, because what is life if you aren't lunging at something 24/7?
I lunged to meet my parents' expectations, they lunged for the puck, we're the same, really.
Andrei Kuzmenko continues to be a silver lining in all of this dark energy, as he has shown he can play on the top line, and he has shown he can play on the third line. And a player who can be both a great passenger and someone who can drive a line? Well that's just a real jam-up kind of guy: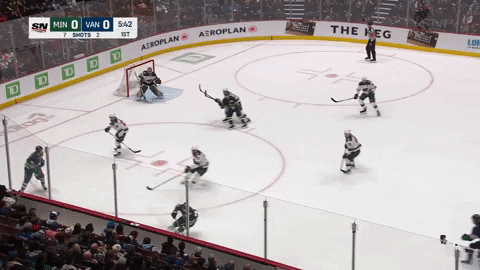 Kuzmenkshow just never seems bothered by anything. Team is down a few goals? Doesn't matter. The team is up a few goals? Doesn't matter. He's playing on random lines? Doesn't faze him.
His ability to shift away from players not only opens up ice for himself, but also opens up ice for his teammates, which is a key reason why he can drive a line.
Sadly this team can never have good things so the fact he's doing so well just raises the question of him pricing himself out of the market next year, but who knows what the future holds. Just treasure his time here while you can.
I'm not saying Elias Pettersson is using strategies he learned from playing EA sports hockey games online, but I'm also not not saying that: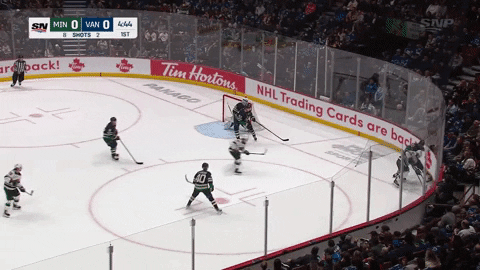 Sending that shot pass (shass?) into the goalie's pads is 100% an attempt to get the puck to Brock when there are two guys in the passing lane.
Now I know what you're thinking, does JT Miller spin around and pass that puck directly to a Minnesota Wild player? The answer is clearly yes.
I also want to take this moment to dive into that oft-repeated line of "good defence leads to good offence" and Elias Pettersson is a perfect example of this. This entire play happens because he is back in his own zone, supporting his defence, and he is able to snag the puck and turn it back the other way for this rush attempt.
That is something Elias Pettersson has consistently done this season, and it's why he is the Canucks' best player right now. His 200-foot game is getting better each season, and with that, comes more offence.
Is it structure or is it bad play? That's the debate for the ages and one the Canucks will continue to create when they make turnovers like this: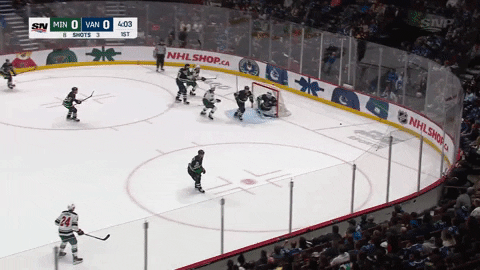 Rush into your corner with a bit of time, but still spin and fire the puck right away in a spot between two ferns. Backup Martin was able to make the save, but how many times can you put your goalie in this position before it burns you?
Once again the Wild were able to skate around the offensive zone with impunity, and once again they had multiple hockey players on the spot ready to jam away at any rebounds.
Man, so tight, almost like a playoff game.
Oliver Ekman Larsson got a penalty for, well, not much: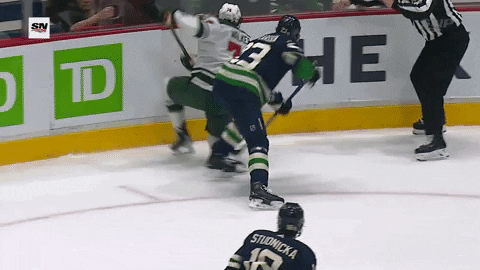 To the NHL's credit, they have been calling these penalties all season, the ones where a stick slides dangerously close to a player's thumb, and the league cracks down on it. Do they consistently call it? Not really, but it feels like it's randomly applied all over the league, so you just chalk it up to another item in the old game management toolbox.
The main takeaway from the play is OEL letting up on Wild forward Samuel Walker, dev crashing back to his desktop, and by the time he reboots he has to reach out and yeah, take a dangerous swing near a gloved digit.
As a result of this penalty, Minnesota scored almost right away by simply throwing the puck on net and crashing it for the rebound: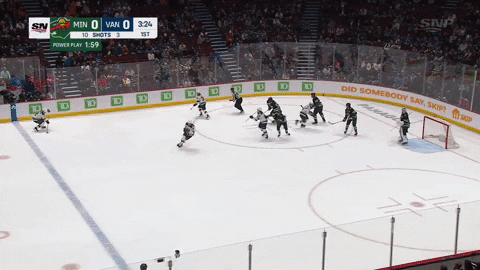 Simple, effective strategy, with a Dan Cloutier rebound that I'm sure Spencer Martin would like back.
Much like Dakota's dodge earlier in the game, getting out of the way of impending predictions of pain was the best part of the game.
You want to hit Nils, sure, that's great, I get it, but what are you going to do when he smashes the spinorama button?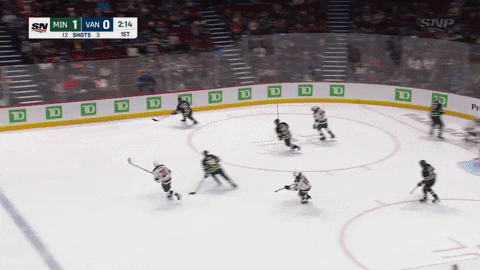 That looks like Nils trying to dodge Cam Robinson's scouting evaluations, if we're being honest.
The best example I have of the Canucks just not matching the intensity of the Wild is this play:
The amount of time Jared Spurgeon has to set up a giant slapshot after having to reach behind him to snake the pass is just a perfect showcase of the Canucks not moving their feet and going with the "if he dies, he dies" approach for their goaltender.
Hey, that's far better than naming your team after a random letter. Imagine calling your team the H's or the Vees. Would just be the dumbest name.
Best checking in with old friends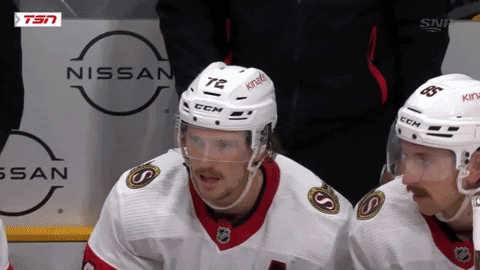 Clearly, a tarantula was on Travis Hamonic's face. This isn't the first time this sort of thing has happened, and the Wet Bandits would be the first to tell you it's no laughing matter.
It also isn't even the best headshot delivered to a teammate in the NHL, as that honour
belongs to Keith Ballard
, who can admittedly dance all day.
Riley Stillman dared to hit Jordan Greenway up high in the first period, and if there is one thing I am sick of, it's when 6″0 players take advantage of 6″6, 230-pound players.
As such, 6″3 Marcus Foligno had to step in and fight Stillman to the death for honour or whatever: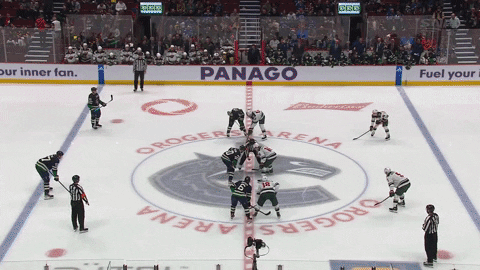 This allowed Louie DeBrusk on commentary talk for ages about how this fight would inspire the Canucks and show the world they wouldn't back down an inch in a game in which they didn't do a whole lot and were just kind of there so they didn't get fined.
Best continuing the pledge drive
This is just a fun clip of Kuzmenko being adorable, and shaking guys off of him like it's no big deal: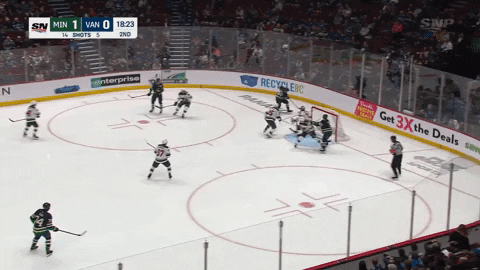 He then ends the play with a pretty solid wraparound attempt which for sure would have gone in on Kirk McLean but is much tougher against today's goaltenders.
Still, he was one of the few players trying to drive the puck on net, which is something that made him stand out on the night.
Boudreau started using the blender on the lines, which did lead to a decent pushback in the second period from the Canucks, probably their best frame of the night:
Garland had a nice shot in the slot and you know what, that was a high-danger chance, I agree with you Natty Statz.
I don't know if you want to give the Canucks credit for pushback, but the second period at least felt like they had intentions to get the puck on their stick, which wasn't the case for the majority of the game.
I can't show this clip to Cam Charron as it doesn't meet his guidelines, BUT it's a good example of Ethan Bear going Jon Cryer mode once he has left the zone with a clean exit: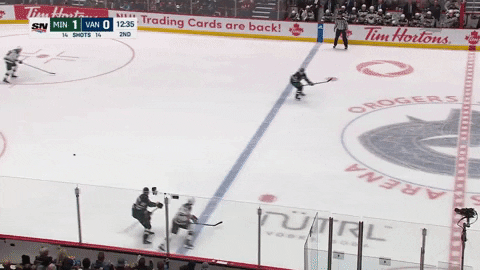 He retrieves the puck, makes nice moves to escape the zone, then it's a flip of the coin as to what will happen next. In this case, he gets stripped of the puck and the counter-rush involves OEL having to win a foot race, which usually doesn't end well.
The Canucks got a trio of power play chances, one of which came after it was deemed illegal to try and dispose of a body in the corner: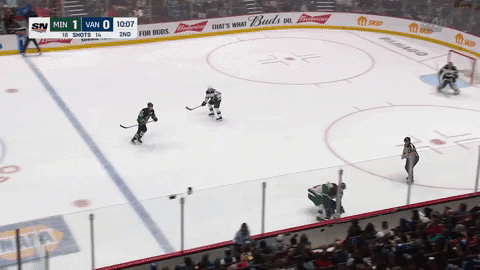 On the resulting power play Elias Pettersson, using his alien-like hockey skills, feeds a streaking JT Miller, who flubs the puck and — well the pass was really pretty, so just focus on that: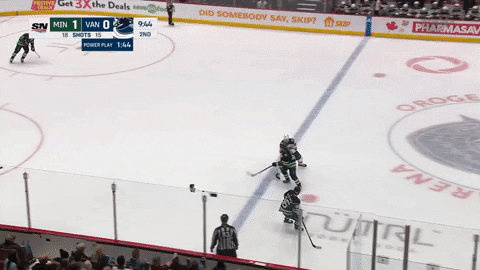 Minnesota then got their best chance on the penalty kill when Quinn Hughes was stripped of the puck and Elias Pettersson of all people missed on his lunging poke check: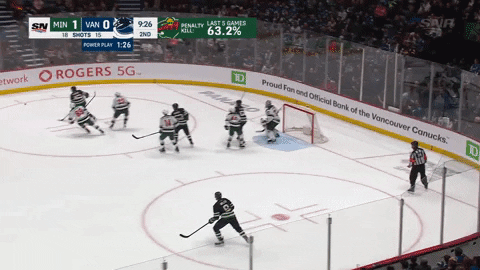 The good news is he was lunging, because lunging is life. Back-up Martin made the huge save and everything was fine.
Best keeping up the pressure
The Canucks second power play didn't result in a goal, but it did result in Two and a Half shots: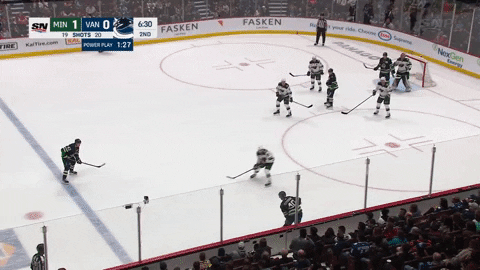 The Canucks power play hasn't really been an issue this season, it just feels real bad when it's clearly so desperately needed on nights like Saturday.
Best everything was not fine
Okay so the one issue, and I wouldn't even really call it an issue, more of a foible, is JT Miller? Remember that guy? He just loves him some bad passes:
The best way to describe JT Miller's play as of late is it's like you just asked him to do the dishes at Camp Firewood.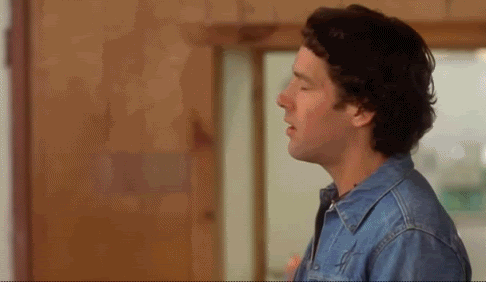 Once again, he's trying to feather a pass to Kuzmenko, that even if it got through, it's not going to set up anything very dangerous. The risks do not outweigh the potential good on this play.
It was the type of play that got Bruce Boudreau to bust out the double "Seriously? Seriously?" when asked post game about.
"It's individual plays. I would think that's not a system play where you make a pass right onto the other guy's tape for a breakaway."
That's a super sassy answer and you know what, for good reason? Jim Rutherford was quoted in November talking about the need to play with a stronger system and the need to be more accountable for what some of the players were struggling with, so now it's become a talking point in this town. That "is it structure or is it bad play?" talking point, and behind all of that is the "Does Rutherford even want Boudreau here anymore?" vibe, all adding to the chaos of nobody knowing what's actually going on.
Hey, everything could be fine behind the scenes. Maybe this is just the white noise of a rough season with a team struggling.
But you have to admit, the optics from this team, once again, are not that great, Bob.
Best working for that cheddar
Speaking of pricing yourself out of the market, Luke Schenn will clearly be one of the Canucks' most desirable trade deadline assets. I think in a perfect world you keep him for the locker room aspect, and for the fact he actually wants to be here. But nothing should be off the table for this club in terms of trying to acquire draft capital.
Best finally, the lotto line has come back to Vancouver
I don't know if Bruce meant to do it, or if it just happened because he literally put names in a blender, but the Lotto Line, for the very first time under Bruce Boudreau, appeared in the third period: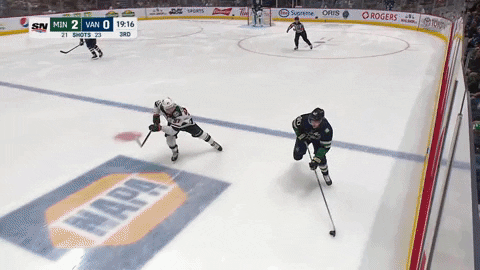 Okay so that wasn't much of a shift, but it's going to take time for these guys to mesh again.
I honestly think this is a good idea, because it helps you protect JT Miller and helps get his game going again and hey you in the back, stop laughing at us trying to gameplan how to fix the 8 million dollar man's gameplay okay?
I mean, sure, it's not a great look that when JT Miller isn't used for overtime you see a sigh of relief from the fan base. Nor is it great that people are trying to come up with ways to surround JT with players that will prevent him from hurting the team with his play, even before his new deal kicks in.
But this is the chaos we live in. For all we know JT Miller will go off on a heater next month and end up with 99 points again. Who knows with this team?
It felt like no matter what the Canucks did, the puck would end up behind them, even without being the direct result of a lunge: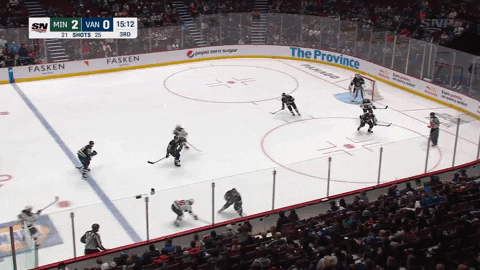 I've watched that clip several times and I still feel uncomfortable trying to describe how that puck got there.
Best scratch and win chance
There was one shift where you saw a glimpse of the old Lotto Line glory days, one in which every player on the ice felt like they had the puck in a dangerous position: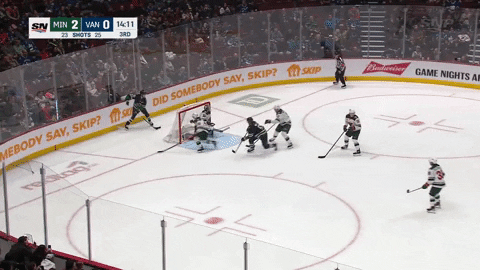 I don't know if the Lotto Line will stick around, but at this point, I would run it and see if they can get some of their juice going.
Body language is the science of desperation, which is why I subscribe to it so much, but man alive tell me you don't watch JT Miller play hockey right now and wonder where the guy we saw in his first season with the Canucks went.
Hell, we don't even see him swearing anymore, he's not even getting worked up over anything. Half the time I expect him to skate towards the puck already shrugging his shoulders at a turnover he hasn't even committed yet.
Best I don't even know what to do anymore
OEL's offence honestly consists of soft low wristers and then occasionally a hard low wrister.
And if he misses the net, you need to pray he hasn't pinched too deep, otherwise you get this: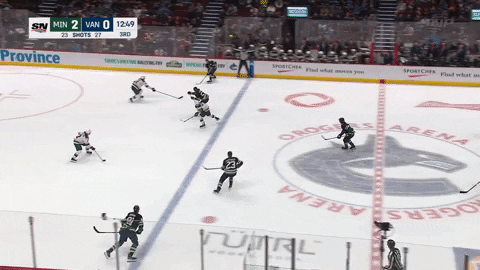 I don't if his game is going to turn around at the age of 31. With the injuries he's had, and father time being a bit of a jerk, it's a bit sobering to wonder if this is the best OEL the Canucks are going to get. What's he going to look like in three years' time?
Does Gary Roberts make house calls? That guy solves everything, right?
I feel bad pointing out OEL's constant on-ice issues, but this season has been an absolute train wreck for him. He is not dynamic with the puck, he's constantly chasing the play in his own zone, and he plays so safe to cover up any skating issues that you just end up with games where he isn't providing anything near the value of his contract.
Best Meatballs catching strays
The Wild mercifully put this game to bed with their third goal of the night which I have broken down into two clips so you can get the full context of it.
In the first clip, you will see Riley Stillman lunge for the puck and miss, resulting in a dangerous pass to the crease that the Canucks just barely fend off. Stillman then doinks it to the point, the Wild easily take it back, then cycle the puck to the other corner of the ice. Tyler Myers then lunges for the puck and gets walked: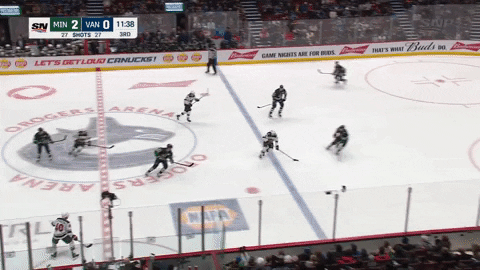 Okay, so the premise has been set. The Canucks are chasing around in their own zone, failing to clear the puck, and this is with their best defensive forward Elias Pettersson around to help.
The next clip shows Tyler Myers getting the puck back, who then tries to feed a moonwalking Nils Höglander the puck, which again gets easily taken by the Wild. Sam Steel aka the best name in hockey, then skates through the royal road and casually flips in a backhander goal like it's no big deal: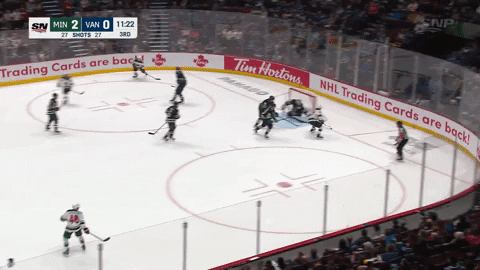 This was the equivalent of your house being on fire but nobody knows where the exit is.
It feels like you don't need to play Riley Stillman as much as the Canucks do, nor should he be with Tyler Myers, but for whatever reason, the Canucks seem pot committed to making Stillman a thing.
Kyle Burroughs meanwhile sits at home wondering what he did wrong.
Best checking the temperature
Best pulling no goalies or punches
I mean, that's about as bleak as it gets. Your own coach isn't bothering to pull the goalie because what's the point?
Again, maybe it's just frustration from the team, and it's not something that needs to be overblown, but the optics of everything right now are worse than when Kaley Cuoco joined Charmed.
Look, I'm sorry, I went too far there, I admit it.
Whoops, how did that one get in here, gross.
Here's a real winner:
The Shirokov Era is only bested by the Steve Kariya Era. Both great eras though.
Almost as good as the Tryamkin Era, which as Todd Diamond will be the first to tell you, was extremely underrated:
And lastly, an absolute gem of the '90s, one of the Infinity Stones of hockey collections, I present to you the odd Two-Face era jerseys:
Just an absolutely bizarre idea to combine the home and away jerseys, but I promise you, if I ever see you wearing one of these in public, I will run up to you and hug you, and I may or may not cry while doing so.
Best of the liar Zdeno Char
Kevin Bieksa said it best, so I don't need to weigh in too much here, but I do have to say that the second I heard this story I knew it was absolute BS.
Remember 2011? Remember that series? How intense it was? The hatred involved? The media scrutiny? Any Canadian team makes the Finals you'll get a lot of coverage, but this was on another level. It was seemingly the world and national media against Vancouver, a time when Roberto Luongo got absolutely dragged into the mud for daring to suggest his style of play allowed him to make saves on wraparounds easier than Tim Thomas, and then was mocked for using a tire pumping metaphor.
It was an absolutely ruthless time to be in. There was nothing that wouldn't be used as a weapon in the war of the words, to the point that even the next season Tony Gallagher and Shawn Thornton almost threw down on TV!
And in this world, you're telling me the Canucks brazenly walked onto the ice in Boston for a practice, a place where tons of media would be present, much less arena workers sneaking in quick videos, and somehow nobody got a single sniff of this story? Not a single person deemed this good bulletin board material? In a world in which writers would eat their own children to get the lead on a story in such a high-profile event, they saw this and went "eh, no big deal."
So the question becomes: is Chara a liar? Or did he just not vet the information strongly enough? Like is Jack Edwards out here sending him messages with stories of the Canucks burning the Declaration of Independence and Zdeno is out here frothing at the mouth over it?
Also, it's been 11 years. You guys won the Cup. You did it. You have the upper hand. Why bring this up now? To what end is this going to serve to talk about such an obviously phony story? If Chara didn't lie, I don't know how he doesn't ponder "hey maybe this outlandish story that not a single person can corroborate isn't true?"
The Canucks are planning a parade route, the Canucks are making t-shirts already, the Canucks have acquired a Death Star and plan on using it if we don't defeat them for the betterment of humanity. It's bananas.
In a sport in which 95% of the players are afraid to touch a trophy for winning their conference because of ghosts and stuff, you're telling me the Canucks are going to be out there practicing how to, what, pass someone a trophy? For some reason that's exempt from angering the Hockey Gods?
It's so incredibly stupid which is why it is so very much Boston. Of course they would come up with that because they are the true villains of this story.
Never forget they tried to tell the world that the Sedins were the bad guys. That the Bruins played hockey the right way. That the league welcomed the 1970s back for one year while Greg Campbell went on his quest to win a Cup.
I often tell people if you weren't there in 2011, you honestly have no idea what it was like.
But I bet if you asked anyone who was there, the instant they heard Chara's comments, you were right back in 2011, ready to throw down with anyone from Boston.
It's truly the Shawn Michaels vs Bret Hart of our times.