The Stanchies: Rick Tocchet's North/South vision for the Canucks is finally here
Photo credit:© Bob Frid-USA TODAY Sports
OK so here's the deal.
We all know the Tank For Bedard dream is dead.
It never really began, to be honest, because we know the Canucks never commit to the tank. The end of season surge is just a proud tradition around here, as proud as a vehicle stalling on the Alex Fraser bridge every single day during rush hour, or Quads sending me a text asking what my latest wrestling reference means (sure, sweat hogs isn't as popular an insult as it has been in the past, but it still works).
And I will be the first one to warn you about reading too much into a late season hot streak. Thatcher Demko playing super boring efficient hockey and an easy schedule is light years away from where this team was in the middle of the season.
But with all that being said, the Canucks 5-2 victory over the Dallas Stars, marking their fifth win in a row, is one of the most impressive runs this team has put together in quite some time.
Again, take those caveats I wrote down, take them and lather them all over your body or better yet, smash them like a coconut on Jimmy Snuka's head. We all understand not to get too excited over this, because it promises nothing about next season. But dare I say it, this Canucks team is playing with- what's that word again? Structure?
I will be the first to admit it, I didn't give Rick Tocchet nearly enough credit when he took over this team. And to be fair, the team played pretty poorly under him when he first got here. Rick kept talking about North/South hockey to the point it felt like a poorly done SNL sketch starring Collin Quinn.
But damn it, if it doesn't feel like this team is playing solid hockey right now. Like they're finally getting the system Rick wants them to play and it's coming into effect.
Sure, Demko has been brilliant, but he's also not being tasked with making 10+ odd man rush saves each and every night. Sure, Elias Pettersson, and Quinn Hughes are dragging this team by the scruff of the neck, but the bottom six guys on this team are pitching in and not looking out of place. JT Miller's temper tantrums seem like a thing from the past, as not only is he playing sound hockey defensively, but he's also becoming a major part of the offense again. Brock Boeser might not be scoring 30 goals, but he's put up a career high 33 assists, showcasing a playmaking side to his game not seen since his Lotto Line days.
Long gone are the days of punt and hunt hockey. Instead we're seeing simple mechanics at play. Forwards down low supporting the d-men, making those previous 40 foot passes into smaller 10 foot plays. In turn this has allowed the Canucks to help escape trouble when under pressure, and even better, turn the puck back down the ice to create odd-man rushes of their own. It's nothing ground breaking, it's nothing magical, it's simply, well damn it, it's simply North/South hockey.
None of this promises a future where the Canucks become a perennial Stanley Cup contender. We all know this team has a lot of holes to fill and a lot of cap issues to overcome before they get there. But in simple terms of if this team will play better next year and become a threat to make the playoffs? It feels like that is clearly the direction this team is headed in, which lines up with management's plan.
Now, can you be upset about another potential future of the Canucks struggling to make the playoffs and battling mediocrity for the foreseeable future? Of course. Big picture discussions will always take up a large space in the Canucks Nation discussion forum.
But can we take a month off and just watch hockey for the sake of hockey? It's probably a good idea to try, as this season has nothing left to offer if we're being honest with each other.
Let's make some gif money, shall we?
Thatcher Demko continues to hit the snooze alarm on my hockey viewing, letting me sleep through minutes of hockey at a time due to how efficient and boring he is as a goaltender: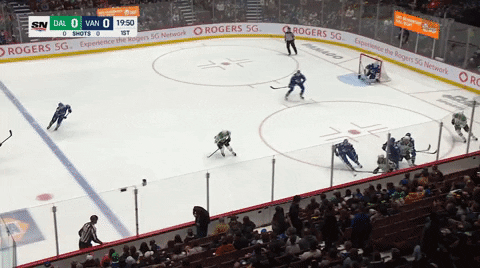 Dallas gets the traditional huge chance against Vancouver, and Demko simply stops it. He doesn't fall to the ground wildly swinging his limbs back and forth, screaming Ian Clark's name as he slides into the corner. No, he simply squares up to the puck and stops Jamie Benn quicker than a certain request on a third date.
Even stranger, the Chaos Giraffe handles the puck in front of him and he doesn't show a single second of panic. Most goalies would automatically drop into a pad stack save animation, assuming CG57 is about to boot the puck right by them.
It's unnerving.
Philly Delight continues to produce results for the Canucks, and it really feels like the team hasn't had this much efficiency in their bottom six and NHL call-ups in quite some time:
Things to note on this goal:
Brock Boeser getting off a fantastic shot that rings off the post
Brock Boeser making a slick drop pass to JT Miller who then makes an even slick hard pass over to Philly Delight who makes and even slicker slick tip on the puck to score the goal
Also, just watch the team forecheck to cause the turnover and immediately head back to the net, rocking that North/South hockey Rick Tocchet always crows about.
Also, Brock spinning off after he makes his pass, and then heading to the slot to make him a threat to receive the pass in the high slot
Overall just a fantastic goal from the Canucks, and something we didn't see too much of earlier in the season.
Another thing we're seeing is a lot of confidence from the Canucks in general, but more specifically, their top end players.
Quinn Hughes in particular has played some of the best hockey of his career as of late, as not only is he engaged in his own end, he seems to be determined to create more scoring chances whenever he gets the opportunity:
No more sad, pathetic, student loan debt wrist shots from the point, now we're seeing Quinn rock 24 + minutes of hockey a game and rushing the net, taking shots from dangerous spots on the ice.
We're also seeing the return to form of Thatcher Demko, who is so boring and so efficient he even makes clearing the puck out of his crease at the last second seem so ho-hum:
That play was as boring as Dan Murphy's latest pocket square.
Best ring ring ring ring banana phone
It's not a matter of if the Kuzemnkshow will score 40 goals, it's more a matter of when he will do it:
The Anti-Tank Missile was at it again, this time finding that soft spot of the ice and unleashing a snipe shot into an empty net. This was after a brilliant bit of puck movement from the Canucks, ending with a Garland fake slapper into a pass that caught Fake Matt Murray more off guard than that time the Roman's were caught unawares by the Visigoths.
While most people would gladly accept a penalty call going their way, Elias Pettersson is built different:
Unless of course he was just waving at a fan in the crowd.
Noah Juulsen landed the best, cleanest hit of the night, which meant of course that he had to have his first NHL fight:
Clearly if the league isn't going to protect…Luke Glendening…then somehow has to step up and do it themself?
Watch the hit from another angle, it's as clean as it gets:
And sweet mother of god I apologize for a part of that Sat BCLC lottery commercial getting in that clip, I know the PTSD that can cause.
The point remains, Juulsen landed a perfect hit, and it's bizarre that in the NHL you now have to answer the bell for that.
The good news is the Stars took an extra roughing penalty on the play.
The bad news is I can't stop thinking of that BCLC documentary short film we see 19 times a night.
Best twirl of disappointment
Brock Boeser almost scored a goal but punted the puck wide after a perfect pass from a spinning Kuzmenko:
Boeser's charge to 30 goals this season is sitting at 12 right now, but if he can continue to have 3 assist nights and lean into his playmaking, the Canucks might have found a better use for him. His board play has always been underrated to me, and I was curious if he could fit into Tocchet's system better than one that relied on so much one on one speed like Boudreau's did.
It felt like we spent so long planning Brock's goodbye party that we just never assumed he'd be back this season, much less playing so well.
Vitali Kravtsov isn't scoring goals or producing points, but it feels like he's showing some solid chemistry with Russian compatriot Vasili Podkolzin. Defensively they seem to be producing exactly what Tocchet wants.
And even if they aren't scoring, Kravtsov in particular seems to be showing more and more glints of promise each and every game:
Here he shimmies off someone like they're tailgating them on Granville and 25th, and then fires over a bit of a hope and a prayer pass that almost connects.
Even better, after the pass died he was one of the first forwards getting back into position defensively.
Again, nothing means much of anything right now, as it's a whole lot of garbage time playing out in front of us. But much like any relationship I've had that's falling apart, sometimes you just try and grasp and hold onto anything that resembles a bit of hope and optimism.
Best embracing the Kuzmenkshow
We've come a long way from Tocchet limiting Kuzmenko's ice time in the first few games, to riding him for 18 minutes (3rd highest amongst forwards) and lauding Andrei's ability to smile and listen to any criticism.
Best if I married Patrick Johnston
I had enough issues with Bray Wyatt that I don't need Wyatt Johnston to become a thing in my life:
Sometimes you just have to give credit to the other team for making a good play, and I am going to do that right here.
The Canucks overcrowded on the back check and lost track of Wyatt Johnston, but it was a quick goal off the rush that was executed flawlessly.
My main takeaway is that the Canucks defenders were at least closing in on the puck and had active sticks, a far cry from the "stand there and gape at the puck" strategies of earlier in the season.
I had a clip of Demko making an amazing save on Jamie Benn but lost it because technology is a big fat jerk, so here's Demko smirking like that Doge meme mere seconds after the save happened.
Once again we see the Canucks pressure pay off as they clog up the middle of the ice and cause a turnover that almost leads to Dakota Joshua's 10th goal of the year: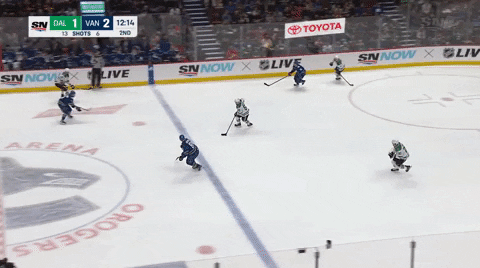 Notice how three Canucks are close to the puck, allowing them to transition the puck quickly and easily back down the ice? Notice how they go straight to the net instead of pulling up or doing a full Mason Raymond behind the net?
This is Tocchet hockey, baby.
Kravtsov honestly remains one of the players I am most intrigued by next season, and I am curious if Tocchet goes to bat for him due to his willingness to adapt the Tocchet system: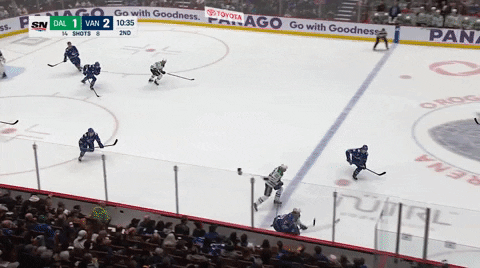 He just forechecks relentlessly on this play and almost drags the puck to the net, before just having it tapped away at the last second.
Sheldon Dries has been a bargain this year, but if you're shipping who might be a new center for this line next year, you're not alone.
Brad Pitt? Did you think of Brad Pitt? Me too.
Beau Beauvillier might have cooled off as of late, but not as much as Bo Horvat has: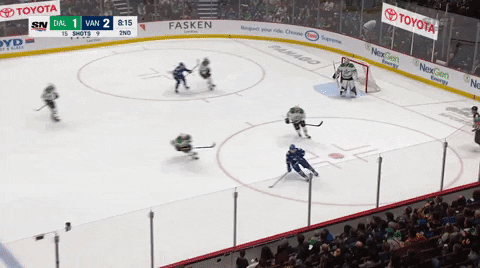 The Canucks cycle the puck, ending in a shot from the guy who stole OEL's job in Craig Christian Wolanin, which is deflected nicely by Beauvillier.
That's one of those tips where you reach out really far, allowing you to smirk directly into the face of your defensive check while you do it.
Did I mention Bo Horvat has struggled with New York recently?
At one point during the game Philly Delight simply decided to carry the puck in his hands because of reasons (bees?):
This led to a Dallas powerplay which resulted in a last second goal at the end of the second period:
Now some people called out Elias Pettersson, because mere moments earlier he took a slapper at the other end of the ice instead of trying to rag the puck into the corner.
With all due respect, Elias Pettersson could strip naked and recite the script from The Goonies word for word and I would assume he had a good handle on things and had made the right call.
In closing, I'm ok with Elias trying to rip a clapper against Dallas during a part of the season in which nothing matters.
Once again the The Americans push and push and push 'til it hurts:
Dirty enough, I got me love. And it's so bad, it's so bad.
Things to note on this play:
Kravtsov knocking down a tough pass from Podkolzin and managing to try and send it back
Kravtsov circling back and stealing the puck to keep it in the zone
Podkolzin going to the middle of the ice and Kravtsov finding him for a great chance in front
Wear your "if these two put it all together" shirts on now, because if these two put it all together…
Do they need a new center? Are you thinking of one?
Was it Ke Huy Quan? I bet it was.
Best sign the Brisebois Era is upon us
All of Canucks Nation heard Botch's voice exclaiming BREEEEEEEEEEEEEEEEEZEBAAAAAAAAH when the gem of Jim Benning's system finally got his first NHL goal: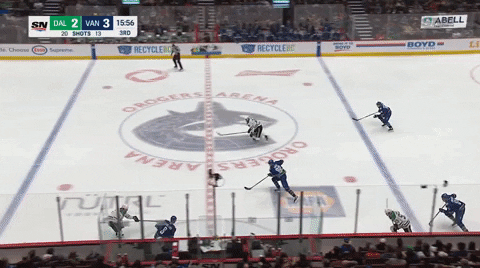 Hey look, I know this team has been trash and the future is murky, but if you can't feel good for Guillaume getting his first NHL goal, I don't know what to tell you. The guy was more jacked than Kuzmenko finding a random banana he forgot was in his pocket.
Nils Aman assisted on the goal and you know what, after years of low skill hustle players on the Canucks, it's kind of nice to have average skill hustle players on the Canucks. They don't just bump and grind in the corners, they also have the ability to pull off nice passes and finish off some plays the way Ryan Biech can only dream of.
Absolute laser beam from Brisebois, dropping to one knee to propose marriage to Witness Protection Matt Murray.
Elias Pettersson continues to be the main reason the Canucks penalty kill is creating so many offensive chances (Travis Green is just beside himself this season, why can't Jay Beagle be out there right now), but on this play, the puck support also plays a huge part in it:
The Canucks support the puck down low, putting enough pressure on Dallas that they try and move the puck a little too quickly, resulting in a turnover.
The Canucks then transition that into EP40 setting up Nils Aman for a great shot on net.
I will say that as good as Wolanin has been, I am curious if much like Brock Boeser, Tocchet's system can raise OEL's game by giving him an easier outlet option and not having to rely on his speed as much.
That being said, it's still very sad that you have to game plan to fix a contract like his, and Wolanin has more than earned another contract next year.
It's just. Terrible relationships. Remember, Grab at that optimism. It's all going to be fine. This can be solved.
The Kuzmenkshow prefers to score when the team is down late in the game, so it's no wonder he shot back towards the goalie on this play:
Once again, though, look at that structure. The Canucks are proving an outlet for their d-man, he doesn't have to bomb the puck out of the zone. How many times did we see earlier in the season where the Canucks would simply ice the puck or give up possession by firing it off the glass and out? By simplifying their game and tightening their mechanics, they take away the need to have to out-skate everyone all the time. Now they can move the puck in transition and be proactive instead of reactive.
Again, nothing groundbreaking, but it's nice to see some fundamental hockey at play right now.
Best Jimothy Timothy Miller
Brock Boeser completed his hat trick of assists off of this nice pass to JT Miller who ripped it past Clone Matt Murray like a young Guillame Brisebois: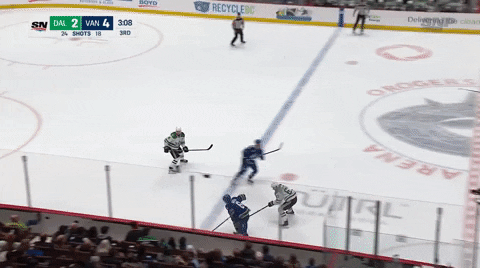 That marked a 3 point night for JT Miller, and yet another game in which it's hard to remember there was a solid year of hockey where he simply decided not to backcheck. JT Miller would tell you there were five lights and you'd scream at him that there were only four, and before you knew it, the other team scored.
It was a weird time.
Regardless, fantastic game for JT Miller, and if he plays like this, helps solve a massive issue the Canucks could have been looking at with their second line center spot.
Look at MS Paint Matt Murray flail his glove at that puck. What a maroon.
Best it's that time of year again
That's efficient hockey right there.
I always enjoy the random jerseys of a player before they got the number they're well known for. I constantly look for a number 27 Todd Bertuzzi Canucks jersey in the crowd.
Matt Cooke used to be a solid fan favorite here, until everyone had to burn his jersey once he became "that guy" on the Penguins. So it's a rare sight to see one of these out in the wild.
Not as rare as what looks to be a new Skate jersey done up for Craig Coxe though?
Remember, this was the 80's, when a guy who was 6″1 was considered a giant. Coxe was 6″4 and 220 pounds, and a fearsome fighter. Not many people can stand toe to toe with Probert for 10 seconds, let alone minutes.
As we stated in the beginning, this late season run cannot be taken at face value. We've been down this path far too many times to fall for these dirty little Hobbits's tricks.
But you know what, I say let yourself enjoy the end of this season. You can't control anything at this point, and we've seen enough boring terrible hockey around these parts to last us a life time. If the Canucks want to go ham to end the season, have at it.
We all know we can gather around and complain about the state of our hockey viewing life next season, so why not just give in and watch hockey for the sake of hockey to end the year.
Or get super mad and yell at people online. Do whatever you want, I'm not your dad.