The Stanchies: Rathbone's rough night, Pearson's penalties, and the Thatcher Demko thing
Photo credit:© Eric Bolte-USA TODAY Sports
All my friends tell me I should move on
I'm lying in the ocean, singing your song
Ah-ah-ah-ah-ah-ah-ah-ah-ah-ah-ah-ah-ahh
That's how you sang itLoving you forever, can't be wrong
Even though you're not here, won't move on
Ah-ah-ah-ah-ah-ah-ah-ah-ah-ah-ah-ah-ahh
That's how we played itAnd there's no remedy
For memory
Your face is like a melody
It won't leave my head
Your soul is haunting me
And telling me
That everything is fine
But I wish I was dead
(Dead like you)
Fresh off of a thrilling scintillating exhilarating victory over the Ottawa Senators, the Canucks marched straight into Montreal, ready to show the world and Jim Rutherford that they've got structure, yes they do, they've got structure, how about you?
Which lasted about a minute into the game?
At which point Montreal scored pretty easily?
And it didn't get any better from there?
Look, I get it. It's hard to go from a 24/7 iso cam of Ryan Reynolds during the Senators game, to whatever fresh hell we just saw on Wednesday night. Would it have made it better if we'd seen Ryan taking a selfie after Montreal put the game away at 5-2? I mean, yes, it probably would have.
But at the end of the day, I had to watch this game, I had to write about it, so now you have to read about it. This is the contract you have signed by opening this link.
And sure, it's kind of awkward in Canucks Nation right now, what with Jim Rutherford cutting promos about the team being a pile of garbage (which hey, he's not wrong), and throwing the players and coaches under the bus. And yes, we're in this weird world now where most of us agree with Jim that this town needs an enema, but it's like, when does it start? Before or after Rutherford dances on a float while Trust plays in the background?
When does this team undertake an actual rebuild? Or retool? Or restructure? Or whichever word you can use to trick the owner into thinking wins are right around the corner but realistically you're tearing things down to fix a fatally flawed structure?
If it's one of those "wait it out" moments, we might have an awful long road of tedious hockey ahead of us. Maybe they're still hoping the ship rights itself and we get a decent season out of this team. Maybe the plan is to ride out a terrible season to showcase that massive changes are needed. I've covered this team for ten years now, and honestly, it sure feels like there's just one person left that needs to be convinced of the overhaul that is needed for this club.
Whatever the plan is, though, the backdrop of it all is the captain's contract hanging in the balance, which feels like upping the difficulty before you've even passed the first stage.
It's only 14 games into the season yet it feels like we've been here for years. Same storylines. Same questions, same debates. The only thing different is what colour tie Dan Murphy wears for the games (boring blue tonight).
I don't know if there is an Omega that needs to be taken out to stop this cycle we're stuck in, but man alive, part of you can't help but dream of a future where it feels like this team takes actual steps forward instead of backwards.
That, and maybe a permanent Ryan Reynolds iso cam.
On to the gifs, let's go make Papa Wyatt some money.
Best where did the good times go
There are two constant storylines at play on the first goal.
One is the fact that Bubble Demko is officially flat, the carbonation having been shaken straight out of him because of, well, bees?
The second is that Tanner Pearson has an addiction to penalties and it is becoming a problem.
As a result of Pearson receiving the two minutes for hooking he was so desperately craving, the Montreal Canadiens exposed the Canucks penalty kill's Achilles heel — putting the puck in the general vicinity of the net: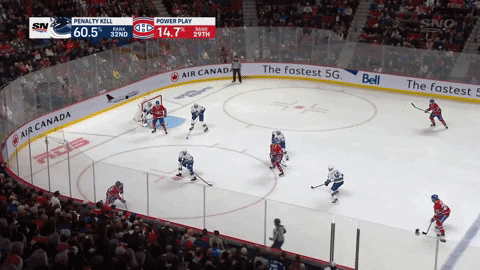 The Canucks are being pretty passive on the PK, and as Montreal closes in, they get a shot off that honestly, Demko saves a lot of the time. But here they not only beat Tyler Myers five-hole, they also beat the Boston College alum cleanly through the wickets as well.
Look, I'm not going to lie, I'm right there with you wondering what's going on with Thatcher Demko. I think there have been some goals he'd like to have back this season. But I also think he's a victim of Bubble Demko and all those seasons of playing like a Vezina candidate, propping up the team and making everyone feel like Oscar Fantenberg was a viable solution on defence.
It's not like any of this is surprising, either. For years, instead of scaring kids with the monster under the bed, people would just tell stories about what would happen if Thatcher Demko didn't play at an elite level in Vancouver. Hell, rewind that back and we had the same stories about Jacob Markstrom.
So yes, this is the reality we now face, a Vancouver Canucks team with poor defence, trying to make it in a world in which their goaltender is not making desperado saves every other shift.
Why don't you come to your senses? Come down from your fences? Open the gate, it may be rainin', but there's a rainbow above you. You better let somebody love you, Vancouver.
After JT Miller was tossed from the faceoff circle, Tanner Pearson proceeded to lose said faceoff, then tip the puck right past Demko: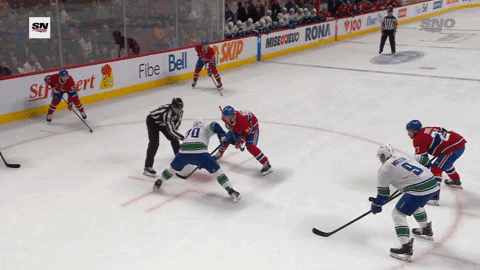 JT Miller was upset after this goal because as he tried to make his way to the point, he got picked by Ruff Ryder and couldn't get his stick on the shot.
Now, normally a mad JT Miller means f-bombs and sticks being tossed, and a lot of arm gestures. But if ever there was a sign that this team is broken, JT Miller expressed his anger by talking calmly to the referee before quietly skating back to the bench.
I don't even recognize who he is anymore.
The only thing more killer than the hook on Katy Perry's Skip the Dishes song is the Canucks trying to make a clean outlet pass.
But fine, Quinn, you cynical bastard, let's play your sick SAW-like game. It should be easy to find a nice outlet pass from the Canucks.
Surely Oliver Ekman-Larsson can get the puck cleanly out of his zone:
Okay, to be fair to the Canucks, how were they supposed to know Montreal would collapse on the boards like that to cut off a soft pass around the boards? This proves nothing.
Surely Vasily Podkolzin will be able to make a nice pass and get out of the Canucks' zone: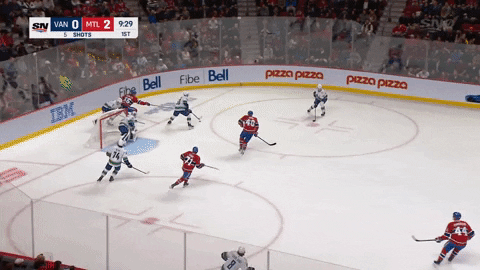 Okay, so he passed the puck backwards right onto a Montreal Canadiens' stick, that at least had the element of surprise. It's hard to score on a rush when you weren't even expecting the puck, so just how dangerous was that, really?
Fine, here's the deal. Let's go to JT Miller. This is a man who has re-dedicated himself to his play in his own zone. A man who just landed a huge new contract and takes pride in playing a 200-foot game. This is the guy to get the puck out of his zone cleanly: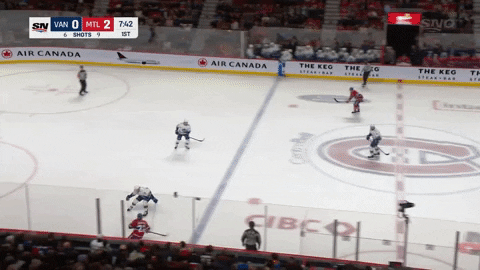 Ding ding dong, ding ding ding ding ding dong.
I have clipped (and made a lot of money) off of many bad JT Miller passes. I still live in awe of a man who can look like Glen Murray in his prime on one play, then look like Brian Lawton on the next.
Even Luca Sbisa is like "mate, use the boards there."
Spiderman tells me with great power comes great responsibility, and you just cannot be a leader on this team, during a stretch in which you need to turn things around, and make that pass while being down 2-0.
And I get it, mistakes happen! This is hockey! That's half the fun of it all, screaming at your TV about mistakes and wondering why strangers you don't know are actively trying to ruin your night.
But this isn't the first lazy pass JT Miller has made with the Canucks.
And it won't be his last.
And those passes are about to become far more expensive next season.
Though part of me thinks Demko should assume JT is going to turn that puck over because that's sort of his thing, but that's a topic for another day.
As a goalie, just always assume your teammates are out to get you.
Sometimes the media do cost the Canucks points, which JPat's made very clear here by pointing out the pizza signs on the boards:
You'll notice how I linked to an article from 7 years ago on Canucks Army, which should please Quadrelli. This is what we in the business call juicing the lemon tree.
Sometimes I just like to have proof that saves did occur in a hockey game: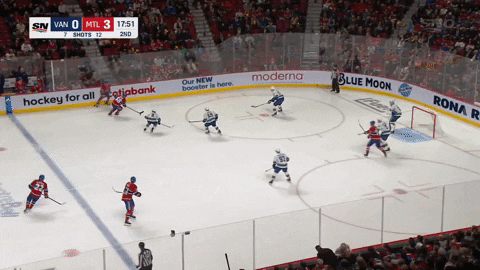 My favourite part is Demko's annoyed gloving of the puck. I can assure you there is no one more angry and frustrated with the play of Thatcher Demko than one Thatcher Demko.
Okay, maybe Ian Clark. There's a bit too much colour on those pads for his liking.
Let's go down a magical path of good and bad consequences.
First up, Brock Boeser gets one of the first scoring chances in the second period. That's good: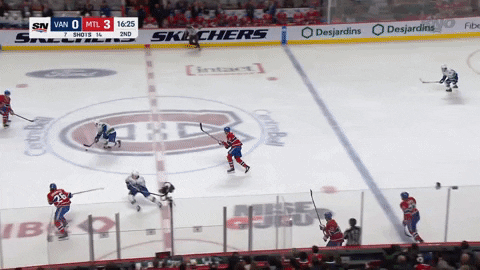 Sadly, Tanner Pearson takes a penalty on the play for beaming Jonathan Kovacevic into the boards. That's bad.
The Canucks killed off that penalty though! That's good!
But then Tyler Myers straight up tries to pull off Dadonov's leg like he's a GI Joe that's overstayed his welcome in the Barbie Dream House, and gets a penalty. That's bad:
But the Canucks are a resilient bunch, and they killed off that penalty, too! That's good!
But then Thatcher Demko and Oliver Ekman-Larsson formed the new new Hart Foundation and decided to give Brendan Gallagher the Hart Attack after the Habs player shoved his stick into Thatcher's groin for about 17 minutes: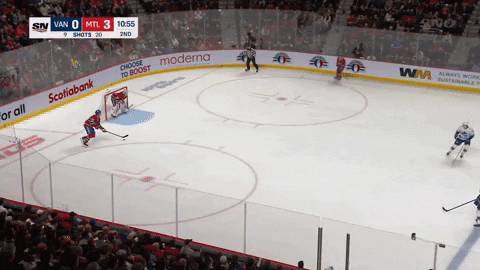 For some reason spearing a goalie in the junk makes them angry (goalies are so weird), and the Canucks left this scrum with the extra penalty. That's bad:
But the Canucks killed that penalty off as well! That's good!
But Gallagher's stick contained potassium benzoate.
That's bad.
Best this is what it's come to
Natty stat trick had the high danger chances at 11 apiece for both teams, which feels like the greatest lie since Pie R Squared claimed they still had the same great pizza they used to have at the Sub, but sure, let's go with that.
I guess this would be one of those highest of dangerous chances, and to take you back to Quinn's horrible game, look at that, the one guy who can make outlet passes is yup, number 43: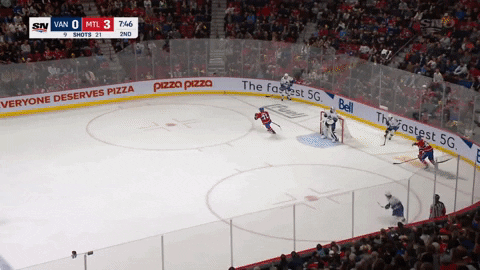 The end result is no goal, but hey, at least it was a shot in the slot and involved a nice leg kick on the shot, wearing Marek Malik's old number 8.
Arguing over Jack Rathbone and Riley Stillman is a lot like arguing about which shoe feels more comfortable as you're plummeting out of a plane, but this is sports, yelling about stuff is what we do.
That being said, Rathbone found himself right in the centre of attention as his misplay of the puck led directly to the Canadiens' fourth goal: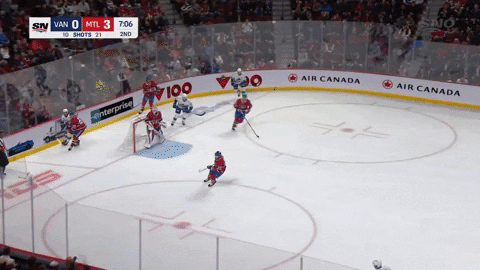 Rathbone's play in his own zone will always be the issue, and even though this was an unfortunate bounce off of his stick (I assume JT Miller calls those "poopsie oopsies") it's still not going to build up the stock of Run Home Jack.
For me, it comes down to what's Rathbone going to bring versus what's Stillman going to bring.
Stillman in a perfect world brings toughness and hitting.
Rathbone in a perfect world brings puck movement and offence.
Neither is going to set the world on fire, so it really just comes down to what you think you can get out of them.
In Rathbone's defence, he can do things in the offensive zone that Stillman cannot. Like on this clip he jumps up and then finds a teammate in the slot and makes the nice pass that leads to a good chance on net: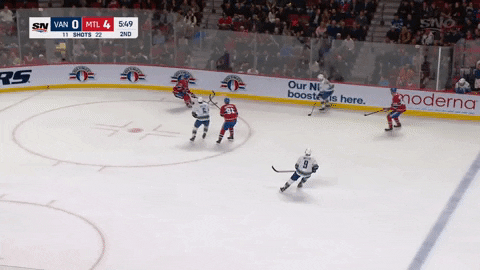 Stillman tends to just dump the puck along the boards and then huff it back so he can decide which of his teammates he wants to take out first.
Again, when a team is playing this poorly and is just not well constructed, you're going to find yourself arguing about things that ultimately don't matter.
The issue is the Canucks need a stronger roster that can insulate these players better so the world isn't resting on every move they make.
Jalen Chatfield is a prime example of someone who got lost in the swamps of Woodhaven, but now finds himself safe and sound in a Carolina environment that feels like a warm hug compared to Vancouver.
I saw someone talking about how the Canucks missed Tyler Motte, and look, my dude, I enjoyed him as much as the next guy, but he is not the answer here. Bigger things need to be addressed.
Again, I guess Natty Stats listed this as a high-danger chance from Brock Boeser, but that backhand didn't scare too many people: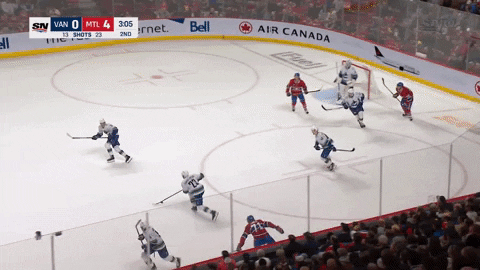 Is this dangerous? A wide-open clapper from the point? Is this your kink Natty Stats?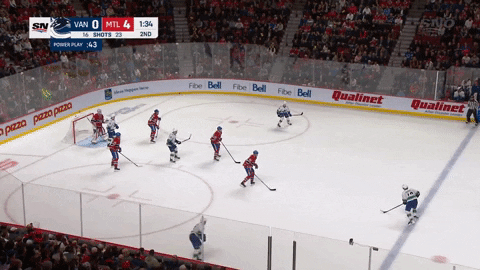 The offensive output through two periods was very tepid is what I am saying.
With denial and anger out of the way, bargaining jumped to the forefront as people began openly wondering if NHL rules could be changed mid-game: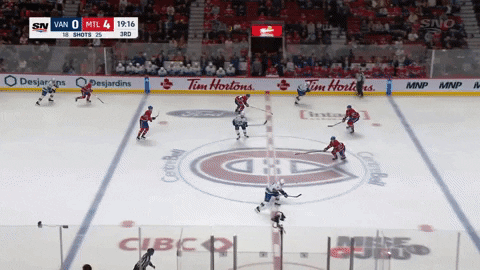 Silly, NHL rules only change when your dad is part of the front office and you need to suspend Aaron Rome for four games.
I will say that under Bruce Boudreau, the chaos giraffe has become remarkably unchaotic. Tyler Myers isn't swashbuckling down the ice on end-to-end rushes, nor is he punting Lita's offspring into the audience.
I don't know if I like this change or not.
Luke Schenn's goal would have counted for four if this was NBA Jam and he had a number on the ice, but we shall settle for one: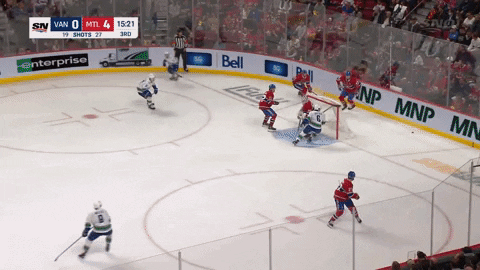 That's the most defensive defenceman goal of all time right there. That's a Jordan Bowman goal if I've ever seen one.
There's no flash or dash here. There's no faking the shot or fumbling around the blue line. It's all business from day one.
Luke Schenn knows the quicker he gets the shot off, the quicker he can start skating backwards to maintain proper gap control so that nobody skates around him.
So he drops to one knee for stability, fires the puck directly on net because that puck is not going to ring around the boards and out on his watch, and sees it go right past the goalie.
Then he celebrates in low-key fashion because both he and the goalie know everyone had a job to do on that goal, and there's no point in gloating about it.
Also note on that play the board work of Brock Boeser that pushes the puck back to Luke Schenn.
Obviously, everyone wants The Flow to be scoring forty goals and wearing a seashell woven into his hair for each goal, but for now, he can keep working on those little things.
Best it's true, it's damn true
I won't lie, I really needed this.
Best so you're telling me there's a chance
This goal highlights one thing: The game of Nils Höglander.
I know when a team loses 5-2 in this kind of fashion it's hard to sift through the rubble and hand out a crown, but honestly, I really liked Nils' game.
He was the one player visibly driving the puck hard and with control into the offensive zone, and he was constantly pulling back quickly with short stops to create room for passes for his linemates: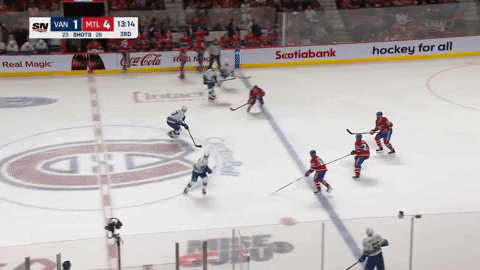 And on the Canucks' second goal, it was Nils' work along the boards that turns the puck over, getting it to Elias Pettersson, who then creates the rebound for Hög: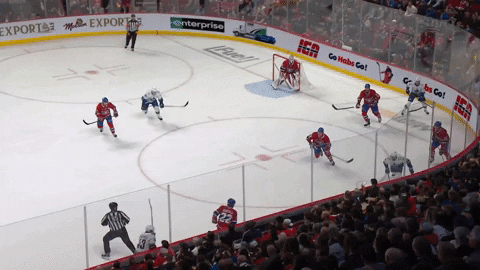 The best part about this goal is Nils causing the turnover and then right away just buzzing right towards the net, something not enough Canucks players do. Without him skating hard right away to the net, Pettersson doesn't have much of a play there, but with Nils going all in on net, EP40 can do the EA Sports rebound trick and create the goal.
A+ stuff from Nils.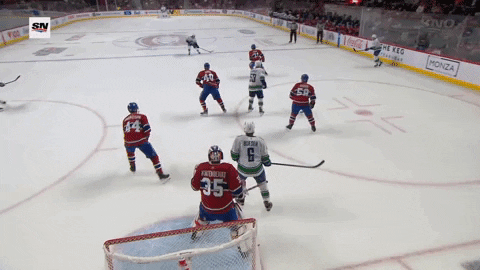 With the Canucks on the power play, you'll be forgiven for thinking maybe they could pull this one out.
Alas, they hit two posts on the same play, and that was all she wrote for Vancouver.
Part of you might want to say "hey good on Vancouver for playing well in the third" but I want to assure you, you don't need to do that. You don't go down 4-0 and then get lauded for playing harder when the other team is clearly coasting and trying to end the game.
Jack Rathbone starts this off by going to a puck battle at the point, only to turn it over back into the corner.
Then Jack Rathbone goes to a puck battle in the corner only to watch Tyler Myers give the puck up, which leads to Rathbone's lack of coverage for Myers' side of the ice come horribly into play: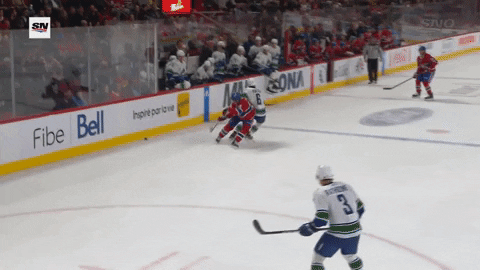 At this point in the game, Jack Rathbone had overseen more failed battles than Douglas Haig and it felt like he had done enough for one night.
The difference between Quads and myself?
I include all of Luke Schenn's high event scoring chances: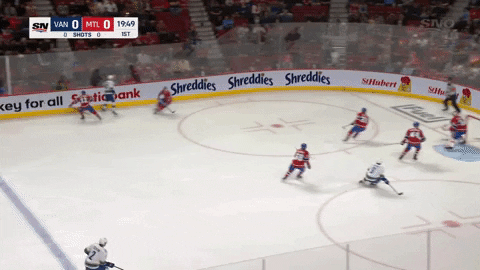 Natty Stats has that down as three high-danger chances, I assume.
Best Ethan Bear zone exit
I'm clearly at the participation point of the article as here I am pointing out the nice stick lift, body position, and kick combo Ethan Bear used in this board battle to get the puck out of the zone: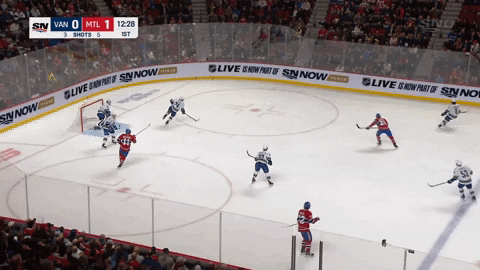 Wee!
I've been seeing some people ask for the secret DAWG formula, which I just have to go ahead and say sorry, not happening. We have multiple outlets and even some NHL teams trying to source out this formula, and the last thing we need is Harman Dayal dropping DAWG ratings on us, starting up the Great Canucks Writer War of 2023.
Suffice it to say Faber's formula is proprietary, and all you need to know is that much like KFC, it's the best heavily guarded secret in the business.
That being said, the top three DAWGs on the night were:
Luke Schenn – 67.42
Nils Aman – 61.05
Tyler Myers – 59.45
Mid range DAWGs:
Brock Boeser – 59.35
Nils Höglander – 51.94
Conor Garland – 42.40
Bottom DAWGs:
Ethan Bear – 15.79
Elias Pettersson – 12.05
JT Miller – 9.02
Adorable dog: