The Stanchies: Phantom calls, the chase for 100, and Hollywood Horvat's heel turn
Photo credit:© Bob Frid-USA TODAY Sports
As the Canucks' season grinds to a close, all we can hope for is a little pizazz along the way.
Putting a dent in the Flames' playoff chances with a 3-2 shootout win? That's some solid razzmatazz.
Elias Pettersson getting to within one point of a 100 point season? That's a dazzling highlight right there.
Bo Horvat turning heel on Vancouver? That's downright top shelf razzle dazzle.
I could go on and on in the intro, but we know what we're all doing here. We're just here so we don't get fined, as the Canucks play out the last four games of the season.
Let's make some gif money, shall we?
Best pushing for the hundo
Elias Pettersson continues his march towards 100 points, which means all eyes are on him any time he heads towards the net:
Is this gif worthy? Early in the season, of course not. But when you're chasing down 100 points and potentially earning bragging rights over Mr. 99 JT Miller, you get yourself an ISO cam in The Stanchies. It's just the right thing to do.
He could readjust his jock on the bench and we'll make a gif of it, because those minor adjustments could be what leads to his 100th point.
If Calgary wanted to get the full two points out of this game, they were going to have to beat Thatcher Demko.
Which if you've been watching the games lately (bless you for having the courage/alcohol to do so), you'll know that Demko is in what we in the business call the "f*** s*** ****ing zone".
Which is when Tyler Toffoli tries to pick a corner on Demko, he simply yawns and asks if Tyler wants the puck back:
And even if you think you have him beaten, Demko plays the post and lets the iron punch the puck towards the boards:
This is just next level 4D chess goaltending from Thatcher.
If we're being honest, the only way to beat him reliably is to be handed a power play you in no way deserve, but the NHL officiating is too good to have that happen.
Best Geoff Courtnall tribute
JT Miller had a great chance to re-create memories of Courtnall winning game in 1994, but alas Markstrom is 6″6 and tends to take up more of the net than Mike Vernon's 5″9 frame:
I also believe having high end goaltender equipment is beneficial, more so than bags full of horse hair strapped to your body.
Best Detective McWard update
Last seen solving the case of the The Hound of Baskervilles, Cole McWard took time out of his busy crime-solving schedule to crack the Markstrom case wide open:
I assume McWard spoke after the game about how Markstrom was a guy who talked with commas, like a heavy novel. Or how the goal horn went off. Softly, in actuality, yet it seemed loud and ominous, as goal horns do at night in dark stadiums.
Regardless, it was another terrific game from one of the new NCAA boys, as Cole McWard used an opportune time to rifle a puck at the net towards a two-man screen. We saw last game where McWard showed a little bit of a dingle dangle in the offensive zone, so it was no surprise to see him calm cool and collected with the puck at the point in an NHL game.
The fact he takes his time and slowly moves towards the net as the screen builds in front of Markstrom is a level of confidence that is a good sign for a kid trying to prove his NHL readiness.
Also he solves crimes. He scores goals and solves crimes, what else do you need to do to make the roster next season??
Best of the one Hughes not in New Jersey
As the Canucks clutch and grab at Quinn Hughes so he never leaves them, ever, he is simply out there night in and night out playing at the highest level of his NHL career.
Offensively he has been nothing short of brilliant, constantly making rushes that result in slick passes that end with high danger chances:
Brock Boeser doesn't score there because he's not Kuzmenko, thus not gifted with a 27% shooting percentage of the gods, but it was still a good attempt.
Boeser in close like that is the player who you always bring up their edge work, but not about their skating, just about the fact they always come so close to scoring before backing off with nothing.
Elias Pettersson and, well, anybody, are pretty much the most lethal shorthanded threat in the NHL right now. It does help that JT Miller is an offensive dynamo, so when EP makes a brilliant defensive play, JT is the first guy to shove that puck forward like Kevin Martin going to the house, to set up the breakaway:
I will bring it up for the rest of time, but remember when Travis Green didn't want Pettersson to penalty kill? Give Bruce Boudreau credit for unleashing Hughes and EP40 on the penalty killing units, as it has paid off in a big way.
Look at Elias's anticipation and stick work he uses to deflect that pass. Look at JT Miller recognizing that Elias has a free lane to the net, so he shoves the puck into his path.
That's just some high quality H20 right there.
Best grizzled detective vibes
You think Cole McWard is going to be bothered by Milan Lucic chasing him down?
This is a man who solved The Adventure of the Norwood Builder without blinking an eye.
This is a man who went head-to-head with James Moriarty, and won.
Milan Lucic is but a footnote in Cole McWard's career.
Best star power on display
The best part of the Canucks' final two months of the season? Watching their top players shine the brightest.
Elias Pettersson is so lethal in the offensive zone, that it must be downright annoying to ever have to line up against him:
No play is ever truly dead with EP40 around, as he is constantly hounding the puck and thinking about what you're going to do next before you've even come up with a plan.
Likewise, Quinn Hughes is constantly displaying his high level hockey IQ, and turning what looks like passes for a high danger chance against into rushes the other way:
The anticipation and turnovers both Elias and Quinn are creating right now is truly next level stuff from them.
And last but not least, Tocchet's biggest star Phil Di Giuseppe continues to be an absolute menace on creating turnovers in the offensive zone with his constant pressure:
Brock doesn't score, because of edging, but it was still counted as a high scoring chance, thanks to Philly Delight.
Don't believe Philly Delight is a star in Tocchet's eyes? He played 21:35 on the night, a number not seen for a Canucks role player since Mike Keenan played Enrico Ciccone for half a game.
Thatcher Demko remained the villain in the Calgary Flames story, as any chance they got, he was there to shut the proverbial door (or make them run their car into a manure truck, if you're more of a Back to the Future fan):
Sheldon Dries attempting to score from the ground is the next level evolution of going down to one knee to try and score a mini-stick hockey goal, and I love it. It's just unfortunate it turned into a rush the other way.
Also please note Kuzmenko making the pass/shot that led to the Dries chance, because that is the last you will see of him until the shootout.
Kuzmenko had another one of those "Did I do that?" games where Tocchet feels the need to punish him to teach him a lesson. To be fair, it wasn't a great game for Kuzmenko by any stretch of the imagination, I just always enjoy it when a coach randomly picks a couple of players who get no leash whatsoever. The Goldobin Rule as we call it.
And again, any time the Flames tried to score, Demko made it look oh so easy:
A 2-0 lead, that's the kind of score you can take to the bank, am I right?
Small moments in games can amuse me more than the goals themselves. Like here, where Garland is seen reacting to his icing of the puck in real time:
Oh fudge.
Best leftovers into a 5 star dinner
The beauty of having Elias Pettersson and Quinn Hughes, aside from the fact they don't tell New York fans how much better they are than Vancouver, is they can turn any bad situation into an advantageous one:
That went from Elias Pettersson getting tripped (no call) into a potential 2 on 1, into Quinn Hughes darting forward to get the puck back to Elias, so he could feather the puck over for a shot from the slot.
That is what high level players do.
You know what I do there? I fall to the ground and claim I have a high ankle sprain.
You know what Chaos Giraffe does? Pulls out a water cannon and starts spraying milk on the audience while reading Othello out loud in French.
They. Are. Built. Different.
I already had a clip of JT trying a dapper clapper slapper, but damn it, Coby's visual of what a Garland slapshot is like really stuck with me:
You can almost see him trying to run in place and wondering why he's so thirsty but can't drink any water.
You know what works better there? Falling to the ground and screaming you have a high ankle sprain.
Best glovely ladies, smell 'em through the smoke
Seven days at sea can make you hungry for a poke:
If it was really for Cheech, Demko would have pulled a hot dog out of his pad, but I digress. That is one gorgeous save.
I have talked endlessly about putting some sauce on your saves by using your glove in dramatic fashion, and Demko did this and more on the save.
This is the equivalent of walking away from an explosion without looking behind you.
This save should count for five saves. Look, I don't make the rules, I just try and make new ones and enforce them.
I in no way was watching UFC on another monitor during the start of the third period:
Quinn Hughes tries to get a little too pretty along the boards with a pass to JT Miller, and the Flames make the Canucks pay.
Now, JT Miller has been playing far better under Rick Tocchet, but that's a peak at the old JT on this play. Start of the period, fresh legs, and JT just kind of waltzes in and watches how everything breaks down. If he skates hard in that situation, he can probably break this up before it turns into a goal.
That being said, Quinn Hughes also needs to feel shame, because he tried to get cute in his own zone and it ended up in his own net.
The only person who shouldn't feel shame is Thatcher Demko, as he was betrayed by his own people. The Canucks version of the Red Wedding.
Is that too dramatic? Maybe.
But it's the end of the season, what are you going to do?
Canucks 2.
Walder Frey 1.
Because the NHL likes close playoff races, and because game management in the NHL is just a way of life for officials, it wasn't too surprising to see the Flames get a third period powerplay.
What was surprising was what it was called on:
That, ladies and gentleman, was called a tripping penalty on Kravtsov.
He was called for tripping, even though he was shoved and merely kept moving in the direction he was shoved. And not even in a Homer Simpson malicious way where he clearly wants to eat the pie, no no. He merely skated a few inches more before Troy from Richmond clipped his skates and fell to the ground like he was trying to find a seat on the Canada Line during rush hour.
Need I remind everyone of the last time the Canucks played and Elias Pettersson was called for "allowing his own stick to be lifted into the face of the opposition" ie a high stick:
Just an absolute clown show of a call, but this is the NHL we're talking about. Proper consistent officiating isn't really their bag.
All of which led to Demko making an amazing save in which he threw his stick like he just don't care, before making a save on the puck in the air:
Kadri of course slashes at Demko's hand, as is tradition, all of which led to Kadri tying the game up just as the power play expired:
I would explain what Tyler Myers and Kyle Burroughs are doing there, but I'm not quite sure (bees?).
The end result is the Flames tied the game up on an absolute bullshit call. Which yes, it means nothing. The Canucks should want to lose, I get that.
But just in terms of ethics in gaming journalism, one can't help but be slightly outraged over calls that have a severe impact on the NHL playoff race.
How can the NHL look at that call and be like "You know what, what can you do, Troy technically tripped on his skate, this is good."
Boo I say. Boo.
Best working hard or hardly working
As Hirose and McWard battle for the sizzling hot new guy award, Akito wanted to remind you all that goals are fine and all, but two assist games and game saving defensive plays are where the real heat is at:
I'm excited for McWard to discover that Hirose was the one behind the murders all along.
Best valuable angry Dad lessons
I was intrigued by Studnicka earlier in the season, but I do have to admit that I forget he exists on most nights.
That being said, this is a man's man of a hit:
Look, he wouldn't be the Chaos Giraffe if he didn't do the opposite of what you expected half the time: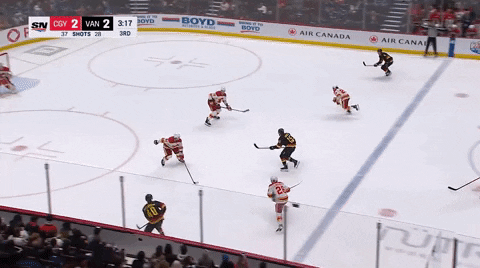 Normally Chaos Giraffe takes any chance he gets to rush in towards the offensive zone, but for some reason he pulls an OEL here and decides to give himself a couple of hours to prep for the potential counter rush.
I assume he thought maybe the pass was going to be intercepted, but anytime I try and assume what CG57 is thinking I know it's a rabbit hole I might never recover from.
Best making a name for himself
This game went to overtime, and before we get to the cocaine bear sequence, let's take a moment to appreciate how calm and steady Hirose is at 3 on 3 hockey:
Just out there passing the puck back and forth. No worries in his mind. Just having a good time playing stick and puck with his buddies.
I can't fit all of the insanity in the clips, but just to give you the general idea of things, it was one of those "Oh you want a breakaway? Fine, I'll have one too" back and forths where it feels like you're just watching an NHL practice.
JT Miller probably had the best chance for the Canucks, which was oddly not from his shot but from the rebound off the glass, off the net, and then onto Markstrom:
Then in what was the most hilarious example of the NHL making sure it got it right, Markstrom was not called for playing the puck in the no no zone:
Markstrom could very well have been body blocking and waiting for the puck to get into a playable area. But Beauvillier's forecheck does force the puck into action, and it looks like the puck might have touched the stick of Markstrom.
It's also very possible the puck never touched his stick, and the officials got it right.
What's funny is them erring on the side of caution here versus watching Troy Stecher toe pick himself to death, and Elias Pettersson seeing his own stick placed at the crime scene and being charged with murder.
All of which resulted in Kadri almost ending the game were it not for one Mr. Demko:
On one hand you want to praise Demko for his unbelievable goaltending.
On the other hand his Bubble Demko play can sometimes float the team and make management think they have a Stanley Cup contender on their hands.
Next year could be quite a pickle.
I was half-surprised Philly Delight didn't get the first chance in the shootout, but Kumzenko, who won the most exciting player of the year award, made sure to go North/South just enough to score the lone goal: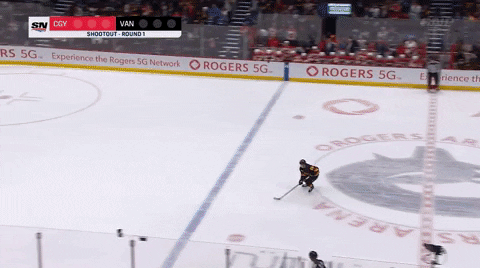 I appreciate Markstrom trying that little kick save at the end.
All of which led to Thatcher Demko shutting the doors on Calgary, and hurting their playoff chances in a big way:
Tyler who?
Best I told you it was captain shit
Honestly, I assumed Elias Pettersson would get it, but I think the verbal nature of Quinn Hughes is going to win Rick Tocchet over. I don't think either of them are a bad choice, to be honest, but part of me would enjoy a captain that leans into the promos a little bit.
Speaking of…
They say the best heels are the ones who truly believe in what they're saying:
Look, hockey needs its heroes and villains, and I would much rather a player lean into this side of the scrum game vs every single interview Vanilla Bo Horvat gave during his time in Vancouver. I don't care if you're giving it 110%, I don't care if you just need to stick to the system, give me your real thoughts once in a while. Sports is a better place for it when that happens.
Do you know how many times I had to listen to Bo Horvat talk about how if a couple of bounces went their way, that 7-3 loss might have gone a different direction? The only thing worse than a Bo Horvat post-game scrum is watching an LA Kings game. There is no insight from a Bo Horvat post-game scrum, there is only the certainty that life is fleeting and we're all going to die one day.
So for Bo Horvat to run down Vancouver like this? Have at it Hollywood Horvat, have at it. My only wish is that he had done it here first.
And if it ruffles feathers, who cares? It's sports. Getting outraged over dumb shit is what we do. It's what fuels half of sports fandom.
Cutting promos like this is the perfect thing for hockey, which struggles to remain relevant at the best of times.
It's also no secret that playing hockey in Vancouver hasn't been fun in a decade. Bo isn't exactly breaking new ground here. But in terms of sports/WWE dynamics, this is about as big of a heel turn as you can get in this city. You absolutely should cut promos like this, but you also have to accept the response you get from the city you name dropped.
The former captain, a player that Hank Sedin gave the "C" to lead this franchise to the next great Stanley Cup run, only to watch it turn into a decade of flaccid performances, now he's out here dropping a leg on Elias Pettersson and creating the New York World Order? Yeah, that's going to garner a reaction.
Now, you're going to see a lot of arm-chair therapists try and use this comment and the reaction to it as some deeper insight into the human psyche. They will try and shame you for your reaction to the comment. It will be boring to read, and very tedious, but the people making those posts will feel very proud about themselves, so just let them be.
It's actually quite simple at the end of the day. It's sports. Sports has good guys and bad guys depending on the market.
Bo Horvat SHOULD be saying this for his new team. Their fans SHOULD be loving it.
Fans in Vancouver can either go "lol, he ain't wrong" or "eff that guy, I hope he never wins another game in his life." You can sit back and sympathize with him, or you can be outraged and want him to lose the rest of his career. Either response is correct.
At the end of the day, because of one small interview, next years game against Islanders has now become must-see TV.
And as we've seen this season, anything that can add some flavor to an 82 game schedule should be welcomed with open arms.
See? This is the good stuff. The promos being cut back and forth.
Just an absolute legend. Canucks games will not be the same without you.
I can't think of a better person to help navigate the last decade of mediocre hockey with the humor and fun you brought to the games.
Pour another ketchup out tonight for Cheech.