The Stanchies: No quit in Coquitlam's Mat Barzal, Tyler Myers goes rogue, and the Canucks get bounced by the Islanders on 90s Night
Photo credit:© Bob Frid-USA TODAY Sports
The Canucks and Islanders each embraced 90s Night in very different ways. But neither got it completely right.
For starters, neither team wore their 90s uniforms. The Canucks teased everybody by wearing Black Skate equipment in practice yesterday, but only to donate them to a good cause. Those monsters!
The Islanders didn't get the memo either, leaving their iconic Fishsticks Reverse Retro uniforms back home. But they did bring their early 90s scoring touch. Coquitlam's Mat Barzal had a Pierre Turgeon-esque evening with three points. Jean-Gabriel Pageau found his inner Ziggy Palffy with a pair of goals. The only real difference was Ilya Sorokin playing less like Glenn Healy and more like Billy Smith.
By comparison, the Canucks played their way through the entire decade. They had a first period reminiscent of the Pavel Bure-Trevor Linden era team, but they ended the night on the wrong end of a 6-2 loss a lot more closely resembling the Mark Messier-led outfit that dropped 
a team record 22 home games at home
.
When it was all said and done, the Canucks are learning the hard way that even the teams clinging onto playoff spots have a big leg up on them. And not even a potential early return from injury for Thatcher Demko is likely going to save that.
Too grim too soon? Welcome to a brand new calendar year of Canucks hockey!
That's quite the guest list of people here to offer multiple first-rounders for noted veteran of 900 NHL games Luke Schenn.
Someone's gotta drive the prices up, it might as well be me!
Best Broken New Year's Resolution
We all promised ourselves that we were going to have more fun in 2023. Watching this game has already put us behind the 8-ball fast.
For those of you who didn't see the game, this felt like SUCH a good omen at the time. Imagine watching your best player size up the puck carrier, and throw his hips into a hit like he had Sir Mix-A-Lot playing on a loop through his head.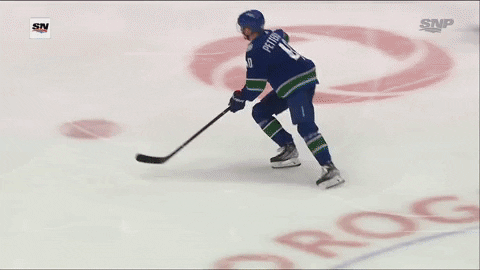 Yeah, he might have missed. But after spending a week talking about the lack of compete from certain players, the effort was especially appreciated here.
It really did seem like the initial spark.
Best Goalie (Coaches) Battle
The way the Canucks were sustaining pressuring in the early stages, it felt like the Islanders were about to fall head first into a trap game. And they absolutely might have, if not for Ilya Sorokin limiting the Canucks to one goal on 12 shots in the first.
You can probably name every NHL head coach from memory. But not even the nerdiest hockey fans among us can usually name more than a few NHL goalie coaches.
"Let's see, there's Ian Clark obviously. Uhhhh Rollie Melanson… wait, he's not with the Devils anymore. Is Luongo the Panthers' goalie coach? No?"
Today let's introduce you to a new name to remember; the Islanders' Mitch Korn.
Mitch Korn has been working with NHL netminders since 1990 and has mentored some of the best puck-stoppers in league history. Dominik Hasek's back-to-back Hart Trophies, Pekka Rinne's early seasons as a Vezina finalist, and Braden Holtby's rise to a Stanley Cup champion? All Mitch Korn's protégées.
On the island, Korn has had an incredible knack for giving struggling veteran netminders a renaissance, while still turning prospects into works of art.
Tonight, we got an update on his latest work with Ilya Sorokin.
If not for his countryman Ilya Shesterkin stealing all the headlines on Broadway, Sorokin would be earning top billing in New York. His 14 wins only puts him in a tie for [tenth] in the league, but his [.926] save percentage ranks third among the 27 goalies with 20 or more games played.
Sorokin didn't have to make too many five alarm stops in the final 40 minutes, but he came up with the puck as often as needed when the Canucks started the game firing on all cylinders.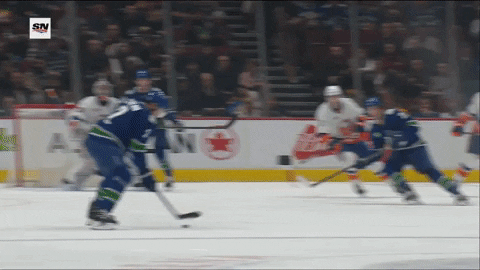 Sorokin's cross-crease movement looked exceptionally smooth, and his puck tracking was able to keep up.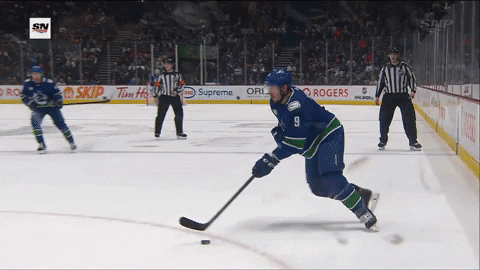 A few rebounds leaked out on the Canucks first power play, but his ability to recover and follow the play made the difference in one ending up in the back of the net.
Tonight Korn's pupil walked away with a far higher grade than Clark's. But if Demko is cleared to return in time for the rematch in February, there could be a more legit goaltending battle in store.
Best 'As Good As It Gets'
The Kuzmenkshow started off looking like it was going to be an 'Avatar 2' type of box office smash, playing on half the screens at the Scotiabank Theatre. Alas, it ended up as a single matinee.
In his first few shifts, Kuzmenko hounded the Islanders defence and created multiple early scoring chances just by putting strong pressure the puck carrier.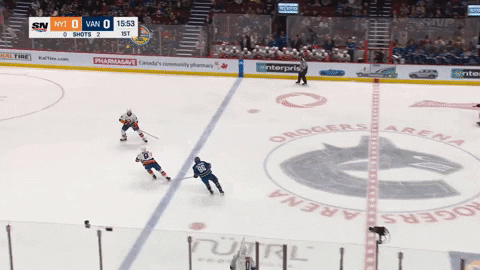 But as quickly as he played like an offensive asset, he just as quickly became a defensive liability.
Best Boarding the Titanic
"Hey, uhhh Captain? What do you think that iceberg-shaped shadow is in the distance?"
Best "Anything You Can Do…"
It's become pretty clear that the Canucks' goalies are avid Stanchies readers, because they keep trying to one-up their best saves from the last few games.
Here after Kuzmenko's ill-advised cross-ice pass gets intercepted for 2-on-1, Martin starts to challenge J-G Pageau with the expectation that Oliver Ekman-Larsson will take away the pass option to Zach Parise.
Instead, OEL also challenges the puck carrier, leaving Parise wide open. Martin quickly realizes the mistake and sharply slides back towards his post as Pageau sends the pass across.
All Parise can do is watch as the Canucks netminder harmlessly kicks his shot into the corner and hope that if he gets a second chance, Martin won't be able to stop him.
Best EveryBOdy (Backstreet's Back)
There's only so many Bo puns I can use for titles if he's gonna score another 33 of these. The next one might just be gibberish.
Bo's skill at deflecting pucks has become a work of art. There's two things you'll notice on this play; the first is how little he actually has to move his stick to put it in the puck's path, because he was able to read its' lift the second it left OEL's stick.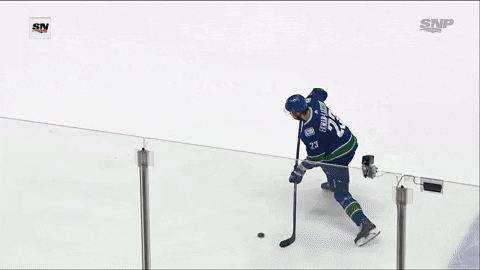 The second is how Sorokin just shrugs after it curves back towards his stick, as if to say, "Oh you've GOTTA be kidding me."
Zach Parise would get his second chance not long after the first, and somehow Spencer Martin outdid himself. Again!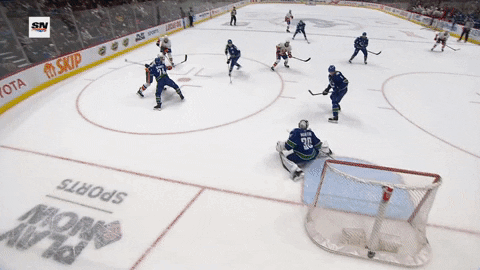 Martin did kind of make his own mess by kicking the initial shot directly into the slot, but his recovery as Parise collected the rebound and tried to skate around him was as clean as they come.
Best You Can't Do That on Television!
My favourite part about this clip are the Beavis and Butthead laughs Shorty and Cheech let out when they recognize the double entendre. It's like a pair of college dormmates laughing at the word 'duties'.
Ha ha, duties.
That lift was so smooth, it looks as if Thomas Gradin was prepping for an upcoming commercial audition.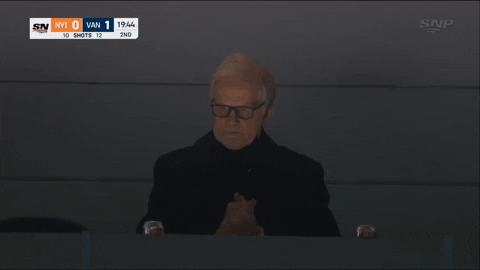 He just has to make sure he shows the label to the camera next time, so we can be absolutely sure that he enjoys "The Choice of a New Generation™".
Is it a coincidence that someone spotted a rodent in the arena mere minutes before a guy named Räty tied the game? I think not!
And as far as omens go, getting scored on by an Islanders fourth line best known for being paid by the fighting major was pretty damning.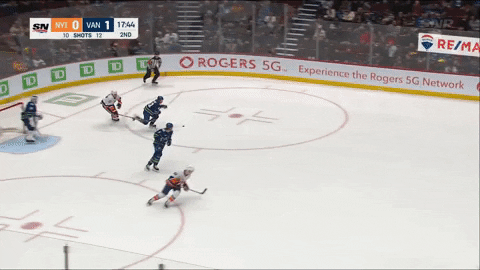 In what would become a reoccurring theme of the evening, Tyler Myers completely misreads a Quinn Hughes' pass attempt and allows Matt Martin to swoop in. With Myers and Dakota Joshua both trying to cover Martin, Hughes is forced to move over to cut off Ross Johnston, leaving Aatu Räty plenty of time to receive the pass and whip a shot over Martin's blocker.
Surely Myers wouldn't make equally bad decisions leading to more Canucks goals, right?
Best Saying Something Nice First
Let's be fair here. Outside of this penalty there wasn't anything too egregious about Miller's game tonight. But that's not exactly a great takeaway for a guy whose seven-year contract extension hasn't even kicked in yet.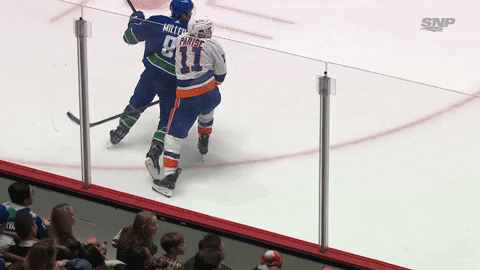 This penalty a prime example of "competitive". Cause there's no better proof of how competitive you are than putting your team down a man cause you lost your cool in a dumb way.
People are tired of hearing media who've never played in the NHL take issue with J.T. Miller's work ethic. And I get that.
What if a former Canuck known for his hard work on the ice had something to say about it instead?
The net negatives are piling up on Miller fast.
After killing off the Miller penalty, Myers performed his good deed for the day by what can only be described as "seeing a wasp on Anders Lee's glove and trying to squash it". Very nice of him, but still a slashing penalty.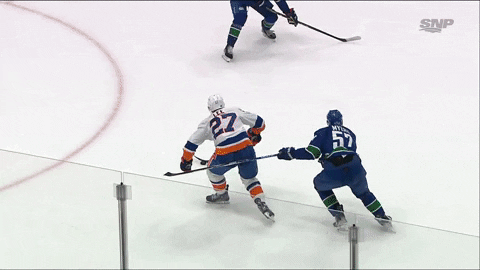 That lumberjack chop was such a wild decision to make that it might be time to put on the tinfoil hat. Does Tyler Myers really want Connor Bedard?
My best advice to Tyler? If the Canucks do finish near the basement and end up with the right to draft Bedard, just say that was your plan all along. You'd get a statue in front of the arena, guaranteed.
Best Death, Taxes, and Box Formations
Whenever the Canucks' penalty kill sets up, you know exactly what you're gonna get.
"My boy's a box! Damn you! A BOOOOOX!!!"
The stagnant formation limits the Canucks' ability to put real pressure on power players, and prevents them from getting their feet moving at a pace to match a man advantage.
It's exactly that that opens the door for Jean-Gabriel Pageau to walk right through Miller and Quinn Hughes and pounce on the loose puck kicked out by Martin.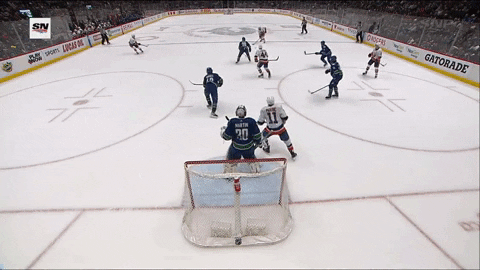 A lot of people's frustration went to Bear, but he was guarding his man Parise, albeit not closely enough. But giving up such an easy rebound chance to one of the league's worst power plays gives us a pretty good inclination that things aren't trending in the right direction.
At one point last offseason a J.T. Miller-Noah Dobson swap felt like a perfect fit for both sides. The Islanders needed offence and weren't a favourite to land the big fish free agents, while the Canucks needed youth and skill on defence.
A deal of some kind between the Canucks and Isles got tantalizingly close to fruition at the NHL Draft in July, but fell apart at the last minute after Lou Lamoriello managed to get Alexander Romanov from the Canadiens.
There's no telling who would've been involved in that potential deal, but imagine if Dobson was playing on the other side of the ice tonight instead. He definitely wouldn't have been able to tie up Horvat's stick so neatly here and keep the Canucks from tying the game.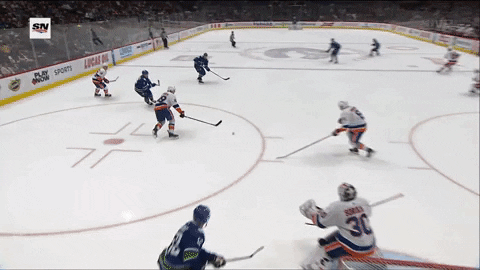 There's a lot of issues that the Canucks need to sort out on the blue line these days. But man, is it clear how badly they're missing a defender who can clear the net front the way Dobson does.
Best Nightmare Dressed Like A Daydream
Sometimes I wonder what Tyler Myers is thinking when he throws an arrant pass to absolutely no one that's immediately picked off and ends up in the back of his own net.
I have two working theories.
One is that he's a mental multitasker who's thinking about all the work he's gotta do at home while he's playing. "Now that it's January, I really should get a jump start on my taxes… oh, and the Christmas lights have gotta come down, too."
The other is that he's just a "No Thoughts, Just Vibes" kind of player who'll make a instinctive decision just to see what unfolds.
I'm guessing the latter is more likely.
Best All Work and Bo Play Makes Bo a Bo Bo
Imagine someone telling you at the beginning of the season that by the first week of January, Bo Horvat was going to be a dead heat with Alexander Ovechkin for the third spot on the NHL's goals podium.
"Haha, surrrre buddy. Next you'll be telling me that both of them will be trailing Tage Thompson."
But it's all true.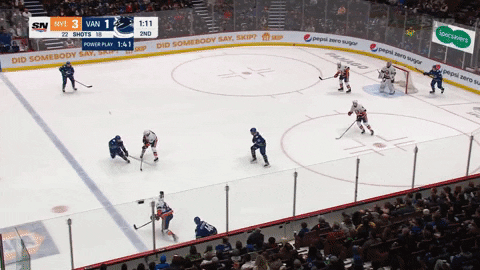 With Matt Martin in the box, Miller makes a great read by noticing the lack of a serious stick checking threat from Scott Mayfield – see, we can be nice about J.T. – and floats a perfect saucer pass over to a waiting Captain Canada.
Horvat's big wind-up between the hashmarks is so hard for a goalie to read, because it doesn't allow them to track the angle of the stick blade and only gives them a short window of reaction time. It's basically a "hope you're challenging the shooter enough and see" type of save.
The odds didn't favour Sorokin this time.
Best Statler & Waldorf impression
As someone who's had the good fortune of sitting next to Drancer and Wags once during a Canucks game, I can hear those jokes crystal clear in my head.
What's no laughing matter is the miscommunication between Ethan Bear and Brock Boeser that lead to the turnover to Brock Nelson. As Bear turns to send the puck back up the ice, Boeser is already facing the other direction and has no clue a pass is coming.
Nelson flips the puck to Anders Lee, who spins and lifts the shot just over Martin's glove and barely under the crossbar.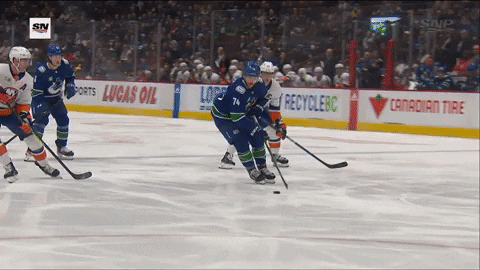 Bear had a pretty rough night defensively, but hopefully this isn't total claws for alarm.
Sorry, I had to throw one Bear joke in there.
"Alexa, play 'I Got You Babe' by Sonny and Cher."
This play might've blown the roof off the Rogers Arena private suite with all of Mat Barzal's friends and family, but it also let all of the air out of the "close game" balloon.
With the amount of time and space the Canucks defenders gave him, Barzal was able to reach the same speeds that Coquitlam Ikea shoppers do driving down Highway 7 for a furniture sale. But once he passed off to a trailing Casey Cizikas, that could've been the end of it.
But Cizikas might've tipped off how to beat Spencer Martin off the rush.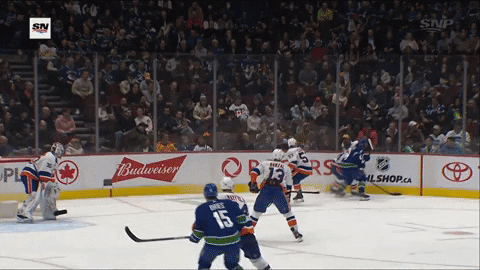 Martin's glove hand has been lacking the reaction time required to adjust on a quick shot, thanks in large part to how close to his body he positions it. If he held it out in front a bit farther, it'd be a lot easier to cut down the angle on shots like the one Cizikas took.
Mat Barzal wasn't the only Greater Vancouver native to hit the scoresheet on the Cizikas tally.
Surrey's own Parker Wotherspoon was one of the 18,860 people in attendance for Game 7 of the 2011 Stanley Cup Final. His parents had Canucks season tickets, and as a defenceman he grew up idolizing Dan Hamhuis, Chris Tanev and Alex Edler.
How fitting that he made his Rogers Arena return as an Islander on the same night Edler himself was being honoured by the Kings for playing 1000 NHL games.
Really cool that the young Eagles have begun to spread their NHL wings.
Don't mind him, Sorokin's just taking a nap in between the two shots the Canucks took at him in the third period.
Playoffs?? Playoffs??
The on-ice product might not be at it's best, but at least Canucks fans can rest easy knowing that they've never had less than the best P.A. announcers in the NHL. First the late John Ashbridge, and now Al Murdoch, who continues to get the call for all of the league's prime time events.
Not a bad start to 2023 for Al.
We have some absolute gems for you tonight.
Talk about the perfect marriage of Canucks and Islanders disappointment mixed together. For Vancouver, it was Linden leaving all together. For New York, it was giving up Todd Bertuzzi and Bryan McCabe to only keep him for a year and a half.
What're the odds this person actually played the long bet?
For one thing, the Canucks wore the Salmon Skate for only two seasons before switching to the Navy Orca in 1997. Markus Naslund only wore #22 during his first half-season in Vancouver across ten regular season games and six playoff games before switching to #19 for 1996-97.
My guess is that this is a throwback replica. But if this is an original version, what an incredible bet.
It's hard to lose sleep over Adrian Aucoin becoming a regular 25-point defenceman when he netted you Dan Cloutier in a 2001 midseason trade. But on the other, equally correct hand, it's very easy to sleep over it.
There are a couple ways to look at this. One is with the glass half empty and how this poor person has some incredibly rotten luck. Even for a Canucks fan.
But if you look at the glass half full, you might say they're the best possible captain to command a shiny new tank.
You've already seen the clip of what lies at the end of the rainbow, but sometimes a friendly reminder goes a long way.