The Stanchies: Myers vs. Tkachuk and Miller vs. everyone in Canucks win over Senators
Photo credit:© Bob Frid-USA TODAY Sports
Who needs Bedard?
Not a Vancouver Canucks team on a four game winning streak, the latest a 5-2 victory over the Ottawa Senators.
We all know the context surrounding the games, so we don't need to dive too deep into an intro. It's the annual Vancouver tradition of winning meaningless games and hurting their draft position, but then pretending it's teaching the team some magical fact about how to win future games, which never happens, but somehow repeats itself near the end of every season.
This is just how hockey works here.
The good news is the Canucks withstood a very strong first period from the Ottawa Senators, and aside from a couple of blips here and there, it was probably the best the Canucks have looked under Rick Tocchet.
The bad news is we still have to wait for next season to see if any of this even means anything.
Let's make some gif money, shall we?
Hey. Look at us. Who would have thought? Not me.
Best committing to the gimmick
While Andrei Kuzmenko continues his Anti-Tank Missile ways, there's one person you can rely upon to help…loosen things up a bit.
Enter one Chaos Giraffe:
Mere moments into the game, Tyler Myers "accidentally" passes the "puck" into the "slot" and gives "up" a fantastic "scoring chance" and I'm being told by my editor I am not using quotes correctly.
Regardless, Claude Giroux got the game's first high danger chance and pinged the puck off the piping, presenting pangs of pouty players poo-pooing posts and I'm being told by my editor not to force alliteration. Apparently alliteration "isn't sexy enough" and "doesn't sell advertisements".
The point is the Senators started the game with a heavy forecheck (just pretend that's why Myers made the perfect pass to the Senators, work with me here) which was heavy foreshadowing for the rest of the period.
While the Senators' heavy forecheck (complete with heavy bodychecks and a hint of lime) stood out the most in the first period, the Canucks had several quality offensive chances from their side of things.
And who else but Elias Pettersson to lead the charge: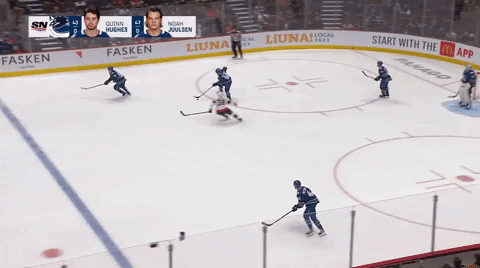 Elias is just straight up playing hockey like it's a video game on that shift. Just skate around every player on the ice until you can try and charge the puck onto the net and try and slide in the easy goal, while the player on the open mic screams at him and accuses him of hacking.
Also please note the sexy leg drag Andrei Kuzmenko pulled out to keep the play onside, thrusting out a foot like Bugs Bunny showing off a dress for the first time.
If Elias Pettersson is the Kurt Angle of the Canucks, then Brady Tkachuk is the Brock Lesnar of this feud, as he was the most physical player on the ice on the night:
A reverse check that dropped Kyle Burroughs, followed up by an in tight close shot that almost scores? That's 2003 Todd Bertuzzi hockey right there. Not to be confused with 2004 Todd Bertuzzi hockey.
We don't talk about 2004 Todd Bertuzzi.
And if Pettersson is Kurt Angle, and Brady Tkachuck is Brock Lesnar, I guess that makes JT Miller, I don't know, Edge? Sure, Edge:
The soon-to-be Rated R Superstar was matching the Senators' physical play and has honestly been resembling the Jimothy Timothy Miller fans across Canucks Nation fell in love with. For some reason being lazy doesn't sell very well to a hockey market, so apparently when you tighten things up, start throwing hits, and become an elite T-1000 penalty kill scoring machine, you win the crowd back.
Best example of the new "structure"
Totally nailed that sarcastic quote.
OK so here's the thing. Do I think Rick Tocchet has changed the way the team has played? Of course. His style is different from Bruce Boudreau where in Tocchet really wants the heavy north/south game complete with forecheck. He probably watches the Senators play and tries to add them on Tinder. Bruce, it felt at times like he gave a bunch of 5 year olds bags of sugar and told them to go run in the forest.
That being said, the biggest factors in the team looking better as of late is the easier schedule and the fact Thatcher Demko is back:
A slow change leads to Chychrun getting a breakaway that Thatcher Demko makes look so simple and effortless that young kids aren't even going to bother trying to become a goalie anymore because why do something so easy and boring?
I will say that I think Tocchet's system might very well be better than I am giving it credit for. I feel I am very much in "fool me twice" territory, so we will need to see it in action for an extended stretch of hockey next season, against quality opponents, before we declare it a victory for systems fans everywhere.
Best absence makes the heart still cost $7.26 million against the cap
Craig Christian Wolanin continues to be a player that is clearly earning a contract for a shot at extended NHL play next season. Whether that's in Vancouver or elsewhere remains to be decided, but until we reach that point it's still fun to watch him make smart offensive reads that don't turn into a 4-0 rush against:
Again, I am not posting clips of Erik Karlsson-esque moves and going "This Wolanin kid is the steal of the century, dust off that Norris trophy!", but what I am saying is he has looked extremely confident and useful at an NHL level during his time on the Canucks, as well as being lethal and elite in the AHL.
Best taking your best shot
We're 100% in the "lowered expectations" part of the season, in which you assume the Canucks will win out most of the games, as is tradition.
You'll also see players who may or may not actually exist do a couple of things that look kind of cool. This is known as the Mika Noronen tradition.
We have no way of knowing if Kravtsov will make the Rangers rue the day they quit on him, but what we do know is he has done a solid job of finding himself open for shots in a couple of games:
I don't know how much stock you want to put into a guy getting off good shots in the slot, but it's better than the alternative of being Victor Oreskovich.
Also please note the slick pass by Brock Boeser to set up Kravtsov to set up that second shot.
Another thing that you can file under the "kind of cool" heading is his love of toe drags to create room for shots:
When Bo Horvat left, I won't lie, I was deathly afraid the Canucks would hit maybe one toe drag a week, two if they were lucky and Tyler Myers went full Chaos Giraffe.
But with Kravtsov on the Canucks, it assures the possibility of a T-Drag (that's what the kids call it on a website called Urban Dictionary I believe) at least once a game, and I am here for it.
Best making Schenn Daddy proud
While I loved Luke Schenn on the Canucks, trading him for a draft pick was the right move, especially when you know you have a former Langley Eagle ready to step in and throw down in his absence:
Fun fact, Burroughs put up 40 points in 33 games for the Langley Eagles.
Fun fact number two, the Langley Eagles are garbage in comparison to the superior bird team, the Surrey Eagles.
Best ring ring ring banana phone
The Kuzmenkshow did it again:
The guy has 31 goals this season. He is showcasing incredible hands to go along with what is looking like a very high hockey IQ. When you can kind of keep up with Elias Pettersson, that means something.
Give me a 50 goal season next season from the Banana Phone Kid please.
That is just a slick goal. He hypnotizes four Senators with the hockey equivalent of "peek-a-boo" and then calmly deposits the puck in the net with Kyle Wellwood ease.
There can never be a full tank on any team that has Kuzmenko on it.
I think that's good.
Brady Tkachuk is honestly a fun player to watch. He's super physical, he can score, and he also tries to do track and field meets in the middle of hockey games: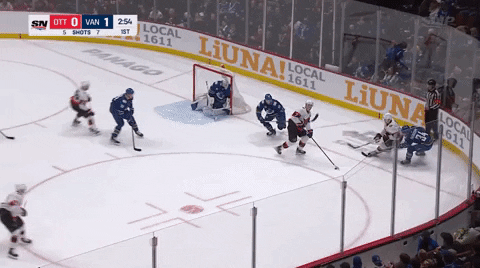 The crowd started buzzing while Brady did this, with murmurs of disapproval rising with every cut back, as if Brady was disrespecting the game of hockey and Canada itself, until the play ultimately ended with an intercepted pass. The crowd then cheered on lustily, mostly because I wanted to shoehorn in the word lustily tonight.
And yes, your eyes did not deceive you, that was Brisebois keeping pace with Brady at every turn.
Honest question: Would OEL have been able to do this?
Best using a Jeff Paterson tweet to try and make use of a random gif I had
Quinn Hughes finished the night with almost 29 minutes of ice time. 5 more minutes than Senators ace Jakob Chychrun.
I also want to point out the improved play from JT Miller. Everyone and their mother knows JT Miller likes to spin with a backhand no look pass to Quinn Hughes. Earlier this season, though, he was doing a very lazy version of it, ALL OF THE TIMES.
It could be the start of the game and JT Miller would full sprint to his favorite spot and then try and no look back hand a slow pass through three opposition players. It was awful and dehumanizing. It was the sort of thing that made you quit doing your favorite hobbies and just listlessly page through Netflix for four hours before just giving up and going to bed.
Jimothy Timothy however? That guy gets the job done quickly and efficiently:
That's the JT Miller that takes people to the train station. His game has done a complete turnaround seemingly since national media played out all of his deficiencies on air, so score one for public humiliations.
Now, he still needs to work on his 5 on 5 production (he's oddly a special teams merchant now, penalty kill included) but it's been like a month since we've seen a lazy backcheck from JT Miller, and that's what you need from a highly paid leader on your team.
Best the kids are all right
Best getting your chances
Brock Boeser, who Rick Tocchet recently expressed the idea that he could get more out of The Flow, didn't get a goal on the night, but he still showed off what I think is his underrated hockey IQ:
He gets himself into a smart position, and then boots the puck up to his stick and gets a sneaky back hander on net through a screen. That's a solid value play right there, done with fantastic hair.
JT Miller got the "thank you, next" pass from Nils Aman, as the Canucks penalty killing, once the historical joke of the NHL, is now the historical joke of the NHL but one that can also kill and maim the opposition:
That's solid pressure from Aman and Miller who force DeBrincat into turning the puck over, and their calm give and go for the easy goal is the chefs kiss on that play.
But I would be remiss if I didn't ask what in the hell was DeBrincat doing on this play.
Not only does he choose to try and block the pass with an obvious diving attempt, he then slides himself out of the play allowing JT to go to the net unimpeded.
Even the Chaos Giraffe watches this and thinks Alex needs to calm things down a bit and show some restraint.
Nick wasn't Holden the line on this goal:
See, because his last name is Holden and it sounds like holding.
But seriously Nick Holden looked like trash on this goal. Beaten along the boards easier than JD Burke missing a tap in on an empty net, then he turns around and stops skating before giving the ol' "Oh is he actually going to take that breakaway, wtf" and then starts skating again, very very slowly.
That being said, full credit to Dakota Joshua for pushing forward with that hot hot North/South action Tocchet loves so much and driving hard to the net, resulting in the in the easy tap in for Nils Aman, which as mentioned previously, JD Burke would have missed.
I know Ottawa is pushing for the playoffs, but they had several large lazy mistakes that resembled early season Canucks more than anything. And you never want that comparison.
Sometimes you just let the goalie know you could have killed him with your award-winning shot if you had wanted to:
Best and now for something completely different
Best checking someone directly into the Smackdown hotel
Brady Tkachuk was too busy wondering if he could, he didn't stop to think if he should:
That's just a grown ass Chaos Giraffe protecting his territory plain and simple.
You want to charge the net of the Thatcher Demko and poke at a rebound? Tyler Myers had something to say about that.
The Chaos Giraffe was not credited with a human goal on this play as the shot hit the post, but alas.
Best would you like Dries with that
Aman, Joshua, and Dries have all shown enough flashes this season that you kind of want to see them back next year. Not to take anything away from Matty Two Shoes Highmore, but it's been nice to see some fourth line players really excel and kind of find a bit of a rhythm for themselves. And yes, rhythm is a dancer, Bowman.
The Canucks fourth goal was a prime example of this, as Tyler Myers, committed to the tank, "accidentally" turned the puck over, leading to Alex DeBrincat missing the net, which Senators fans were completely fine with. Then Joshua tapped the puck up along the boards and led the rush down the ice, finishing with the snipe show from Dries:
Sheldon Dries now has 10 goals on the season, which is pretty impressive considering I was wondering if he'd be fighting Zack Fitzgerald on obscure Canucks trivia night when he was first on the team. But much like Wolanin, the Canucks are finding some decent bodies amongst these AAAA players. And while the odds of them having a lengthy NHL career is probably pretty small, it's a far cry from over-spending on veteran talent who struggled to produce points.
Also you're forgiven if your heart briefly stopped when Thatcher Demko shook out his leg on that DeBrincat shot:
He played the rest of the game, but anytime he shakes a limb out I start looking nervously at the IR list.
Best jinxy jinx man jinxing stuff
Patrick Johnson, a man who brews a mean cup of coffee but also hates shutouts, ruined Demko's bid for the blank scoresheet:
Pat will try and tell you that he tweeted that after the goal was scored, and then mention some mumbo jumbo about how time works differently in the arena, but we all know what he did.
The end result was a bit of a broken play that ended up on the stick of Claude Giroux, who can occasionally be good at scoring the puck.
Up until this point, however, this was probably a game Rick Tocchet would put on his resume to showcase how his system works, and how if you just sit through a two hour time share presentation, he can show how you too can be an NHL coach in no time.
There was a time when this goal would have crumbled Canucks Nation:
How many blown leads have we seen this year? Too many to count.
I give credit to Tyler Myers and Nick Holden on this play.
Tyler Myers for setting the perfect screen and always being committed to the tank, no matter what.
And to Holden for that slick stutter step he took to freeze Demko who dropped down into the butterflies, and as a result was crab walking like Axl Rose while he tried to figure out where the puck was.
The good news for Rick Tocchet is his team did not turn over and die, they actually, surprisingly, pushed back.
Normally the Canucks have turned over and died at the first sign of resistance to one of their leads, but this plucky Canucks bunch that hates draft positioning pushed back and actually had the Senators on their heels.
First you had the Philly Delight walking in like a young Andrei Kuzmenko eating his first banana, and almost scoring on a hell of a dangle:
Then you had Anthony Beauvillier forechecking hard and causing a turnover, and almost skating the puck into the net: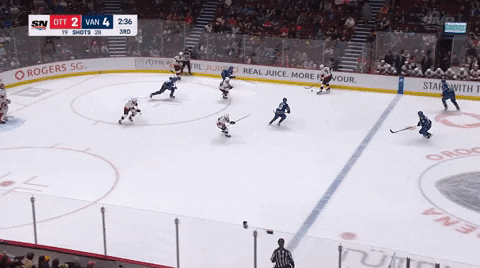 To the Senators credit, they did get one last serious chance to score when Brady Tkachuk went hard to the net:
Oh, sorry, that was Myers trucking him into the post, how did that get in there.
Here it is, it's Tkachuk getting in behind the Tank Commander Chaos Giraffe and almost putting the puck five hole on Demko:
Then the Senators took two penalties and ruined their chances of anything resembling happiness, which I will summarize with this gif:
After taking two penalties, the Canucks iced the game after Brock Boeser decided to be super nice for reasons (bees?), helping Kuzmenko on the unlikeliest last second 50 goal chase in NHL history (he's got this, right?):
With that win, the Canucks put Boston into the playoffs, and further away from Connor Bedard.
And they said Vancouver had nothing left to play for. Pfft.
You know how many Skriko jerseys you see around??
The guy put up four straight 30 plus goals for Vancouver, and rocked one hell of a turtleneck.
Fun fact, Skriko played with the Tkachuk's dad in Winnipeg for a season.
Hey I know them!
We don't talk about him.
The four game winning streak will be tested against Dallas on Tuesday, but there are plenty of winnable games left on the season for this team.
I know Team Tank wants that Bedard positioning to get tighter and better, but you just kind of have to accept that this team is going to win more games than you'd hope down the stretch.
We have traditions for a reason.