The Stanchies: Miller's new level, Elias Pettersson's takeover, and Brock's big night
Photo credit:© Dennis Schneidler-USA TODAY Sports
Forget the implications getting two points has on the draft rankings.
Forget the implications winning has on making management believe the time to go for it is now.
Forget anything to do with potential negative outcomes of the Canucks winning games down the stretch.
Some games you just have to sit back and revel in the small victories.
Bo Horvat lost. Elias Pettersson won.
Look, sports without emotions is nothing; It's a marriage without love, it's a hotdog without ketchup, it's a Dan Murphy suit without a hideous pocket square.
Without emotion, there's no point to any of this. It's why the Canucks' COVID bubble run feels vaguely like a fever dream. I have fleeting memories of toe drags and Thatcher Demko ascending to a higher plane of existence, but if you told me today that it never actually happened, I'd be inclined to believe you.
There was just something unsettling and downright depressing watching grown men chase a puck around a rink with nobody in attendance.
Don't get me wrong, as someone who has played beer league hockey in front of a lonely janitor on his break and considered that a packed stadium, I live and breathe the sport of hockey, so I am not questioning the playing of the game itself.
But when it comes to watching an entire ecosystem built up around a pro sports team, one that transcends everything and becomes a major part of people's lives and a city's identity…watching that without the fans, without the emotion and the energy they bring to the game, it just felt bleak.
So when the Canucks roll into Bo Horvat's new city, after days of watching their fans chant his name and their fanbase talking about their bright future and hugging each other about how Horvat's facial hair will be gone forever, it was downright delightful to watch the Canucks roll to a 6-5 victory over them.
To clarify, trading Bo Horvat was absolutely the right move at the time that it happened (we won't get into the JT vs Bo decision that was made, we've been over that enough).
And for the most part, everyone was excited for Horvat to get a shot at a different future. He had put in his time with this franchise and been a loyal soldier since day one. Nobody wants to see someone go full Shane Doan on their career, so there was a sense of relief that Vancouver wouldn't be solely responsible for Horvat potentially having a paltry postseason career. Go to New York, watch some plays, buy some fancy clothes, and try and make the postseason! See you at the alumni games one day Bo, so long, and thanks for all the fish!
But those chants from the Islander fans, chanting Horvat's name…
Which again, don't get me wrong. That's a fantastic thing for a fanbase to do, and it makes the game better. The more emotion that gets put into the sport, the better returns you get.
But the other side of the coin is the Michael Jordan philosophy: And I took that personally.
It's wrestling 101. It's the heel vs. the face dynamic. There is nothing wrong with what happened, but on a sporting emotional level? Bo Horvat dropped a leg on our Macho Man, and now he is Hollywood Bogan going forth.
In a season with very little to play for, where there is often nothing much on the line, in which losing the game is actually the best outcome, you just have to enjoy the nights like Thursday because they don't come along too often anymore.
Facing off against a former captain and having Elias Pettersson, Brock Boeser, and the new guy Beau Beauvillier lead the charge in the victory?
Well, that's just too sweet.
I had a real battle between Bollywood Bo and Hollywood Bogan in my head, so instead used both of them in the article. This is called hedging your bets — aka, being a coward.
And I won't lie, I was half-expecting Bo to deliver a clothesline on Delia to start the game, to really hammer home my NWO metaphor: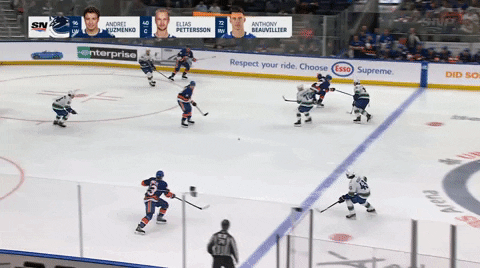 Alas, Bo is still John Cena and was just hustling hard for the puck, but for a brief second, the hint of a heel turn was there.
The Canucks on the second of a back-to-back game had every reason to simply show up so they wouldn't get fined.
But with Bo Horvat in attendance, and a new head coach willing to bench your ass if you don't shave your sideburns, the team had a noticeable amount of jump to start the game.
Case in point, Quinn Hughes working the blue line rocking his junior-style face shield to protect a busted nose from Thursday, finding Phillip De Giuseppe, a player I literally do a fist bump for every time I spell his name right without looking it up:
Then the new Beau almost tapped in a pass that had a lot of ambition but not a lot of career planning as it sailed through the crease: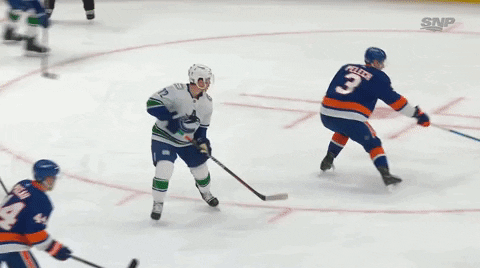 The night ended with 34 shots for Vancouver to the Islanders' 29, but give the Canucks credit for coming out hard and setting the tone early. Far too many games have seen the Canucks looking flat and getting bombed out of a game before the first period was even over, which often leads to a night of waiting to see when JT Miller is going to break his stick as the main highlight of the night.
Best when it rains it pours
With Luke Schenn out of the lineup for what I assume are cautionary reasons (he looked like he tweaked his back last game, which after throwing 3000 hits in his career, I am amazed his body doesn't implode when he sneezes), and with Quinn Hughes banged up, OEL getting hurt felt like just another step in the journey for the much maligned back end of the Canucks.
OEL briefly left the game after taking this hit into the boards: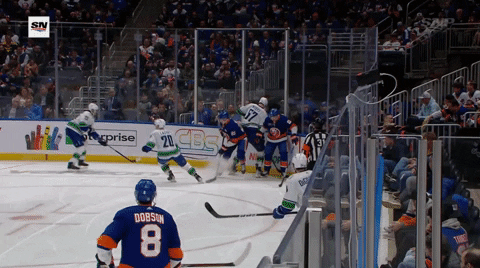 But was back a minute later, thus ending a storm of jokes on social media about tanking and whatnot.
Sometimes you wonder if OEL even thinks about the fanbase when he pulls things like this.
It's no secret that Tyler Myers and OEL have been an adventurous pairing, often engaging in acts of ménage à trois defence, covering one man together while leaving someone completely open in front of the net.
But there are times when things go well, like on this rush when both defenders switched sides and kept their coverage:
With the Chaos Giraffe vibing out at the best of times, it's understandable if it's hard to get a good read on what he might do next. Add in OEL making poor decisions on coverage at times this season, and it adds up to an expensive disaster at the best of times.
On this play, though, Myers switches to cover the boards, and OEL dutifully shoulder checks and changes lanes to cover the middle of the ice, and ends up cutting off the pass in front. This then leads to Elias Pettersson swooping in to set up the zone exit. That's tight, almost like a playoff game coverage.
I don't point it out to go "They're turning it around now, boys!" but to merely be fair in showcasing the good with the bad. The main heat they get as a pairing is how much they get paid, which is just how the salary cap era works. The spotlight gets bigger the more money you make.
Okay, so there are several things that are in play on the Islanders' first goal: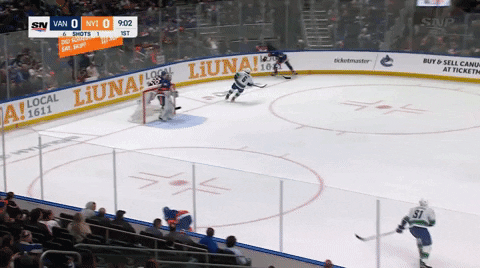 OEL has lost the benefit of the doubt from the fan base because he has been torched for a lot of goals. So when he tries to stick with Kyle Palmieri and gets torched on the cutback, flashbacks of goals against flood your brain and you can't help but assume OEL is now at this point personally picking you out of the lineup to try and make your life miserable with his defending. That being said, he played this pretty tight and had an active stick and he didn't make this shot easy on Kyle. The fact he keeps trying to hit Kyle's stick and tries to disrupt the shot, that's good stuff.
Palmieri makes a fantastic shot here. Post and in? That's a solid play right there. Sometimes you have to credit the shooter. Palmieri didn't get 30 goals in 2015 playing with Lee Stempniak and Reid Boucher for nothing.
Collin Delia and Spencer Martin haven't had a game in which they've made the big saves for quite a while. You have to hope your goalie can charge out and challenge the shooter, but you can see Delia start to scrunch down and almost make himself look smaller before the shot even gets taken.
This now ends "the anatomy of a goal".
Elias Pettersson makes a forecheck on what looks like a pretty innocuous play, and feeds the puck to Oliver Ekman-Larsson, who simply fires the puck on net to tie the game: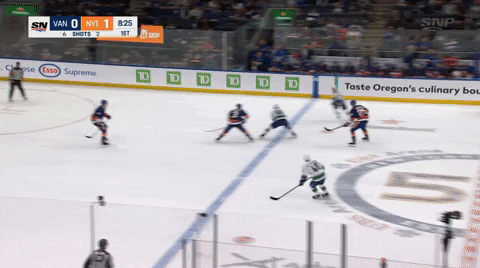 A night after I ranted about point shots being the worst thing in hockey, of course the Canucks utilize it to get their first goal.
It's a good example though of why coaches hammer home the always be moving your feet part of hockey. Why you should always be checking hard. Because you never know what can happen if you get your stick on a puck, but you sure as hell know what happens if you give time and space to the other team. Instead of an easy outlet along the boards, EP40 disrupts their play, gets the puck to OEL, and Beauvillier rushes to the net to set a perfect screen.
There was some confusion about whether that goal was tipped by Beau or not, but I just assume he told the officials to give it to OEL because he had something bigger planned for his first goal as a Canuck.
Brock Boeser entered the game under the clouds of trades and uncertainty, and whether it's through the absence of Bo Horvat on the power play opening up more looks for him, or Rick Tocchet believing in him more than Bruce did, or hell, just old fashioned juicing his value before the trade deadline, don't be surprised if he goes through a bit of a Flowassaince over the next few weeks.
Spoiler alert, Brock had four points on the night, and it's been a while since we've seen the sharpshooting, five-shots-a-game Brock around these here parts:
Brock, was shooting like someone stole his cattle, but the other main takeaway from the goal should be the work of JT Miller.
Looking like a young Peter Reveen, JT Miller enters the zone and cuts hard to the net, then cuts back once he sees his route has been blocked out, then cuts back, then cuts back again one more time for good measure, fully achieving cut-ception, the end result leaving two defenders in limbo.
This opens up enough room to find Brock who has put himself in a position to shoot from a prime position, and boom, Bob's your uncle. 1-1 game.
This is some Jimothy Timothy work right there. JT Miller has always been a high-risk player, someone who tries to thread the needle and can fail in spectacular fashion, but when his work rate is on, he can make something out of nothing like few others can. It's when that work rate goes away that you really start counting those dollars in his contract. But full credit to Miller, his game has tightened up considerably over the last month and it's a far cry from the disaster in his own end that we saw at the start of the season.
Best give as good as you get
I will say that a large reason this game was so entertaining is because both teams played high-event hockey. The high-danger chances were 14 apiece at the end of the game because of plays like this where turnovers ended up as clear looks at the net like this: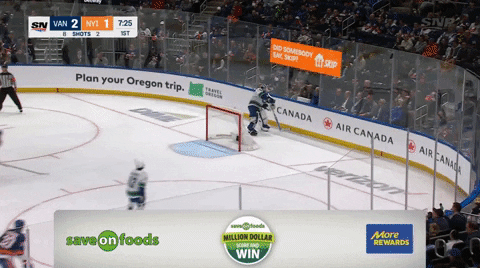 See, in other games that turnover by JT Miller leading to a breakaway against would be the only thing that he did in the game, which left you with a lot of strong feelings and opinions you needed to get off your chest.
On a night like Friday, it was a mere footnote in his overall game.
Miller played almost 23 minutes of hockey and that was his worst transgression? That's called climbing back up the mountain, baby.
The Canucks are kind of in a Sophie's choice situation with their defence. They either remain super passive and never help out their offence, which has created some of the worst games of all time as seen under Travis Green.
Or they try and pinch in and help out, something they're not exactly that skilled at compared to the rest of the league, and get burned like this, as seen under Bruce Boudreau: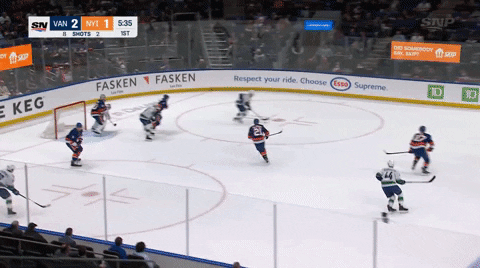 Kyle Burroughs grew up in Vancouver. He knows that sometimes you run for the 99 B-Line and don't make it. Here he pinches in to try and generate a shot in the slot, but mistimes the pass and it ends up going the other way for an odd-man rush goal.
Brock Nelson is one of those guys who will still be playing in 2040 netting another 20-goal season with the expansion Toledo Snapping Turtles, so again, credit to him as a shooter. But this is also another case of Collin Delia making himself small and almost daring Brock to shoot glove side.
It's rough to put blame on the goalies because Martin and Delia have played a lot of hockey behind questionable defence. That being said, the big saves just haven't been there lately either, which makes you realize how spoiled this team has been with Markstrom and Demko's play over the years.
Oh, so you want to cut back on OEL to try and expose him? Brock Boeser ain't having none of that: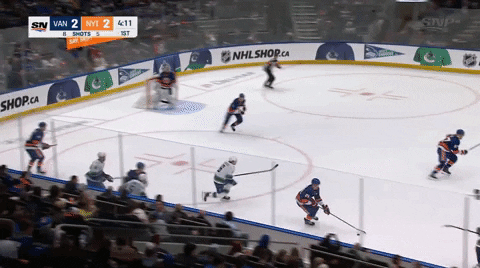 Brock hustling back and helping out his buddy Oliver deal with Bad Brock's attempts at humiliating him. A quest straight out of Hogwarts Legacy.
Bo Horvat attempted his first patented bull rush to the net at the end of the first period, but Quinn Hughes has seen that in practice enough to know how to shut it down: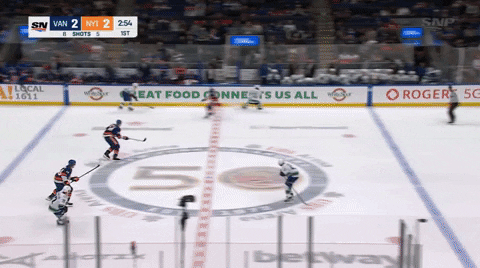 One thing that stands out about Beau Beauvillier? He is very active in all zones of the ice. He's the guy who skates back and deflects Bo's attempt at shovelling the puck to the crease out of harm's way. In other words, I think Tocchet is going to love this guy.
Horvat scored his first goal against Vancouver after a Garland penalty. OR DID HE?
First, let's check out Garland's reaction, which as pointed out to me, looks exactly like the John Travolta Pulp Fiction meme: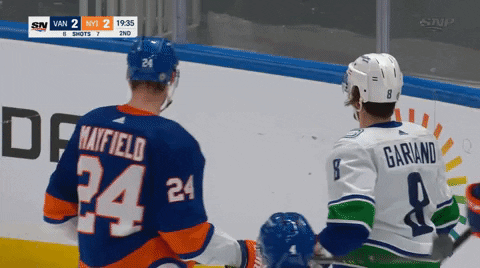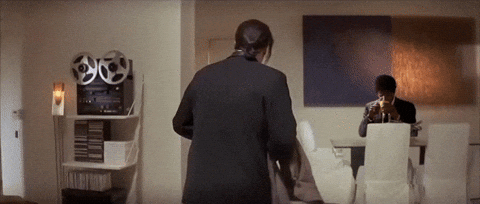 Garland clearly threw a pick on the play, so unless his defence was "I'm so small, that shouldn't count", I don't exactly know what he was confused about.
This led to Bo Horvat scoring what he thought was a goal: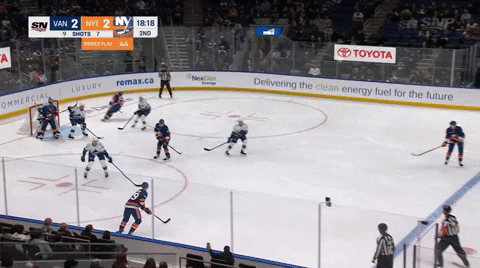 Alas for Islander fans, Tocchet dropped a Boudreau (that's what we call successful heartwarming goal challenges in Vancouver now) and the goal was waived off due to goalie interference: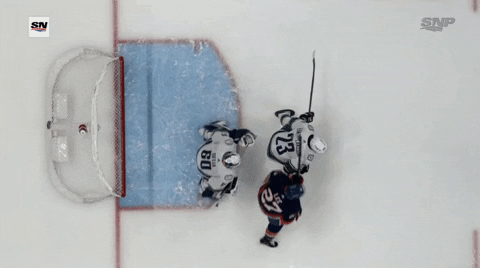 Anders Lee tried the old hidden booty trick, but the NHL wasn't having it.
All of which resulted in having to wait another minute for the Islanders' real goal.
Best officially official goal
Matty "Three Shoes" Barzal wires home a bomb of a shot and the game was now 3-2: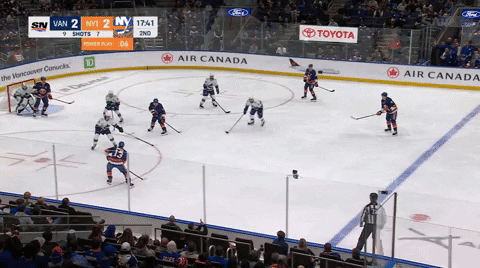 Anders Lee acts like the Islanders just locked up a playoff spot and screams and double fist pumps while looking in Satan's general direction, which I think really amped up the Canucks' responses later in the game.
If there is one thing we know about people being competitive, you take everything personally and it just escalates after the first major transgression.
Honestly, it's 3-2 against Vancouver in a game in February, don't poke the bear like that Anders.
I know in a 6-5 game it's hard to say "Well the goalie stepped up huge today" but Delia kind of did? But in the Grant Fuhr, "he made the last save" sort of way?
Like, this game could have been 12-5 Islanders easily, because both teams were playing pretty fast and loose.
Example 32 of this was the team exchanging breakaways in the second period: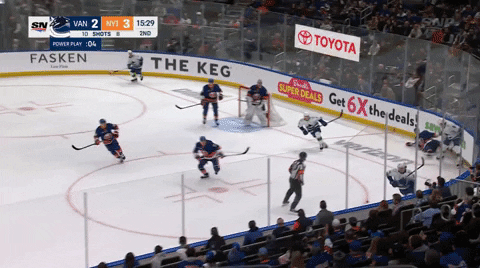 Delia makes the huge athletic ticket-selling split save (Spencer Martin would have calmly slid over and made a boring save in case you were wondering), and then Brock Boeser got a semi-breakaway on the return volley.
The Canucks' fourth line has had a rough couple of months if we're being honest. Their play had dipped to the point where they weren't generating any offence and they were getting absolutely hammered in their own zone almost every shift. But when the entire ship is on fire, not many people run in to tell you that the supply closet is on fire, too.
To their credit, they have had a strong stretch recently, with Nils Aman and Phil Di Giuseppe providing a spark of life to that fourth line.
There's nothing fancy about their play, it's all about crashing the boards and slamming pucks on net like you're trying to win your buddies' pogs:
Nils Aman has three solid whacks at the puck and almost gets a goal out of it, which means the puck isn't in their end, which means that's a win for the fourth line. How good was the fourth line? They won the Corsi Wars on the night, leading their teams at the top of the charts.
Beauvillier has the kind of hockey hustle you can set your watch to: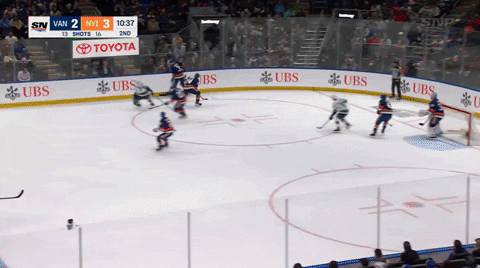 He skates hard, causes a turnover, and gets the puck on net. If he can showcase some offensive flair, he is going to lock himself up a spot in this top six for the rest of the season.
Charlie Hustle is a beloved hockey figure with old-school hockey coaches. Contemplative Russian, not so much.
Best nice save, Fuhr real
The high-danger chances were tied 14-14, but it feels like the Canucks' chances against were weighted a bit heavier in terms of them often being odd-man rushes and breakaways, rather than crease scrambles: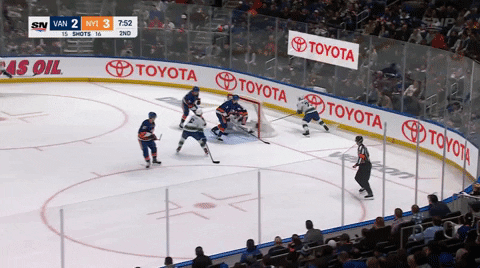 This latest rush was presented to you via another offensive defenceman pinch along the boards, with a tired end-of-shift Brock Boeser fading out halfway through the race.
Sophie's choice.
Horvat wasn't leaving this game without scoring a goal, because that's just how hockey works in Vancouver: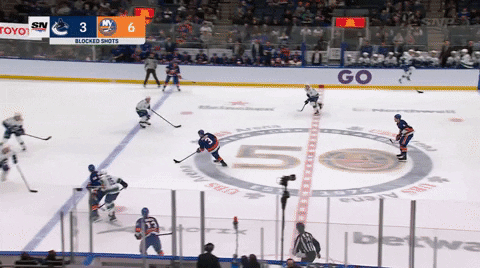 You don't set records for being the team that gets the most amount of records set against it, which is in and of itself a record. Vancouver just can't help itself from taking part in notable goals.
Horvat's revenge goal was vintage Bo, something you'd hope Kyle Burroughs would have realized before he peeled off Bo in the slot: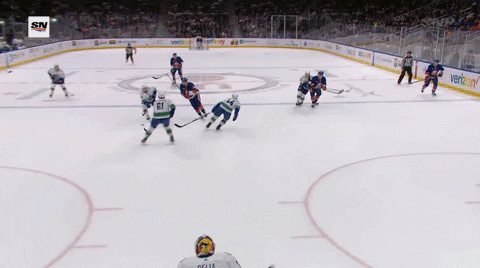 Sure, maybe in a perfect world, Sheldon Dries slides over to provide better coverage, but to be honest, I've seen a lot of that from Dries this season. He's never going to be the guy that clamps down and leans hard on his checks. The guy is an AHL scoring stud, he's not meant for this dirty business of defending.
Burroughs trying to help out with Barzal is commendable, as I assume he thinks Matty is going to circle the net, but it just ends up being another case of two Canucks covering one guy, thus leaving a man open.
Ménage à trois defending. Complicated, sexy as hell, but very messy.
Bo then almost followed that up with a goal but he put his stick against the puck's head, pulled the trigger, now the scoring chance is dead: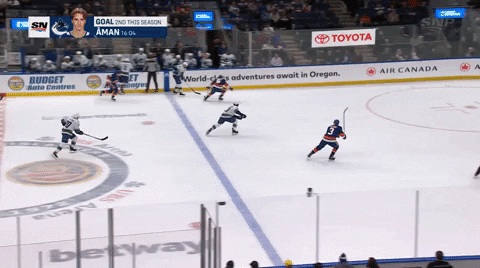 Say what you will, it was an entertaining game for both teams.
The cherry on top for the fourth line night? Their goal to end the second period: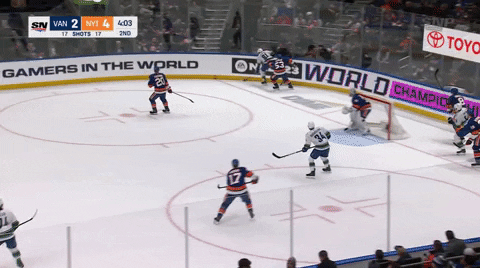 Punxsutawney Phil swoops in, gets to Joshua's shove pass first, then cycles hard around the net, shovelling the puck in the crease, leaving Nils all alone to tap in the rebound.
Again, nothing complicated here. Just grind it out hockey, the kind of hockey that gets a gritty series made about it on Prime, eventually leading to a spin-off starring Harrison Ford as a crusty old coach in the early 1900's leading the Vancouver Millionaires to a Stanley Cup.
Best JT Miller Skip delivery
Did somebody say slash?
Ding dong, ring a ding ding ding dong: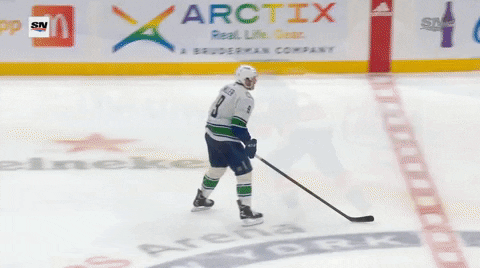 Extra sauce on the low (Bo won't know!)
I originally tweeted this clip because I find it inherently funny to watch a guy try and slash someone three times in a row. In a season in which slashing penalties have been handed out for merely grazing another player's stick, I was blown away this wasn't whistled down.
Yet when I posted it, it sparked a massive JT Miller debate.
Everything from "he won't even move his feet to slash somebody!" to "How dare you attack this man, have you no humanity, I will murder you for going after him like this."
Honestly, it's just a funny video clip. If Quinn Hughes slashes someone three times in a row I would post it and find it amusing.
I post clips of players sneezing on the bench. It doesn't always mean something.
All it means is I like making gif money.
This is my way of saying relax.
The fourth line had a great night, right? We can all agree on that.
But I will say that on some nights trying super hard doesn't lead to great results. For like two months, Curtis Lazar skated harder than anyone, but he was a disaster on the ice. His efforts didn't translate into results because as hard as you skate, if you get out-skilled or don't play the game at a high enough IQ level, you can get burned.
So even on a night like tonight, Nils Aman can make a pinch that leads to an odd-man rush:
He should have seen that Myers pinched in and gone to cover but instead, he cuts back into the offensive zone and the result is Delia has to make another big save on an odd-man rush. Right effort, wrong timing, bad results.
I say that because Kuzmenko has been under fire from Rick Tocchet to the point his ice time has been cut the last handful of games. He was even specifically named last game as someone who wasn't good at all against the Rangers. I am in no way suggesting he can't improve defensively or find a way to up his game, but there is nothing hockey likes better than to chew up offensive-oriented players for not playing the game "the right way". We can call it the Alex Mogilny Complex in which a player tries to outthink his opponent rather than outwork them. Mogilny got called lazy more than any other player I have ever seen but to a man, every former player I have talked to listed Alex as the most skilled player they ever played with. Not that skilled players can't be lazy, but I do think trying to outthink your opponent and trying to do your dekes, bro, can lead to plays that look real bad from the outside looking in.
Instead of finishing a check on the boards, maybe they dart to the middle to cut off a potential passing lane, so now they're the lazy sob who didn't lock down the board battle.
Again, it's only been a few games. And I am not suggesting Tocchet is going to ruin his career or how dare he try and add a different element to Kuzmenko's game. But I would be lying if I didn't say I was worried about the Canucks getting Kuzmenko's value to rise under Boudreau, pay him for two additional years based on that, then tank his value if he can't fit into Tocchet's system.
Anyways, it's just a talking point to kind of keep track of as the season goes along.
The best of both worlds is of course Elias Pettersson. One who outworks and outthinks the other guy. That's why he gets paid the way he's paid.
But Kuzmenko does bring an offensive element not many hard-working grinders can: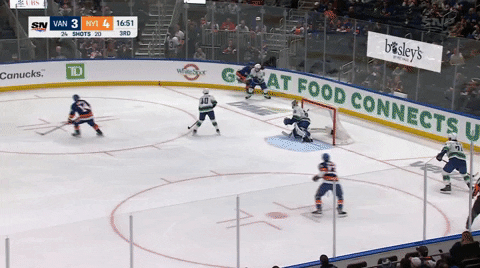 He just thinks the offensive game closer to Elias's level, which is why they work so well together.
Kuzmenko finished the night with 9 minutes of even strength hockey, for those keeping track at home.
You want to take away Pettersson's shot from the left side? No problem: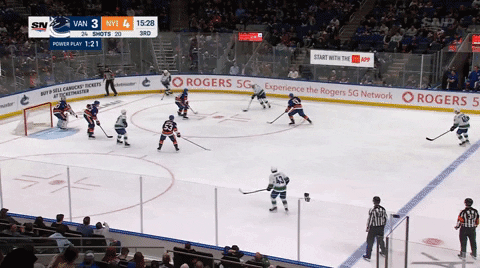 EP40 unloading like a young Sami Salo with this absolute dapper clapper slapper.
The most interesting part of a Canucks team with no Bo Horvat is watching them come up with new power play strategies. One of those will undoubtedly be moving EP40 around the ice to try and unload his slapshot. With Bo's absence, it allows other players to step up.
Ethan Bear sends a missile into Brock who feathers it over to Elias for the breakaway?
That looks like something right out of the Lotto Line days.
I don't know if the team is trying to juice Brock's value, or if Tocchet is just someone who loves Brock's skill set, but either way, it feels nice to see some vintage Boeser hockey.
That is just a sick pass from The Flow.
Best did you miss the memo?
Ethan Bear is on the team because he can make really nice passes and retrieves the puck really well.
And sure, he gets a penalty sometimes, but who doesn't?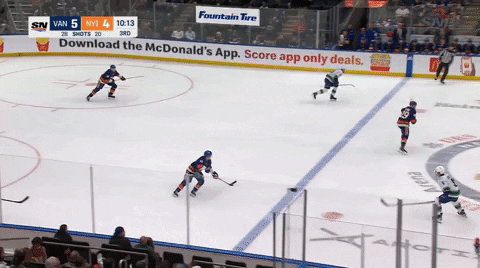 I'm mostly posting this clip to showcase how many times Delia stared danger right in the face and said "not today". He went full Grant Fuhr.
Best just enjoy the moment
I mean, players aren't just going to not try and win.
We joke about tanking, but the only "tanking" that should be going on is management trading away pending free agents and not selling off draft capital to acquire middling players. That is all "tanking" means in today's game.
Players want to win. And they should.
This is why you're going to see JT Miller almost dangle in a nice breakaway goal: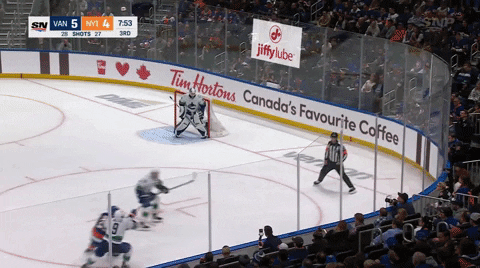 Or why Collin Delia is going to rob Bo Horvat with this glorious pad save:
Or why Vasily Podkzolin is going to use his spidey-sense to realize a pass is going to be sent across the slot that he can steal if he skates hard:
With all that I said about Kuzmenko, I do need to admit that Podkolzin has that level to his game that Tocchet must love. He is harder on that puck than Jack Bauer is on tax fraud. Guy makes smart decisions, and when he commits, he commits all in. No half measures to his game.
You know Luke Schenn put a picture up of Pelech in his locker after the game: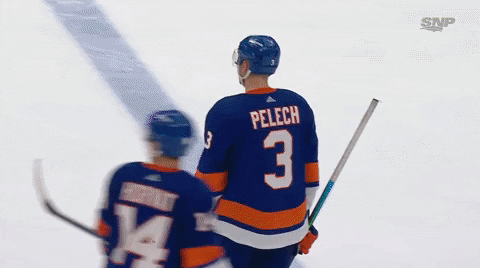 The Canucks iced (mostly) the game when Brock Boeser unleashed a shot that Beauvillier got a piece of, to make it 6-4 good guys: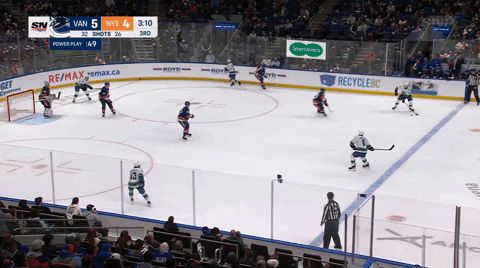 I could almost hear Michael Cole screaming about it being vintage Brock, before going "oooooooooh my!" for no reason.
If Beauvillier has shown us anything in his short time here it's that he's a hard worker, and he goes to the net to score goals, both of which this team seems to want to be its identity. The fact he has some skill to do something with the puck on his stick is just a bonus at this point.
I also want to point out how it feels like it's been years since we've seen Brock get these kinds of looks on the net. With him being relegated to the second unit powerplay, or being miscast as a net front/down low guy on the first powerplay unit, the argument of not putting Brock in a position to succeed certainly holds some merit. Setting Brock up to be the shooter on the grassy knoll on the powerplay seems a far better use of him versus trying to get him to tap in back door net plays. This is another case of when Bo Horvat leaves, an opportunity arises.
Never forget that Boeser excelled when Bo Horvat broke his foot back in 2017. He feeds off of Horvat's absence I tell you.
I think aside from watching Elias Pettersson raise his game, and the Kuzmenko situation, Brock Boeser's next two weeks here is the most interesting storyline for me.
Is he going to find his touch again? Was a lot of it based on his usage? Let's find out.
I mean, you might as well let them have five goals, it would be rude not to: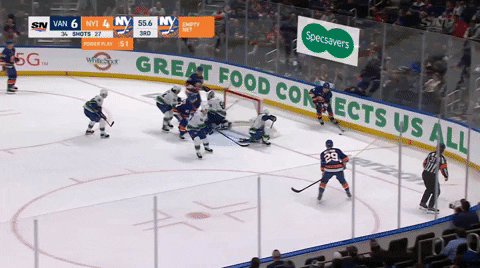 Grant Fuhr rule, baby. Doesn't matter that Delia let it in, he never let in the sixth.
Take that, advanced stats.
Regardless of who is next captain of this team, it was both exhilarating, inspiring, and horrifying to see their two best forwards try and block shots to win the game.
Elias Pettersson will do anything to win a game of hockey, we know this: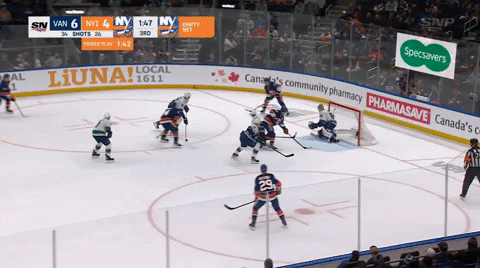 But when JT Miller is in full Rip Wheeler mode, we know he will eat a thousand shots in a row to win a game as well: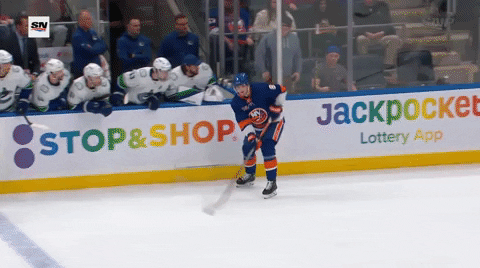 The Canucks' stars come out to play, the new guy gets a goal, and Delia gets the win.
That's a great night at The Stanchies if you ask me.