The Stanchies: Miller keeps getting caved in, the Canucks keep blowing leads, and EP40 keeps dazzling
Photo credit:© Matt Krohn-USA TODAY Sports
They say we're young and we don't know
We won't find out until we grow
Well, I don't know if all that's true
'Cause you got me, and baby, I got you
Babe
I got you, babe
I got you, babe
They say our love won't pay the rent
Before it's earned, our money's all been spent
I guess that's so, we don't have a plot
But at least I'm sure of all the things we got
Babe
I got you, babe
I got you, babe
Okay, campers, rise and shine, and don't forget your booties 'cause it's cooooold out there today. It's coooold out there every day!
I won't lie, after typing that sentence I spun in my chair and looked at my phone watching Surrey Eagles highlights, pumping myself up to write about yet another game in which the Canucks managed to blow a lead and lose the game. The latest cloud of sadness came in the form of a 4-3 overtime loss to the Minnesota Wild.
Which if you're an eternal optimist, that gives the Canucks two points on the season, which is kind of like a win? It's the Beyond Meat of wins? It kind of tastes the same and hey look it's juicy and has blood? This working for you yet?
It's starting to feel like we'll be two months into the season and there will once again be a Twitter poll for the umpteenth game in a row asking "Is this a must win game for the Canucks?" and the worst part is, I'm starting to think maybe?
Look, I am ridiculously good at never committing to anything, and I can dance with the best of them for going "It's still early…" just in case things turn around so I can look smart and make fun of Drance.
But at the end of the day 8 points is 8 points. This Vancouver team cannot afford to play catch up with the rest of the league, much less ketchup with John Garrett!
I'm very sorry. I don't even know what I'm doing anymore.
The storylines remained very much the same in this game, Thatcher Demko was good but not Bubble Demko, Elias Pettersson is taking over this team, Bo Horvat is cashing in on goals to build up that new contract, but unforced turnovers, shaky defensive play, and an inability to consistently gain the zone with possession has led to yet another loss.
Also there's this:
To quote a former Canucks employee, is that bad?
Even after I did my best to encourage JT Miller with a gif of him backchecking a couple of games ago, it apparently didn't help. This was not a banner game for Miller, whom one person on Twitter gleefully informed me, is in "full New York Rangers mode now".
Not since Chaucer has a Miller's reputation fallen so quickly and so publicly.
Now, again, and say it with me here, things can turn around! It's early! Etc, etc, etc.
The fact remains, however, that the Canucks have started the season in perhaps the worst way imaginable, and now they have to muster up speeches about going back to Vancouver and using home ice to their advantage. Which isn't actually too far off from what Bruce said after the loss.
"We got two points on the road here on a tough road trip and now we get to go home in front of our fans and I think it will be a different story."
They have to win some games on home ice because damn it, Mike Pohorly didn't bust his ass on a third epic intro video for nothing.
Clearly the only solution to turning this around is for the Canucks to skate out on Monday in the Skate jerseys, but alas…
This is remix edition of the song about pissin'.
It was actually a strongly competitive game, as both sides were pretty desperate to get their first win of the season. To quote an NHL owner, "
man so
tight,
feels
like
a
playoff
game".
The Canucks are leading the trend at least? That's good, right?
Yeah, that's good.
Straight up, people were excited the Canucks didn't take the lead to start the game. This is where we're at with things. And again, I'm not sure the people are wrong?
I find myself adding that hesitant question mark to everything I think about the Canucks now.
They aren't a very good team?
They might not make the playoffs?
They're actively trying to hurt their fan base?
Regardless, the first goal came about when two Canucks playing the part of crew members on a Christian Bale set, went da daa da daa da into the corner together for reasons: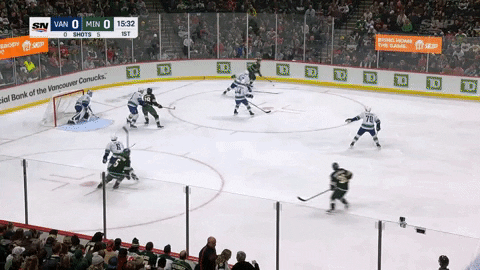 Look, Demko doesn't go out there ripping their lights down, so I don't know why Kyle Burroughs and Riley Stillman decided to walk through the middle of a scene, but here we are.
The end result is Mats Zuccarello sliding into Demko's DMs and potting yet another backdoor goal against the Canucks. This has been a trend early on this season with the Canucks giving up position and allowing high danger shots against with too much regularity. This isn't exactly new for the Canucks, it's just that the ridiculously high bar Demko set by stopping so many of those over the past few seasons has fallen and bonked them all in the head.
Best why didn't you write me
Horvat's agent must be smiling ear to ear right now, as Bo scored again doing what he does best, which is driving hard to the net like a young Sofoklis Schortsanitis: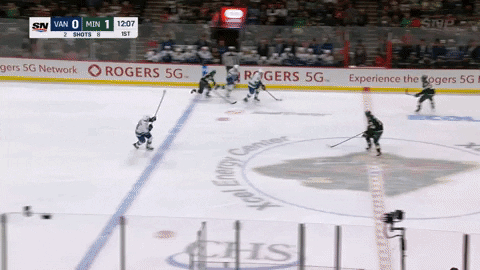 Whether it's because Horvat has traditionally been saddled with less skilled linemates, or he's been given the tough match up role, or if it's just because he loves calling Baton Rouge, Bo doesn't tend to pile up the assists. Which is why I think Tanner Pearson plays so well with him because unlike Jorge, Tanner spends time with his friends and would rather see them eat. Pearson also has no issue working hard along the boards and being in the defensive mindset, allowing Bo to try and dial in those end to end rushes that once confounded Chris Cuthbert.
That being said, the Tanner Pearson debate hit hard tonight because Mr. Pearson took two penalties on the night, and he's not what the kids call a "fast skater". Tanner Pearson is probably best suited being a glue guy on your third line, but because he understands what makes Bo tick (I assume many long conversations on the Ferris wheel about the dangers of video gaming have been had), he somehow always finds his way back to Bo's side.
It's the Notebook of our time, really.
It wasn't over.
It still isn't over.
I always enjoy the arbitrary nature of some stats.
"Did you know the Canucks have lost more games than any other team on Thursday's after a Tuesday in which the temperature was above 20 degrees?"
Or my all time favorite, the obvious stats.
"The Canucks' winning percentage in games in which Alex Mogilny scores 10 points is 100%!"
Best breaking the fourth wall
Nils Höglander was the announced healthy scratch on the night, leading me to say this:
Remember how good I am at not committing due to a mixture of abandonment and parental issues? I gave myself the escape clause of "might as well try anything" and boy am I glad I did, because the Canucks' fourth line got involved on two goals on the night.
The first was when Dakota Joshua and Nils Aman somehow turned into the Sedins when Dakota sent a no-look back pass like it was NHL '13, and Connected with Aman who wiggled waggled his way to a goal: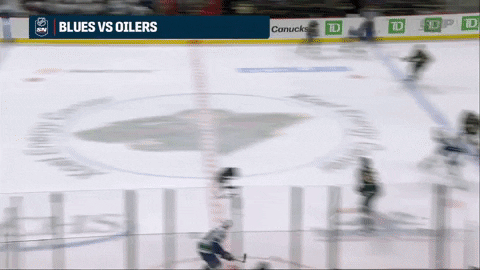 This was by far the best night from the Canucks' fourth line, and not just from a scoring perspective. DAWG-wise and Corsi-wise, this line was leading by example for Vancouver. Bruce had nothing but praise for the trio after the game.
"Fourth line was great tonight. Aman was great, I thought Joshua was great, Lazar blocked shots, he's sort of the captain of that line. I thought the first two periods every time they were on the ice they were in the other teams zone. It's a very encouraging sign."
What this means for Höglander is anyone's guess, as it would seem like an old school coach like Bruce wouldn't want to mess with that chemistry. But we can also hazard a guess that Bruce isn't exactly enamoured with the other short king on the team in Conor Garland, so maybe Högs slips into his spot again?
Best a dangerous lead appears
The lead was short-lived as the most adult film star name of all time Sam Steel converted a Kirill Kaprisov pass with a nice rocket from the slot: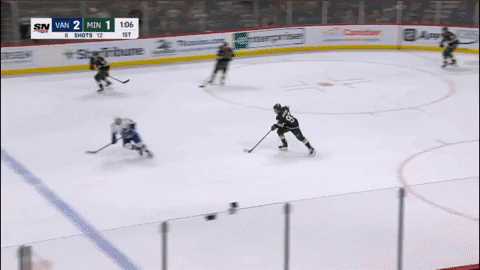 It's a good shot, and it's not really on Demko, even if part of you remembers what he's like when he gets in the zone and stops those.
Andrey Kuzmenko leaning forward like he's trying to get the game ball from Josh Allen isn't super effective defence at the best of times, but give him credit for at least skating along with Kirill. JT Miller usually just points at someone else to chase along, so this feels like an upgrade.
It also doesn't help that Sam Steel floats into that Brett Hull empty space and gets a shot off with very little resistance.
The end result was a tie game.
Another lead lost.
Every rose has its thorn.
Best koolaid man appearance
The Canucks' fourth line once again hit the score sheet, this time in the form of a Dakota Joshua goal: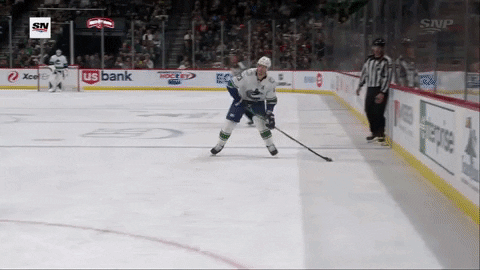 Dakota Joshua has come from "Which one is his first name again?" to "Elite Fourth Line Producer" in a stunningly quick amount of time.
That's honestly just a solid hard working goal, the kind of ugly goal you get in beer league that you describe to your spouse as "bar down, babe, bar down" and talk about how everyone on the bench got up and started clapping.
Both teams seemed to have a sense of urgency, which of course means the Chaos Giraffe is going to either go end to end and score a goal, or turn the puck over into a scoring chance: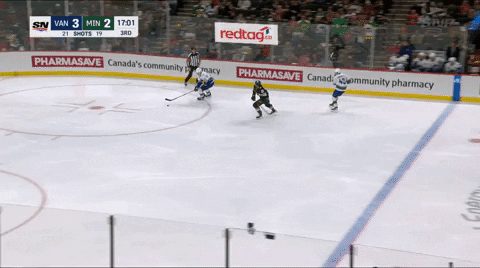 This time CG57 flings it behind his net, but I'm pretty sure Sam Steel knew where Myers was passing it before Tyler even knew, as he snags it pretty easily.
But there were some good plays. Vasily Podkolzin's game away from the puck continues to be impressive this season, so it was no surprise to see him defending the slot and picking off a potential back door play:
And despite Demko not going full Bubble Mode, he still made several good saves in the third period, including this scramble in front of his net that ended with Mats Zuccarello clearly wanting nothing to do with Daddy Schenn: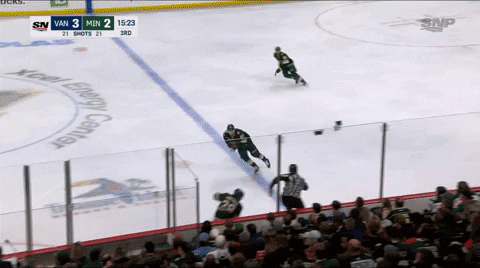 Tanner Pearson got a penalty late in the game for flicking his stick near the skates of Matt Boldy, which lead to a lot of people angrily screaming his name online and dipping their hands in pudding, as is tradition: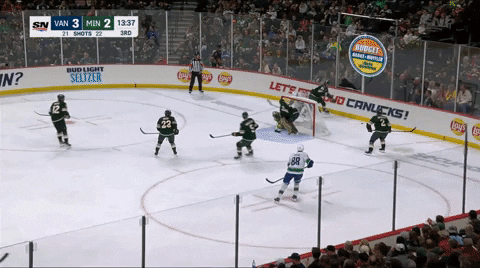 Which led to me creating a clip of a really good save Demko made and proudly changing the headline of the article to "Bubble Boy Bounces Back!" before the Wild scored mere seconds later: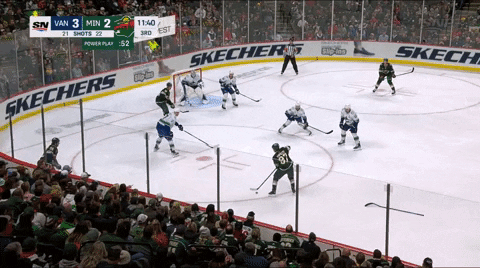 Yes, that freakishly long broken stick belongs to Tyler Myers. He was using Bo Horvat's left handed stick, and despite getting a piece of one of the many passes flying around, was unable to stop the incredibly nice tip from Zuccarello. The Wild ended the night 1/3 on the power play, which is good in that it wasn't the main reason the Canucks lost but was instead just part of the reason they lost? That's fun, right?
Look, we're all trying to get through this here.
Best tweet from a former Kitsilano rugby player that accurately relates to the gif proceeding it
It felt like the Canucks were getting countered harder and harder as the game wore on: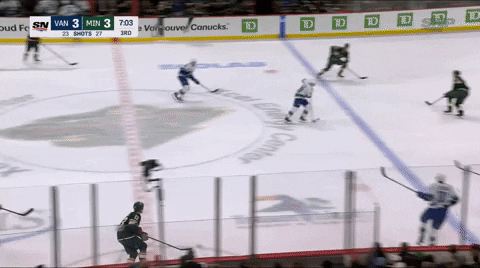 Instead of just turning the puck over, they TURNED IT OVER, which resulted in the Wild slamming the puck down their throats and generating chaos around Thatcher Demko. It felt like the counter rush was generating a lot of offence for Minnesota, with the Canucks offering up little in return.
Brodin took a penalty for holding his tiny dancer closer, allowing Tanner Pearson some measure of revenge for drawing it: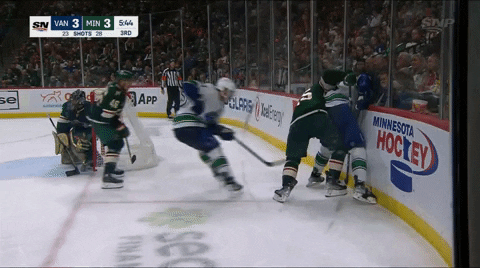 The Canucks' best chance on the ensuing power play was Kuzmenko, who continues to drive to the net and get open for tip ins: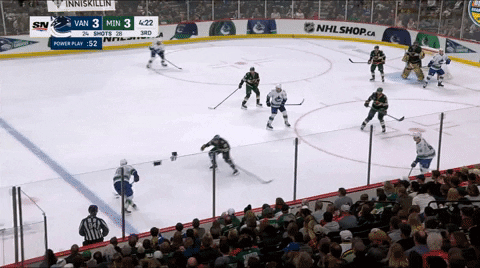 Honestly, just between us friends, it felt like Kuzmenko could have had several goals on the night if things had just gone his way.
Also please watch noted heavyweight Elias Pettersson absolutely bulldoze his way through Tyson Jost at the end of that play like he owed him money.
The worst part aside from not scoring, though, was Brock Boeser pulling the ol' Mason Raymond ring-around shot to end the power play, which led to, you guessed it, another counter rush for the Minnesota Wild: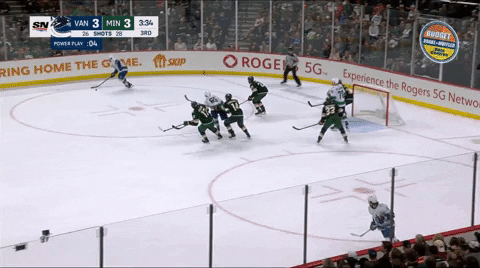 This meant the game was headed to overtime, and nothing ever bad happens in overtime.
Early on in Pettersson's career, it was his ability to constantly get the puck back that stood out, especially for such a young player. It's why last year's early struggles felt like an abomination because EP40 simply didn't forget how to hockey, he was most likely just recovering from injury.
Well this season he has entered the season at full force, and once again we are seeing him making smart plays on the puck and creating turnovers with his smarts. He almost ends the game in overtime after he follows up his shot and tracks down the puck again: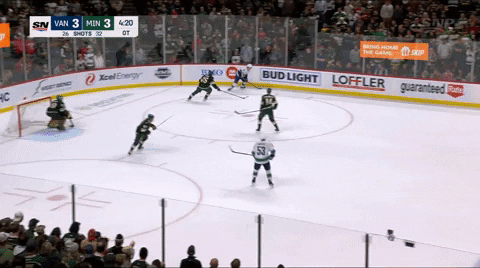 He was been the most entertaining player to watch on the Canucks this season and it's not even close.
The game ended on a delayed penalty (Tyler Myers tripped a dude, as one does), in which the Wild cycled the puck and took shot after shot until the Canucks imploded like a black hole sun:
Now let me be up front, I have never played in the NHL. Shocking, I know.
But at the lowest of beer leagues, I too, have found myself stuck out on the ice for far too long to the point where if it was on CBC there would have been a shift length clock flashing on the screen.
When you, blow your load, so to speak, you feel like death out there. You couldn't move if you wanted to. You're in survival mode and you're just praying the other team has to work the next day so they leave the ice early.
So I understand that JT Miller, who had been on the ice for around two hours at this point, was exhausted and could only offer up soft-spoken swear words under his breath.
I understand Tyler Myers was so bagged that he thought he was a frog leaping into a rainbow, waving his magical wand too and fro.
I understand Boeser was trying to help out so he leaped into the net like a young Alex Edler.
I understand that Demko at this point was no longer conscious and had achieved level six laser lotus status and no longer cared about such trivial things as "where is the puck" and "why is that red light going off?"
It still doesn't take away from the amusing optics of this all.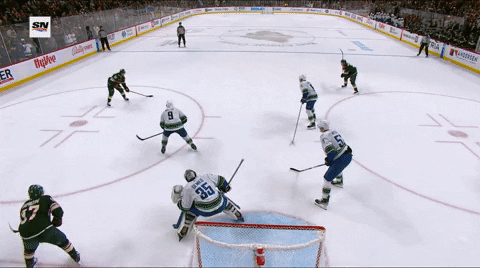 I'm sorry, but that overtime goal is pure madness.
"In 2016 we started 1-7-2 and ended up winning the division and everything else."
Bruce ain't scared.
Best can't run with the big dogs, those jeans are too tight
You want to know how you become a DAWG? By being Curtis Lazar and sacrificing your body: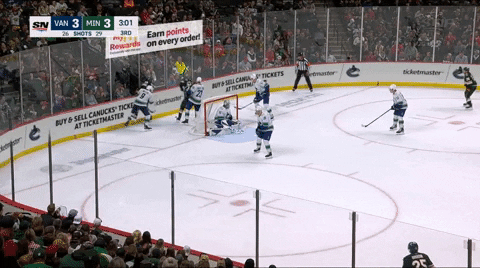 Chris Faber ran the numbers and the DAWG stats are here.
Leading the pack:
Dakota Joshua – 116.39!
Vasily Podkolzin – 95.13
Curtis Lazar – 90.85
The top three is pretty self-explanatory. Joshua worked hard and got scoring chances, which makes you the top DAWG of Wentworth, easy.
Vasily, as was pointed out earlier, was hard on the puck and was constantly in the right spot on the ice, ready to make a play or engage physically.
Curtis Lazar, as Bruce said, he's the captain of that fourth line, and he led the way by example with blocking shots.
The mid-range DAWGS:
Elias Pettersson – 77.48
Nils Aman – 70.76
Kyle Burroughs – 70.05
Andrey Kuzmenko – 61.60
Luke Schenn – 52.15
Tanner Pearson – 44.47
Ilya Mikheyev – 40.77
Elias Pettersson just missing out on the top 3 isn't too surprising as his DAWG factor has been noticeable all season, and it says something about Luke Schenn when we're shocked he only clocked a 52.15.
The bottom feeders:
Bo Horvat – 39.05
JT Miller – 34.48
OEL – 29.31
Quinn Hughes – 24.70
Tyler Myers – 17.83
Brock Boeser – 18.73
Conor Garland – 12.41
We talk about it all the time, but you don't need to be a DAWG. Brock Boeser not being a DAWG isn't concerning. Him not scoring? That's an issue. But he doesn't need to be a DAWG.
It's worse when it's Tyler Myers with the low rating because he needs some of that DAWG in his game, and Conor Garland being at the bottom means he wasn't as engaged as he normally is. OEL continues to fluctuate from wildly high DAWG to bottom end DAWG which is an interesting trend to keep an eye on as the season goes forward.
This was oddly one of JT Miller's highest DAWG rating games, too.
Kyle Burroughs made the save of the game on a goal line stand when he, in the most casual manner I have ever seen, backheeled the puck out of the crease like a young Reece Hall-Johnson , preventing a sure goal: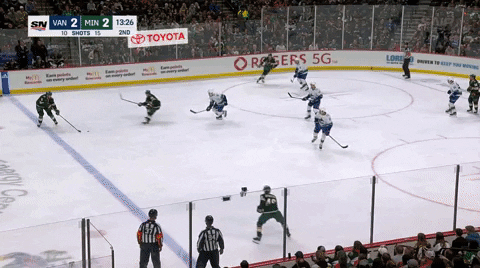 Honestly, watch that clip. He sees the shot coming in, a sure goal, and he's just like "whatever". I keep waiting for a pair of sunglasses and a joint to drop down from the sky and land on his face.
Elias Pettersson is the best Vancouver Canuck this season.
Full stop.
If you ever tweeted that "the NHL has figured him out!" you still have time to go delete that and save your family from eons of embarrassment.
We talked about his ability to get the puck back, right?
He is just so good at making it look easy, like here, where he one hands the puck away from his check and then spins right into possession of said puck: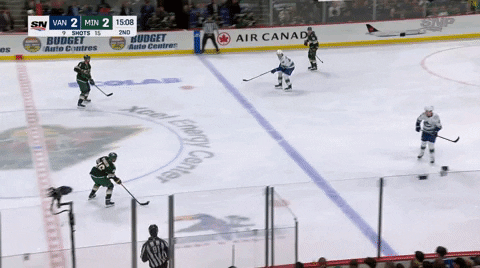 The thing that separates elite players from the merely good players is their control. The fact they can see that puck and are making a move that won't just smack it away, but will hit the puck to where they want it, giving them back control.
Tyler Motte smacks that puck to the boards, skates 60 mph to get it back, dumps the puck in, skates 60 mph to get the puck back, shoots the puck wide around the board, skates 88 mph and accidentally goes back in time, gets a shorthanded breakaway on his mother in high school, misses the net, and goes for a line change.
It's a tremendous amount of effort. It looks fantastic. You can't help but turn to your friend and whisper "what gumption!"
But the truly great players work smarter, not harder, which is what Elias Pettersson does so well.
Also he kind of loves to hit posts?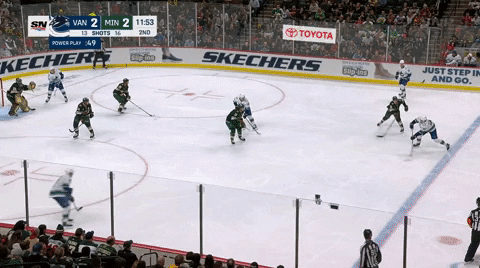 Which I assume is just letting the goalie know he COULD have scored if he wanted to, but he didn't. But maybe next time he will?
Mind games, baby. I can almost see Mankind pulling his hair out in the background.
Best showdown for a bro down
Riley Stillman stories in Vancouver usually start with "He is just the absolute nicest young man", but don't let that fool you, he will defend his teammates and has no problem with the rough stuff: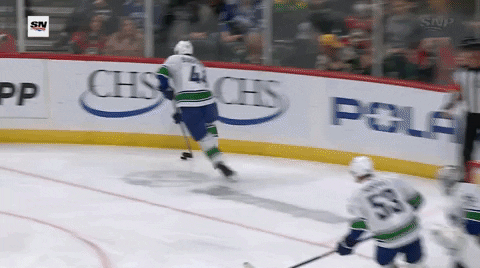 It's a bit odd seeing him stand up for Kyle Burroughs, another fellow Luke Schenn Fight Club member, but a good bro doesn't ask who got hit, they just ask who they're gonna hit.
Unfortunately for Stillman, his night ended early due to a high hit:
Bruce Boudreau didn't comment on the type of injury but in today's day and age, a high hit where a head snaps back, it's easy to assume a concussion might be in play.
Or a back injury if you're the Dolphins.
Aside from EP40, Kuzmenko has been the most interesting Canuck player on the season for me.
There was a lot of talk (and still is) of him learning the North American game which usually means "drive to the net, stop going east/west" but to be honest, Kuzmenko seems to drive North just fine.
In this clip he drives in the zone then circles back and the second he sees empty ice he drives to the net and unleashes a shot: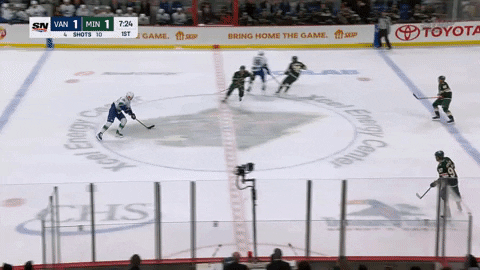 In this clip he spins and fires a pass in front of the net, but then follows it up and tracks it down in the slot and gets a solid shot off: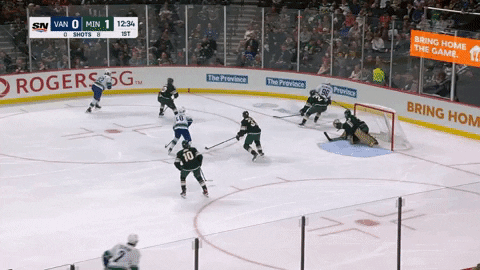 And late in the third period he hooks up with Conor Garland and once again drives to the net and gets a good shot off in close: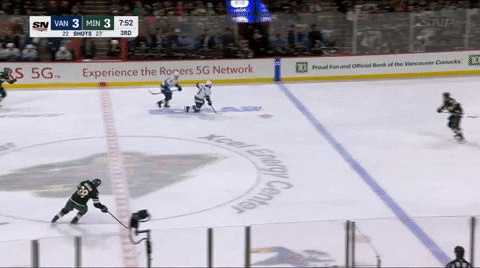 I honestly think Kuzemenko loves shooting the puck so much that he has no issue driving hard to the net and playing the North/South style. I just think it's an easy talking point for people to be like "oh that KHL player isn't going to be able to handle our game over here!" when asked to do interviews.
Though it also helps that he's playing with a locked in Elias Pettersson, as I assume somewhere Goldobin is watching these clips and sighing.
Best point to the evidence
Curtis Lazar was hit with a stick up high and there was no call. Curtis did his best to tell the referee to watch the replay but the official ghosted him and looked straight ahead like he cut him off in traffic but both cars stopped beside each other at the red light.
Just staring so hard, straight ahead. Completely normal behaviour, just sitting in this car, not looking to his left at all, he has very important business on the road in front of him.
When people start dragging you down to Russ Wilson levels, you know you're losing the PR battle:
I can almost picture JT telling us the many ways to eat a sandwich.
Remember how the Canucks keep turning the puck over and getting countered? Well it happened again tonight.
Bo Horvat tried to bank the puck off the boards to himself but it ended up with a shot on Demko: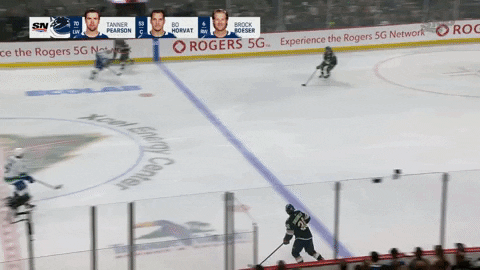 Elias Pettersson, the best puck handling magician on the team, was also caught turning the puck over (but watch him throw a hit and do his best to recover it):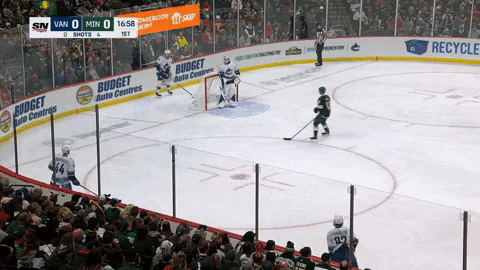 Tyler Myers circles his zone twice before handing it off to OEL for a shot at getting the puck into the Wild zone, who promptly got his pass cut off along the boards: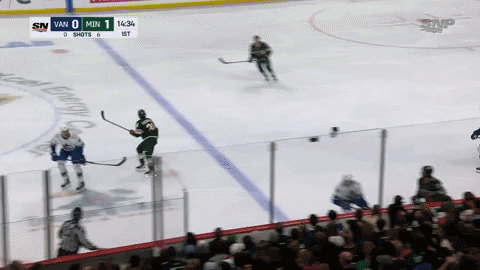 JT Miller (I almost wrote Ryan Miller, I don't know what is going on), in a tie game, halfway through the third period, decided a high risk pass along his blue line was the way to go: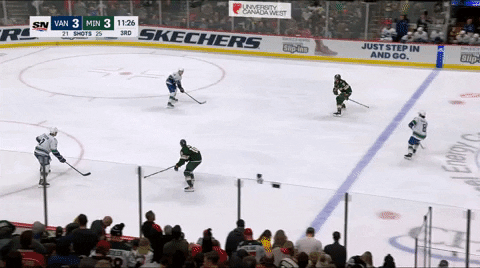 When you get paid millions, this is known as "trying too hard to make things happen" but if you get paid league minimum it's is known as "doesn't think the game quick enough."
And even ol' reliable Luke Schenn got countered when his pass got picked off along the boards: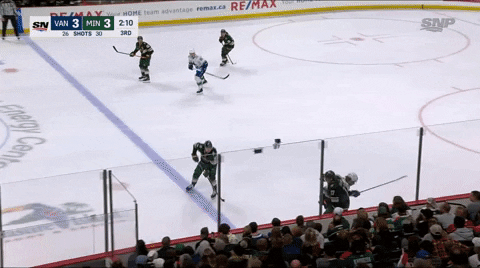 It's been a constant theme through five games that the Canucks just cannot generate clean exits and entries and it is frustrating to watch. But I get paid by the gifs, so every time they make a mistake, I get paid.
I am conflicted.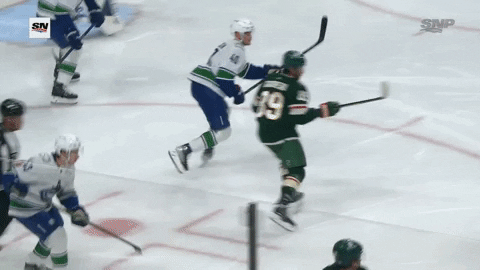 Watch Elias Pettersson have to skate through the wall of man that Luke Schenn emanates.
Luke Schenn is daddy.
He never stopped lifting.
For the record, the official BCHL team of the Stanchies, the Surrey Eagles, were down 3-0 in this game.
And you know what?
I wasn't even worried.
Why would I worry when the best trio in the BCHL in Jake Bongo, Cole Galata, and Aaron Schwartz play for the Eagles?
A 3-0 deficit isn't a problem. It's a challenge.
They simply got bored going 7-0 to start the season so they decided to let the Spruce Kings think they had a chance.
Jake Bongo wasn't done there, though, as he absolutely snaps Jordan Fairlie's groin in half to end this game in the shootout:
If you see Fairlie's jockstrap on Craigslist tomorrow, please let me know.