The Stanchies: McDonough's goal, Demko vs. Markstrom, and the Canucks' powerful Pride Night performance
Photo credit:© Bob Frid-USA TODAY Sports
Folks, we made it.
Mercifully, we're down to the final two weeks of another underwhelming 2022-23 Canucks season.
It began with a high bar set by Bruce Boudreau and Bo Horvat at training camp. Playoffs were the goal. Anything less would be viewed as a complete disaster by the leadership group. Moneypuck.com had the Canucks at a 43% chance of making the playoffs. Two weeks later, they were down to a 23% chance. By December, the dream was dead, with a 3% chance of making the playoffs. Despite lofty ambitions, the club dropped their first seven games and never recovered.
Fortunately, we don't need to talk about the players not traded, the moves not made, the games not won, or the games not lost. No! On Friday night, Canucks fans got to kickstart the seventh-inning stretch with the team's best and most celebrated community night of every season: Pride Night!
And don't worry. We'll address the elephant in the room.
It was several quiet weeks from the Canucks organization concerning their pending Pride Night. And, no, this isn't some media-driven negativity. The club typically advertises ticket sales for their community and theme nights weeks in advance. During the team's game against St. Louis, the broadcast promoted the April 8th fan appreciation game without mentioning the March 31st Pride Night game. Given the state of Pride Nights among other teams in the league, it was reasonable to shed concern that the club might pull a Chicago Blackhawks and opt out of the evening altogether.
Fortunately, unlike the Blackhawks' historical cowardice, the Vancouver Canucks organization stood head and shoulders above their peers with another incredible evening aimed at embracing all members of the 2SLGBTQIA+ community. Between Christina Hryc's gorgeous Pride Jersey design, the team's in-arena sponsored drag show in the Plaza, and the player's unflinching commitment to wearing the jerseys even before the team had made the evening official, this franchise once again nailed it.
It would be a total disservice to Canucks fans and the 2SLGBTQIA+ community if my straight-ass were the long voice commenting on the organization's work on Pride Night. So, I reached out to as many Canucks fans in the 2SLGBTQIA+ community as I could to gather their thoughts. After all, Pride Night is about celebrating the community, promoting inclusion, and fostering an environment where people of all sexual orientations and gender identities are welcome and free to be their authentic selves with their fellow Canucks fans.
I'll be the first to say it: Quinn Hughes should be the next captain of the Vancouver Canucks. If not for his record-breaking counting stats or his
Norris-caliber two-way play
, then for his unwavering support of the Pride jersey and what it stands for. But that's just the opinion of a straight man. How did such a strong statement resonate in the community impacted most by Hughes' words?
Nikki from Twitter wrote, "Hughes's comments fit in with exactly the kind of culture that previous leaders of this team have worked hard to foster (Horvat, Sedins, Bieksa, etc.). Vancouver is a diverse city, and we pride ourselves on being a city that is home to everyone, no matter their orientation, identity, or who they love. It only makes sense that our local sports team conducts themselves in such a way that proves all are welcome and that Rogers Arena is a safe space for them. Having someone who is a leader, and a fan favourite, share that sentiment gives fans like myself a small bit of hope that there's still a chance that the toxic culture of the sport, specifically homophobia, transphobia, xenophobia, and racism, can be changed and replaced with a culture that focuses on acceptance and inclusion. Wearing the Pride jersey for 15 minutes while warming up is simple. It's the bare minimum they can do as players, but it's a symbolic gesture that means a lot to those who have felt alienated or have walked away from the sport for their own mental and physical well-being."
"When Quinn Hughes was quoted in the news today, everything he said made me feel like We Are ALL Canucks was true," said another responder. "It hit me deeply. I'm a passionate fan of the team, so his words and the news that the Canucks were embracing Pride again as they have in previous years, despite a few players and teams in the league being less than fully inclusive, was a massive relief."
The shift in perception of hockey culture was a huge sticking point within the community. Game Over: Vancouver host Kajamae wrote, "at times, it feels like NHL and hockey "culture" is a very hostile community. Having a leader and one of the core players of this team and organization come out and fully support the initiative means a lot. Especially when Hughes comments that he's glad [the organization] is doing it. It shows that someone very important in the Canucks and hockey community does believe that these nights have value, which will help grow the game by welcoming more into the expanding world of hockey."
Another one of our responders, Chad Hubbs, wrote, "as a gay man, hockey player, partner for the Pint Public House and a leader in the hospitality industry, I can say these are critical times for leaders to be stepping up and voicing their opinions. The ONE night that is dedicated to supporting the LGBTQ+ should be celebrated without Politics, especially when we have been doing this for years. Not participating sends an awful message and brings us backwards."
Another respondent was succinct "It means a lot to hear a team leader speak about the positive legacy the Pride Night has created. As a long-time fan, seeing the evolution of new traditions, theme nights, and celebrations happening each season is wonderful. I think it spreads an important message about inclusivity."
We can't thank Reid Hearsum of the Vancouver Cutting Edges 2SLGBTQIA+ Hockey Club for his help in getting community members to assist in tonight's Stanchies. Speaking with CanucksArmy, Reid said, "Quinn's comments endorsing and supporting Pride night are a huge indicator of how far we've come and how much the "locker room culture" is changing for the better. When a player of his calibre and character demonstrates that inclusion in hockey is important, it shows the kids watching him that hockey has a place for them, no matter who or what they are. It shows me that Quinn believes "Hockey is for EVERYONE" and gives me confidence that in his locker room and in the game of hockey as a whole, he is helping to spread this message of inclusion."
If you've followed my iterations of the Stanchies—the Severtstanchies™ if you will—you're well-versed in my gallows humour, sky-is-falling, doom-and-gloom evaluation of the Canucks organization's past, present and future decision-making. So, as intimidating as it was to write about Pride Night, it was also a great relief to finally switch up the perspective and talk about the good that the Canucks organization does with their Pride Night festivities!
In 2021-22, the organization knocked it out of the park with their gorgeous gorca jersey designed by Mio (@FlyersWitch on Twitter), their mini pride festival with DJ Seb C, Zynth & Co Pride Dancers, and dedicated "community corners" along the Rogers Arena concourse featuring the Vancouver Pride Society and QMUNITY.
This year, the organization's Pride Night festivities supersede last season's by a longshot. On top of a $20,000 donation on behalf of Canucks for Kids Fund to the non-profit organization QMUNITY, the Canucks featured the Vancouver Cutting Edges Hockey Club on their social media channels, where the club detailed their 30-year history of inclusion efforts.
Additionally, the team repeated their Pride Party on the Plaza but expanded the celebration to include the following:
Musical and dance performances from Queer as Funk, Zynth & Co. Dancers.
An autograph session with Jyrki Lumme
A community information booth featuring Out on Patrol, a non-profit peer support organization for 2SLGBTQIA+ members of law enforcement
A Pride-themed welcome wall, balloon arch, and face painting for fan participation
Drag show featuring Vancouver-based performers Mx. Bukuru, Carrie Oki Doki, Xanax, and Jerrilynn Spears
Then the organization expanded their In-Arena celebrations to include:
Concourse resource tables in sections 122-103 hosting the Vancouver Pride Society, QMUNITY, Cutting Edges, and Health Initiative for Men
Drag show performers in section 111
In-game performances from Matthew V and Zynth & Co. Dancers
Canucks Pride merchandise with proceeds going to You Can Play
A national anthem performed by Frankie Cena
On paper, this might not seem like a lot. But the team's efforts to support the community reach deep. The Vancouver Canucks' decision to embrace and sponsor not one but
two
drag performances during their Pride Night is a
colossal
statement by a North American sports franchise; a statement that is sorely needed right now given the sad state of affairs south of the border, concerning spiralling transphobic hate-mongering alongside sweeping
anti-trans legislation.
Some franchises wear a jersey and promise inclusivity. Some teams wear jerseys, promise inclusivity, and contribute to charities. Then there is the Canucks, who, time and time again, show North American sports franchises how promoting inclusivity and fostering a welcoming environment for its community should be done.
That said! That's me, a straight male talking. So what did the Canucks' expansive efforts on Pride Night mean to the community?
One responder wrote, "I am proud of how the Canucks have handled the community aspect. The theme nights are always well done by the team, and it appears that this pride night will be no exception. For the organization to embrace the 2SLGBTQIA+ with open arms for this game is amazing, especially with their support to organizations like the VPS and QMUNITY, as well as the inclusion of drag shows, something that is unfortunately under bigoted scrutiny at this time."
Hearsum raved in his review of the Canucks' efforts saying, "the support the Canucks have shown to our community, especially considering the actions of other organizations this season (Chicago, New York), is laudable. I find Vancouver to be a very progressive and accepting city, and it's clear that this extends to the Canucks organization. While we're still a long way from hockey being a fully welcoming and accepting place for queer people, having an NHL organization be so open and public with their support will help us get there. Queer kids growing up are starting to see that there IS a place for them in the game of hockey, even at the highest level."
Another respondent said, "The Canucks support of the 2SLGBTQIA+ allies community and its donation to Qmunity, You Can Play, and the Pride Society, as well as inviting the participation of the Cutting Edges and various queer artists, is huge. They've walked the talk. It's not lip service. Gay and Queer hockey fans are a big part of the Canucks fan base, and so are our families, both biological and chosen. I think the Canucks recognize the business side of including and recognizing various communities. I have also spoken to the staff of the Community Events, and I believe they truly endorse what they are doing."
Sadly, not all things can run smoothly.
Worst elephant in the room
During the team's morning skate media availability, Rick Tocchet confirmed that Andrei Kuzmenko would be the lone opt-out of the team's Pride night warmup, citing "family reasons."
Kuzmenko's opt-out didn't change the leadership group's stance on providing a welcoming environment that promotes inclusivity through wearing the jersey. Rather than provide Kuzmenko with a platform to justify his reasons not to spend 15-30 minutes wearing a jersey that says, "you're welcome in my league," the Canucks did their best to keep the focus on the rest of the players' efforts and the festivities on the docket.
Despite the Canucks' best efforts, Kuzmenko's opt-out drew out a large and loud contingent of hockey fans all over the Canucks' social media channels, who chose to re-center the conversation around hateful, spiteful, homophobic rhetoric. Don't believe us? Look through the replies of every Canucks tweet from Friday night. Alternatively, don't, because the rampant homophobia is difficult to stomach.
"Over the past six weeks, six players have opted out of wearing Pride jerseys for a variety of reasons. Almost unanimously, condemnation has rung through the rafters of Canucks Twitter. It was a safe place to be a queer fan. There was support everywhere. Then, the charismatic dimpled future superstar, beloved by all, refused to wear the jersey, and the winds shifted so fast it made your head spin. Suddenly, the Canucks' Pride Night was about asking for acceptance and understanding, not of the Queer community, but of a Russian hockey player. The focus was no longer on the growing number of anti-trans laws in the United States but on one law in Russia." Speaking with CanucksArmy, Cody Sweet remarked, "the 2SLGBTQIA+ community couldn't talk about their fears. Instead, the evening became about one man's fears, and we were asked to cede space on our night. His actions empowered the wrong people, and I truly fear that this is one of those situations that will not get better, at least not in the short term."
We asked the community what Kuzmenko's actions say to them and the community at large.
One respondent wrote, "ever since the Provorov incident, I've been holding my breath, expecting today to be a shitshow. Months of thinking, "would the players even WANT me to support them, or want me at their games?" And even though all of the other players have shown support, such as Quinn Hughes, who demonstrated that Canucks leadership would be in good hands for the future, I still can't help but feel a bit betrayed."
Another respondent offered a similar view, "it's disappointing when players can't do something simple like wearing a rainbow-coloured jersey for 15 minutes and have pride tape on their stick. To me, the rainbow or progressive rainbow means everyone – not just some. Kurtis Gabriel kept Pride tape on his stick for many seasons in the NHL. Hundreds of NHL players have worn their Pride jerseys in the warm-up. These people mean something, whether it's as allies or as being visible. What you see, you know, is possible."
"What does it say to me when a player or team doesn't wear the Pride jersey? They don't have pride. They don't believe in inclusion. They are not welcoming. Their words are hollow. Their actions promote exclusion. "
The Cutting Edges Reid Herasum surmised Kuzmenko's milkshake duckery relative to the team better than anyone. I've included everything he wrote because it's a critical piece toward understanding the 2SLGBTQIA+ perspective for everyone reading tonight's Stanchies.
"When someone opts out of wearing a Pride jersey for warm-up, for whatever reason, it signals to me that I am not welcome in their world. They are not "endorsing a lifestyle" or "encouraging a behaviour" that they disagree with, as some people have said. We did not choose to be 2SLGBTQIA+. It is simply who we are. "Pride" is about not being ashamed, and players who support these pride initiatives show that we are welcome in their world just the way we are. Those who opt out are showing the opposite.
Upon hearing of Kuzmenko's opt-out, Hearsum expanded, "It's unfortunate that Kuzmenko has chosen to opt out of wearing the Pride Night jersey. But I'm choosing to focus on the fact that the rest of the players and the Canucks organization as a whole support Pride and inclusivity. Andrey's dissent does not change the fact that Quinn Hughes and the rest of the team are choosing to show their support for our community. We will never be able to convince everyone, but I see the fact that it's only one person opting out as a huge win. A decade ago, it may have been half the team. By going forward with their Pride Night celebrations regardless, the Canucks organization is demonstrating that they believe inclusion and supporting the 2SLGBTQIA+ community is more important than protecting the reputation of one of their players. I believe that allowing Kuzmenko to opt out is the right call to make and the fairest way to handle the situation for everyone, him included. He is free to do what he feels is best for him, but he is not immune to the judgement and public backlash that may occur. While I'm very disappointed in the player, I'm focusing on the fact that the rest of the organization supported my community tonight."
With all that said, let's get into the game itself and make some GIF money!
Worst "do you really want to hurt me?"
Shut down for the season after only four games played. Has any player done less to cement themselves as a true Vancouver Canuck than Filip Hronek?
Lea Sweatt, perhaps?
Best Scorchstack did not have it first
You know, I completely forgot Milan Lucic was a Calgary Flame. After coming out for an offensive zone shift, Lucic got a split-second touch of the puck before drawing a handful of jeers from his hometown crowd. Lucic dished off to Rasmus Andersson, who recorded a late first shot of the period.
It was a rough opener for the hometown kid Lucic, earning the first instance of the dreaded Sportsnet shift clock!
Besides the shift clock, it was a weirdly Lucic-centric start to the first period. It was his weak pass from behind the Canucks' goal line to Mikael Backlund at the point that resulted in Conor Garland's opening tally.
Bless short king Conor Garland for sparking the breakaway off of Backlund's little move at the blue line.
Vancouver West: 1
Vancouver East: not 1
Before the Canucks could roll off the momentum of Garland's goal, Sheldon Dries was caught with his stick under Nikita Zadorov's arms, sending the Canucks to the penalty kill.
Fortunately, that opened the door for more Elias Pettersson shorthanded wizardry.
Here he is, sticking to Elias Lindholm before dipping back to the slot to get a stick on Andrew Mangiapane's shot attempt.
Then, sealing off Demko's left post to deny Elias Lindholm a surefire tap-in goal.
Pettersson almost played the entirety of the Flames' power play and was responsible for denying two tap-in opportunities! TWO!
Has a non-playoff team ever had a Norris and Selke winner before?
Late in the first, Anthony Beauvillier took a 4-minute double-minor for high-sticking Blake Coleman. Incredibly, the Canucks killed off that penalty too! Sure, the Canucks finished the period outshot 11-6, but withstanding six minutes of a desperate Flames squad's power play was massive.
The best part of the Canucks' late-season push has been Quinn Hughes' push to get his name in the Norris voting hat. Beyond his record-breaking counting stats, his ridiculous plus-20 on-ice goal differential at 5v5, or his outrageous ice time at 5v5 and the penalty kill, it's been Hughes' work rate on every shift to create something out of thin air.
Off a weak neutral zone pass from Toffoli, Hughes picks off the puck, darts in for the zone entry, then hits a burst of speed around Troy Stecher for a hooking shot on Jacob Markstrom like he was a WHL washout surfing in beer league hockey.
Seriously. He makes everything look so easy.
Adam Fox won the Norris trophy in 2020-21 despite the New York Rangers missing the playoffs by more than 10 points. If he can do it, surely Hughes can. He's put up incredible numbers on a terrible team while playing key minutes on both special teams and at evens.
It's time the mainstream pundits start throwing some respect on his name.
Late in the first, Troy (from Richmond) flipped the puck out of the d-zone, drilling Kuzmenko in the side of his head.
He was fine.
The Canucks ended the first period with a minute remaining on a power play opportunity drawn against Andrew Mangiapane, and wouldn't you know it, Elias Pettersson did his thang.
A quick give-and-go for a 93.4 mph slapshot from Pettersson put the Canucks up by two.
It wasn't just the heat-seeking missile from EP40, either. It was Pettersson's poke-check behind the goal line to create the scoring chance in the first place.
"Hello, Selke Trophy? Yes, it's me, Vancouver Stanchies fill-in guy. I'd like to nominate someone!"
Vancouver West: 2
Vancouver East: still 0
Worst "You Need To Calm Down"
What's a Canucks game without a blown multi-goal lead? As we said, the Flames were playing desperate hockey. Pair that against a guy who's infamously known as the Chaos Giraffe, and baby, you've got a comeback going!
To be completely fair to Myers…
Tyler Toffoli's goal to cut the Canucks' lead in half was objectively hilarious.
First, it was Myers' no-look pass directly to Toffoli at the Calgary blue line.
Then, it was Myers poking the puck off Toffoli's stick on the retreat and onto Mangiapanes.
Finally, it was Myers' decision to collapse on Mangiapane, unintentionally taking away Bear's man, missing the puck, and opening up an unstoppable shooting lane for Toffoli down the right wing.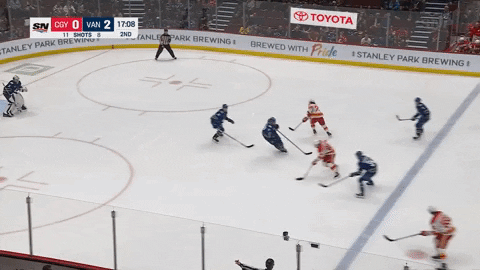 Comedy! We love it, folks!
Vancouver West: 2
Vancouver East: 1
In our last Stanchies, we did the whole "death, taxes, a power play goal against" bit, but we forgot one other essential Canucks staple: TOO MANY MEN PENALTIES!
The Canucks earned themselves a second power play opportunity in the middle frame, but the best GIF to come out of it was Demko's highway robbery on a shorthanded chance.
It was a bizarre sequence that began in the neutral zone after Pettersson neglected to play the puck off a high stick.
The Flames pounced on the opportunity, splitting the Canucks wide open and forcing Demko to make a massive goal-saving glove stop on Backlund.
We know who won't be buying the boys' dinner tonight!
Worst Portrait of a [Defenceman] on Fire
The Vancouver Canucks shut down Filip Hronek, and they're testing Dakota Joshua in the top six; at this point, why not pry Tyler Myers from the defence and try him out as a forward in the "big net-front guy" role? Because the whole "defenceman" thing really wasn't working for him against Calgary.
For several seconds, Myers held his man in check outside Demko's crease. Unfortunately, while ducking from a high-rising point shot from Troy Stecher, Myers allowed Blake Coleman to separate for enough space to pick up the loose rebound and tie the game at two.
Vancouver East and West tied at 2.
Best "do you believe in life, after love?"
What other good s**t can you find in the doldrums of another lost Canucks season? How about rookies scoring their first career NHL goal?
Aidan McDonough scoring his first, then immediately hugging childhood friend and teammate Jack Rathbone during the celly?
That's the good stuff right there.
Credit to Jack Studnicka for setting the pace with excellent forechecking pressure on Troy (from Richmond) to spark offensive zone possession for his linemates.
Additional credit to Sheldon Dries for his backhand pass to McDonough on the doorstep for his first!
This is the first time since 2011 that Canucks fans have been happy to see Massachusettsans celebrating a goal scored in Rogers Arena.
Vancouver West: 3
Vancouver East: 2
Worst Call Me By Your Name
Troy Stecher, from Richmond, don't you ever forget the name.
Tyler Myers was on the ice for his third goal against after he and Guillaume Brisebois were caught backing into the d-zone off the rush.
McDonough leaving Stecher to take away the pass up the middle to Nick Ritchie is a wise move. However, when the Chaos Giraffe and Le Girafe du Chaos defend the rush, it's best to just stick to the nearest man possible and let Demko sort out the rest.
McDonough did attempt to get his stick down on Kadri's cross-ice feed. But nothing could stop Troy Stecher from getting sweet, sweet revenge on his hometown team.
Vancouver West and East tied at 3.
The broadcast barely had time to review the Stecher goal before Nils Äman and Anthony Beauvillier combined for a give-and-go goal to regain the lead for Vancouver.
Ironically, Myers and Brisebois were on the ice for the tiebreaker goal, including Myers' first point of the night with the initial breakout pass to Beauvillier.
Worst "I want to break free"
Late in the third period, the refs did their thing, calling a baffling high-sticking penalty against Elias Pettersson to give the Calgary Flames a late power play try.
With 4:22 left in the period, Connor Dewar executed a stick-lift on Pettersson that raised EP40's stick under his visor, nearly blinding him in a horrific moment of violence.
Dewar did survive.
Then, a minute into the power play, Guillaume Brisebois took a point shot to the jaw that took him off the Canucks' PK.
Then, Jonathan Huberdeau tied the game at 4 with a sharp-angle shot that banked off Demko and into the net.
For the folks tracking at home, that was the fourth goal featuring Tyler Myers on the ice. However, the late equalizer was hardly his fault. Whether intentional or not, Noah Hanifin's slap pass off the backboards to Huberdeau at the bottom of the left circle was an incredible and inspired playmaking.
Vancouver East and West tied at 4.
Despite the incredible late efforts of Phil Di Giuseppe and Dakota Joshua to win it for Vancouver in overtime, the Calgary Flames persevered to keep their playoff push alive.
Too bad, because Di Giuseppe looking off Hughes for the setup to Joshua at the netfront would have been a picture-perfect and gorgeous finish to this wild rollercoaster of a game!
Seriously, the AHL call-up looking off Quinn freaking Hughes at the point to set up a player in Joshua who is in the midst of the first full NHL season of his career? That's the kind of bold creativity to win games we can get on board with!
It didn't work.
But imagine it did!
Sadly, the Flames turned the puck the other way for a two-on-one, and frankly, you just can't get in the way of post-Canucks, revenge-mode Tyler Toffoli. Especially when he has a chance to rub salt in the wounds of Canucks fans everywhere who are still processing Jim Benning's 2019-20 offseason roster moves.
Oh well, it was a fun game. Demko was unbelievable, Pettersson scored his 36th from the Petterzone, McDonough scored his first career goal, Stecher and Toffoli got their revenge and the Canucks put on one hell of an event for the 2SLGBTQIA+ community.
This one had it all.
Oh my…
Best "Baby, you were born this way"