The Stanchies: Life without Bo Horvat begins for the Vancouver Canucks with a 5-4 overtime loss
Photo credit:© Vincent Carchietta-USA TODAY Sports
With the Bo Horvat trade completed, it truly feels like the Canucks are officially in tank mode for the rest of the season.
No, the players aren't being asked to lose, and you know Rick Tocchet and his team will be doing everything in their power to eke out every single point he can to try and ruin the dream of Connor Bedard because the hockey gods don't want you to be happy.
But the mental tank mode for the fan base? It feels far less divided than ever before. People are starting to band together in accepting that another L in the loss column is the way forward for this group right now.
And if you doubt this, please know you are in the wrong. Wins do nothing for this club. Putting together a streak of wins won't "teach the team what it takes to win." All it does is drive them further from the best talent available in the NHL draft. And buddy, if I hear one more person try and reason with me that "Winning some games down the stretch will help this team come together next season!" I will straight up throw them into the Burrard Inlet. Like, not even the fun part where seals and people on fancy boats hang out, but the little bleak alcove near Granville Island that is home to a Pirate ship show.
The Canucks could blow an 8-0 lead now and not only would it not shock me, I wouldn't even be outraged over it. I would simply clip my videos, force in a reference to some HBO TV show, and spend time wondering how Overwatch 2 developers had the audacity to call that a new game. Orrisa has a spear that deflects the entire world now, can't you see the vision?? It's a new world out here! You push robots around a map, look how fun this is!!
But I digress, much like Tom Wambsgans.
The point is, the Canucks' latest 5-4 loss is just another stepping stone to next season. You basically take small wins where you can take them, and then wait for the season to end. You forced a superior team in New Jersey to have to hold on and win in overtime? That's a win. You saw Kuzmenko undress Dougie Hamilton and put him to bed in bunny pajamas? We saw Quinn Hughes vs Jack Hughes in a breakaway showdown in overtime? You can't win much more than that in terms of a fun hockey-viewing experience.
At this point all Canucks losses are good, so you just kind of sit back and hope for an entertaining game. It's not often Phil Di Giuseppe helps the team storm back from a 4-1 deficit, so you might as well enjoy it.
The other side of that coin? Waiting to see who else might get dealt before the NHL trade deadline. It's been a long time since this team held a fire sale at the deadline (it's just, they ran out of time in years past you see), so the biggest question that remains for this season, is what exactly is this team's vision for next year? Will a high-priced winger be dealt? Will they find a taker for one of their big contracts? Will Luke Schenn land five first rounders or six? These are the questions that await us.
Until then, let's make some gif money, shall we?
It's like seeing your ex post a bunch of pictures of their vacation and new job, along with the puppy they just adopted, all within 24 hours of the break up.
Were we the problem?
Best hear what you want to hear
I think we've all heard the rumours and rumblings of Miller and Pettersson not being the best of friends on the team. I'm not here to weigh in on it on either side, but I will say that people using eye emojis and going "It's not what he says, it's what he DOESN'T SAY" in trying to prove evidence of a major rift is a bit tedious to me. Again, I am not saying they're best buds or that people on teams always get along, or whatever. I'm just saying some people are starting to strain muscles in an effort to showcase proof of concept.
I just think this market has more than enough real drama to weigh in on that we don't need to try and shoehorn this into Ben Affleck and J-Lo levels of scrutiny.
"Did you see the sandals EP40 wore? He's clearly saying he's trying to dress how Miller plays defence: Lazy and irresponsible. I'm surprised you didn't pick up on that, to be honest."
Sometimes she's just Jenny from the block, okay? It's not about the size of her rocks.
Vasily Podkolzin, or as my brain tried to write "Val Podkolzin" returned to the Canucks' lineup, and while he didn't score any points, he was one of the more noticeable forwards who tried to drive hard to the net throughout the game and was physical along the boards: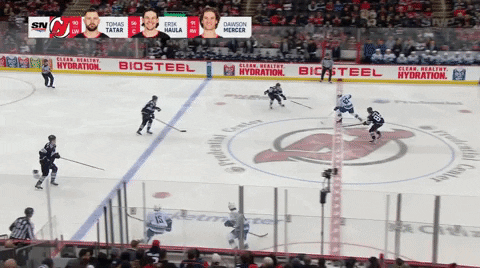 He's like that aggressive driver who speeds by you in anger only for you to see them stuck beside you once again at the next light. You can appreciate the tenacity even if they didn't get the results they wanted.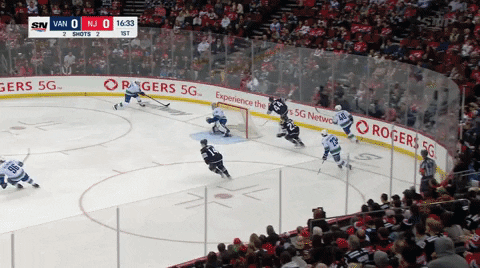 Sometimes when watching games I am writing up a storm, or putting together video clips.
And sometimes I just have to sit back and appreciate what I'm seeing.
Kuzmenko is very much up in that silver-lining category for Canucks fans right now. Sure, the case can be made they should have traded him. That they didn't need to invest more in wingers. But you know what, this guy is like 30% of the reason to watch Canucks games this season. (40% is to watch Elias Pettersson, 20% Quinn Hughes, 5% to watch Collin Delia freeze in spot after goals, and 5% is the hopes of watching Fin being taken out in the second half of that Canucks intro video we've been promised. Replace him with a broom or something.)
This is also someone who willingly wants to stay here and play hockey, but isn't demanding all of the money to do so, which is kind of sweet, you know? He just feels far too innocent and unjaded for this market, which is all the more reason to love him. I feel like your car could blow a tire and before you knew it, Kuzmenko would ride on by on an electric scooter and would stop to offer help. Either that or JT Miller would drive and scream at you for not getting out of the car sooner.
Not to be lost in that clip is the kind of stretch pass Olli Juolevi dreams about at night. Luke Schenn feathers the puck long-range over to Kuzmenko, who then proceeds to send Hamilton to the library for quiet time.
Again, I am here for the Canucks viewing Schenn as a core part of the leadership of the team, and someone they want to keep around. I do place value in having a team that has strong leadership in place, especially one that you can call Daddy and not feel uncomfortable doing so.
But if they want to cash in and try and give themselves as many assets as possible, Luke Schenn is likely going to be their prime piece to deal at the trade deadline. Multiple Stanley Cups, throws tons of hits in a responsible manner, and is chipping in on offence? That's about as easy a sell as one can make in the NHL. If he was as ruggedly handsome as Erik Gudbranson, you land Connor McDavid for him easily.
Collin Delia is my favourite of the Canucks' backup goalies, mostly because odd things happen around him: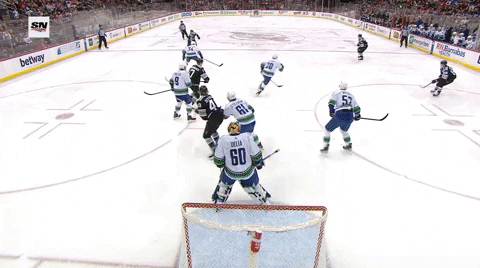 If that's Spencer Martin that puck deflects to the corner and the mask stays on. Ugh, Spencer is so boring. Why does he hate fun?
I will say that in the first period, the Canucks played a pretty solid game, as low as that bar may be.
Oliver Ekman-Larsson has a deep resume of pinch attempts in Vancouver that end up with him getting countered into an odd-man rush. To the point that when it happens I do a sitcom sidelong look at the closest person near me and go "There's our Oliver!" complete with a saxophone riff.
But give OEL credit, as he made a pinch and busted his ass to get back into the play, and on top of that, had forward support in Curtis Lazar: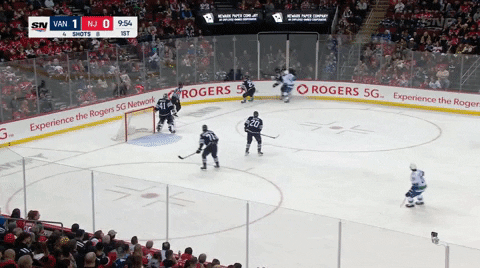 I cannot tell you how many times I've seen that turn into an odd-man rush goal this season, but the Canucks looked locked in early on with their defensive structure and support.
Best Bo to Beau transfer of ownership
The Dave Gagner of the Horvat trade, Anthony Beauvillier got the nicest gift one can have when arriving in Vancouver, which is being allowed to ride shotgun with Pettersson and Kuzmenko.
In terms of the Corsi wars, he was tops on the team, and despite not getting any points, he was involved in some solid offensive chances: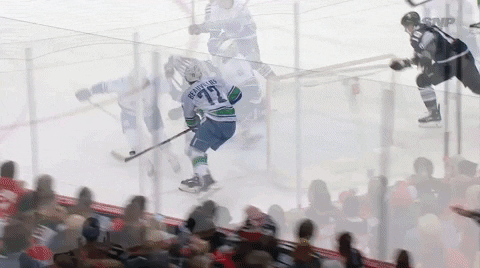 He tries to feather the pass through but good defence from New Jersey and the fact Anthony doesn't know yet that you can flick that in waist height and EP40 will heel kick it to his stick using Swedish magic, results in no shot on net. The instincts were good though.
Do I think Beauvillier is the missing piece of the EP40-Kuzmenkshow connection? Not really. The Burrows dream of finding a scrappy hard-working winger who will dig out pucks and pass to the skilled guys but ends up discovering he's in fact a reliable 25-goal scorer is always a tantalizing one, I get that. I just think it would be nice to see a high-end sniper on that line, someone who can cycle the puck but also free themselves up for prime looks in the slot.
Still, we have nothing but time to see if I end up looking like an idiot after Beauvillier completes his third 40-goal season with the Canucks in a few years.
Best what about that other sniper
I read that as "old-timey" so I pictured Brock coming in with a monocle and complaining about steam engines ruining his horse carriage business.
Nonetheless, we used to see a lot of this Brock in years past, coming in with that swagger of Chris Faber in a media scrum, and that absolute bomb of a wrist shot: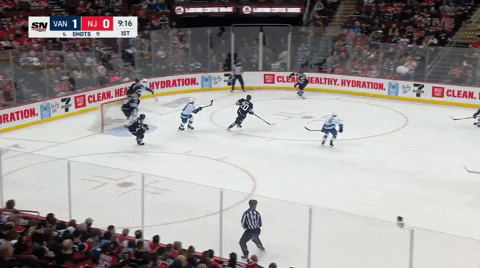 Fair or not, I feel like every injury is going to be pondered in Vancouver for the next while, so you wouldn't be alone if you were wondering how much his hand has held him back this season.
Obviously another big part of his decline right now is not getting prime looks on PP1 and not getting to play with EP40, so if I am another team looking at the Canucks, how do you not grill them on his salary and try and buy low on him as a player? Feels like a prime candidate to bounce back next season and have people wonder what Vancouver did wrong.
I'm telling you, that first period was oddly strong for Vancouver. We all know Vancouver gets counter-rushed to death every game, but Monday night, it felt like they actually pushed back on that: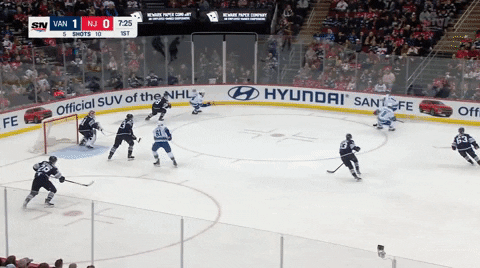 Ethan Bear keeps up with his man and uses his stick like a young Sami Salo to deflect away a prime scoring chance, that's the good stuff right there.
(Even if we both know Collin Delia was about to bust out a rolling pad stack save.)
One period of solid hockey does not a turnaround make (as you shall soon see). But yes, just to hammer home the point that this team is capable (at least once every 30 games) of knowing where to be in the defensive end: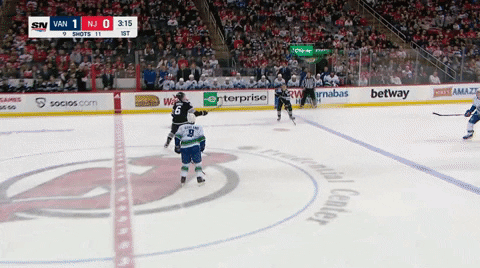 Tyler Myers sticks with his man, guides him into the boards, and then JT Miller swoops in to offer puck support and helps get the puck out of the zone.
Look, I get it, I just typed out a really boring sentence about basic hockey, but this is the stuff we have to celebrate right now. This is where this team is at as a franchise right now. When they complete three passes in a row it's okay to look to your buddy and go "all right, let's do this" as if it's the start of the Oilers' 80s dynasty.
Despite the coaching change, it's nice to know that giving up a goal to start or end a period is still alive in Vancouver: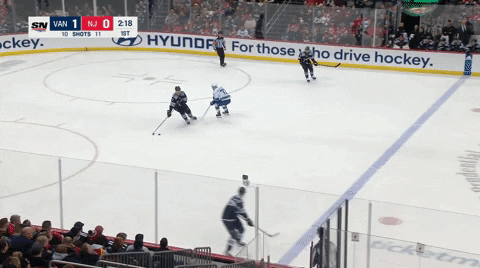 The Canucks overload the left side of the ice, and it's not often Elias Pettersson gets fooled on a play, or has one of his stick dives fail in epic fashion, but give Jack Hughes credit, he's the second-most talented Hughes in the NHL for a reason.
Delia obviously should have stacked the pads, so a lot of this is on him, but man alive does Jack make that goal look easy. Even better? Quinn Hughes had a front-row seat. Brother rivalry is on, baby.
The EP40-Kuzmenkshow is the main reason to watch any Canucks game, and they lived up to that billing by being the best line for Vancouver on the night:
Elias Pettersson is one of the few Canucks who can regularly make zone entries by himself and can beat man-to-man coverage to do so. Not only can he gain the zone, but he is so good at drawing double coverage and then dropping the puck off for a now-open teammate. Compared to me in beer league hockey where I audibly scream anytime the puck comes near me.
On that play, though, EP finds Kuzmenko, who smashes his deke button and walks right around Haula before eventually getting the puck over to Beauvillier, who does his best to try and get a shot off.
Again, I like Beauvillier's game, but EP40 and Kuzmenko, they love themselves some fancy passing. Having a guy whose only goal in life is to shoot the puck would probably do well on this line. It feels like one of those Anson Carter situations where sure, you appreciate Trent Klatt going to the boards hard and picking up the coffee in the morning, but it was like a brand new world opened up when a guy who could shoot was put with the Twins.
For now though, you might as well give the new kid the fun ride to see what you have in him.
Best getting rid of the evidence
Michael McLeod knows that the best approach to dealing with a goalie is to flick his stick 30 feet away from the goalie any chance you get: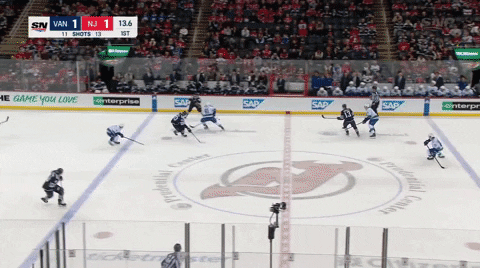 I know this might sound sad, but it's nice that the Canucks didn't let one player deke through three of their players and score, you know?
Look, not to superficially bag on Spencer Martin, but if he stops this breakaway, he simply stands his ground in one spot.
Collin? He dramatically slides backwards like Randy Ferbey is trying to feather one through the house: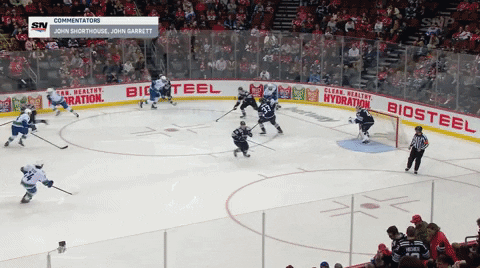 Did the puck go in? Did it cross the line? Stay tuned for next week!
See, Collin makes saves like he's dropping cliffhangers at the end of a weekly episode, and I appreciate that. Spencer Martin is out here making saves you can binge through in half a day.
Best when Jeff is right, Jeff is right
Not nearly enough people drop bombs on breakaways.
Which is why sure, this is fine: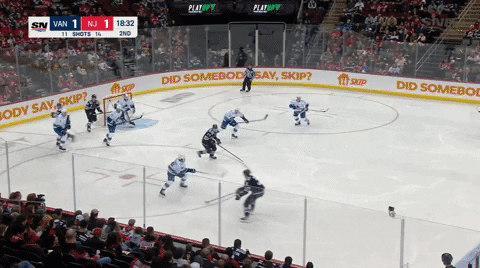 Elias Pettersson has too much time on his hands, the moment's too big, he's never faced an athletic goalie like this before, and he hits the post hard, like he's mailing a letter with the British Guiana 1c Magenta.
Do yourself a favour and take 7 minutes to watch a video of slapshot breakaway goals:
Overwhelming a goalie with pure power is another level of dominance. That's the kind of goal where the goalie goes home and sits in troubled silence for a couple of hours, knowing that something has fundamentally changed in their life that they'll most likely never recover from.
You have the hardest shot in the league Elias. Unleash the beast. Let your inner Brock Lesnar take over.
Tyler Myers has two modes: Chaos Giraffe and Pissed Off Giraffe Who Desperately Wants to Take a Penalty.
When he feels he's been wronged, Tyler gets up and immediately tries to hurt the closet player to him, which is how he ends up losing his helmet here: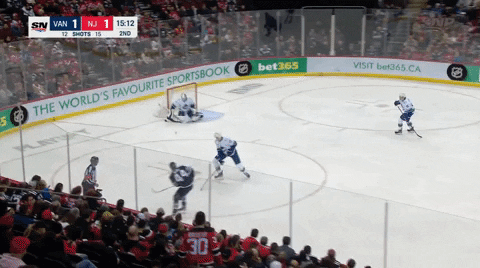 This is also how Beniers got hurt in the Seattle game, because Tyler Myers lives that Inigo Montoya lifestyle, and demanded revenge, legal or otherwise.
This was followed up with Val Podkolzin getting a breakaway before being accidentally-on-purpose slew-footed after  Vanecek made a nice save on the initial shot: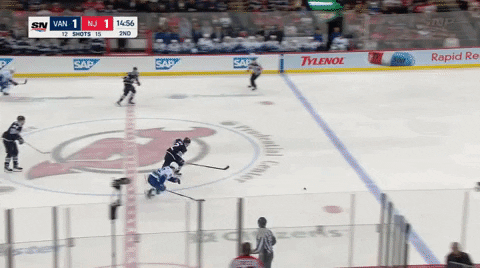 Like I said, an entertaining loss is about as good as it gets this season, so enjoy nights like these.
Best in Russia ice breaks you
Val wasn't done there as he continued to go hard to the net: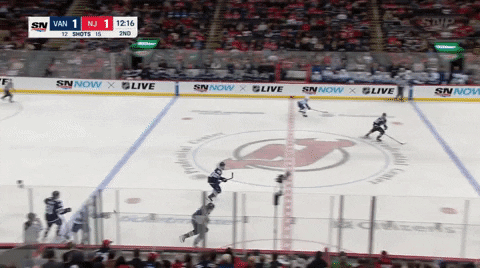 It feels like Podkolzin has had long stretches of "imagine if this guy starts putting it all together" and you can see why, because he has a really good tool kit to work with. It's just, yes, when is this going to start translating into goals at the NHL level?
You can still mark this down as an impressive return to the NHL for him, even if it didn't result in several goals and Andrei Kuzmenko challenging him to a long hair contest.
OEL ended the night with two assists, and the Canucks got 22 minutes out of him, so hey, that's a solid game for him.
It's just, watching him play with the puck, it really feels like he just does not create a lot of room out there, nor can he find his teammates for good open looks.
On this play in particular you can see Quinn Hughes walking the line and weaving and bobbing and cycling the puck, before it eventually finds its way to OEL where it just….dies:
Look, lots of players can't easily deke by other NHL players, and lots of players have turned over the puck in similar circumstances. It's the fact you pay him so much money that makes plays like this stick out for me. It just feels like anytime he has the puck you're not going to get a whole lot out of him in the offensive zone aside from a long wrister from the point.
The Devils proceeded to score their quickest three goals in franchise history, which isn't as impressive as it sounds as they spent around three decades gunning after 2-1 victories.
That being said, this New Jersey team is fun? And exciting? It's super weird to find myself saying that, but here we are: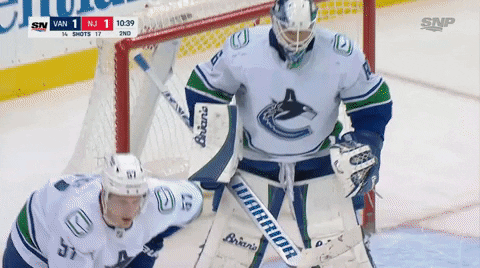 That's good puck movement and the kind of tip goal you score to secure a ticket out of your city and sign an 8-year deal with the Islanders.
I feel like fundamentally the Canucks were still okay defensively on this play, and you just kind of have to tip your hat to the, well, tip.
Where you really had your Hook "there you are, Peter!" moment with the Canucks was the third goal in which the Canucks end up going full Yakety Sax in their own zone, ending with Tyler Myers sliding the puck listlessly into the slot right onto Ondrej Palat's stick: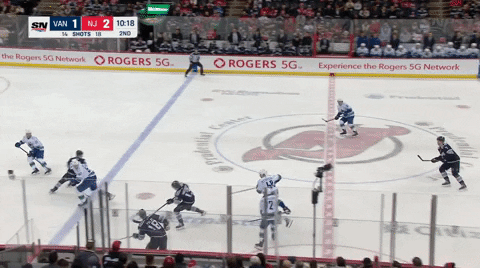 The Chaos Giraffe had an absolutely brutal shift on that goal. He loses a race and battle for the puck behind the net, then reappears on the scene to cut down an (admittedly) weak clearing attempt from Pettersson, only to then panic and shovel the puck away right into the slot.
Watch the clip again and see how much time he has to make a better play. Nobody is closing in on him, he simply rushes the play and serves up a Sbisa pizza special:
If ever there was a time for a terse conversation between J-Lo and Ben Affleck, it would be after watching this goal, assuming Ben Affleck was the one who signed Tyler Myers.
The Devils then got their fourth goal when Jack Hughes once again made his claim for the Hughes House Cup by potting his second goal of the game, this time with an easy tap in: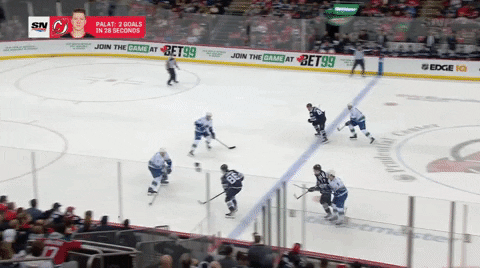 Luke Schenn has set up shop right in front of Delia and then tries to help out with Riley Stillman's guy, which is a lack of trust issue at that point. Not just with Stillman, but with the entire team. When they start panicking and giving up goals, that's when you see the team start to overload the coverage and start leaving guys open, leading to countless back door plays like this one.
It's kind of like when you have a friend, let's say, named Jay, who is your best Overwatch player in the group. But then when you try competitive mode out, you see them flounder as a Tracer and lose a game for you, and your trust just sort of disappears and you start questioning everything.
Should you switch to Reinhardt? Or Zarya? Before you know it you're using a giant hamster and rolling around in a corner and there's Jack Hughes coming in with his Widowmaker, making shot after shot after shot.
Where was I again?
Luke Schenn, currently the Canucks' second best defenseman, started the comeback for the Canucks with this quick dapper clapper slapper: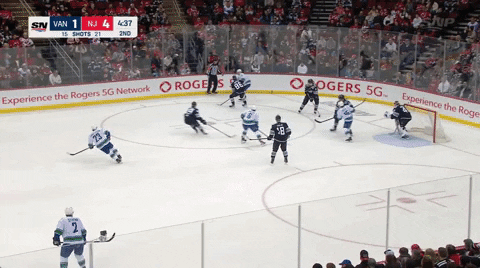 Quick and to the point (from the point?), Schenn just flings the puck on net and a good screen in front from Sheldon Dries leads to the goal. Basic hockey, but that's where Luke Schenn excels.
You want someone to come up with cold fusion? Quinn Hughes is your man.
You want someone to work the boards hard and not look out of place on Yellowstone? Luke Schenn is your man.
You want your office to shut down for the day because a report of radioactive cats taking over the newsroom and demanding they be granted their own country? Tyler Myers is your man.
Everyone has a role to play.
Best stonks stonks stonks
The higher you get paid, the more criticism you receive, it's how it works.
It's why Lachlan and Cody are the internet darlings and I have people wondering if I can be traded to the Calgary market. It's just how it works.
EP40 drawing a penalty and reacting like someone walked in front of him and took his mobile order at Starbucks was a highlight for me: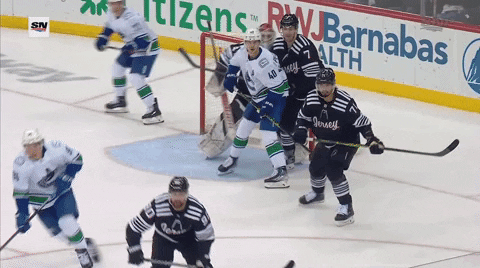 Just looking around to see if the barista noticed and was going to do anything about it.
Best take what you can get
if your plane was crashing and you were stuck on the flight with your ex, the third grade teacher who flunked you, and Andrew Walker, you'd appreciate being able to watch Die Hard on the inflight movie to take your mind off of things: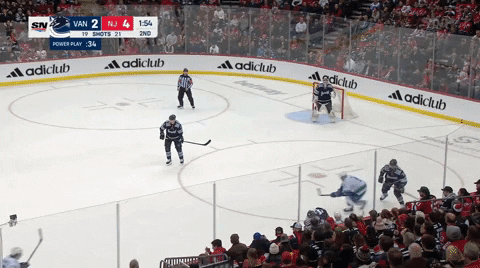 Kuzmenko's danglers per 60 was the highest of the team by far on the night.
Just as you all drew it up, Collin Delia made a massive two-on-one save, leading to a counter rush in which Riley Stillman circled the net and flung a deft pass in front to Curtis Lazar for the goal:
This team can score goals, we know that, it's just the whole defence thing that has been an issue. That being said, Stillman to Lazar is not something I would have seen coming on Monday night. Tuesday night, sure. But never Monday.
It's true, Chara can corroborate it. Remember, if you think it's true, who's to tell you it isn't?
There are times when I watch the NHL hand out penalties for stick-on-stick crimes and I wonder what's happening to the game I love.
Then there are times when Sheldon Dries tries to remove a man's thumb and I wonder how a penalty wasn't called: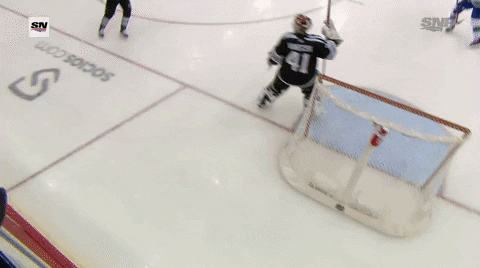 It's a delicate balance.
Best who are these people
If the Curtis Lazar goal was a shocker, boy do I have another surprise for you: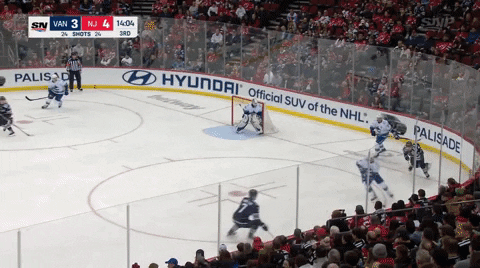 Yes, that's recently called up Phillip Di Giuseppe looking off the pass to Dries and just introducing people to his gun show.
I in no way had to google his name to make sure I had it correct.
I mean, this is the fun stuff, right? Watching players come up and have their big moments.
Is Phillip Di Giuseppe going to have a long career in Vancouver? Probably not. The NHL is sustained by 3-5 year career arcs of players having a go in the show.
But it's also moments like these that make for some of the best memories.
Straight up, these are honestly some of my favourite moments. Guys getting their chance in the show and making a memory for a lifetime.
It's like Game of Thrones, except every chapter is about a Lannister cousin living in a small fishing village, trying to deal with setting up a tax system.
The Canucks lost the game, as you remember from reading the intro, but they almost took the lead when Ethan Bear walked in all alone with a great look at Vanecek: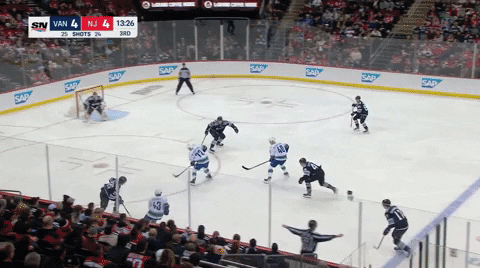 The hands-on-the-head reaction is the universal "how did I not score there, I bet my hat flew off in shock" reaction we all have for some reason.
It will say if you're going to take a penalty, I'd rather it be drilling a guy in the back as hard as you can as he goes for a rebound in front of your goalie: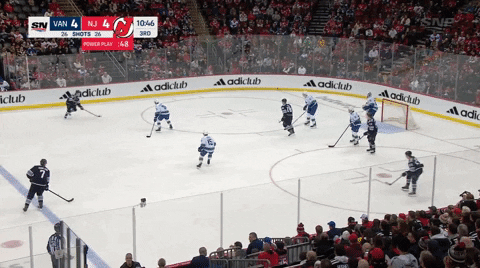 Unfortunately it is not the 80s, nor is it the 2011 finals, so that is no longer allowed.
This led to an extended 5 on 3 power play for the Devils, and you know what's super weird? I have no clips to show.
No clips of top notch penalty killing. No clips of top notch power play goals. It just sort of…went away.
The puck was in some scary spots, but every time that happened it just sort of got up out of its chair and called it a day.
Best releasing your inner Brock Lesnar
See? Doesn't it feel good to unleash the beast?

I honestly believe if you tell EP40 he can't do something in hockey, he will find a way to do it. He's the Michael Jordan of taking it personally in the NHL.
Best Hughes on Hughes crime
I straight up muttered "Raymond" when Beauvillier took the shot that rung around the boards and sent Jack Hughes on a breakaway: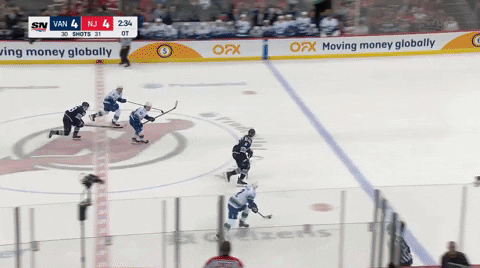 Nothing gets my goat more than dudes coming down in overtime and thinking "oh yeah, top corner, easy" and taking a shot that completely misses and sends the other team on a counter rush.
The end result was Jack Hughes going for his hat trick, but being denied by a combination of Collin Delia and Quinn Hughes skating back like Jeff Tambellini in the playoffs. If that's anyone else, Quinn skates 5 miles slower there.
I also enjoy Quinn's annoyed petty stick slash after the play is dead because he knows Jack is winning the battle.
The officiating had some iffy non calls on the night, so I had settled in for the "oh they're letting them play" mentality. Especially when I saw JT Miller go down in overtime to no call.
So yes, I was surprised they called Kuzmenko for extending his stick and getting it in the general area of Jesper Bratt. That felt like one of those "Don't make it look bad or they'll call it" situations that I thought JT Miller had just been through: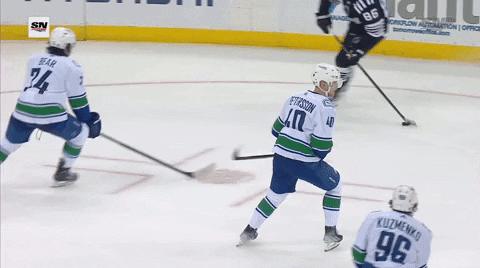 I feel like you shouldn't call either of those, but Wagner insists that JT Miller was diving. I agree on second look it's not as bad as I first thought, and it can be filed under "looks bad, but let it go".
My only problem is I still don't like the call on Kuzmenko, and it felt like spot picking a penalty for the home team. Did they not see Kuzmenko raise his hand in the universal sign for "I'm not doing anything wrong here, please ignore this?"
The end result however was a Devils overtime win, which is good for the Canucks, even if it's bad for Quinn Hughes at family dinners: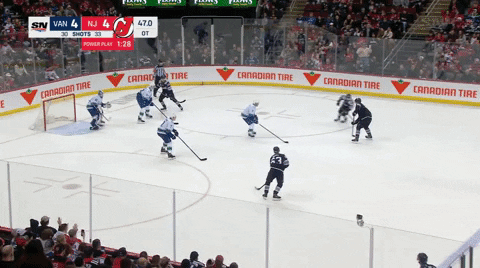 The important thing to note is that Jack Hughes didn't get a hat trick, which is what real MVP's would do, so I don't know why their fan base insists on chanting that for Jack.
The Canucks lose, but in entertaining fashion, mark that down as a win.
Next up? The Rangers on Wednesday.
Finding out that my boss is David QuadreIli was like finding out Pavel Bure was actually Pavel Bur3.
This one hurts.
We will see if he has the integrity to keep this in the article.
The truth must come out.
But what if he had started game 6. Hear me out.
"Oh good, good, it appear she's taken up Yoga and ha come into a lot of money. Very happy for her. Very happy."