The Stanchies: The Kuzmenkshow gets it done in Canucks shootout win over Dan Vladar's Flames
Photo credit:© Sergei Belski-USA TODAY Sports
The Canucks continued their win some, lose one ways in December, and if small trends are anything to set your watch to, the Canucks' latest 4-3 win over the Calgary Flames should be the first of three victories in a row. All of these wins have to be after regulation, of course, as is tradition. And all of them have to have confusing subplots that seemingly show up out of nowhere.
The most recent twist on the Canucks' White Lotus journey (I'll pause for a moment to let that theme song ride through your brain box) was the arrival of the Canucks' latest "all hype all the time" third line in the form of Nils Höglander, Sheldon Dries, and Conor Garland. Having a third or fourth line go on a celebrated extended run on a team is a time-honoured tradition in hockey, and I don't say this with snark or derision. There is something so incredibly easy about falling in love with a bottom six line that arrives on the scene and blows you away with its play.
It helps that you don't have any deep insights into them, and the only thing you do know is they played good the first time you saw them. Which is why it's so easy to get swept off your feet by these lines. They don't have seasons worth of baggage of playing together, so you can't point out any of their flaws, you just know they're banging, and you want to see more of them. Even the West Coast Express would run into passive-aggressive comments about their lack of defence, or the Sedins would get hit with the "they're great, but I think they pass too much," comments.
And yes, it's only been one game, and Sheldon Dries' position on the roster is about as tenuous a situation as Edmund getting a hankering for some Turkish Delights, but even if it's just one game, what a game to go out on.
You'd have to think Bruce would go back to this line, because on a night when Elias Pettersson and Bo Horvat are struggling, and you watch a third line drag your team back into the fight? That seems like an easy sell job to me.
We'll get into it during the video clips and random pop culture references down below, but that trio all had their moments during this game, and they clearly controlled the play the majority of the time while they were on the ice.
Now, you can't just give a nickname to a line one game into their career. I feel like we need to hit twenty games minimum before we humanize them by giving them an actual name. Which is why we can absolutely assign the dumbest name we can think of in the meantime before it gets swept away in the annals of history.
So just how good was the Sweet Daddy Sugar Sauce line? Read onwards and find out.
Brock Boeser was scratched mere moments before the game was set to take place, and it was met with the usual calm and reserved manner of the Vancouver market. Not a single person openly wondered if this meant a trade was imminent, nor did anyone get angry on Boeser's behalf.
Instead, they waited until they were updated that it was illness related, and then went about their day, barely mentioning it ever again. One person tweeted about what this meant for the future of Brock in MMA, but it was later discovered they were discussing Brock Lesnar.
And I can 100% confirm that the team's victory without Brock in the lineup was not once used as proof positive that the team is better off without him and "looked totally faster" with him out of the lineup.
The only intense controversial conversations were mostly centred around Quadrelli's Lego building technique, to be honest.
Bang bang bang, and take all your money: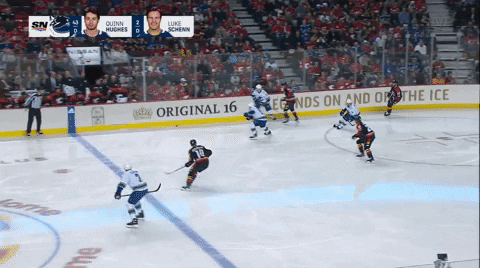 Yes, Bo Horvat continued his torrid scoring pace, to which I imagine Pat Morris just goes full Sam Rockwell and dances like the coolest person in the room every time he sees another goal from #53.
The latest goal was off of an inside tip from Bo in which he furtively whispered "I think I'm going to score on Jacob Markstrom, shhh, don't tell Rachel."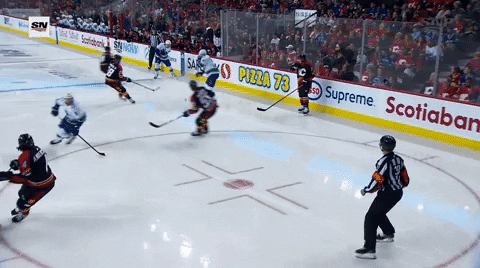 The most astute of you out there, and those that watched the game I guess, will realize that Curtis Lazar was playing on the top line. This is a man who once ate a hamburger off of the ice, thus proving he fears nothing, so it makes sense that Boudreau would try and use him as a glue guy for JT Miller's, how shall we say it, defensive dalliances?
Clearly Lazar isn't going to come in and score a bushel full of goals, but if you want someone that will throw hits and win some puck battles, you can see why Boudreau might use The Lazar Beam to be the defensive minded one of the trio.
The good news? That line didn't have many egregious passes where the puck went directly to the opponent. The kind of passes where you wonder if Shoeless Joe is urging them onwards from the heavens above.
The bad news? They got caved in pretty heavily aside from that first goal, so it will take some more games before we can decide if the Lazar Experiment is a success. Their Corsi was a mess, and JT Miller had more flybys than scrubs hanging out of their best friend's ride.
The neutral news? Vancouver will collect from green bins every two weeks instead of every week, starting December 19th.
Best never tell me the odds
The Sweet Daddy Sugar Sauce line got the Canucks' latest 2-0 lead out of the way early when Conor Garland worked the cycle with Höglander, and simply walked out of the net and shot the puck by Markstrom: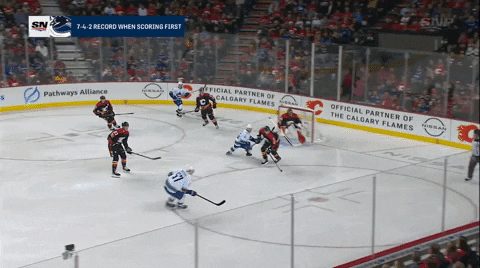 No spins, no circling the zone, just simply leaning into JD Burke's numbers game and realizing the odds have to go his way eventually if he keeps shooting.
You'll notice Tyler Myers making a good aggressive pinch on this goal, and I want you to treasure this moment, because it's the last stable thing Myers does for the rest of the game. Chaos Giraffe came to play, let's just put it that way.
Although Elias Pettersson had a quiet game, he still had moments of brilliance, to the point that even Kelly Hrudey was gushing over his ability to make things look so incredibly easy.
One of my favourite things to watch is Quinn Hughes finding an open man in his own zone and helping with clean zone exits. Here he collects a rebound and draws in two Flames before doing a no-look back pass to Elias Pettersson, who then pushes the puck forward to get out of the zone in one piece: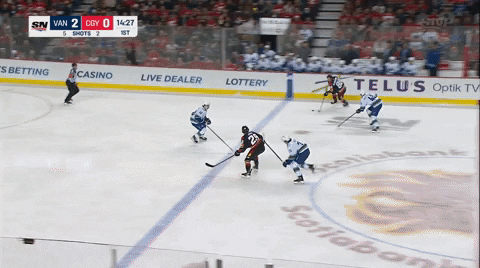 It's a small clip, but it's the players who make things look so easy that are some of the most fun people to watch. There is something to be said about watching Tyler Myers light himself on fire and try and jump over four cars in a monster truck every other shift, but there's a quiet grace and beauty about watching Quinn Hughes allowing the Canucks to leave the zone with control of the puck.
If there is one thing I can bust out at trivia night, it's remembering random goals that didn't really have much of a historical impact on the Canucks.
So when I saw the broadcast show a clip of this dump in almost going in: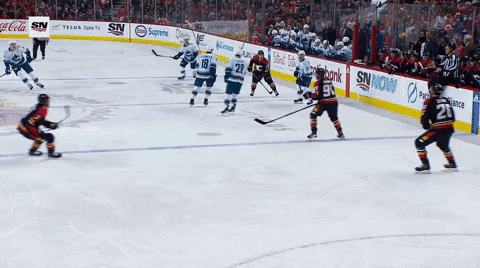 I immediately remembered the time Mason Raymond scored such a goal against Mikka Kiprusoff:
Fun fact: Mason Raymond scored a hat trick that game, and was often at his best playing against his home province team. To the point that I legit think the Flames signed him because they just assumed this fella was a 50-goal scorer and could not be stopped.
Once it was 2-0, you just naturally assumed the Flames would tie it up, so it was not shocking when Calgary began getting high-danger chances on Spencer Martin: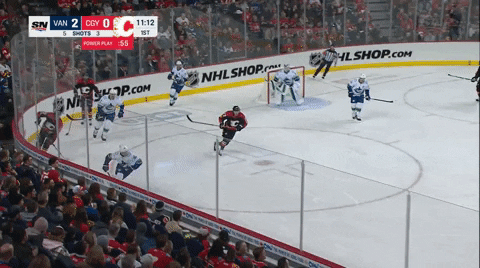 Full credit to Luke Schenn for taking away the bottom of the net with the Rose DeWitt layout on the penalty kill. Watch how he bounces right back up to his feet — that's how you do a proper layout in the NHL. None of this sliding into the corner business or rolling around swinging your arms like you're a helicopter that's lost it's way.
Best we knew it was coming
The Flames got their first goal of the game as their power play was just about to expire when Dillan Dube found Mikael Backlund all alone in front for the tip-in:
The hardest decision for Dube on this play was "Do I pass to Backlund for the open net tip in, or do I pass to Mangiapane for the open net tip in?" and I assume he went with Mikael because his last name is easier to spell.
On first glance, it might look like Tyler Myers is being a Chaotic Giraffe who has lost his way in life, but the replay clearly showed the puck deflected off of JT Miller's stick and went directly to Dube, because it's JT Miller, and his stick is programmed to do that at this point. Someone could wind up and send a slapper at JT Miller sitting on the bench, and the puck would neatly deflect off of his stick right into the middle of the ice for a breakaway for the opposition. It's the world's worst magic trick, but here we are.
The Canucks found themselves in trouble later in the period when Quinn Hughes of all people tried to force a pass through the slot to Ethan Bear, who is clearly only here to retrieve hard-to-get pucks on dump-ins: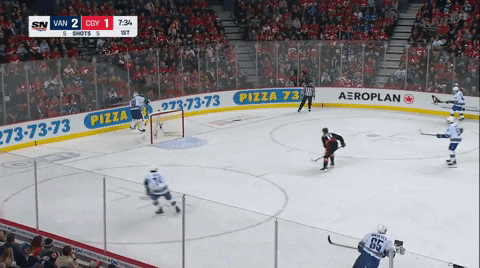 Asking Ethan Bear to receive a difficult pass in his own zone isn't part of his union duties and quite frankly I'm insulted Quinn Hughes even tried to do this.
As a result, the Flames got what looked like two brilliant scoring chances, before it was discovered Mikael Backlund is in fact Barty Crouch Jr, someone who enjoys gently bumping into goalies whilst flicking their tongue, so he was sent to the penalty box for his crimes.
This led to JT Miller on the power play, or as we call it in Vancouver, Betsy Wetsy time, but in his defence, he didn't make any terrible passes. In fact, he even looked on his patented backhand pass to the point to make sure nobody was going to intercept it: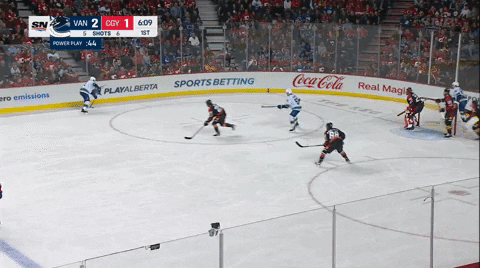 He even ended the cycle with a nice shot on net, so chalk this game up as a success for JT Miller in terms of cutting down on the horrible giveaways. He even played in overtime!
For some reason I just enjoyed Jay sitting back, putting his feet up (I assume), and just exclaiming to anyone near him "what a sport to watch."
And hey, when teams trade chances one right after the other, it is indeed a sport to watch:
I want to focus on Luke Schenn and Nils Aman both husting on the back check, because it's this stacking of the odds that the Canucks need to do more of. Schenn dives for the puck, Aman tries to control the stick, and they shut the play down.
When someone sits back and assumes his teammate has got everything under control, it can lead to some of those goals against where they get beat. If you add two people into the mix, it just gives you more options of possibly shutting down a high danger chance.
Don't get this confused with "send two guys to cover one man", as this happens later in the game, and it ends in nothing but shame and sadness, with you screaming at your friends to never look at you again as you kick them out of the house for the night.
Never look at me again and get out of my house!
Yes, the Flames tied the game up when Sheldon Dries switched off of his man and let Tyler Myers take over the pursuit (This is good!) but then decided to cover the back post where not a single Flame was headed towards nor had ever thought of going towards, leaving the eater of breads open in front (This is bad!).
I'll give Dries some leeway because he's a forward trying to cosplay as a d-man on this goal, but if we're breaking down the uh-ohs on this play, his decision to set up shop on the left post is right up there.
Should Spencer Martin have had that shot? I would say yes, but I assume Eddie Lack would insist it was the team's fault and that he's sick of goalies taking the blame for all that is wrong with the world.
He would then follow that up by selling you a house in Arizona at a good price, but that's just because he's such a professional.
The point is Tyler Myers didn't even shout and point on this play, so really, this is on him.
Best Flames getting hotter on the side of my face
Calgary continued to coutner the Canucks and generated shots from all over the ice: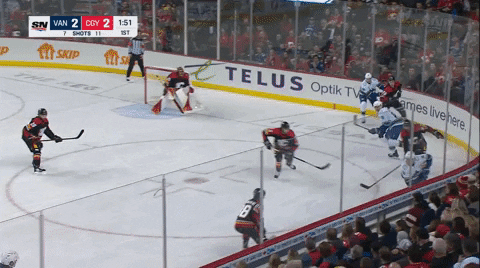 To Vancouver's credit, if you're going to have a blue piss stain anywhere on the heat map, you want it right in the goalie's crease because goalies aren't the biggest fan of shots directly in front of them. We've seen heat maps from the Canucks that looked like someone nervously blushing on their first date, two small dots just inside the blueline, and nothing more. If you're going to go all in on one zone, the Canucks chose correctly.
Also, yes, one of the Flames' goals came from behind the net, that lone "G" hiding behind the net is no mistake.
This is what they in the business call a teaser.
Or a spoiler.
Okay, I don't know which one it is. But rest assured, it's one of them.
Best making it up as we go along
We've gotten to the point where hooking someone doesn't even have to impede them, the stick just has to be resting near or on their body: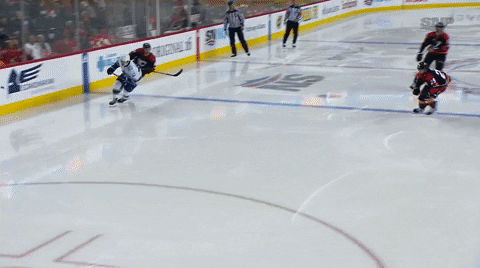 Sure? I guess? If Mike White wrote this penalty I would think it was a look at how man often gets caught up in perceived notions of masculinity and refuses to let go of it to their own detriment.
But he didn't write this, so I just assume the referee tossed a coin in the air and made the call like it was a Thomas Douglas game of hockey in Langley.
Crossbar and in. We all know it.
Best calling the bank shot
Teaser alert: This was the Flames' third goal.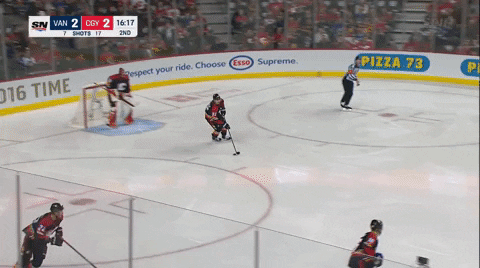 Spoiler alert: It went in from behind the net.
A lot of things went wrong on this play, as anytime Trevor Lewis walks through your team like this, people demand answers.
If McDavid did this, you spend the next 500 words describing how he's hockey Jesus and then get into a fight with someone over how Gretzky was from a different era sure, but if he played today he'd be just as good, before they scream at you about how the level of athlete in today's game is on another level, before you scream that Gretzky played multiple sports and was an elite athlete and he could have been a stud in baseball or lacrosse, before you block each other on all social media platforms.
But it was Trevor Lewis, so clearly something bad happened to allow this travesty of hockey to take place.
The first mistake was JT Miller lunging at Trevor Lewis, using his vaunted thoughts and prayers defence:
As usual with JT this season, it's a pretty high risk low reward situation, because if he gets that puck, the Flames have a defender right there waiting. This is not a "counter into a breakaway" situation, this is a "counter into a firmly shot dump in" situation.
This thoughts and prayers defence was on display all night, as he would later utilize it when being walked around by Rasmus Andersson, who if you remember, was drafted using the second rounder the Canucks gave up to get Baertschi in their second? third? retool: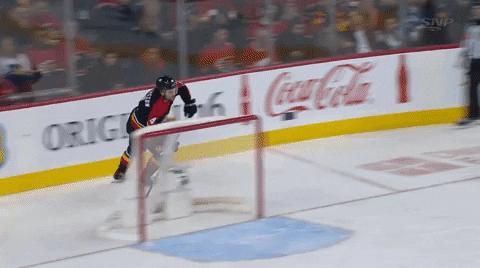 I mean, watching that clip is pretty amusing because JT has a Stan Lee cameo and then he's off screen before you know it.
The second part of the Lewis goal is clearly Chaos Giraffe and Missouri Maverick alum Kyle Burroughs letting him split right between them, which isn't a good look for anyone involved.
You'll also notice JT slowly slide onto screen at the end of the clip, thus coming full circle.
And as much as I don't think Trevor Lewis should be able to walk through your team like this, that's a very slick play from him to bank the puck in off of Spencer Martin's glove from behind the net.
Overall though, the Canucks come out of that third goal looking pretty sloppy.
Fun fact, the now
Kansas City Mavericks mascot
is a horse named Mac, who looks like he's been up for 72 hours and has no plans of sleeping anytime soon, because that's when "they" get you.
A self proclaimed "rowdiest mascot in the ECHL", aka Mac Daddy, it once punched out a small child at center ice then danced to celebrate the moment: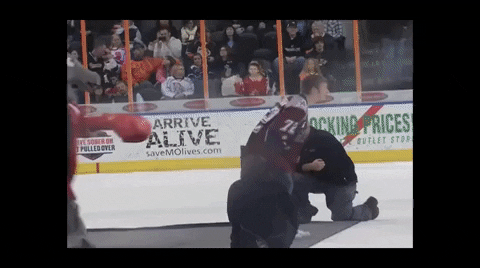 When you're playing with the HAWGlander, I think it helps you find your inner DAWG, because Sheldon didn't shy away after guarding a combination of ghosts and bees on the Flames' second goal. No, no, instead he turned around and took this gorgeous pass from Nils and tied the game back up for Vancouver: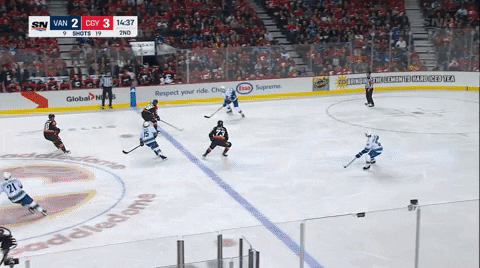 I think it's important to remember that a lot of offensive players on other teams can play with the defensive tenacity usually reserved for 11pm games at Burnaby 8 Rinks, as seen here by Jonathan Huberdeau with the old "I can't catch this guy, so I better lean forward so it looks like I was a close second" defensive play.
We should also note how Andrei Kuzmenko makes a brilliant EP-like play along the boards by funneling the puck down the ice to Höglander, who then feathers over just the perfect pass to Sheldon Dries.
And we would be remiss if we didn't credit Dries going top shelf where Walmart keeps the extra bags of salt and vinegar chips they always forget to restock the shelves with.
The Canucks, for all their issues, do have this innate ability to summon up offensive plays this season usually reserved for top tier teams.
Best I don't know what to do with my hands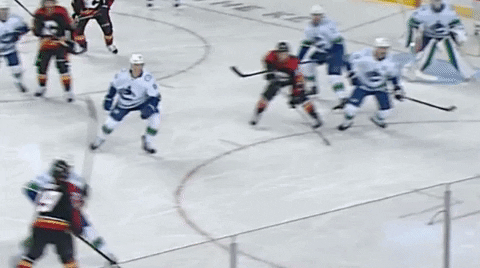 I have no idea what Sheldon Dries was doing on this delayed penalty without his stick, but I think it was a rolling leg lock attempt combined with a "these are not the droids you are looking for" hand motion?
Either way, I want more of it.
Ethan Bear remains one of my favourite players to watch due to the fact he's so good at some aspects of hockey, but not good at others, but hey, at least he's top tier in some of them?
On this play, he makes sure to keep the puck pinned to the boards, before Elias Pettersson goes into puck-hound mode and makes sure the Flames get super annoyed at all the try-hards on the Canucks: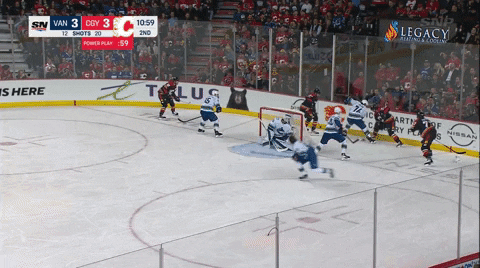 Small battles like this win you games, kids.
Best I have a crush on you
You may be 6″6, but what if 30-50 feral Högs ran into your yard within 3-5 minutes while your Flames were playing?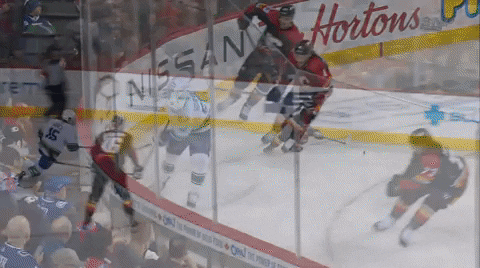 Radim Zohorna found out the hard way when Nils woke up Wednesday night and chose violence. Which is kind of sad because
Radim looks like a guy you'd see on the Skytrain
with AirPods in his ears just vibing out to his Daily Mix 3, minding his own business. But hockey is not for the faint of heart, alas.
Nils just overall had one of those games that you watched like a proud parent, you know? He was throwing hits, he was working the boards hard, and he was always around the net, getting chances: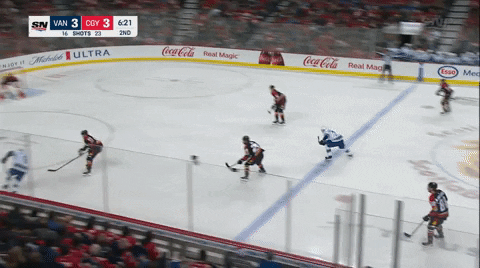 This is the Nils we saw under Travis Green, and you have to wonder if he avoids the dreaded "healthy scratch" assignment for the foreseeable future.
I said since season one, I would simply never chase Quinn Hughes behind the net because you will never get the puck: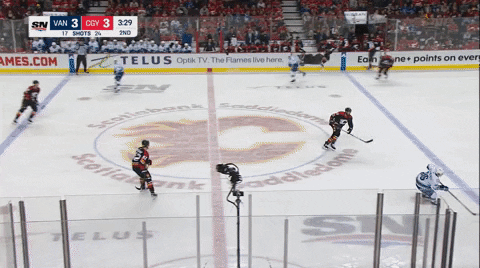 It's like going to Starbucks for a holiday drink, in your heart of hearts you know Blenz is the better choice, yet somehow you keep making the same mistake and you have no idea why.
Eventually Dan Vladar had to leave to go back to his home planet, but before he did, let's give credit to CG57 for this well-executed slip and slide:
It cuts off the pass, he bounces right back to his feet, and he skates to an open lane to provide a passing outlet. That is the epitome of a 10 out of 10 slip-and-slide defensive play.
Chaos, man. It can hurt you or help you. You just never know which way the wind is blowing.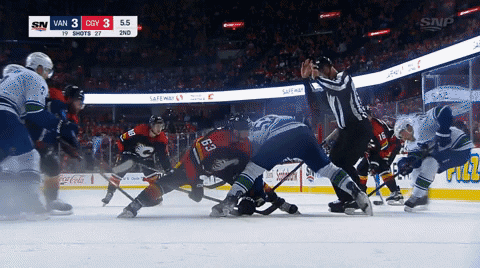 Best Sweet Daddy Sugar Sauce mojo
Conor Garland, keeping good body position, is able to find Sheldon Dries for the backhand in close, but Jacob Markstrom's computer says no: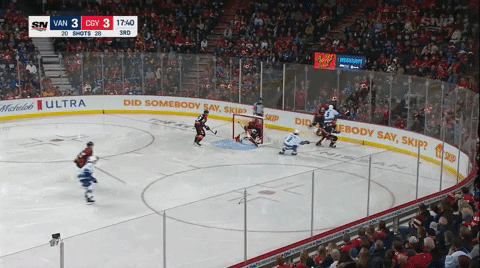 See, this is a night when the clips are all about the third line. EP40 and Bo Horvat, they didn't have an elite night at the office. It was all about the blue-collar crew in this one.
And Dan Vladar. Never ever forget about Dan Vladar.
Best shut it down, shut everything down
Again, I am not arguing that Kyle Burroughs is "The Answer". He isn't Allen Iverson out there. He's more a Shareef Abdur-Rahim. A guy that seems really nice and can hopefully contribute to some wins.
Which is why I feel far more comfortable with him handling this kind of play than I do with Riley Stillman: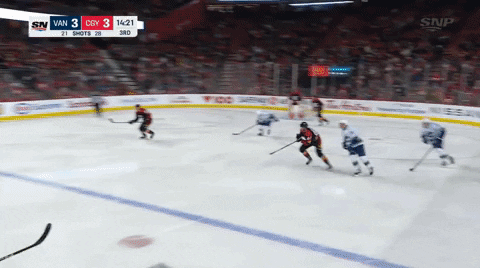 He stays in position, doesn't overcommit, and then cuts off the potential pass in front to a man that looked dangerously open. That's about all you can ask from your bottom pairing guy.
Also he's from Langley and has a nice moustache, so really, what's not to like here?
One of the biggest things I see from EP40 naysayers is the "he falls down too much!!" stigma, which I find a bit odd.
Not only is Elias Pettersson clearly the team's best player offensively and defensively, but he's so strong on the puck that even when he does get hit down, he can still control and regain the puck:
Elias gets hit down, gets back up, fights for the puck, gets said puck, then sends said puck down to the corner while he then heads for a line change. Sounds good to me.
It was much the same with the Sedins, and I think a lot of people choose to ignore how much the Sedins and Elias use body position as part of their game, especially the reverse hit. Hank Sedin would use that Swedish booty to drop or box out many a foe, and Elias does much of the same. And yes, sometimes his reverse hits fail, or he gets overpowered, but there are so many examples of it working flawlessly that I don't understand people who keep crowing about this as if it's some vital flaw in his game.
It's also hard to fall on your ass if you don't even engage in board battles.
Look, everyone would want a 2003 Todd Bertuzzi in his prime. Tage Thompson and Josh Allen are beautiful unicorns, I get it.
But if not being jacked out of his mind and bowling people over with stiff arms to the face is enough for you not to appreciate just how good EP40 is, then I don't know what to tell you.
Best hold me closer giant dancer
If you asked me "who caught the puck then took skated several seconds with it, before dropping it to the ground" I would have screamed Tyler Myers before the sentence was even over: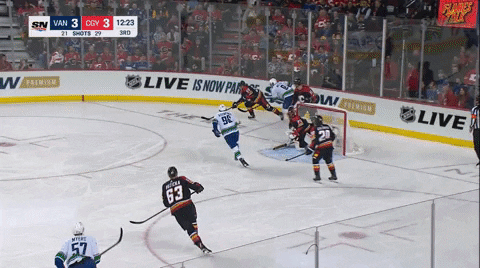 It felt odd that Chaos Giraffe argued the call because he clearly held onto that puck too long like it was an FTX investment. It was also very on-brand to hold onto the puck then skate at Kyle Burroughs before dropping it between his legs, and then try to get around Kyle so he could try and kick at the puck because he had no stick at this point.
Chaos isn't just a brand, it's a lifestyle.
The good news for Canucks Nation is the best chance came shorthanded when Curtis Lazar almost scored on a two-on-one break with Elias Pettersson: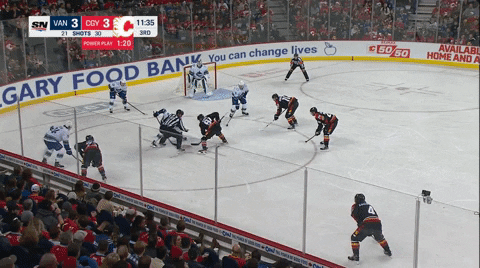 Elias Pettersson made a perfect pass back to Curtis without falling down, which I have to tell you, was a pretty glorious sight to see. Who knew he had it in him?
Once again, I am not arguing that Kyle Burroughs is without faults. I just think he is very affordable and better than Riley Stillman.
I also think that if every time people openly wonder about why the defence looks so sloppy and Tyler Myers' name is often involved, that maybe he's the bigger paid issue?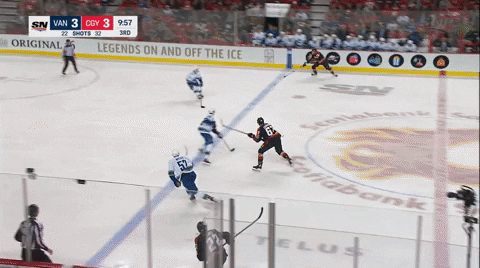 The forwards clearly don't help out on this play, but the pass does get right through Myers and Burroughs and once again you have four Canucks running an awkward zone defence that covers nobody and allows you easier access to the net than Sandra Bullock.
Because she was in a movie called The Net, you see.
As always, Cam Charron has me fascinated by Bear's ability to track down pucks that you think he has a 50/50 chance AT BEST of getting to. Yet 90% of the time, he wins those battles: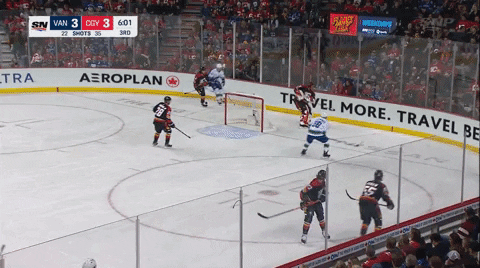 He's a savant of hustling back and winning battles and races for pucks heading into his zone. It's like he made a character and maxed out one skill and is now slowly levelling everything else up.
You're either a hero for being involved in a good chance that almost scores, or a villain for not scoring, depending on who you ask:

That's a pretty good play from Lazar to get this rush started, but the pass from JT was just behind him, so this wasn't the easiest of goals to finish off.
Still, you saw just enough from Lazar on the top line that you'd have no issue seeing the Canucks try it again next game, if Brock is still down with the sickness.
Do you want Lazar on your top line all season long? No, not really. But it's a long 82 games and sometimes you have to blend things up to get you through some rough patches.
Besides, Lazar's active stick does lead to some pretty good chances: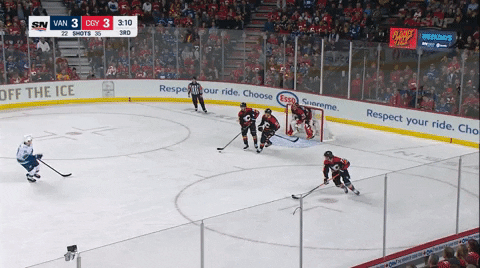 I don't know. Sign me up as cautiously excited to see one more game with him riding shotgun with Rip Wheeler.
Nothing bad happens with these two on the ice-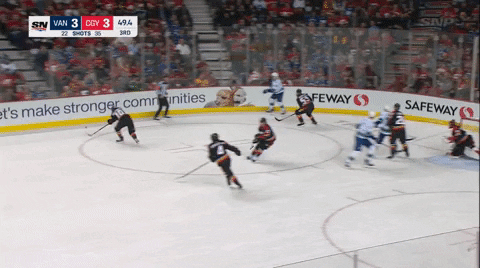 Okay look, JT dropped back to defend when he was the d-man pinching, that's good.
But yes, he did revert to thoughts and prayers defence and once again got skated by like a young Dana Murzyn.
Tyler Myers then did what he always does when he's faced with a difficult situation. He went for the slip and slide, which wasn't as effective as the last one.
Bo Horvat skated back hard, however, and got his stick involved in the cross-crease pass, which is why the Canucks were right to lock up their captain for many more years to come. He simply does not quit on plays.
Oh shoot, wait-
Best a noble spirit embiggens the smallest man
While overtime didn't result in a vintage Elias goal, it did showcase his ability to be so annoying that the other team had to remind him that everyone has to work tomorrow: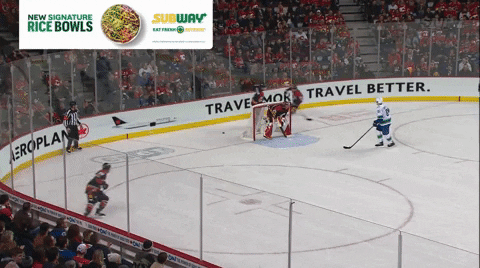 He utilizes the fly by "thoughts and prayers" JT Miller technique, but he follows it up by turning back into the play while he's doing it, so he's already skating with his check should he not get the puck. This is being responsible defensively.
He then follows this up by hounding the puck across the ice, and finishes it with a nice check near the boards.
But yes, do go on, tell me about how he falls down all the time.
The Canucks came out in overtime shooting like Tanya McQuoid, hoping to land some lucky shots, and they almost ended the game multiple times.
The first was OEL, who quietly had one of his strongest games in recent memory, setting up Connor Garland for the Thomas Vanek clapper attempt: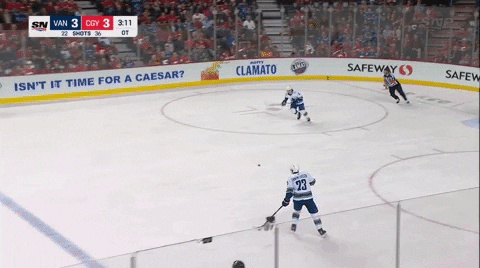 Elias Pettersson, centring himself against the prevailing winds so he wouldn't tip over, then fed Nils Höglander with the hail mary bank pass that almost resulted in a goal on the far post: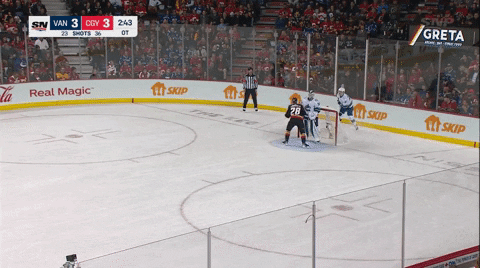 Nils then got a takeaway in overtime, which is like getting a mushroom power-up in NHL 3-on-3 overtime, and found JT Miller, who skated down and almost scored far post as well: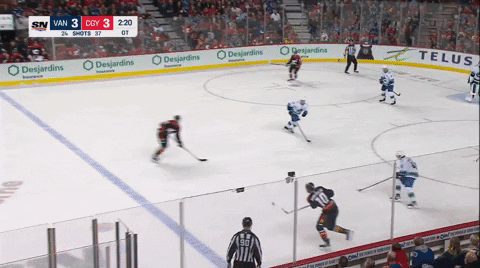 The Canucks looked like the better team in overtime and honestly was one of their best 3-on-3 sessions of the year. And yes, this was with JT Miller playing in overtime, making no mistakes or causing defensive issues.
Ilya Mikheyev finished it up by almost scoring on a breakaway that Elias Pettersson had to do a complete 360 to stay onside, but once again, Markstrom was there to shut the door: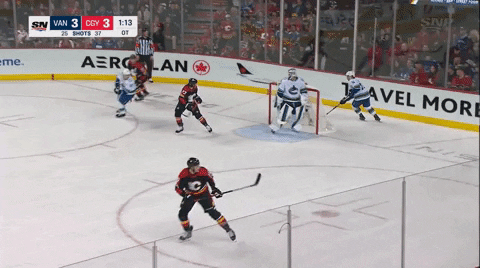 With no boat to hit their head on, the Canucks went to the shootout.
Here is a video clip of the Calgary Flames failing to score a single goal, despite a collaborative effort to use only sneaky snake goal attempts:
Who got the winner for the Canucks?
Wellllllllllllllll.
It's the Kuzmenkshow: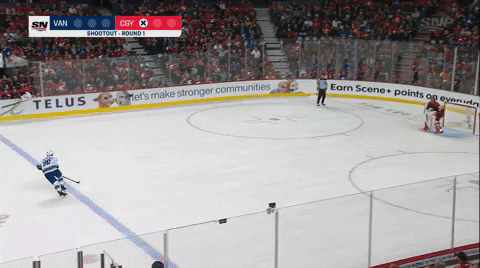 I don't know man. The Canucks have an awful lot of moving parts going forward, and they probably have more pressing concerns than the next contract of Andrei Kuzmenko. But he sure has been one of the brightest spots for the Canucks this season. You have to think they try and find a way to keep him in the fold.
Absolutely clinical finish from AK96, to the point he doesn't even smile, he just nods his head at a job well done, while Markstrom drops to a knee and bangs his stick to signal his allegiance to his new Lord.
It's not shocking, but Nils HAWGlander led the way for the Canucks with a 101.20 rating.
His fellow linemates Dries (72.18) and Garland (63.33) also clocked in with an impressive showing.
Curtis Lazar's gritty efforts were rewarded with a 99.65 rating, while Dakota Joshua hit a 73.74 on the night.
There were other DAWGs, but if I write them down that would take away from space reserved for Dan Vladar, so we shall move on.
I know plopping down a chart and going "See??" is a tedious way of doing things, but I have to admit, the eye test and stat tests lined up. The Sweet Daddy Sugar Sauce line had themselves a hell of a night.
But can it continue?
And just what is Dan Vladar doing right now?