The Stanchies: The Kuzmenko thing, Tocchet's eye roll, and EP40 shows he's just that good
Photo credit:© Tim Fuller-USA TODAY Sports
Good mornin'
Good mornin', we've talked the whole night through
Good mornin'
Good mornin' to you
It's great to stay up late
Good mornin', good mornin' to you
How weird is it that Pfizer spent 2012 co-opting the most delightful song from Gene Kelly's 1952 hit musical, Singin' in the Rain, for an ED pill?
Anyways, speaking of getting up! Only the die-hardiest of die-hard fans got up bright and early this morning to watch their Vancouver Canucks fight valiantly to a demoralizing 5-2 defeat at the hands of the Detroit Red Wings!
From Green to Boudreau to Tocchet, Canucks fans have heard these quips so often they might as well be next year's team rallying slogan for merchandise.
"We didn't show up."
"We weren't ready."
"We weren't prepared."
68 seconds into the game, after a decent shift from the fourth line to start things for Vancouver, the Canucks' top line of Pettersson, Boeser, and Beauvillier featuring Hughes and Bear on the backline, were absolutely worked by the Red Wings' top line.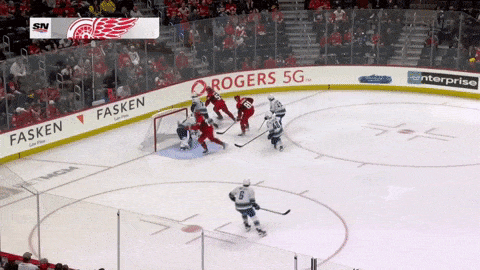 We're not going to shame the players. It was (relatively) early in the game. They'd just flown from New York to Michigan and were closing a tough four-in-six road trip to restart their season following the All-Star Break. Reasonable to believe they'd be a little on their heels to start.
But the Canucks giving up the opening goal on the first shot of the game? And a bad one at that?
Yikes!
After the ensuing centre-ice faceoff, the third line took a turn getting outworked, this time by the Michael Rasmussen line.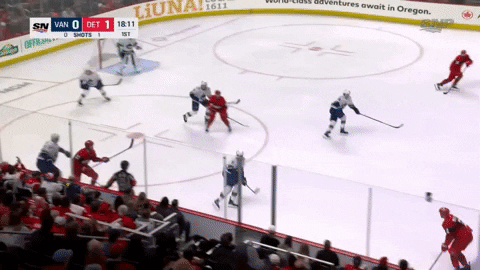 While attempting to make up for their earlier Washington Generals-esque performance on the opening goal, Rick Tocchet threw his first line out only to face down the Dylan Larkin line again. The result? Another negative in the ol' plus/minus column for the Pettersson line.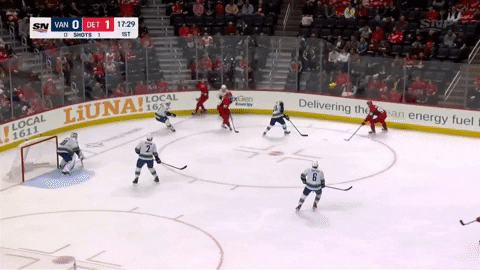 Would you have liked Spencer Martin to be deeper in his crease? You know, I'd like a lot of things in life. Later recap start times, a million dollars, a dog that doesn't burp in my face, and yes, a goaltender who isn't playing three feet out of his crease with Oliver Ekman-Larsson and Luke Schenn defending in front of him. However, I live in reality. Martin was swimming outside his crease as the Red Wings caught the Canucks' spinning in circles playing catch up.
Spencer Martin was found money last season. A former ECHL starter picked up by the Canucks out of nowhere for free, who parlayed a run of AHL performances into the first one-way NHL contract of his career at 27 years old. It was a feel-good story for an organization that had reached a critical mass in its lack of feel-good stories. The Abbotsford Canucks just celebrated an "honour the Sedins night" because there is little else to celebrate within the organization. Yes, the Sedins are worthy of all the praise they get. However, this celebratory event came within the same season as the NHL club celebrating their inauguration into the Hockey Hall of Fame. So, forgive me for saying this event with the AHL club felt like a bit of straw-grasping from the organization to celebrate something remotely positive.
As he has on many occasions this season, Martin had given up 2 goals on 2 shots in the first three minutes of the game. They were nice shots. But, to quote every dad in the upper bowl of Rogers Arena, "come on, man. Ya gotta make at least one save!"
Every person in Vancouver is itching for a feel-good story about this team. Martin's elite performance and the feel-goodery surrounding his contract extension feel like decades ago now based on his current performance.
Worst I can't believe he's not a morning person!
To zero Canucks fans' surprise, a frustrated J.T. Miller got a little too hot and heavy around the crease during Vancouver's only offensive zone time.
Millsy, as "da boys" call him, shoved Olli Maatta quite aggressively in the back of the head in full view of the zebras.
Maatta had been giving Miller's stick the ol' chicken-wing hold, eliciting a roughing penalty against the emotional centre. Miller's rage-induced shouting at the referees on the way to the box turned the roughing minor into a double-minor, picking up an unsportsmanlike conduct minor for his efforts.
Again, some people aren't morning people! So, handing this penalty-killing group four minutes to work with shorthanded after their start?
As Cheech put it, "that's not good."
Best "okay, maybe the coffee is kicking in!"
Recognizing that it was CanucksArmy managing editor David Quadrelli's birthday, paisano and noted name you can trust Phil Di Giuseppe recorded the Canucks' first shot of the game, with a shorthanded peppering from the slot.
After giving up 2 goals in the first three minutes, it may have been lost on Canucks' fans that this Detroit team is like Vancouver in that they are also very not good.
Their best chance of the power play was a shot off the post by David Perron. It was a good thing Perron's shot had not gone in, as that would have made it 3 goals on 3 consecutive shots on Martin's stats sheet.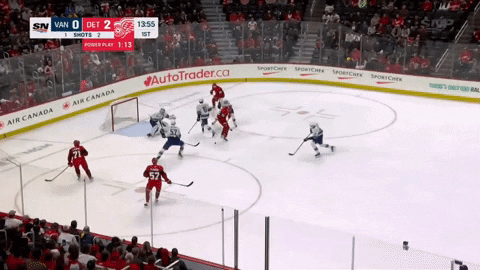 Incredibly, after four minutes of power play, the Red Wings registered zero shots on goal. No, you didn't misread that: the team that worked the Canucks' best line twice at 5v5 over three minutes registered zero shots on goal over four minutes on the man advantage.
The successful kill for Vancouver appeared to wake up the boys in green and blue, but the Larkin line was still working the Pettersson line over for their lunch money.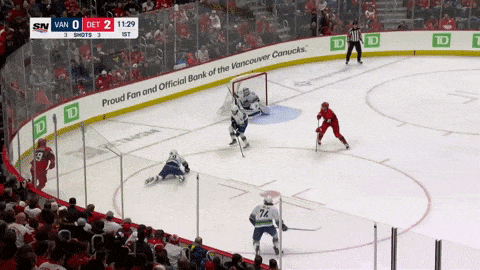 Pettersson also did a great impression of my attempt to get out of bed to write about this game.
Ahead of the midway point of the opening frame (Jeez, we're only here?), Oliver Ekman-Larsson threw the Canucks back on the penalty kill after throwing the puck over the glass while under mild pressure in the d-zone.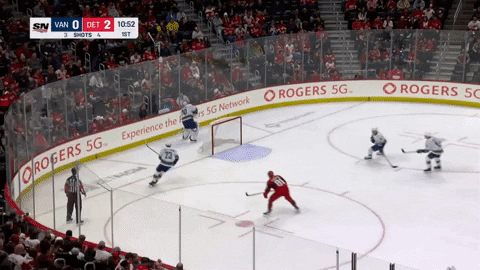 The Canucks eventually killed off OEL's penalty, and the initial call gave Canucks fans more "head coach reaction GIF" material. So, that's a nice little win-win for the fanbase!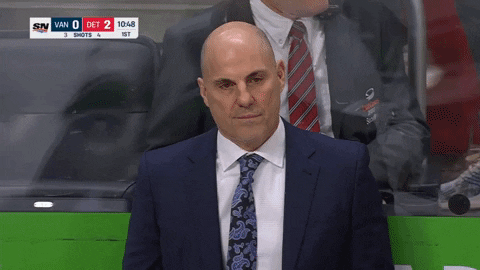 Best attempt at making amends
Though he was on the ice for Detroit's first two goals, Pettersson found ways to make himself useful during the Canucks' dismal first-period start. With ten seconds left in the OEL penalty, Pettersson blocked a shot from Filip Hronek that cleared the zone.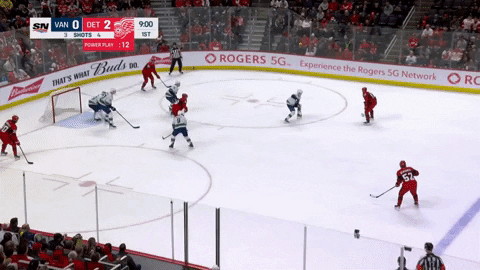 The block may have seemed inconsequential. However, this minor block off the inside of Pettersson's skate vaulted him into third place in the NHL for most blocked shots by a forward this season, with 62 total.
Best that's good/that's bad featuring J.T. Miller
A clean offensive-zone faceoff win followed by a shot on goal?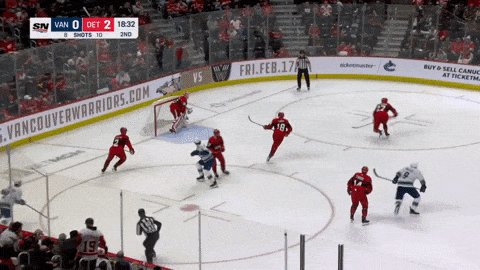 That's good!
A no-look giveaway from behind the goal line in the d-zone?
That's bad!
Another offensive zone faceoff win leading to the primary assist on Anthony Beau-Hor-villier's power play goal that cut the Red Wings' lead in half?
That's good!
Picking off a pass in the neutral zone and quickly entering the offensive zone to set up Vasily Podkolzin for a shot on goal?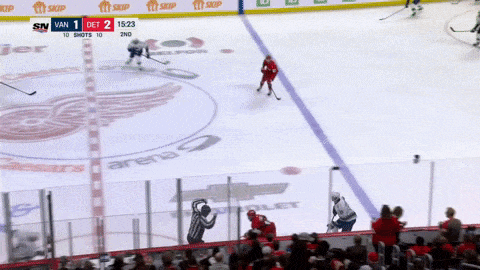 That's also good!
Outside of the very loud double-minor to start Miller's game against Detroit, like Pettersson, he too rallied back from a dismal start with plenty of the little things: using his speed to play aggressively and assertively with and without the puck, generating multiple scoring chances for his line.
And people think there's an anti-JT Miller agenda in the media! Pssht.
Miller finished the game with a near-ridiculous stat line. The Canucks, with Miller and his linemates Conor Garland and Vasily Podkolzin on the ice at 5v5, out-attempted the Red Wings 15-1 through 9:10 of total ice time together. Overall they out-chanced their opposition 5-1 with the Miller-time-line on the ice only to come up empty-handed on the scoreboard.
Worst "[redacted because we don't want to get fined] referees!"
You can't win them all. Did Jonatan Berggren interfere with Hughes by throwing his arms around him?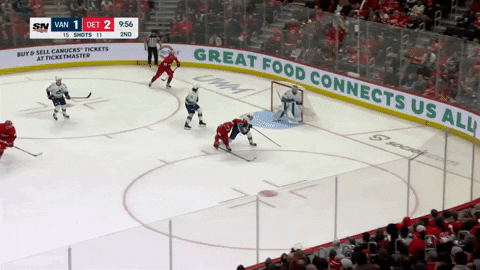 Tough to say. But, yes.
Did Riley Stillman get his stick in the feet of Oskar Sundkvist, leading to a trip?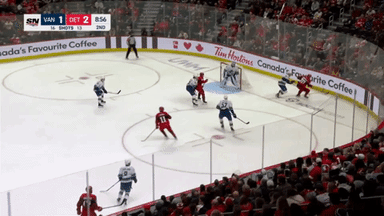 Tough to say. But, yes.
Did one of these calls lead to a power play goal that deflated one team's momentum in the second period?
Tough to say. But, yes.
The zebras let Berggren get away with a blatant penalty against Hughes before calling a tripping minor against Stillman. The ensuing Red Wings power play capitalized utilizing the same east/west tic-tac-toe shenanigans that gave them a second 2-goal lead.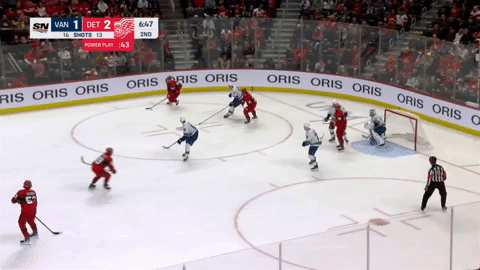 The goal halted the Canucks' valiant comeback effort throughout the second period. We'll let the Statsies dive into this further tomorrow. But, the Canucks out-attempted the Red Wings 24-7 through 17:51 minutes of 5v5 ice time in the second period, only to finish the period back in a 2-goal hole. Hey, that rhymes!
They tried, man. They really did.
Worst "the Kuzmenkshow, has been put on hiatus for retooling"
1st period: 5 shifts, 3:38 of total ice time.
2nd period: 4 shifts, 2:41 of total ice time.
3rd period: 6 shifts, 4:16 of total ice time.
Is Andrei Kuzmenko struggling while playing without the team's best players? Yes.
Is Andrei Kuzmenko one of Vancouver's best players? Especially when inside the offensive zone with possession? Yes!
Is there reasonable concern that Kuzmenko's lack of straight-line footspeed will push him further down the lineup and out of the good favour of Rick Tocchet? Yes.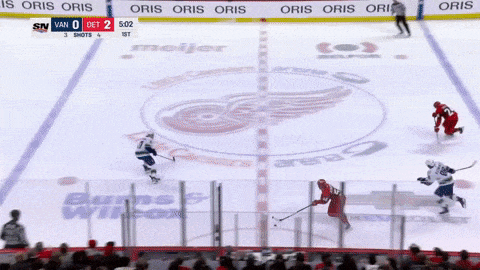 Naturally, comparisons to Nikita Gusev have started to pop up during the Tocchet-Kuzmenko dynamic. Gusev made his NHL debut in 2019-20 under John Hynes, where he struggled with 12 points in 23 games. Gusev rebounded to lead the team with 32 points in 43 games under interim head coach Alain Nasreddine.
The following season, the New Jersey Devils didn't buy the bump and chose Lindy Ruff as their head coach for 2020-21. Ruff's dump-and-chase rush-heavy offence did not gel with Gusev's speed issues. Gusev finished his debut season with a shooting percentage of 8.23%, 13 goals on 158 shots. His sophomore season saw him shoot 4.44% with just 2 goals on 45 shots.
Under Bruce Boudreau, Kuzmenko shot at a 25.67% clip, with 19 goals on 74 shots. Since being taken off Elias Pettersson's line and the first power play unit, Kuzmenko remains an elite goalscoring talent, scoring three goals on 16 shots, good for an 18.75% shooting clip. He's still been a dynamic producer, but the opportunities to produce have felt few and far between.
Against Detroit, Kuzmenko saw his ice time fall below 11 minutes for the first time since November 12th. Then, Kuzmenko registered just 9:27 of ice time in a 3-2 loss against the Toronto Maple Leafs. Today's ice time was the second lowest of Kuzmenko's short NHL tenure.
Worth noting that the game following his career-low ice time in Toronto was the game against the Boston Bruins, where Kuzmenko sat as a healthy scratch for the first time in his NHL career. Ironically, this writer's Stanchies debut.
Really makes ya think!
After a tripping minor by Ethan Bear late in the second period, the Canucks started the third by successfully killing off another Red Wings power play. Unfortunately, the PK came at a cost.
After leaving the box, Dakota Joshua capitalized on a bad giveaway to spring Bear ahead for a breakaway scoring chance. Bear managed to draw a tripping penalty and a penalty shot but did so through being hauled to the ice by Filip Hronek, going hard into the end boards, tailbone first
Bear left the ice with the assistance of Canucks' medical staffers before rink crews spent an inordinate amount of time fixing a divot at the centre of Ville Husso's crease.
Hughes' penalty shot started great…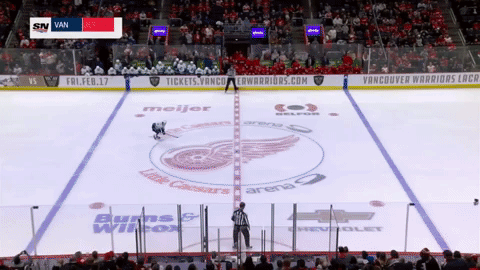 Unfortunately, after baiting Husso to go far-left inside his crease, Hughes lost control of the puck on the tap-in over Husso's right pad.
The frustration continued compounding with Filip Hronek, fresh off his penalty-shot-awarding, injury-inducing trip of Ethan Bear, making it 4-1 just minutes later.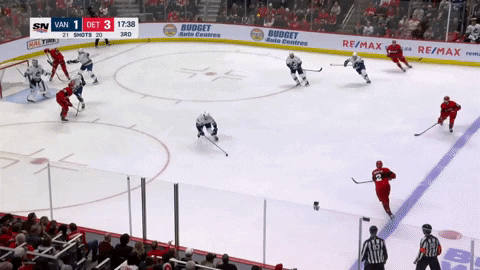 Fortunately, Bear returned to the bench before the 13-minute mark of the period. A sigh of relief for Canucks' fans who've had enough of the "weird injury" run this team has had through 2022-23.
Best "wellp, what else is going on in the NHL?"
Doing his best to ensure Vancouver lands a mid-range 1st round pick at the 2023 NHL Entry Draft, Bo Horvat scored his second goal as an Islander, his 34th of the season.
The former Canucks captain finished the game with a goal in 22:32 of ice time en route to an overtime loss to the Montreal Canadiens.
Hats off to Bowie for helping the Canucks tank efforts on a busy NHL Saturday afternoon!
Again, [redacted because Nation Network doesn't want to be fined]. But, [redacted because Nation Network doesn't want to be fined].
Hughes' interference minor was the fourth straight penalty called against the Canucks, excluding the penalty shot awarded to Hughes for the trip against Ethan Bear.
The Canucks penalty kill looked fine through the first minute, but as it tends to do, it eventually fell apart.
Following a weak clearance into the half-wall by OEL, the Detroit Red Wings dished more patented Globetrotters-esque east/west passes to split the Canucks' defence and make it 5-1.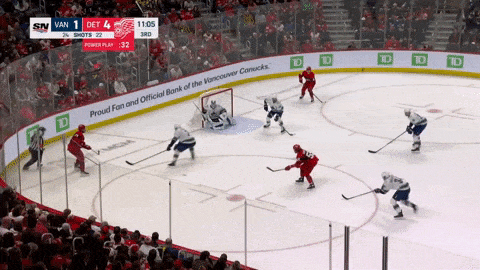 The vibes were bad on this one. After the initial shot from Tyler Bertuzzi, every skater stood flat, watching and waiting for the eventual goal.
Best "Boeser good; stop being mean"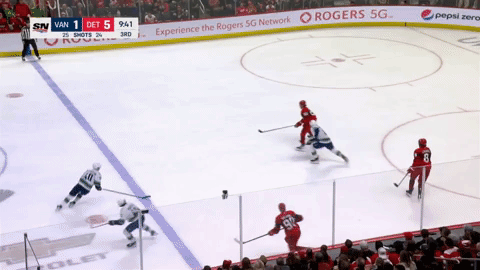 The Canucks rallied to cut the Wings' lead to three. Getting his stick around Mo Seider—not being called for holding in the process — Boeser managed to force a turnover on an attempted breakout by the Wings, allowing Pettersson to capitalize with a drop-pass for Tito Beauvillier, a shot, and a rebound goal. It was a rewarding play for a line that had very few to that point of the game.
Considering what weighed heavy on Boeser's mind ahead of the game in Detroit, he performed admirably. On a day that should have been his father's 62nd birthday, Boeser finished the game with a shot on goal, 2 hits, and a takeaway that led to Pettersson's 25th goal of the season, all in 15:50 of total ice time. It's been a trying year for the 25-year-old forward. Despite the bizarre wrist injury and infection. Despite him scoring double-digit goals off the second-lowest shooting percentage of his career. In spite of his on-ice and off-ice struggles, Boeser has still managed 10 goals and 25 assists, producing at a rate close not dissimilar to the peak Lotto-line era of 2019-20, when he scored 45 points in 57 games.
Yes, the speed issues are apparent. But, Brock has been perfectly fine for this Canucks team. Sure, you don't like the cap hit relative to the production. Of the 23 active skaters on the Canucks, there are less than a handful of skaters making more than the league minimum whose production you like, relative to the cap hit. Food for thought!
After drawing their first power play in a dog's age, the Pettersson-Tito connection continued to build their chemistry, with the latter setting up the former with a tip-attempt early on the man advantage.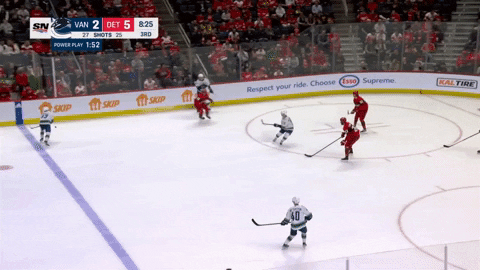 The Canucks' late power play was as dominant as they come. They genuinely looked angry. All five skaters generated chances; Pettersson, Tito, Hughes, Miller, and Boeser didn't let their frustrations with the refereeing or the stonewalling by Husso get in their heads. They were gamers to the end.
After the conclusion of Jordan Oesterle's penalty, Pettersson was back on the ice at 5v5, capitalizing on a turnover by David Perron for a filthy dangle attempt on Husso. The sprawling save from Husso drew the night's loudest ovation from the Detroit home crowd.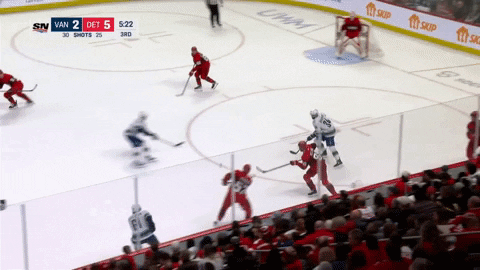 Pettersson looked like a man possessed to close the third period. Despite being on-ice for the first 2 goals against, Pettersson finished the game leading all forwards in 5v5 ice time, with the Canucks out-attempting their opposition 19-10 while dominating in scoring chances by a 2-to-1 margin, 9-4.
Folks, Pettersson is him. The anticipation on the play above is proof enough, and there have been lots more to go along with it this season.
A goalie pull and some angry, aggressive offensive zone shift time later wasn't enough to close the gap.
Another regulation loss was in the books, with the Canucks heading home for the instant rematch against Detroit.
Worst news for the goalie guild
Yes, if you woke up Saturday morning hoping for some Canucks' goals and an emphatic victory to go 2-2-1 on this Eastern road trip, you were probably sorely disappointed.
However, if you were hoping for results that push this team further toward a higher chance of nabbing Conor Bedard, Saturday morning was the best time to be a hockey fan.
Heading into Saturday, the Canadiens and Canucks were separated only by points percentage. After Montreal's overtime win against the Islanders and the Canucks regulation loss to the Red Wings, the Habs officially break the tie in the race to the bottom. Their 46 points in 52 games place them firmly ahead of the Canucks 46 points in 53 games by points percentage.