The Stanchies: Kravtsov's tease, Kuzmenkshow's record, and the Canucks' powerless power play
Photo credit:© Matt Kartozian-USA TODAY Sports
The Vancouver Canucks' five game winning streak is over. Yes, what was once thought to be a lock of making the playoffs by winning every single game remaining in the season, is now nothing more than a Goldust shattered dream; hunched over in the corner, softly weeping, while holding its groin.
The Canucks just couldn't find their footing in Mullett Arena, as the Coyotes out-worked and out-grinded the Canucks in what was a rather tepid affair. Of course, it's hard to win games in Mullett arena, what with its hundred of fans making it louder than even Kits ice rink on a Sunday night. Using the intense energy of the fan in attendance, the Coyotes pushed forward and leaned on a two goal game from Canuck Killer Travis Boyd, as Vancouver just didn't have an answer for him. Maybe if Alex Chiasson was still around, the Canucks win this game, but alas…
The end result? Well, it's a rather good one. Elias Pettersson and Andrei Kuzmenko continued their duel of the fates battle as they both scored in their attempt to reach 40 goals. The Canucks didn't gain any points in the standings, so that's always helpful at this time of the year. And best of all? The Canucks final game of the season returns to the scene of the crime, right back in Mullett Arena against the Arizona Coyotes, right after the stick and puck session is done, but not before the public skate.
You thought this game was devoid of all feeling and energy? Wait until the last game of the season.
Please keep reading these articles.
Never stop reading them.
OK let's make some gif money, shall we?
Not since The Road have I felt such a warm inviting environment like the one we saw Thursday night.
Sure, Canada might want more teams, but you can't walk away from Mullett arena and tell me that hockey doesn't damn well deserve to be played in a desert in front of ambivalent fans who probably got tickets thrown in for free when they paid their student fees.
Look, we all know the Sedins were angels sent from the heavens to try and help Vancouver exist in a world in which they will never ever win a Stanley Cup. A long time ago someone in this city made a wish and decided they wanted a BC Lions Grey Cup victory more than a Stanley Cup, and here we are.
But even the otherworldly Sedins were really really good at using the chicken wing clamp-down to draw penalties. Hank would slam his arm down over a stick near his body than drop down like he was about to go luging down a mountain.
Elias Pettersson, for the most part, does seem to draw his penalties the old-fashioned way. On this play he gets hooked and high sticked and draws two minutes of time with extra men on the ice: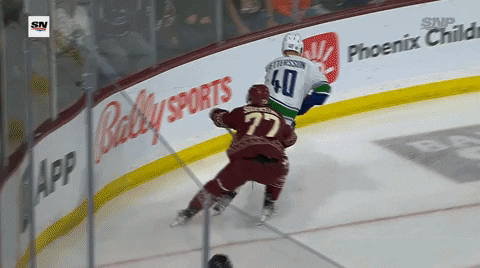 Now, did any of these power plays matter on the night? No, of course not. They went 0 for 5 and looked like a pre-season team trying out Sergei Shirokov as a lynchpin of their new special teams formation. In fact, the most notable play on the first power play was Beau Beau getting hit with the puck and looking like it really hurt.
But the point is, it's still better to draw penalties than to not draw them at all, and for that we must credit Elias Pettersson as one of the best in the league at this.
JD Burke is never wrong, which is why I am happy to report that The Kuzmenkshow will be a 30% shooter his entire NHL career, save for one season in which he dips to 27% after it's rumoured he went on several dates with Shakira:
The best part of this goal was Soderstrom, hereafter known as Soda Stream, opening his legs like Olympics Mario Lemieux to let a pass go through.
Elias Pettersson then fed Beau Beau, who then fed Kuzmenko, and that was what we in the business call a pretty goal. Industry term, really.
With a five game winning streak coming into the night, and after pulling off this goal, it felt like the Coyotes might fall flatter than Fanatics trying to deliver an order properly. However, as you can tell from the intro in which I clearly stated the Canucks lost this game, you know that not to be the case.
The important take away from this is that Fanatics is a terrible company and deserve all of the scorn in the world.
Brock Boeser continues to get his offensive chances, but unless he's passing the puck, it seems he's not going to get any more points until the end of time:
Yet another post for Brock who follows up his blocked shot with another quick shot that rings off the iron.
The good news is he has been playing well recently, and has showcased a playmaking style that I don't think many people thought he had in him. When he burst on the scene it was all cool hair and sweet snipes. People have been planning a 30 goal season parade for Brock for years, as he's teased the fan base with 29 and 26 goal seasons. And while it's always fun to envision a High School Musical reboot starring Brock singing about hitting 30 goals, his career might actually be headed toward a guy who can distribute the puck.
Please note that whatever happens, cool hair will always be a part of his career path. Though to be fair Ryan Getzlaf once thought that as well.
Best witness protection program
Hello Mr. Thompson.
So here's Zack Kassian, putting a head lock on Conor Garland, probably because Conor Garland did something to be headlocked for. The problem is you can't do that from the bench, that's what we in the business call a big oopsie (industry term):
The end result? One of our new favorite traditions in Vancouver, Brock Boeser not scoring a goal:
Does Bill Muckalt score there? Of course he does. But not everyone is built like Bill.
While every part of me screams that Beauvillier is headed for a contract he can't hope to live up to, it's still fun to see what offensive damage he can do this season:
Anytime you can get the defender to fall on his face as you blow by him, you take it.
Does Peter Schaefer score there? Of course he does. But not everyone is built like Peter.
Once again Kravtsov had that one play in the game in which you said to yourself "hrm, we might have something here…" followed by the hardest ellipsis you've ever seen in your life:
It's not an offensive play, but him showcasing a 200 foot game is going to go over huge with Rick Tocchet and, well, any hockey fan. Not only does he harass the puck carrier, but once he sees the two forwards are covered, he holds up and plays safety on the incoming player and breaks up the shot.
Just a real nice tidy piece of business right there.
Travis Boyd was the man with the plan on the night, as he took a Chaos Giraffe turnover and made money out of it:
To Tyler's credit, he has been playing better as of late, whether it has been less chaos in his own zone, or him rag-dolling Brady Tkachuk like it was Undertaker vs Mankind.
But we've seen this before from Myers, where he gets a little loose with the puck in his own zone, and maybe he tries to physically pass a puck straight through a human body, and the result is a bad turnover in his own zone.
Travis Boyd is an elite high end sniper, we saw that in his time in Vancouver, and you just cannot be giving him any chances in your own zone, let alone high danger ones like this.
You mess with the Boyd, you get the horns.
The second period didn't fare much better, as the Canucks almost let Hayton tap in the puck behind Demko:
I know Brisebois was beat, but I still don't like Tyler Myers rushing over and committing all out to try and block the shot there. Sure, maybe skate that direction and cut off an angle to the net, but going all in and leaving your man wide open behind you is very much a Chaos Giraffe thing to do.
After talking about the Canucks structure during the five game winning streak, tonight was the first game where it felt like things came apart at the seams a bit. Which, can you blame them, it was a game against the high powered Coyotes.
If your kink is Brock Boeser almost scoring but then simply not, then this clip is for you: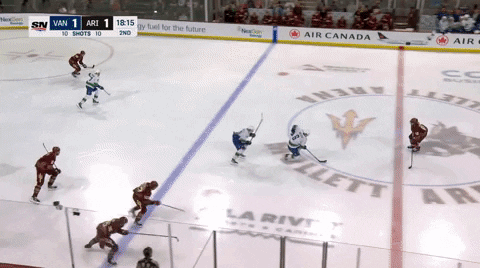 Again, Brock is doing all the right things. That's a toe drag that Bo Horvat and foot fetishes around the world are marvelling at. But for whatever reason, luck is not going his way, and the goals are simply not going in.
Does Harry York score there? Of course he does. But not everyone is built like Harry.
With the loss of Luke Schenn, people wondered who would bring the snarl on the back end.
Don't worry, when you have a guy who learned how to be a man on the mean streets of Langley, you'll have ample enough snarl: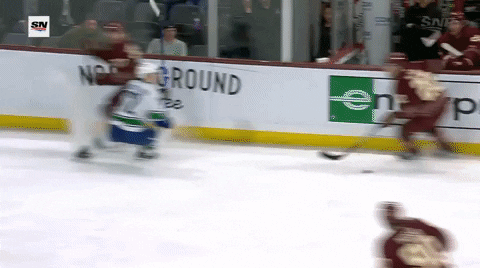 Kyle Burroughs will look you straight in the eye and challenge you to a fight in the parking lot after the game. Like a man. He won't scream at you to fight him in the parking lot from the bench. Like a coward.
Best you gotta give it to them
To be fair, this is the best part about the arena. The second best part? You can hear it so clearly because it's a tiny arena and one microphone can pick up every single noise in the building.
The small mistakes the Canucks had done such a good job of taking out of their game appeared in numbers against the Coyotes, as Vancouver struggled to get the puck out of their zone:
Podkolzin passes the puck and it his Sheldon Dries skate, and voila, you have another turnover.
We keep talking about who the real Canucks are, and about how every year we see this hot streak to end the season, and then the team returns to its Fanatics ways to start the next season.
And while we have given credit to Rick Tocchet for instilling more structure in their game, it is still a valid question of how will that structure hold up against locked in teams next season? Teams that will not only match the Canucks effort, but have more skill.
It's no secret the Canucks have one of the easiest schedules to end the season this year. And while it's true they can't win every game, losing like they did against the Coyotes does raise valid questions of just how far the structure will take this team against hardened opponents.
We have no answers yet, but as the season winds down, the only thing we can do is come up with more questions as we try and figure out the lay of the land.
JT Miller beating up AHL goalies seems to be right in his wheelhouse:
Thank goodness for goalie gear is all I'll say. I get hit with a tennis ball too hard and I need a five minute breather, I can't imagine what it would be like to eat a clap bomb from an NHL player.
Again, just wait until the last game of the season between these two. Barn. Burner.
Jeff almost used emojis so I was sure Philly Delight was about to score an incredible goal (my feed was slightly behind) but alas, it was just a missed chance in close:
Travis Boyd put the Coyotes ahead for good when he made it 2-1 Arizona after Tyler Myers does whatever it is Tyler Myers does:
The structure just wasn't there. Tyler Myers gets caught chasing and before you know it Elias and CG57 are both caught up high, allowing Clayton Keller to find Travis Boyd down low in his office.
To be fair, that's a nice goal from Travis Boyd, as unplanned or not, he catches Demko playing it pass all the way. Which is just the problem one faces when going up against Travis Boyd. Do you play his lethal shot? Or his otherworldly passing? Sophie's choice.
Aside from the structure looking a bit rusty, we also saw extended shifts, one in which Tyler Myers looked like he needed an oxygen tank in front of the net:
At one point he struggles to get to one knee to get up from the ground and I have never felt more seen in my life.
Lawson Crouse, the man who once set the internet on fire with angry draft takes, has carved out a decent career in the desert. He got his 22st goal of the season after collecting a Soda Stream rebound, and scoring on a lime-flavored shot:
I'm not quite sure what happened to Demko on this play as it's not often he starts using Chechmanek techniques in net, but I'll assume he lost track of the puck and was guessing worse than your mother on Pictionary night.
This might be the shortest Stanchies of the season, and honestly, it's because I am protecting you from 30 minutes of this:
The Canucks' offence mostly consisted of blocked shots, shots from bad angles, or potentially high danger shots being put over the net.
Did you ever go to a high school dance in grade 8 and just shuffle back and forth nervously, wondering what you were doing there? That was this game.
Best highlight of the night
Garland will be a hotly debated player, mostly because people either think he's incredibly useless or insanely underrated, but I think both sides can agree his work on this goal was money:
He circles the rink, finds Pettersson for a chance, then Beau Beau does incredible work to get a takeaway, which Garland then softly, ever so softly feeds right back to Beau Beau, who then finds EP40 who takes around 3 hours to settle the puck, take his time, and ensure he doesn't miss the net.
I have no idea where Garland's career lands over the next few seasons, but I will say I do think he is a very useful player stuck on a team in which everything is usually awful so any of his intangibles get swept away with the rest of the trash.
Best that's Kuzmenkshow's music!
At one point the Canucks tried using hacks, but sadly they were denied: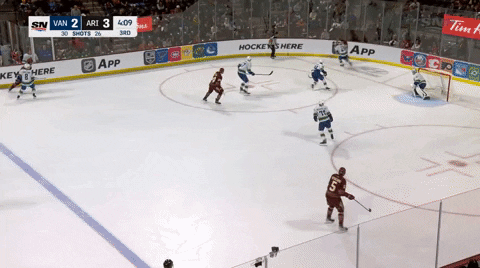 A 48-minute power play would have netted at least a goal, you'd have to think.
With the goalie pulled, the Canucks circled the puck for two minutes before deciding on this shot:
Was it odd to see Tyler Myers on the ice for this? Of course it was. Elias Pettersson in a coma is still a better option than putting any other d-man on the ice that isn't Quinn Hughes with the goalie pulled. I know I've advocated for Myers to be a forward, but I didn't mean like this. The Canucks kept the puck on the outside, leaning into that dreaded East/West hockey, as Arizona happily set up a box in the middle of the ice.
The end result was a bunch of time eaten off the lock and one fairly pedestrian shot taken.
And that was all she wrote.
This was a game of hockey that happened.
I don't know what else to tell you, to be honest. It was tedious, low event, boring hockey, between two teams that can't decide if they'd rather lose or win.
The rest of the season will all be about small moments from here on out. Hronek's debut. Aidan's debut. The latest food Kuzmenko traded his hockey stick for.
This is is our future for a month.
Please don't leave me.
Never forget that time he beat out an icing.