The Stanchies: Elias Pettersson's point per game feat, Miller's 700th, and the best dman in Canucks history
Photo credit:© Bob Frid-USA TODAY Sports
You may see the fact the Canucks won 3-2 over the Ducks in overtime and think to yourself "Gee wiz, what a barn burner of a game! I can't believe I missed that!"
Let me assure you of how wrong you are.
This game was awful. It was tedious. It was garbage.
In fact, that doesn't do it enough justice.
This game didn't even have the courtesy to kick you straight in the groin to let you know how awful it was going to be. Instead it left you on "read" for 48 hours, your "u up?" question sitting there forever un-answered.
This game didn't even have the courtesy to let you know that the office meeting that was set for 8 AM had been cancelled, so you just sat there, waiting forever on an unanswered Zoom call.
This game didn't even have the courtesy to divorce you once things fizzled out. Instead, it let the marriage rot and fester into the kind of dull banal existence that can only come from two people that have grown so tired of hating each other that all that remains is a complete black hole of any sort of emotion or feeling.
This game was so low event that I am not even bothering to use a joke or reference some TV show from the 90s in the intro.
I want to burn it with fire.
Anyways, please read this article.
Best let's get down to business
We all know Oliver Ekman-Larsson has had a rough go of things in Vancouver. He gets paid enough money to rent an apartment in North Van, but the results just haven't been there.
What makes matters worse is when recent call-ups enter the lineup and provide similar, if not better results. With the caveat being they only get paid enough money to take an Uber to North Van.
Enter Christian Wolanin (which my dumb old brain is just praying for me to trip up and say Craig Wolanin), who many felt had earned a look with the big club long before OEL went down with an injury. Often viewed as a AAAA guy, he is one of those beasts in the AHL that could never quite make the jump. It's probably a long shot to think the 27 year old is going to carve out a consistent NHL career at this point, and throw in "sample size" here, but man alive if he doesn't look like he might snag himself a couple of years in the NHL.
At the very least it does highlight how far OEL's game has fallen that we're sitting here even debating the fact that Wolanin has arguably been a much better player for the Canucks this season (yes, sample size, shush).
Aside from being an elite scoring machine on the back end for the baby Canucks (55 points in 49 games this season), he is now showcasing just simple smart efficient hockey with the parent club.
Now, these plays might not be mind-blowing, but when you consider the alternative (OEL giving up an odd man rush after a bad pinch, or standing so far back in his own zone you need an iso cam to see him), it feels sort of like Tom Holland taking over for Toby McGuire.
Up first we have a smart pinch where Wolanin sees the puck is sent to a corner with little direction in life, so jumps in and mentors it over to Nils Aman for a quality shot in the slot:
Watch how Wolanin drops back after the pass and gets back into position. It's hockey 101 but my god does it feel refreshing.
You're also going to want to treasure that shot in the slot because not much else happens in this game. Hold it and tell it how much you love it, because large gaps of time are going to occur where nothing, absolutely nothing, happens.
Wolanin also knows how to move around the ice to get open for shots. He sees the puck coming going over to his side of the ice so he jumps up and rockets it on net like a young Al Iafrate:
He also has a bit of
NBA Jam razzle dazzle
to his game, where he is able to work the blue line with Kyle Burroughs, drawing in two defenders during a crossover and setting up Kyle with a great lane to the net:
And it's not just Wolanin, you're seeing more mobility and speed with someone like Noah Juulsen:
That's just the sort of thing that OEL's body does not seem to allow him to do anymore.
Again, I am not doing this to highlight these AHL defenders as sure fire bets, or the key to the future, but I am using it to point out that yeah, that OEL contract is looking worse every day right now.
(ok maybe I am suggesting Wolanin is the key to a Stanley Cup, just let me have it.)
Best sticking to the plan
Some players are firmly Anti-Tank (looking at you Kuzmenko) but some players still know the proper end game here. Pushing yourself out of a top five pick is just another Sisyphus nightmare for this club and I am outraged that nobody has sat down with Andrei to teach him this classic Greek myth. Hell, Kevin Sorbo probably murdered an episode of TV acting it out at one point, surely someone can find that for Kuzmenko.
Regardless, Philly Delight knows the plan. He is here to forecheck hard, but should the opportunity arise, hey, maybe the breaks on his car don't work no more or someone punctures a gas tank:
Leave it to Phil Di Giuseppe to know how to carry out a proper fix. He just straight up stops skating and lets Troy Terry skate in all alone on Thatcher Demko. I think even John Garrett was in on the fix because he tried to claim he thought Phil let up because he thought Quinn Hughes was going to take over.
It was the perfect crime. Nobody was the wiser. The game could have ended 1-0 and everyone would have gone home happy.
Bored. But happy.
Best d-man in Canucks history
Quinn Hughes out here doing Quinn Hughes things: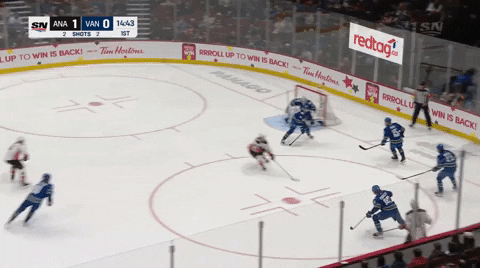 That's a great pass to Kravtsov, and a solid move from the Russian as well. Kravtsov has shown flashes of high potential in his time with Vancouver as Dan Milstein continues to try and form his own version of the nWo on the Canucks. Who's the third man? Is it Henrik Sedin? It's Henrik, isn't it? He's going to leg drop Daniel Sedin and then too sweet Kuzmenko and Kravtsov at centre ice one day.
Where was I? Oh right, this hockey game. Damn it.
Up next we have Kravtsov once again showing some slick skills to toe drag his way into getting a nice shot on net:
The end of the season is all about slivers of promise for selling seasons tickets next season and Kravtsov has been one of the more interesting players during this stretch.
Also I feel like it must be really fun playing hockey with Quinn Hughes. Going to go out on a ledge on this one.
Best honest mistakes vs whoopsies
I think Quinn Hughes is way too proud to tank, so I think he clearly just fell here, then busted his ass to come back and slow up the shot:
The important thing is how much hustle he showed in skating back.
Tyler Myers is a Chaos Giraffe, so who's to say Philly Delight didn't slip him a $20 to take a fall? (Philly Delight is who I assume runs Team Tank now, its canon).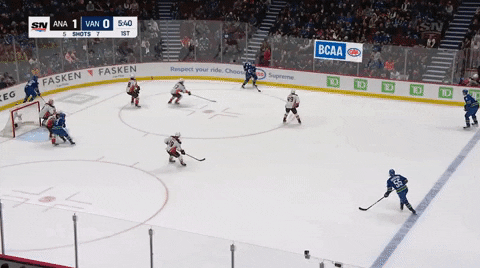 Tyler Myers skates and then lurches back across his body to try and get the pass, and gives up a breakaway. Notice how Brisebois, who skated in from White Rock, gets to the puck first even though Tyler Myers started closer.
Now, the problem with fixing games is Thatcher Demko is so unbelievably technically sound and boring, that he won't let that happen. Spencer Martin has already lost his glove by the time this puck gets to the blue line, but with Thatcher, he's just calm and in position.
Ridiculous.
I like that the Canucks have decided if the other team is going to score so many power play goals, they might as well get in on the action as well.
Elias Pettersson's chase for 100 points continued Wednesday night as he slapped the puck out of mid-air and fed Jimothy Timothy Miller for the goal:
These two have been absolutely lethal on the penalty kill in terms of providing high-end scoring chances, which much like the last article I wrote, brings to mind the Travis Green era where if you could skate faster than a small sleeping child and had decent hand-eye coordination, you were considered too fancy to kill penalties and should probably think about shaving those sideburns.
Best gunning for that contract
I feel like I'm firmly on Team Wolanin now in terms of seeing him earn a new contract for next season, because for a team in need of cap relief, he feels like a guy that can come in and play above his salary:
I know he should have shot there, but his offensive instincts and skating are quite noticeable when you watch games, and the fact he's jumping up in the rush and getting these chances in the first place? That's the good stuff. On top of that, he's recovering the loose pucks and not getting caught out of position, making the Wolanin Experience a calming, if not a little thrilling, ride.
Dakota go boom:
I guess Garland got a nice back hander chance out of this but the important thing was Dakota going boom.
Best time is a flat circle
At two distinct points in this game 10 minutes of our lives disappeared and we have no idea what happened. It's possible Thanos snapped his fingers so maybe ask those around you if you've been gone for five years or not.
I have a clip of Quinn Hughes getting a shot on net to signal the end of the 10 minute truce of friendship both teams agreed upon in which neither side would do anything at all:
Weeeeeeeeeee.
Best little bit of the Kuzmenkshow
The majority of the game's entertainment were the two goals traded by the teams at the end of the second period (agreed upon under the rules of the truce of friendship).
First up was Kuzmenko, who now has 30 goals on the season, and clearly is the Scott Hall of Dan Milstein's Russian World Order:
With Wellwoodian-like dangles, he goes to the net and flicks the puck in off of McTavish's skate, and boom, we've got a goal stew going.
Please note the assist to Elias Pettersson, who now sits at 79 points with 21 games remaining to prove to JT Miller that getting a hundred points is pretty easy and in fact is kind of embarrassing if you get stopped at 99.
Brock McGinn (which I thought was just people shipping Brock Boeser and Jamie McGinn) tied it up for the Ducks with a quick play off of the faceoff:
Quinn Hughes doesn't stick to his man but that's a really fast play and let's be honest, nobody really cares if Hughes does something wrong at this point. The guy plays 827 minutes a game, he's bound to be around when something goes wrong once in a while. He could steal a car right in front of a fan after the game, just straight up walk towards it, use his stick to smash open the window, and drive away giving double middle fingers and fans would be like "hey, that's a solid play."
What's the issue here?
The next 10 minute window of your life that went away was during the third period, in which Andrei Kuzmenko, always looking to be the anti-tank missile, walked in and dangled his way to shooting whilst falling:
Always the showman, Kuzmenko was one of the few players aware that people had to recap this game and make gif money.
Bless you Kuzmenko. Bless you.
Best Scott Sterling homage
The cannon has fired and hit Quinn Hughes directly in the face:
That's a lot of miles per hour.
I don't know what Quinn Hughes did to deserve this.
Hey if you can pull it off, who are we to say no?
At one point, the Ducks got a couple of shots off? Is that fun? I guess?
Look, this game was really bad. I didn't lie with my divorce metaphor. If anything, I held back in that.
At one point Demko fell to the ground clutching his chest like the shot might squeak through, so I appreciate him making me some gif money:
This is a hockey game that happened. That's the summary right there.
The good news is it didn't go to a shootout, as Rip Wheeler took the Ducks to the train station 20 seconds into overtime: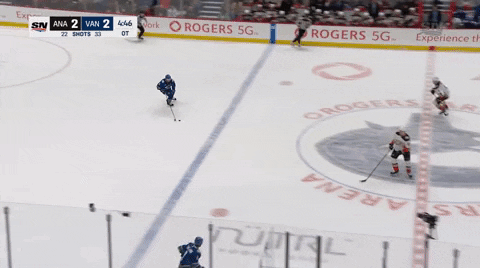 My favourite part is how clearly the Ducks don't give a shit about playing defence in overtime. I haven't seen a half-hearted poke like that since my Aunt tried to contact me on Facebook in the 2000s.
JT Miller does absolutely snipe that puck home, though.
Get on board before it gets full, I'm telling you.
Never forget that Shane O'Brien was once traded for a first rounder.