The Stanchies: Elias Pettersson completes chase for 100 in Canucks win
Photo credit:© Nathan Ray Seebeck-USA TODAY Sports
With two games remaining, the only plot points that matter are will Elias Pettersson hit 100 points, how badly will the Canucks cripple their Connor Bedard odds, and will how Logan Roy's passing effect the Canucks power dynamics.
Well, EP40 hit 100 points, the Canucks cut their Bedard odds almost in half down to 3.5% with their 3-2 win over Anaheim, and Michael Doyle is making a play behind the scenes to take over Waystar by backstabbing Kendall.
Which is to say, all in a day's work in Canucks Nation.
I wish I had more to say, mostly because I want to push the word count to 5,000 just to annoy Quads, but alas…
Let's make some gif money, shall we?
I just want to once again remind everyone that the Calgary Flames, who Single White Female'd the Canucks by trying to sign all of their players, ended up playing out a scenario just how Vancouver would have done it, by defying the odds and missing the playoffs.
Washington knew what had to be done.
Vancouver is rolling the dice on the magical entity known as improving team culture with meaningless wins, and that somehow extending into next season despite the fact that hasn't happened once in the last decade.
Tobias Funke thinks it might work.
Still more exciting than anything the LA Kings did last game:
The Kings would have had three players surrounding that ice guy, stalling any movement on his part.
Best did Elias Pettersson get 100 points yet?
Nope:
The eagle eyed amongst you will notice Elias playing with JT Miller and Philly Delight, as Kuzmenko was banished to a third line grind role as punishment for not clearing the puck out of his own zone the last couple of games.
The good news is JT Miller, one of the vaunted Lotto Line members, is a really good offensive player, so this wasn't going to slow down EP40. Right away you could tell Elias wanted that point out of the way early, as he was generating multiple chances per shift, as seen in the clip above.
Best did Elias Pettersson get 100 points yet take 2:
Nope:
Elias comes in and rifles a shot off of a brilliant stretch pass, but is denied by Lukas Dostal, who is sporting a solid 3.82 GAA, and just recently hit .900% on the season, ie elite numbers in the ASHL.
The next chance at point 100 was on a pass to the Chaos Giraffe, which equally had a chance to turn into a point as much as it had of turning into a hamburger and falling apart as it slowly slid to the net, leaving a trail of ketchup in its wake:
Alas, this shot was merely tipped by Philly Delight, ending with a save for a netminder who could clearly carry even the Pucknuts to playoff victory.
Best nothing left to play for
Both teams were trying to "win" this game, much in the way I try to get to work "on time" in the morning. It doesn't take much to get in the way of the plans you had envisioned the night before.
The good news is this game allowed Detective McWard to continue to prowl his beat, and keep bad guys off the ice: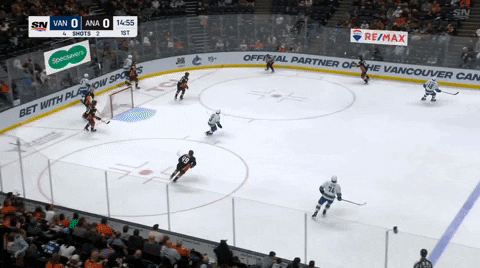 The caveat of "it's just the Ducks" is a correct one, so let's just pretend I say that before every sentence in this article.
With that out of the way, McWard has shown not just in this game, but other games as well, that he doesn't shy away from trying to keep the puck away the opposition in order to open up better outlets and passing lanes. Off the glass and out is a viable option, we know that, but the more d-men on the team that can move with the puck and evade forechecking pressure in order to make a better, more efficient zone exit, that is a huge step forward for a team trying to find a cohesive offensive counter-attack.
In cop terms, Detective McWard has no problem getting his hands dirty at the crime scene until he finds a solid lead.
Does he plant evidence sometimes to do it? Who's to say, who's to say.
Thatcher Demko has been leaned on heavily during this final stretch of the season to prove the first half of the season was a fluke? I know competitive spirit is a thing and he would straight up murder a variety of mythical creatures to play every single game, but I can't help but wonder that maybe you can ride Delia and Greg Balloch in an EBUG situation for the last 3 games of the season.
But I digress, Demko played and he played beautifully: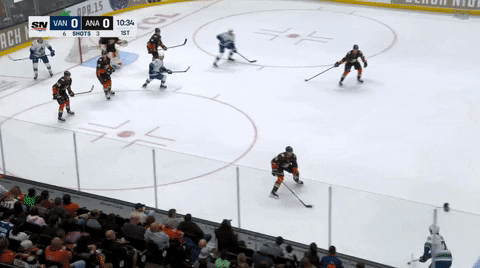 If you're into foot porn, Demko had you covered on this night, as he did more things with this toes than even the most ambitious Only Fans accounts would be hard pressed to match.
I know it's been a long season when I don't even blink at a Canucks point shot turning into a breakaway against. Bear? The ghost of OEL? Bees? It doesn't matter who did it at this point.
Best did Elias Pettersson get 100 points yet part 3:
One thing that will never get old? Elias hunting down the puck like a young Robert Muldoon and intercepting it before the player making the pass even realizes what happened:
EP takes that turnover and feeds Philly Delight to no avail, and then in the same shift circles the net and almost fires home the puck after some good pressure from the aforementioned cream cheese emperor.
It's safe to say Elias wasn't going to end the night without at least one point. He wasn't going to JT Miller this up.
Best did Elias Pettersson get 100 points yet part 4:
Brock Boeser finally tapped it from the back: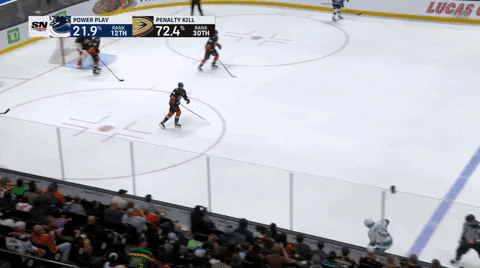 There is something utterly romantic about the fact the Lotto Line combined on the powerplay to set up EP40's 100th point. It feels like so long ago when the Lotto Line was a regular thing and was terrorizing opponents on the nightly.
Now, we're lucky to get a rare guest appearance a handful of times during the season. Maybe a glimpse here and there during a staggered line change. Maybe they play together for a period to shame Kuzmenko into playing defense. Maybe Elias dresses up as Nils Aman for a lark.
Whatever the reason, the Lotto Line just isn't a thing anymore, so it was nice to see all three members reunite and play their favorite hit one more time.
Their favorite hit is a cover remix of B4-4's Get Down in case you were wondering.
I will be the one to love and pass to you, from now until the day I die
I will take you places that you only think about when you're asleep at night Let me take the time to understand and I will set your point streak freeeeeeee
If pass down to me, I'll pass back to you (oh yeah)
I will do anything, that you want me to (to do) It's a game of give and take, to make it through So if you pass down to me, I'll get down on you tonight
Check the date:
This isn't even his final form.
I don't know what's past Henrik Sedin, but I don't doubt Elias has a plan.
I saw this coming from a mile away.
Hey, when you can ride your top guys in a dead season, you have to take it: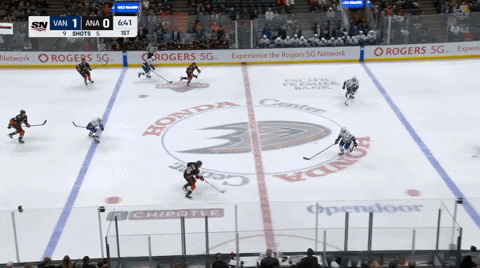 I know both teams wanted to "win", but the Ducks did actually have a handful of legit high danger scoring chances that Demko turned aside like the maestro he is.
Other signs I know the season is almost over: Both Canucks d-men loaded up on one side of the ice for no reason whatsoever, and it doesn't faze me. Not in the slightest. I hope Thursday's game they refuse to play on the left side of the ice all game long. Embrace it.
Make it a spectacle so big that Bo Horvat can't help but comment on Vancouver again.
Not since Olli Juolevi have we seen such a devastating and legendary stretch pass from a young defender:
Just to remind you of the "it's just Anaheim" caveat, but can we sit and admire the poise of Hirose to circle the net and pick out Kumzenko for the breakaway?
Can we also applaud the finish of the slick Russian sniper, showcasing the kind of accuracy not seen since Sasha donned a blue and white striped track suit?
Usually it takes the Canucks penalty to kill to give up a breakaway like that, so it's nice to see other teams partaking in this awful tradition.
Say one thing about Kuzmenko, he doesn't get rattled easily. It feels like every time he gets taught a valuable lesson, he in fact gets taught a valuable lesson, and bounces back rather quickly.
Best he's not wrong part 2
There's a scenario in which OEL and Tyler Myers are outplayed into the bottom pairing on the Canucks next season.
This is the reality we are now facing.
It's like if The Avengers had Captain America and Iron Man just sort of peace out and not keep up with their training halfway through the movies and got replaced by Hindsight Lad and NFL SuperPro, and the newcomers actually out performed them.
Though to be fair I like Hindsight Lad because he has my sports super power.
I prefer the term "working remotely" to explain what Elias Pettersson is up to on this penalty kill:
That's actually some good puck movement on the powerplay from Anaheim, resulting in a Joe Fresh version of an Elias Pettersson PP one-timer.
The problem on this goal? Demko didn't use his toes to stop the puck. Lean into the gimmick, brother.
Best dress for the job you want
Best request to the editor
The second period was not fun? It made me wonder why hockey exists? It made me think the luddites had it right?
Here's a sample of what you missed:
That's Detective McWard grinding things out, working the streets, and knocking on doors. He was like Luther out there, doing whatever it took to get results. If he had to let Zegras fall down a bell tower, so be it.
In other words, he took a shot on net that was easily stopped.
One game to go!
Sometimes I just have to prove to Quadrelli that I watched every period of the hockey game, so here's a highlight of Thatcher Demko stopping several shots in a row after a suspect escaped custody of Detective McWard:
Notice how he curled his toes out to make that stop? Making saves and Only Fans content at the same time. I haven't seen him this focused since he corrected Patrick Johnston for saying he was flummoxed by a loose stick in the net behind him.
And now here's Anthony Beauvillier making a nice play to evade a check and feed McDonough for the wide open one timer:
Anthony Beauvillier, as you will all remember, had this lukewarm review from Rick Tocchet mere days ago:
"I haven't really like his game, but there's things there."
That's like going out on a first date and getting a text back four days later saying "hey thanks for the dinner, you're a nice guy, I hope you find what you're looking for."
Best Fanner Glass tribute
Chris Tanev's pass to Tanner Glass in game five of the 2011 Finals is burned into my memory for reasons I cannot explain, but it is what it is.
It's so ingrained into my memory that I did the Leo meme of pointing at the screen when Kyle Burroughs did a very similar fake shot into a pass to the left of the net during the second period: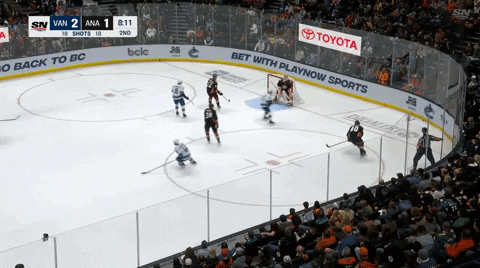 The good news is that it wasn't a Canuck completely whiffing on the pass that ended the play, the Ducks simply made a good defensive play.
Still, anytime I can exclaim "Fanner Glass!" and point at my TV, I know it's been a great day.
To be honest, I don't know why the Ducks don't break out the Flying V during games:
The knucklepuck worked to perfection as Tyler Myers turned and watched the puck fly by him and ping in off the post and in.
Demko uses his toes? That's a save.
Tyler Myers drops down into a pad stack? That's a save.
Otherwise it's hard to blame the Canucks for stopping what is one of the most efficient ways to score in a Disney movie.
Best keeping the objective in mind
The Chaos Giraffe knew that was on the line, which is why Tyler Myers did everything in his power to guide the Canucks to a loss on the night:
He was "beaten" in a foot race and "accidentally" got a penalty on the play.
Tyler Myers came here to do a job, and damn it, he did it well. He probably would have punched that puck in the net were it not for that Thatcher Demko kid.
The resulting power play ran into the brick wall known as Bubble Demko, and could not score:
Tyler Myers tried his best. He really did.
Best high school bully syndrome
Zegras carries the entitlement that is normally reserved for those that attended Mulgrave School.
But for whatever reason Zegras felt that JT Miller playing defense and not allowing him to dangle through the offensive zone was an attack on his person, so he got a bit snooty over it and started shoving Miller before quickly scampering away:
JT Miller isn't an elite fighter by any stretch of the imagination, but ol' Rip Wheeler would certainly have no issue whatsoever taking Zegras to the train station if he so wanted to.
I can just imagine an incensed Zegras demanding to know why JT Miller separated him from the puck like that.
"Bro, I'm trying to do something over here, relax. We all have to work in the morning."
Best pushing it as far as possible
JT Miller is a Canuck who has had a solid season, despite some low points during the year:
Elias Pettersson, as he has done all year, draws the attention of multiple players (four in this case) before feeding a wide open Philly Delight for the shot that leads to the tap in for JT.
Playing with Elias Pettersson feels like it would be a lot of fun. Call me crazy, but I think it would be enjoyable.
The end result, however, is JT Miller having the second best scoring season of his career, made all the more impressive when you consider that a lot of his improved play came after Bo Horvat left the team.
Which could of course just be the easier schedule the Canucks faced, but it's the end of the season, let's be charitable here.
Best the House always wins
McDonough whiffed on the one timer in the slot:
But any chance I get to showcase and talk about Jim Sandlak, I am going to take it.
Who can forget his memorable hat trick goal:
OK so apparently YouTube doesn't have a ton of his scoring highlights uploaded, but here he is beating the tar out of Geoff Courtnall, who promptly decide that sitting down and covering his face was the best way to deal with an angry Jim:
Please note Kerry Fraser not calling any high sticks in that clip.
And you know what, here's a shot so good from Sandlak that it made Billy Ranford lose his glove:
The House was a beauty.
Demko and those feet:
Demko straight up made two save sequences in a row where he robbed a Duck with his toes.
You want a better angle? If you subscribe now, I can show you them:
Three foot saves in the span of a minute, Demko is just an absolute beast right now.
Best thoughts and prayers offense
Just to prove I watched the third period, he's Anaheim making a slick pass to absolutely nobody:
One game to go!
Detective McWard isn't just about solving crimes, he's about preventing them as well.
Here he has a solid offensive chance that ends up with him making sure he's back defensively to make the stop:
That's the kind of attention to detail that will upgrade Rick Tocchet dismissively telling you there's some things there, to glowingly talking about how North/South your game is.
Hirose gave the Canucks one last shot at losing the game with a late high stick:
But as Mike noted, the Ducks didn't bother pulling their goalie until 30 seconds were left in the game, resulting in this shot that was deflected out of play:
And that was ball game.
One game left!
Best that's good I guess?
Best ride them all the way to the bank
Tocchet had one goal and one goal only: Gain as many wins as possible.
And that's what it comes down to.
The Canucks fired their coach, and willingly tried to win as many games as possible in what was already a dead season. You don't bring in Rick Tocchet to grind out a losing season, you bring him in knowing he will do whatever it takes to put points on the board, especially with a weak schedule in front of him. Even if it takes riding your top players with all of the ice time in the world, he is going to do whatever it takes to show that hiring him was the right choice because he is getting you results.
And none of this is hindsight. A lot of people smarter than me pointed out the Canucks weak schedule coinciding with Rick Tocchet's arrival. Whether it's to sell tickets for next year, or if there truly is a belief that winning these games will carry over to to next season, the Canucks did everything in their power to win games down the stretch when already eliminated from the playoffs.
There was no scratching of top players, there was no balancing out the ice time, there was just a grim determination to ice the best line up possible and get as many wins to as humanly possible to close out the season.
And I know to some people, that's great! That's exactly what every team should do! Losing infects the team or whatever and will make them lose forever or something like that. It's the herpes of the NHL, once you start losing, those sores around the mouth start appearing and scare off free agents. But winning even a handful more games, that will instill structure and that winning culture that will carry over to next year. Somehow.
Like, I know they wanted to get their head coach in place, and maybe him having this half a season does give him a heads up for what he needs to know to make next season a good one. He doesn't have to come in blind to get a feel for the players, he already knows he has to yell at Kuzmenko a lot and he knows Beauvillier isn't his guy.
But with that being said, I don't know how the team doesn't dress a skeleton line up these last three road games. What is there to gain aside from Elias Pettersson getting 100 points? I agree you dress him and let him get 100, but other than that, it just feels like meaningless wins are just that; meaningless.
6% to 3.5% might not be a lot to some people, but I have spent years being told "get in and anything can happen!", so I am just going with what I've been told.
Hell, take the Bedard-mania out of it, and just think of what it would be like to get a top 5 pick again.
It just feels like "winning for culture" is a buzzword that won't solve the endless retool this team feels like it's stuck in.
But as I have also been told for a decade, "let's just wait and see what happens."
Which I suppose is the final truth on the matter. Let's wait and see what happens.
Even if it all feels so eerily familiar.
Sure, you've listened to me go on and on about tanking, but what do the computers think? What does Terminator think about tanking on purpose?
"Decisions regarding tanking in sports, such as the Vancouver Canucks potentially tanking for the purpose of obtaining a high draft pick like Connor Bedard, are complex and involve various factors that should be considered carefully.
It is worth noting that tanking, or intentionally losing games to improve draft position, can be a controversial and ethically challenging strategy. Tanking goes against the spirit of fair competition in sports and can have negative consequences for the integrity of the game. Additionally, tanking may not always guarantee success in obtaining the desired draft pick, as the draft lottery system is often used in professional sports to prevent teams from solely benefiting from intentionally losing games.
Teams in professional sports should strive to compete to the best of their abilities and follow league rules and regulations. Purposefully losing games, even for the potential benefit of obtaining a high draft pick, can have long-term consequences for a team's reputation, fan base, and overall success.
Ultimately, decisions about tanking in sports should be made carefully, taking into consideration the ethical implications, league rules and regulations, and the long-term implications for the team and the sport as a whole. It is important for teams to prioritize fair competition and sportsmanship in their approach to competition."
OK, agree to disagree Hal, but what about winning meaningless games down the stretch?
"Team culture in hockey can have a lasting impact on a team's performance, including extending to the next season. A positive team culture, built on mutual respect, trust, and a shared commitment to the team's goals, can contribute to improved team chemistry and cohesion, which can carry over into subsequent seasons. On the other hand, a negative team culture, characterized by internal conflicts, lack of accountability, and a lack of clear goals, can have detrimental effects on a team's performance over the long term.
Regarding the Canucks winning some "meaningless" games at the end of the current season, it can be a topic of debate. On one hand, winning games can provide a sense of accomplishment and boost team morale, potentially carrying some positive momentum into the next season. It can also help players build confidence and maintain a competitive mindset.
On the other hand, there are arguments that losing games intentionally to improve draft position, commonly known as tanking, can be detrimental to team culture and send the wrong message to players and fans. It can create a perception of lack of competitiveness and a willingness to prioritize individual gains over team success, which can have negative effects on team morale and the overall culture.
Ultimately, the decision on whether it was good for the Canucks to win some games at the end of the season depends on various factors, including the team's goals, the context of the situation, and the organization's values and priorities. It is important for teams to carefully consider the long-term implications of their actions on team culture, player development, and overall team success."
Well there you have it. The Canucks are doing what advanced AI suggests they should be doing.
Who are we to argue?
Best ending on a good note
Anyways, We've talked about this enough. We know where we stand. We have one game left.
Let's make the last game a happy one. No talk of drafts, no talk of odds, let's just go out on our gif shields.
All of the dumb jokes. All of the tweets. All of the silly side of hockey we've leaned on all season.
See you Thursday?