The Stanchies: Delia outduels Gibson, Miller and Pettersson raise the bar, and a search for Wild Wing
Photo credit:© Gary A. Vasquez-USA TODAY Sports
It's a crisp Sunday evening in Anaheim, and you have two very different entertainment options awaiting you. 
On one side of the California I-5 is Disneyland, the Happiest Place on Earth. Dozens of rides and attractions, a nightly fireworks show, and all the warm churros you could ever want.
Ten minutes eas, down Katella Avenue is the Honda Center, the site of hockey's ultimate war of attrition between the tanking Ducks and eternally confusing Canucks.
There was a right choice and a wrong choice here, and we all know it.
The Canucks are a roller coaster in their own right. One moment, they're trudging up the hill to competitive hockey. The next moment, they're holding onto the lap bar for dear life.
But tonight's game was a lot more like a kiddie coaster than Space Mountain. Sure, the score line was close right up until the final buzzer, but the Canucks dominated for nearly the entire outing, the result never felt in doubt, and the game was low event slog.
Does such a strong performance prove that the Canucks actually belong in the playoff conversation? Not against the Ducks, no. But after a pair of pretty underwhelming performances in Arizona and Los Angeles, should we look past a rare case where the Canucks were far and away the better team in a game? Also no!
The Canucks' hopes of landing a top-five pick might be as busted as Sportsnet Now's VOD of this game is. But just as I did in trying to scrounge up GIFs without a working broadcast feed, we're going to make do with what these teams gave us.
Just when you thought a rivalry that dates back to the 2007 playoffs might be losing its' luster, the Bedard Bowl pulls us right back in!
You know you're in for a long night when even the referee's equipment is trying to steer clear of the arena.
Best California Adventure
All three of these goalies are Southern California products, which makes a lot of sense if you know anything about the Golden State's hockey ecosystem. The Sharks have done their best in Silicon Valley and Oakland, but that effort goes somewhat unnoticed once you get into San Francisco. It's hard when you're competing for attention with half a dozen other pro franchises.
Really hope to see a netminder from San Fran, Sacramento or Santa Rosa break through to the big leagues someday.
Best 'It's a Small World'
Last time I was on Stanchies duty we had a goalie coach corner, and I do promise that we won't be going to that well
every
time I step in. But the story of Ducks goalie coach Sudarshan 'Sudsie' Maharaj is too amazing not to talk about.
Maharaj was eight years old when his family moved from his birth country of Trinidad to Toronto in the 1970s. In a story written by NHL.com's William Douglas back in 2021, Maharaj recounted going to his very first NHL game at Maple Leaf Gardens. 
Maharaj was standing by the glass as players left the ice following warmups. One player tossed him a puck, cementing a core memory for a new hockey fan.
The Leaf that threw Maharaj the souvenir? A young forward by the name of Bruce Boudreau.
Today, the 59-year-old is in his seventh season as Anaheim's top goalie coach. Since starting as a consultant with the Norfolk Admirals in 2013-14, just about every goaltender to pass through the Ducks organization has worked with Maharaj, including Freddie Andersen, Anton Khudobin and former Canuck Ryan Miller.
And under his watch, the Ducks have generally been a great landing spot for goalies (this year being a rare exception).
But his relationship with John Gibson has easily been the most fruitful.
Gibson was insanely busy during the first 40 minutes, stopping 32 Canucks shots, including this early point blank save that forced Nils Åman to put a dollar in the swear jar.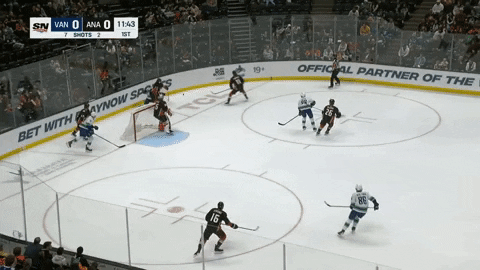 Gibson's frame allows him to sit a little farther back in his crease, providing him more reaction time to the play. During this Anthony Beauvillier shot attempt Gibson wasn't at his most technically sound, but he still had all the time he needed to cover the short side.
Injuries have slowed Gibson's ability to be the game altering goalie he once was. But his workload tonight provided plenty of glimpses that
Sudsie's
teachings are still there.
With the start Gibson was having, it was clear almost immediately that the Canucks were only going to beat him with an impossible to stop shot.
Enter J.T. Miller.
With a delayed penalty for Anaheim, Pettersson and Hughes connected for a pair of nifty backhand passes to set Jonathan Tonathan up for the one timer. Scott Harrington also deserves an assist for the helpful screen, but even with a clean look Miller's shot had so much mustard it might've just taken Gibson's glove with it.
This is some incredibly huge praise coming from a opposing broadcast, especially one that saw Cranbrook's native son play on a nightly basis. But if there's one difference between the two, Niedermayer probably didn't need to play 27 minutes a night against a basement dweller in March.
Don't get injured, Quinn. Please.
The Ducks penalty kill had literally one job; do not give Elias Pettersson the time and space to unleash his full power.
By the time Hughes had saucered the puck over to EP40, it was already too late for Simon Benoit or Isac Lundestrom to properly take away space. Gibson's glove hand just wasn't fast enough to nab the puck as it ripped right under the crossbar.
As far as personal records go, this was about as perfect a way for Pettersson to reach the 33-goal plateau for the first time in his career as possible.
Imagine being 23 years old and already being the best defenceman in an NHL franchise's history. Quinn Hughes doesn't have to imagine it, thanks to his second straight 60 assist season.
For all the concern early in the year about how long it took for Huggy to score his first goal, those worries have disappeared as he sits three points off his career high with 17 games left. Now if his coach could just figure out how to manage his ice time more carefully…
We're onto your games, Shorty.
Best One Way Ticket to San Diego
Much like the detective he shares half his name with, Simon Benoit sure Blanc'd Beauvillier on this scoring chance.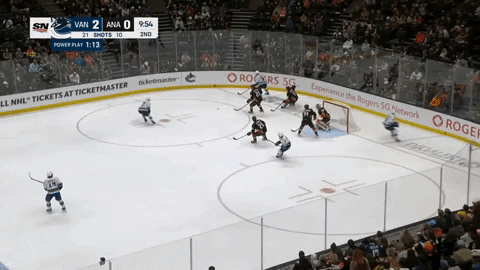 Gibson couldn't hold onto the initial shot as it rolled under his arm, but Benoit was there to sweep it out of the blue paint.
On a competing team, such a play might be rewarded. But Ducks GM Pat Verbeek was probably hoping that puck would put them a bounce closer to Connor Bedard.
Best Brocks of Futures Past
Brock Boeser's goal against the Kings showed that there's still plenty of power in his wrists.
Tonight he took it to the next level, dipsy doodling through the Ducks defenders before firing off a rocket that Gibson was barely able to snag.
This is exactly why you don't sell low on struggling young players, kids.
Collin Delia's workload might've seemed extremely easy compared to Gibson's. But low shot games are a lot harder to deal with than you might realize.
Games where a goalie goes ages between shots can make it difficult to stay warm and engaged to the pace of play, making you a little more susceptible to a wonky goal, as we'll see later.
But for the majority of the night, Delia was dialed in.
Anaheim's second shot of the game was a weird bouncer from Troy Terry that Delia got a piece of thanks to his careful puck tracking.
In the Ducks' most dangerous scoring chance of the game, Frank Vatrano got in behind Christian Wolanin for a breakaway. But Delia's patience won out, as Vatrano was forced to deke to the short side and the Rancho Cucamonga native sealed off the shooting lane.
Earlier in the season, Delia outdueling John Gibson for two points would've been a much bigger deal. But after the insane way the Canucks stole victory in LA yesterday, this barely registers on the chaos scale.
Let's take a little detour to the Anaheim press box for a second.
Jayson Megna still earning NHL minutes in 2023 is fascinating. But for the most infamous Sedin linemate to be in the lineup for 50+ NHL games in 2023, even on a basement dweller like Anaheim, is downright unbelievable.
Naturally, the Ducks elected to scratch him tonight after I wrote this, further diluting any potential fun this game could provide.
Megna's seven points this year puts him just back of the eight he earned in 58 contests with the Canucks in 2016-17.
After leaving Vancouver in free agency in 2018, Megna rediscovered his game in Hershey with the AHL Bears.
His 43-point campaign was enough to earn a 'prove it' deal from the Avalanche; he ended up staying in Colorado's system for the next three and a half seasons.
Maybe Willie Desjardins actually knew something we didn't. Or maybe Jayson knows where all of the league's bodies are buried. The world may never find out.
Sometimes he would show flashes of the potential speed and control that he had as a rookie in Pittsburgh, like on this goal in Columbus set up by a baby-faced Troy Stecher.
Fun fact: This game was SEVEN seasons ago! Back in a time when I had hopes and dreams!
Wait, what point was I trying to make?
Best Falling Asleep in Class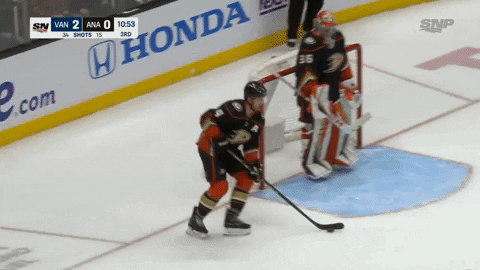 To be fair to Gibson, if you'd faced 35 shots in 50 minutes on top of being part of one of the toughest seasons in Ducks history, you'd be exhausted too.
See what I meant about a wonky goal?
Poor Delia was so darn close to his first career NHL shutout. After Troy Terry's shot attempt bounced over his stick, Ryan Strome made a harmless looking attempt to backhand the puck back into the goalmouth.
Delia wasn't set for a shot, opening up a sliver of room between his skate blade and the post to the corner. Instead, Strome's attempt dribbled through, and Delia finished the play looking like he was trying to cover a rip in his pants.
3-on-1 rushes are such a rarity in hockey that even the players seem surprised when they get such an opportunity. Anthony Beauvillier stopped up in front of the net like a deer caught in headlights at just how wide open he suddenly was.
Beauvillier's shot attempt was less dangerous than desired, and Pettersson's couldn't get a clean whack at the ensuing rebound. In standard Canucks' lore, it sure looked like a play that could've been seen as an unfortunate turning point.
Ethan Bear's second game back from injury wasn't his most successful. But he came up huge when it mattered most, getting in the way of a blast from the blue line with 20 seconds left.
Bear has taken an absolute beating on a bunch of plays like it this season, but the kid refuses to back down in the face of danger. But if he plans to keep doing so, he might want to consider keeping that fishbowl visor full time.
With this game shaping up to be another dud on the action front, I felt like it was my responsibility to liven things up a bit before it was over.
Near the Honda Center's main entrance sits the greatest sports statue of all time: a bronze likeness of Wild Wing, the Ducks' team mascot – and star of the hit Saturday morning cartoon 'Mighty Ducks: The Animated Series' – heroically holding his goal stick like Thor's hammer.
So I decided to put the word out on Twitter to see if any Canucks fans would be willing to find the statue after the game and take a picture with it, as part of the first ever Stanchies Scavenger Hunt.
Tonight, Cody Sweet answered the call perfectly.
Moments like these are what makes even the most dull Canucks game absolutely worth covering. And if I have to send Canucks fans on even more road trip missions to make the final stretch of the season fun, then maybe that's just what I'll do.