The Stanchies: Dakota Joshua's big night, Kuzmenko's office, and Elias Pettersson does it all once again
Photo credit:© Neville E. Guard-USA TODAY Sports
Every Canucks season has its ups and downs. Different eras within a season that seem to carry a theme within them for a short period of time.
Sometimes you get the dark gritty DC movie era of Canucks games. This is when everything feels very serious and you're blown away by how all these superheroes can be made to look so tedious. You want magic powers being used to conquer evil? How about Batman contemplating retirement due to bad knees instead?
What if instead of a group of heroes coming together to save the day, they have endless office meetings about putting together a business plan and making sure their TPS reports are filed on time?
So instead of talking up Elias Pettersson as being an absolute dominant hockey player just starting to showcase his earth-crushing powers, we're all debating what that scoff and shrug of the shoulders in the media scrum after the latest 3-0 loss REALLY meant.
"I think you can tell by the sadness in his eyes that he wants out and has probably demanded a trade to Edmonton. I'm telling you, look at his shoulder pads, he hung them up in his stall like he doesn't even care. How can we expect him to lead a team if he can't even organize his gear?"
Sometimes you get the weird winning streak where the team plays well and people joke about making the playoffs and winning the Cup, but they're not sure if they're joking about making the playoffs and winning the Cup? Like they make a list of pros and cons of pushing for the playoffs and going out in the first round and they walk away thinking "not Rachem" and nobody knows what to make of it?
Sometimes you get the "It's been 9 years of this middling hockey team stuck in neutral, I have to prioritize my mental health and stop watching this team" era but then you find yourself watching them play next game because it's the only way you know how to live.
And sometimes you get the period of time in which nothing makes sense, you go through a roller coaster of emotions seemingly every twenty minutes, you feel overwhelmed at all times, yet you somehow need more of it, all of the time.
Ladies and gentleman, welcome to the Cocaine Bear era of the Vancouver Canucks season.
Goals? Don't matter.
Leads? Don't matter.
Goaltending? Don't matter.
Defence? Does. Not. Matter.
Nothing matters except the fact you know you're going to see goals. All of the goals. At all times. Even when the team looks like garbage and can't produce a single shot for twelve minutes against a goalie seeing his first taste of NHL action.
That's just how the CB era rolls, baby.
The game could be 8-0 after two periods but the Cocaine Bear era dictates that this game is far from over. This era is marked by one thing and one thing only: being surprised by nothing.
Spencer Martin throwing his helmet across the ice, stabbing his goalie stick into the ice and declaring San Jose "Spencetonia"? You merely arch an eyebrow and wonder what took so long.
Bo Horvat scoring a goal and then pulling out a money gun and spraying it all over the Sharks' bench as he skates by them? You pause to take a sip of your drink and ponder if he shot out American money or Canadian.
Dakota Joshua almost powers the team to a victory with a hat trick before Big Money Save On Darrell makes a call and cancels his third goal? You turn to your friend as if to say "I told you so."
JT Miller makes a pass on the power play in which he takes a look before he sends the puck to Quinn Hughes? Okay, this one shocks you. But everything else? Just another day in the life of the Cocaine Bear era.
Is it sustainable? Of course not. I'm sure Drance has a stat that will show just what a tenuous run the Canucks have been on as of late.
There it is. And he's right. The Canucks being out-chanced to that degree but still rocking that record? None of it makes any sense. It would be like doubling down on the Brabarian Era and signing Jeff Cowan to a 5 year deal "to lock him up cheap."
But you know what? Despite none of this making any sense, it's fun to watch. I think most of us realize this team has a tenuous grasp on making the playoffs, much less winning the whole thing, but at least we can have some laughs along the way.
So let's sit back, make some gif money, and enjoy just whatever the hell we're watching is.
Because I have to warn you, you never know when the Juolevi Stretch Pass era is around the next corner.
Best ghost of Christmas past
Nick Bonino, perpetually cursed to stuck in a shootout the rest of his life, announced his presence to the Canucks around twenty seconds into the game with a deft deflection:
Nick Bonino as you'll remember was acquired in the Ryan Kesler trade in which old number 17 demanded the Canucks find a way to get him to Anaheim. Bonino lasted one year before the Canucks traded him for the foundational Brandon Sutter, where Bonino formed the HBK line with Pittsburgh. The man who traded for Bonino? None other than Jim Rutherford.
I bring this up mostly because I wanted to mention the wrestling nickname for Bonino's line.
Scratch that, it was the only reason.
The point is, that's honestly a dirty, greasy, fantastic tip from Nick Bonino.
Some people jumped on Spencer Martin for "not being ready for the shot" or "not wanting it enough" or "trying to ruin my night by letting in goals", but I don't know, if someone literally changes the direction of a puck by reaching around a defender, and bounces the puck off the ice and over my glove hand, I'm going to give a lot of credit to the guy who tipped the shot. Would Bob Essensa have saved that? Of course he would have, he's an absolute gem. But not everyone can be Bob.
Besides, what do we know about the Cocaine Bear era?
Goals. Don't. Matter.
Leads. Don't. Matter.
All that matters is waiting for the next hit of sweet dopamine from a lead change.
From the Canucks' end of things, they didn't start the game off particularly strong. Their struggles to exit the zone with the puck cleanly continued: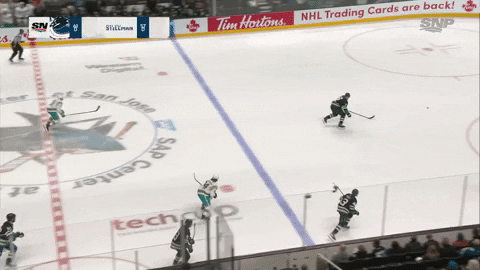 Even when Luke Schenn makes what looks to be an easy pass to get the puck out of the zone, it hits a skate and before you know it the Sharks are saying you should have brought a bigger boat, circling back in for a good shot on net.
The good news is they looked fantastic doing so, and if you're going to give the puck up to a team, why not make it to a uniform that looks as great as the homage to the Golden Seals?
This is why if the Canucks wore the Skate jersey, more teams would simply give them the puck because it looks so damn crisp on HD TV. It's science, and it upsets me that the Canucks refuse to follow the science.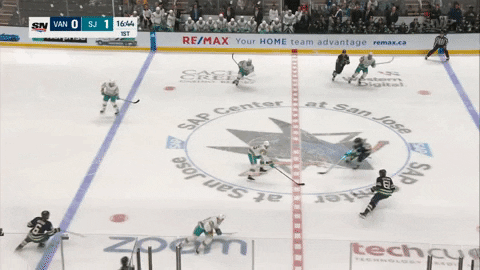 We met some time ago, when we were so young. We've been through thick and thin. We've lost, we've tied, we've won. Friends forever, with you everywhere. Friends forever, always will be friends.
Yes, Brock Boeser remained with Elias Pettersson and I remain convinced this is the right call. The Kuzmenkshow can do a third line role better than Boeser, as he has the shiftiness and solid speed to play the grindy role.
Brock at his best is hanging out with his best friend EP40, playing give-and-go out on the playground. Add in Ilya Mikheyev's speed to help open things up for that trio, and that feels like a line that EA Sports would assign some chemistry to. Just wait until the Canucks open up their HUT pack and find a gold NHL 2018 All-Star MVP Brock Boeser card, then all bets are off.
The clip above showcases this line at their best, with Mikheyev speeding to the net and drawing attention away from the trailing Pettersson, and then Brock skating to the net and finding EP40 for the nice one-timer attempt.
Things obviously change a lot in the NHL and for all we know Boeser could be traded in a game or two, or the Canucks move to Memphis, but in the CB era, I have high hopes for what this line can do.
Best bam bang boom here we go
Dakota Joshua, aka the safest man in hockey, a man who checks his blind spots and comes to a full and complete stop at stop signs, scored the equalizer for the Canucks, back when we thought we were in for a delightful high tea afternoon of cucumber sandwiches and 3-1 victories: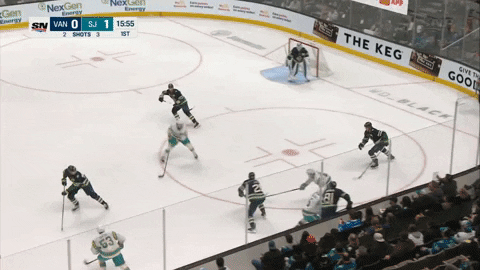 Was the market out of cucumbers? Of course, why else would there be no sandwiches? You know what it wasn't out of? DAWGs. Because Dakota Joshua was the big bad DAWG on this night for the Vancouver Canucks.
How many times have we seen Elias Pettersson, Bo Horvat, JT Miller, or Quinn Hughes power a Canucks team through a period of hockey, looking like they were literally dragging the team behind them, trying to will the team back into the game? Well add Dakota Joshua to that list because it felt like he was a man on a mission, a M.O.M. if you will, set to make sure his boys were taken care of.
Dakota Joshua is of course an alumni of the Tulsa Oilers, and if there's one thing the Stanchies are quickly becoming known for, it's their deep dives into ECHL mascots.
Sledge also has a friend named "Slick", and it's just a
giant drop of oil
, so I'm not sure if they should be friends or not. Sledge is basically drilling and trying to acquire all of Slick's friends so he can sell them for a profit, so I feel like they should be at odds with each other, save for the one time they team up to fight off Scorch, because they both fear fire.
All of which is to say that yes, Sharks goalie Kaapa Kahkonen let out a horrendous rebound off of an OEL thoughts and prayers shot that Joshua capitalized nicely on.
Best got my man his name is Bo…..nino
Look, when you have to take shootout after shootout after shootout for the rest of your life, you're gonna learn some nice moves from doing so: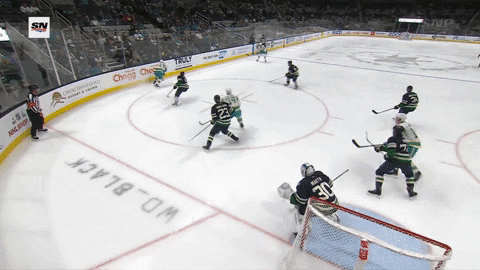 When he sets up shop in your crease, he's charging you taxes, both PST and GST.
Best standing up for your Aman
Nils Aman got clocked in the neutral zone, and like any good Romulan, Dakota stood up for what was right by demanding blood: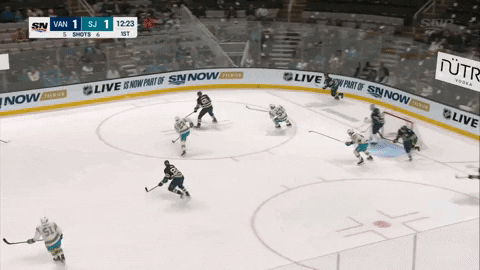 That's just a solid hit from Radim Simek, but in the NHL you're only allowed to hit people with strongly worded letters left under their hotel room door.
If you want another angle of the hit, then simply charge Quadrelli the $5 he owes me per gif, and watch the following clip:
There is something to be said about enjoying watching bros defend their bros, and even though it wasn't the most entertaining tilt (think Randy Couture vs Brandon Vera), it did give us a brilliant clip of Joshua shaking off the refs trying to stop the fight because he wasn't done yet: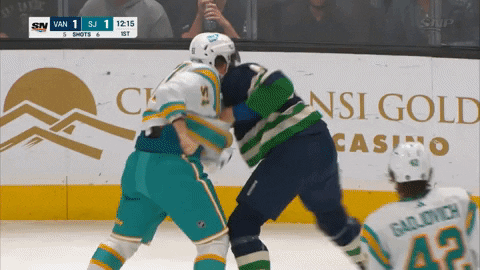 Credit to Simek for the octagon control but if that fight goes another 30 seconds, Dakota clearly jumps up and locks in the guillotine for the tap out.
Best this actually happened
Believe it or not, Oliver Ekman-Larsson looked downright spritely during the first period:
You saw that correctly. That's OEL working a give-and-go on the blueline, before charging down the wing and finding Connor Garland for the back door attempt that just misses.
You'll notice of course that Garland goes into his mini-sticks hockey mode by dropping to both knees, as is tradition, but just misses on converting the pass into a goal. He then strikes the glass once to signal to the bishops that a new short king has not been elected.
After the Canucks were assessed a penalty for daring to try and put too many hockey players onto the ice surface at once, the Sharks went onto the power play where they quickly learned that Bo Horvat and Elias Pettersson are a step up from JT Miller looking exhausted like he might throw up at any second:
Their ability to hit counter rushes and push other teams back on their heels is oh-so delightful to watch and once again forces you to remember the days when Travis Green hated anyone under the age of 35.
How can you trust someone to penalty kill when they haven't discovered that life is all downhill from here?
I have a fear that every time Cody gets a night on The Stanchies, Kuzmenko will score four goals and he will merely describe it as "an adequate showing I guess." It's on par with Luke Schenn breaking the all-time hits record for a defenceman in which Cody begrudgingly noted that "Luke Schenn threw a hit, which I guess is cool if that's your thing."
So any time I can get another media member on my side of the "Kuzmenko is adorable at hockey" take, I will gladly take it.
As I said earlier, I do think Kuzmenko has the ability to make more things happen playing in a third line role than Brock Boeser can. Brock is just fine playing the tap-in role that Kuz plays, with EP40: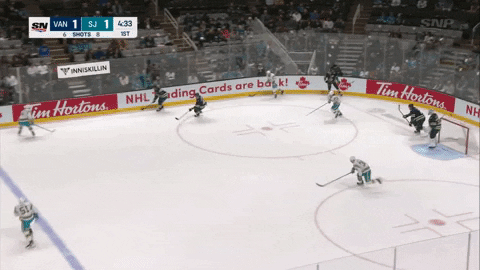 That's once again Elias Pettersson entering the zone with ease, finding Mikheyev, and then Ilya almost feeding Brock for the easy tap-in. That's a solid formula that Brock can replicate, and to Brock's credit, if that line starts finding him open for shots, he can probably do more damage at range than Kuzkmenko, whose average distance from the net on goals is around two inches.
As for Kuzmenko, he can spin off of his defender and draw defenders in, which allows him to create room for his linemates: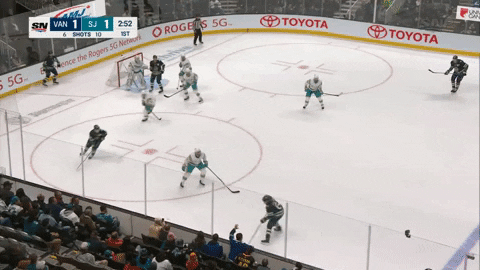 Riley Stillman gets the pass and unfortunately, the moment's too big, but it's still a good example of how Kuzmenko can create things out of nothing at times. I also think Kuzmenko is getting better at knowing where to be on the ice defensively, and as he admitted earlier in the season, realizes you can't take time off on your shifts like you can on the bigger ice surfaces in the KHL.
With Sheldon Dries out of the lineup, Dakota Joshua got some second unit time on the power play, and he made the Sharks absolutely pay for not respecting his DAWG rating: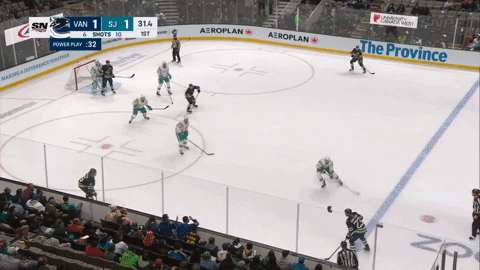 Had the Sharks taken the time to read Chris Faber's DAWG rating this season, they would have had three Sharks on Joshua, instead of the two guys they put on him.
You'll notice Garland with the deft tip (legally all tips have to be called "deft" otherwise Gary Bettman shows up at your house and makes fun of your sense of fashion) on the play, which I am positive was a pass off the post. Clearly, he knows he can bank that puck off of iron to feed his DAWG, which he does perfectly here.
This was also OEL's second assist of the night, thus marking the last time we have a positive clip of OEL.
But for one period, OEL felt great. He really did.
Anytime chance I get to mention this underrated gem of an SNL sketch, you damn well know I'm going to do it.
Pirate convention, let's go
!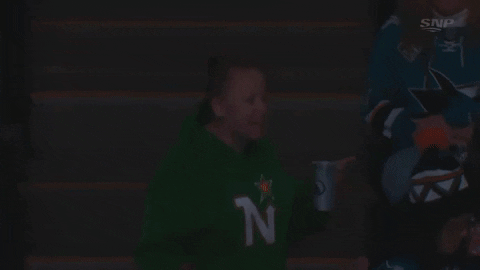 One day I will be caught on camera walking to my seats at an event, and I'll trip and tumble down the stairs, forever locked into gif hell eternity. And it will be an ironic situation, because I have gif'd so many people. I deserve this fate. I know it.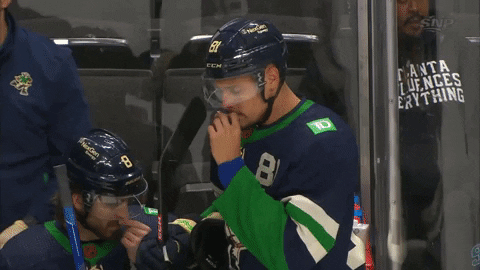 We don't know if it was smelling salts. It could have been a secret radioactive DAWG formula that Kuzmenko had been working on in the lab, and he just realized Dakota had taken it by mistake in the morning skate. Kuz rushes over to explain the situation to Dakota, but Joshua isn't fazed by this. How could he be, he's a mutant DAWG now. Nothing scares him except the middle of the night when he wonders if his humanity is slipping away from him. How much of him is DAWG? How much is human? Nobody knows what he's going through.
Want further proof? Dakota Joshua set a new Canucks record with his DAWG rating on the night.
But we'll get to that later.
The Canucks went up 3-1 when Nils Höglander finally found the back of the net: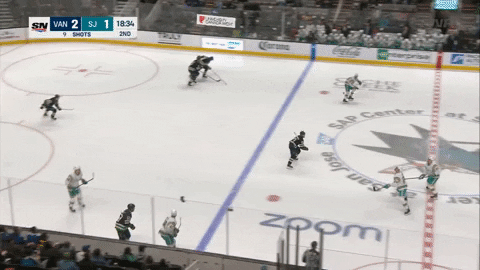 That's just a downright great play by Nils to jump up and pinch along the boards to bring the puck to the net.
It's also great that he didn't try and force a pass through to Bogilny, which sometimes when you're struggling, the inner voices in your head chide you for thinking you can score goals or complete university in under six years.
Nils has had an up-and-down ride with the Canucks, so it only makes sense that in the CB era he would be one of the guys who could ride the rollercoaster best.
Best in case of emergency
The Sharks had some pushback, but Spencer Martin is no fool. He knows if there's trouble in your crease, collapse on your back and start making snow angels until the refs blow the whistle:
If it was good enough for Troy Gamble, it's good enough for Spencer Martin.
Best don't go breaking my toe, drag
The Sharks kept up the pressure by utilizing dekes and other assortments of witchcraft, first on Luke Schenn: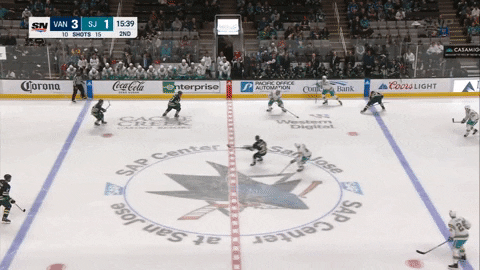 I have to admit, Hertl undressed Luke Schenn pretty handily on that dangle, dropping him down to one knee quicker than if he was on Love is Blind.
Shortly after that Tyler Myers found himself covering for a Quinn Hughes pinch, to which he started off well by skating hard and pestering the shooter, before his natural state of chaos took over and he barrel rolled around on the ice to try and prevent the shot in the slot: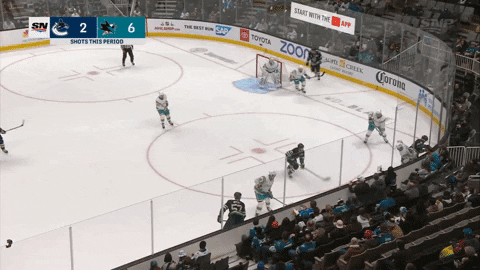 Which is to say, the Sharks understand that leads mean nothing to Vancouver, which is why it wasn't shocking when the Sharks began scoring goals.
JT Miller was on the penalty kill, which means he attempted a murder, as is his way: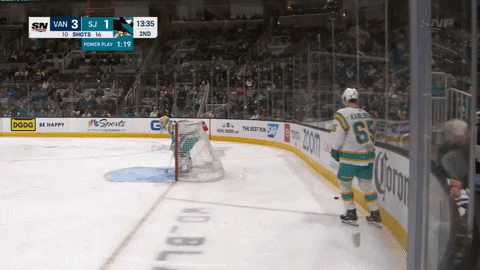 Look, don't get me wrong. I love that. I love that on the penalty kill he's out here dropping hot at the airport, trying to take out a squad by himself.
But one thing I've noticed about JT Miller is that he visibly looks gassed way more than any other player on the team. I don't know if he's more tired than his linemates, or if he just sells it more, but he's the Dolph Ziggler of being tired on the ice.
Which is why it wasn't too surprising to see the Canucks hemmed in their zone on that same shift that Miller laid out the huge hit, with JT circling the middle of the ice, looking like someone swapped out his stick with a giant tree. As he does his best to not dry heave, the Sharks finally move the puck around to  Timo Meier, who puts the puck behind Spencer Martin, who at this point has crab-walked more in his crease than Axl Rose does during an entire concert: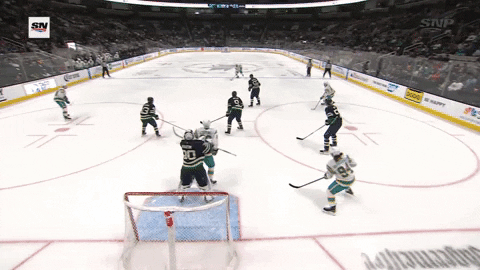 Again, I don't know if he's more tired than his teammates or not. All I know is he looks the most tired because he has the most haunted eyes you've ever seen when he's standing in the middle of the ice, begging for someone to end this, but still trying to fight through it.
It's just a constant HBK whispering "I'm sorry" to Ric Flair before ending him with a super kick.
Dakota Joshua should have had a hat trick, but the NHL's definition of goaltender interference seems to change depending on what the magic 8-ball says: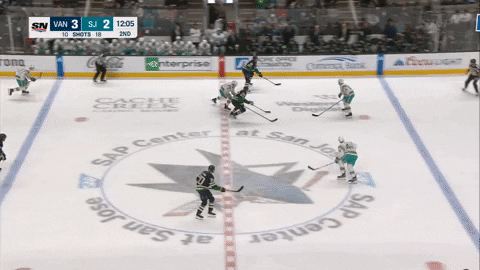 Was this goaltender interference?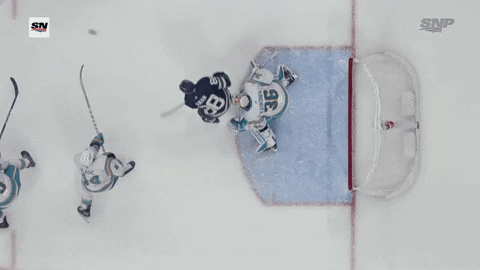 Sources say yes.
And you know what, I am fine with them calling that goal back. Joshua does run into the Sharks goalie, and he pushes him back, so sure, protect the goalies by calling that off. If this was 1999 and Brett Hull scored that goal, they'd allow it and claim they sent out DVDs a week earlier saying that as long as you had possession of the puck, you can do whatever you want in the crease despite an entire season of hockey saying otherwise.
But I digress.
The endpoint is the goal was called back and you had to feel for Joshua, who looked like he had his first career NHL hat trick.
Almost as much as you had to feel for this next fella.
He committed. He saw the hat trick. He believed in the NHL. He believed in the Canucks. But Save On Score and Win called in a favour. Tage Thompson's five goals earlier in the night rattled them. They got the NHL to wave the goal off, they didn't want Joshua flirting with five goals.
And now this guy has no toque because he dared to believe in a system that wasn't made for fans like him. Fans who trusted the NHL to do right by them.
The only thing colder than his head, was his broken and shattered heart.
For shame NHL. For shame.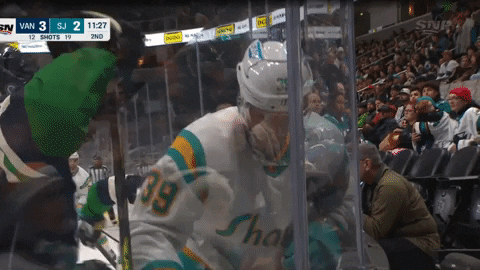 My bff Logan Couture had a bit of an oopsie trying to snag his stick, and I admit, I let out a bit of a giggle.
The next time we hang out, I will redeem myself.
My heart, it can't rest 'til then.
Oh woah woah, I can't wait to see you again.
With the Canucks on the power play, Bo Horvat almost made it 4-2, but Kahkonen made a scintillating scorpion save in which I pray he screamed "Get over here!" while making it:
Logan Couture then tied the game up on the penalty kill, in which oddly the general reaction from Canucks fans was the sounds they made watching the goal:
Hopefully they know it's the CB era so they aren't as shocked by blown leads in the next game, but I do admit, the universal ASMR reaction was odd? Erotic? Amusing? One of those, at least.
Best no quit in this DAWG
This was Joshua's best game as a Canuck hands down, and he's quickly looking like one of the best signings the Canucks have made in a while in terms of cost and return: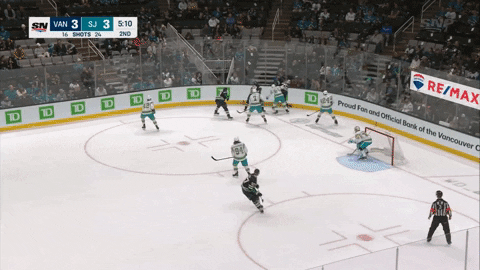 Not only is he being a playmaker out on the ice, but he's also driving shots to the net and causing general havoc while he's out there. Not since a young Jan Bulis took the city by storm has a UFA signing been so remarkable in Vancouver.
Spencer Martin, now understanding he is stuck in the 1980s, so he needs to mix in some dope kick saves, realizes the mission: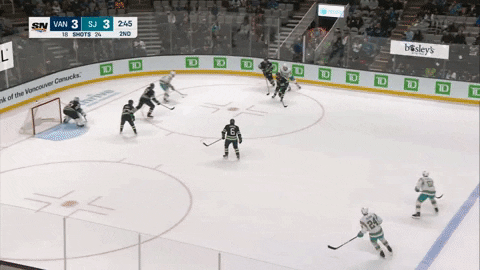 Who needs a butterfly save when you can almost go full Time Cop on a save and kick the puck into the corner?
Martin gets it.
I mentioned Da Bomb gameplay calling in the last article, and a game later, we see the Chaos Giraffe pull this off:
I'm not saying Tyler Myers reads the Stanchies, but he clearly reads the Stanchies. He knows Da Bomb is one of the hardest plays in any sport to stop, so why not adapt it to hockey?
I also love that it's the Chaos Giraffe doing this because of course it's CG57 pulling this off. By all rights this shouldn't work, but here's Tyler threading a needle to Ilya Mikheyev behind three Sharks professional ice hockey players who play hockey on ice: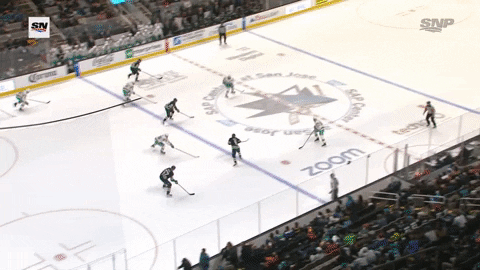 Give credit to Brock Boeser for trying to glove the pass down, as that definitely fooled some of the Sharks into thinking the puck was stopping outside the blue line. I want to believe that this is this generation's Mario Lemieux fake out on the pass to Paul Kariya, seen here in a 14-second clip inexplicably set to Van Halen's 'Jump':
This is also a reminder that kids nowadays don't know the pain of YouTube in the standard definition era, where sports clips were muddled and looked like garbage, and people took out the in game sound and instead set the videos to some Fall Out Boy song, or if you were feeling extra spicy that day, something from Hinder.
Here CG57 drinks BioSteel on the bench, or as the NHL calls it, "go go juice".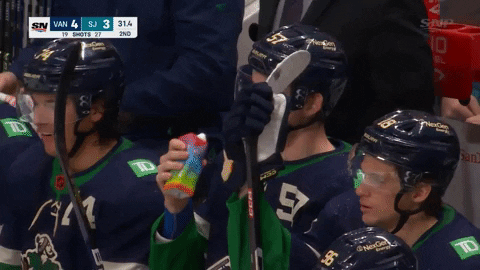 That's a damn fine toque, too. Hopefully the Canucks step in and give that man a new toque.
Do the right thing, Vancouver.
Your Ekman-Larsson better call somebody!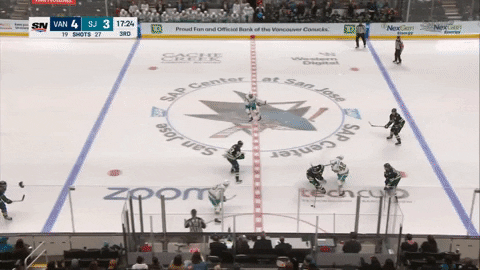 I think OEL currently plays in one of two states:
1: "please dear God don't let me get in a foot race."
2: "please dear God get this puck away from me."
This puck battle against the boards with former Canuck Jonah Gadjovich? Not great, Bob.
That save attempt from Spencer Martin? Not great, Bob.
That shot from Jonah? That was pretty great, Bob.
Unfortunately, the salary cap has put a premium on plays like these. In the old days you could scream at your TV about Jyrki Lumme being overpaid and losing a puck battle, and who does he think he is skating with his legs set so wide? But it was just you letting off steam and you didn't get too serious about it.
In today's NHL you scream about OEL losing that puck battle, and then you can go check out the salary cap and realize he is in fact choking the life out of the back end with his contract.
In some ways, I miss the old days of no salary cap because you could just dislike who you disliked, and like who you liked. But now you almost have to check someone's impact on the team's salary cap before you make a comment on anything.
It's why Luke Schenn is a golden child in this city. He gets paid next to nothing and all he does is hit people and end their desire to ever play hockey again.
But if Schenn got paid 8 million a year? You either die an underpaid hero, or you live long enough to see yourself become an overpaid villain.
Best crunching the numbers
Give credit to the Sharks, because they know the Canucks weakness: Unproven goaltenders.
So when they started EETU MAKINIEMI in the third period for his first NHL action ever, his name capitalized for reasons I don't need to explain to the likes of you, it made sense that the Canucks simply could not find the net for the life of them.
It took them twelve minutes in the third to register a shot on net, even though they had their chances: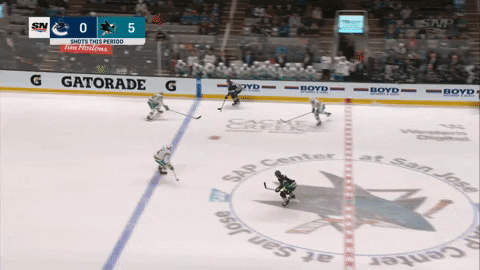 What about a two-on-one? Surely that got a shot on net. Nope, pushed the puck wide: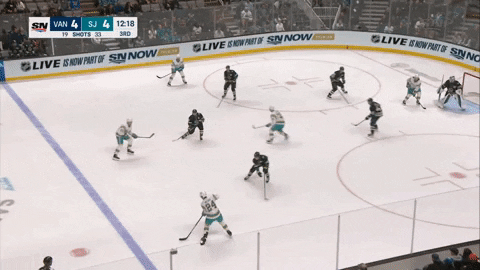 What about Curtis Lazar driving hard to the net and shaking off his check? Sadly, the moment was also too big: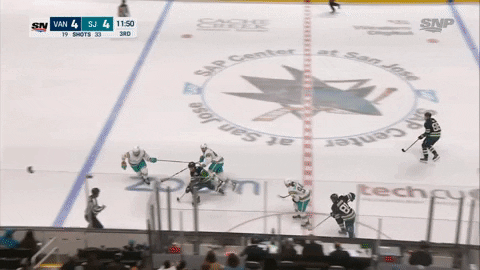 in the CB era, the Canucks can both score six goals in a game but also fail to register a single shot on a rookie unproven NHL goaltender for most of the third period.
Once, there was a boy, who wouldn't go and take a shot on the unproven goalie. And when they finally made him, they saw sadness all over his body. He couldn't quite explain it, it'd always just been there.
Look, Tyler Myers is chaos, but he's a neutral chaos. He's just as likely to long bomb the pass of the year behind the Sharks' defence as he is going to take a tripping penalty after jabbing his stick in skates for three minutes and then still be astonished when the penalty is called: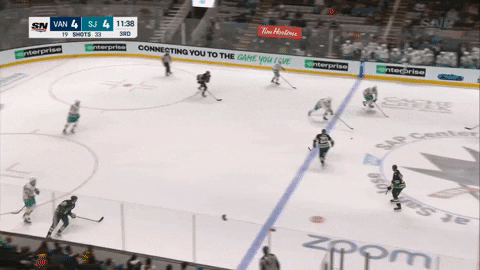 It's just how he rolls.
Best Sharks smelling blood
After the Canucks dared to try a line change on Erik Karlsson, he absolutely made them pay for it: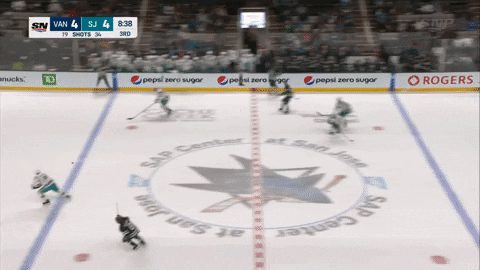 Sometimes I come down on the Canucks for bad plays or whatnot, but sometimes I just sit back and marvel at the wizardry on the other side of the fence. That's just an amazing play from Karlsson, who gets the puck back and instantly whips around and finds Hertl perfectly, who then sets up Kevin Labanc for the dapper slapper clapper.
If this was Home Alone, Kevin wouldn't have gotten that pass, because he wished his family away. But this isn't a movie.
No.
This is the Cocaine Bear era.
Best numbers mean nothing in this era
The Canucks could give up 20 goals a game on average and they'd win half of them in this timeline.
The Canucks finally got their first shot of the period, and of course, it was the Dakota Joshua line (it's his line now):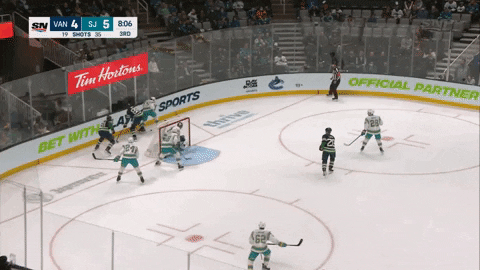 The Kuzmenkshow likes two things: Scoring tap in goals, and holding puppies. And he's all out of puppies.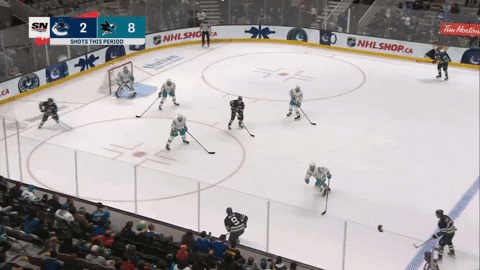 Again, there is a special skill to be had for getting yourself open like this. Ovechkin scores goals from his office even though everyone knows he will be there. Brett Hull used to find himself open in the slot for one-timers even though everyone knew that was his bread and butter.
Kuzmenko so far in his NHL career seems to have the ability to slide into other teams DMs out of nowhere, trying to tap it.
He's just fantastic at it. He trusts that JT or Elias will find him, so he just goes to the net and patiently waits for them to bank the puck in off of him. Half the time he doesn't even bother moving his stick, because don't work harder, work smarter.
The best part was this goal came off of a failed Bumpin' Bo play call, but as we've seen throughout this game, this was definitely a fake out. Garland's post, Boeser's glove, JT's pass to Bo, all of these were galaxy-brain-level fakeouts that had the Sharks absolutely reeling and I won't hear otherwise.
Just pretend you watched that goal set to Hero by Chad Kroeger (featuring Joey Scott) and you'll understand what I mean.
4D chess, but the Canucks are Troi and the Sharks are Data.
It's like a race between Bo Horvat and The Kuzmenkshow about who can price themselves out of the market higher.
Best he is not impressed by your performance
GSP would be aghast at this. Aghast.
Best a hero could save us
Well Vanessa, I'm not gonna stand here and wait. I'll hold onto the wings of the eagles, watch as we all fly away to this fantastic shift from Elias Petterson in overtime with Hughes and Kuzmenko: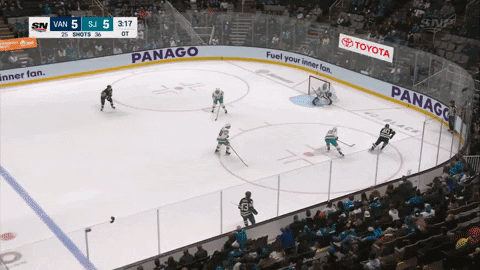 I could watch that trio rock overtime all day long. The passing, the cycling, the going to the net hard, it was like the hottest New York club — it had everything.
The Canucks followed that up with a Bo Horvat breakaway, in which he made the fatal mistake of not going full Bogilny, choosing to try and chip the puck right, instead of going five hole: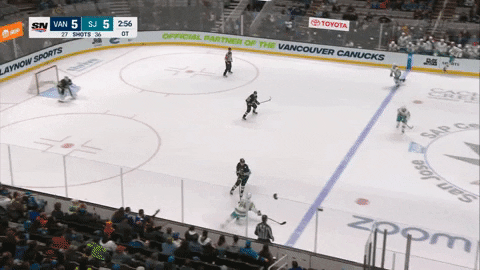 Now you might notice a lack of JT Miller on the ice, and that's because he didn't play in overtime. With his skill set, you'd think he'd be a go to go in the extra frame, but honestly, it feels like it's a solid move to not lean on him 3 on 3. His defensive game and his risky passes are just such a roll of the dice for the team, that part of you wonders if maybe they are better off putting other people out there in overtime.
Which then takes you down the salary cap rabbit hole of "but they pay him so much money…" in which you're right to ponder that, but save that for another day and instead remember in the CB era all that matters is Elias Pettersson plays for your team: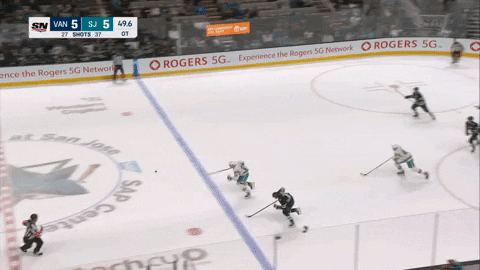 Game, blouses.
Second game in a row that Elias Pettersson has ended in overtime. Second game in a row in which he's had a multi-point game. And yet another game in which he is undeniably the best player on the Vancouver Canucks, one that the team must be ecstatic that they locked him up for 7 years — oh wait.
They don't ask you how many, they just talk until the end of time about how you made the last save.