The Stanchies: Canucks win 3-0 over Chicago in what we have to call Thomas Drance erotica
Photo credit:© Bob Frid-USA TODAY Sports
On a night in which Thomas Drance erotica took the nation by storm, the Canucks managed to do the unexpected: lock down their first shutout of the season.
And it wasn't just the 3-0 shutout of the visiting Chicago Blackhawks that was a surprise; no, the game itself was actually fairly entertaining. Considering the previous two Canucks games had me pondering retirement and taking up writing a live adaptation of Drance Erotica, it was a nice reprieve to watch a game in which there were entertaining storylines throughout. Watching a team struggle to generate three shots in a period is a special kind of hell I would only wish upon my Grade 9 physics teacher, so I'll take decent 3-0 wins any day of the week and hold it high over my head as a shining example of perfect hockey.
And while it's been a long season for the fanbase, not to mention the team, there are a few talking points remaining as we crawl towards the finish line.
Will Elias Pettersson get 100 points?
Will the Disgusting Brothers get 40 goals?
Will any of the new NCAA signings step up and impress?
Will the Canucks bring back the Orca blimp?
Will Rick Tocchet have more thoughts on body language?
Will John Garrett release a diss track live on air during his last game?
I know, I know, it's not quite as exciting as trying to figure out who the best first round opponent would be. But it's the best we've got, so we're going to roll with it as far as we can.
Let's make some gif money, shall we?
The best part of any Canucks game now is seeing the random photo ops we get from the players.
If taken at the right time, Kuzmenko can look like a Bond villain loudly protesting that his company is in fact legit and not a cover for an illegal operation, Pettersson can look like an 80's movie ski instructor that doesn't want you on his mountain, and rookies like Cole McWard can look like they're carrying the weight of the world on their shoulders as they try and figure out the unsolvable case.
What kind of detective is McWard? Comments ranged from a gritty HBO reboot of Inspector Gadget, to McNulty's son in the next Wire series, to the True Detective season 4, to a live-action crime fighting dog movie, to a detective brought onto Riverdale to solve all the crimes but is secretly in love with Archie and Veronica, to Young Columbo launching soon on YTV, to Detective Mills demanding to know what's in the hockey bag.
In the end, all that matters is the case he's working on, and I think it's pretty clear what's going on here. With a rash of murders striking the Canucks backend, Detective McWard cannot figure out who is behind the killing of the defence in Vancouver.
"I just don't get it…every crime scene is chaos. None of it makes any sense. Up is down, left is right, safe zone exit is shooting on your own goalie…The only thing linking everything together is the sticker of a giraffe the killer leaves at every scene."
This of course leads to vodka in the water bottle to handle the stress, a divorced wife who loves him but knows he's married to the job, and a best friend named Tyler who seemingly has his best interests at heart but you can't help but wonder…
Clearly his nickname is The Detective going forward, we all accept that, right?
Ok, onto the game.
Best Detective McWard is on the case
The Detective had his first taste of action in which he absorbed a hit, passed a puck that deflected into the benches, and then solved a crime ring of missing water bottles in which Eddie Lack was stealing them to sell on the Arizona black market in order to fund the Coyotes new building:
Overall McWard had a solid if unspectacular game, which is about all you're going to ask from these NCAA kids coming in and getting a taste of their first NHL action.
Unless you're Akito Hirose, in which case your stock has blown up to the point that people are asking if he can simply wear an OEL jersey next year to "help balance out the roster".
I don't know if any player gets as animated a conversation from their coach like Kuzmenko gets from Tocchet:
Part of me assumes Rick is telling him something about "north south, north south" but part of me is hoping he's just yelling at him for his Call of Duty teamwork as of late.
"I'm down and need a rez, and you just take off looking for the kills. How does that help if you get dropped when I'm already down? I'm going to go ahead and answer that for you, It doesn't help. It doesn't."
Quinn Hughes played 23:47 on the night, leading the Canucks, but was beaten out by Seth Jones 24:48 of ice time.
This is nothing new, though, as Quinn Hughes could have two broken legs and an ongoing battle with a multi-verse version of himself who hates hockey, and he'd still play a solid 20 minutes of hockey.
The interesting part is that Hirose ended up with 20:30 of ice time, as the audition to make the team next year is already heavily underway for him right now.
Tyler Myers played 20:43 of ice time, but 4 minutes of that was him draping a leg sexily over the bench, stroking the ice with the toe of his skate, asking if that counts as Thomas Drance erotica.
The good news is Demko didn't immediately skate off and go down the tunnel after this shift, so I think the next great body language scandal of 2023 was narrowly avoided:
Best Mike is doing it again
The natural born killer Mike Versace usually curses every shutout before it has a chance to start, and he was up to his old tricks again Thursday night.
Now normally Mike tweets this, then the Canucks goalie makes two solid saves right after, as is tradition:
Then after that 5 goals go in, Rick Tocchet looks confused and kind of hurt by the proceedings, and then Mike starts it up again next game.
This time, however, the jinx didn't work, and Demko ended the night with the shutout.
The reason can of course only be attributed to Detective McWard solving The Case of the Shutout Sniper.
No need to yell here, sometimes you just have to politely ask the team to do better, and I respect that.
Kravtsov has been struggling to stay in the lineup as of late, and has yet to score a goal despite coming close at various times.
He almost scored in the first period, were it not for a toe and those damn kids:
The good news for Kravtsov fans is it appears Rick Tocchet's demands of effort were heard by the young Russian, as he had five hits during the game, including a goal (spoiler alert).
The hits weren't the kind of hits you can retire on, but they were the kind of hits that showed he was engaged and willing to play a style of hockey that Rick Tocchet is going to demand from most of the roster next season.
With so many bodies vying for spots next season, players are going to have to find a way to stand out from the others. Throwing five hits and assuring Rick Tocchet he was better than Murray Craven and Brian Propp is a good start as any.
With nothing but pride on the line, Demko did his best to make sure the Canucks didn't end the season with a single shutout, by making saves like these:
In what you have to call Thomas Drance erotica, Demko stretched out his long luxurious leg and stared achingly into the soul of President's Choice Brady Tkachuck Boris Katchouk, daring him to do it again.
With JT Miller famously missing out on 100 points, Elias Pettersson now has four games left to complete what Rip Wheeler could not.
EP40's assist on Kuzmenko's goal put him at 98 points on the season:
The Disgusting Brothers did it again. And the good news is they don't always have to score filthy goals. Sometimes they can just be up front about things and just fire the puck on net to get results. The Disgusting Brothers have a variety of ways to close deals.
As someone on Twitter described it to me, this was like offering up food to your cat mere seconds after they refused it the first time:
Oh you didn't like the tuna? What if I put it behind my back and then offer it up to you again? Now do you want it?
Normally Save on Foods has the save of the game, BUT NOT TONIGHT: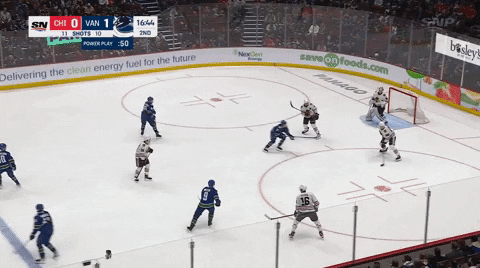 We've talked about glove saves upgrading the quality of a save by a large margin, but that doesn't come anywhere close to an around the world save.
Pads, glove, body, if you complete a 360 in net with anything and make the save, you need to be awarded one million dollars, plain and simple. Beauvillier should have to give half his pay cheque to Stalock for that save.
I could honestly stop the article here and people would leave more satisfied than Dungeons and Dragons because at least this save had logic behind it and didn't rely upon a plot point where people would stare at red smoke and simply accept their impending death.
But I digress.
What a save.
Hirose had himself a night, and his stock is on the rise. We're going to hear a lot about him because yes, he is playing well, and yes, it's exciting to see the Canucks actually sign cheap players that might be effective roster players.
The problem is you don't want to hype yourself up into thinking he's a lock to be a top four guy, and that the next 10 years are going to be a kiss from Hirose metaphors left, right and center. Could he bloom into a top player? Of course, Anyone can, really. That's the joy of potential. At one point I had potential to be a really good student, but alas.
The most likely scenario is that he carves out a solid NHL career for a handful of seasons.
That being said, you should absolutely get hyped about his play because cheap effective roster players is something this club has struggled to produce for a decade. The Jay Beagle Effect is real, in which a team overpays for "leadership" and "veteran know how" instead of accepting the fact that Alex Ovechkin is just really good at hockey.
Hirose's second came off of a Connor Garland pass, who continues to play solid underrated hockey as this season comes to a close:
Vital Kravtsov takes the shot, and Seth Jones does what he does best by scoring on his own net, and it's 2-0 Canucks.
It's important to note that Sheldon Dries was in full mini-stick hockey mode beside the net so even if Seth didn't score that goal, Dries would have most likely knocked it in.
The end point is Hirose has not looked out of place at 5 on 5, on the penalty kill, or on the powerplay, which yes, leads many people to wonder just what it is OEL does around here?
He's a people person, damn it.
The best way to avoid a stern talking to from Rick Tocchet on the bench is to switch sides halfway through the game:
Katchouk reaching over to give the "you ok, buds?" head pat was nice. It was like a ref in the WWE squeezing someone's hand to make sure everything is all good.
Best country night effect
It was country night at Rogers Arena which meant lots of Dolly Parton and Garth Brookes (Or Chris Gaines if you're into soul patches) blaring over the speakers. Which also meant there had to be heartache and loss at least once in the game, which came in the form of Katchouk watching as gravity stole his one true love away from him:
As Fancy taught us, though, sometimes you have to put on a dress and charm a congressman into buying you a nice Georgian mansion.
Anytime Elias Pettersson shoves someone to the ice I put a clip in for the people who felt he was too skinny and weak to be an effective player in the NHL:
Cody Glass has 33 points this season in case you were wondering.
Best case of the missing stick
The Chaos Giraffe excels without a hockey stick because of course he does:
That might be the most effective play he's made all month.
Should Tyler Myers play without a stick from now on? Would he play better with two sticks? How does this chaos math work?
Philly Delight makes the great back check, as he always does, and then sends a nice pass over to Hirose, who feathers in a nice attempt to Nils Aman: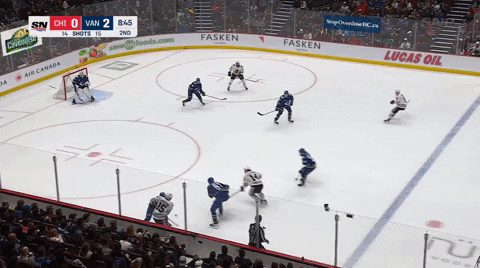 Hirose is rarely caught out of position and does not seem to panic in his own zone. I know I gave you all the "relax, he probably won't turn into anything huge" speech earlier, but you know what, maybe he's going to turn into something huge, damn it.
Hirose charges in to make a play on the puck, then slows down his check and recovers to cover Katchouck in the corner, and then draws a penalty after he wins the puck back:
I hate to keep using "what would OEL have done in this situation" but what would OEL have done in this situation? Probably something scary.
Kuzmenko attempted a North/South hockey move, but was denied by the stick of Caleb Jones at the last second:
There's a reason he's this generation's Kyle Wellwood. Magic mittens for days.
Again, this isn't earth shattering stuff, but the fact he's on the powerplay and least getting shots through? That's good enough for now:
The bar is low and all that, but it's fun to watch a kid join the team and have the calm presence of a young Chris Tanev. He just doesn't seem to get fazed by anything. You can almost see him making a picture-perfect pass to Tanner Glass, only to see Tanner completely whiff on it.
There's something about Connor Garland that just gets people angry:
I don't know if it's because he has the temerity to throw hits on larger people, or if he's whispering really rude things under his breath, but he gets people going like an online poll asking if bike lanes should be taken out of the city.
There's nothing super obvious about why he pisses people off so much. You don't see a ton of slashes or hair pulls in scrums. He's not saying Kelly is a great gal. It's hard to say what makes people so mad at him.
What I'm saying is this is clearly a case for Detective McWard.
This issue with games that involve one team not making the post-season is that the third period is usually where both teams just want to coast through the last 20 minutes because everyone has to work in the morning.
The only way you could get excitement out of game like this would be if Quinn Hughes started a fight or, I don't know, John Shorthouse mentioned Thomas Drance erotica on air.
It's just how things go.
Okay, I didn't see this coming:
I love Kyle Burroughs making a bee-line the second he sees Quinn Hughes throwing down in the scrum.
I love Quinn Hughes deciding he's not taking any shit and just taking matters into his own hands.
I bounce between who should be captain next, Hughes or Pettersson, but Quinn Hughes is making a Joel Embiid like late-season push to become my MVP for captain.
You obviously don't want Hughes fighting like this often, but if he does it once in a while to keep it real? I'm down.
Look at him utilize a headlock takedown like that. Looking like a young Randy Couture with all that octagon control.
At least Drance erotica wasn't mentioned.
The atmosphere in Rogers Arena can make such a huge difference in games like these.
Another reason why the Orca Blimp needs to come back. Nothing gets the crowd going like watching a slow moving blimp slowly drop coupons for Subway.
With a cocky grin, Drance passes me the tiny scrap of paper that passes as my draft list, letting it dangle on the end of his finger. Arrogant ass, I think as I grab it from him, looking into those twinkling orbs of gray. He's obviously delighted that he's managed to subdue his scout into a purring kitten.
Narrowing my eyes at him, I'll let him enjoy his victory – for now. Soon I'll be putting my foot down. And how is it possible that he can still look that smug after what we just did? I wiggle back into my chair, jealous for a moment of the stunning amount of draft picks at his disposal, until I remember the shitty hand he was dealt from Tallon. With him being so supremely confident, it's very easy to forget that he comes with a boatload of Florida baggage, especially since it comes so beautifully wrapped.
As always, drafting and scouting are the counterbalances for whatever signings and trades Vancouver's actions may dredge up. Add to that the oceans of hockey watching we share between us, and we have something that oddly works – for us. Screw the world if they don't get it.
I can't help but view McWard as a gritty detective set in a film noir:
He clearly has seen too much violence in his time, to the point that he can no longer pull the trigger.
Every time he's in a position to shoot, he just sees his dead partner who got taken out on the stakeout where they tried to solve the case of the poisoned Steamer's Hot Dogs.
He asked for a hot dog with a side of fries, but all he got was a heaping plate of death.
I like how the second someone sees JT Miller not cross center ice to take his shot at the empty net, people wonder if Tocchet is going to get mad: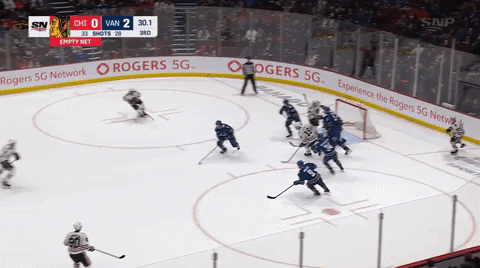 To be fair to JT Miller, it's a game that means nothing.
But to be fair to Rick Tocchet, this is the exact kind of thing he would get mad at. If Kuzmenko tried this shot, even if he scored, he'd be scratched three games in a row.
He's not wrong.
There's that Tanev confidence. Except he's also joking, which is something Tanev never did.
A new hybrid Tanev.
Never forget there was a time when Cody Hodgson, Mr. Bar Down, had so much hype that had to be quickly transferred over to Zack Kassian once he was traded.
This is a beauty, and very apt, as Potvin is seen going down in Vancouver much like he did in 1994.
And is there anything better than Rick Tocchet jerseys being pulled out of the closet for the new coach?
I know the BCHL playoffs is all a big set up so the Penticton Vees can win every single game in the playoffs and talk wistfully about that one game they almost lost (and ended up winning 8-4), but a big shout out to my Surrey Eagles for winning the series 4-1 over Powell River.
I look forward to Surrey making it to the Fred Page Cup Final, only to run into Penticton and lose every game by 10 goals, and then have to listen about how "Penticton just runs a really good program, you know?" while a bunch of former NHL players applaud their sons from the stands. Editor's note: The Coquitlam Express would have beaten Penticton in the final if not for COVID-19 halting the 2020 BCHL Playoffs.